(Last Updated On: October 7, 2022)
This crispy tater tots recipe, cooked in the air fryer, is so easy to make. The tater tots come out crispy and delicious. Seasoned with Johnny's seasoning salt is the way to go for extra flavor, it's fantastic tasting on these cute little air-fried potato puffs! 🙂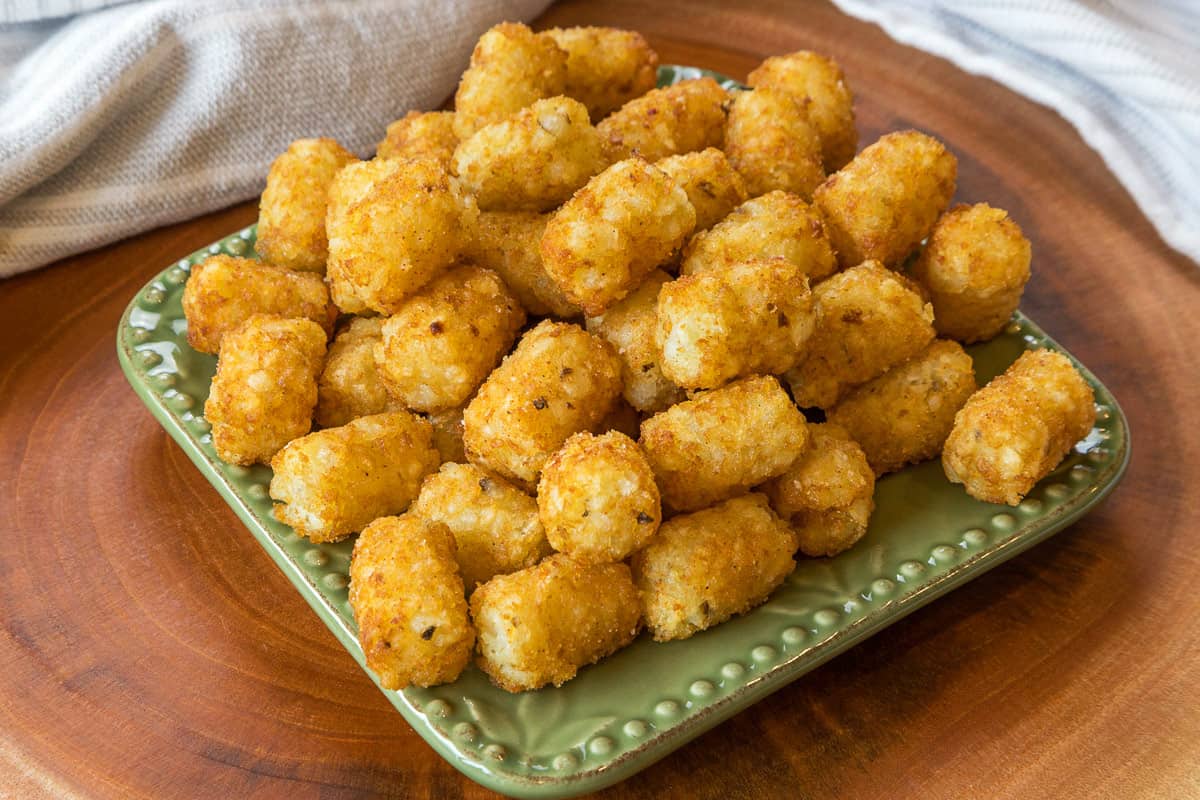 🥔 Key Ingredients
28-ounce bag of Ore-Ida extra crispy tater tots™ (or your favorite brand)
Johnny's seasoning salt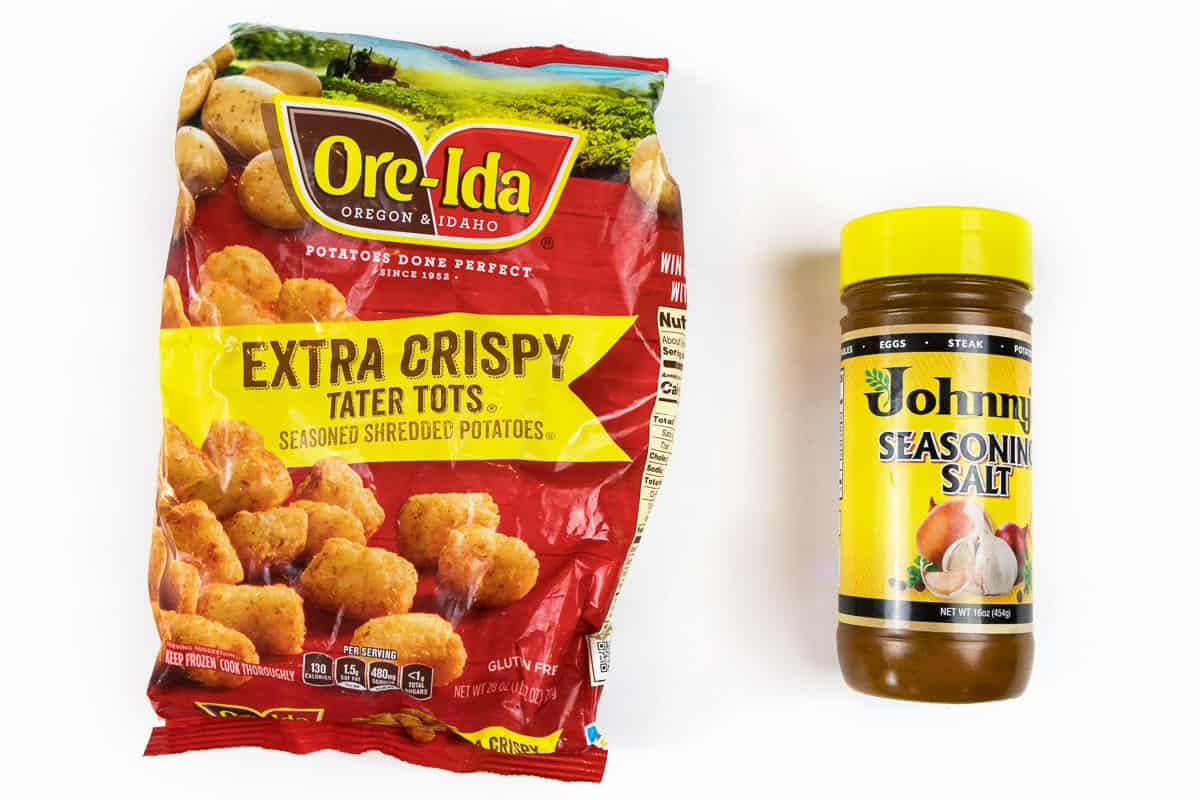 👩‍🍳 How to Make the Best Air Fryer Tater Tots (Step-by-Step Instructions with Detailed Photos)
Step 1. Preheat the Air Fryer
The first step is to preheat the air fryer to 400 degrees Fahrenheit. Since all air fryers are not the same, yours may not require preheating. If so, skip this step.
Step 2. Arrange Tater Tots in Basket in an Even Layer
You could also brush the basket with some olive oil (or avocado oil).
Take the 28-ounce bag of frozen tater tots out of the freezer, then place them on the basket in a single layer. There is no need to thaw first.
Note: We were able to get the whole bag (28-ounce) of tater tots in our basket, but if you have a smaller air fryer, then you will have to do a second batch.
Step 3. Sprinkle on the Seasoning
Lightly sprinkle a bit of Johnny's seasoning salt on top of the tater tots, or you can use any of your favorite seasonings. I've heard taco seasoning is really good and makes some tasty tater tots!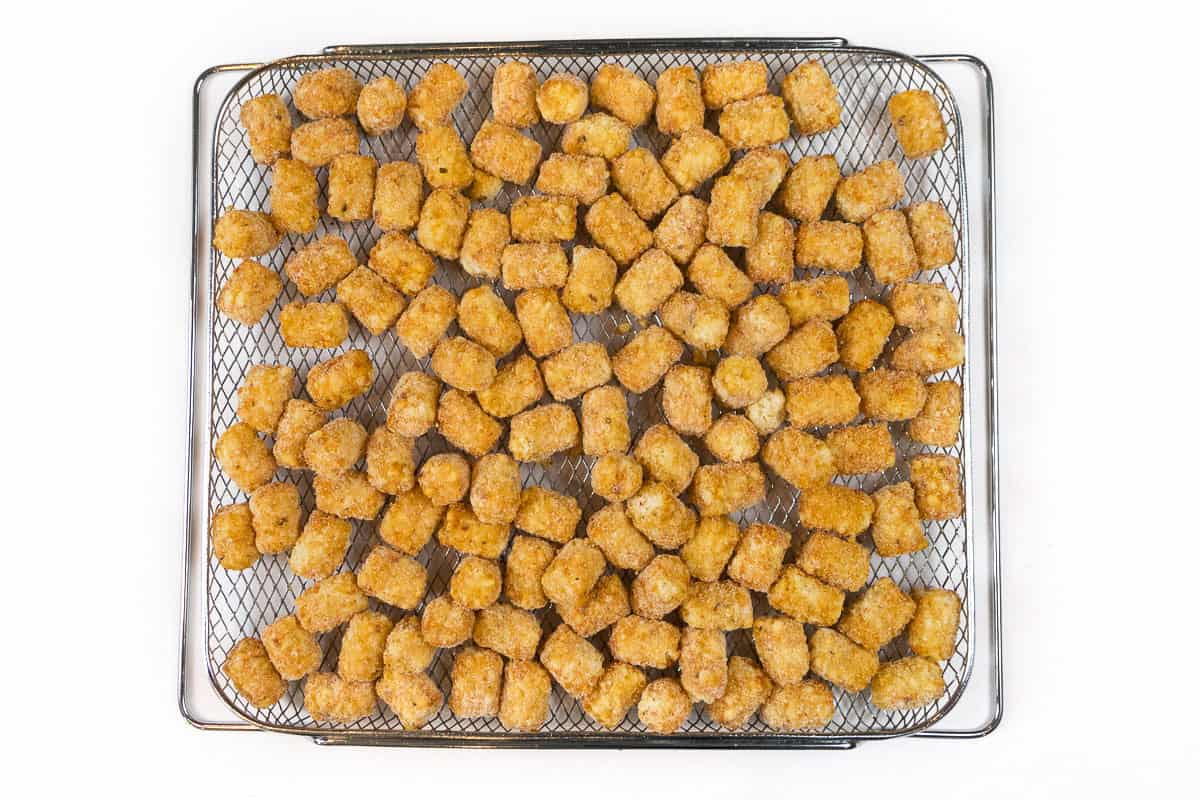 Step 4. Cook the Tater Tots
Put the basket filled with tater tots in the preheated air fryer set at 400 degrees Fahrenheit. Cook tater tots for about 9 minutes, then turn them over in the basket. Let the tater tots cook for another 5 minutes, which makes the total cook time 14 minutes. For the best results, be sure to flip the tater tots or shake the basket 9 or so minutes into the cooking time.
The cooking time may vary if you have a larger or smaller air fryer than we do. If you like really crispy tater tots, I'd suggest keeping an eye on them and keep cooking them for a few extra minutes. Different brands may need the time adjusted as well.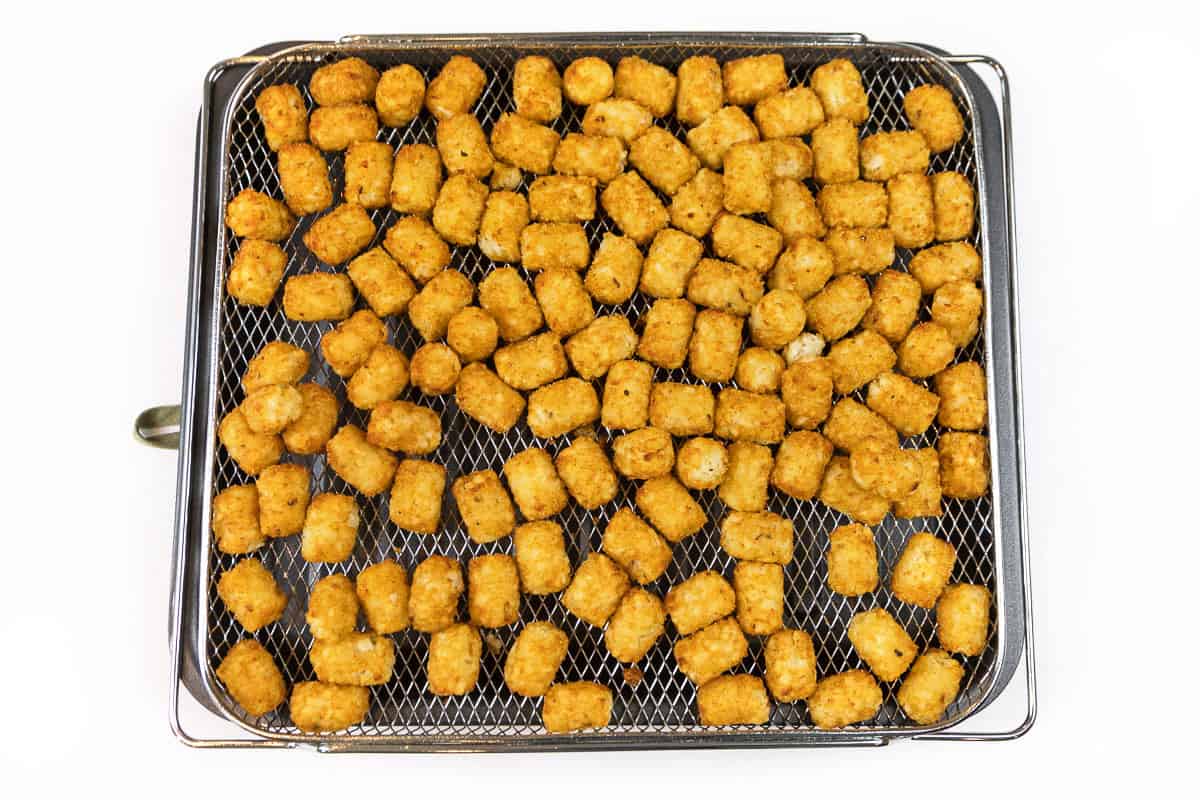 ❓ FAQs
What Are Some Seasonings for Tater Tots?
Some ideas for tater tots seasonings are seasoned salt, taco seasoning, Montreal steak seasoning, Old Bay seasoning, garlic powder, or some onion powder.
What are Tater Tots?
In 1953, tater tots were born by the Ore-Ida founders. How did this happen? Well, they wanted to use the leftover pieces of cut-up potatoes from french fries for something other than feeding the potato pieces to cattle, which wasn't profitable for them.

So they took the grated (or shredded) pieces of the potatoes and mixed them with flour, salt, vegetable oil, and seasonings. Then the mixture was fed into a machine that pushed the mixture through holes and sliced it off, thus forming the shape of the famous tater tot. The founders deep-fried them, packaged them, and then put them in the freezer. The rest is history.
What to Serve with Tater Tots?
Tater tots make the perfect side dish and can be served with so many meals, such as hot dogs, turkey sliders, pulled pork nachos, Philly cheesesteak, or chicken recipes such as chicken enchiladas and chicken fajitas. Also, they go great with beef tacos. Tartar sauce, cheese dips, ketchup, mustard, barbecue sauce, or any of your favorite dipping sauces go great with tater tots.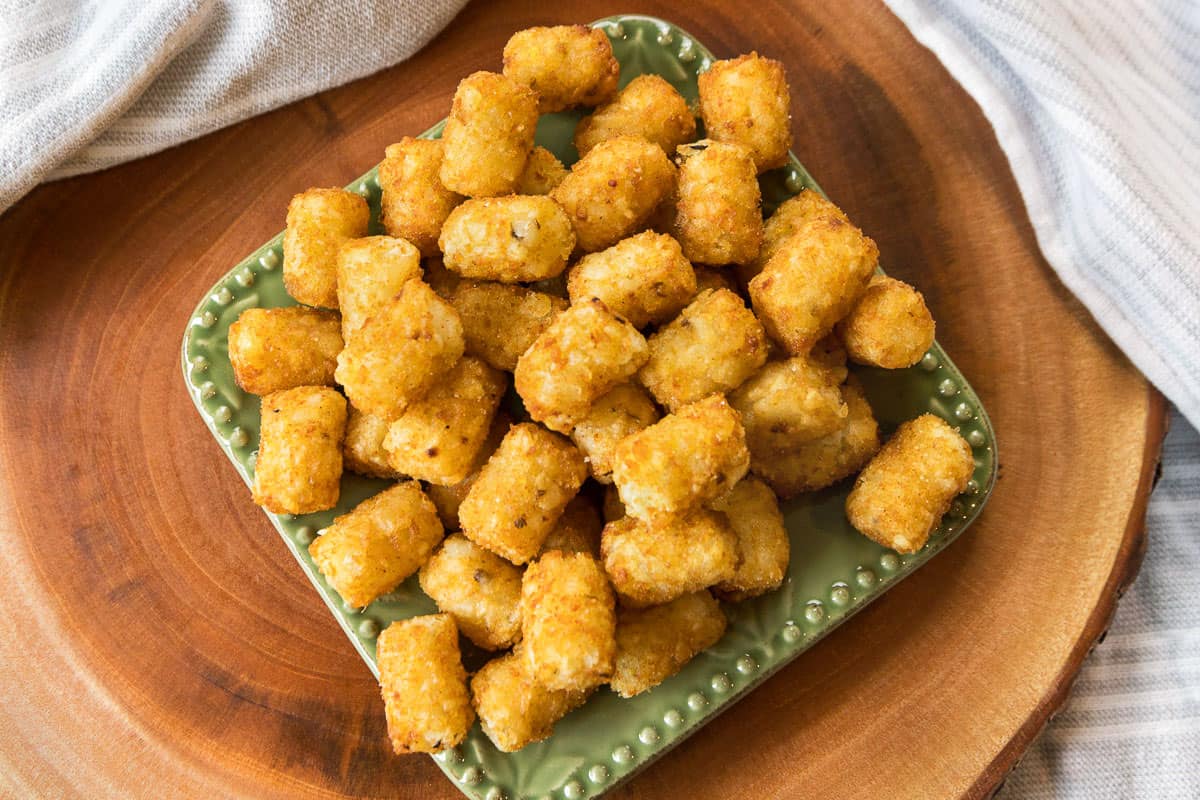 💡 Final Thoughts for Air Fryer Tots
These crispy air fryer tater tots are the best. Soft on the inside, and oh so crispy and golden brown on the outside. When you need to make a quick side dish, these air fried tater tots are the perfect choice when in a hurry, taking only about 14 minutes to cook. It sure beats deep frying them when you just need a quick snack. So grab your favorite dipping sauce and start air frying some of the crispiest tater tots you've ever had! The best part about this recipe is that you can now make perfect tater tots every single time!
If you have any leftover tater tots, be sure to store them in an airtight container and eat them within a couple of days.
Tater tots go great with tacos, cheeseburgers, hot dogs, and cheesesteaks. They are found in the frozen foods section of any grocery store. If you love air fryer recipes, try our Turkey Bacon. The bacon comes out perfectly crispy and is so delicious.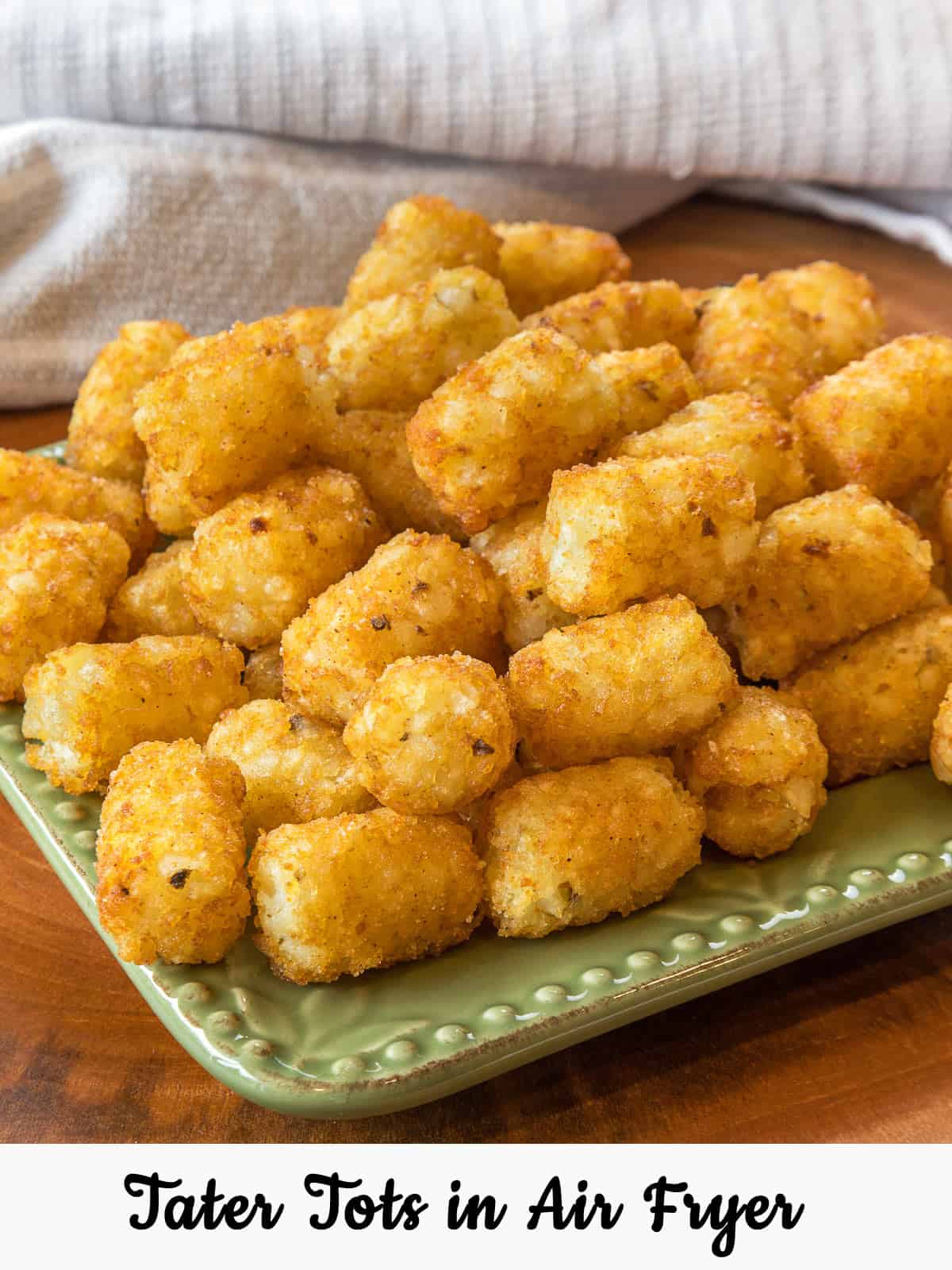 😋 More Air Fryer Recipes You Will Love
Easy Recipes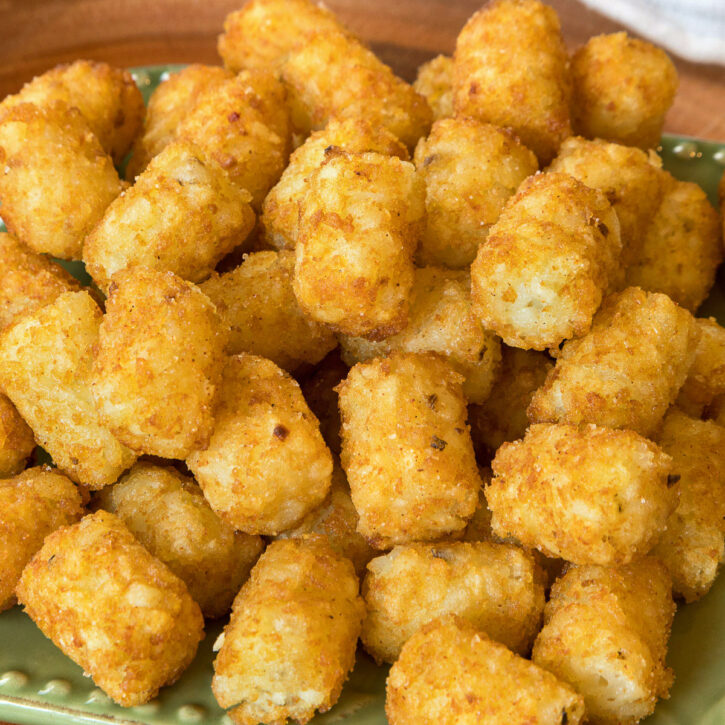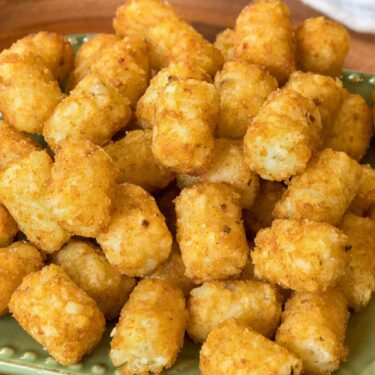 Frozen Air Fryer Tater Tots (Crispy)
These tasty frozen tater tots are made in the air fryer and are cooked perfectly. So crispy and golden brown. Seasoned with Johnny's seasoning (or your favorite seasoning) salt for extra flavor.
🧂 Ingredients
1

bag

Ore-Ida tater tots – or your favorite brand

(28 ounces)

Johnny's seasoning salt – or your favorite seasonings

(sprinkle on)
👩‍🍳 Instructions
Preheat the air fryer to 400 degrees Fahrenheit.

Spray the air fryer basket with cooking spray.

Place the tater tots on the air fryer basket in a single layer. Sprinkle some Johnny's seasoning salt over the top of the tater tots.

Cook for 9 minutes, turn over, then cook for 5 more minutes for a total of 14 minutes.
*️⃣ Recipe Notes
We used

Ore-Ida

tater tots, but any brand will do.
You can dip your tater tots in tasty sauces and dips, such as ketchup, tartar sauce, mustard, or cheese dips.
You can use any of your favorite seasonings you prefer.
You may have to adjust the cooking time if you have a smaller air fryer.
We were able to put the whole 28-ounce bag of tater tots in our basket, but you might have to do two batches if your air fryer is smaller.
A wife, a mother to a son and a daughter, and a grandmother to three granddaughters. Flo loves sharing recipes passed down from her own mother, her mother-in-law, and her grandmother as well as new recipes created with her daughter, Tamara Ray.
More by Flo ➜