(Last Updated On: August 25, 2022)
A delicious, simple, and fast way to make bacon in the air fryer for breakfast. It comes out of the fryer crispy and with no messy splattering grease all over the kitchen stove. Only 15 minutes of cooking time, and so tasty!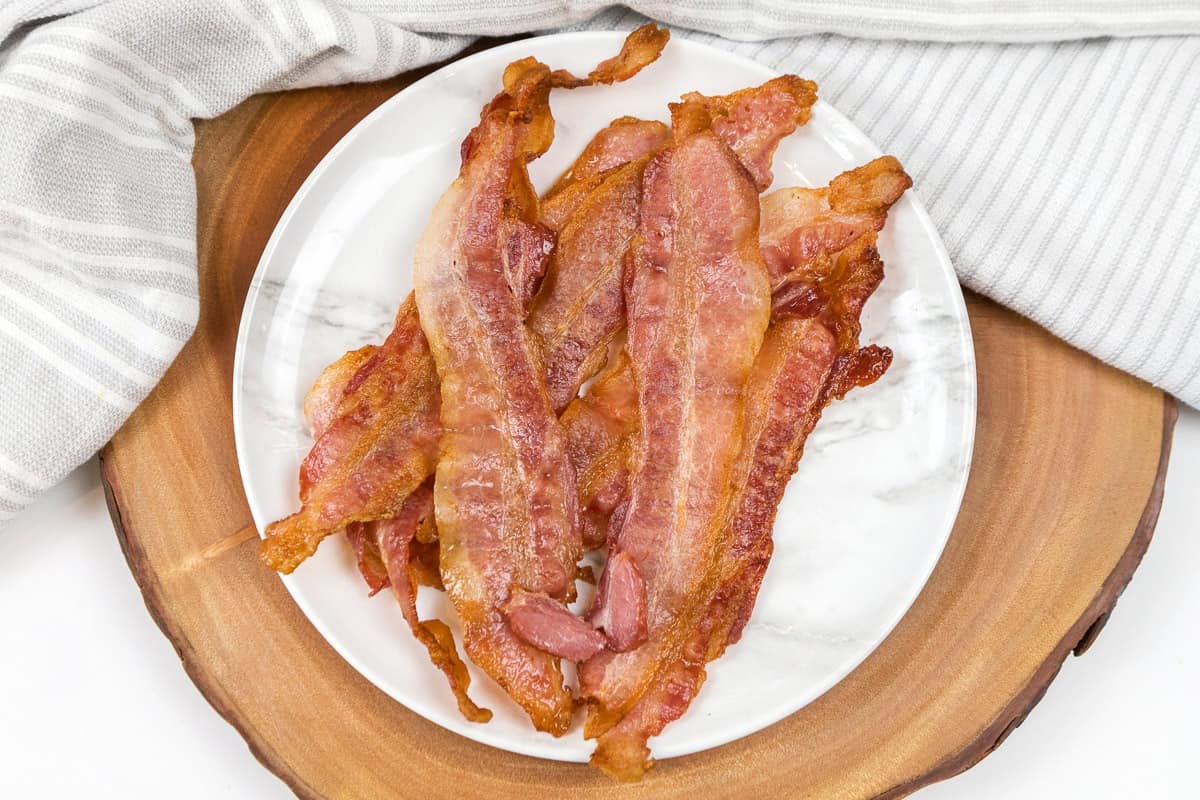 🥓 Key Ingredients
1 pound of Hickory Smoked Bacon (or your favorite brand of bacon)
Cooking spray (such as Pam)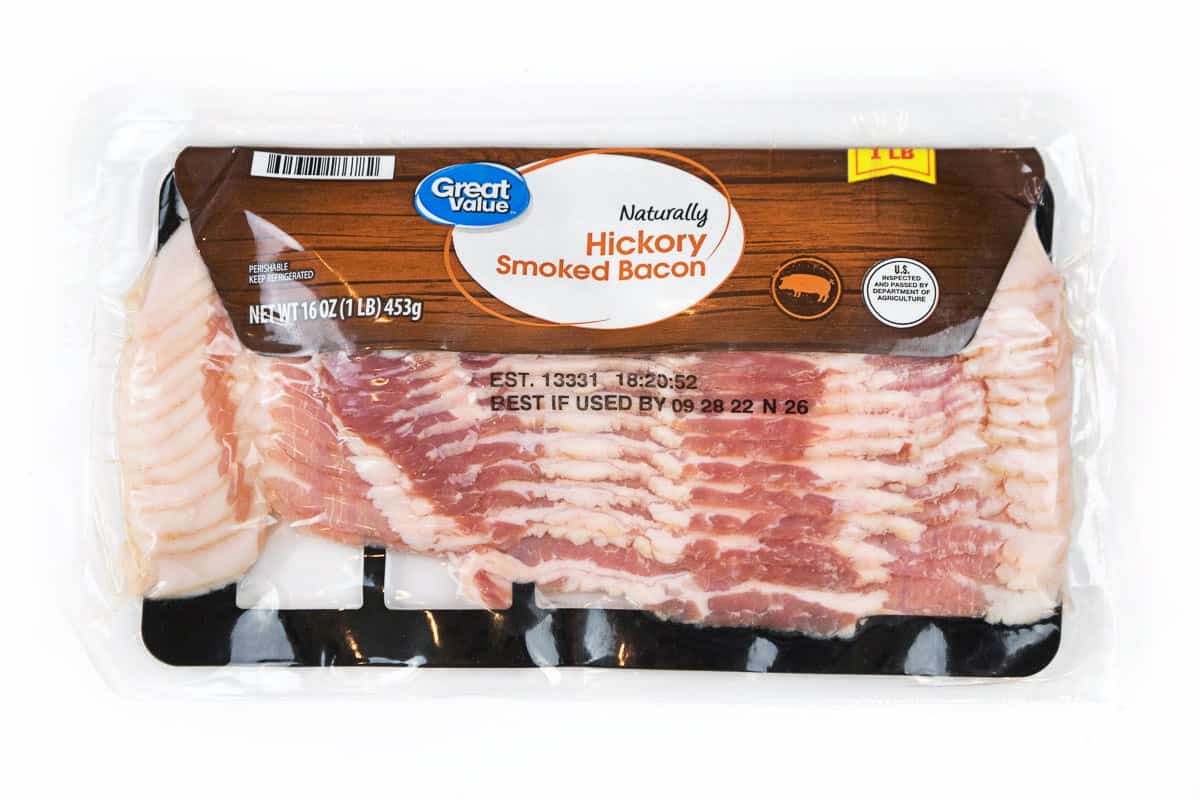 👩‍🍳 How to Make Air Fried Bacon (Step-by-Step Instructions with Detailed Photos)
Step 1. Preheat the Air Fryer
If your air fryer needs to be preheated, set it at 360 degrees Fahrenheit now. Note that all air fryers are not the same. Some are smaller, and some are bigger. And then some need to be preheated, and some don't. The manual that comes with the purchase of your air fryer will tell you if your unit needs to be preheated or not.
Step 2. Place the Bacon in the Basket
First, spray or brush the basket with vegetable oil or cooking spray.
We have a large air fryer, so we put 8 slices of bacon in a single row without overlapping them. We will do a second batch of 8 more after the first batch is done. If you have a smaller air fryer, you will probably be able to get 4 slices of bacon in the basket. You may have to do another batch if necessary. Also, we used regular cut bacon, not the thick cut.
Step 3. Place the Basket in the Air Fryer
With all of the slices arranged in the basket, put the basket in the air fryer. Cook for 7 and a half minutes, then turn the bacon over and cook for another 7 and a half minutes. The cook time for the bacon is 15 minutes total time.
Note: The cooking time depends on how crispy you like your bacon. We like our bacon crispy, so we cooked it longer than other bacon recipes do. If you don't want your bacon to be as crispy, then adjust the cooking time to fewer minutes.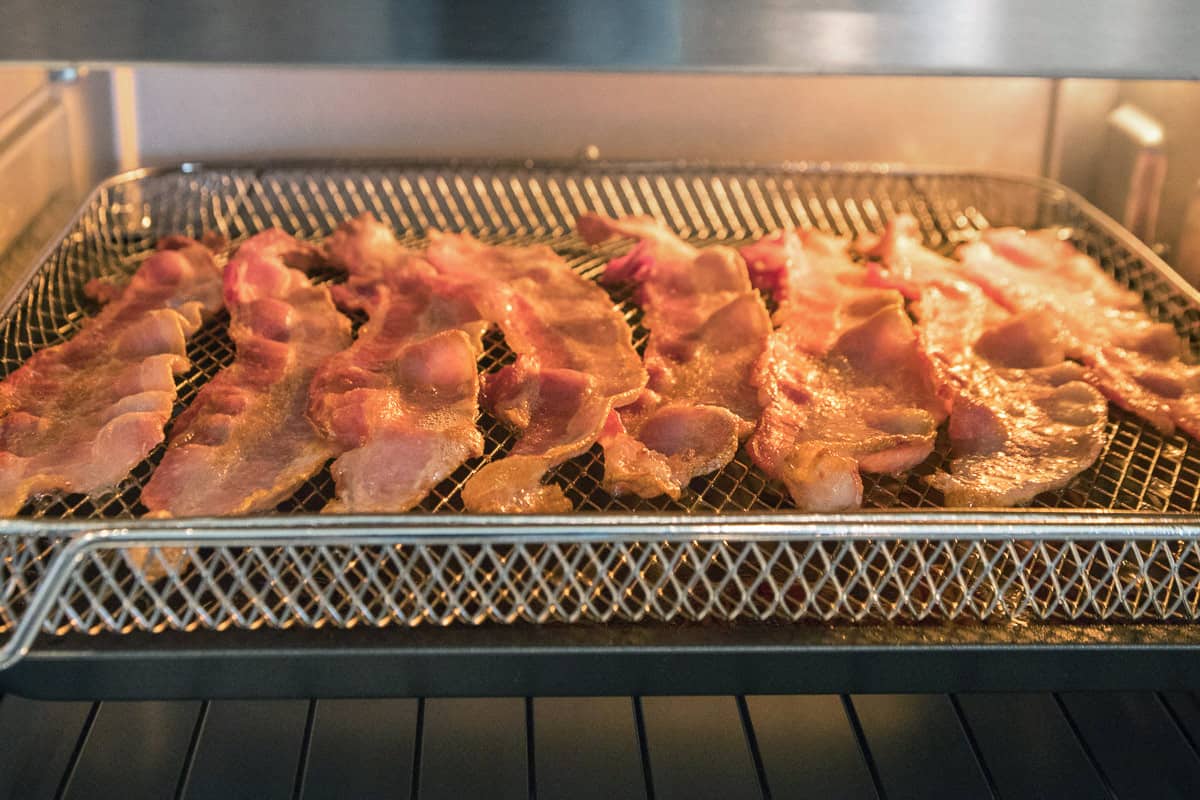 Step 4. Remove the Bacon from the Air Fryer
After the bacon is done cooking, take the bacon out of the fryer and pat it dry with paper towels. If you are going to do another batch of bacon, then be sure to clean the drip pan of any bacon grease before repeating the process.
❓ FAQs
What Are the Advantages of Cooking Bacon in the Air Fryer?
There are some awesome advantages of cooking with an air fryer. The first one is way less of a mess to clean up. The second one is the food you are making comes out crispy and so tasty. The third one is usually less cook time.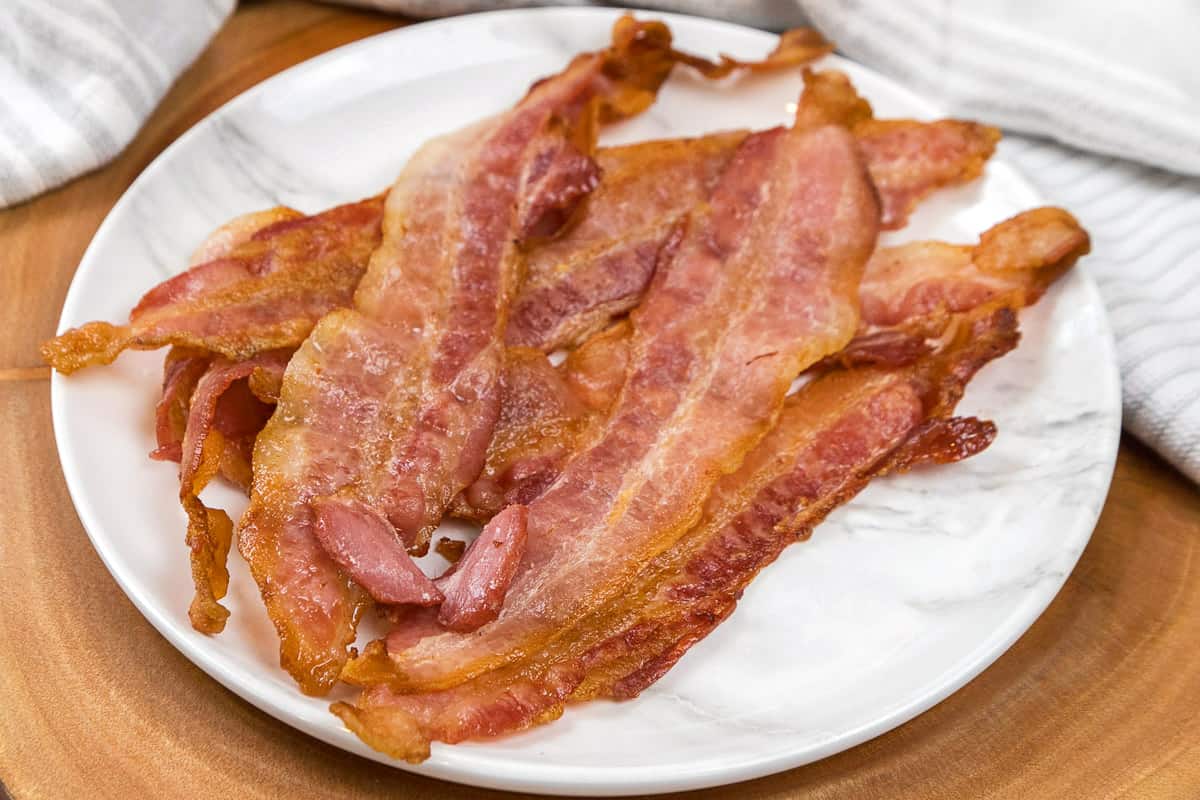 Can You Air Fry Bacon From Frozen?
I don't see how you could air fry frozen bacon unless each slice was frozen individually. I freeze the whole pound of bacon in the package it comes in. Then I let it thaw halfway through and cut it into pieces for the Polish Potato Dumplings I make. It's easier to cut when partially frozen, but I am cutting the bacon into small pieces.

When you want a couple of strips of bacon for breakfast to go along with your eggs and toasted buttered bread, you need each slice of bacon to be separate to lay in a single row in the air fryer. So, in other words, no, you cannot put a whole pound of frozen bacon in the air fryer. However, you can freeze the bacon, then let it thaw enough to separate each slice, and then air fry it. But you will need to adjust the cooking time since the bacon will need a few more minutes to cook.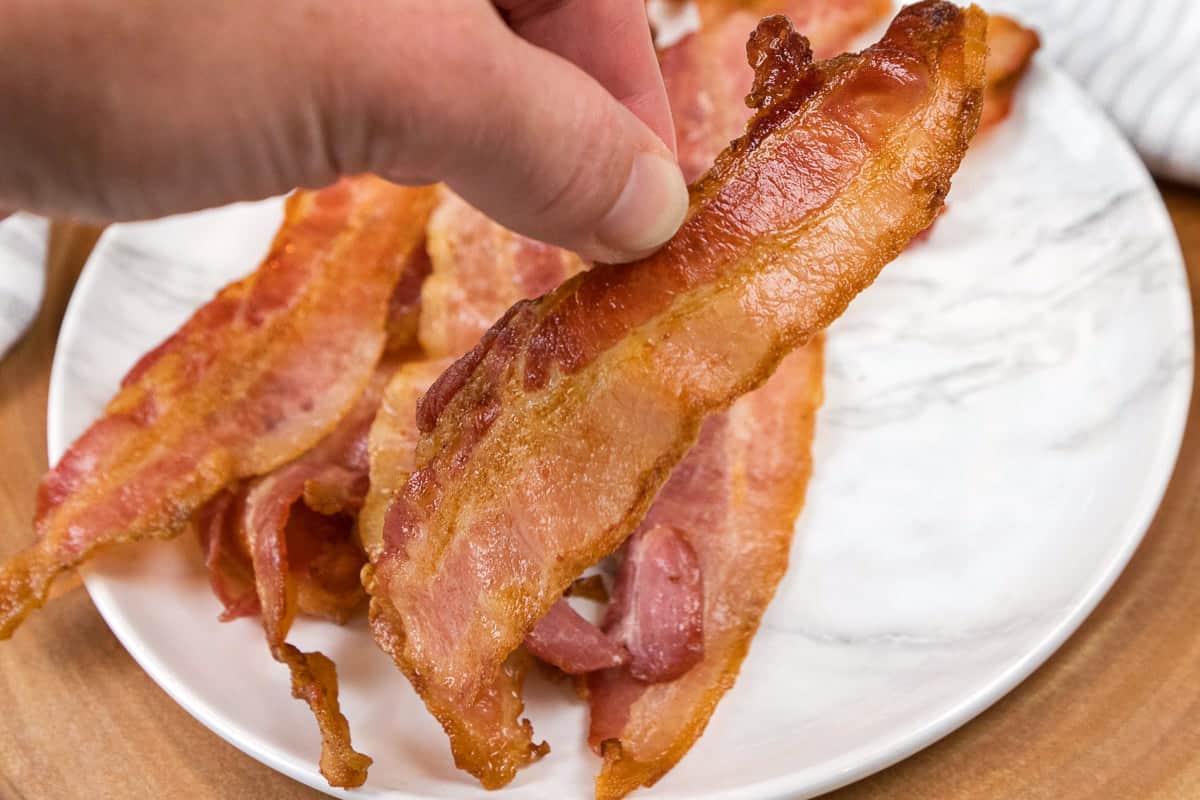 💡 Final Thoughts
What Else Can You Cook in the Air Fryer?
There are so many delicious recipes you can make in an air fryer. Just to mention a few, you can make air fryer breakfast recipes such as air fryer turkey bacon, air fryer hard boiled eggs, or air fryer biscuit donuts. And for dinners, you can also make air fryer chicken or air fryer pork chops, and the list goes on and on.
This air fryer bacon recipe is made in a matter of minutes, like 15 to be exact, so easy compared to the time it takes to fry bacon on the stove and much better than in the microwave oven. Crispy bacon without all of the messy clean-up! Enjoy!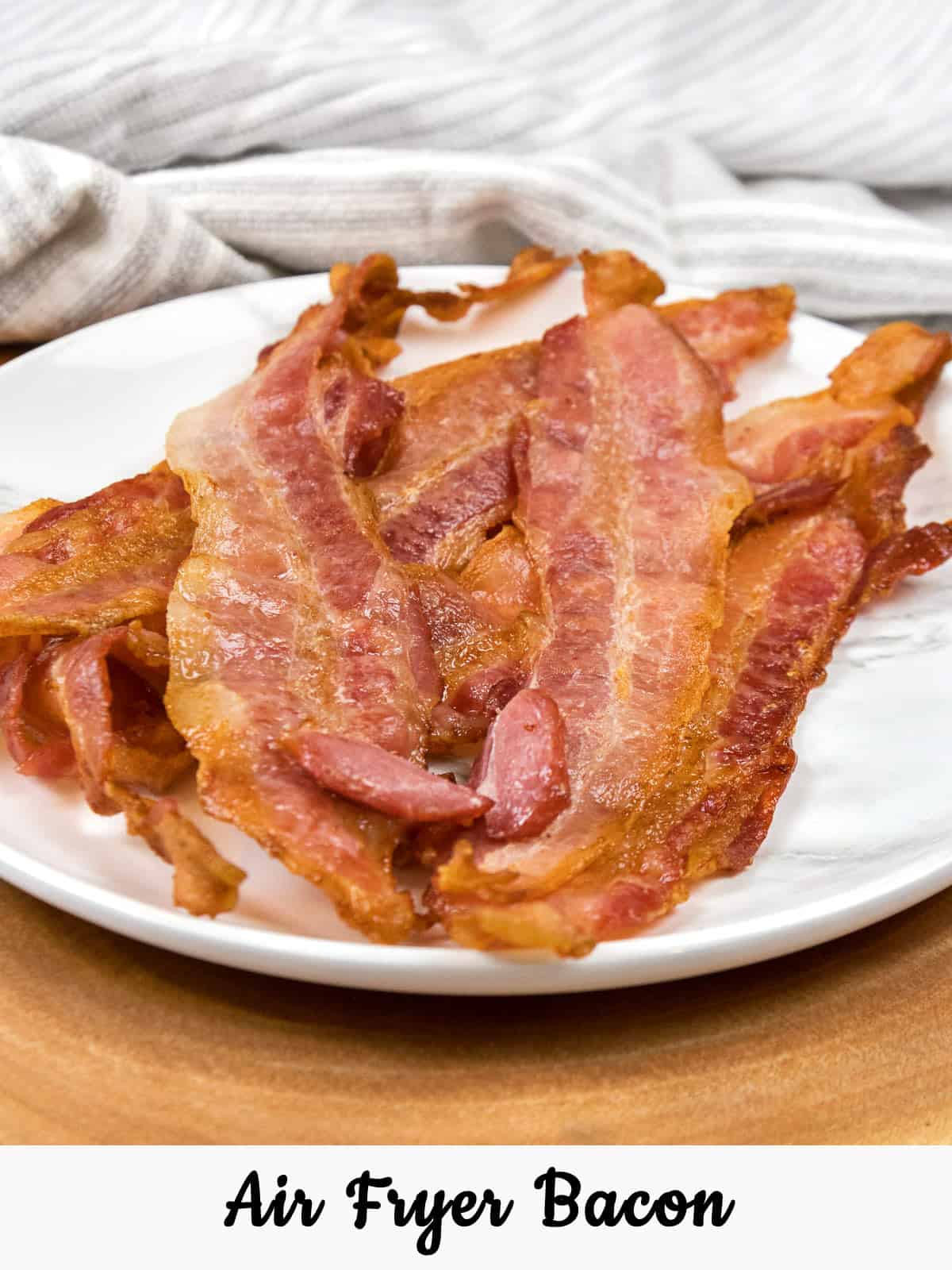 🔪 More Air Fryer Recipes You Will Love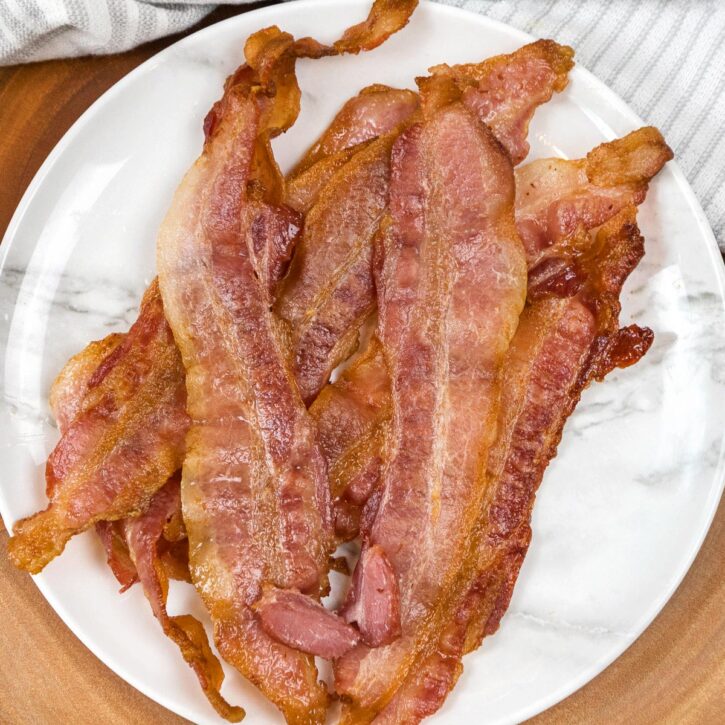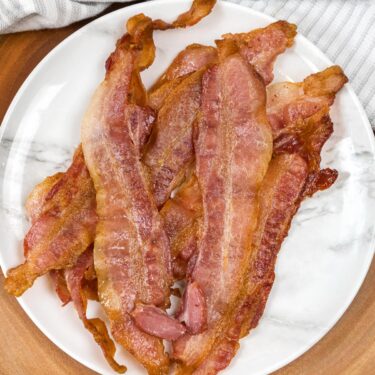 Bacon in the Air Fryer (Crispy)
You will never want to cook bacon any other way after you try this recipe to cook bacon in the air fryer. The bacon comes out crispy, flavorful, and so easy to make with practically no mess at all.
🧂 Ingredients
1

lb

Bacon

(or your favorite brand of bacon)

Cooking spray

(such as Pam)
👩‍🍳 Instructions
Preheat the air fryer to 360 degrees Fahrenheit.

Spray the air fryer basket with cooking spray.

Arrange the bacon slices on the fryer basket in a single layer.

Cook for 7 and a half minutes, then turn the bacon over and cook for 7 and a half more minutes. If less crispy bacon is desired, cook for less amount of time. If crisper bacon is desired, add more time, then check as needed.

Clean out any bacon grease in the fryer tray, then repeat the steps for a second batch.
*️⃣ Recipe Notes
You can use any brand of bacon you prefer.
Time and temperature may have to be adjusted if you have a smaller air fryer.
Drain any bacon grease from the basket in between batches.
A wife, a mother to a son and a daughter, and a grandmother to three granddaughters. Flo loves sharing recipes passed down from her own mother, her mother-in-law, and her grandmother as well as new recipes created with her daughter, Tamara Ray.
More by Flo ➜