(Last Updated On: September 8, 2023)
This easy whole baked salmon filet is a healthy choice for dinner. Salmon is rich in protein and also keeps your heart healthy with omega-3 fatty acids. Prepare the salmon, bake it for 45 minutes, then it's time to eat.
Side dishes that go great with baked salmon are potato salad or boiled baby potatoes. Peas, green beans, or homemade Rice A Roni with cheese are great choices too.
This recipe uses fresh salmon that is not frozen, but if you have any frozen salmon in your freezer, try this method of cooking frozen salmon in the air fryer. It is so quick and easy to make!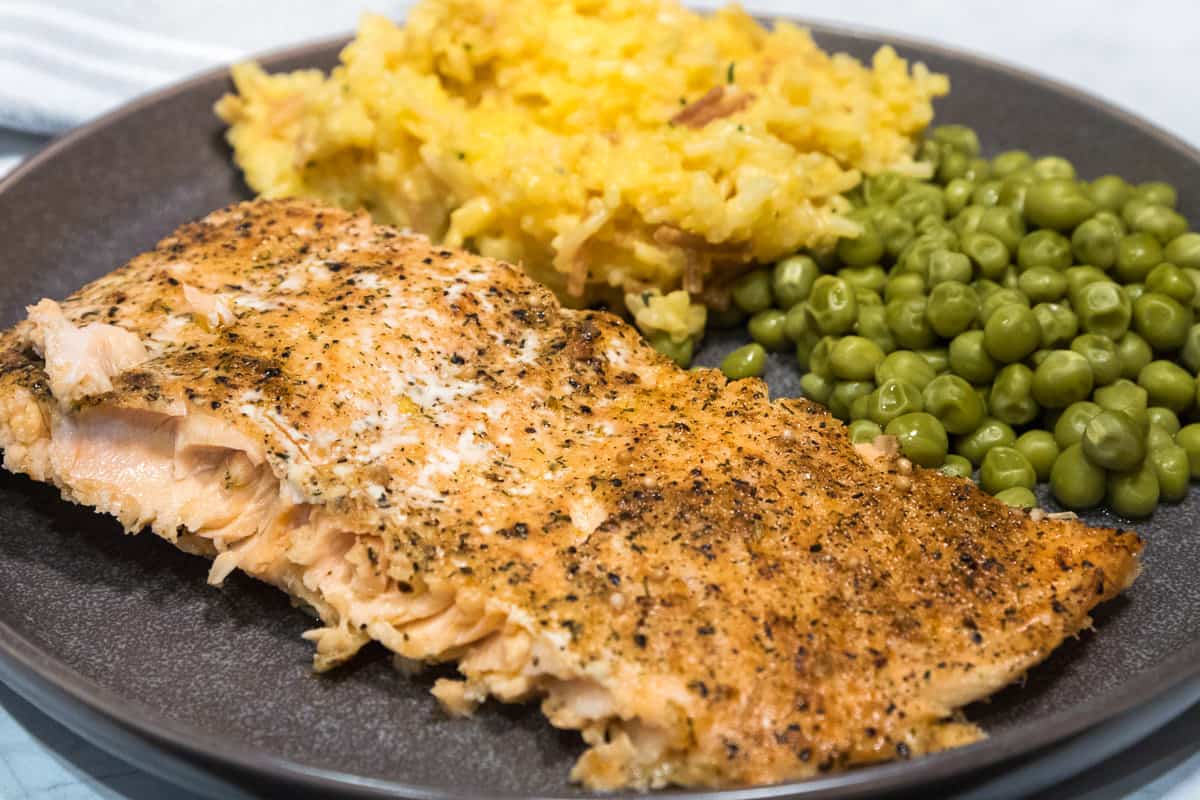 🔪 Key Ingredients
Salmon fillet – about 2 and a half pounds
We brought a 2.45 pound Atlantic salmon fillet from Costco. What's nice about a filleted fish is that the bones are removed. Also, the piece of Salmon we bought has no salmon skin on the bottom side. Salmon is expensive, but Costco has a great selection of fresh fish to choose from at a competitive price.
To prepare, we will rub olive oil all over this beautiful piece of Atlantic salmon. Then magic salmon seasoning mix is sprinkled on top of it. It is then baked in the oven for 45 minutes. This salmon recipe is simple to make with simple ingredients, but big on taste.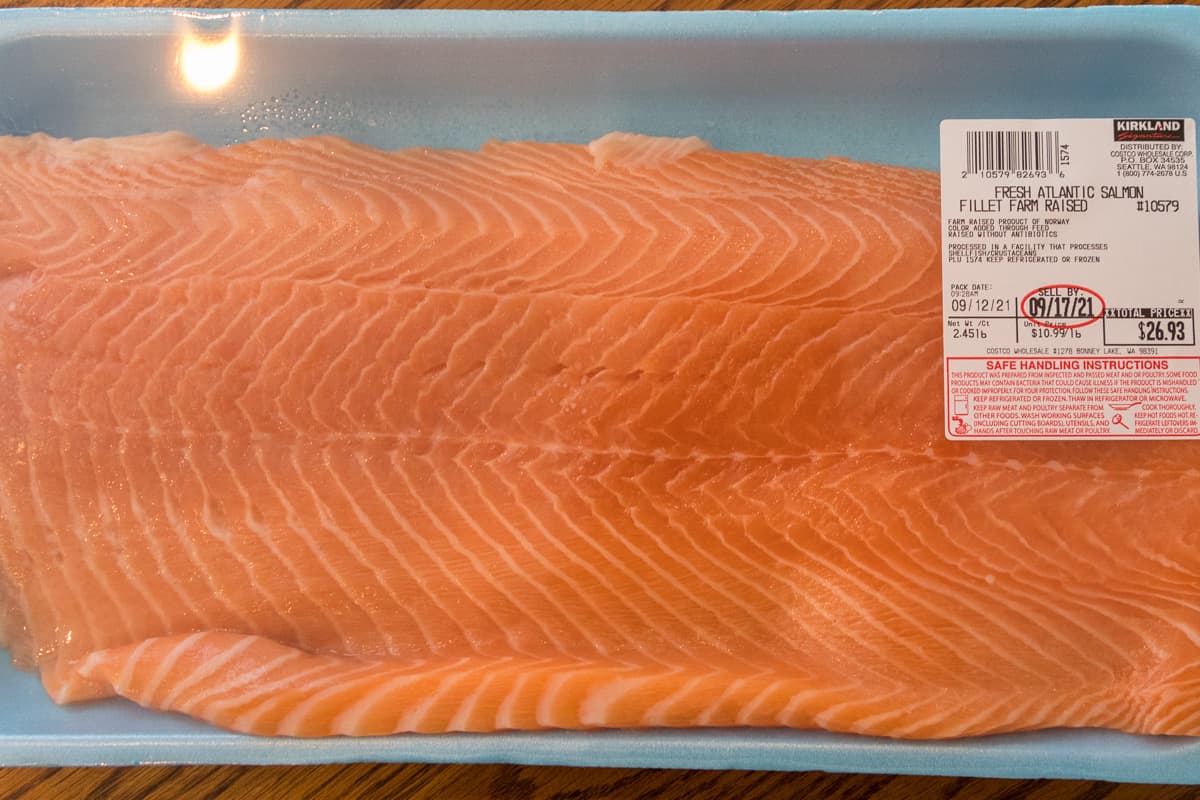 We used 100% Italian extra virgin olive oil, but you can use whatever olive oil or vegetable oil you prefer. We also used Chef Paul Prudhomme magic salmon seasoning mix to sprinkle on the salmon.
🍽️ How to Make Easy Whole Baked Salmon Filet in the Oven (Step-by-Step Instructions with Detailed Photos)
Step 1. Preheat the Oven
Set the oven temperature to 350 degrees Fahrenheit.
Step 2. Prepare the Salmon
Line a baking pan, or rimmed baking sheet (also called a sheet pan or cookie sheet), with aluminum foil. Whatever pan you use, make sure it is rimmed up the sides (to catch any drippings) with at least one inch edges on all sides of it. Then drizzle some of the Italian extra virgin olive oil, or your favorite vegetable oil, on the aluminum foil.
The next step is to lay the whole salmon fillet on the aluminum foil, then brush some of the olive oil on the top of the salmon fillet. After that, sprinkle some magic salmon seasoning over the top of the salmon fillet.
Note: If your salmon fillet has skin on the bottom of it, lay the skin side down in the pan and the flesh of the salmon facing up so you can see it.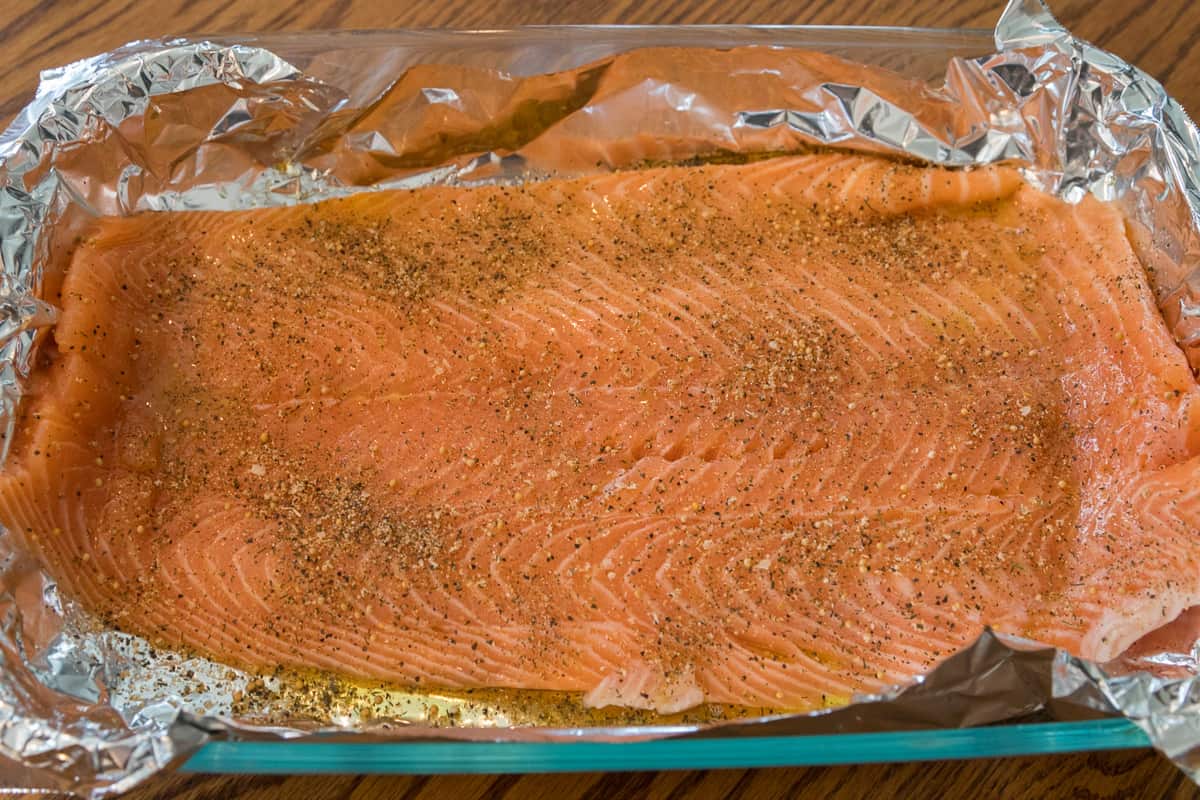 Step 3. Place Salmon in the Oven
Put the baking dish with the salmon in it in the oven at 350 degrees Fahrenheit for 45 minutes. After 45 minutes of baking time, remove the baking dish from the oven with a pair of heat-resistant oven mitts. Let the salmon sit on the countertop at room temperature for just a couple of minutes. That's all there is to do, the salmon is done and ready to be served for dinner.
Note: The food safety website says that the safe minimum internal temperature of fish with fins should reach 145 degrees Fahrenheit. The fish should be cooked until the flesh of the salmon is opaque (no longer translucent, shiny, or have a wet looking or raw appearance), and it separates easily with a fork.
Our 45 minutes of cooking time assures this safe minimum internal temperature at 350 degrees Fahrenheit. But remember, all ovens may not cook the same – your oven may cook hotter or not as hot as ours.
An easy way to check the internal temperature of baked fish is to use an instant-read thermometer, also known as a meat thermometer. Insert the thermometer in the thickest part of the whole fish.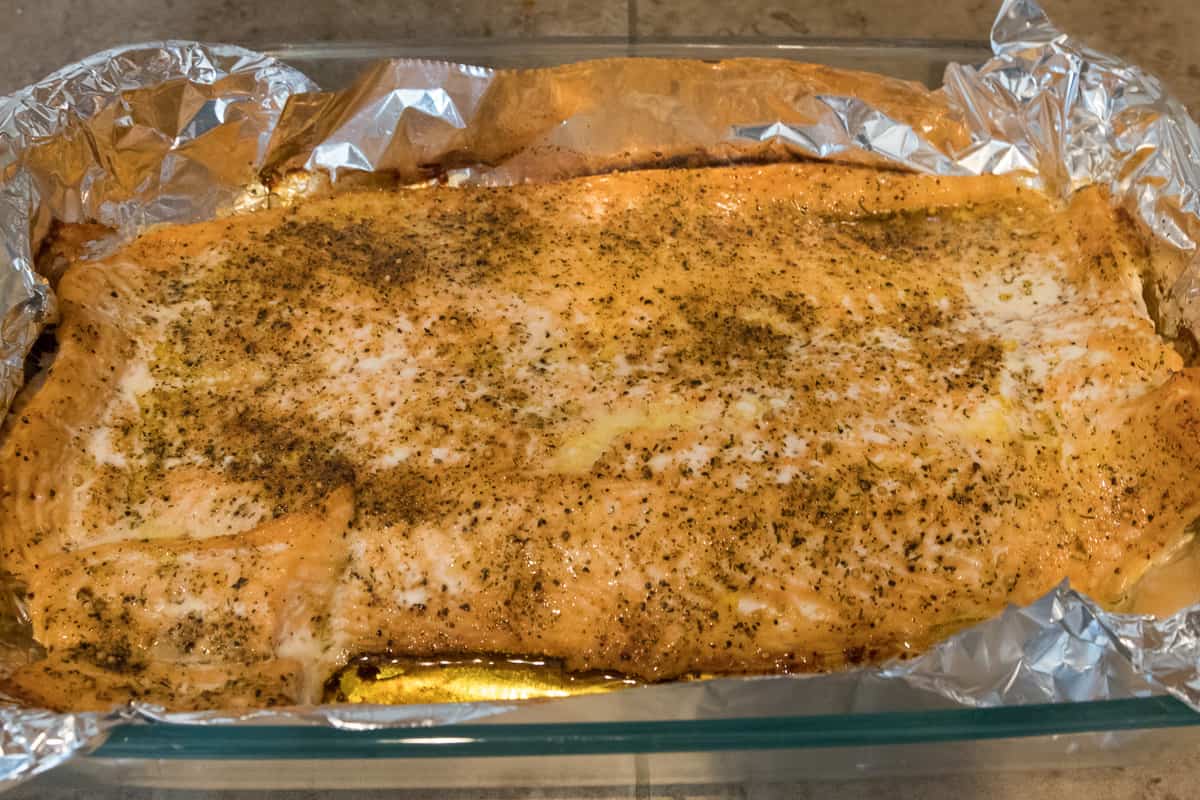 🌟 Recipe Variations
A few different ways to prepare this oven-baked salmon recipe are:
Toss a few chopped green onions or your favorite fresh herbs on top of the salmon fillet before or after baking.
If you like lemon, scatter a few lemon slices or sprinkle some lemon juice on top of the salmon fillet before baking.
Sprinkle some ground black pepper, sea salt, garlic salt or garlic powder on the salmon before baking.
Pour a little bit of melted butter or melted garlic butter on top of the salmon fillet before baking.
There are different types of salmon you can use for this recipe that you can buy at the grocery store or the fish market when in season. The kind of salmon you choose is up to you, such as coho salmon (also known as silver salmon), sockeye salmon (also known as red salmon), and king salmon (also known as Chinook salmon). The best is wild-caught salmon straight out of a river or the ocean that you caught, or sent to the market. However, you can choose whatever type of fish you love the best.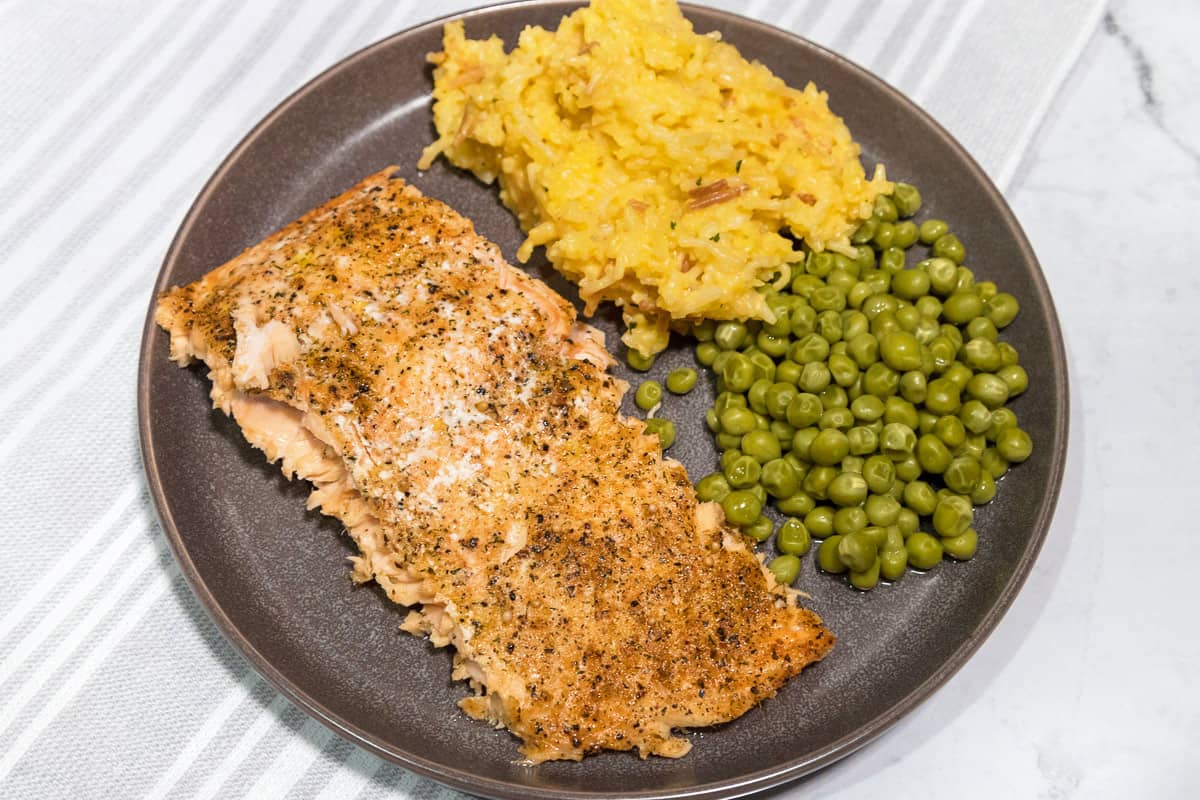 ❓ FAQs
What do I do with Leftover Whole Baked Salmon?
Put any leftover baked salmon in an airtight container or wrap the salmon in aluminum foil, then place it in the refrigerator. It should still be good to eat for about three days after that. Just reheat it in the oven or microwave.
Can I Make Different Dishes with Leftover Baked Salmon?
Yes, there are many different dishes you can make with leftover baked salmon. Here are a few examples:

Make salmon patties. Mix mashed up salmon together with breadcrumbs or crushed saltine crackers. Add an egg, olive oil, chopped red or green onions, salt, pepper, or your favorite seasonings, and chopped herbs such as parsley or dill. Then form into patties and pan fry until both sides are golden brown.

Or how about fish tacos or salmon chowder? You can also toss pieces of salmon into a salad made with fresh greens, chopped red onions, sliced tomatoes, and cucumbers slices.

Instead of a tuna salad sandwich, make a salmon salad sandwich. Mix mayonnaise, relish, chopped onions, garlic powder, salt, and pepper together with mashed salmon. Spread the salmon mixture between two slices of your favorite bread, then add a leaf of lettuce and a slice of tomato. You can also sprinkle on a bit of shredded sharp cheddar cheese.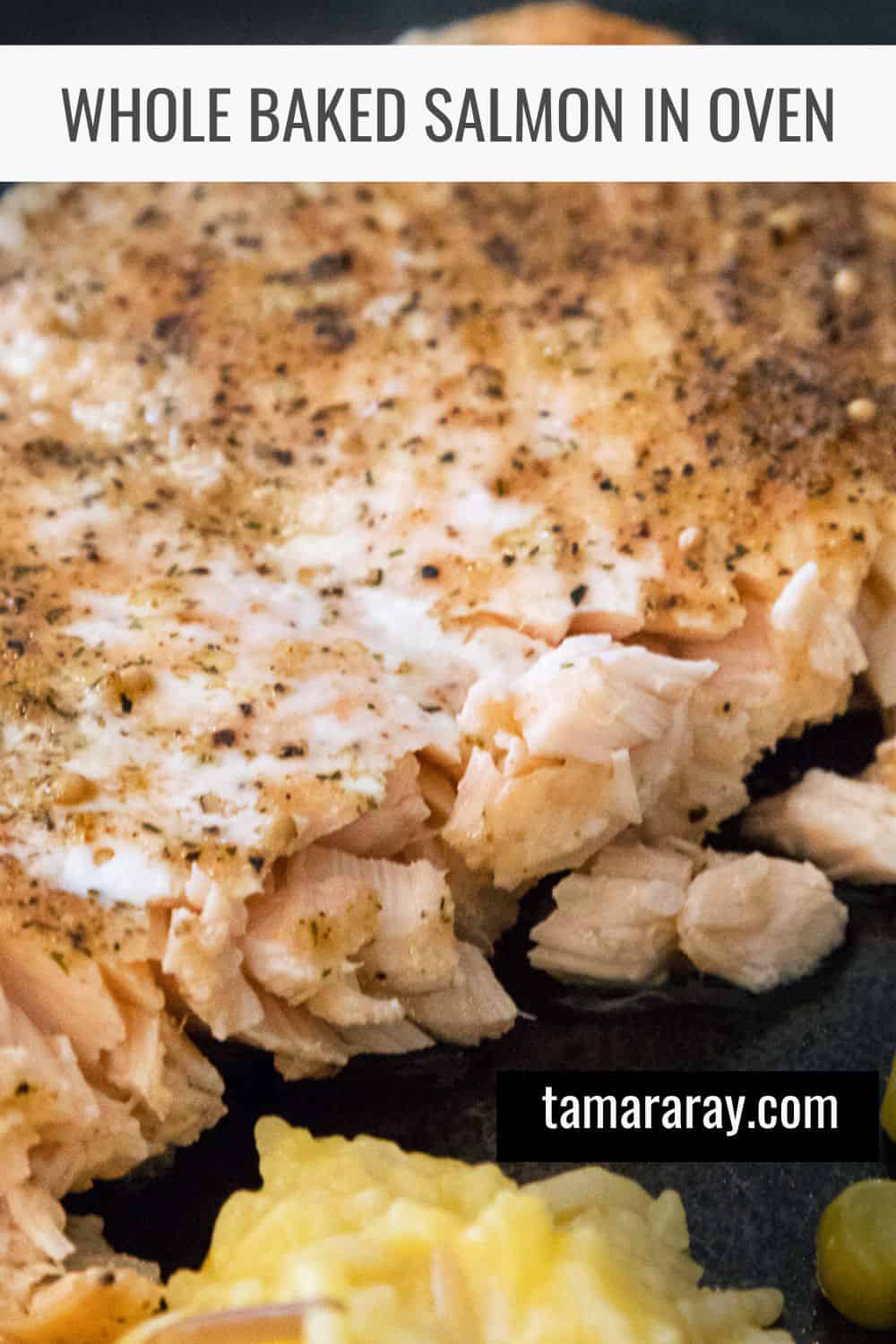 💡 Final Thoughts
This simple baked salmon recipe is super delicious and also a healthy family dinner that's ready to eat in minutes. Prepare the baking sheet, put the whole filet of salmon on it, brush on some olive oil and sprinkle with seasoning, and then it's ready for the oven.
In conclusion, whole baked salmon is a delicious dish that combines taste, nutrition, and elegance into one memorable meal. It is a dish that can evoke fond memories and become a tradition in your household.
🥰 More Delicious Meals and Tasty Recipes You Will Love
Old Fashioned Tuna Noodle Casserole is made with Albacore solid white tuna in water, pasta noodles, cream of mushroom soup, red bell peppers, cheddar cheese, onions, and frozen peas with carrots with crushed potato chips baked on top. It is so delicious!
Tuna Salad – A delicious tuna salad with simple ingredients such as Albacore solid white tuna in water, relish, garlic powder, mayonnaise, diced red onions, salt, and ground black pepper.
📋 Recipe Card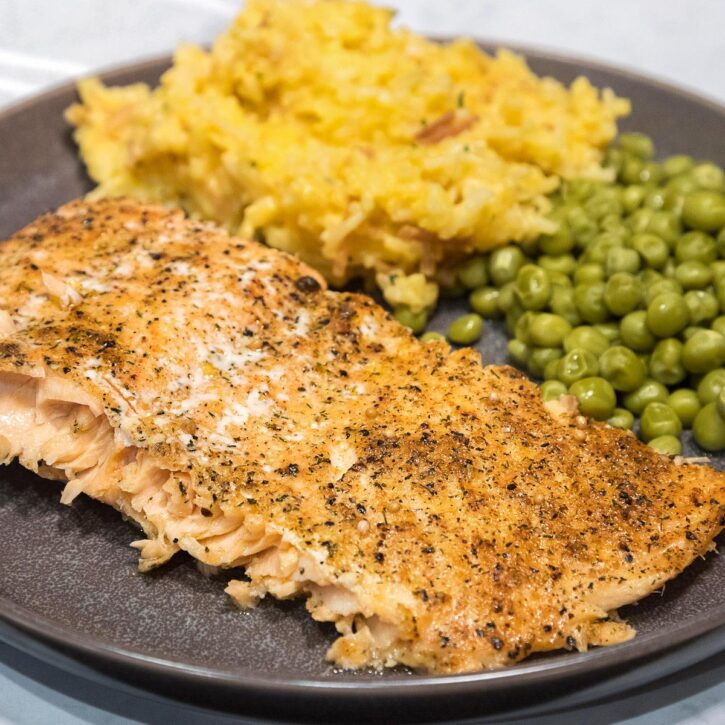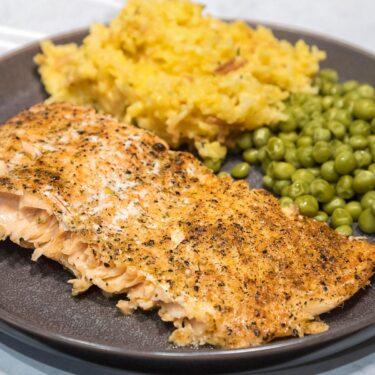 Easy Whole Baked Salmon Filet (Oven)
This whole baked salmon filet is tasty and easy to make in the oven with only 3 ingredients and 45 minutes baking time.
🧂 Ingredients
2.5

pounds

fresh salmon

100% Italian extra virgin olive oil
👩‍🍳 Instructions
Preheat over to 350 degrees Fahrenheit.

Line a 9×13 inch baking dish with aluminum foil.

Drizzle some olive oil on the aluminum foil.

Lay the salmon on top of the aluminum foil with the skin side down.

Brush some olive oil on top of the whole salmon fillet.

Sprinkle some of the magic seasoning on top of the salmon.

Put the salmon in the oven and bake for 45 minutes.

When done, remove the salmon from the oven with heat-resistant oven mitts. Let the salmon sit for a couple of minutes before serving.
*️⃣ Recipe Notes
There are no specific amounts for the olive oil or the salmon seasoning. Just drizzle the olive oil out of the bottle over the aluminum foil, and brush the olive oil over the top of the salmon, then sprinkle the salmon seasoning over the top of the salmon.
Some side dishes to have with salmon are canned peas, your favorite rice dish, whole green beans, fresh lemon, asparagus, your favorite grilled or sautéed vegetables, mashed potatoes, or a salad too.
A wife, a mother to a son and a daughter, and a grandmother to three granddaughters. Flo loves sharing recipes passed down from her own mother, her mother-in-law, and her grandmother as well as new recipes created with her daughter, Tamara Ray.
More by Flo ➜