(Last Updated On: February 12, 2023)
An easy homemade tartar sauce recipe that is super quick to make, and it also tastes great. With only five simple ingredients in the recipe, you probably already have them in your kitchen at any given time. The main ingredients are mayonnaise, mustard, sweet relish, onions, and parsley flakes.
Tartar sauce tastes great with french fries, potato wedges, and also seafood dishes such as air fryer fish sticks, crab cakes, baked salmon, salmon cakes, salmon burgers, or fish fillets. It also tastes great as a spread inside cheeseburgers or fish sandwiches.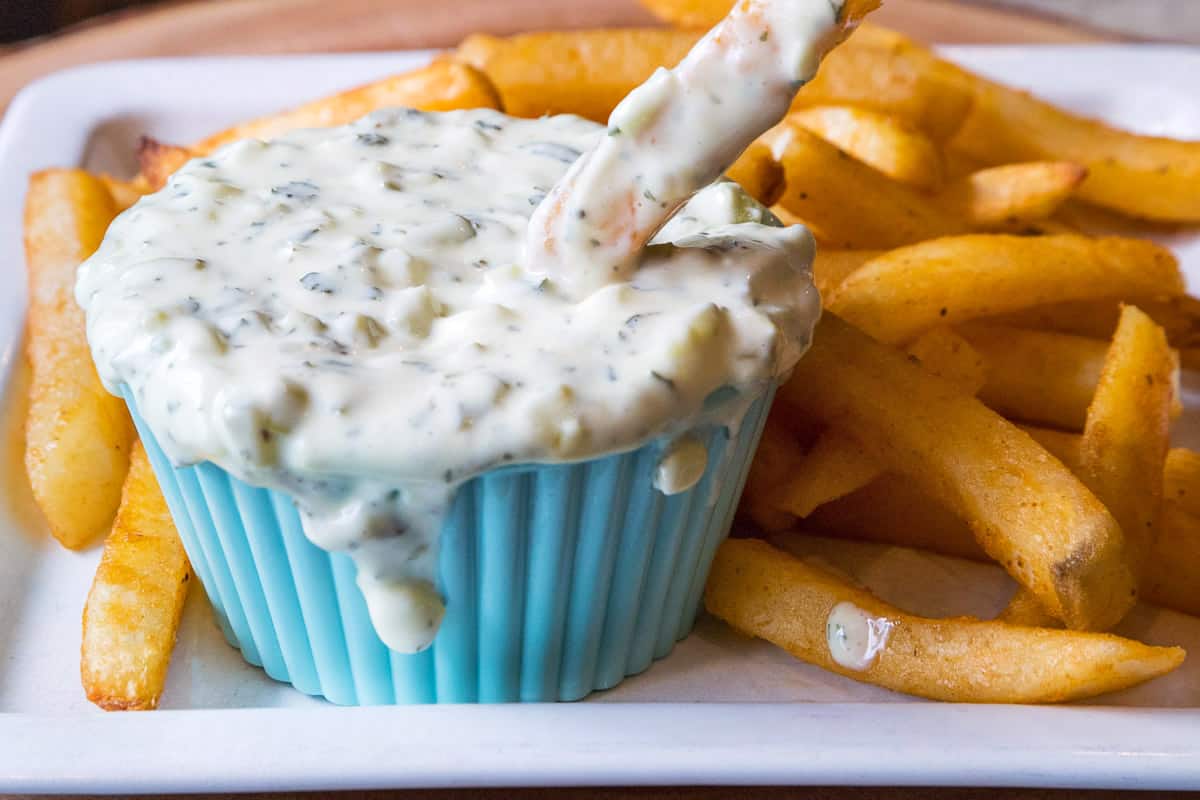 This is a simple tartar sauce recipe with basic ingredients, but you can certainly add to it. I love my tartar sauce just the way that it is, but whatever sounds good to you to add to this already delicious sauce would probably be a perfect pairing.
🔪 Key Ingredients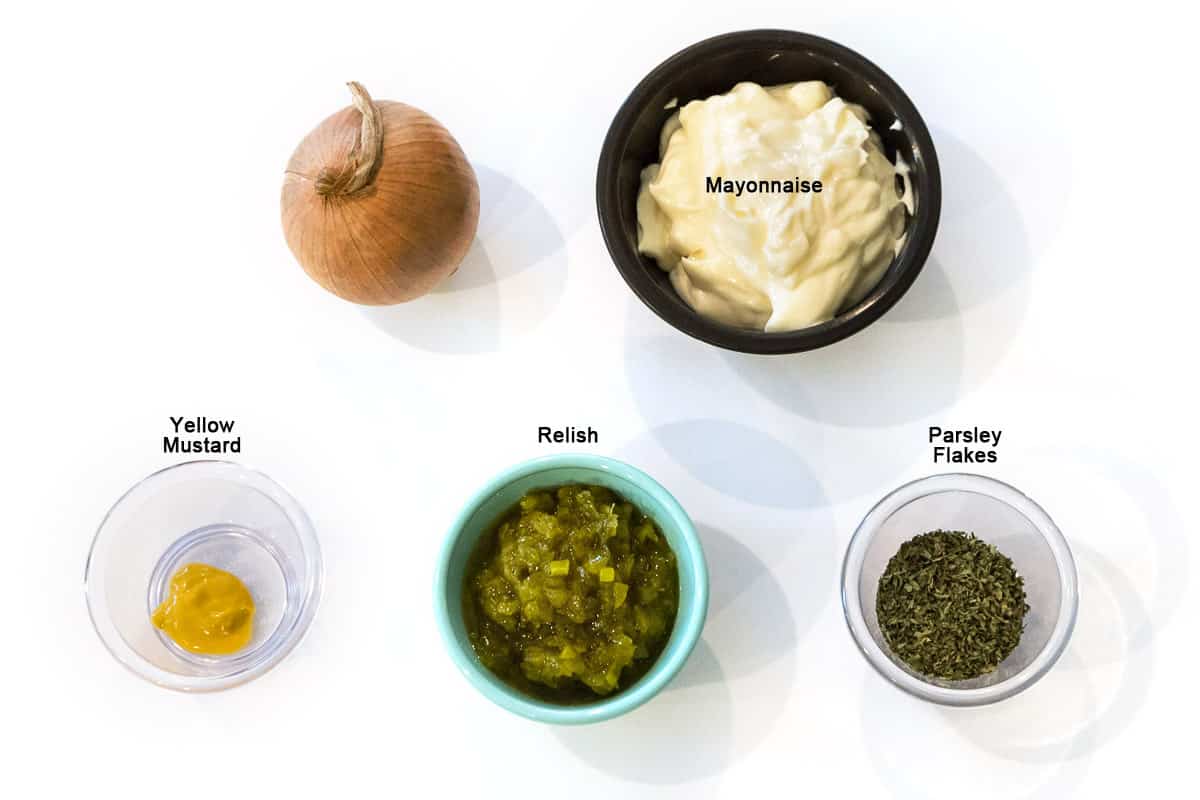 👩‍🍳 How to Make an Easy Tartar Sauce Recipe (Step-by-Step Instructions with Detailed Photos)
Step 1. Dice the Onion
The first step is to dice up the onion for the homemade sauce we are about to make. Dice the onion into small pieces.
Note: Buy a small onion because you will probably use just half of it since this recipe calls for only 1/4 of a cup of diced onions. However, if you like lots of onions as I do, you can certainly add the whole onion because the onions in this tartar sauce recipe do taste fantastic.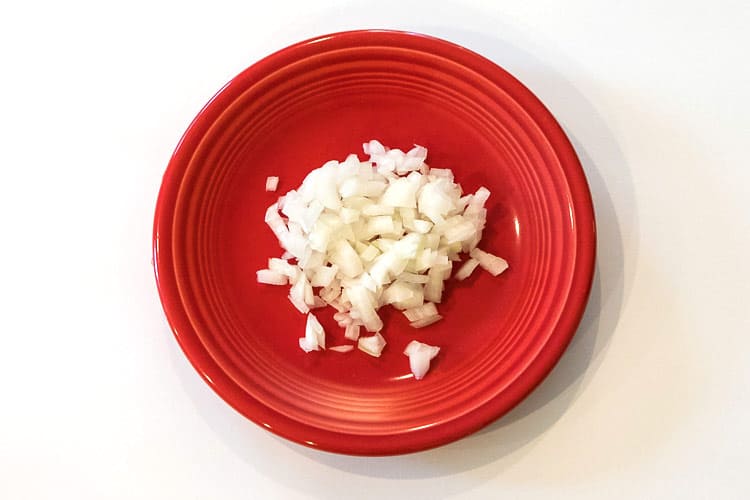 Step 2. Add all of the Ingredients
In a small bowl or medium bowl if you want to make a double batch, add 1 cup of mayonnaise together with 1/2 cup of sweet relish, 1/2 teaspoon of yellow mustard, 1/4 cup of finely diced onions, and 1 tablespoon of parsley flakes.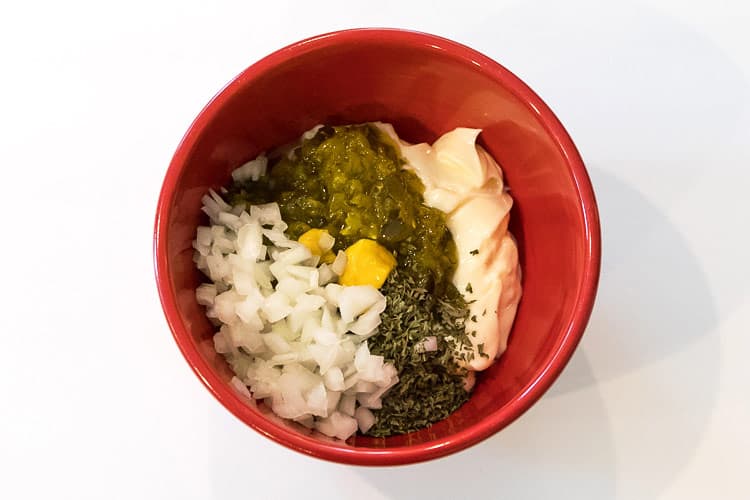 Step 3. Blend the Ingredients Together
Stir the mayonnaise thoroughly together with the sweet relish, yellow mustard, finely diced onions, and parsley flakes. This tartar sauce recipe is much cheaper than the grocery stores, and a whole lot better tasting!
And that's it! Your homemade tartar sauce is now ready to be poured into a serving dish.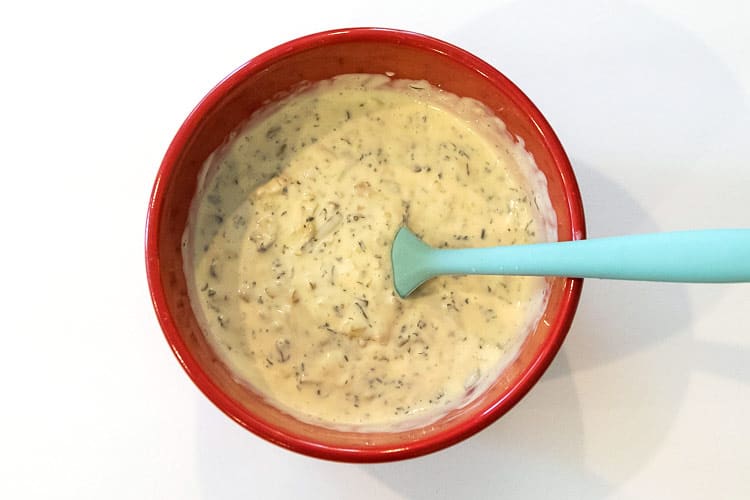 ✨ Recipe Variations
To add some different flavors to this creamy tartar sauce, you can experiment with some of these suggestions:
Make homemade mayonnaise instead of buying a jar of store-bought mayonnaise from the grocery store. When you make your own mayonnaise, you will know exactly what's in it – eggs, lemon juice, mustard, and vegetable oil. That's it, no preservatives or artificial flavorings.
You can add some lemon juice or use diced dill pickles or dill relish for more of a tangy tart taste if you prefer to do so.
Dijon mustard can be used instead of yellow mustard.
Dice some sweet pickles or butter pickles instead of using sweet relish.
Chop up some fresh dill to add to this tartar sauce.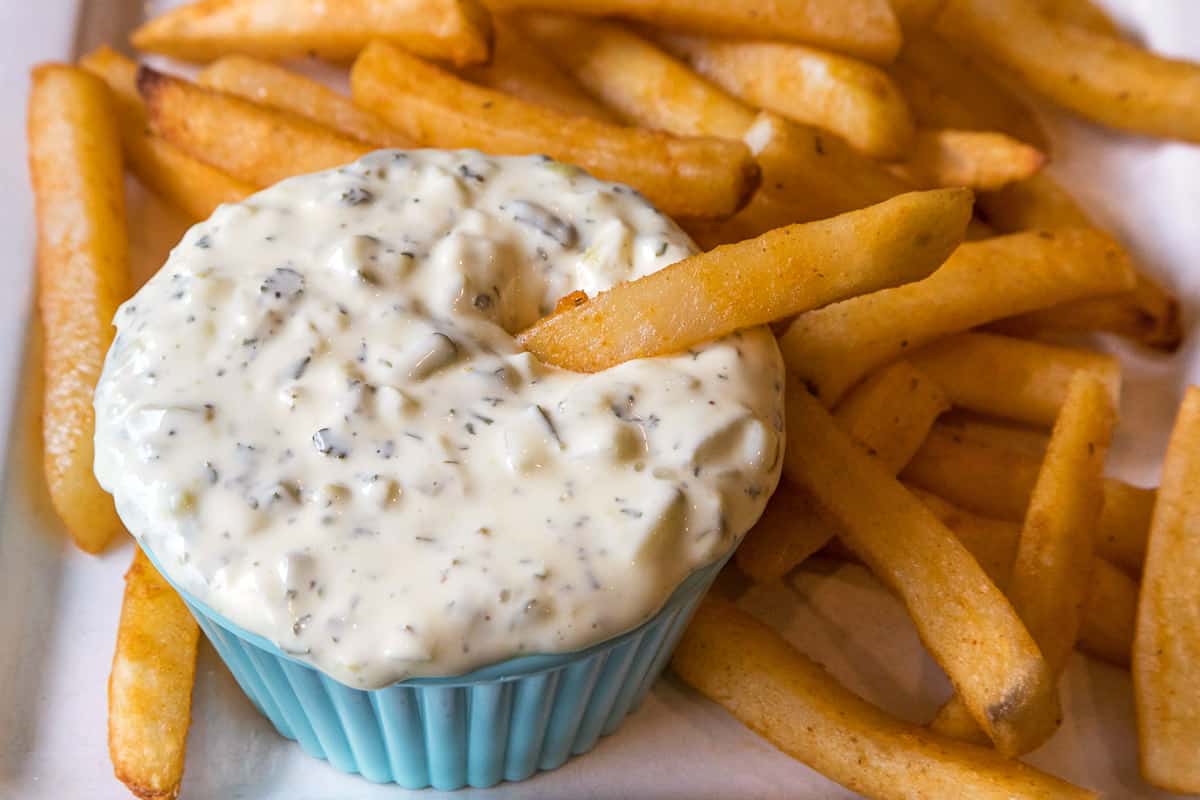 ❔ FAQs
What do I do with Leftover Tartar Sauce?
Put any leftover tartar sauce in the refrigerator in an airtight container. Because it is a mayonnaise-based condiment, it should not be left sitting on the countertop. A couple of days in the refrigerator is okay, then after the third or fourth day, eat it up or throw it out.
What do I Need Tartar Sauce For?
Oh, that is a good question. You need a dipping sauce or spread when you make fantastic dishes. Spread tartar sauce on top of your salmon patties or in your fish tacos, or dip your popcorn shrimp, chicken nuggets, and fried fish in the tartar sauce. Yum!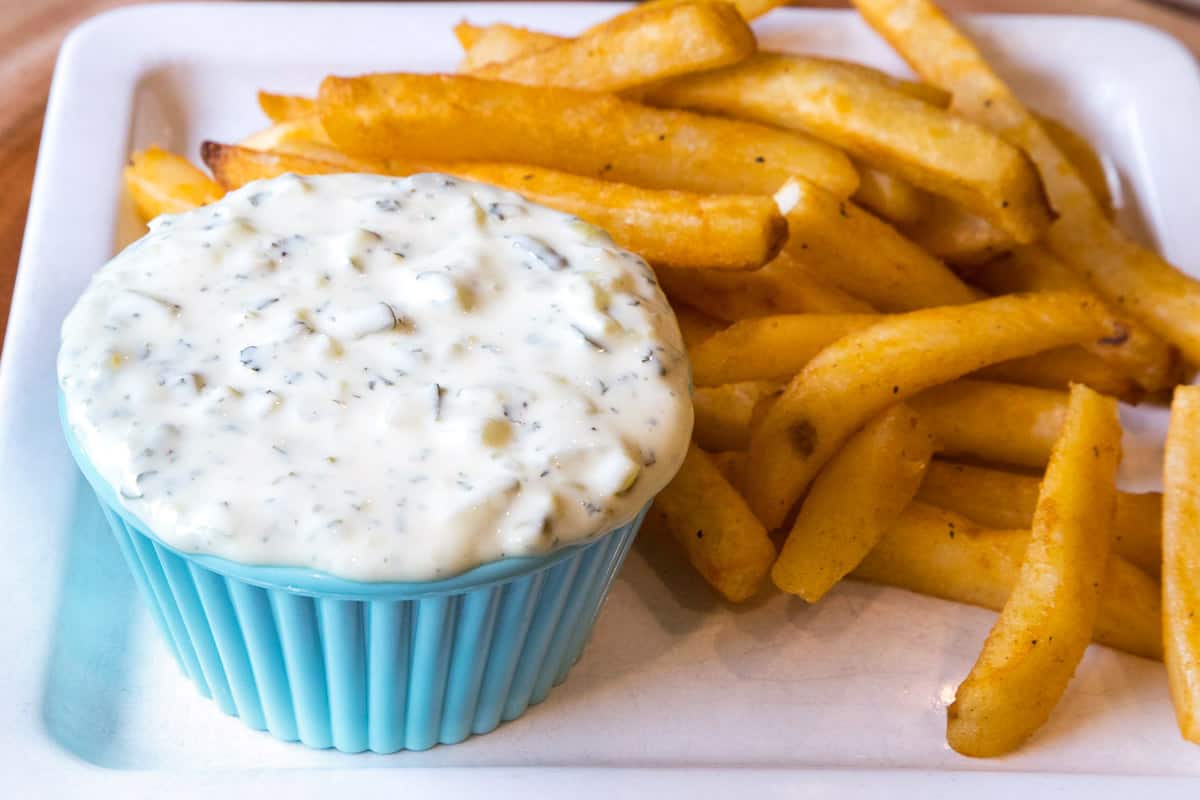 💭 Final Thoughts
So the bottom line is to make your own tartar sauce. Don't buy the store-bought stuff because this homemade version of tartar sauce is so quick and is the best tartar sauce recipe by far! Besides tasting fantastic, the wholesome ingredients should win you over.
Way back in the day, I was not a fan of tartar sauce until I started making my own. I don't care for the taste of any tartar sauce in grocery stores or seafood restaurants, but I do have to say that I love this tartar sauce recipe. I have made this recipe for over 49 years now, and my husband loves it and so does my sweet little granddaughter. It really is lip-smacking good!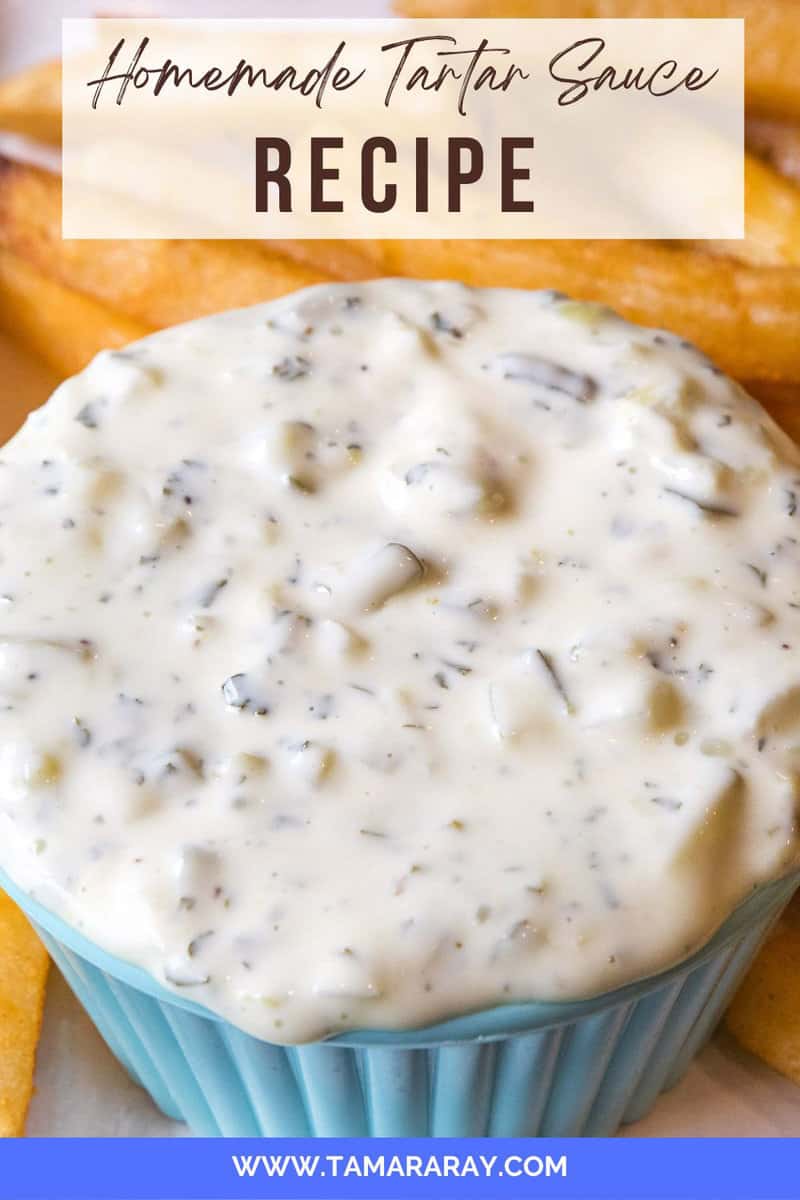 💑 More Great Recipes You Will Love
Sweet and Spicy Chili (Instant Pot) – This sweet and spicy chili recipe has lean ground beef in it along with four different kinds of beans, diced tomatoes, and lots of spices. Cayenne pepper is added for just the right amount of hotness. The sweet flavor of this recipe is from the addition of brown sugar.
Polish Cabbage Rolls Recipe (Golabki) – Polish cabbage rolls are very easy to make with lean ground beef, uncooked white rice, and diced onions all wrapped in cabbage leaves and topped with tomato sauce. Baking time is about 2 hours. So delicious.
Hamburger Soup with Cabbage and Potatoes – A delicious and hearty cup of hamburger soup loaded with cabbage, onions, carrots, potatoes, corn, and green beans.
📄 Recipe Card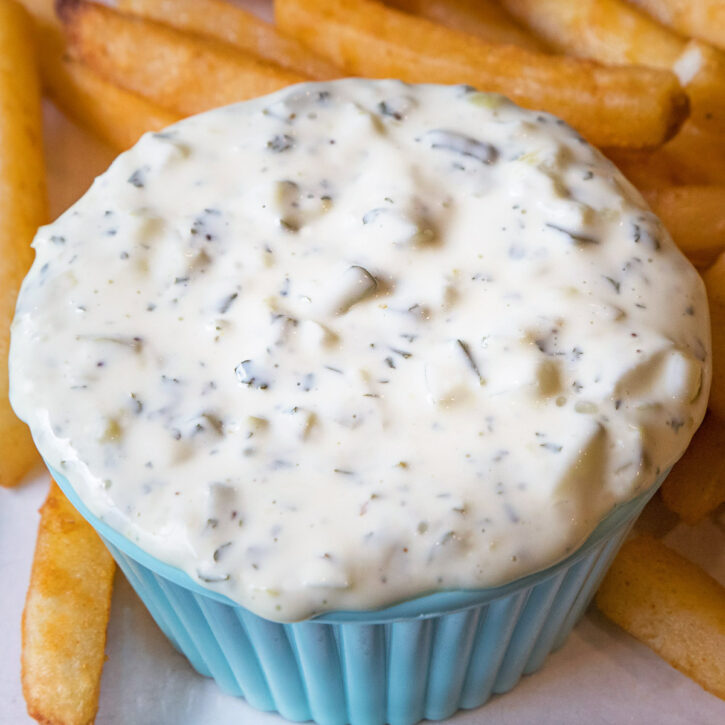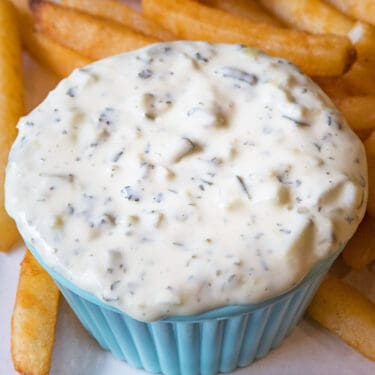 Homemade Tartar Sauce
Quick, simple, and only five ingredients – mayonnaise, mustard, onions, sweet relish, and parsley flakes. Yum!
👩‍🍳 Instructions
Dice the onions into small pieces.

In a bowl add the mayonnaise.

Add the finely diced onions.

Store in the refrigerator.
*️⃣ Recipe Notes
For all of the onions lovers out there, you can certainly add more onions than the recipe calls for.
And for all of you who love the zest and tart-and-tangy flavor of yellow mustard, as I do, you can add a little more yellow mustard to this recipe too.
A wife, a mother to a son and a daughter, and a grandmother to three granddaughters. Flo loves sharing recipes passed down from her own mother, her mother-in-law, and her grandmother as well as new recipes created with her daughter, Tamara Ray.
More by Flo ➜