(Last Updated On: September 3, 2023)
Using frozen bananas and vanilla bean ice cream with cocoa powder, this milkshake recipe is just the thing you need to eat some fruit while enjoying a tasty treat! This chocolate banana milkshake recipe is made out of simple ingredients like fresh bananas and is a fun treat to enjoy on a hot summer day!
If you liked this creamy chocolate banana milkshake, you might also enjoy our other creamy milkshakes, such as the delicious Oreo chocolate milkshake, or ditch the chocolate and enjoy our Oreo milkshake instead! If you choose to ditch the Oreos and keep the chocolate, you get our chocolate milkshake! Don't forget to add some homemade whipped cream!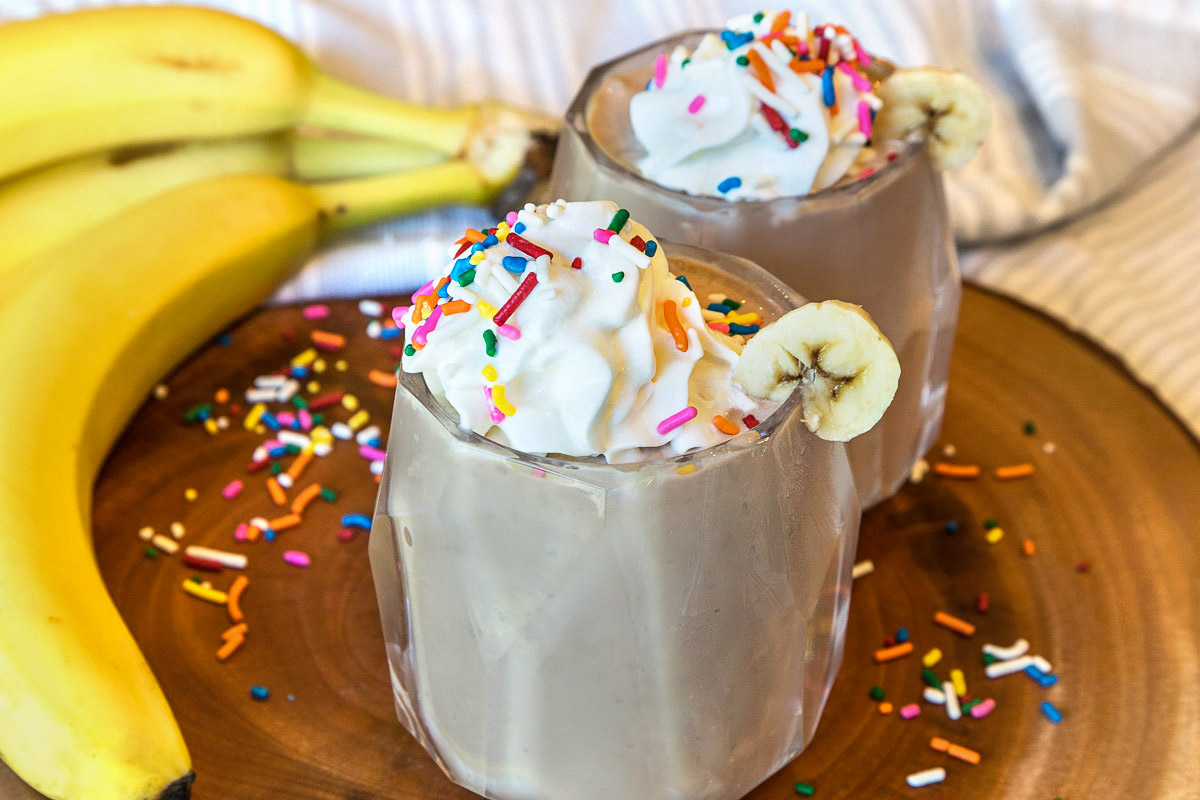 🔑 Key Ingredients
1/3 cup 2% milk
6 cups of vanilla bean ice cream
2 frozen bananas, sliced
4 tbsp cocoa powder
1/4 cup warm water
Sprinkles – Optional
Whipped Cream – Optional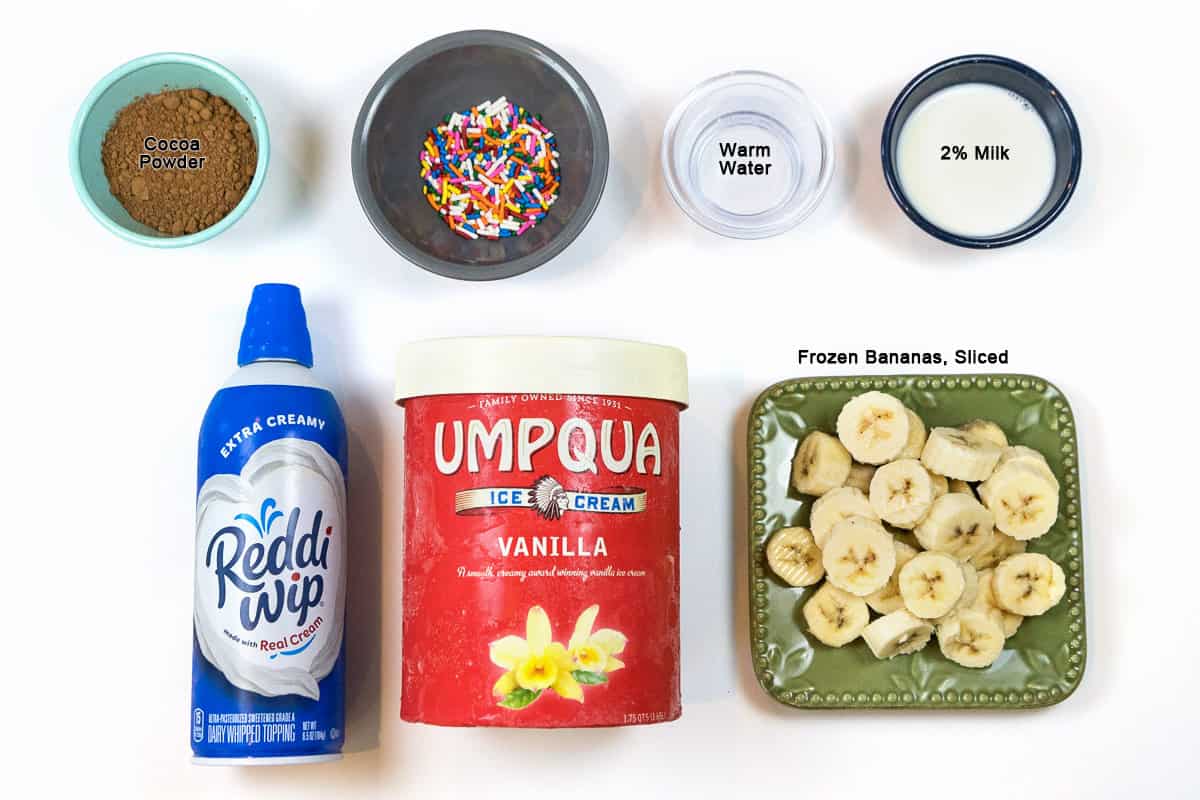 🥤 How to Make the Banana Chocolate Milkshake (Step-by-Step Instructions with Detailed Photos)
Step 1. Get out Your High-Powered Blender and Measure the Cocoa
To begin with, measure 1/4 cup warm water and 4 tbsp cocoa powder and put it in a good blender. You need warm water because it helps to dissolve the cocoa powder into it before blending it with the other ingredients.
For the best results, put some cups in the freezer right now while you make the milkshake so that it doesn't melt when you are ready to dish out the best chocolate banana milkshake.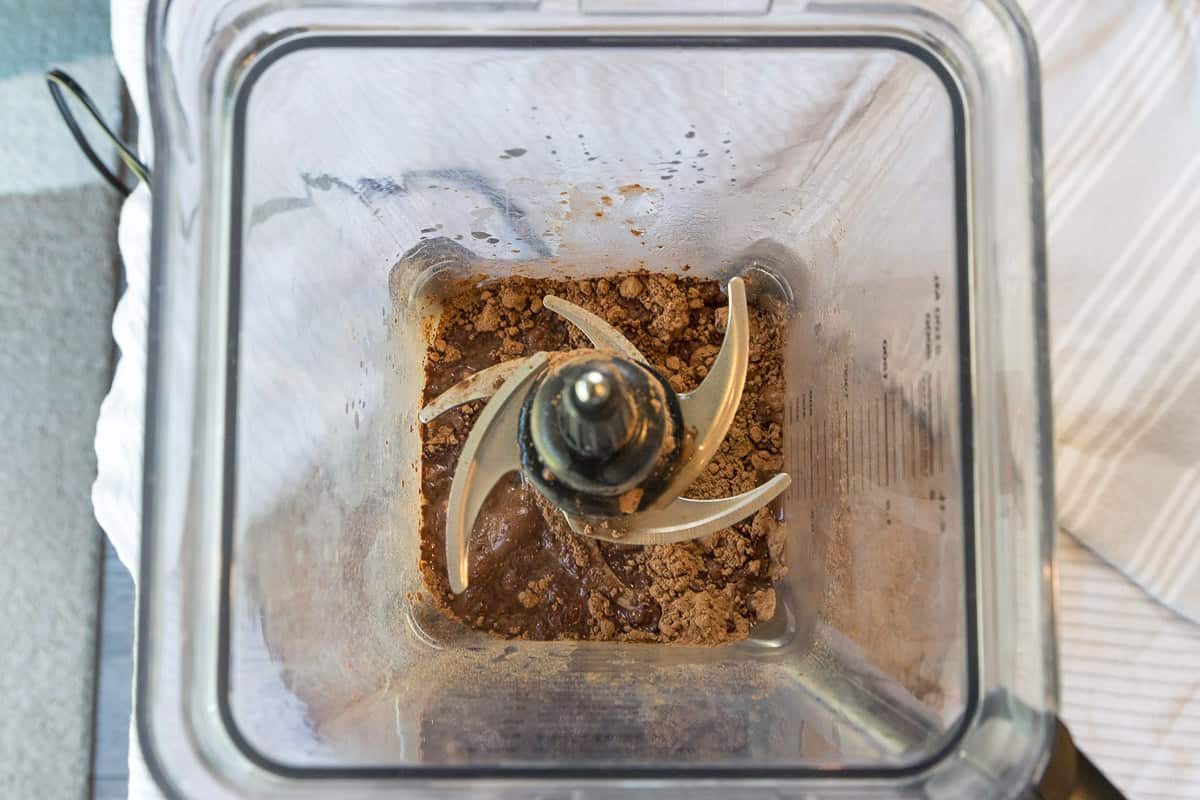 Step 2. Blend the Cocoa
Secondly, cover the blender and blend on pulse until the cocoa powder is smooth.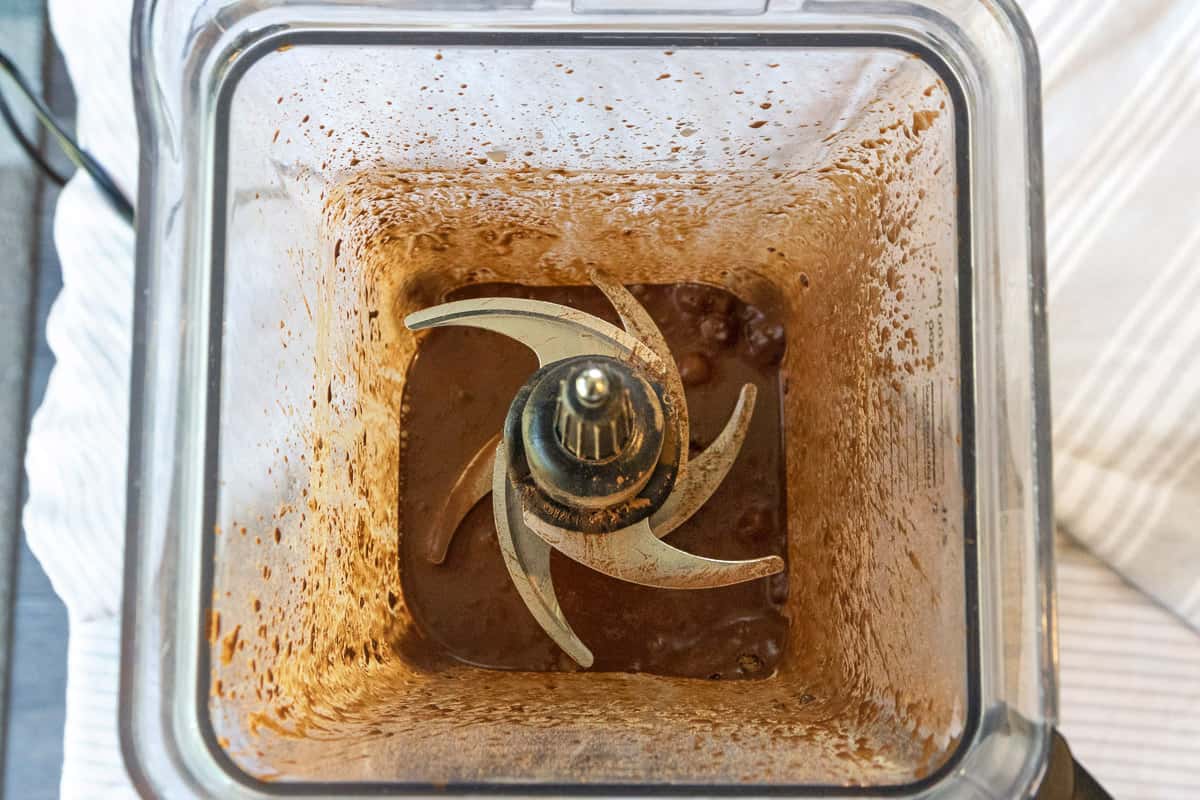 Step 3. Add the Milk
Third, measure 1/3 cup of milk, then pour it into the blender. After that, mix the cocoa mixture until it is thoroughly blended.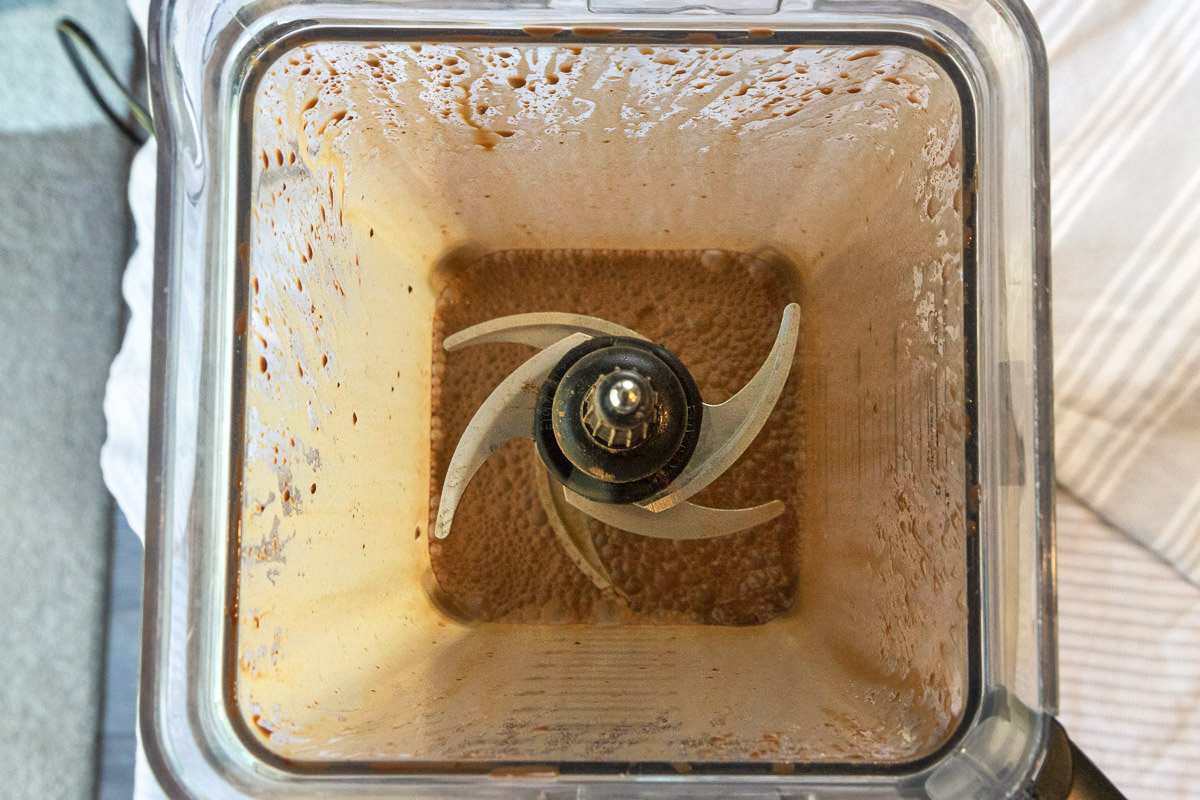 Step 4. Slice and Freeze the Bananas
Before adding the bananas to the cocoa mixture, slice them and freeze the sliced-up bananas about 30 minutes before starting. If you haven't done that, you could cut them up and freeze them for up to 30 minutes right now. Consequently, freezing the bananas helps to keep the milkshake cold and will reduce the chance of it melting. However, if you don't care about having the milkshake melt faster, you don't have to have the frozen bananas.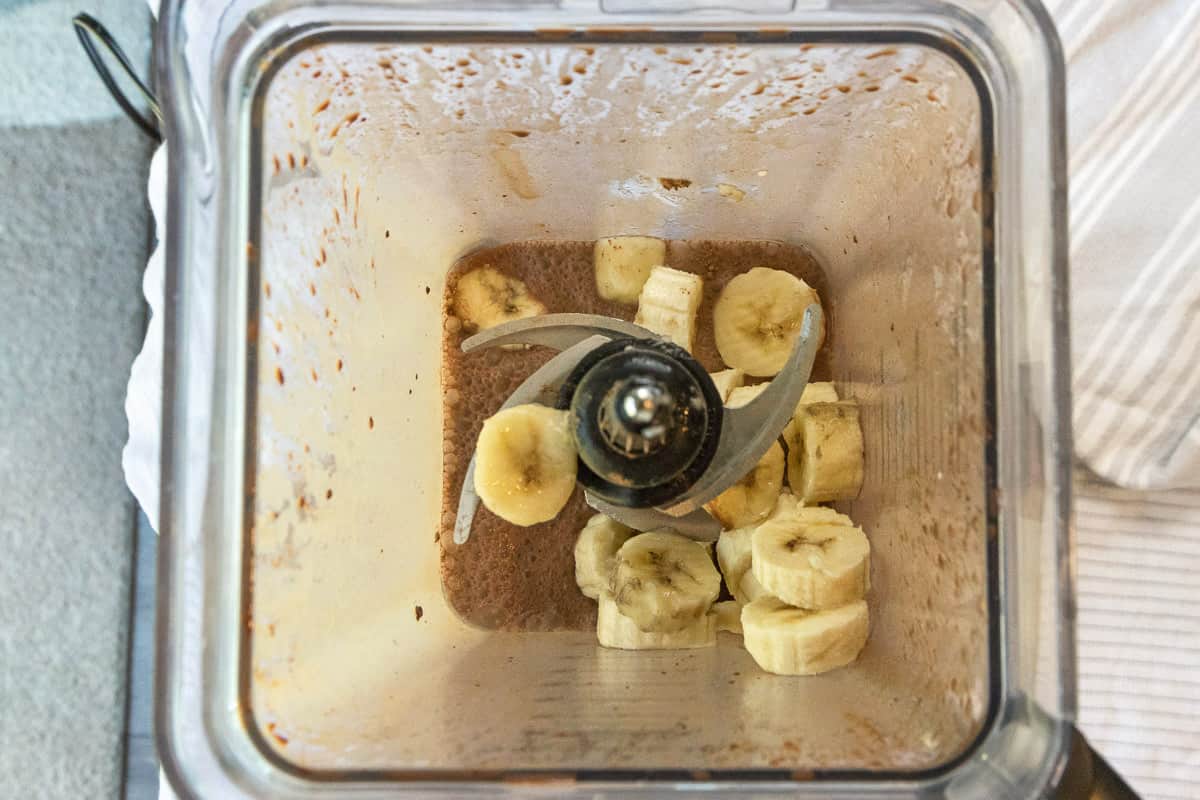 Step 5. Measure the Ice Cream
Measure six cups of vanilla ice cream and put it in the blender. In contrast to the Homemade Chocolate Milkshake, you cannot use the six-cup mark on the blender because the bananas and cocoa mixture will take up space, so if you try to measure the ice cream to the six-cup mark, it will be uneven.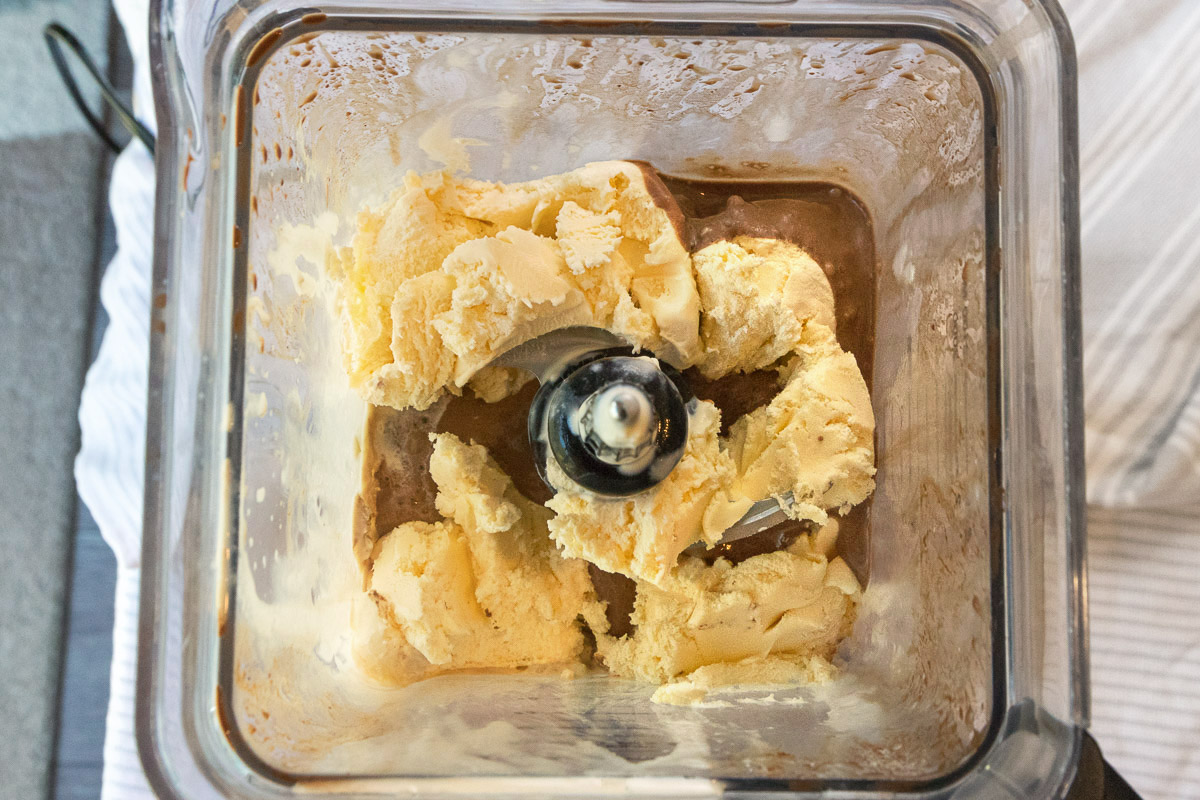 Step 6. Blend the Banana Chocolate Milkshake
In the blender, blend the milkshake using the pulse button until it is smooth. You may need to push down any bananas that didn't get blended with a spoon and pulse the milkshake again.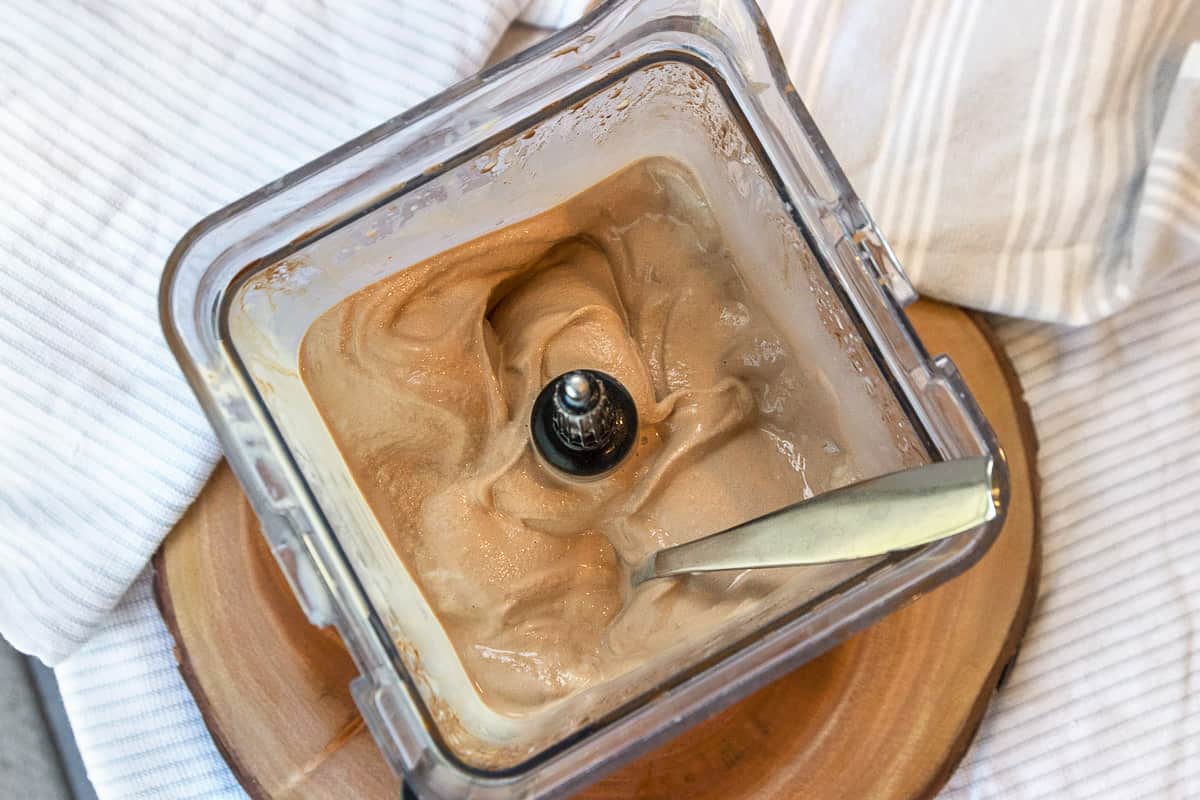 Step 7. Pour the Banana Chocolate Milkshake
Finally, distribute the milkshake into glasses. If you want, you can add whipped cream and sprinkles. Then, it's ready to enjoy!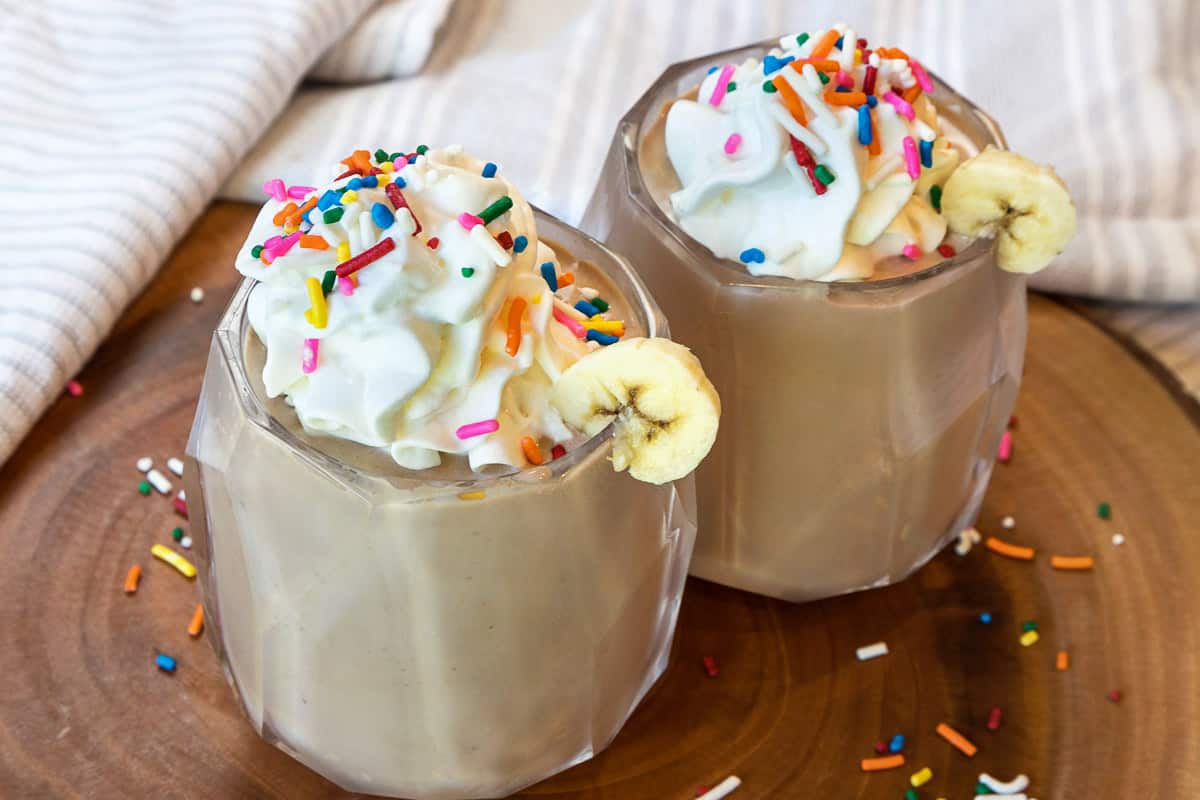 ⭐ Recipe Variations
You can add almond milk, coconut milk, soy milk, oat milk, or dairy-free milk instead of 2% milk.
Instead of using vanilla bean ice cream, you could use chocolate ice cream.
You could try using dark chocolate cocoa powder in your chocolate shake.
Different people have different taste preferences, and I've realized that some people like to dip french fries in their banana shake.
Peanut butter and vanilla extract would make a great addition to your creamy banana milkshake.
If you want to make a thicker milkshake, you can add less milk or more ice cream. You can also use whole milk.
❓ FAQ's
What Can You Add to the Banana Chocolate Milkshake?
Some garnishes you can use for this chocolate banana milkshake recipe are, chocolate sauce, caramel sauce, strawberry syrup, chocolate chips, chocolate shavings, maple syrup, hot fudge, and even wafer sticks! The sky's the limit! Additionally, try substituting the vanilla bean ice cream and cocoa powder for chocolate ice cream if you want.
Can You Make a Banana Chocolate Milkshake with Cocoa Powder?
Indeed, yes, you can make a banana chocolate milkshake with cocoa powder. Evidently, we used vanilla bean ice cream with cocoa powder for this recipe.
💭 Final Thoughts
In sum, this is a delicious home recipe that will keep you hooked. After trying the banana chocolate milkshake, you will want to make this recipe over and over again and will be satisfied after every bite!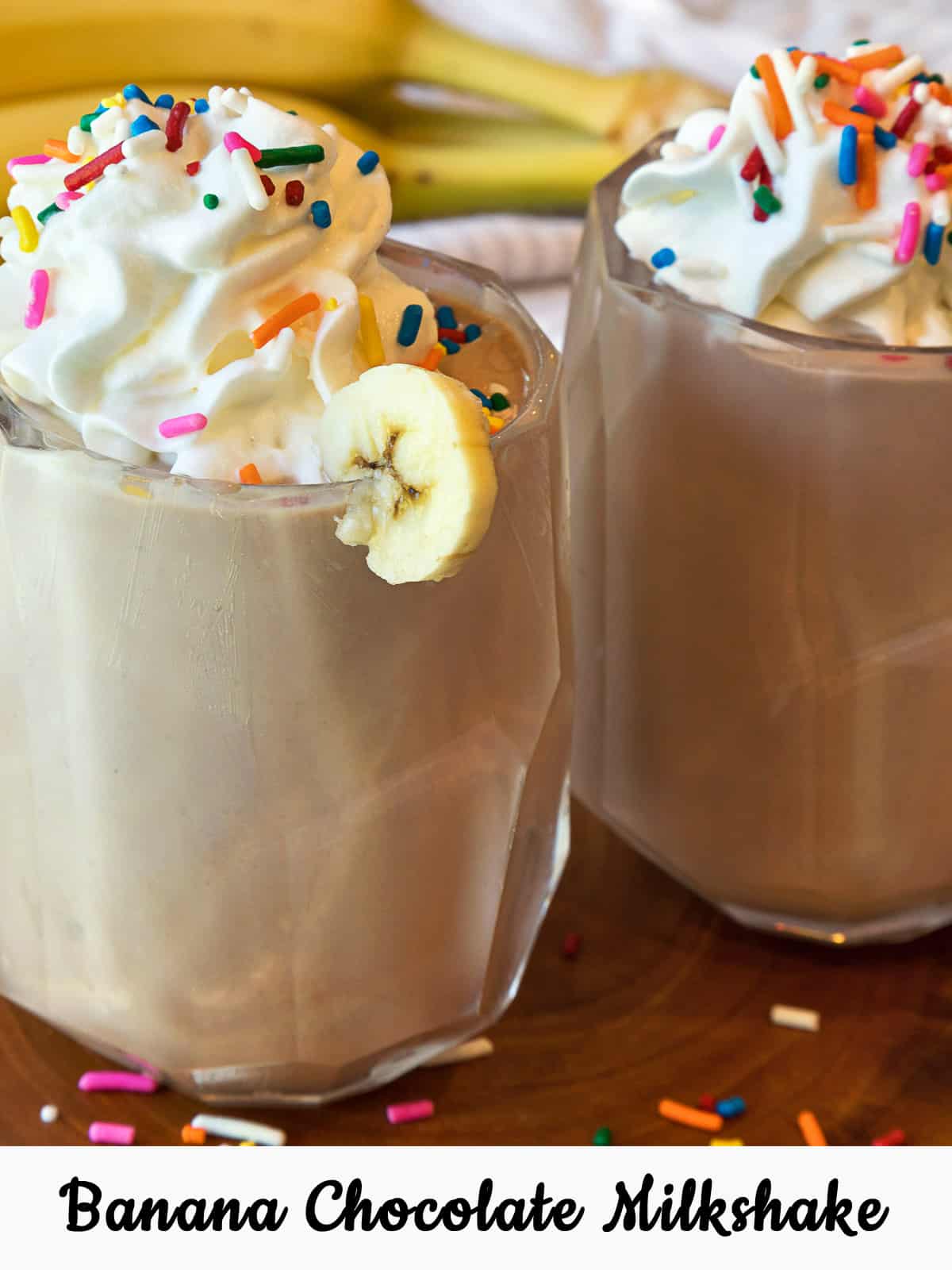 💝 Other Easy Recipes You'll Love
Cakes and Breads
Mississippi Mud Pie Recipe – In summary, this easy Mississippi Mud Pie is made with lots of flavorful creamy chocolate, a crispy graham cracker crust, and fluffy whipped cream in every delicious bite!
Banana Bread Recipe with Chocolate Chips – This banana bread recipe has cream cheese and chocolate chips added to it. The cream cheese added to the recipe makes it extra moist and delicious. The chocolate chips added to this recipe make it an extra special treat. Slightly overripe bananas are perfect for this banana bread recipe.
Cookies and Brownies
Triple Chocolate Brownies – This triple chocolate brownie recipe is rich in fudgy flavor, and has three different types of chocolate in them, cocoa powder, dark chocolate chips, and white chocolate chips! If you are a chocolate lover, you are going to love this quick and easy-to-make brownie recipe!
Chocolate Chip M&M Cookies – These colorful M&M cookies are soft, crispy, and chewy all at the same time! The cookies are filled with tons of mini chocolate chips and M&M's and there is no need to chill the cookie dough before baking. Deliciousness in every bite.
Drinks and Shakes
Homemade Chocolate Milkshake – Do you like chocolate? Do you like whipped cream? If so, you will love this homemade chocolate milkshake recipe! This recipe is easy to make and tastes amazing, it will leave you wanting more and more!
Hot Chocolate Recipe with Cocoa Powder and Condensed Milk – A sweet and creamy hot chocolate with sweetened condensed milk, unsweetened cocoa, and vanilla extract. It's blended with hot water for a delicious treat, topped with mini marshmallows and whipped cream.
📃 Recipe Card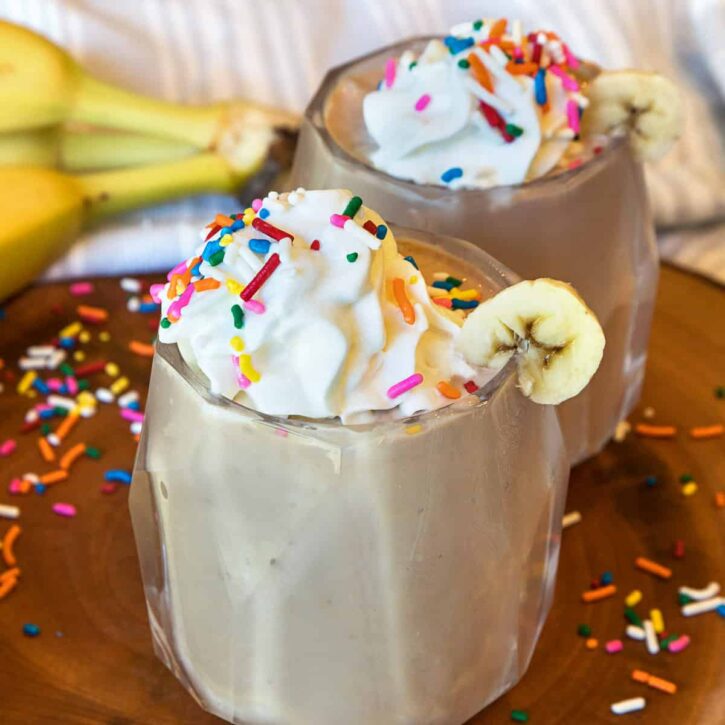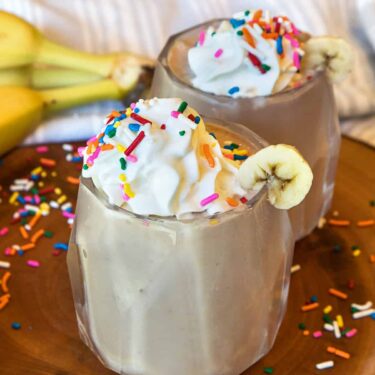 Banana Chocolate Milkshake
This yummy banana chocolate milkshake looks and tastes amazing, especially in summer! It is also a convenient recipe because you probably already have all the ingredients in your kitchen!
🧂 Ingredients
1/3

cup

milk

(2% or whatever you prefer)

6

cups

vanilla bean ice cream

2

bananas

(frozen)

4

tbsp

cocoa powder

1/4

cup

warm water

sprinkles

(optional)

whipped cream

(optional)
👩‍🍳 Instructions
Measure the cocoa powder and warm water, then blend to dissolve.

Add the milk, then blend.

Slice the bananas before freezing them for 30 minutes, then put them in the blender.

Measure and blend the ice cream with the bananas.

Distribute the milkshake and enjoy with some whipped cream and sprinkles!
*️⃣ Recipe Notes
You can put the cups in the freezer before serving so the milkshake will not melt as fast.
You can substitute the vanilla bean ice cream and the cocoa powder for chocolate ice cream if you want to.
One of the smartest and most responsible little girls you'll ever meet. Kylie is on the student council at school and loves being involved in all kinds of sports and activities. She published her first post at 10 years old and is looking forward to writing many more!
More by Kylie ➜