(Last Updated On: August 1, 2022)
Do you love milkshakes? Do you love Oreo® blizzards? Well, with this easy-to-make Oreo milkshake recipe with vanilla extract in it, you can have both, an Oreo milkshake that tastes like an Oreo blizzard, but better! This Oreo milkshake is the easiest, fastest, and most fantastic-tasting milkshake you will ever make.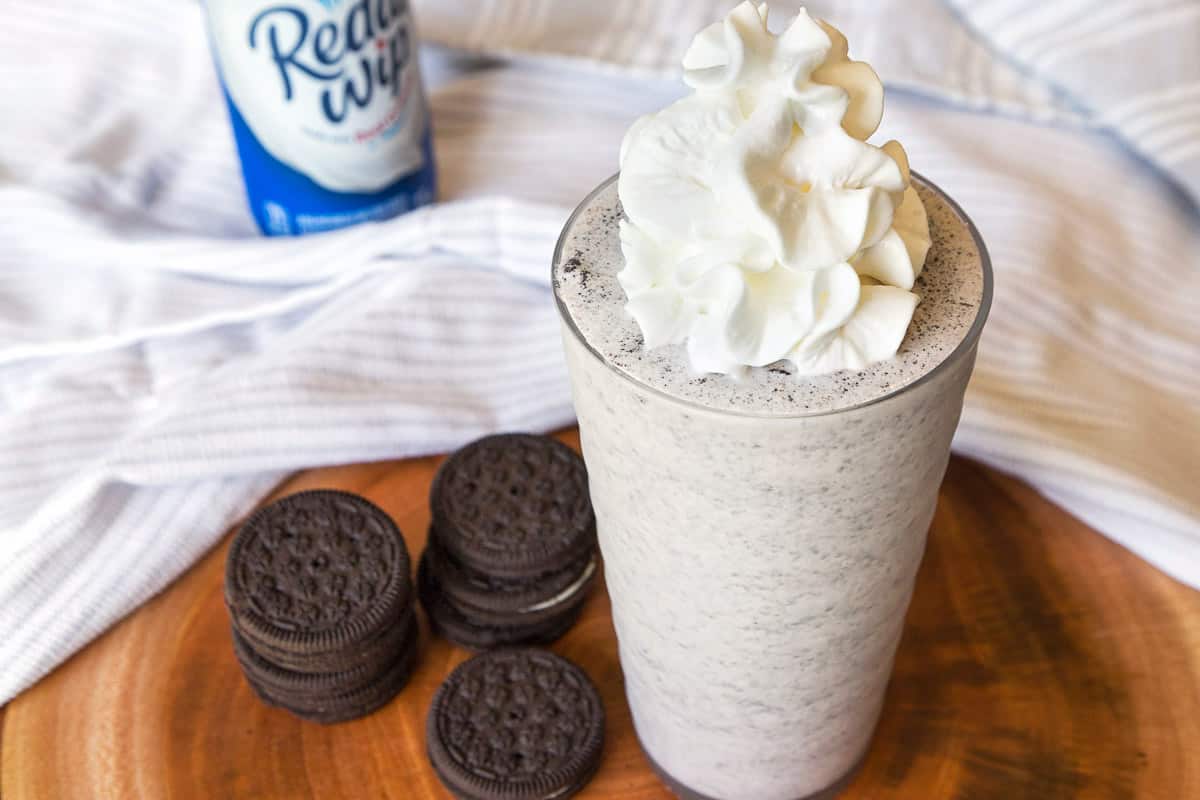 🥛 What's in this Oreo Milkshake Recipe?
There are only 4 very simple but important ingredients in this Oreo milkshake recipe because every ingredient plays a big part in why this milkshake tastes so amazing. I'm not 100% sure, but I truly believe it's the vanilla extract. I've had many a milkshake in my day, and none of them tastes as good as this Oreo milkshake does.
🥤 Key Ingredients for this Easy Oreo Milkshake Recipe
5 cups of vanilla bean ice cream (or your favorite flavor of vanilla ice cream)
3/4 cups of 2% milk (any kind is okay – 1%, 2%, or whole milk)
16 double stuf Oreo® cookies (or any brand of cream-filled chocolate cookies)
2 and 1/2 teaspoons of vanilla extract
Whipped topping – optional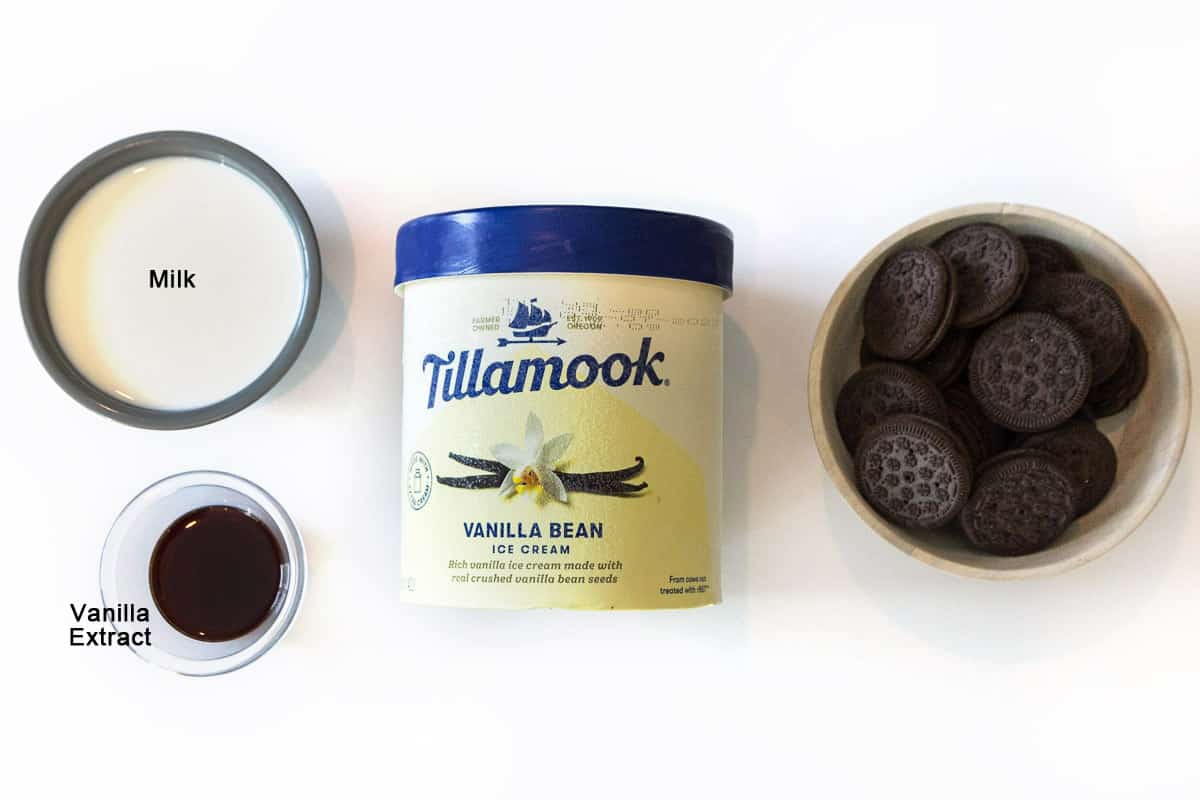 👩‍🍳 How to Make this Oreo Shake (Step-By-Step Instructions with Detailed Photos)
Step 1. Fill the Blender with Ice Cream
To begin with, put 5 cups of vanilla bean ice cream into a blender at the 5-cup line. You can certainly use whichever ice cream is your favorite that you think will go good with Oreo cookies.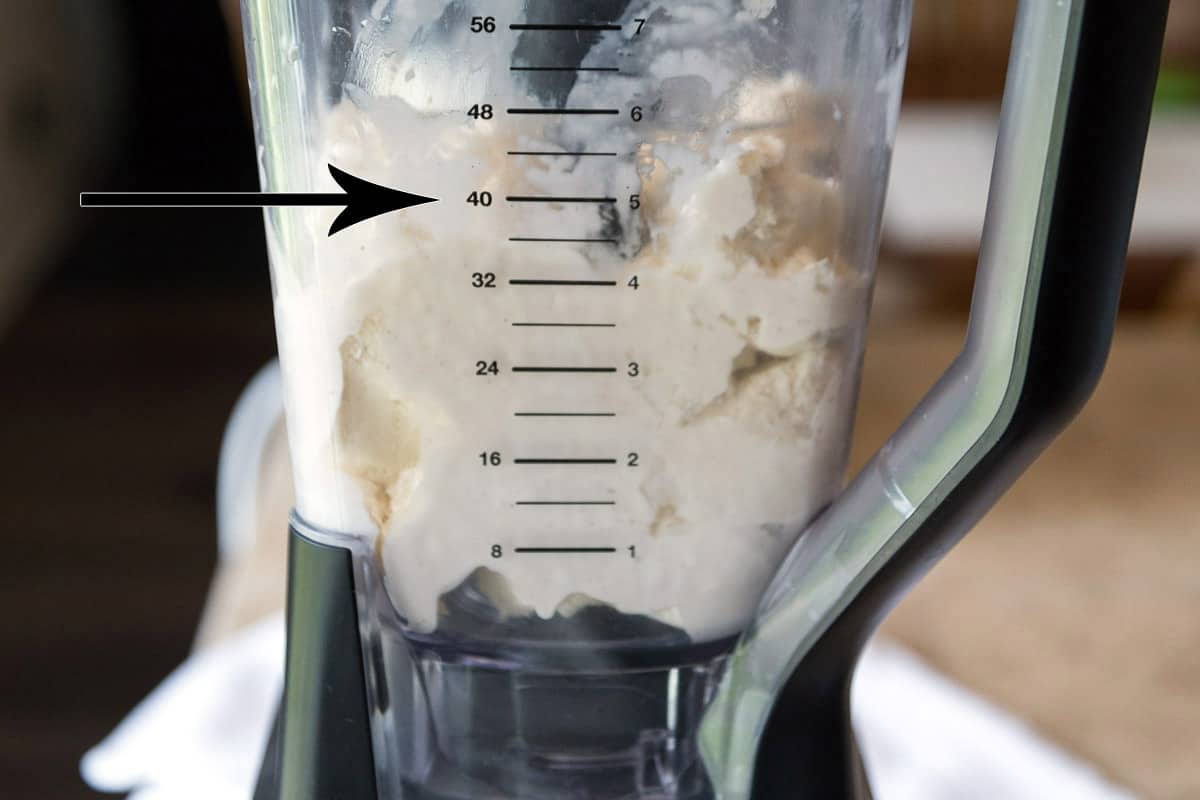 Step 2. Add the Oreo Cookies, Milk, and Vanilla Extract
Add 16 double stuffed Oreo cookies, 3/4 cups of 2% milk (use less milk for a thicker milkshake), and 2 and 1/5 teaspoons of vanilla extract into the blender together with the vanilla bean ice cream.
Note: Any chocolate sandwich cookies will work for this recipe, it doesn't have to be Oreo brand.
Quick Tip: If you want a thicker milkshake, use less milk. Start out with 1/4 cup of milk, then keep adding milk until you get the consistency and thickness you desire. Also, ice cream melts pretty fast, so if the ice cream melted too much while you were busy making the milkshake ingredients, you can always put the blender in the freezer for half an hour or so to freeze the milkshake ingredients up a bit more.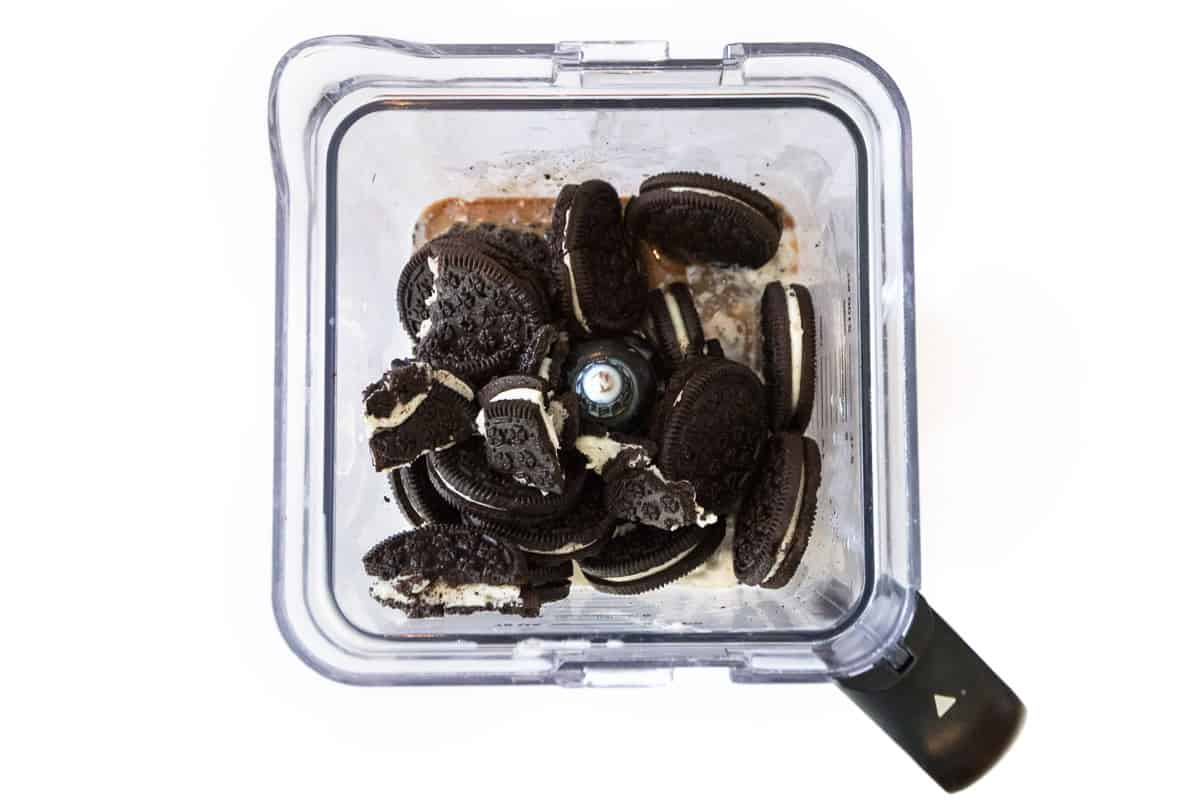 Step 3. Hit the Pulse Button
Put the lid on the blender, then hit the pulse button. Keep pushing the pulse button until the Oreo cookies looked chopped up and the ice cream is blended with the cookies. It doesn't take very long at all for it to mix up.
Note: Take the lid off and check to see if the cookies are chopped up enough. If not, push the cookies down with a spoon to get them closer to the blade. Put the lid back on the blender and hit the pulse button a couple more times, and then that's it. The Oreo milkshake is ready to serve.
Also, if you want bigger chunks of Oreo cookies and a thicker milkshake, as mentioned before, use less milk, and hit the pulse button on the blender fewer times for chunkier cookies. You can also add the cookies at the end after mixing the ice cream with the milk and vanilla extract, then hit the pulse button a few times.
Just remember, the longer the ice cream is in the blender, the more it will melt. And also, the longer you hit the pulse button, the thinner and runnier the milkshake will be.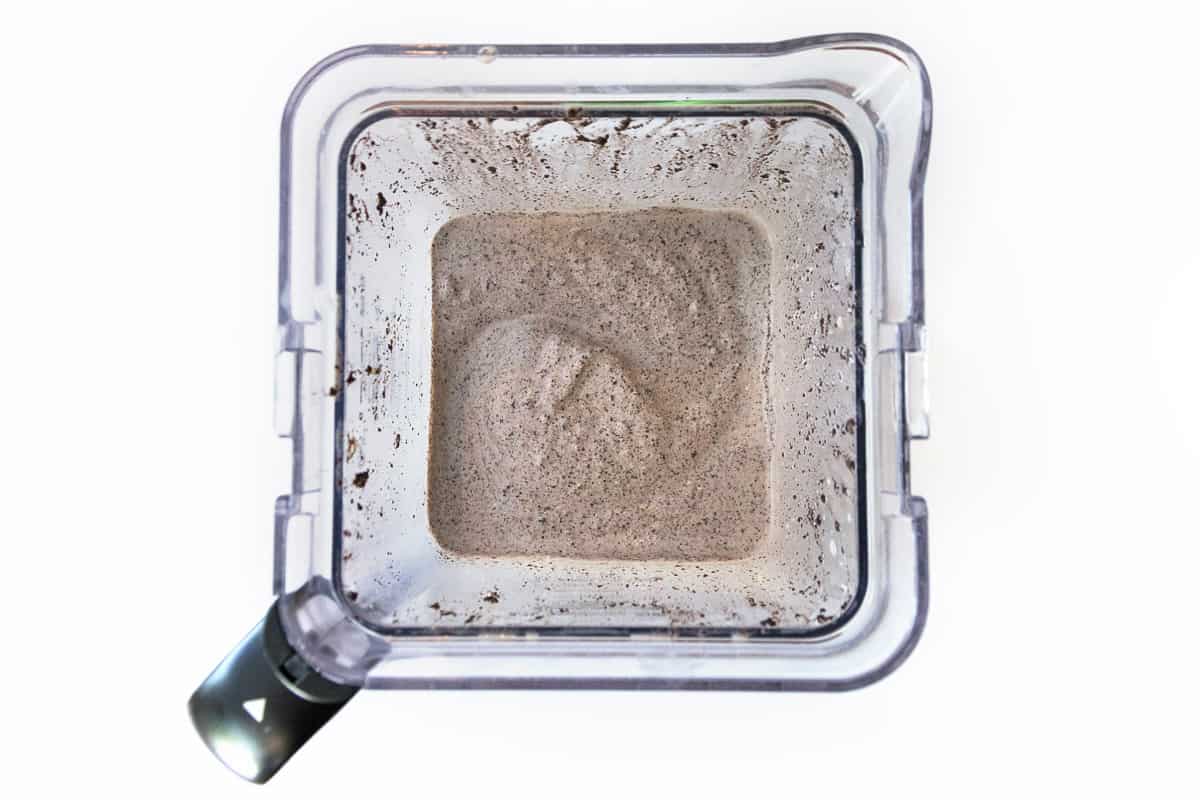 Step 4. Fill Glasses with Oreo Milkshake
Pour the Oreo milkshake into glasses and then top it off with some whipped cream.
📌 Edible Garnishes for Oreo Milkshake Recipe
If you want to get fancy, you can garnish the top of the whipped cream with some sparkly sprinkles or one maraschino cherry. Sprinkles are sold in the baking goods aisle of the grocery store. Maraschino cherries are sold in the ice cream toppings aisle of the grocery store.
For more garnish ideas:
Crush up a few extra cookies and sprinkle them on top of the whipped topping.
Drizzle a fine line of hot fudge or chocolate sauce topping across the top of the whipped topping.
Some folks like finely crushed nuts such as walnuts or peanuts to sprinkle on top of their milkshake.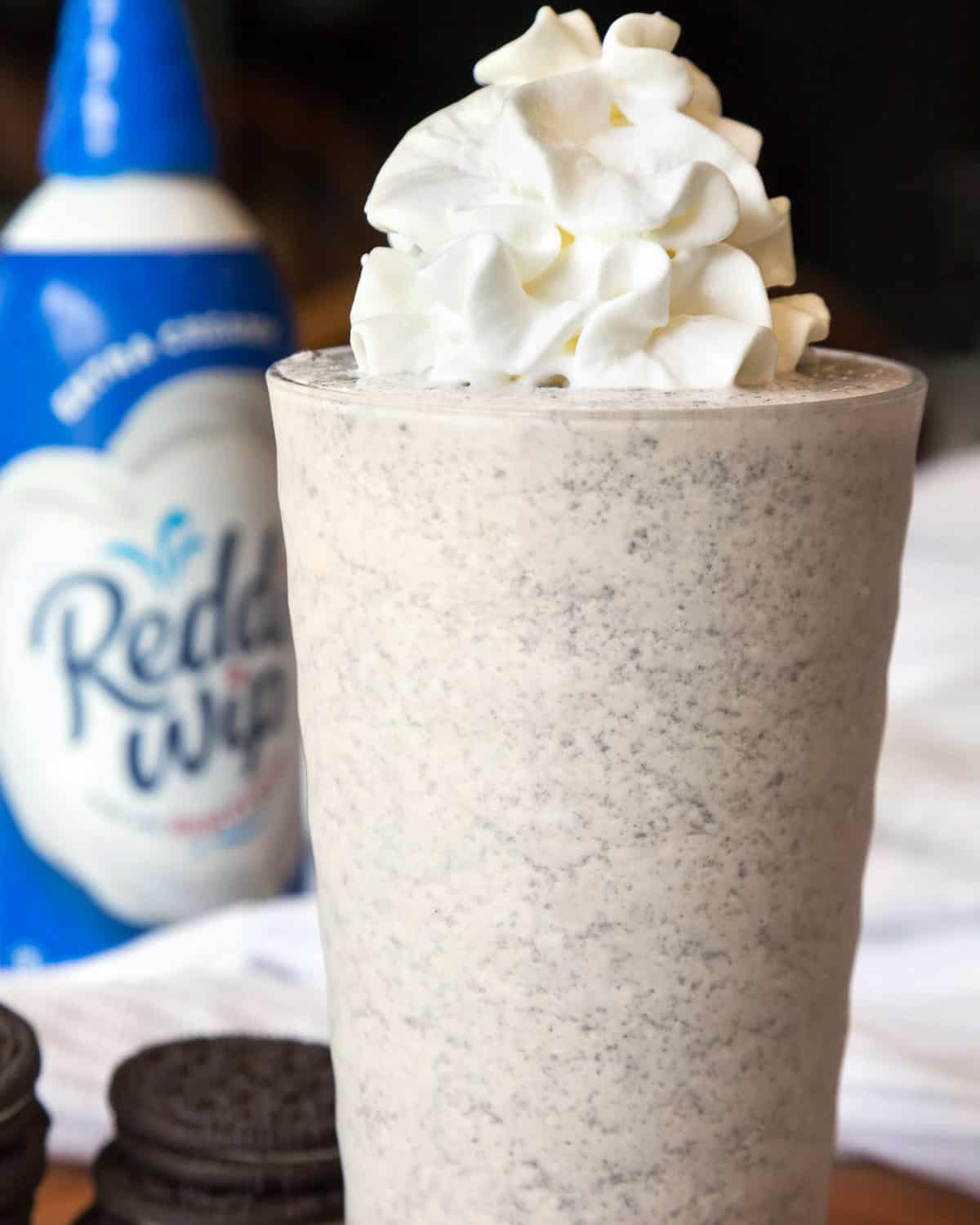 🙋‍♀️ FAQs
Why is my Milkshake Runny?
You may have added too much milk with not enough ice cream. If that's the case, just add more ice cream. Also, if you end up with extra milkshakes because you had to add more ice cream, you can freeze the leftovers and have another milkshake on a different day. It will be frozen, so you can take it out of the freezer and let it set on the cupboard for a few minutes, or just dive into it with a spoon. 🙂 Frozen milkshakes are the yummiest of yums!
📝 Final Thoughts
You won't believe how quick and simple this recipe is to make, yet so good. You will never want to buy another expensive milkshake at the ice cream parlor when you're out and about when you can make this delicious Oreo milkshake as soon as you get home for triple or more savings. This easy Oreo milkshake is perfect for the summer months!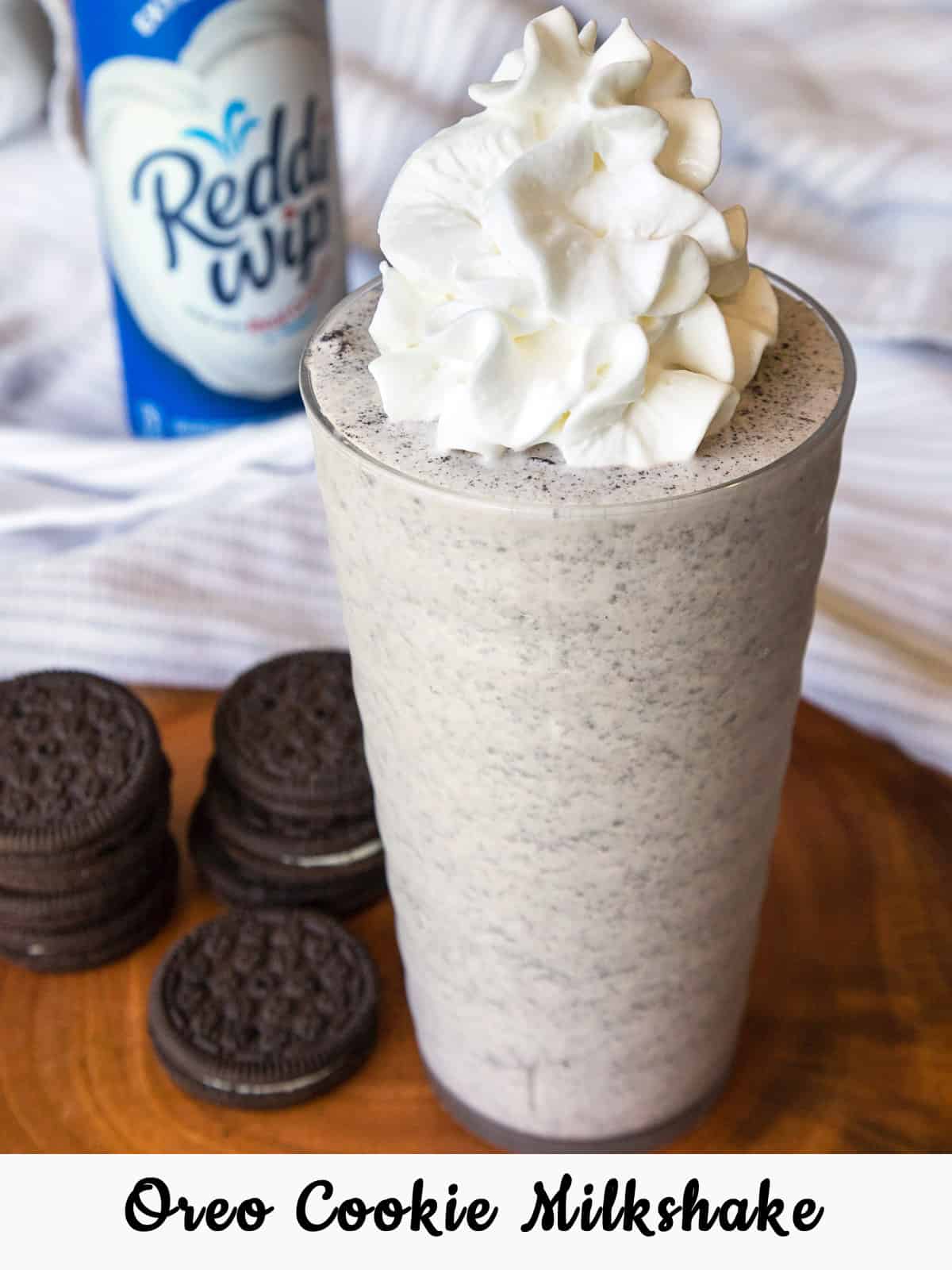 💖 More Drink Recipes You'll Love
Try these quick, easy, and delicious drink recipes!
Orange Julius – this drink recipe is an easy copycat drink to make at home. It is a healthy and refreshing drink that's so simple to make using ingredients already found in your kitchen!
Jamba Juice Citrus Squeeze Smoothie – with bananas, frozen strawberries, orange juice, Greek yogurt, vanilla flavor, and ice cubes in it.
Hot chocolate – a sweet and creamy hot chocolate with sweetened condensed milk, unsweetened cocoa, and vanilla extract. It is all blended together with hot water for a delicious treat topped with mini marshmallows and whipped cream.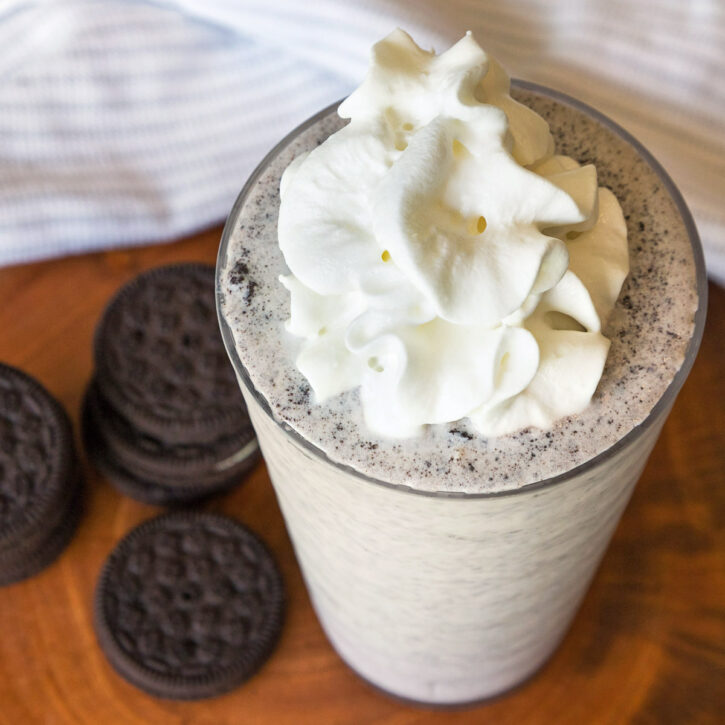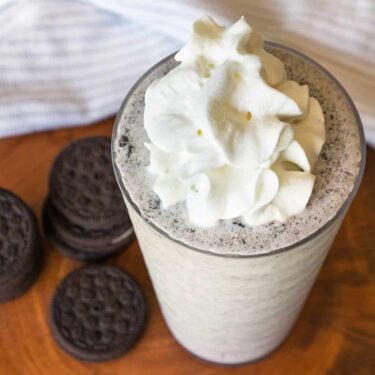 Oreo Milkshake Recipe (Cookies and Cream)
This Oreo milkshake recipe is made with vanilla bean ice cream and 16 crushed-up double-stuffed Oreo Cookies! It is creamy, quick and easy to make, and tastes amazing!
Ingredients
5

cups

vanilla bean ice cream

3/4

cups

2% milk

(any kind is okay – 1%, 2%, or whole)

16

double stuf Oreo® cookies

( or any brand of cream-filled chocolate cookies)

2½

tsp

vanilla extract

whipped topping

(optional)
Instructions
Put 5 cups of vanilla ice cream into the blender at the 5-cup line.

Add the milk. Use less milk for a thicker milkshake.

Hit the pulse button on and off until the cookies are chopped.

In between hitting the pulse button, take the lid off and push the cookies down closer to the blade.
Recipe Notes
You can change out the ice cream and even the cookies if you prefer. Let your imagination go wild.
Maybe add some candy to your favorite ice cream instead of the cookies, such as butterfingers or M&M's. The kids will love it.