(Last Updated On: October 28, 2022)
This homemade hot chocolate recipe with cocoa powder is quick and easy to make and has only five simple ingredients in it. There's no skimping on the chocolaty flavor and it is perfect when you are wanting a hot drink. You can pronounce all of the ingredients in this recipe, so you can certainly feel good about that. This is not like the store-bought hot cocoa mixes, with all of the extra ingredients that we can't even pronounce. So, when the little ones are begging for some hot chocolate, you can feel good about serving them this best hot chocolate recipe.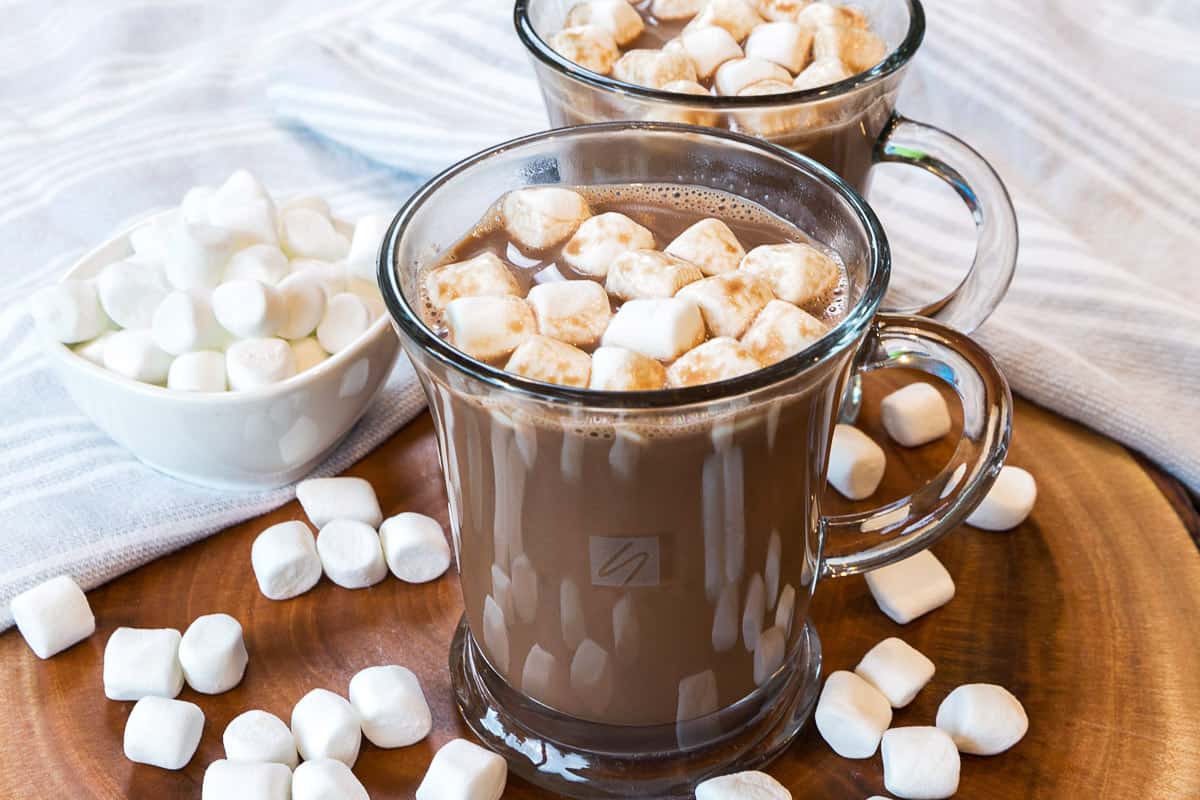 ☕️ What's in and Not in this Hot Chocolate Recipe?
This easy hot chocolate recipe contains sweetened condensed milk (which is milk and sugar), unsweetened cocoa powder, vanilla extract, a tad bit of salt, and lots of water, and that's it!
This recipe does not contain whole milk, regular milk, soy milk, almond milk, oat milk, rice milk, heavy cream, or any hot milk at all. It also does not contain any added sugar. Sweetened condensed milk is the only milk product used in this recipe.
Some of the ingredients in hot cocoa mixes at the grocery store contain, for example, sugar, corn syrup, modified whey, cocoa (processed with alkali), artificial flavor, and sucralose, just to mention a few.
🥣 Key Ingredients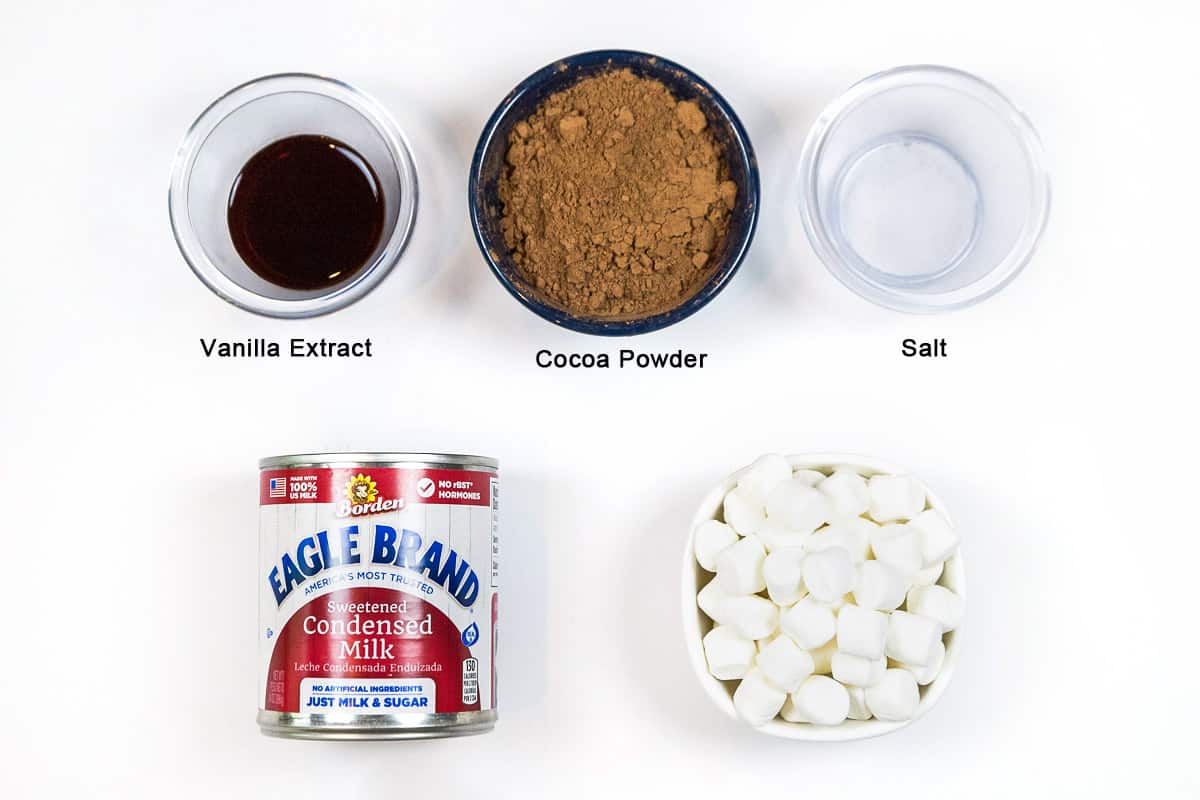 👩‍🍳 How to Make Hot Chocolate with Cocoa Powder (Step-by-Step Instructions with Detailed Photos)
Step 1. Combine Condensed Milk, Cocoa, Vanilla, and Salt
In a large pot, add one 14-ounce can of sweetened condensed milk together with 1/2 cup of unsweetened cocoa powder, 1 and 1/2 teaspoons of vanilla extract, and 1/8 teaspoon of table salt.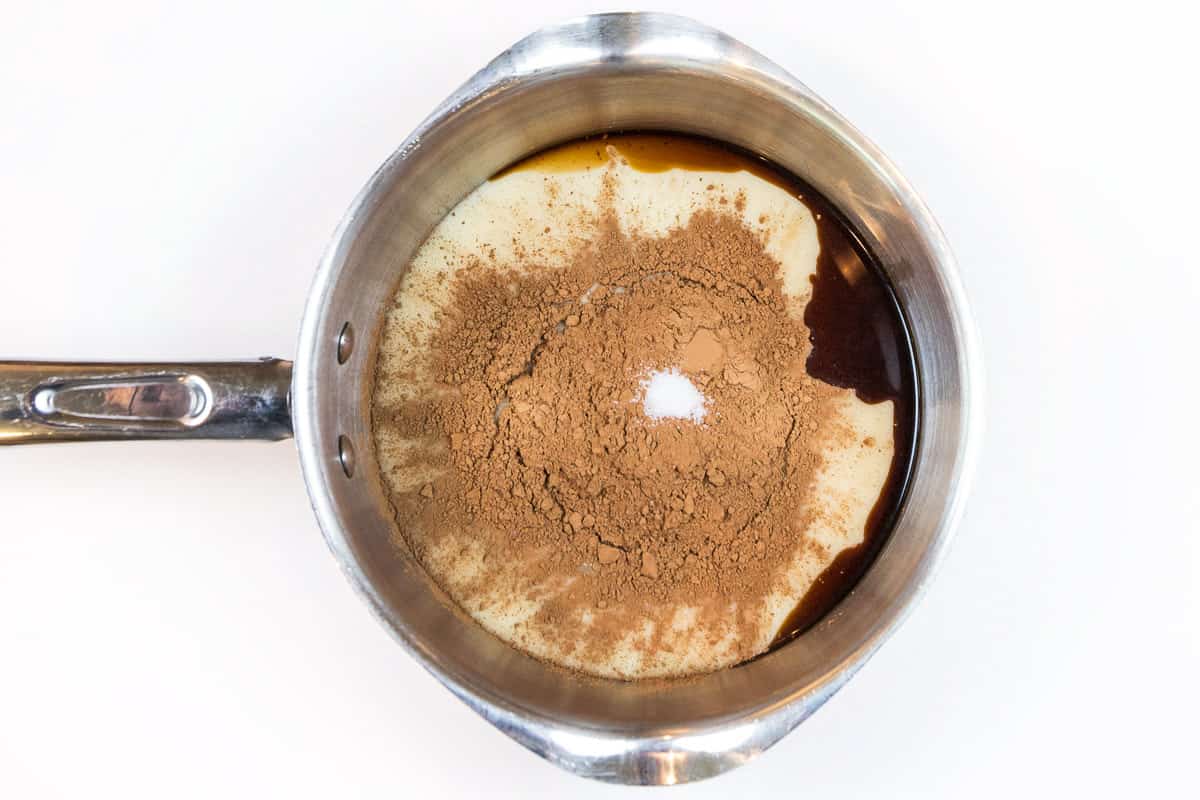 Step 2. Mix it Up
Before turning on the burner, stir all of the ingredients for a couple of minutes until well blended.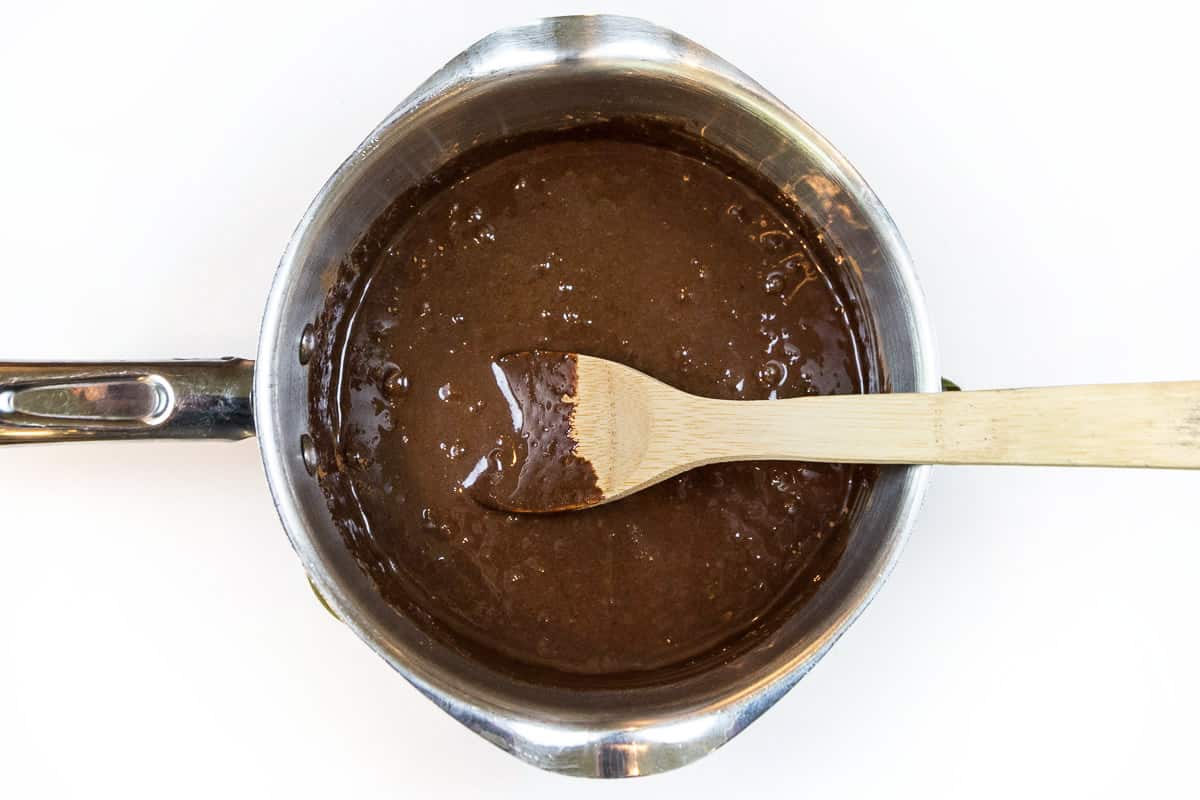 Step 3. Add Water and Heat Up
Put the pot on the stove over medium heat and slowly add 6 and 1/2 cups of hot water together with the condensed milk and cocoa mixture, stirring all the while.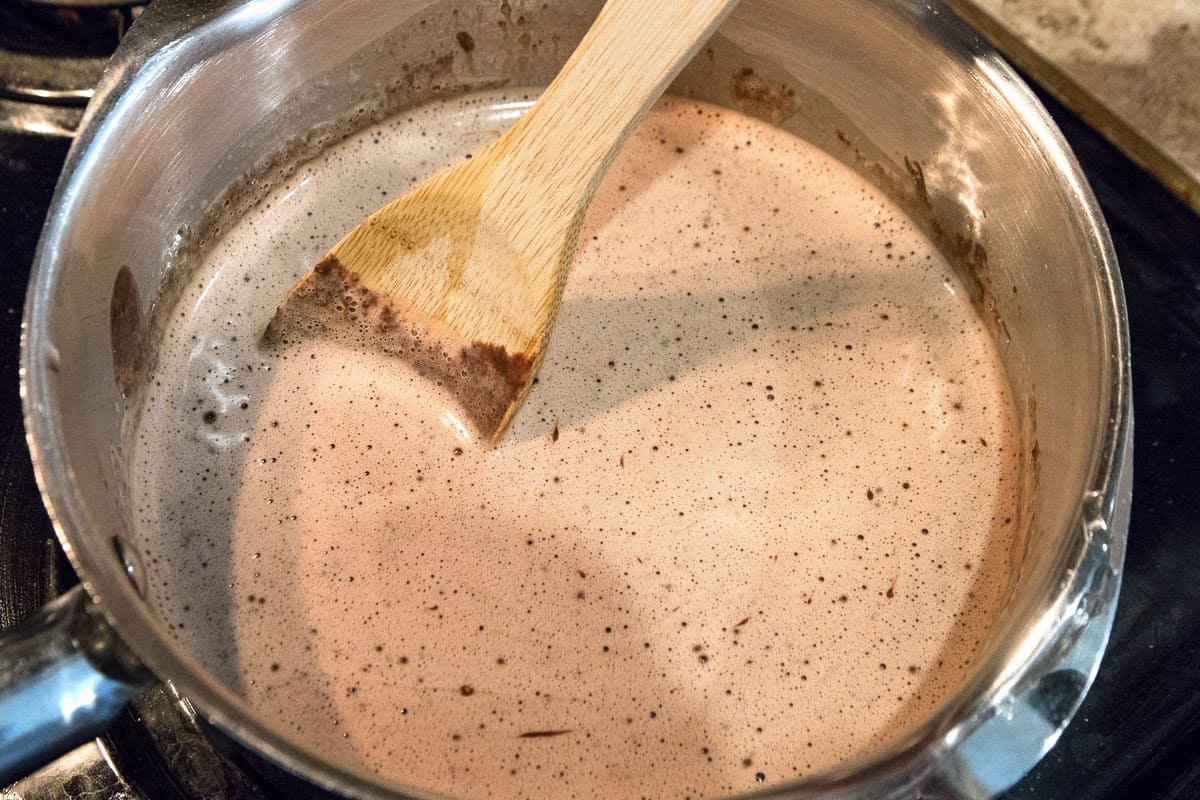 Step 4. Stir and Heat, then Done
Keep stirring the hot chocolate mixture while it is being heated. It only takes a few minutes to heat through. You will see steam coming out of the pot. Remember to stir so the contents won't stick to the bottom of the pan.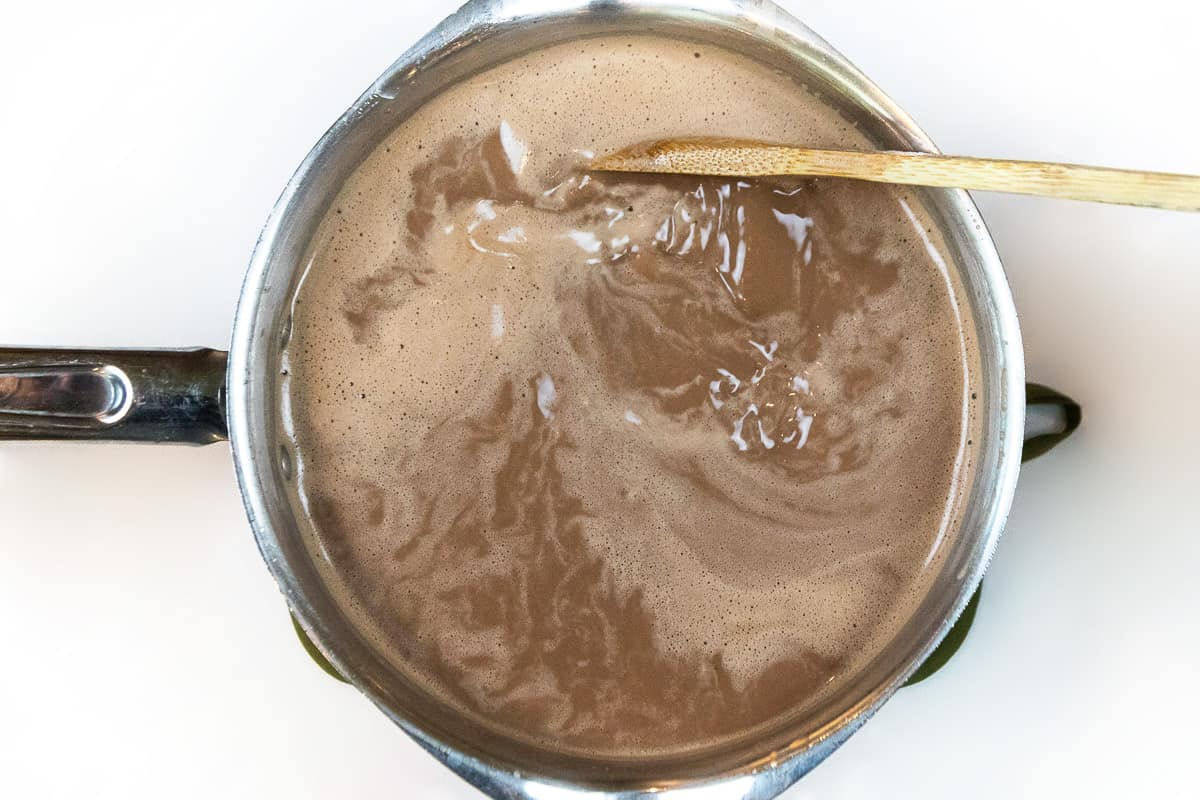 ✨ Microwave Instructions
If you want to use the microwave, in a 2-quart glass bowl, stir the sweetened condensed milk together with the unsweetened cocoa, vanilla extract, salt, and the hot water, then microwave on full power, or high, for 8 to 10 minutes, making sure to stir every 3 minutes. Keep an eye on it.
🙋‍♀️ FAQs
What Does Hot Chocolate Go With?
Hot chocolate, also known as hot cocoa, goes with marshmallows and whipped cream as a topping. Hot chocolate also goes well with a candy cane, chocolate sprinkles, chocolate chips, and chocolate syrup on top.

And last but not least, hot chocolate goes with snowy winter evenings around the fireplace with family and friends, and especially at the best time of the year, Christmas time! Sounds wonderful!
When was Hot Chocolate Invented?
Chocolate's history dates back to Mesoamerica. There is evidence that chocolate was consumed by the Mayans as early as 500 BC, and possibly even before that. Findings dating as far back as 450 BC, show fermented beverages were made from chocolate. Of course, chocolate beverages back then were prepared differently than how we prepare them today.
When is National Hot Chocolate Day?
January 31 is the official day to celebrate the national hot chocolate day. Seems appropriate, so remember that day and make up some delicious hot chocolate to celebrate with your family and friends. 🙂
How To Store and Reheat Leftover Hot Chocolate?
Store any leftover hot chocolate in a glass jar with a lid or in an airtight container in the refrigerator for up to 3 days. When reheating hot chocolate, transfer it into a medium saucepan and heat over medium heat until hot.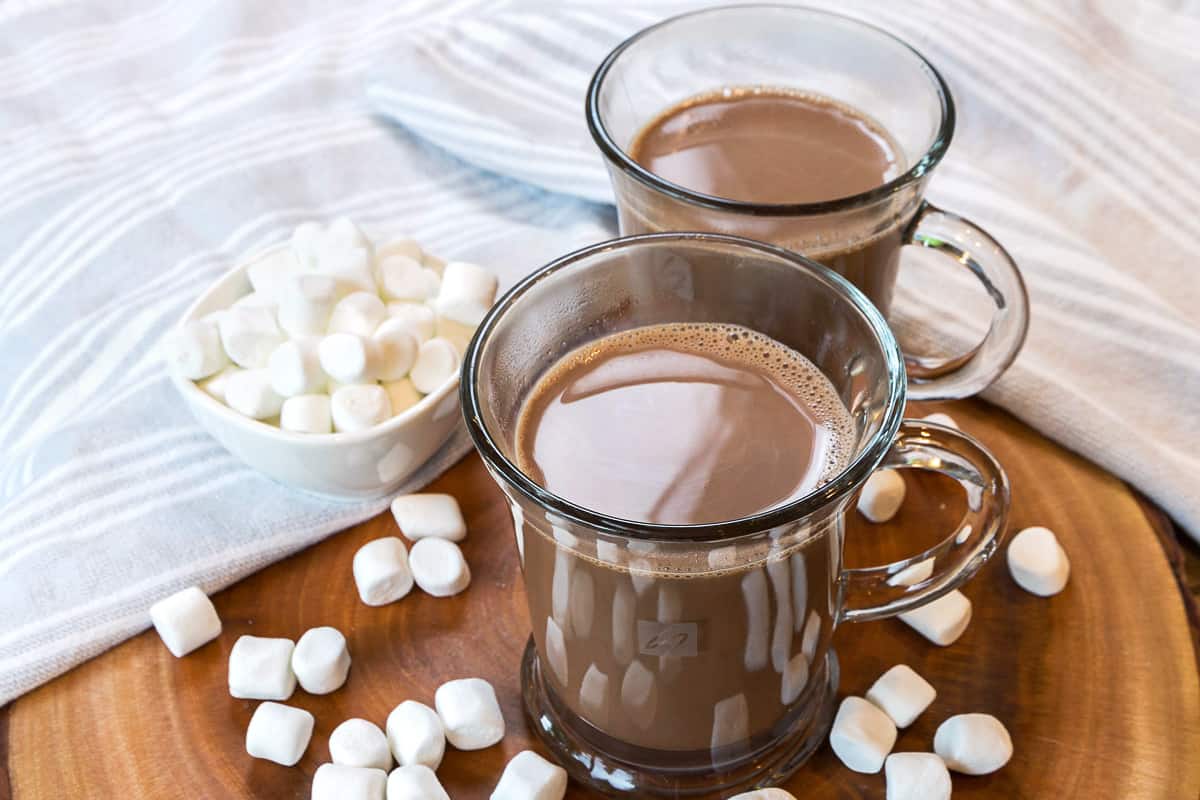 📝 Final Thoughts for this Creamy Hot Chocolate Recipe
Surely everyone loves a good hot cocoa recipe, especially with mini marshmallows or whipped cream on top, or a little of both! Hot chocolate is comfort food, it warms up the tummy right before bedtime as nothing else can! It's also a great treat on a cold night during the winter months of the year such as November, December, January, and even February.
If you want to get fancy, try adding a splash of vanilla extract to the pot while it is heating up. Or, shave off some chocolate shavings from an actual chocolate bar and place them in the pot for some extra chocolate flavor. This recipe is definitely customizable to make in many different ways depending on your personal preference. In my opinion, the best way to enjoy this hot chocolate is when it is topped with whipped cream. So what are you waiting for? Go whip up a delicious cup of homemade hot cocoa for you and your family.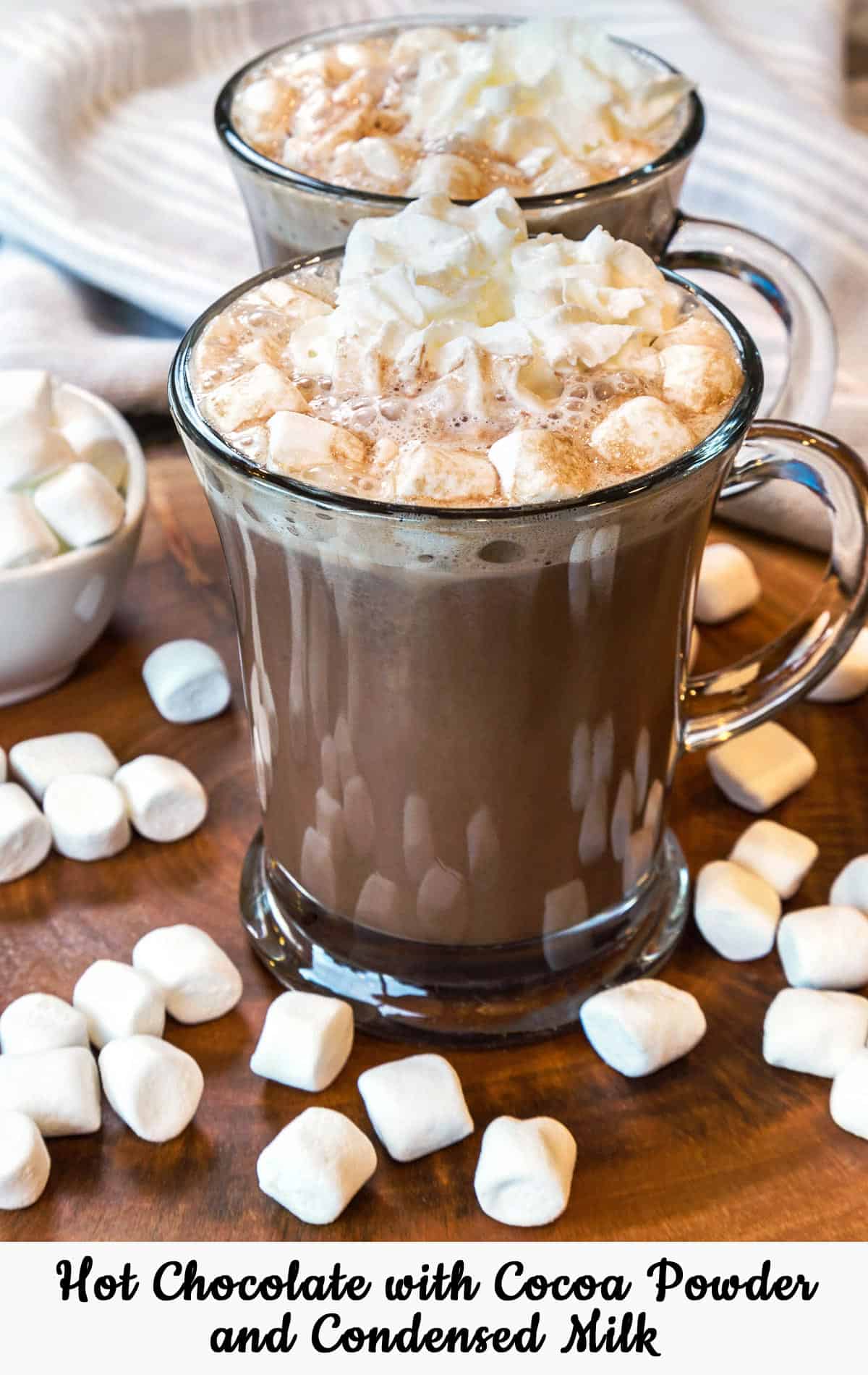 💙 More Popular Recipes You Will Love
Orange Julius Copycat – This is another great drink idea! The granddaughters love it! They also put ice cream in theirs and it tastes just like an orange Sherbert creamsicle.
Homemade Chocolate Milkshake – You will love this homemade chocolate milkshake recipe! This recipe is easy to make and tastes amazing, it will leave you wanting more and more!
📋 Recipe Card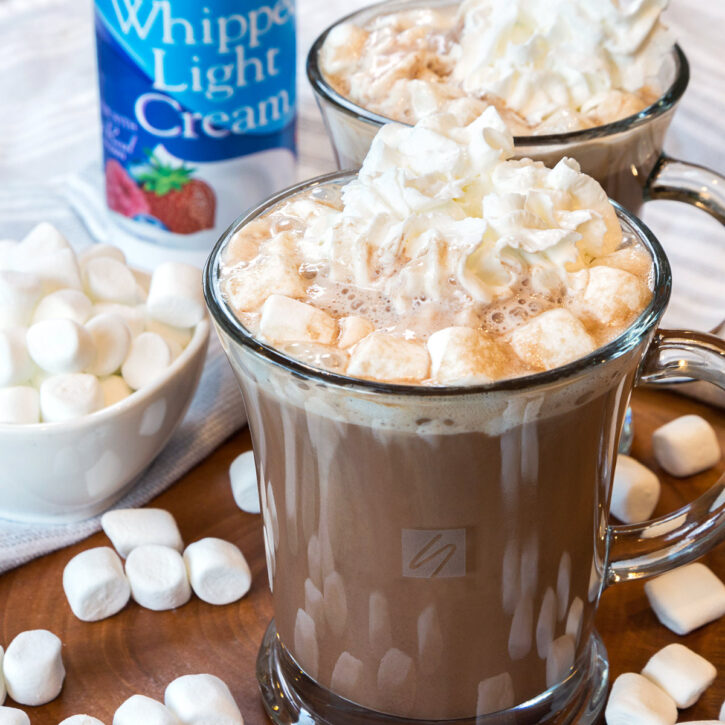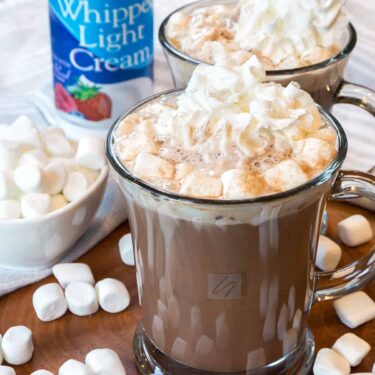 Hot Chocolate with Cocoa Powder
A sweet and creamy hot chocolate recipe with cocoa powder, sweetened condensed milk, and vanilla extract. It is all blended together with hot water for a delicious treat topped with mini marshmallows and whipped cream.
👩‍🍳 Instructions
In a large pot, add the sweetened condensed milk, cocoa, vanilla, and salt. Mix well.

Turn the burner on medium heat, then slowly stir in the water.

Keep stirring until the hot chocolate is heated through.

Top with mini marshmallows and whipped cream.
*️⃣ Recipe Notes
For an extra treat top off your hot chocolate with some whipped cream and chocolate flakes.
Microwave Instructions: Use a 2-quart glass bowl, mix all ingredients, then microwave on full power (high) for about 8 to 10 minutes. Stir every 3 minutes. Keep an eye on it.
A wife, a mother to a son and a daughter, and a grandmother to three granddaughters. Flo loves sharing recipes passed down from her own mother, her mother-in-law, and her grandmother as well as new recipes created with her daughter, Tamara Ray.
More by Flo ➜