(Last Updated On: June 28, 2023)
You won't believe how easy this air fryer frozen garlic bread is to make. The thick slices of bread come out of the air fryer with crispy edges, but they are also so soft on the inside. The garlic butter spread with parsley flakes on each slice tastes amazing.
This is an easy recipe when you are in a hurry. Just take however many slices you need out of the freezer, it's already sliced for you. Then pop them in the air fryer for about seven to ten minutes.
This garlic bread is the perfect side dish to many different pasta dishes. Some of our favorites are spaghetti, lasagna, chicken alfredo linguine, and chicken and noodle casserole with onions and red bell peppers.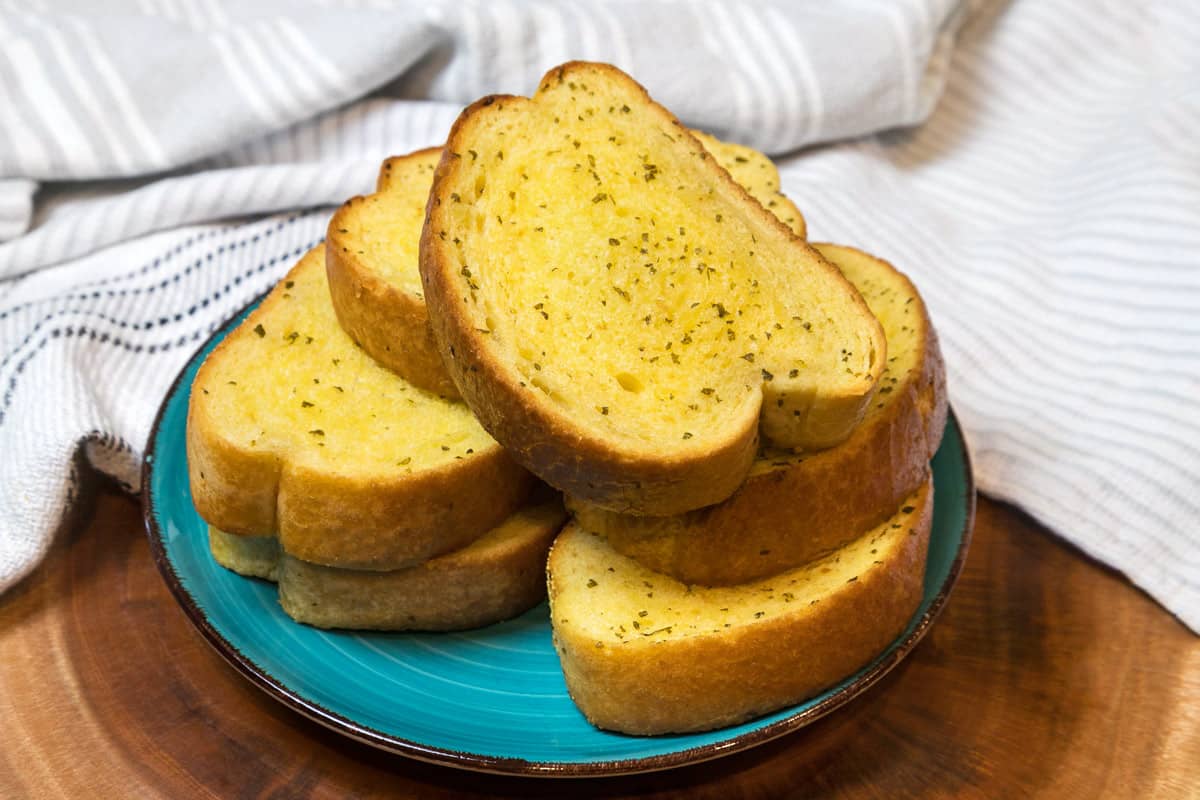 🍞 Key Ingredients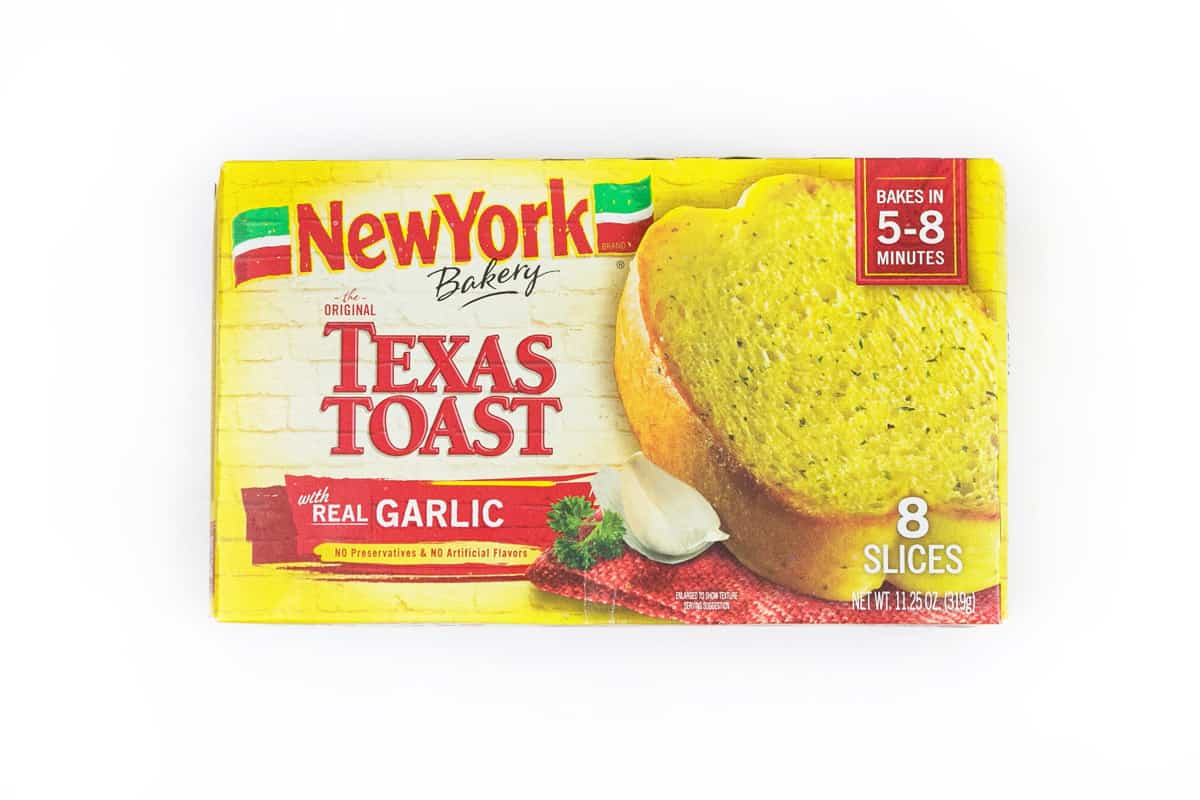 👩‍🍳 How to Make Frozen Garlic Bread (Step-by-Step Instructions with Detailed Photos)
Step 1. Preheat Air Fryer
Preheat the air fryer to 385 degrees Fahrenheit.
We cook with a Cosori air fryer and the power output is 1800W so it may be a bit different than your air fryer.
Take note that most air fryers are not the same. Some are big and some are small, therefore the power they produce can vary. If you have a Ninja Foodi or any of the many other brands of air fryers on the market, you may have to adjust the time and temperature, but not by much.
Step 2. Place Garlic Bread on the Basket
Place six frozen garlic bread slices on the air fryer basket or however many you can get on your air fryer tray. There is no need to set the bread on the countertop at room temperature before placing it in the air fryer.
Place the slices of garlic bread on the basket in a single layer not overlapping each other. We bought pre-made Texas toast garlic bread from the frozen foods section of grocery stores, but you can use any of your favorite frozen garlic bread.
Note: We didn't spray our basket with cooking spray, but if you prefer to do so you can do that before placing the bread on the basket.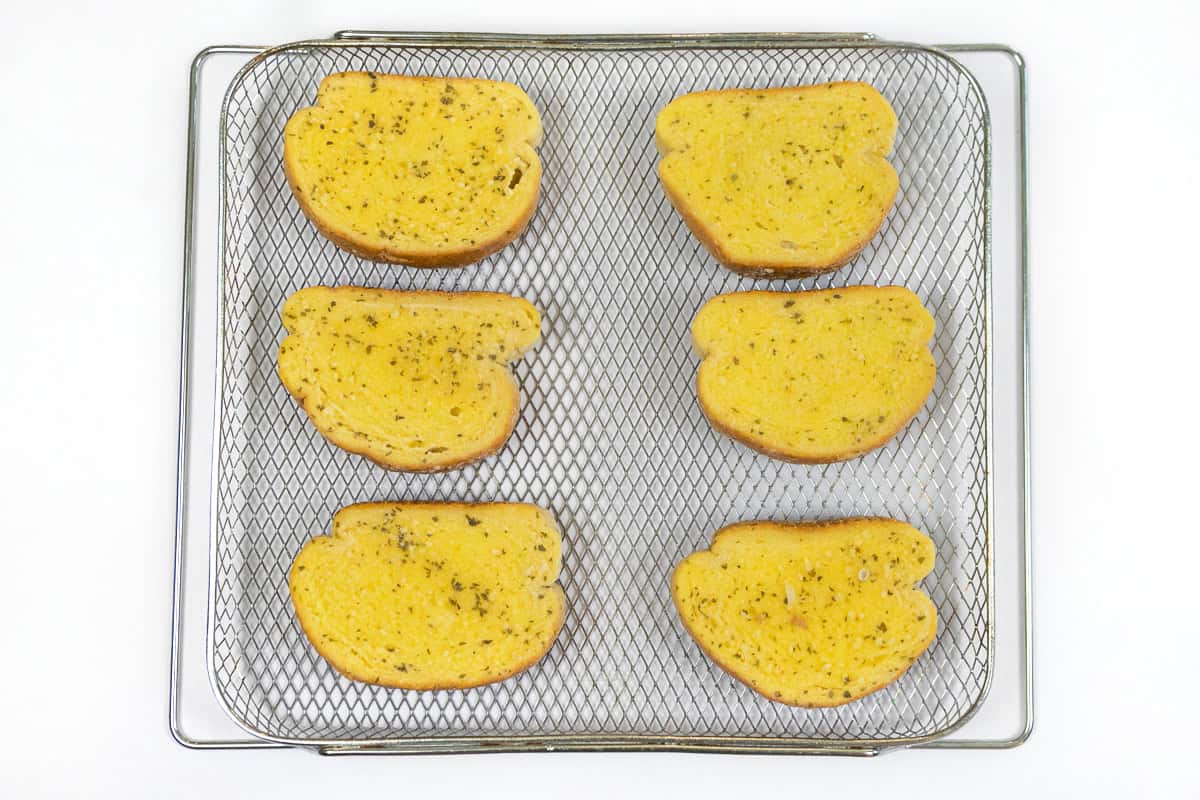 Step 3. Cook the Garlic Bread
Put the basket in the air fryer. The cook time for the frozen garlic bread is between 7 to 10 minutes or until golden brown. The cooking time for our garlic bread was 10 minutes. You can adjust that time if need be.
After the garlic bread is cooked, remove each slice of bread from the air fryer. Be careful not to burn yourself on the hot air within the air fryer. An easy way to avoid any burns is to use heat-resistant oven mitts and heat-resistant tongs.
Tip: As always, for the best results, keep an eye on the garlic bread while it is in the air fryer. If you make a second batch, be sure to clean the basket of your air fryer beforehand.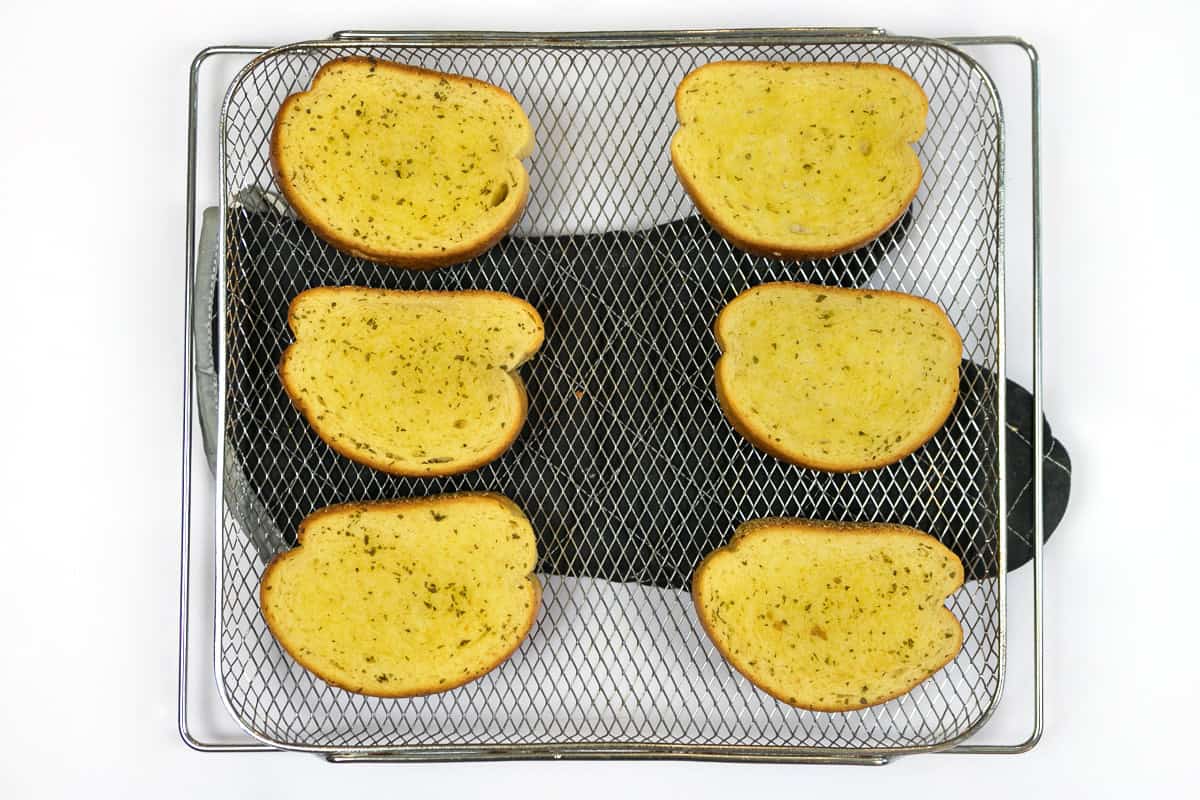 ⭐️ Recipe Variations
For added flavor, sprinkle Italian seasoning, oregano, or garlic powder on this air-fried garlic bread before or after cooking it.
If you love cheese, make some cheesy bread by shaking some parmesan cheese or tossing your favorite cheese such as shredded mozzarella or shredded cheddar on top of each slice of garlic bread before cooking it in the air fryer.
Before cooking, shake some extra garlic spread and seasoning mix on each slice of bread which is a blend of premium parmesan cheese, garlic, and other spices.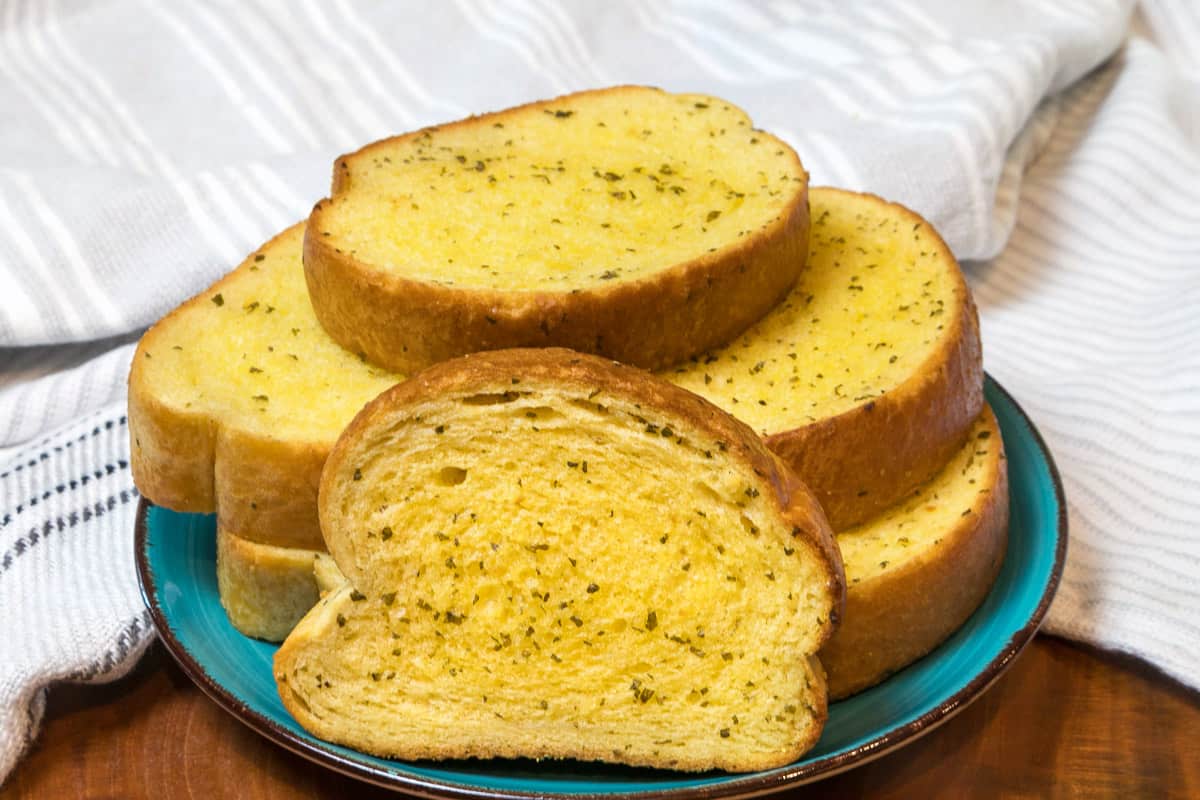 ☝️ FAQs
What do I do with Leftover Garlic Bread?
Put any leftover garlic bread in an airtight container or wrap them in plastic wrap or aluminum foil and then put it in the refrigerator until you are ready to eat them. Reheat them in a microwave or air fryer to your personal preference. The leftover garlic bread will only last for a day or two in the refrigerator and then it will lose quality, texture, and taste.
What do I Serve with Garlic Bread?
Garlic bread is usually served with pasta dishes but it can also be served with a wide variety of main courses you may not have tried. Some suggestions are grilled or baked chicken, teriyaki chicken fried rice, grilled steak kabobs, or Korean-style ground beef. Soups and stews pair well with garlic bread too, especially tomato soup, hamburger soup with cabbage and potatoes, or chili. Or you can keep it super simple and have a fresh salad, a bowl of soup, and a couple of slices of garlic bread. Overall, if it sounds good to you, then it will be.
What if I Don't Have an Air Fryer?
No air fryer, no problem. Frozen garlic bread can also be cooked on the grill, on the stovetop, or in the oven or toaster oven. Just follow the instructions on the packaging for those methods.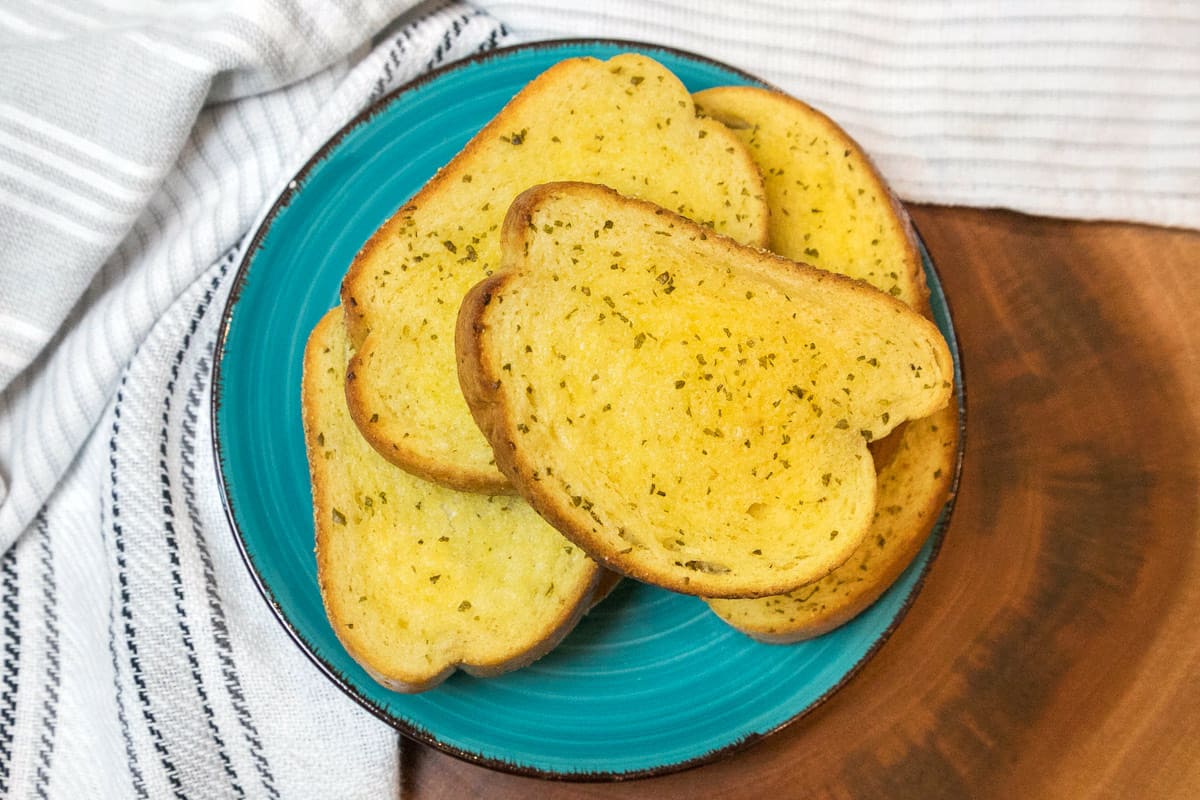 💡 Final Thoughts
This air fryer Texas toast garlic bread is an easy side dish for many entrées. You can also enjoy this delicious garlic bread as a quick snack or for lunch with soup and a salad.
So the next time you make dinner, spend less time in the kitchen with this air fryer garlic bread recipe. Instead of spending extra time making homemade garlic bread, you can spend more time at the park with the kiddos!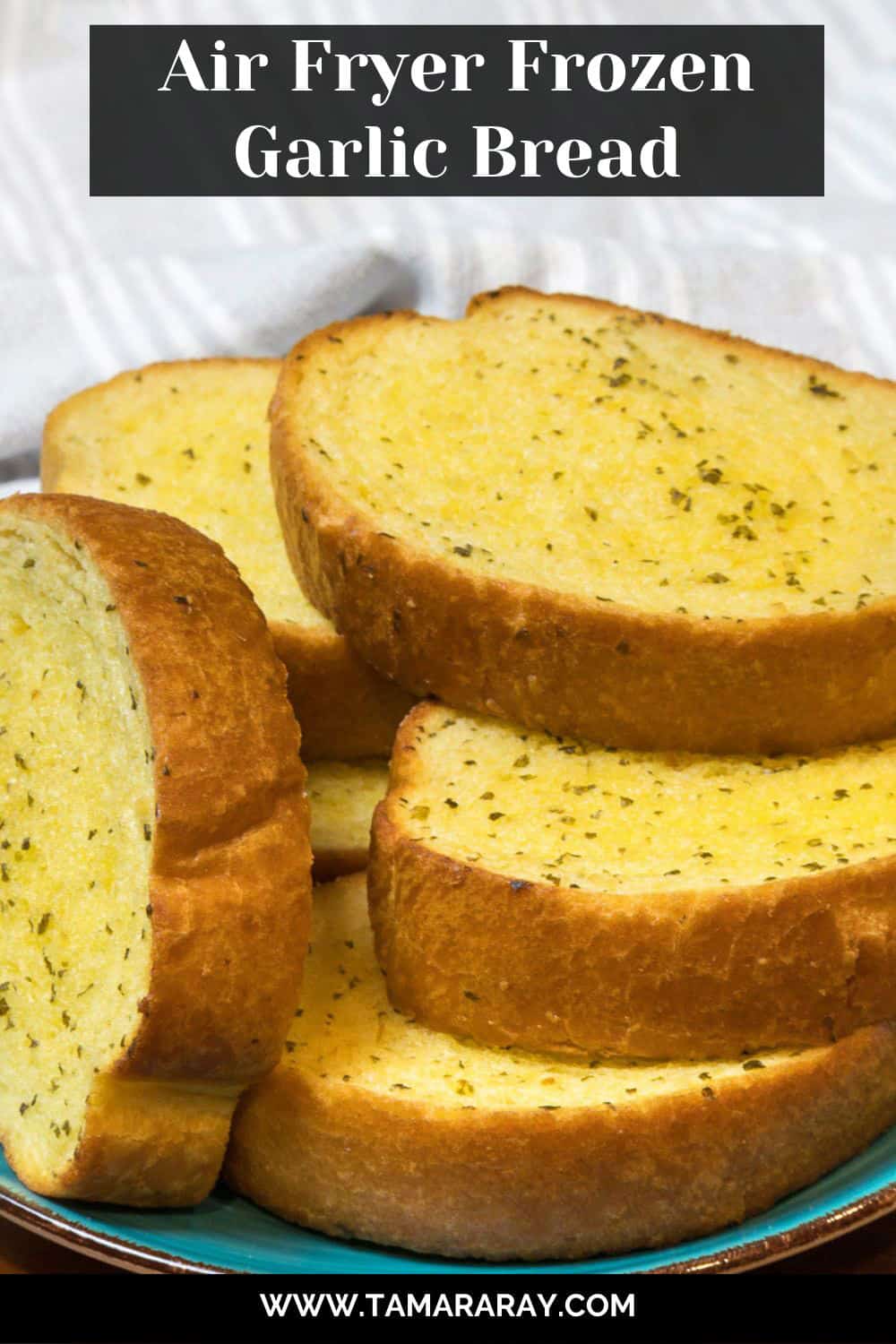 💖 More Air Fryer Recipes You Will Love
🗂️ Recipe Card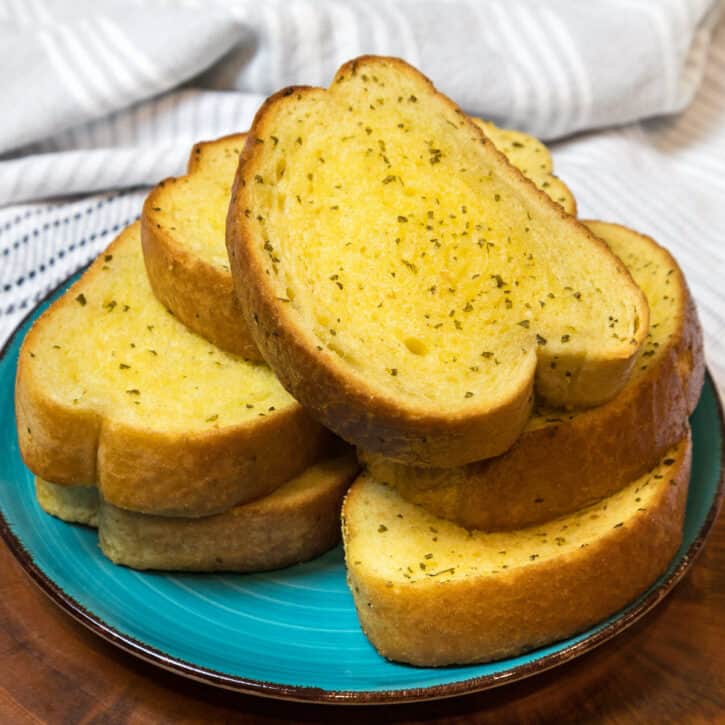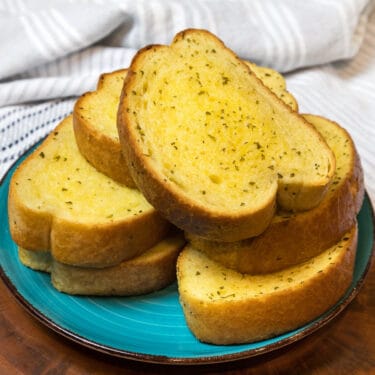 Easy Air Fryer Frozen Garlic Bread
This frozen garlic bread comes out crispy and delicious after being cooked in the air fryer. The air fryer cooks it to perfection and this convenient recipe is the ultimate shortcut to mouthwatering garlic bread!
🧂 Ingredients
Frozen garlic bread

Optional toppings

(cheese, seasonings, extra butter)
👩‍🍳 Instructions
Preheat the air fryer to 385 degrees Fahrenheit.

Place the frozen garlic bread on the air fryer basket.

Put the basket in the air fryer using the heat-resistant oven mitts. Cook between 7 to 10 minutes or until golden brown.

Remove the garlic bread from the air fryer when it is done cooking using heat-resistant oven mitts and heat-resistant tongs.
*️⃣ Recipe Notes
You can add extra garlic butter, your favorite cheese, or sprinkle any seasonings on this garlic bread before you put it in the air fryer.
Store any leftovers in an airtight container in the refrigerator for a couple of days. Reheat it in the microwave or air fryer to your personal preference.
A wife, a mother to a son and a daughter, and a grandmother to three granddaughters. Flo loves sharing recipes passed down from her own mother, her mother-in-law, and her grandmother as well as new recipes created with her daughter, Tamara Ray.
More by Flo ➜