(Last Updated On: January 29, 2023)
A great-tasting Italian chicken alfredo linguine recipe in a delicious creamy sauce that's so easy to make in about 30 minutes. The homemade alfredo sauce includes butter, minced garlic, cream cheese, milk, and parmesan cheese, then mixed with linguine pasta and seasoned rotisserie chicken.
Rotisserie chicken and alfredo with broccoli added go great together too, just like in our chicken and broccoli lasagna! Just like the chicken alfredo linguine, the homemade alfredo sauce used in this chicken and broccoli lasagna recipe includes butter, minced garlic, black pepper, grated parmesan cheese, and heavy cream instead of cream cheese and milk. So delicious!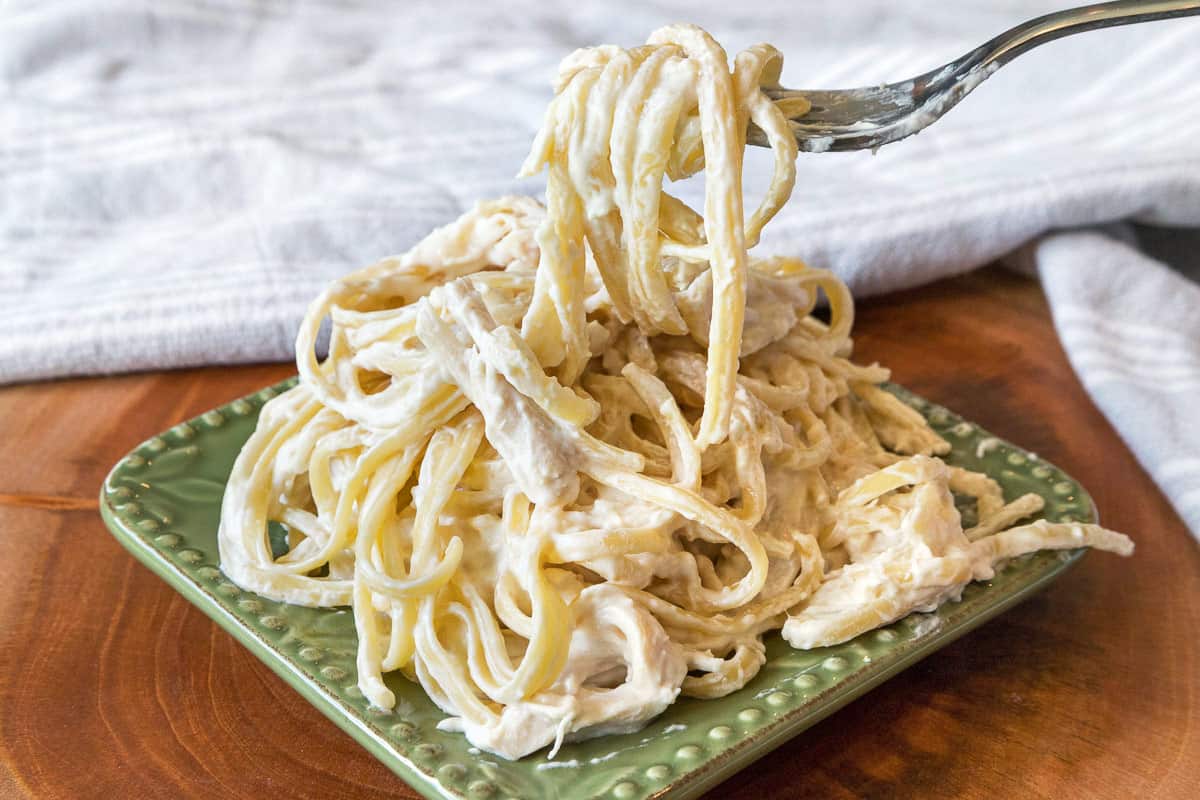 🍴 Key Ingredients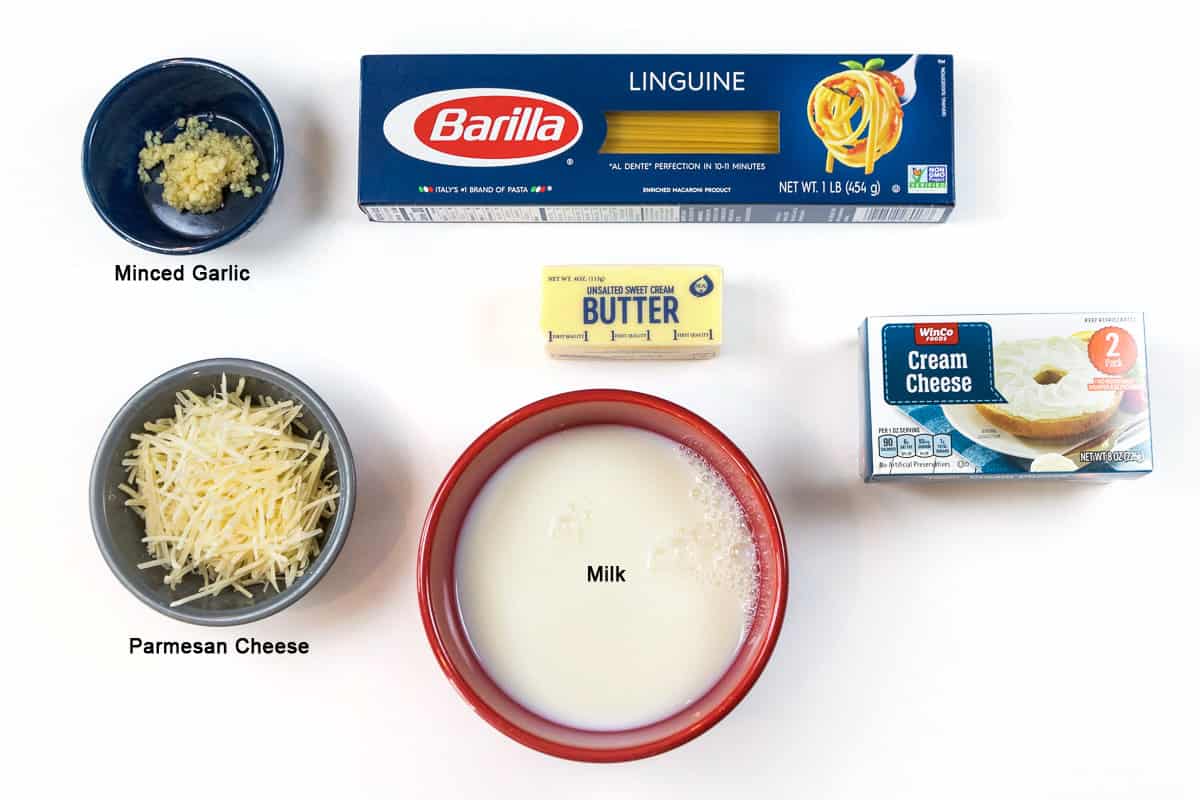 👩‍🍳 How to Make Chicken Alfredo Linguine (Step-by-Step Instructions with Detailed Photos)
Step 1. Prepare the Chicken
For this recipe we used a rotisserie chicken from Costco with lots of flavorful seasonings, however, you can buy a whole chicken and bake it in the oven, or boil it in a large pot of salted water on the stove. If you only like white meat you can buy chicken breasts, or if you only like dark meat, you can buy thighs and legs.
The easiest way to get the amount of shredded chicken needed for this recipe is to buy a rotisserie chicken from grocery stores that sell it. It's already cooked and seasoned for you, all you need to do is debone it into pieces.
Costco, Walmart, and Fred Meyer all sell roasted rotisserie chickens, but I have heard from multiple sources (including me-myself-and I), that Costco has the best-tasting chicken and the best deal of them all, at only $4.99 as I type this.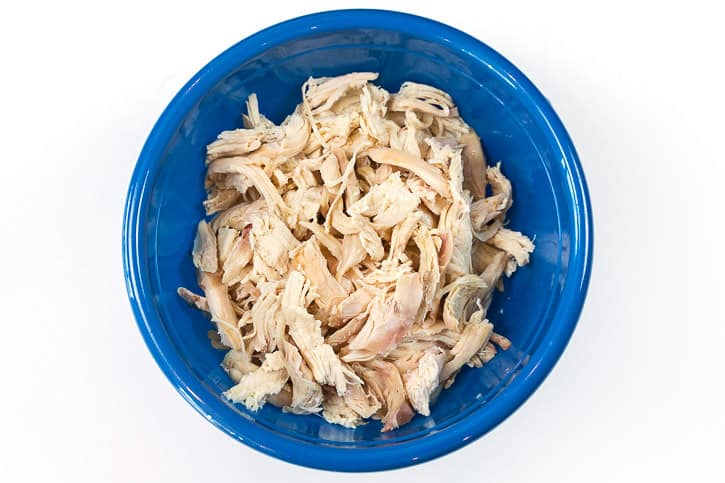 Whichever method of chicken you choose, the next step is to shred the chicken into pieces in a medium bowl. After shredding, set the chicken in the refrigerator until we need it later in the recipe.
Note – Debone your chicken, making sure to get every piece of chicken that is on the bird, even if you don't use it all for this recipe. You can make something with the leftover chicken the next day, such as a delicious chicken sandwich with mayo, salt, and pepper on it.
Step 2. Cook the Linguine
We used one 16-ounce package of linguine pasta. We prepared the cooked pasta according to the package directions. Usually, it takes about 8 to 10 minutes to cook linguine pasta. Check for firmness if you aren't sure. The linguine should be al dente, tender to chew, but still firm when eaten, in other words, not mushy.
You can prepare your linguine using the package instructions on the back of the package you bought, or you can do what we did. To cook the linguine, bring the water to a boil, stir gently while adding the linguine to prevent the pasta from sticking to each other, reduce the heat to medium-high, cook for the amount of time the instructions say, stirring occasionally, and then drain the water out of the linguine using a colander over the sink. Also, don't rinse the linguine in cold water, this will help the alfredo sauce stick to the linguine better.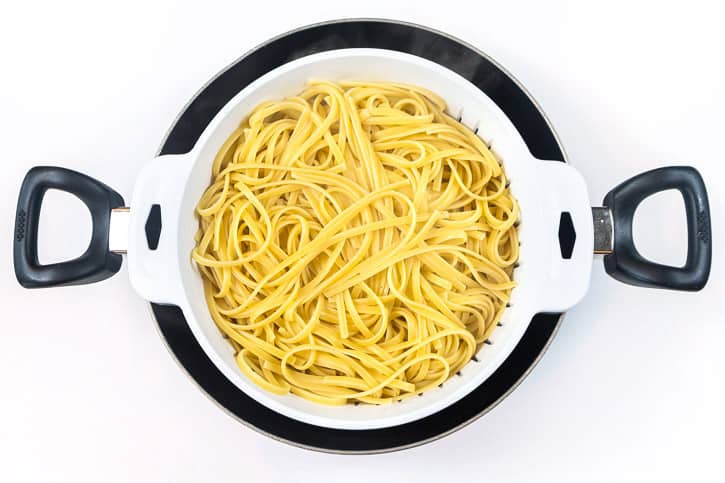 Step 3. Prepare the Linguine Alfredo Sauce
Place 1/2 cup of butter in a large frying pan together with 2 teaspoons of minced garlic.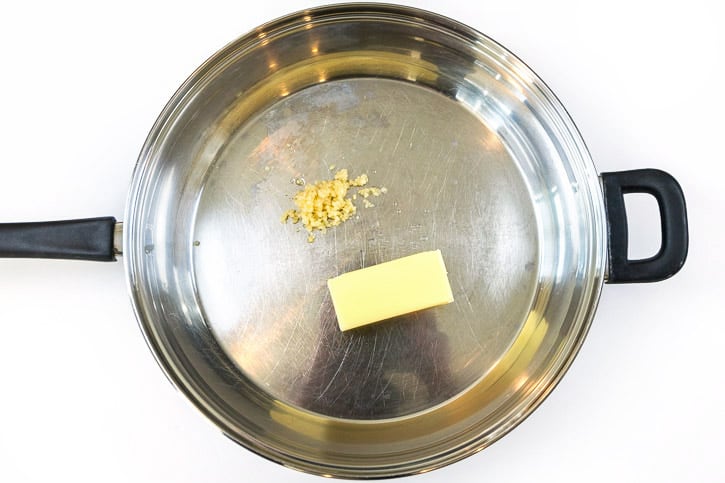 Step 4. Cook the Butter and Minced Garlic
On medium-high heat, melt butter together with the minced garlic for about 3 to 4 minutes, stirring with a wooden spoon. A regular spoon will work fine too.
Note: If your medium-high heat is hotter than mine, you may need to adjust the cooking time or turn your burner down a little bit and melt the butter over medium heat.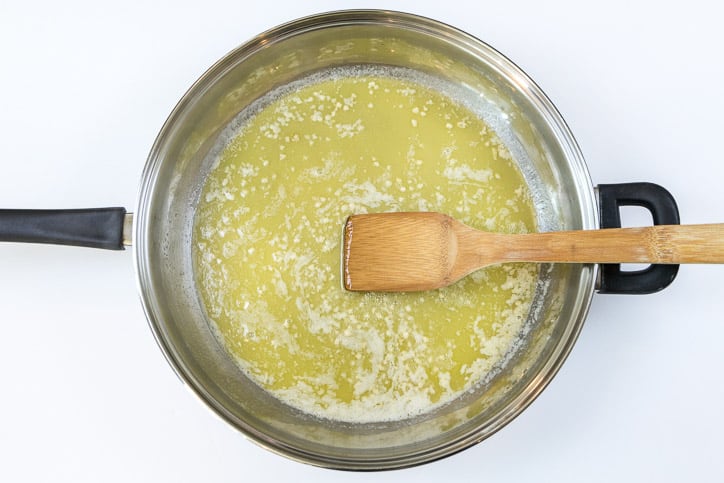 Step 5. Add the Cream Cheese
Turn the burner down to medium heat after melting the butter, then add the 8-ounce package of cream cheese together with the melted butter and minced garlic. Continue to cook over medium heat stirring constantly until the cream cheese has melted a bit. It will be lumpy but don't worry about that for now.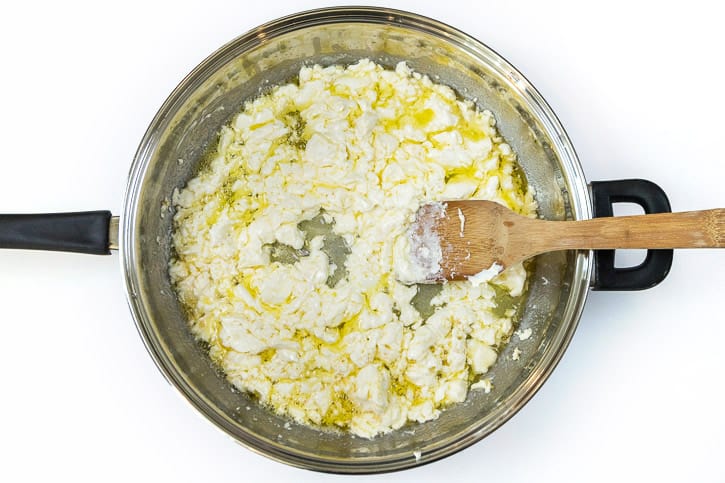 Step 6. Pour in the Whole Milk
With a whisk, and the heat still on medium, slowly add the 2 cups of whole milk together with the melted butter, minced garlic, and cream cheese in the frying pan.
Keep whisking until the mixture is smooth. Make sure to keep whisking so the mixture doesn't stick to the bottom of the frying pan.
Note: The cooking times and temperature of the heat can vary slightly depending on how hot your stove cooks, so it can take probably about three to four minutes until the mixture is smooth, give or take a few. Turn the burner to medium-low heat if medium heat is too hot.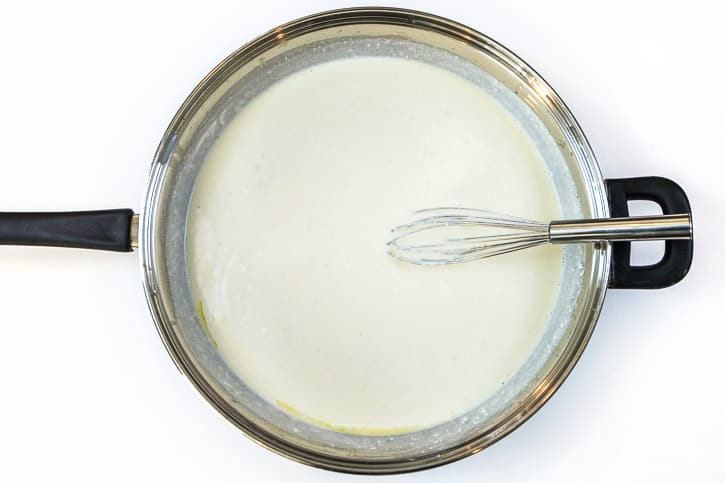 Step 7. Sprinkle on the Parmesan Cheese
Keep the heat on medium and slowly add the 2/3 cup of shredded parmesan cheese together with the cream cheese mixture. Continue to whisk the cream cheese ingredients until it is nice and smooth. As the sauce and cheese cook, it will start to turn into a thicker sauce and look like thick cream.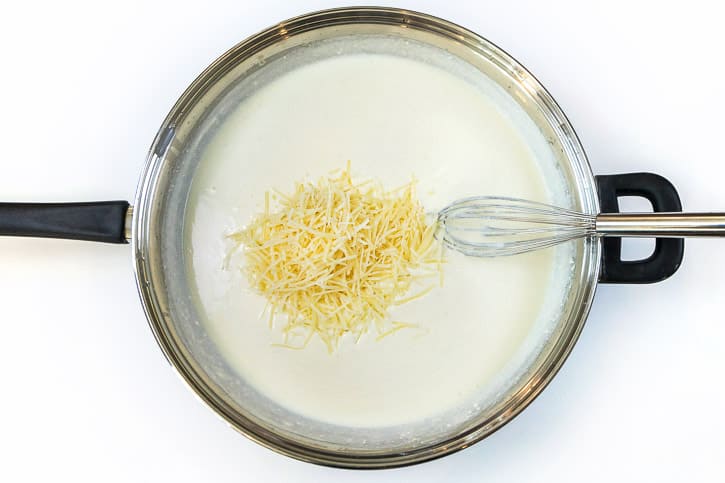 Step 8. Add the Shredded Chicken
We added about 3/4 of the rotisserie chicken to the alfredo sauce, but you can judge how much chicken you would like to add to yours. Add the chicken together with the cream cheese sauce. Stir until all is blended together.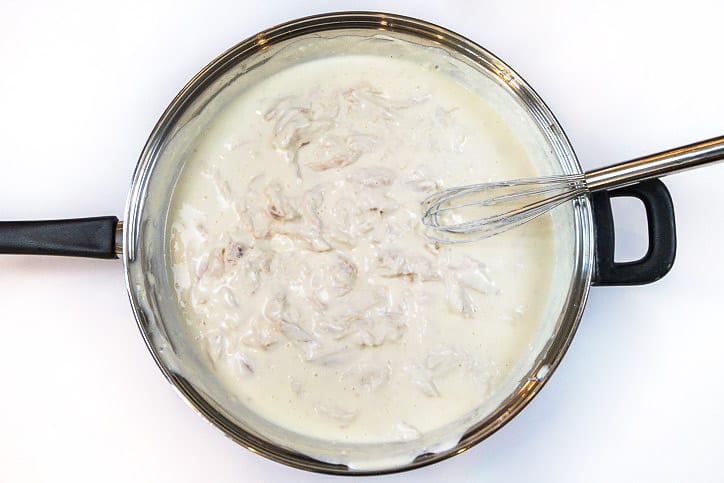 Step 9. Add the Cooked Linguine Pasta
Add the linguine pasta together with the alfredo sauce and chicken. The linguine pasta should be covered evenly and completely with the sauce and chicken.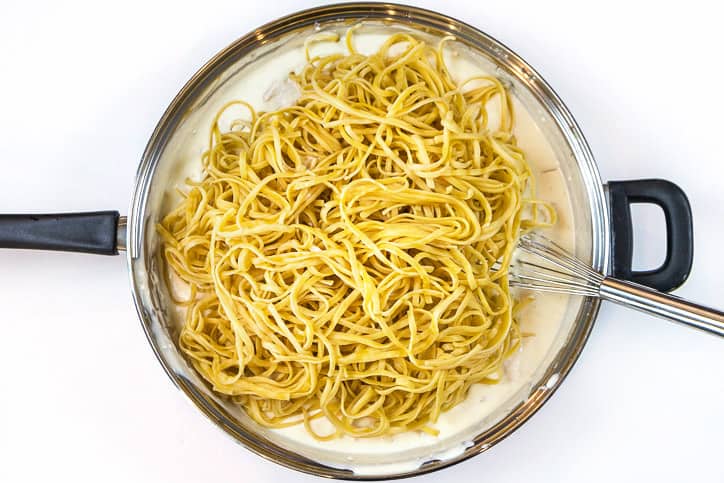 Step 10. Stir Until Blended
Stir all of the ingredients together in the large skillet with a spoon until well blended. Heat through to your liking. After that, it's ready to serve. Store any leftovers in an airtight container in the refrigerator for about 3 days.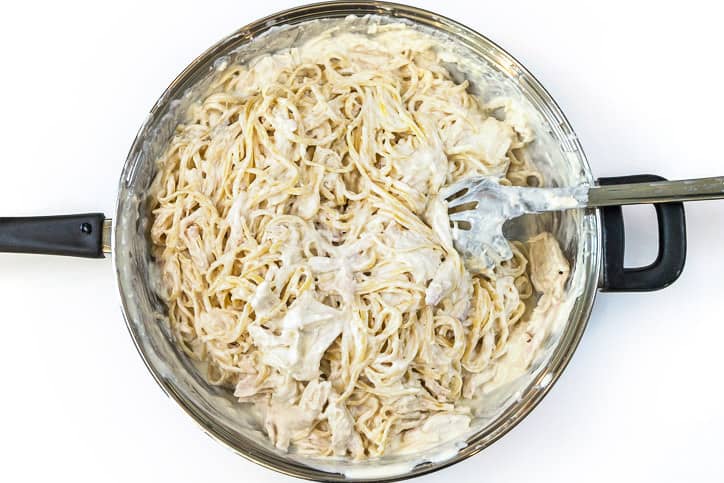 ✨ Recipe Variations
Add some ground black pepper to the chicken alfredo before, during, or after cooking.
Sprinkle a little bit of garlic powder on the alfredo sauce while it is cooking on the stove.
Try adding some broccoli florets to the recipe.
A drizzle of olive oil on your linguine right before you take your first bite sounds wonderful.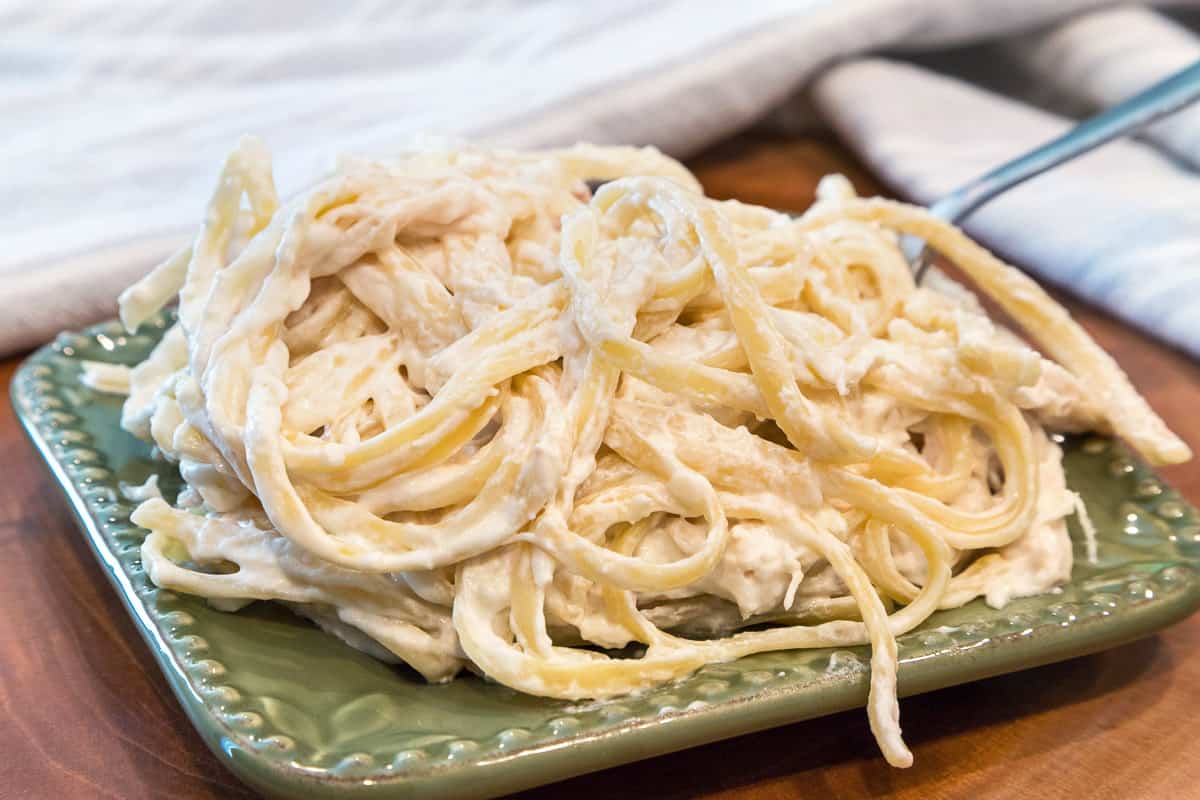 FAQ's
What is Alfredo?
Alfredo is a cream sauce. The alfredo we are making consists of butter, minced garlic, cream cheese, whole milk, and shredded parmesan cheese. Keep in mind though, that there are many versions of alfredo, some with different ingredients added.
What is Linguine? Is it the Same as Spaghetti or Fettucine?
Linguine is a type of pasta like spaghetti, but linguine is a long flat noodle and a wider noodle compared to spaghetti. Spaghetti is a long, thin roundish-shaped noodle like a string. Linguine is thicker and wider in shape with a flat cut to it, but not by much.

Linguine is similar to Fettucine noodles as well, but linguine is not as wide. So, linguine and Fettucine are both flat and wide, but Fettucine is an even wider version of linguine.
What is Linguine Alfredo?
Linguine alfredo, or alfredo linguine, is linguine pasta noodles that are cooked and then mixed until well blended with a white cream sauce, hence alfredo.
Where Can I Buy Linguine Pasta?
Most all grocery stores sell linguine pasta in the pasta and noodles aisle where the spaghetti and macaroni noodles are.
What is Rotisserie Chicken?
A rotisserie is a cooking device with a metal spit that slides through different kinds of meats and then rotates the meat for roasting and barbecuing. The steps are – season chicken with spices, slide chicken through the metal spit, then rotate the chicken until thoroughly cooked inside and out.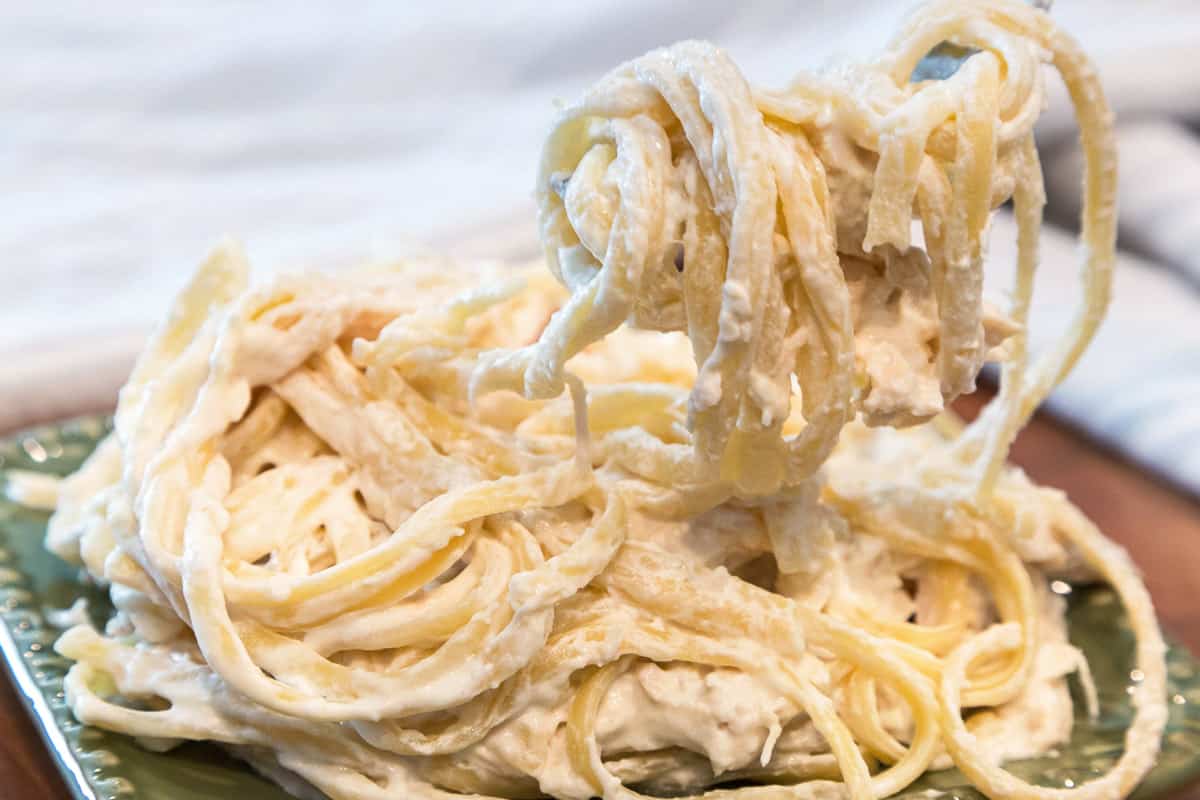 💡 Final Thoughts
This easy chicken alfredo recipe has a wonderful taste to it. With the homemade alfredo sauce and the juicy chicken added from the rotisserie, it's so good and a great meal to make for your family at dinnertime. Some excellent side dishes are a fresh lettuce salad, lots of veggies, buttered rolls, or garlic bread. This is one of our favorite Italian recipes and we hope you will enjoy it as much as we do. Buon appetito!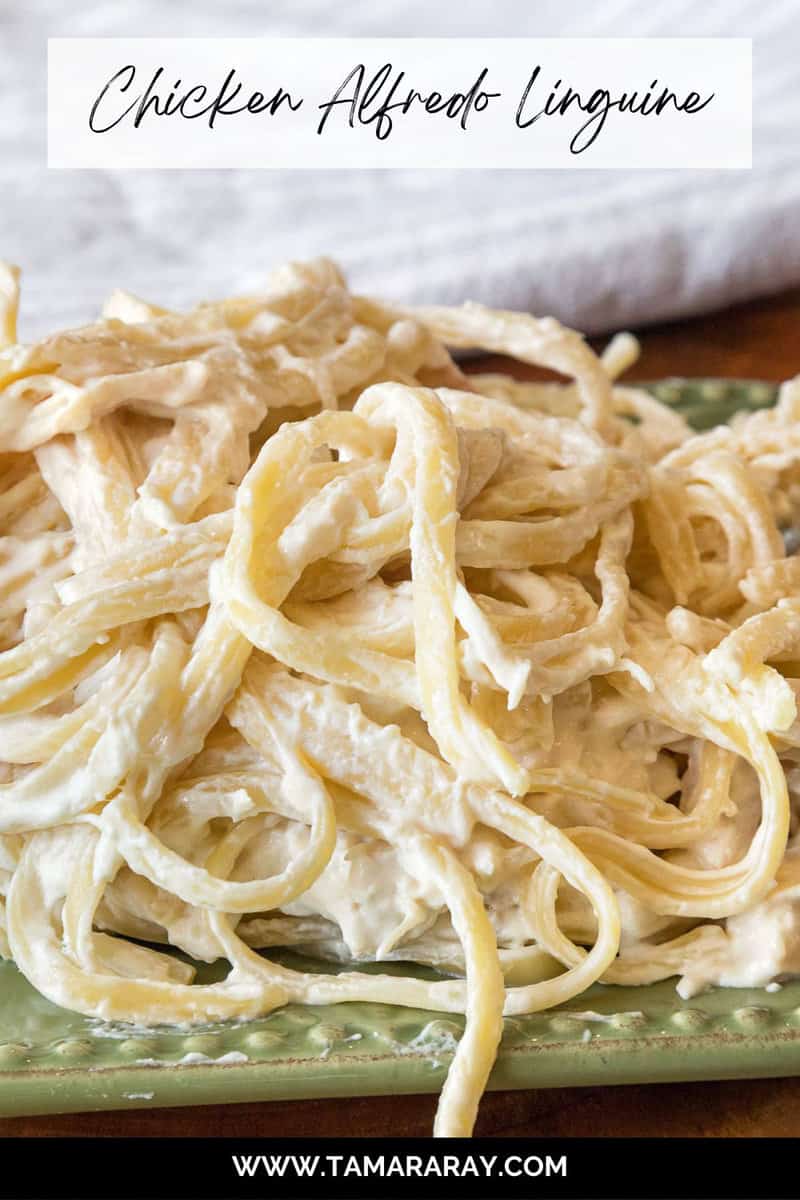 🥰 More Recipes You Will Love
Chicken and Noodle Casserole (With Red Peppers) – This chicken and noodle casserole is the ultimate comfort food. It's so good, you will make it over and over again. Even the children will like it, except maybe the onions and red peppers, which is my favorite part.
Instant Pot Spaghetti Sauce with Meat – A delicious spaghetti with amazing seasonings. If you don't have an instant pot, you can easily make this on the stovetop.
📄 Recipe Card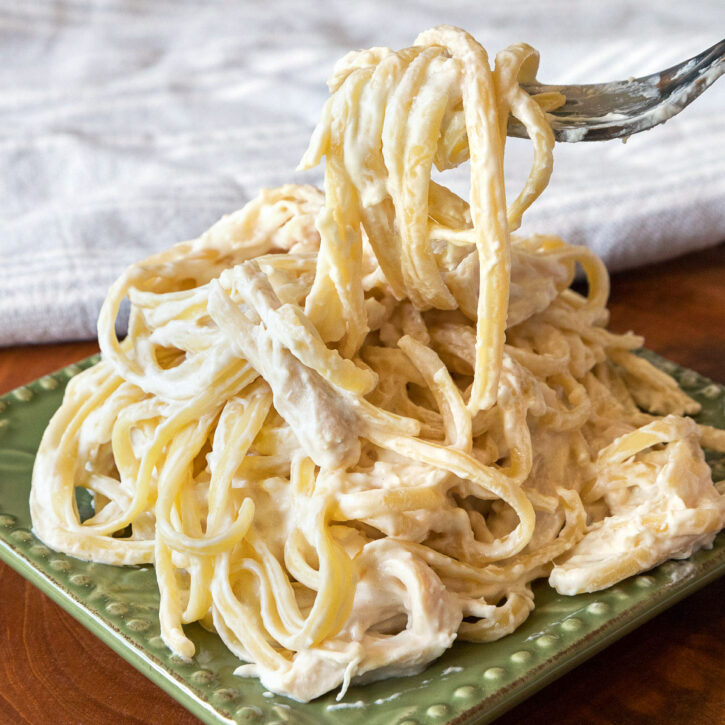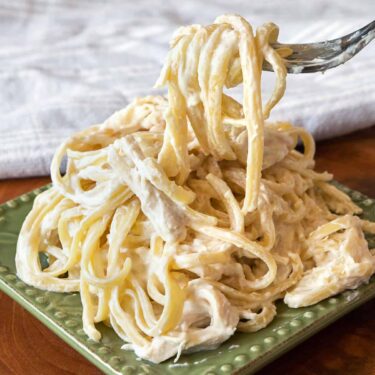 Easy Chicken Alfredo Linguine
A creamy white sauce made with butter, minced garlic, cream cheese, whole milk, and parmesan cheese, then mixed with shredded chicken and linguine pasta. So deliciously Italian!
👩‍🍳 Instructions
Shred the chicken into pieces. Set aside in the refrigerator.

Cook the linguine pasta according to the instructions on the back of the package. Set aside.

Put the butter and minced garlic into a frying pan.

On medium-high heat, stir until butter has melted and garlic has fried for a bit, about 3 or 4 minutes.

Reduce the heat to medium and add the cream cheese, stir until the cream cheese has melted into the butter and garlic, stirring constantly.

Slowly add the whole milk. Whisk until smooth. Keep whisking so the mixture doesn't stick to the bottom of the pan.

Add the parmesan cheese and whisk the ingredients until you have a smooth white sauce.

Add the shredded chicken to the sauce. We used about 3/4 of the whole chicken. Then stir the ingredients together.

Add the linguine pasta. Stir. Heat through and it's ready to serve.
A wife, a mother to a son and a daughter, and a grandmother to three granddaughters. Flo loves sharing recipes passed down from her own mother, her mother-in-law, and her grandmother as well as new recipes created with her daughter, Tamara Ray.
More by Flo ➜