(Last Updated On: April 17, 2023)
In my opinion, the best recipe for pumpkin pie is Libby's pumpkin pie recipe that is on the label of the can of Libby's pure pumpkin. It has a perfect sugar-spice mixture blend and ingredients that are just right to make the best pumpkin pie ever. So this will be the pumpkin pie recipe we are making today, with the exception that our recipe is using a graham cracker pie shell.
Without a doubt, just about everyone loves pumpkin pie, especially with a scoop of ice cream, some fresh whipped cream, or Cool Whip on top. That's why it's the perfect dessert after your Thanksgiving dinner of turkey, mashed potatoes, traditional dressing, cornbread dressing, green bean casserole, and fruit cocktail salad. But really, pumpkin pie tastes great any time of the year, right? This recipe is the perfect pumpkin pie for our family, but it is also a super easy pumpkin pie recipe to make.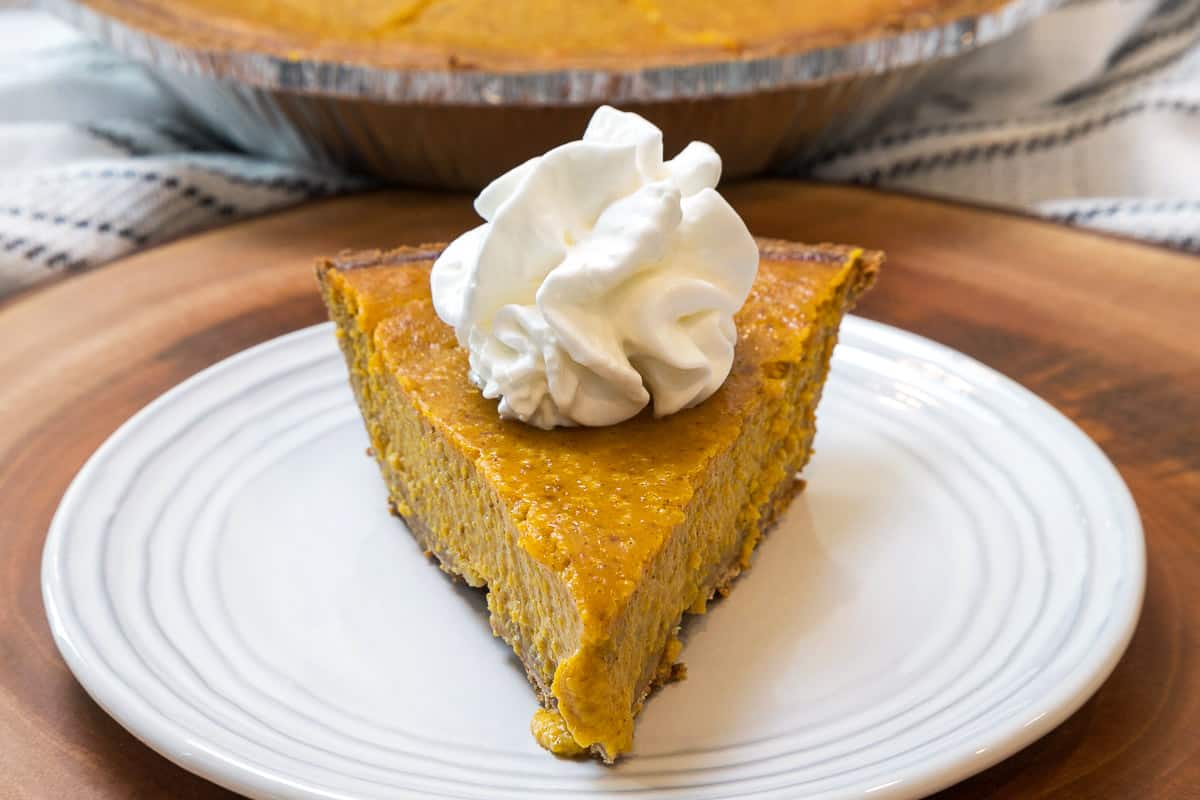 🥧 Key Ingredients for Libby's Pumpkin Pie Recipe for 2 Pies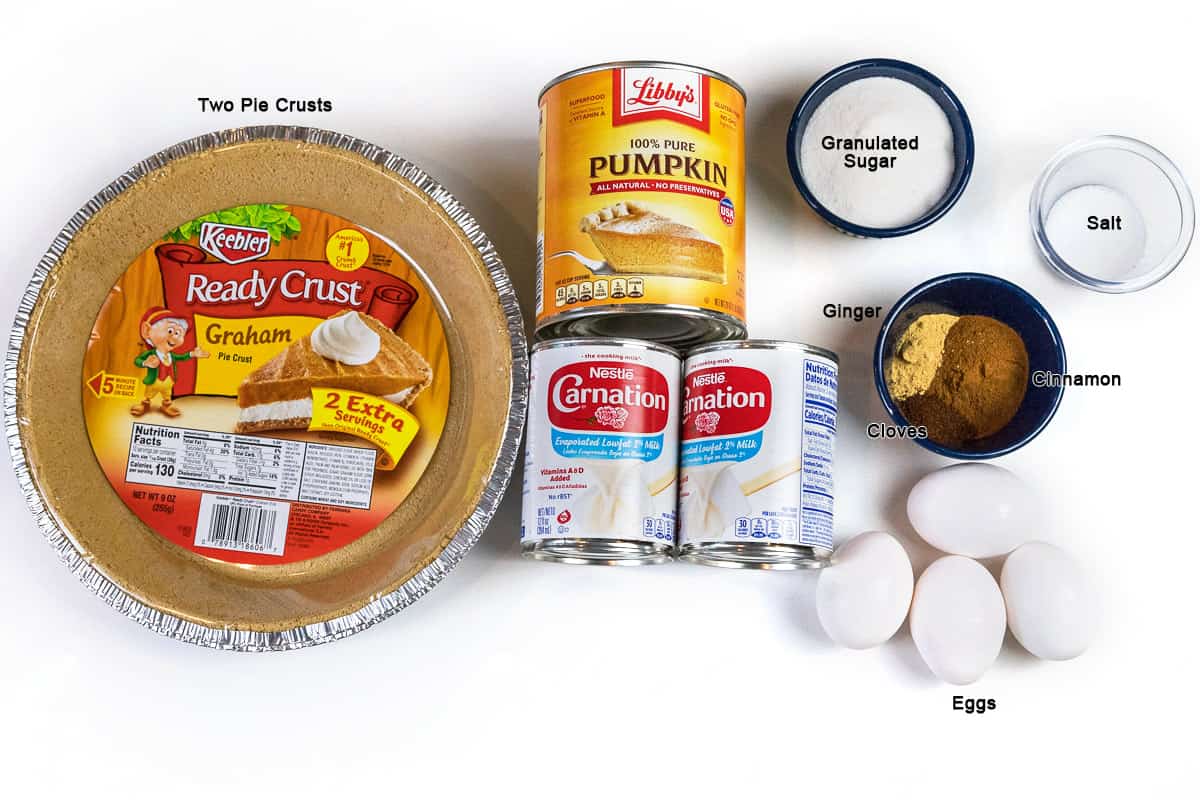 👩‍🍳 How to Libby's Famous Pumpkin Pie Recipe (Step-by-Step Instructions with Detailed Photos)
Step 1. Preheat the Oven
Preheat oven to 425 degrees.
This Libby's pumpkin pie classic recipe makes two pumpkin pies. But Libby's® has a smaller can of pumpkin if you want to make just one pumpkin pie. We use the 29-ounce can of pure pumpkin to make two pies. The 14.5-ounce can is what you will want to use if you only want to make one pie, but then you will have to cut the rest of the ingredients in half. We like to make two pies for Thanksgiving or Christmas, so we double all of the ingredients for one pie and mix it all together. Then, we divide the final pumpkin pie filling in half by pouring it into two pie shells.
Step 2. Mix the Seasonings and Spices to Make the Pumpkin Pie Spice
In a small bowl, add 1 teaspoon of salt together with 2 teaspoons of cinnamon, 1 and 1/2 cups of sugar, 1 teaspoon of ginger, and 1/2 teaspoon of cloves and mix together.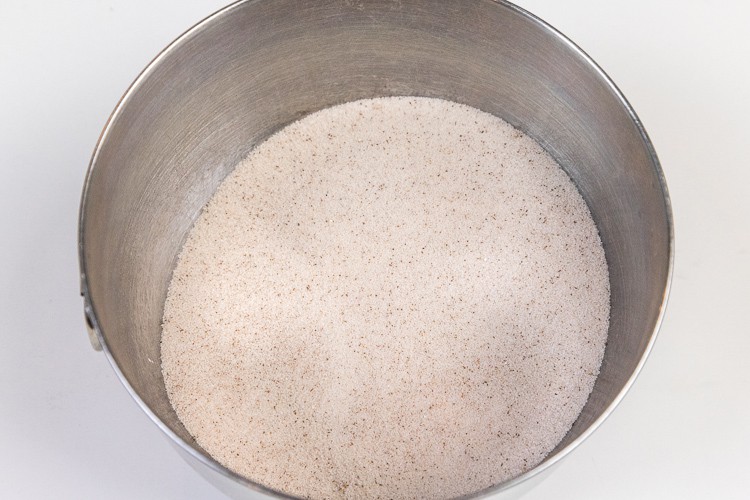 Step 3. Beat the Eggs
Put four large eggs in a large bowl and beat them together with a fork. But before you beat them, read "A funny Story" below.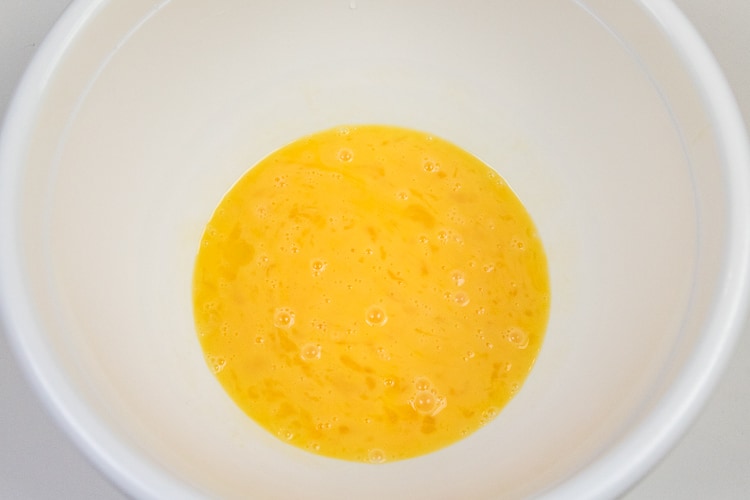 The next step is, as my granddaughter says, "pick out the whitetail things that Mommy calls them."
A Funny Story
To begin with, my daughter and I have a very strong disliking for that little whitetail thing around the egg yolk! We remove it every chance we get. So of course, I checked the internet to see what it was and what it was called. This is what I found out:
One is called a chalaza, and two are chalazae. The chalazae are connected at the top of the eggshell and at the bottom of the eggshell, both of which are attached to the egg yolk.
These two chalazae keep the egg yolk from bumping into the sides of the eggshell, in other words, it keeps the egg yolk in place, in the center of the eggshell. That's very interesting don't you think? That's not what I thought they were.
Yep, they are not a baby chicken's umbilical cord, or an embryo either, or chicken sperm. What they are is some sort of protein. What a relief to learn that. 😉 So the chalaza is certainly not a bad thing. But we still don't like them. Unless my daughter and I are frying an egg over-easy, that little whitetail thingy gets removed! 🙂
Also, we have noticed that if the chalazae don't get removed, white specks will appear throughout the pumpkin pie. It's not that noticeable to a lot of folks, but it is very noticeable to my daughter and me, so we remove them. But it's up to you whether you remove the chalazae or not.
Step 4. Add the Pumpkin Puree
Add one 29-ounce can of Libby's® pure pumpkin together with the 4 beaten eggs and blend all together.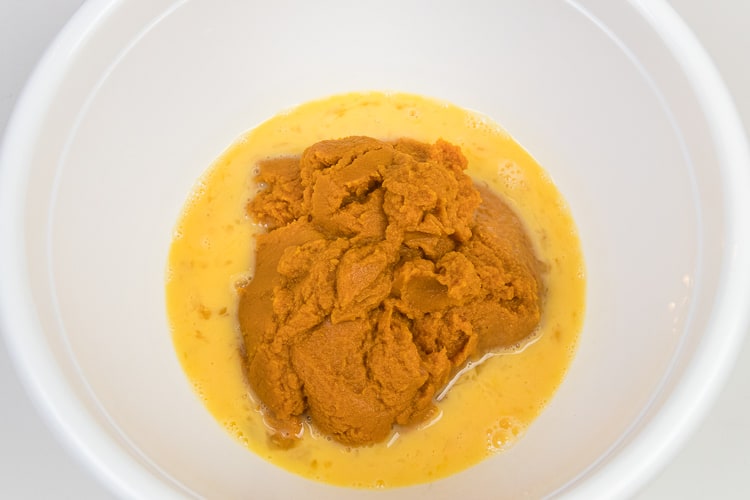 Step 5. Mix the Dry Ingredients with the Pumpkin Mixture
Add the dry spices that are in the small bowl with the eggs and the pumpkin in the large mixing bowl.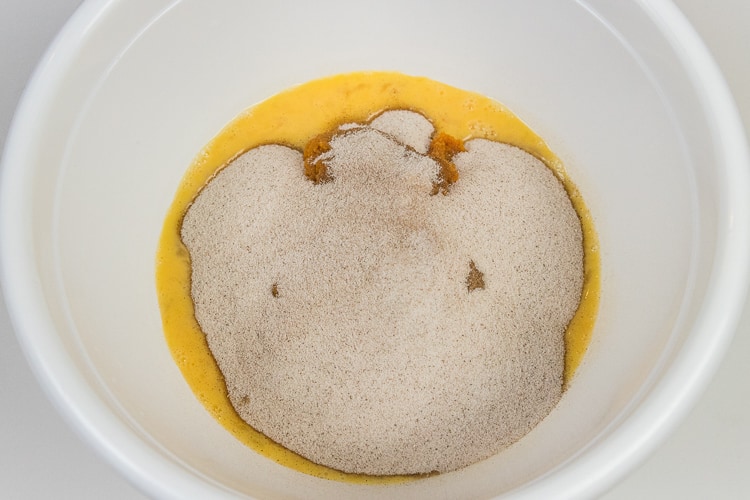 With a spatula or spoon, stir the dry spices together with the beaten eggs and pumpkin.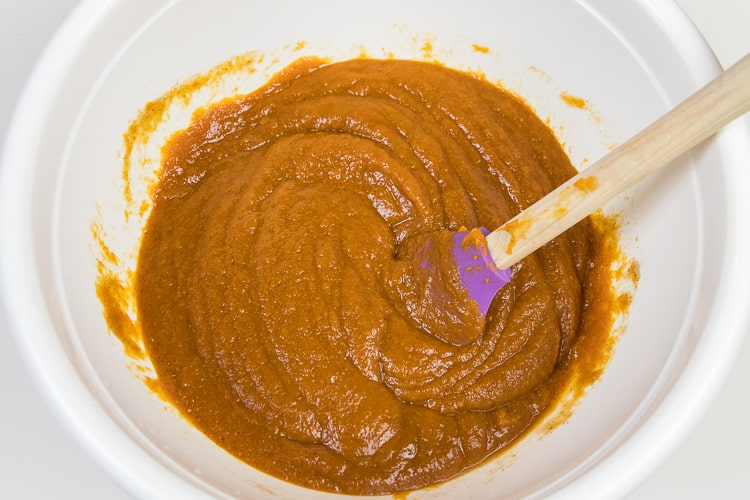 Step 6. Add the Evaporated Milk for Libby's Pumpkin Pie
Thoroughly shake the cans of evaporated milk. Then, gradually add the 2 cans of 2% evaporated milk together with the pumpkin mixture.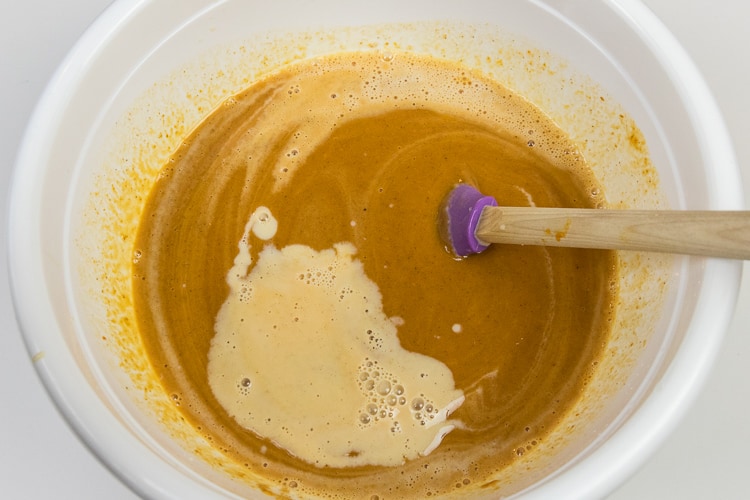 Stir the evaporated milk together with the pumpkin mixture until it is completely combined.
Step 7. Pour Pumpkin Mixture Into 2 Pie Shells
Slowly pour the pumpkin mixture into 2 pie shells. We used Ready Crust Graham pie crust for this recipe. You can use any pie shells you like, for example, a store-bought pie crust from the grocery store, or you can make a homemade crust from scratch. If you make your own crust you will need a pie plate.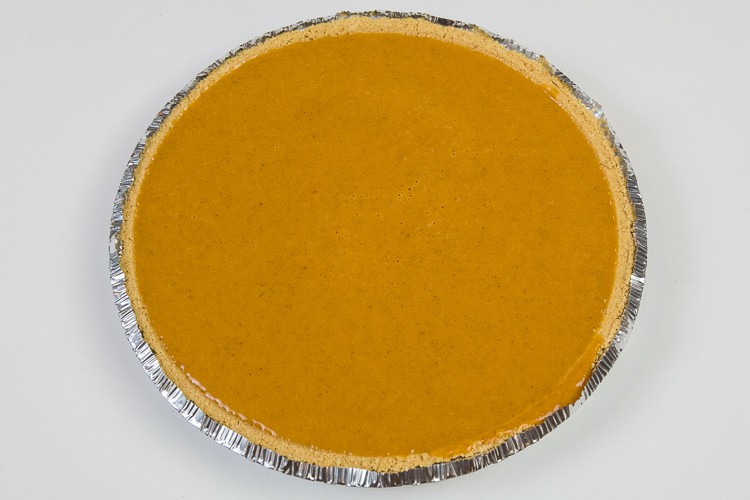 Step 8. Bake Homemade Pumpkin Pie in the Preheated Oven
Place both unbaked pies on a baking sheet and then put them in the oven and bake at 425 degrees for 15 minutes. After 15 minutes, reduce the temperature of the oven to 350 degrees and bake for an additional 45 minutes. After 45 minutes, take both pies out of the oven and let them cool down on a cooling wire rack for about 15-20 minutes. Do not let them sit at room temperature for any more than 4 hours. Finally, place both pies in the refrigerator until you are ready to serve them.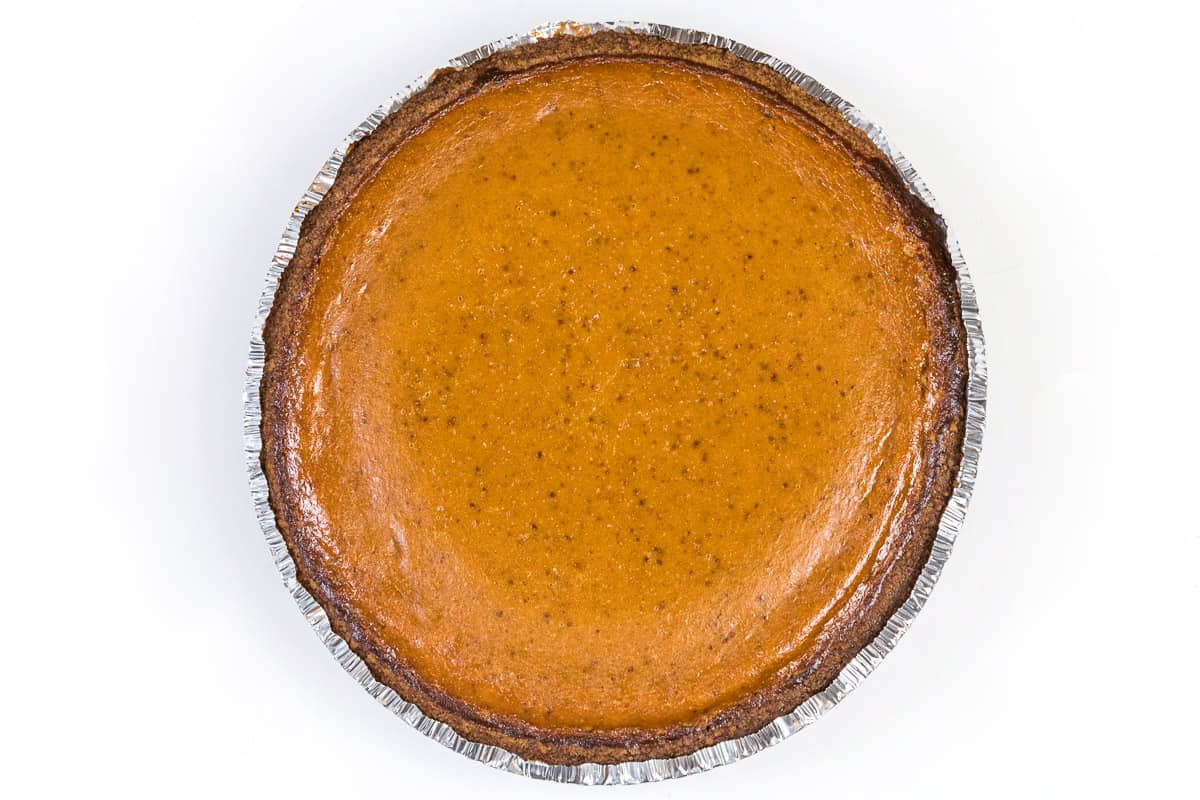 When ready to serve, use a sharp knife to cut the pie into eight equal pieces.
🙋 FAQs for Libby's Pumpkin Pie Original Recipe
Does Libby's Pumpkin Pie Need to be Refrigerated?
Yes, this pumpkin pie should be refrigerated and covered loosely with plastic wrap.
How Long Does Libby's Pumpkin Pie Last?
This pie will last 2 to 3 days in the refrigerator before it must be discarded. It never lasts that long in our family though!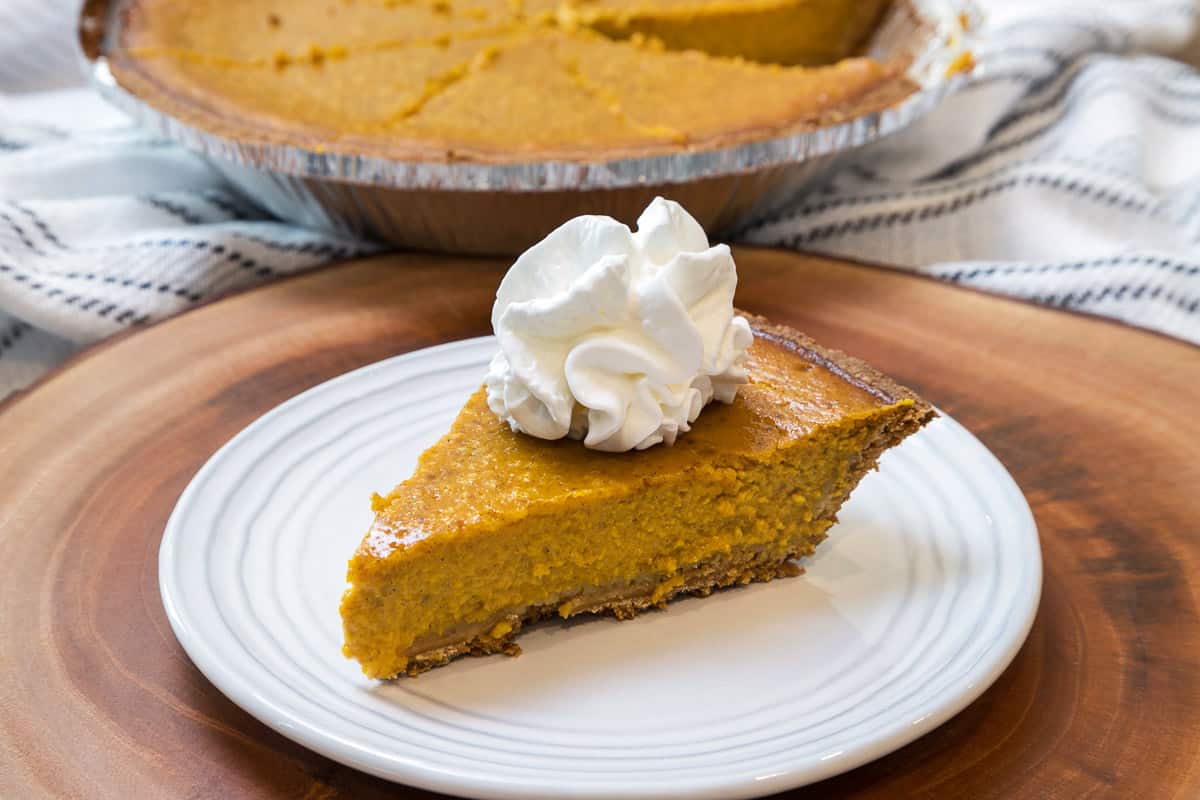 🗒️ Final Thoughts for Libby's Famous Pumpkin Pie
Below is a photo of a perfect slice of pumpkin pie with a graham cracker pie crust and topped with Cool Whip. So delicious! To us, this traditional holiday pumpkin pie is the best pie to make during the holidays, but if you aren't a fan of pumpkin pie, try making pumpkin cheesecake instead. It is another easy recipe. Or if you don't like pumpkin-flavored desserts, try our easy peach pie with canned peaches, sugar cream pie recipe, or our simple lemon meringue pie with condensed milk. All of these homemade pies are perfect for the holidays.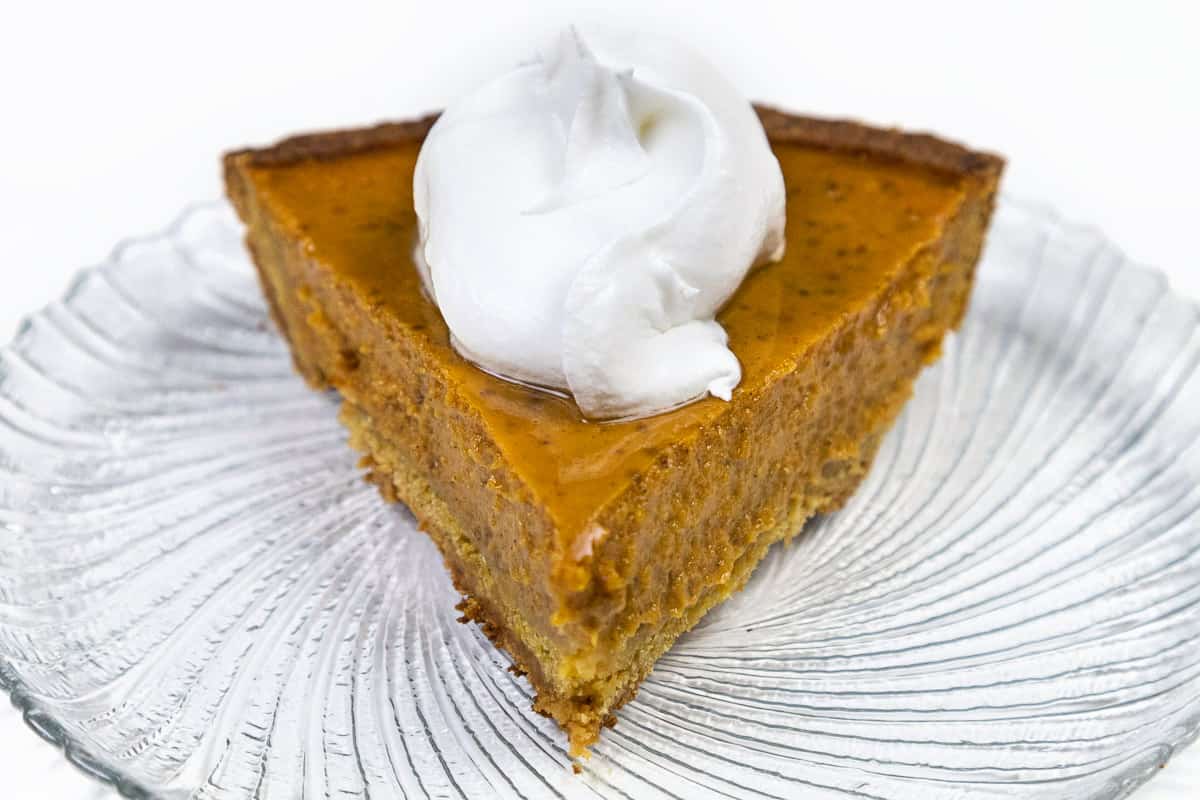 ❤️ More Holiday Season Recipes You Will Love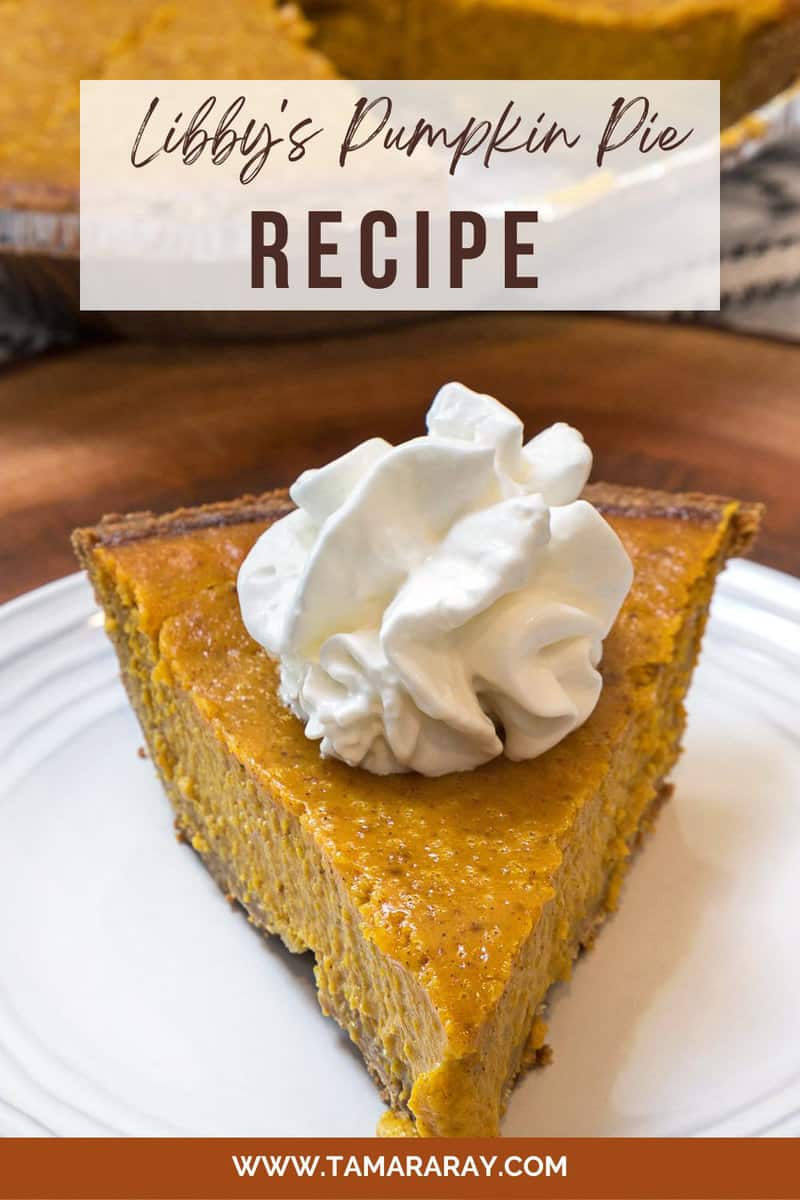 📄 Recipe Card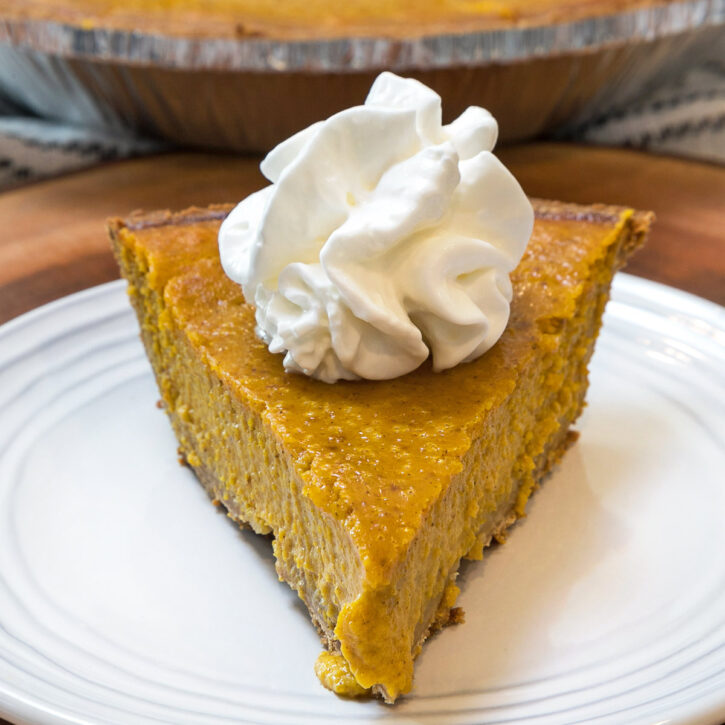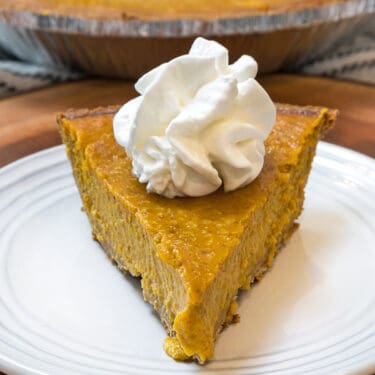 Libby's® Pumpkin Pie Recipe for 2 Pies
This is the best classic recipe for Libby's® famous pumpkin pie! The recipe for this pumpkin pie is quick and easy to make with just the right number of spices. It is the best-tasting pumpkin pie ever.
👩‍🍳 Instructions
Preheat oven to 425 degrees.

In a small bowl, mix together the dry spices – the salt, ginger, cinnamon, cloves, and sugar.

In a separate larger bowl, beat large eggs with a fork.

Add the can of pumpkin to the beaten eggs. Mix together.

Add the dry spices with the eggs and the pumpkin. Mix together.

Gradually pour the evaporated milk into the pumpkin mixture and mix well.

Pour the pumpkin mixture into pie shells.

Place both pies on a baking sheet and put them in the preheated 425 degrees oven and bake for 15 minutes.

After 15 minutes, reduce the temperature to 350 degrees and bake for an additional 45 minutes.

After baking, let the pies cool for about 15-20 minutes before putting them in the refrigerator. Do not let them sit out any more than 4 hours.
*️⃣ Recipe Notes
Did you know that pumpkin pie can be put in the freezer and thawed at a different time? It still tastes exactly like pumpkin pie after it's thawed.
A wife, a mother to a son and a daughter, and a grandmother to three granddaughters. Flo loves sharing recipes passed down from her own mother, her mother-in-law, and her grandmother as well as new recipes created with her daughter, Tamara Ray.
More by Flo ➜