(Last Updated On: March 21, 2023)
This Southern cornbread dressing recipe is so easy to make, and it tastes delicious as a perfect side dish with Thanksgiving turkey or any dinner for that matter. So, gather around your Thanksgiving table this holiday season and try some of this homemade cornbread stuffing. It tastes especially amazing with some Southern country gravy poured on top!
All you have to do is bake some cornbread, crumble it up, and add all kinds of yummy ingredients like celery, onion, ritz crackers, hardboiled eggs, butter, chicken broth, and seasonings to it. Then, bake it in the oven for 1 hour. Not only will this recipe be a hit on your Thanksgiving menu, but it will taste great with leftovers the next day too!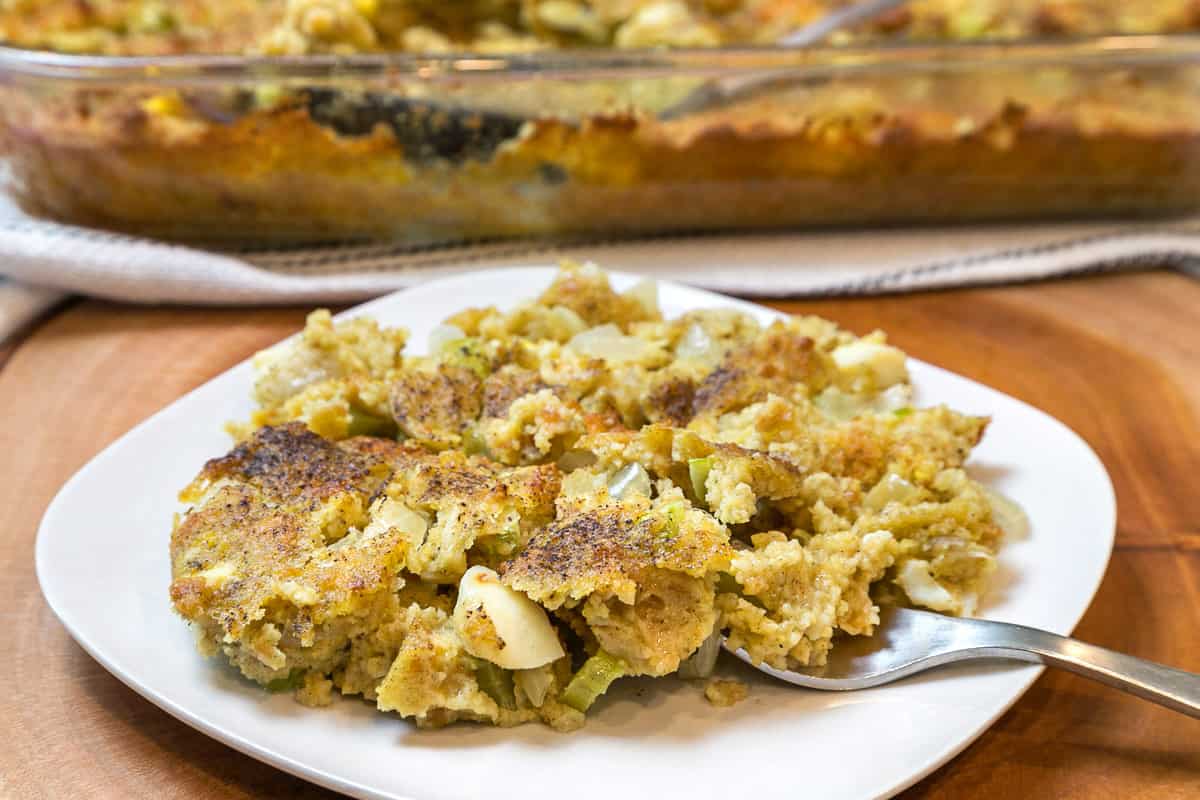 🥣 Key Ingredients
This delicious recipe uses only simple ingredients that are listed below.
Jiffy® cornbread mix – 8.5 ounce package
26 Ritz crackers
4 hard-boiled eggs
1 whole yellow onion
3 sticks of celery
Pinch of salt and black pepper
1 teaspoon of poultry seasoning
1 stick (1/2 cup) of melted butter
2 large eggs (raw)
1 and a half cans of chicken broth (14.5 ounces each)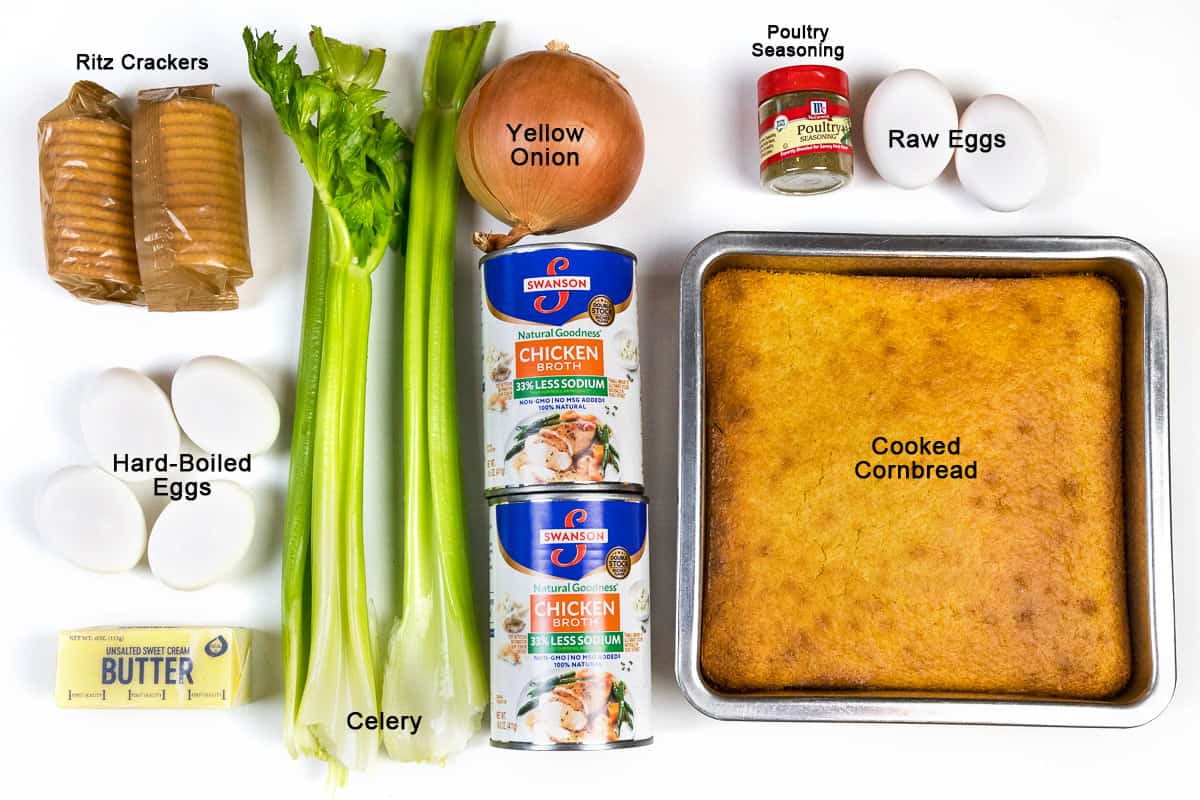 👩‍🍳 How to Make Southern Cornbread Dressing (Step-by-Step Instructions with Detailed Photos)
Step 1. Bake the Cornbread
To begin with, let's bake some cornbread in the oven. Our cornbread recipe uses one Jiffy cornbread mix, however, you can use any kind of cornbread mix you like or even make your own from scratch, so whatever you choose to do, prepare and bake the cornbread mix as directed on the package. The cornbread should be cooked until it is golden brown. After that, set the cornbread aside for now.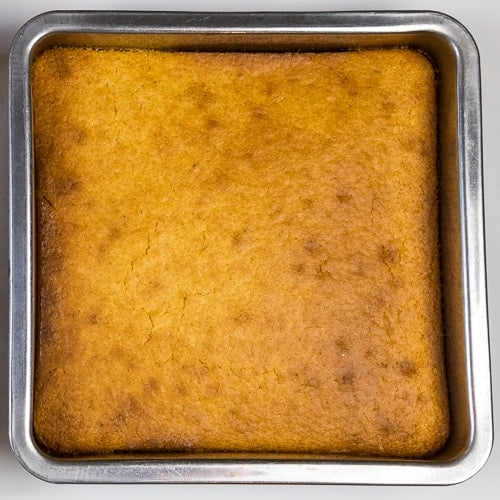 Step 2. Preheat the Oven
Preheat your oven to 350 degrees Fahrenheit.
Step 3. Prepare the Ritz® Crackers
Crumble about 26 Ritz crackers in the package they are in, or you can use a baggie, then set them aside.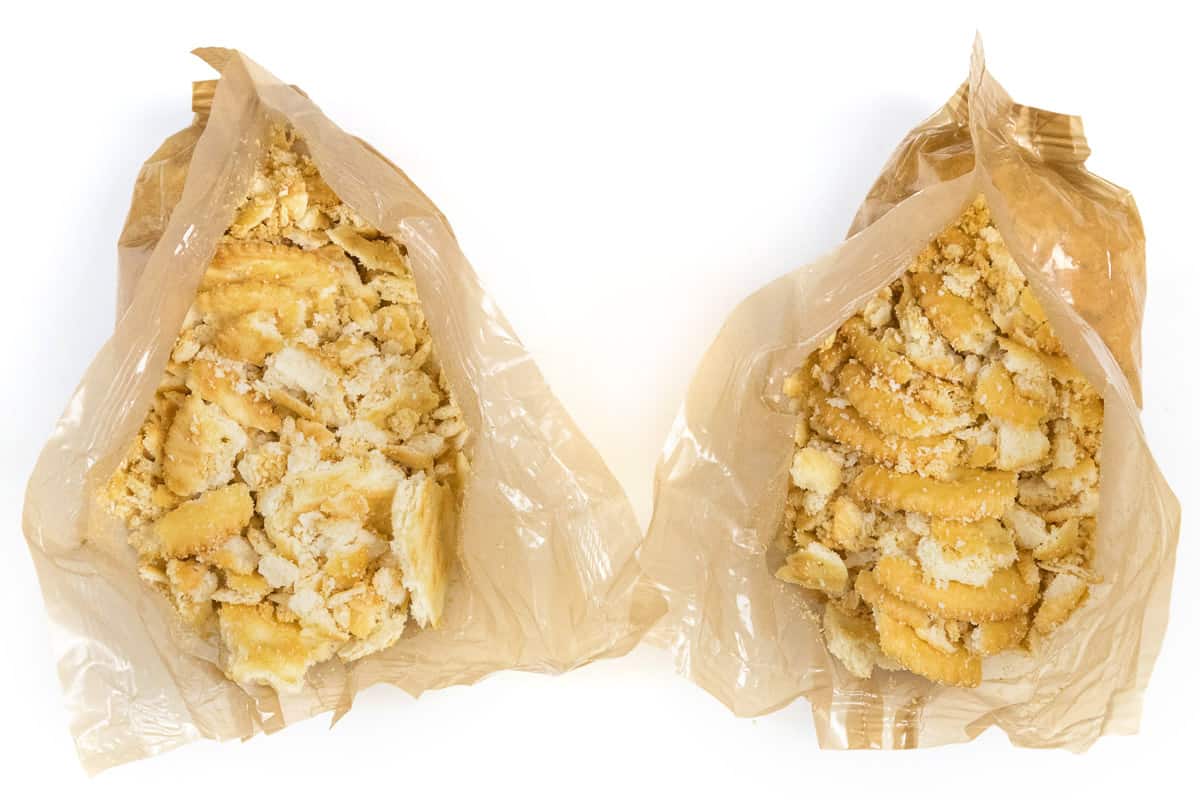 Step 4. Hard-boiled Eggs
Boil or bake 4 hard boiled eggs, then slice the hard-boiled eggs into pieces and set them aside for now.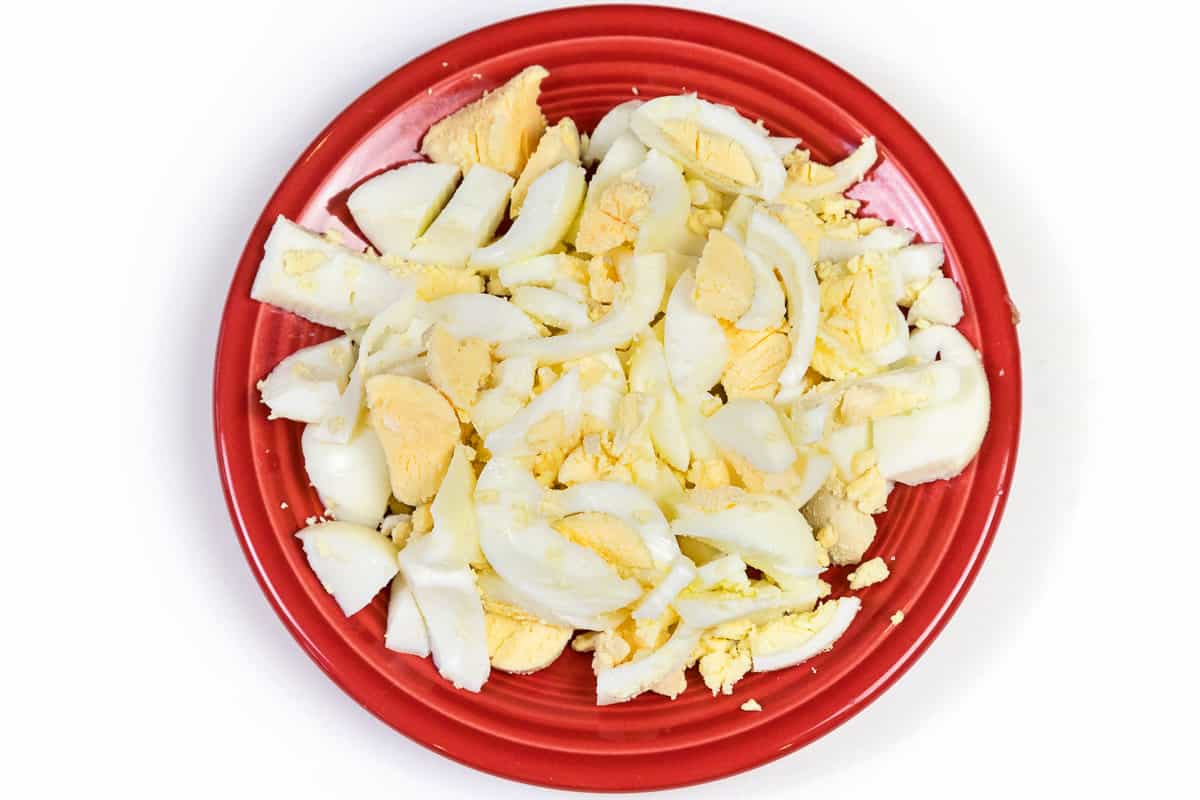 Step 5. Chop the Onions
Then, chop up 1 whole medium-sized yellow onion in small pieces and set them aside.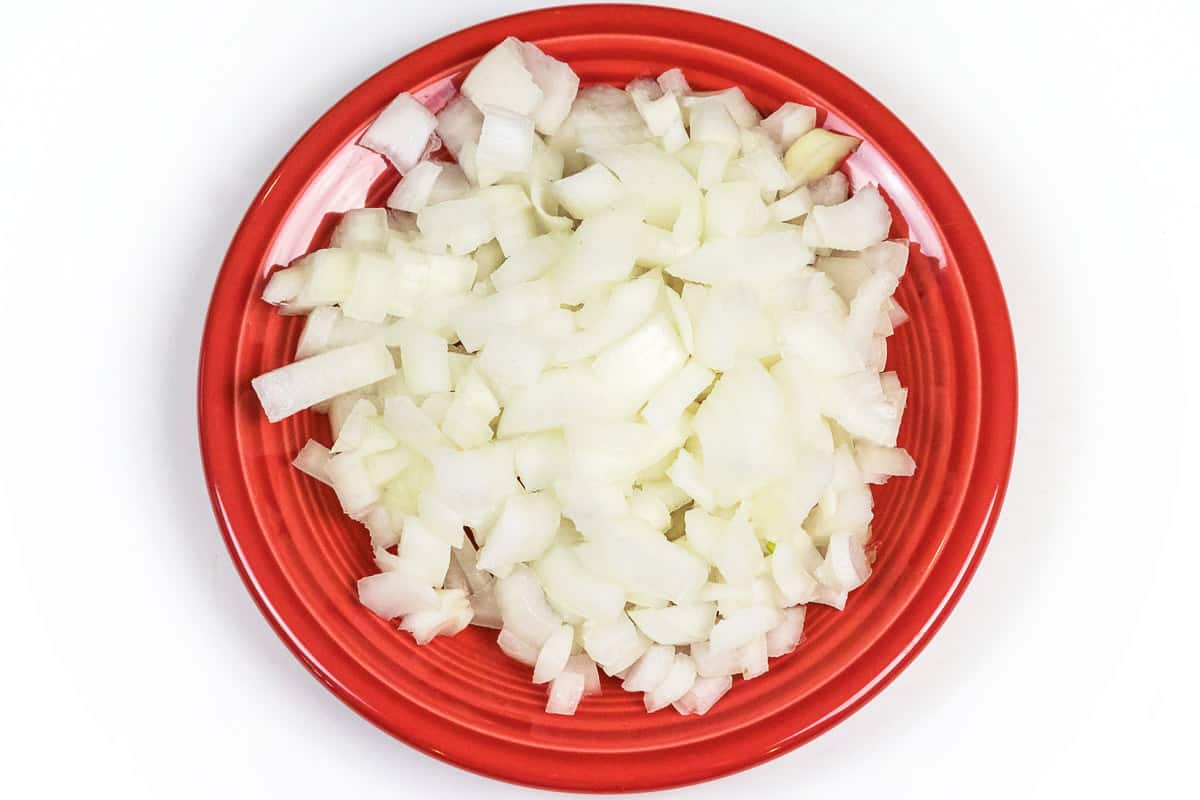 Step 6. Dice the Celery
Wash 3 medium-size sticks of celery and dice them up into small pieces, then set them aside.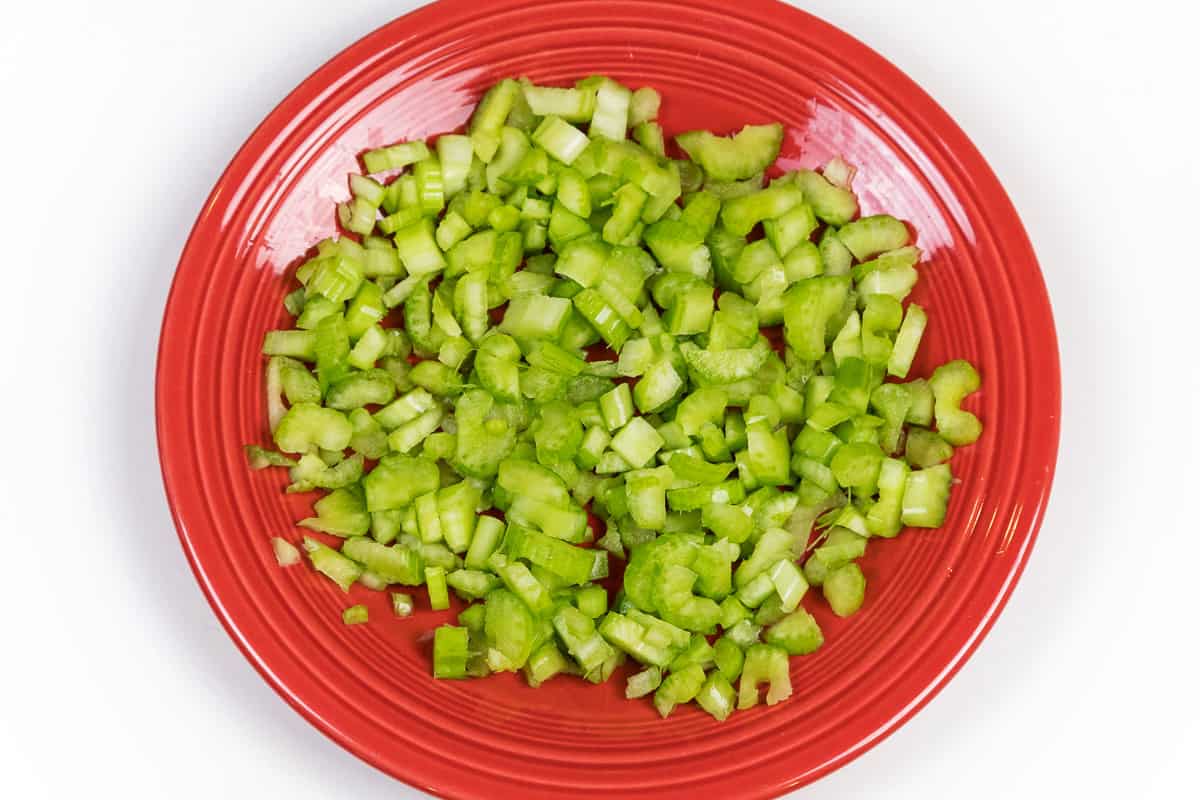 Step 7. Begin Layering the Cornbread Dressing Ingredients into a Casserole Dish
In the following steps, we will be layering the cornbread dressing ingredients.
Note: Layering speeds up the mixing process, so you can layer the ingredients as we do, or mix all of the ingredients at the same time. However, whichever way you choose will work just fine.
The first layer will be the fresh cornbread from step 1. Crumble up the cornbread and spread it in the bottom of a baking dish. We used a 9-inch by 13-inch baking dish.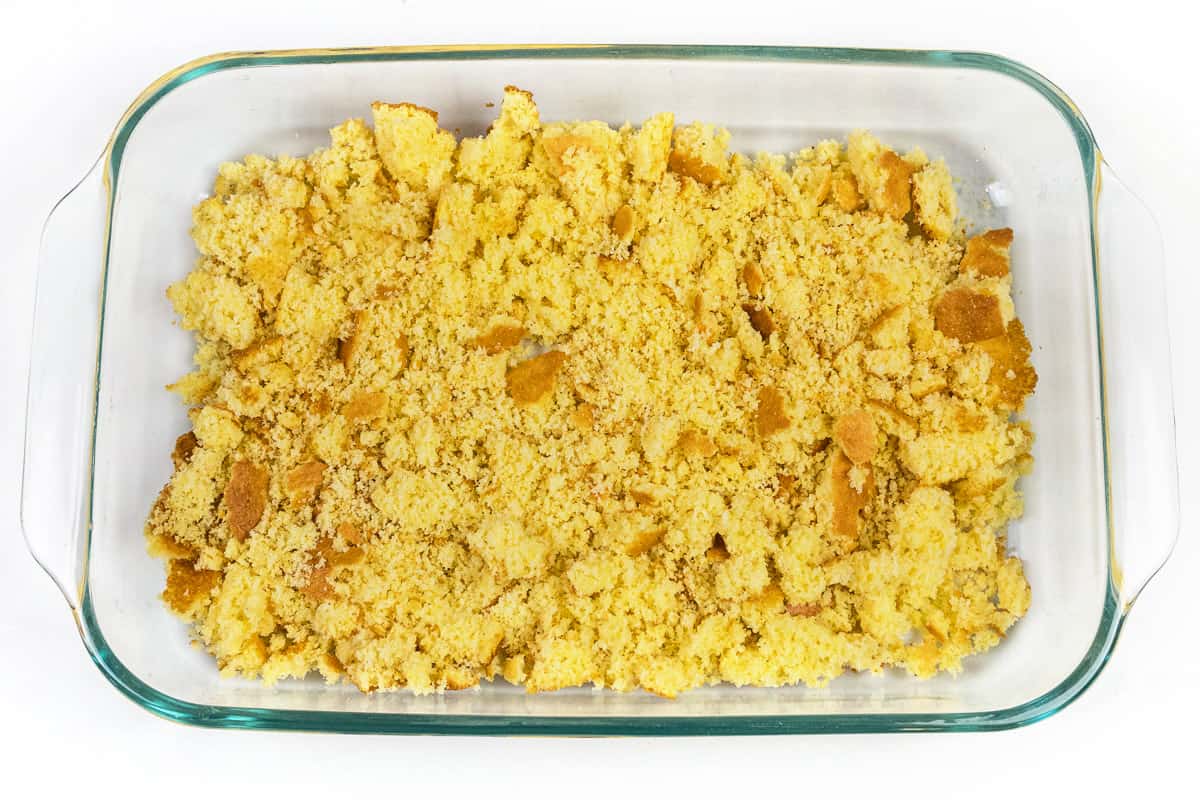 Step 8. Add the Ritz® Crackers
Then, spread the crushed Ritz® crackers evenly over the cornbread.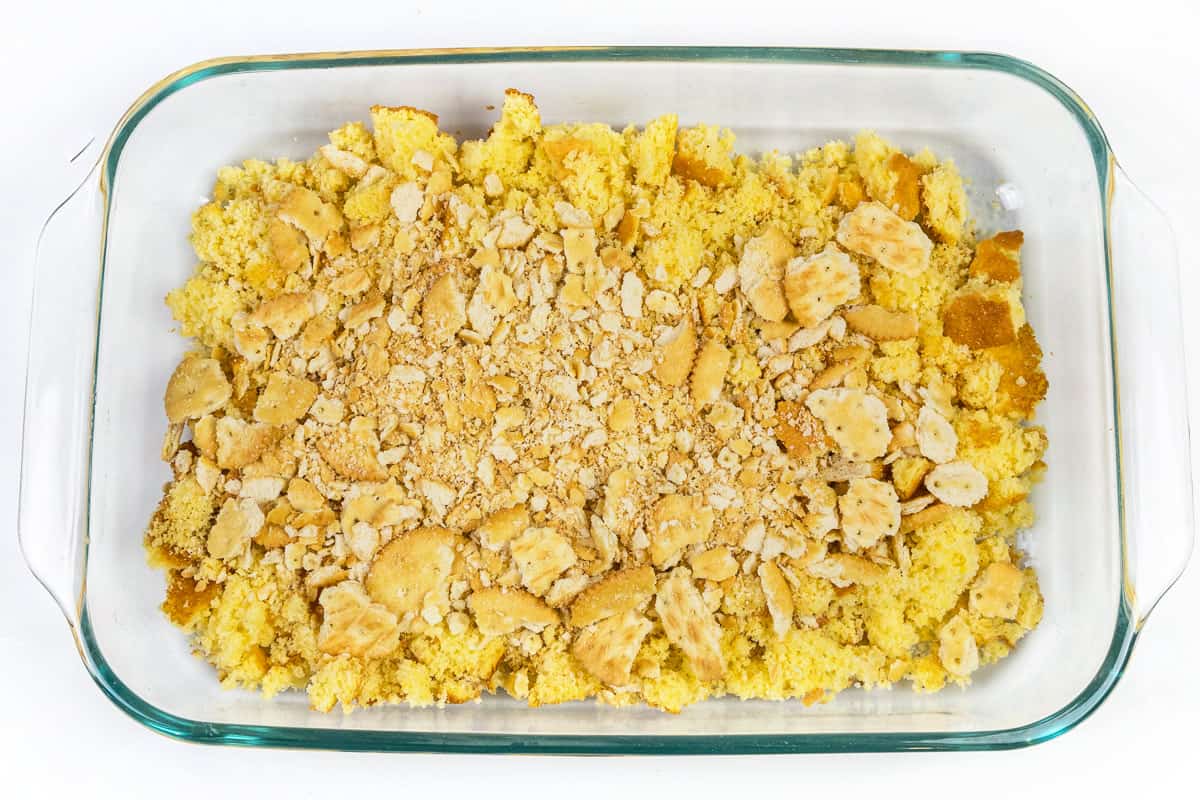 Step 9. Add the Hard-boiled Eggs
After that, toss in the 4 sliced hard-boiled eggs over the top of the cornbread and Ritz crackers.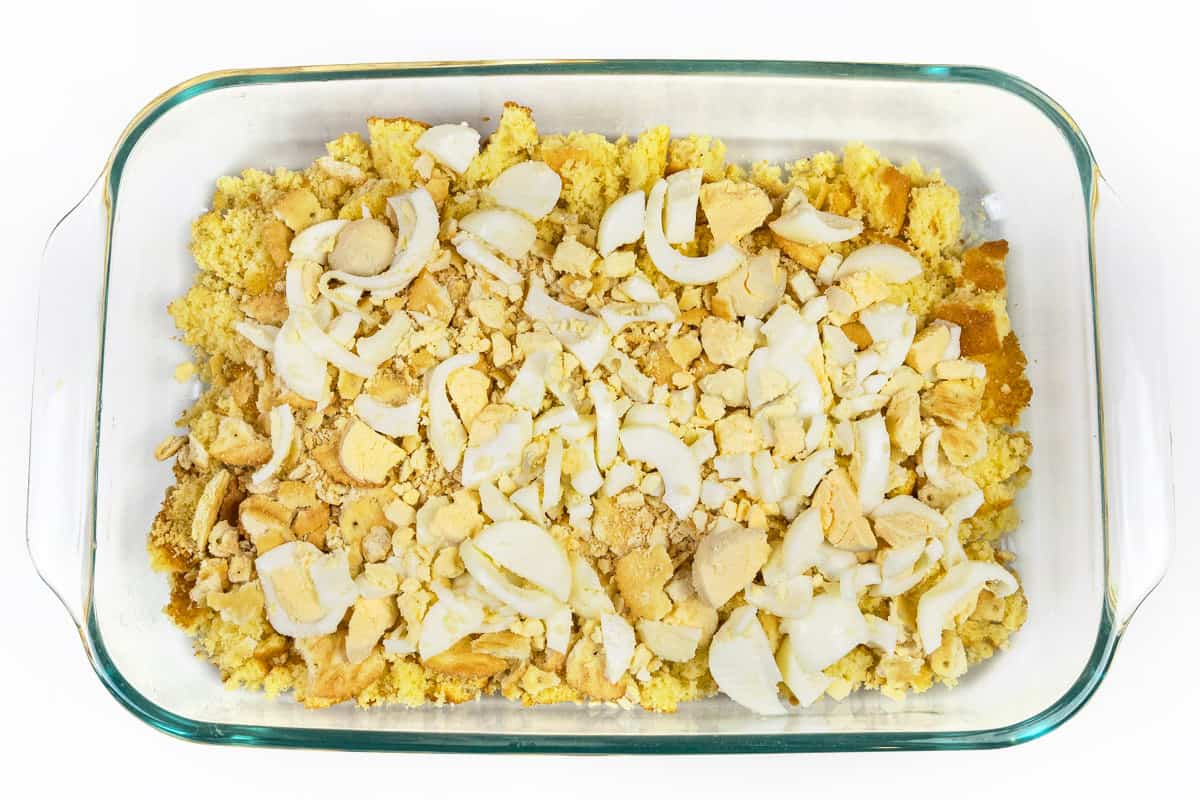 Step 10. Add the Chopped Onions
Then, put the chopped onions over the top of the hard-boiled eggs.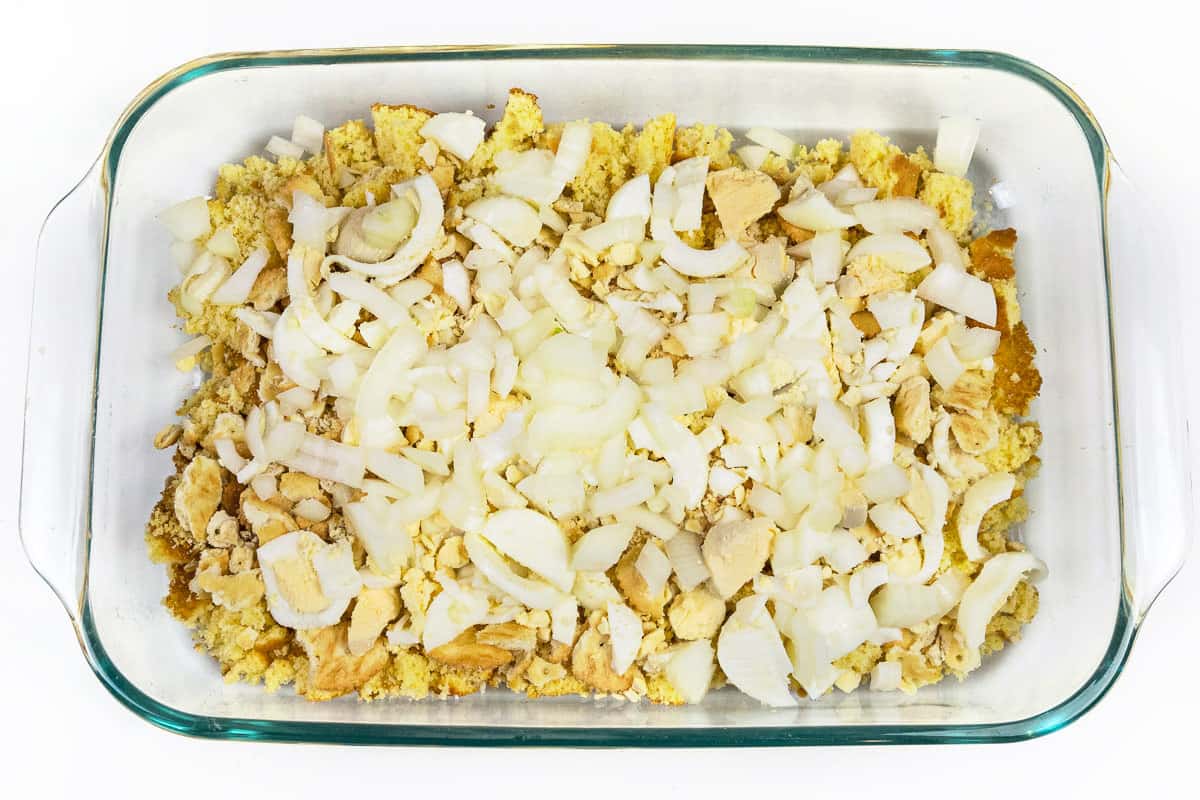 Step 11. Add the Diced Celery
The last layering, for now, is to add the diced celery over the top of the onions.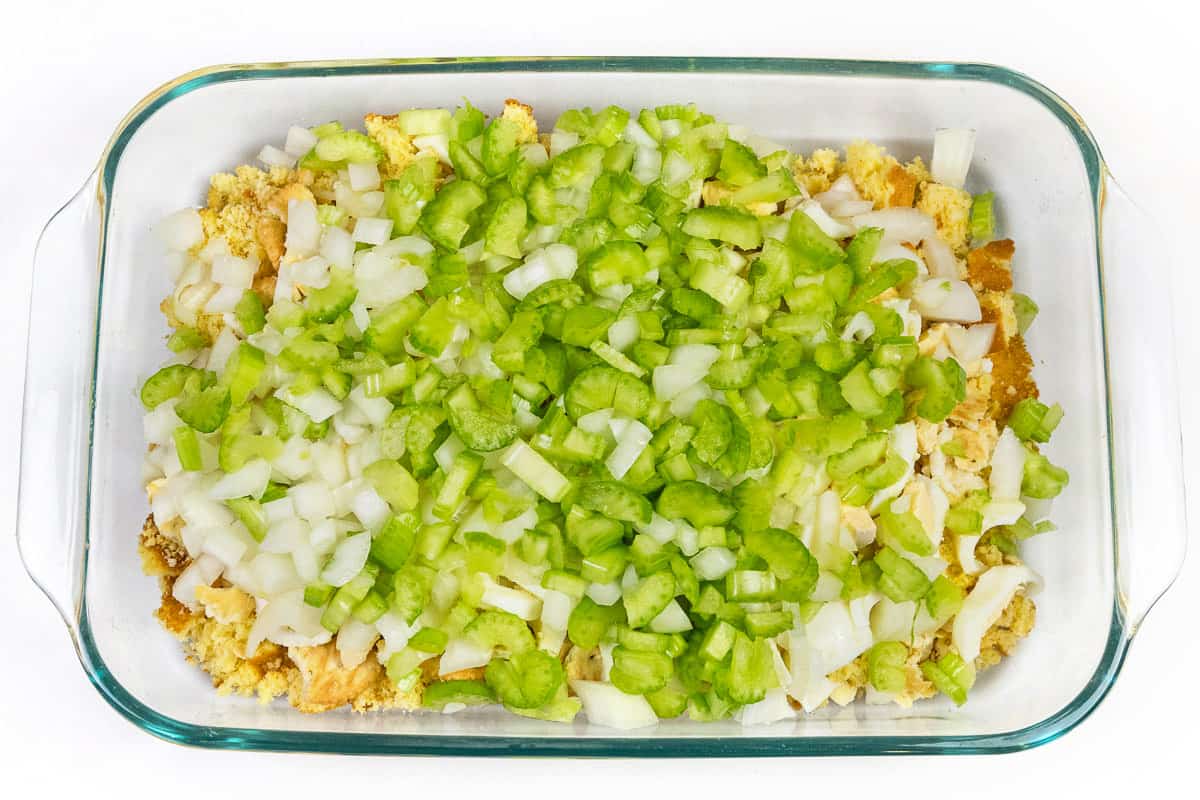 Step 12. Mix the Cornbread Dressing Ingredients
Even though the ingredients are layered separately, the dressing mixture still needs to be mixed a bit more thoroughly. So, mix everything all together in the baking dish with your clean hands or you can use food-handling gloves for cooking. You can also use a large spoon if you prefer, but it is much easier to use your hands.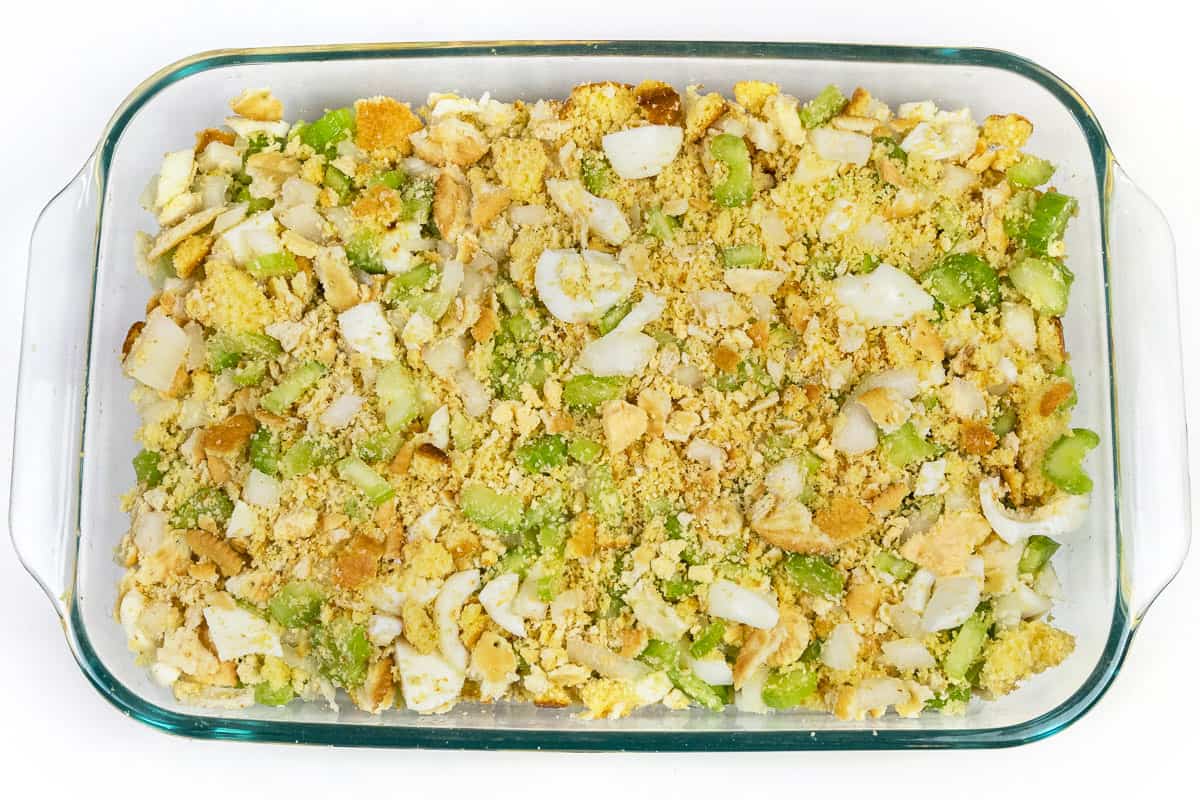 Step 13. Prepare the Butter
Melt 1 stick of butter in the microwave for about 20 seconds, then set it aside for now. One stick of butter equals 1/2 cup.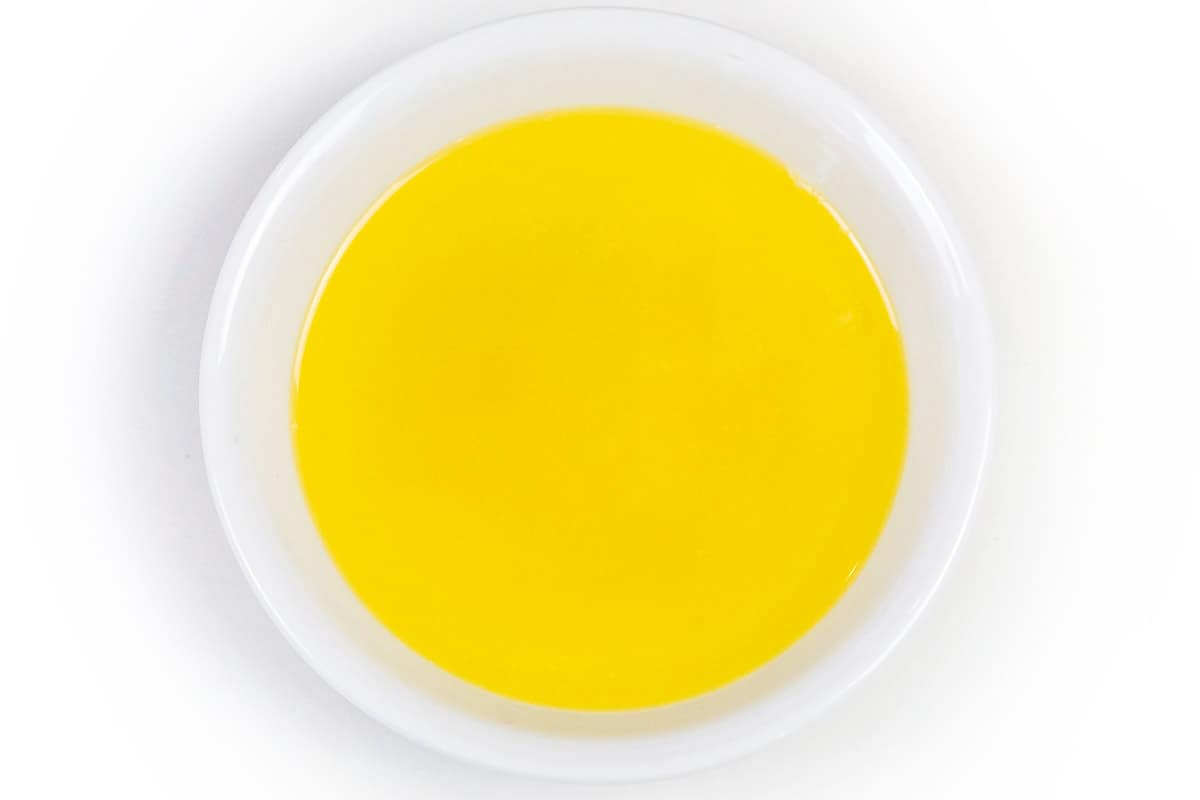 Step 14. Add the Seasonings on the Top
Lightly sprinkle salt and pepper over the top of the cornbread bread mixture. Then sprinkle 1 teaspoon of poultry seasoning over the top. And then pour the melted butter over the top of the entire cornbread mixture.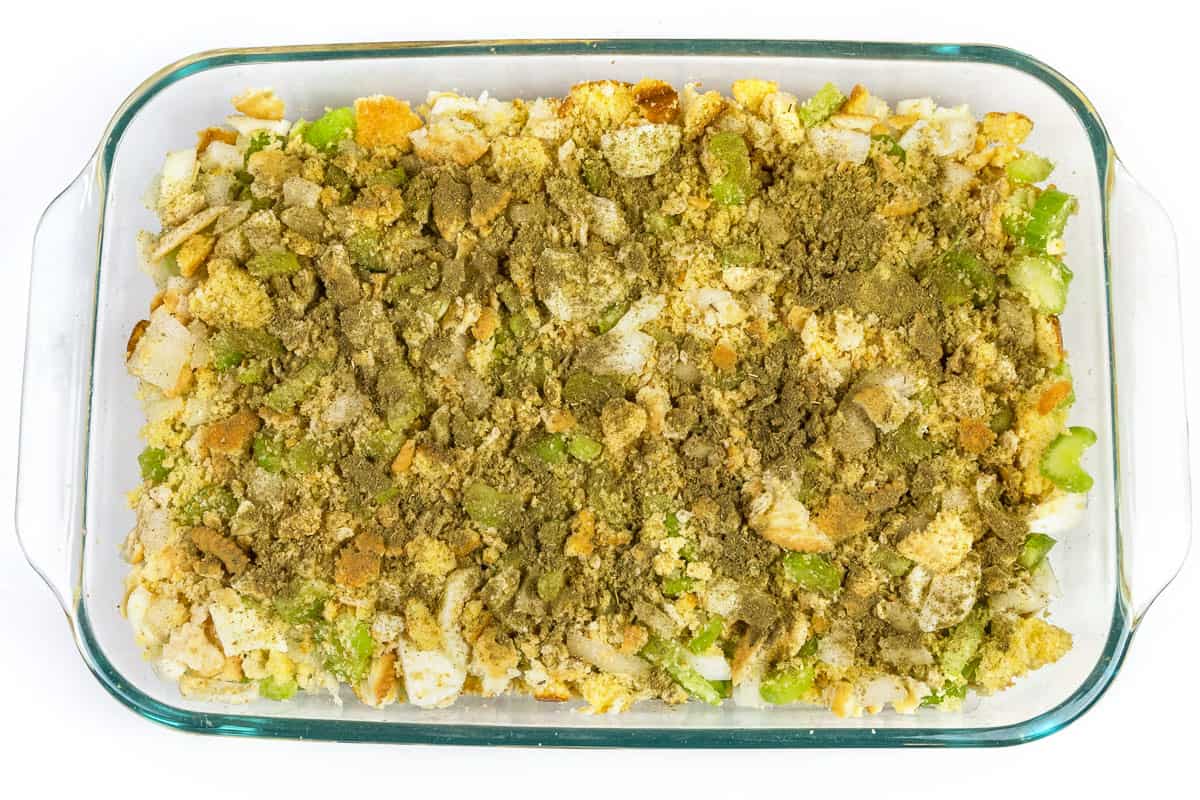 Step 15. Add the Eggs and Chicken Broth
Use your hands or a spoon to mix the 2 raw eggs and 1 and a half cans of chicken broth into the cornbread mixture. You could also use chicken stock if you prefer.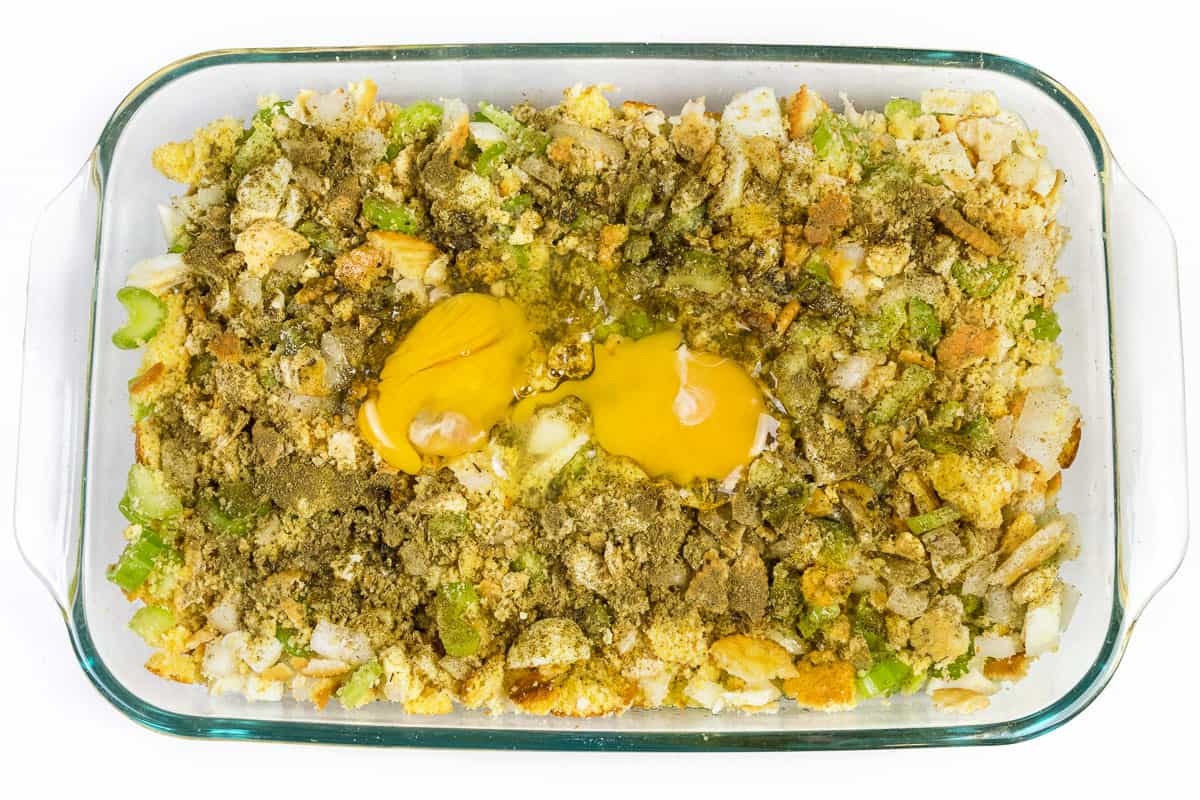 Make sure to really mix in the chicken broth until it looks almost soup-like.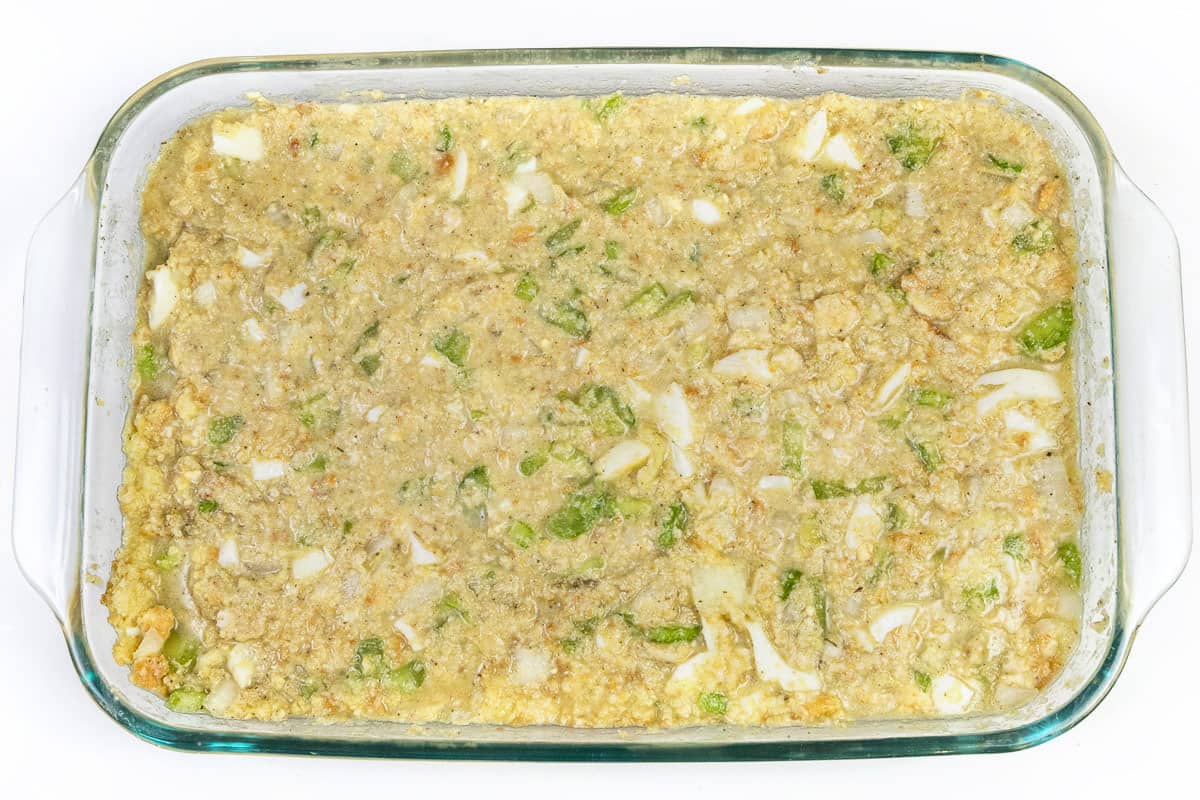 Step 16. Put the Cornbread Dressing in the Oven
Next, lightly press the cornbread dressing and broth mixture down into the baking dish. It is now ready to go into the preheated oven.
Then, bake the cornbread dressing in the oven at 350 degrees for a cooking time of 1 hour.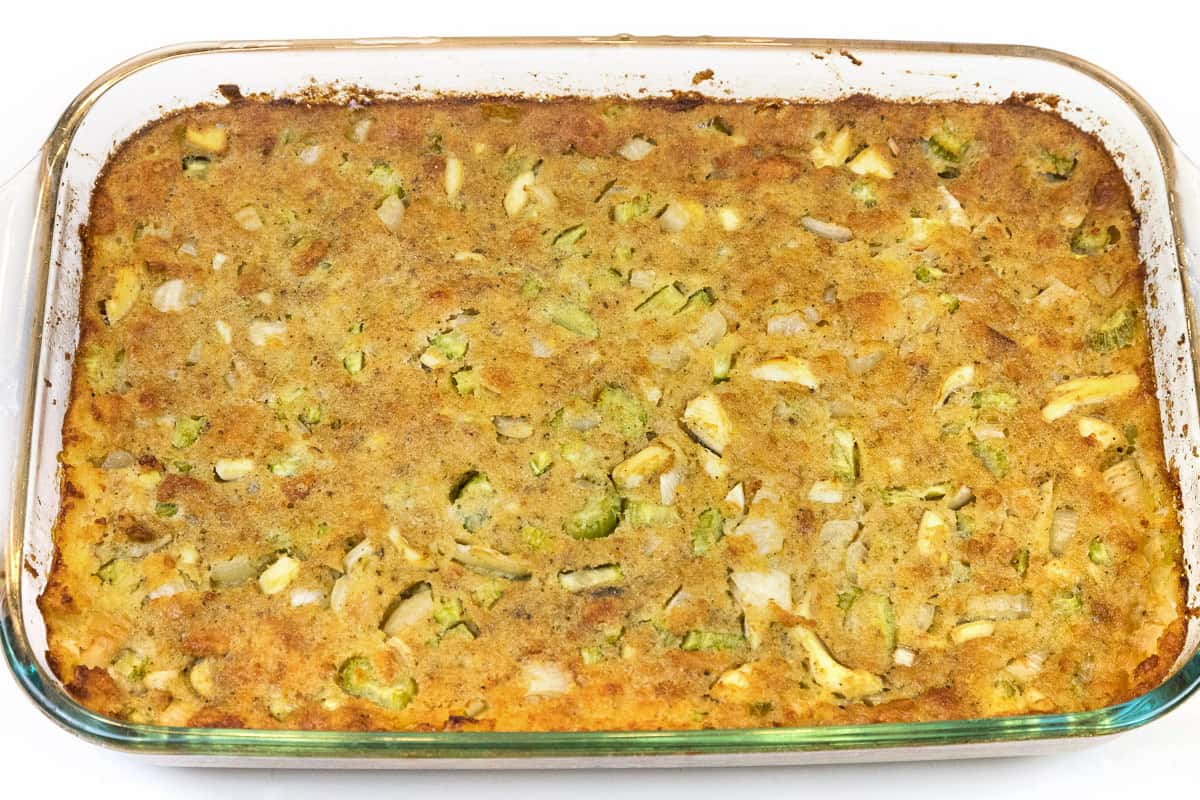 Finally, after the cornbread dressing has been baked for 1 hour in the oven, it comes out crispy, looks, and tastes delicious. By the way, it is extra tasty topped with gravy.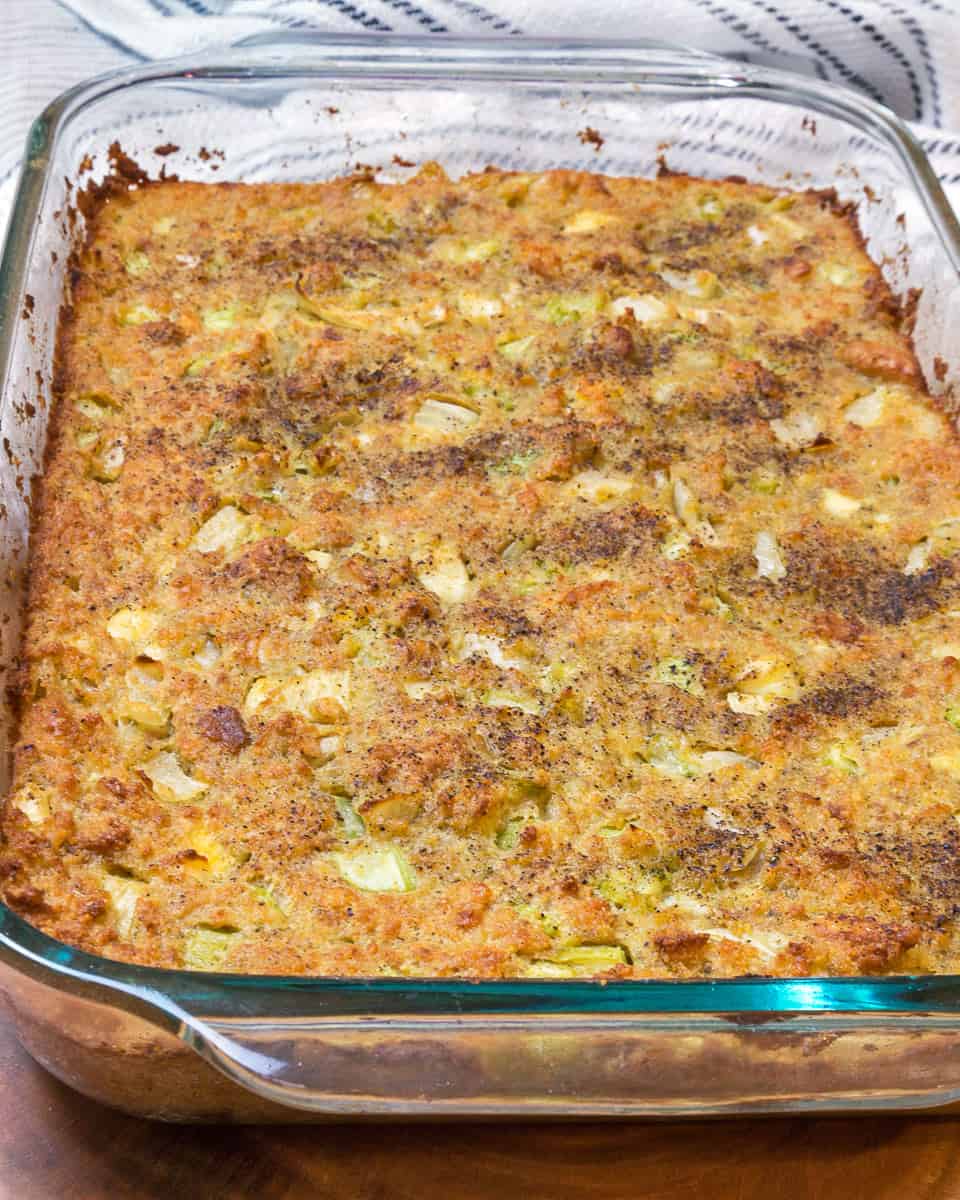 🙋 FAQs
How Do You Store Leftover Cornbread Dressing?
Always be sure to store leftovers in an airtight container. This southern dressing recipe can last up to 3 days in the refrigerator before it needs to be discarded. If you freeze it, it could last longer, but we usually do not have leftovers that last longer than 3 days. It gets eaten up fast in our house!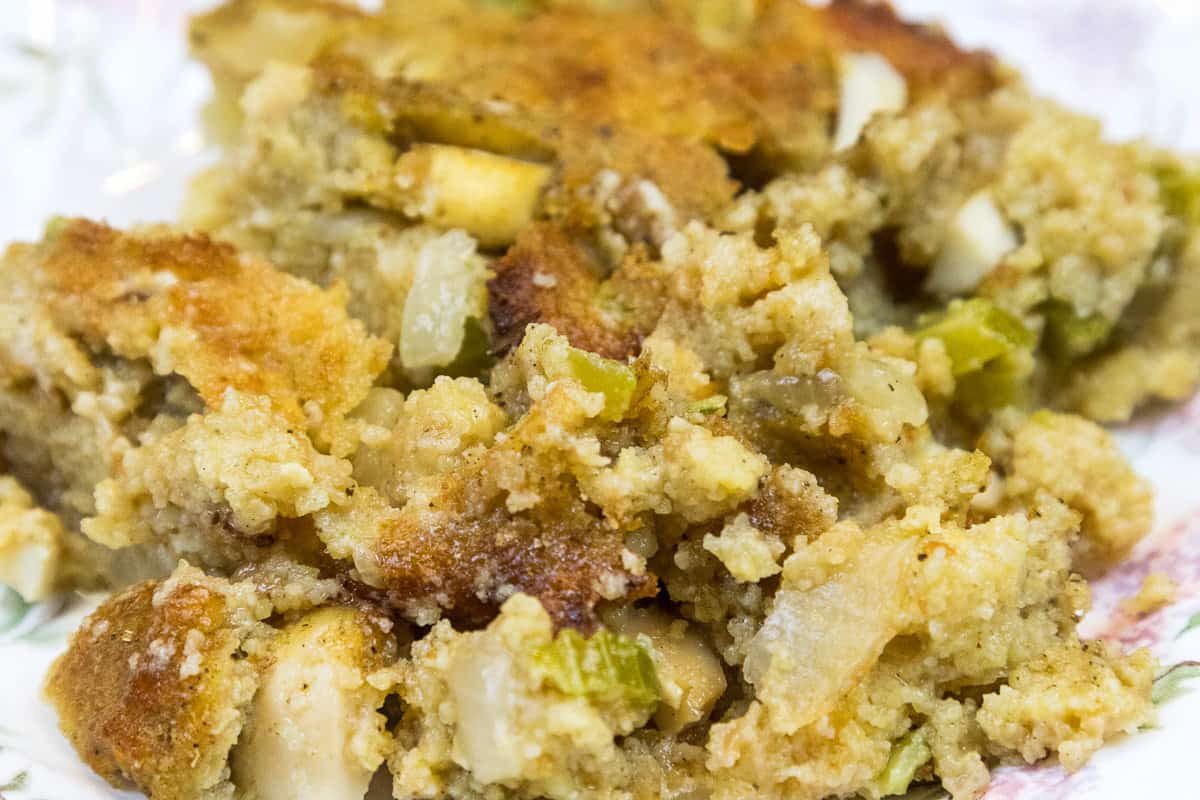 📝 Final Thoughts for this Delicious Southern Cornbread Dressing
This is my son-in-law's favorite recipe for cornbread dressing that he shared with us from his mother who lives in Texas. It is a Southern staple down there and they have it every holiday season. When he introduced us to this recipe, we couldn't get enough, and it soon became our favorite dish! We still make traditional Thanksgiving dressing as well, but I think they both complement each other. It also goes great with other holiday season side dishes such as fruit salad with cool whip, green bean casserole, mac and cheese, baby boiled potatoes, and mashed potatoes.
So, serve your Thanksgiving guests a heaping spoonful of this yummy southern-style cornbread dressing, which can also be enjoyed any time of the year, not just on Thanksgiving Day or Christmas Day. This easy cornbread recipe can be made ahead of time which makes it extra easy to bring over to a holiday party.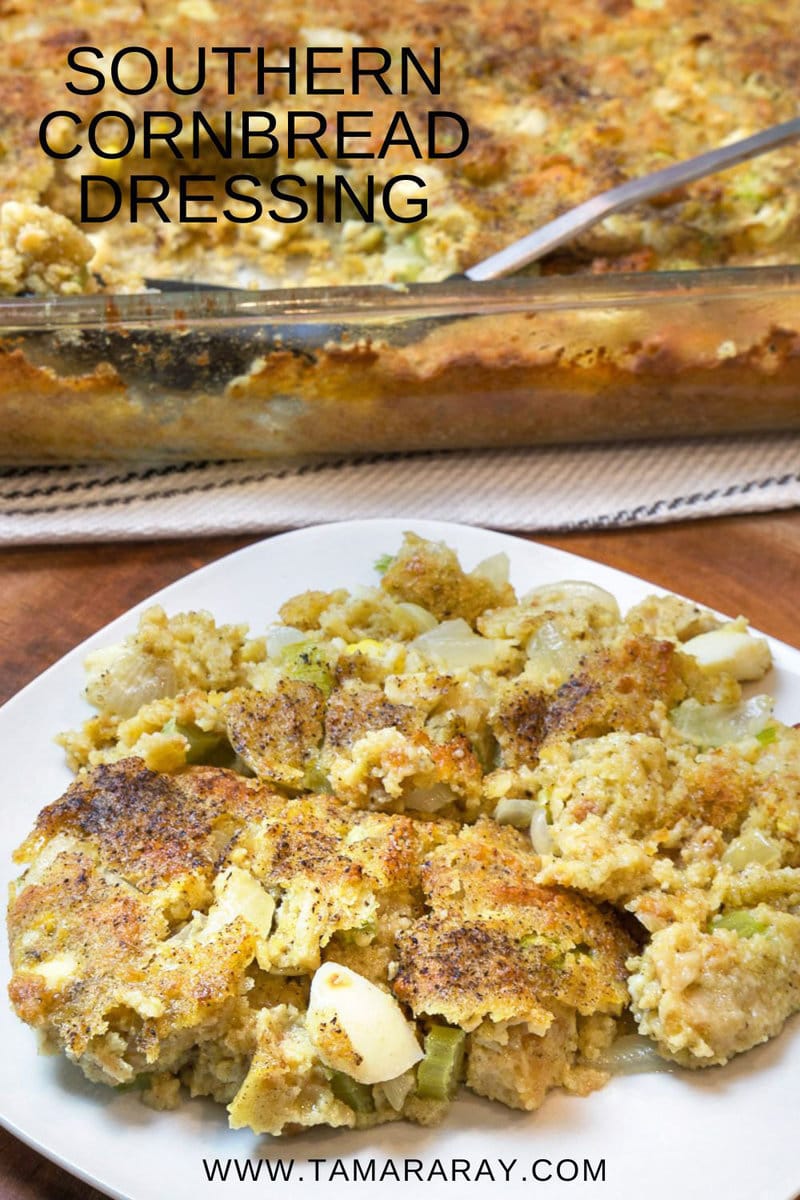 🥧 More Holiday Table Recipes the Whole Family Will Love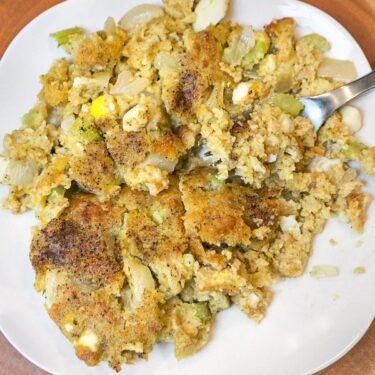 Southern Cornbread Dressing
A very tasty southern-style cornbread dressing recipe with onions, celery, hard-boiled eggs, Ritz crackers, chicken broth, butter, and seasonings.
👩‍🍳 Instructions
Prepare the cornbread mix as directed on the package. Set it aside.

Preheat the oven to 350 degrees for the cornbread dressing.

Dice the celery into small pieces. Set aside.

Chop up the onion into small pieces. Set aside.

Crush the Ritz crackers. Set aside.

Crumble the cornbread into a 9×13-inch baking pan.

Put the crushed Ritz crackers, hard-boiled eggs, onions, and celery over the top of the cornbread. Mix everything together.

Lightly sprinkle salt, pepper, and poultry seasoning over the top of the cornbread bread mixture.

Melt the butter. Pour the melted butter over the top of the cornbread mixture.

Add the raw eggs and cans of chicken broth to the cornbread mixture. Mix together.

Put the baking dish with the cornbread dressing in the preheated 350-degree oven and bake for 1 hour.
*️⃣ Recipe Notes
You can use any brand of cornbread mix you like or make your own cornbread from scratch. This recipe uses Jiffy® brand cornbread mix.

Cornbread dressing can be a side dish to many meals and can be served all throughout the year.
A wife, a mother to a son and a daughter, and a grandmother to three granddaughters. Flo loves sharing recipes passed down from her own mother, her mother-in-law, and her grandmother as well as new recipes created with her daughter, Tamara Ray.
More by Flo ➜