(Last Updated On: April 19, 2023)
An easy way to make perfect toast during breakfast time is to use the air fryer. Within a matter of minutes, the toast is perfectly browned on all sides and breakfast is ready. This air fryer toast recipe makes delicious toast that can be served with fresh fruit, scrambled eggs, sausages, noodles with scrambled eggs, or sausage potato hash.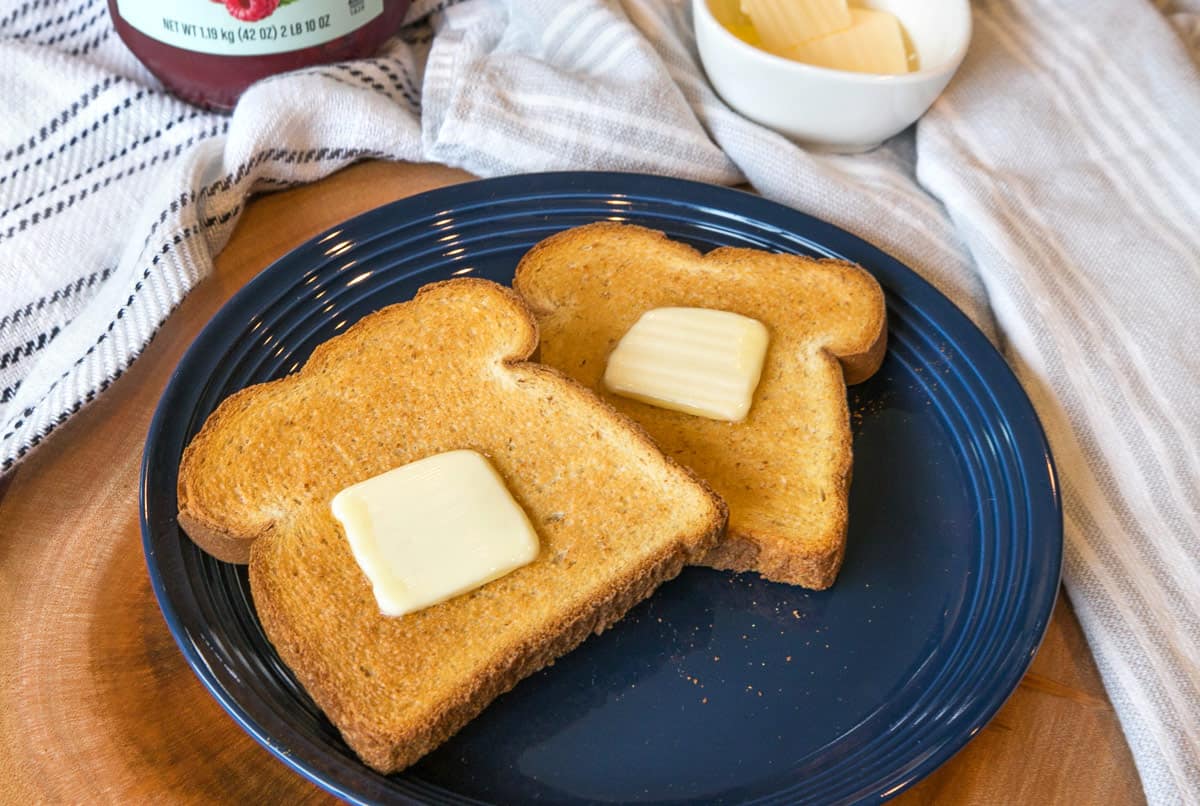 🍞 Key Ingredients
2 slices bread (whatever is your favorite)
Toppings (optional – your favorite toppings)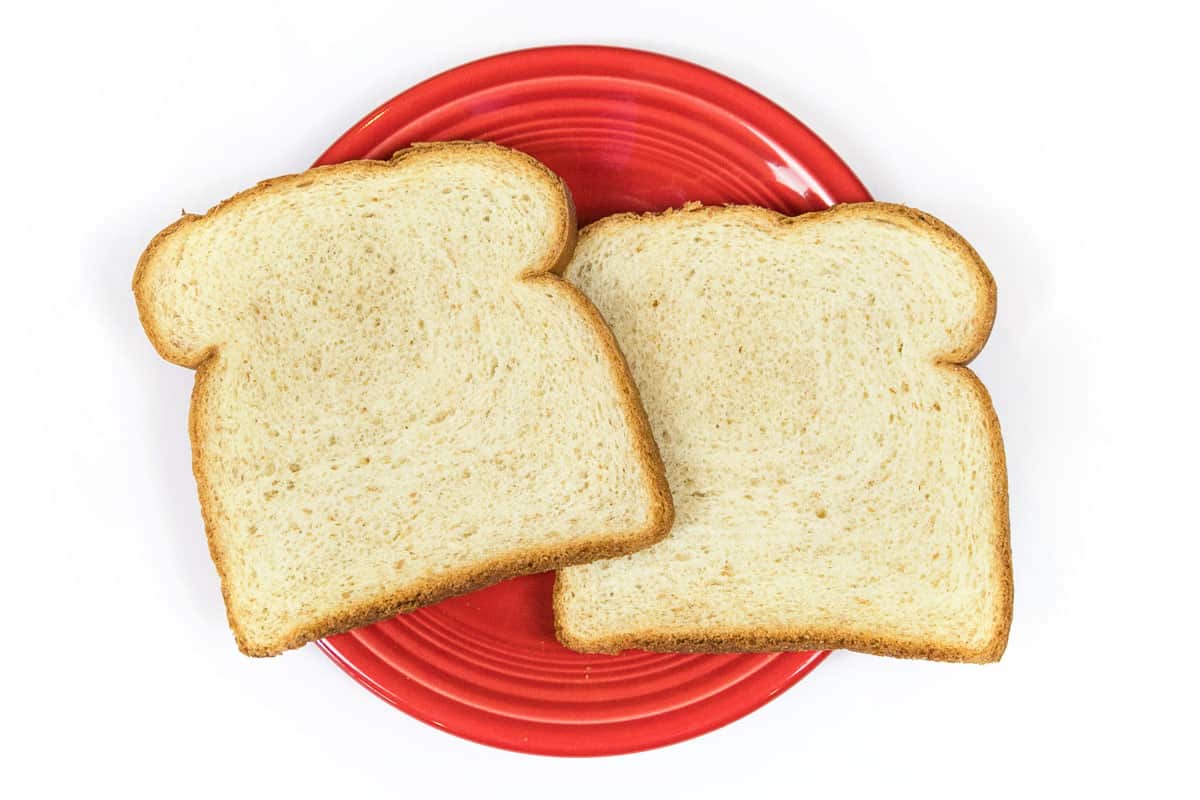 👩‍🍳 How to Make Air Fryer Toast (Step-by-Step Instructions with Detailed Photos)
Step 1. Preheat Air Fryer
Set the air fryer temperature to 400 degrees Fahrenheit although you may not need to preheat your air fryer.
Note: Many air fryers are not the same. We use a Cosori air fryer with a basket, a toaster oven, and a convection oven. But you may have a different type of air fryer than ours, maybe a Ninja Foodi or a different brand than that, so keep in mind that the temperature and cooking time mentioned below can vary.
Step 2. Put the Bread on the Air Fryer Basket
Whichever type of bread you choose, put two slices of bread on the air fryer basket. Position the bread slices in a single layer, not overlapping or touching each other. If you can get more than two slices of bread in your air fryer, that's good but you may have to cook it a little bit longer.
Note: We didn't need to use cooking spray or parchment paper on the air fryer basket.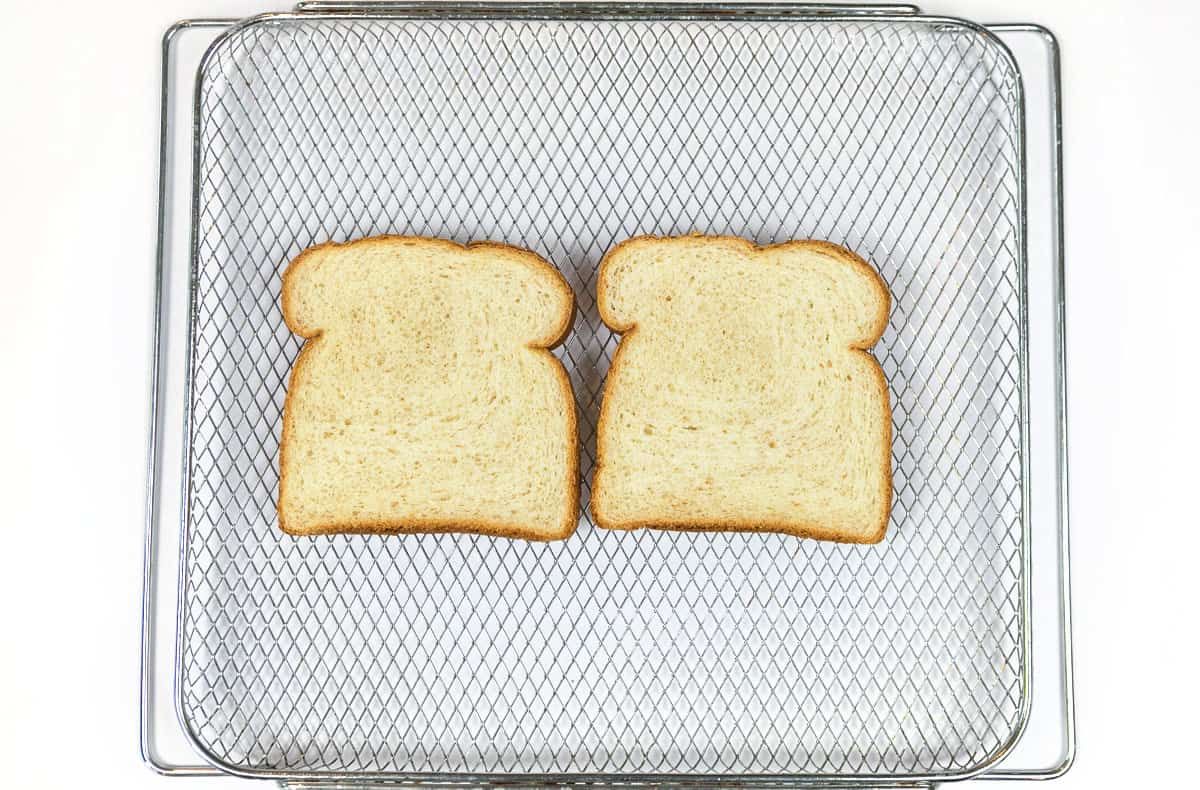 Step 3. Toast the Bread
Toast the slices of bread for 4 to 6 minutes or until golden brown. Flip the bread over halfway through at the 2-minute or 3-minute mark. We toasted our slices of bread for 4 minutes, so we flipped each slice of bread over at 2 minutes.
Note: The 4 minutes we cooked our toast in the air fryer turned out great for us. But, depending on the bread you use, the air fryer you have, and of course the color of toast you prefer such as light brown, brown, or crispy golden brown, make sure to keep an eye on your toast while it is in the air fryer to get the exact perfect piece of toast to your liking.
Be careful not to burn yourself from the hot air or heating element inside of the air fryer oven. The best way to avoid any burns is to use a pair of heat-resistant tongs.
Tip: You can use frozen pieces of bread straight out of the freezer but the cook time will have to be adjusted by a minute or two. Also, keep in mind if the thickness of your bread is thicker than ours, you may have to adjust the cooking time.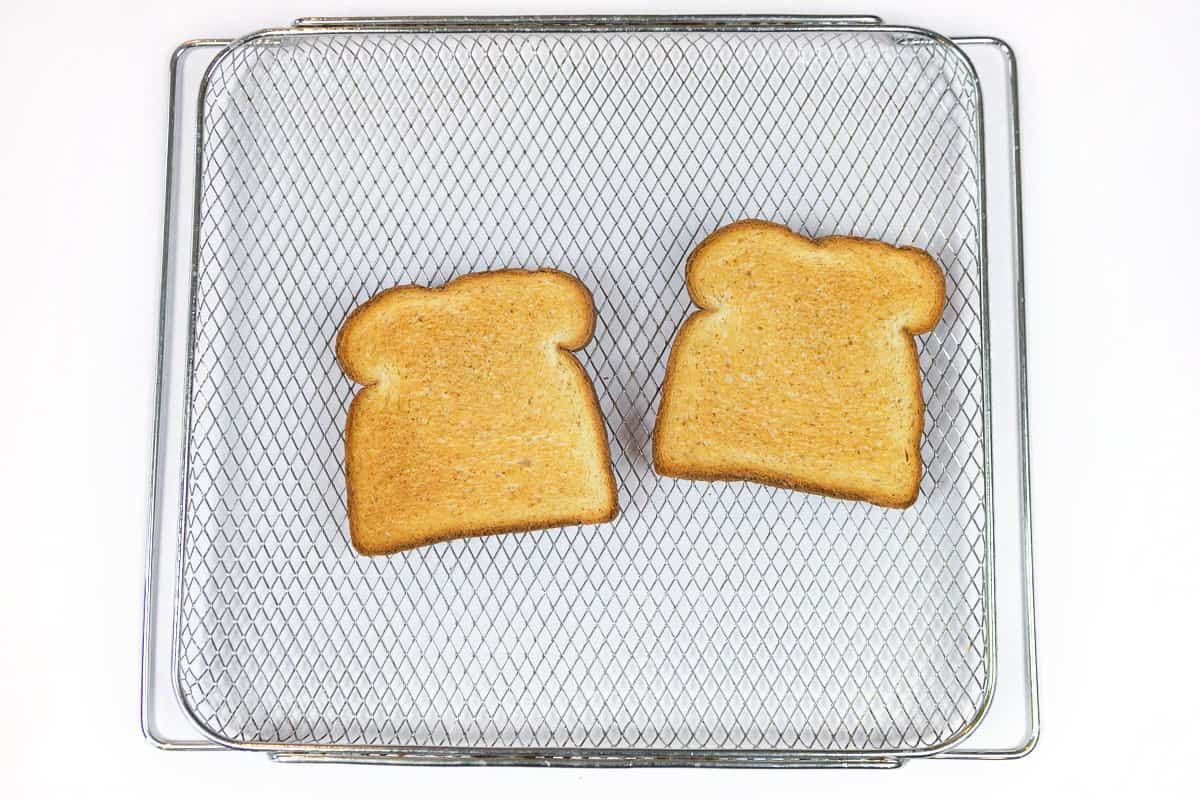 Step 4. Spread Toppings on Your Toast
After the toast has finished air frying, turn the air fryer off. Then, take the slices of toast out of the air fryer and spread your favorite toppings on top of the bread. Butter is the customary or most expected spread folks put on toast, but jams and jellies or peanut butter are great choices too. Enjoy!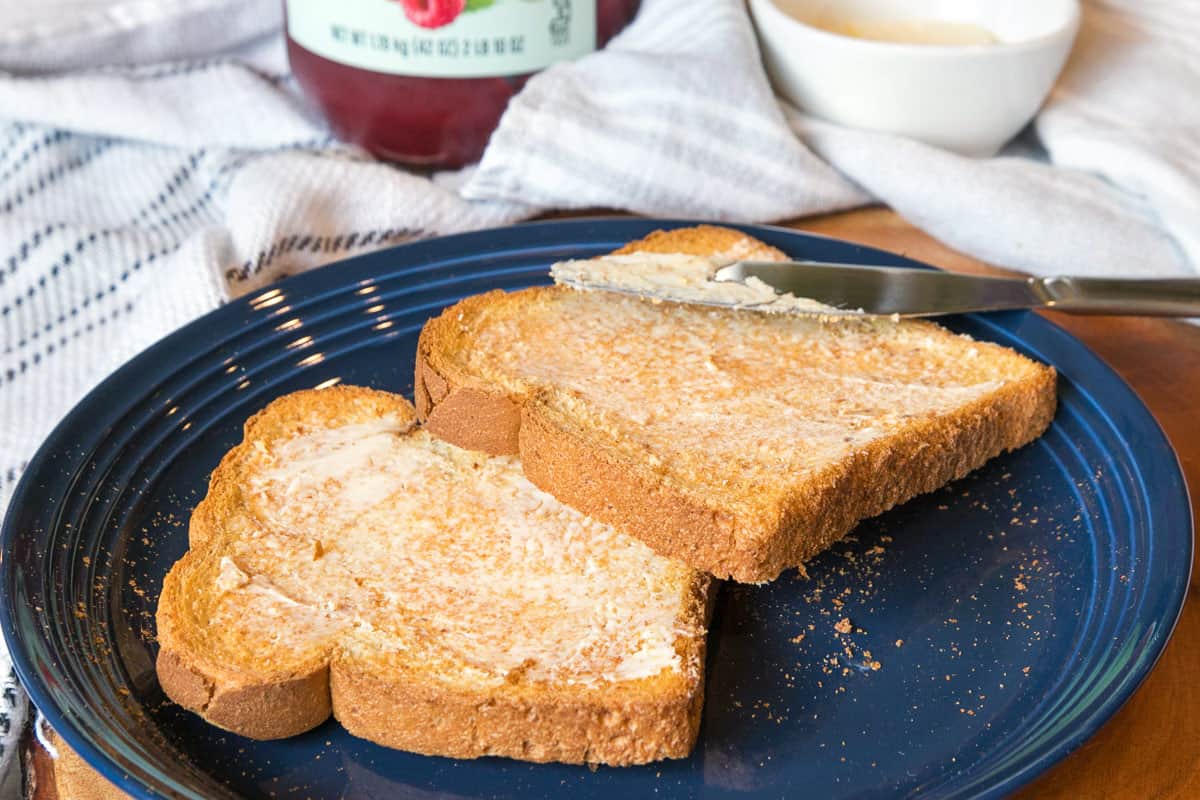 🌟 Recipe Variations
We chose white potato bread to toast, but you can use different types of bread to make toast such as plain white bread, whole wheat bread, sourdough bread, french bread, gluten-free bread, rye bread, or whatever is your personal preference.
Make garlic toast by toasting the bread first. Then, spread some butter on it, and sprinkle some garlic powder on top of the butter.
Make cinnamon toast. Mix 1 and 1/2 tablespoons of granulated sugar with 1 teaspoon of cinnamon and mix well. Then sprinkle some of the sugar-cinnamon on top of your buttered toast. Put any leftover sugar cinnamon in a jar or airtight container to use at another time.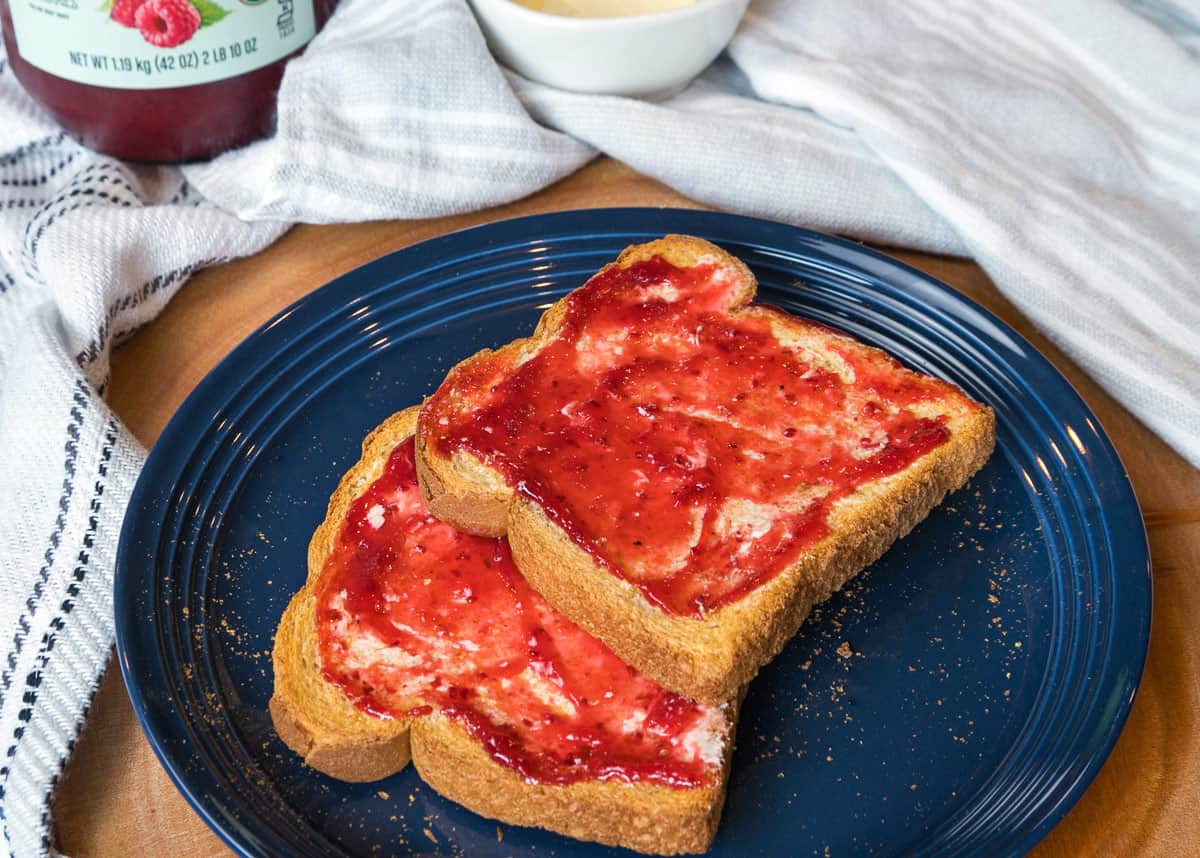 ❓ FAQs
What do I do with Leftover Toast?
Plain toast that has sat around for a couple of days, then reheated, doesn't taste as good as freshly made toast. So, with that said, if there is any leftover toast, it can be put into a plastic bag that is sealed off tight so no air can get inside for a couple of days, but it probably won't taste very good.

Instead, take a piece of toast and cut it into cubes. Then you can make croutons. Another suggestion is to use some of the cut-up cubes in your meatloaf recipe. You can also freeze the croutons for later use.
What do I Eat Toast With?
Toast is a great side dish with so many other food items. For example, when you are making spaghetti or lasagna and you forgot to buy a loaf of garlic bread, you can make toast.

Toast can also be a meal when it's sandwiched around tuna fish, a BLT (bacon, lettuce, and tomato) sandwich, a sub sandwich, or hamburger patties with cheese.

And don't forget about buttered toast with an over-easy egg plopped on top of it. The egg yolk oozing out all over the toast is so delicious! Also, when I was growing up, my mother would make us chocolate pudding with a side of buttered toast. I wonder if anyone else ate that. Yum!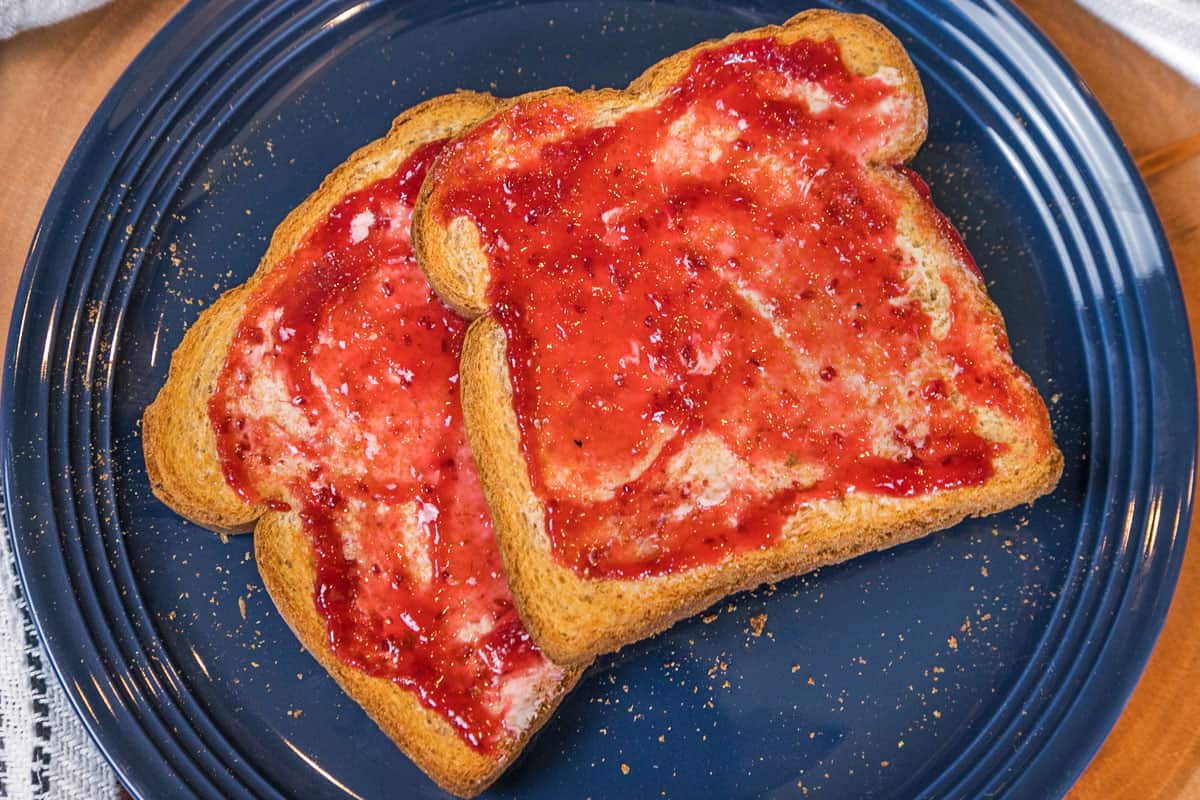 💭 Final Thoughts
What's great about toasting bread is not only does toasted bread taste terrific, but the toppings are the best part. There are so many toppings to choose from to put on top of toast. Some examples are peanut butter, jam, jellies, almond butter, Nutella, a sugar and cinnamon mixture, cream cheese, and of course butter.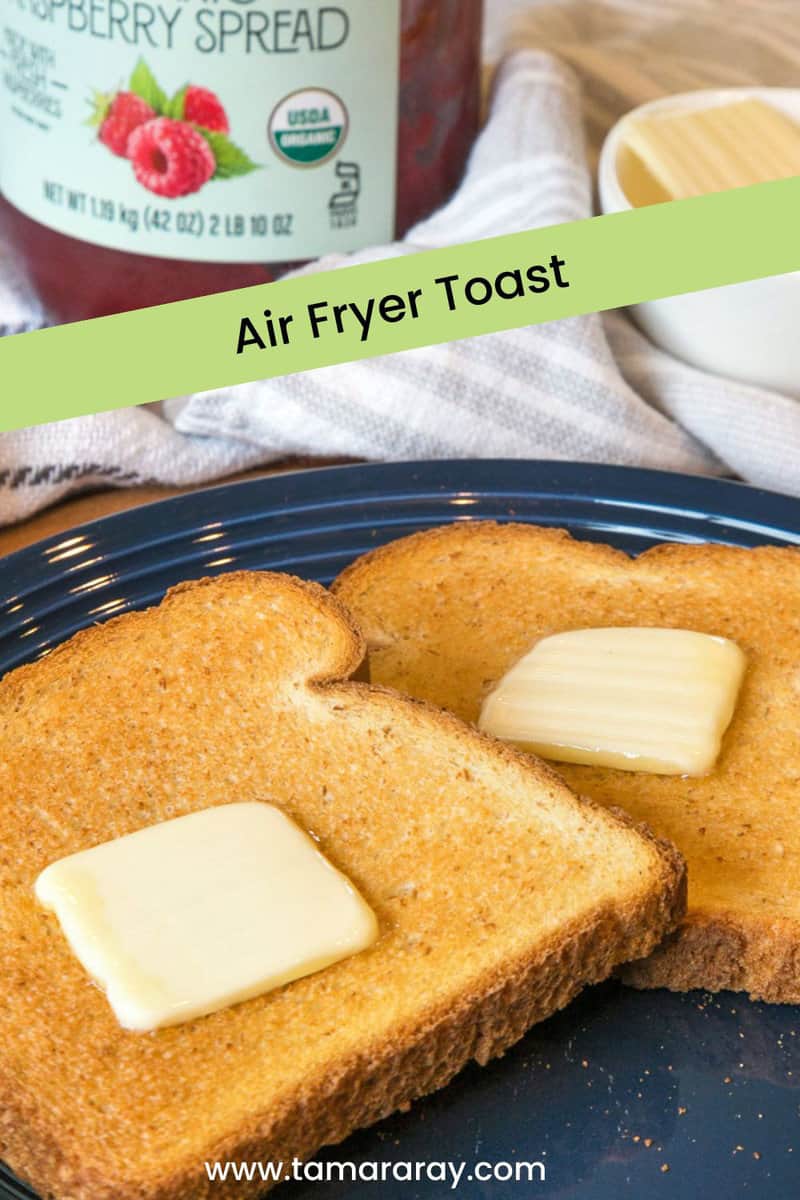 💑 More Air Fryer Recipes You Will Love
📄 Recipe Card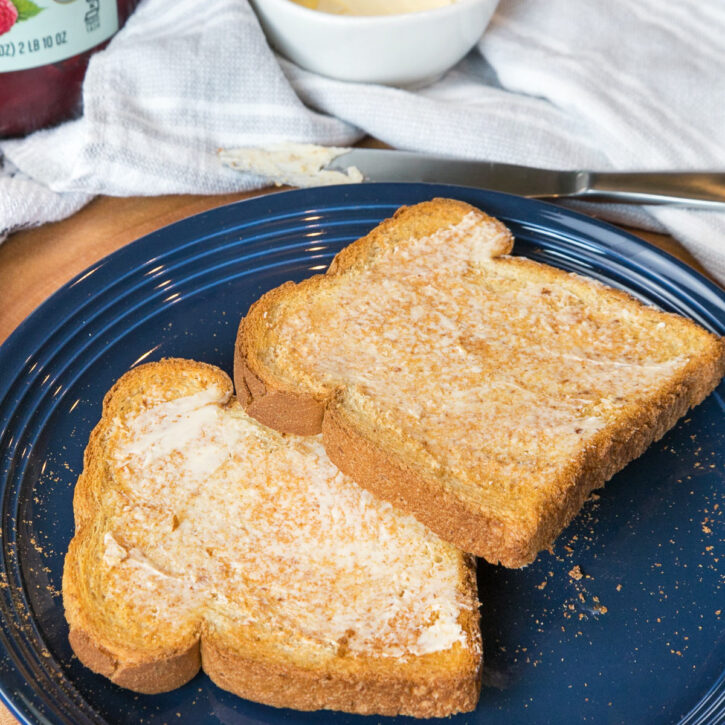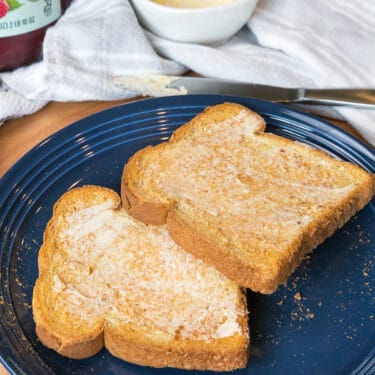 Air Fryer Toast
This recipe is a quick and delicious way to make Air Fryer Toast for the whole family. Only four minutes in the air fryer and breakfast is served.
🧂 Ingredients
2

slices

bread

(your favorite)

toppings

(optional)
👩‍🍳 Instructions
Set the air fryer temperature to 400 degrees Fahrenheit.

Lay the slices of bread on the air fryer basket.

Cook for 4 to 6 minutes depending on the type of air fryer you have and how light or dark you like your toast. Flip the bread over halfway through the cooking process. We cooked our toast for 4 minutes.

After that, remove the toast from the air fryer and spread your favorite toppings on it.
*️⃣ Recipe Notes
You can use frozen bread if you keep your bread in the freezer. Allow for additional cooking time.
Some examples of toppings can be butter, sugar and cinnamon, jams, jellies, and peanut butter.
A wife, a mother to a son and a daughter, and a grandmother to three granddaughters. Flo loves sharing recipes passed down from her own mother, her mother-in-law, and her grandmother as well as new recipes created with her daughter, Tamara Ray.
More by Flo ➜