(Last Updated On: January 12, 2023)
These sausage links cooked in the air fryer are quick and easy to make for breakfast with only 8 to 10 minutes of cooking time. The taste is terrific and the time your spend cooking these air fryer sausage links is much quicker than standing in front of your stove cooking and turning the sausages in the frying pan and then cooking them some more. You will spend way less time in the kitchen until breakfast is ready.
We love cooked sausages served with a complete breakfast of scrambled eggs or noodles and scrambled eggs, hash browns, and toast.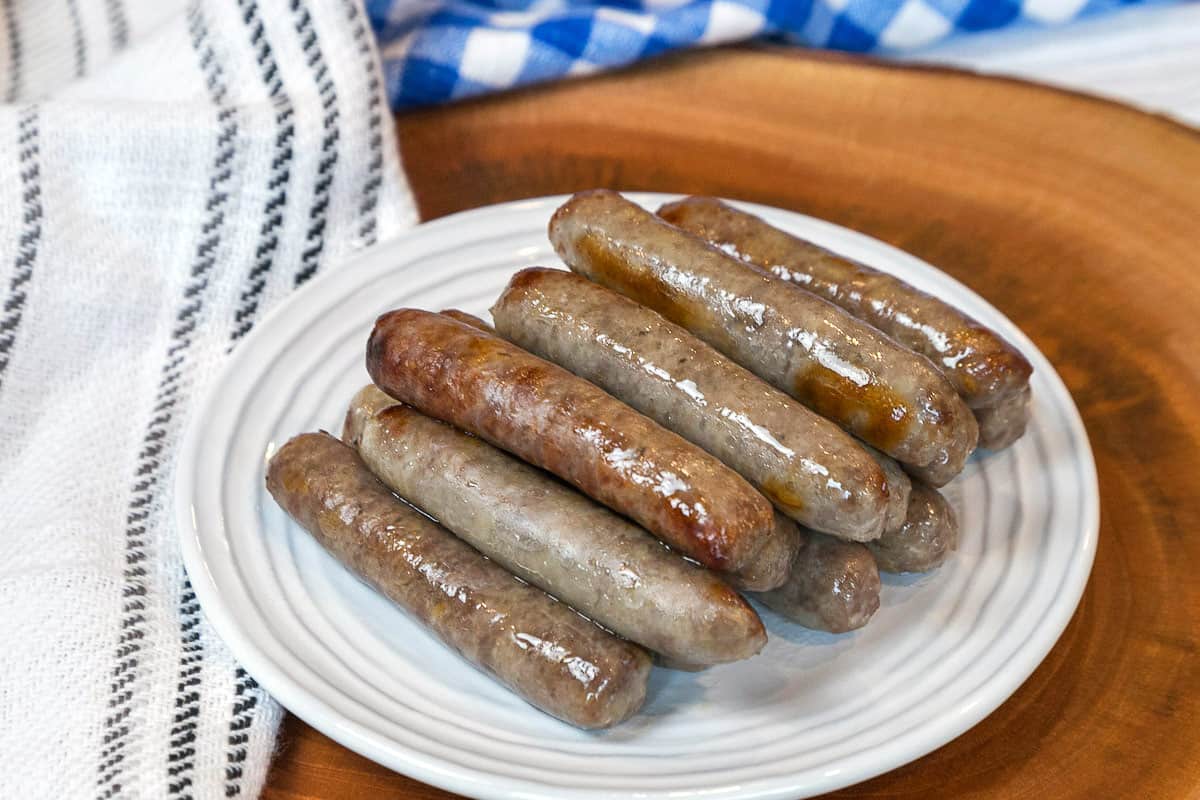 What's in this Sausage Link Recipe?
The only ingredient in this easy air fryer recipe is Johnsonville's original recipe breakfast sausage. You can use any brand you like the best though, such as Jimmy Dean all-natural pork sausage links or Bob Evans Pork Sausage Links.
🍴 Key Ingredients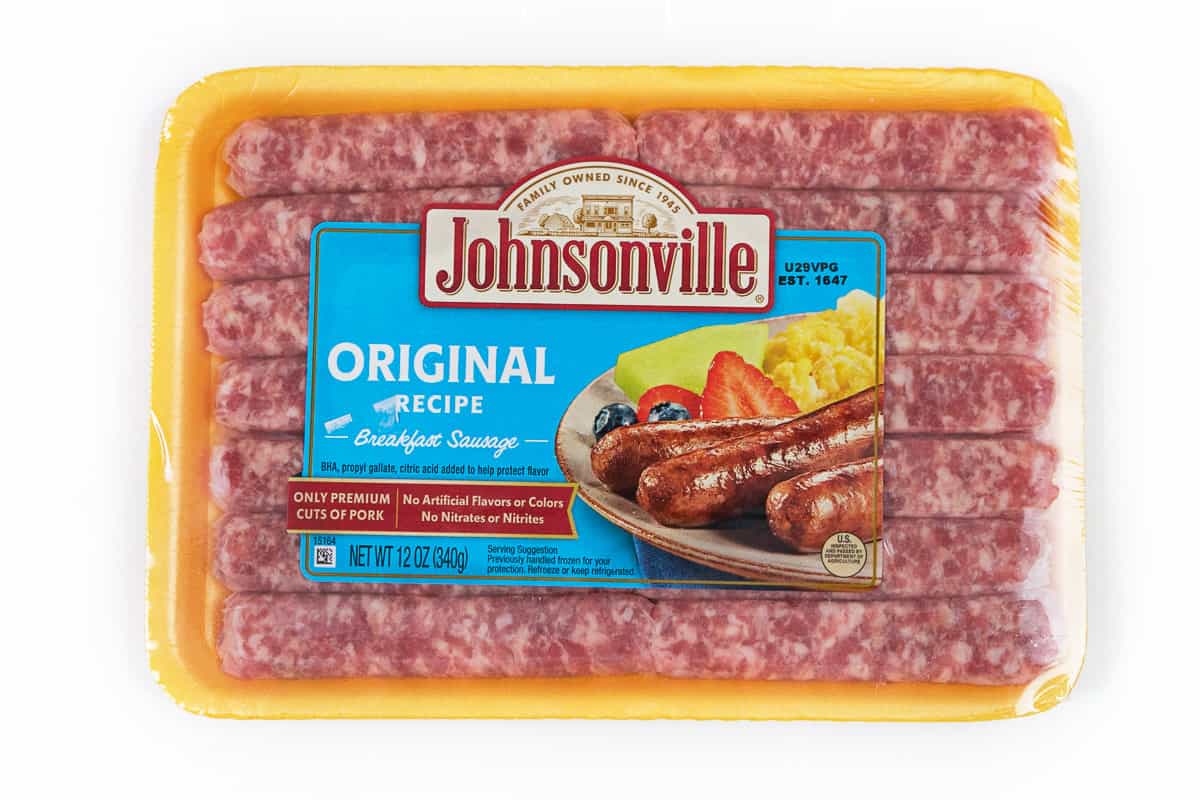 👩‍🍳 How to Make Sauage Links in the Air Fryer (Step-by-Step Instructions with Detailed Photos)
Step 1. Preheat the Air Fryer
Preheat your air fryer to 400 degrees Fahrenheit if it needs to be preheated. Most air fryer models are not the same. The power they produce can vary. We will be using a Cosori air fryer for this recipe. With that said, you may have to adjust the time and temperature for your air fryer if it is a smaller unit, or just keep checking on the sausage links while they cook in the air fryer.
Step 2. Line the Air Fryer Basket with Parchment Paper
If you have a basket style air fryer, take the basket out and place a piece of parchment paper with holes in it across the top of the air fryer basket. If you don't have parchment paper, just spray the basket first with cooking oil.
After that, remove the packaging from the raw sausages and lay them in a single layer, not touching each other, across the top of the fryer basket. We were able to get one 12-ounce package of sausage links on the basket, which were 14 sausages.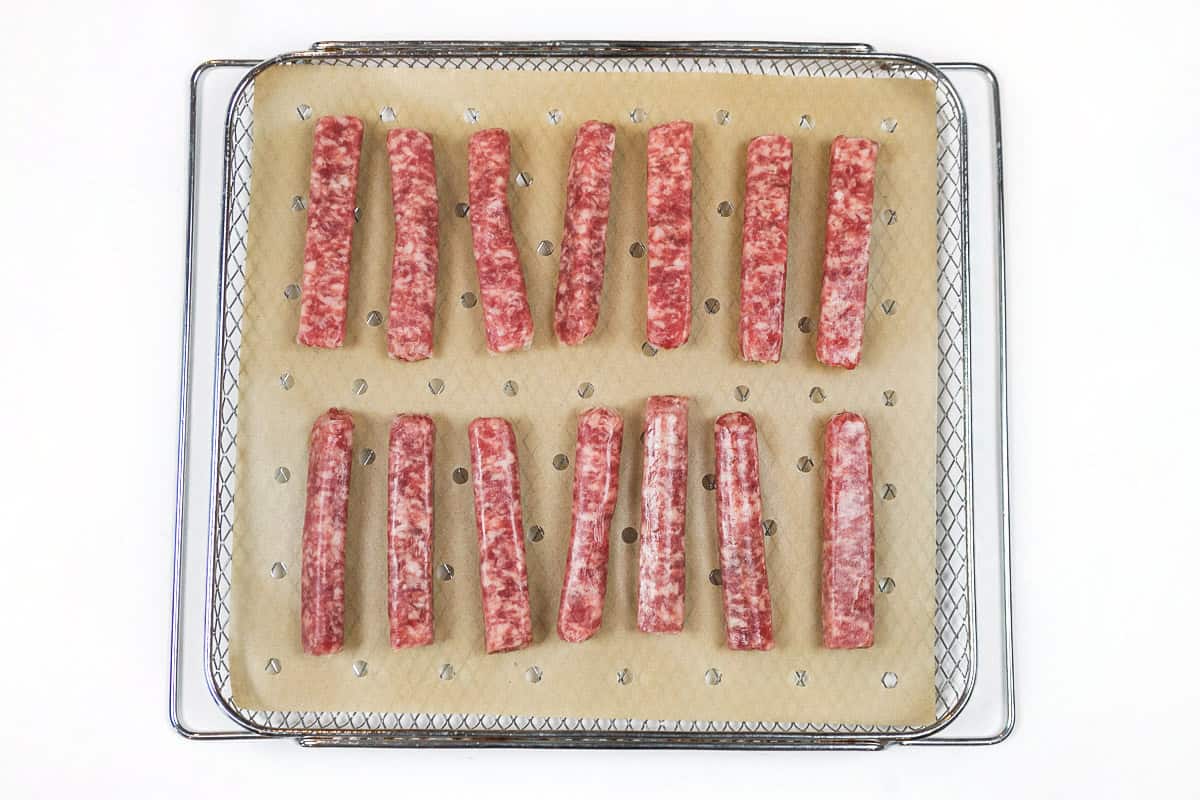 Step 3. Cook Sausages Links in the Air Fryer
Put the air fryer basket in the air fryer and cook the sausage links at 400 degrees Fahrenheit for 8-10 minutes. We cooked ours for 10 minutes. Flip each link sausage halfway through the cooking time. Check the internal temperature with a meat thermometer until it reaches 160 degrees Fahrenheit to avoid any foodborne illnesses. Make sure there is no pink showing inside of the sausages before consumption.
Note: The cook time can vary between 8-10 minutes to 10-12 minutes depending on how crispy you like your sausage links. Also the type of sausage you are cooking and the size of the sausages (thinner sausages or thicker sausages than ours) can be affected by the given cook time. The size of your air fryer, whether it's smaller or bigger than the one we are using for this recipe can also play a factor in the cooking time. So, remember while cooking the sausage links, you may need to cook the sausages a few extra minutes, maybe 2-3 minutes more, or maybe a few minutes less than that.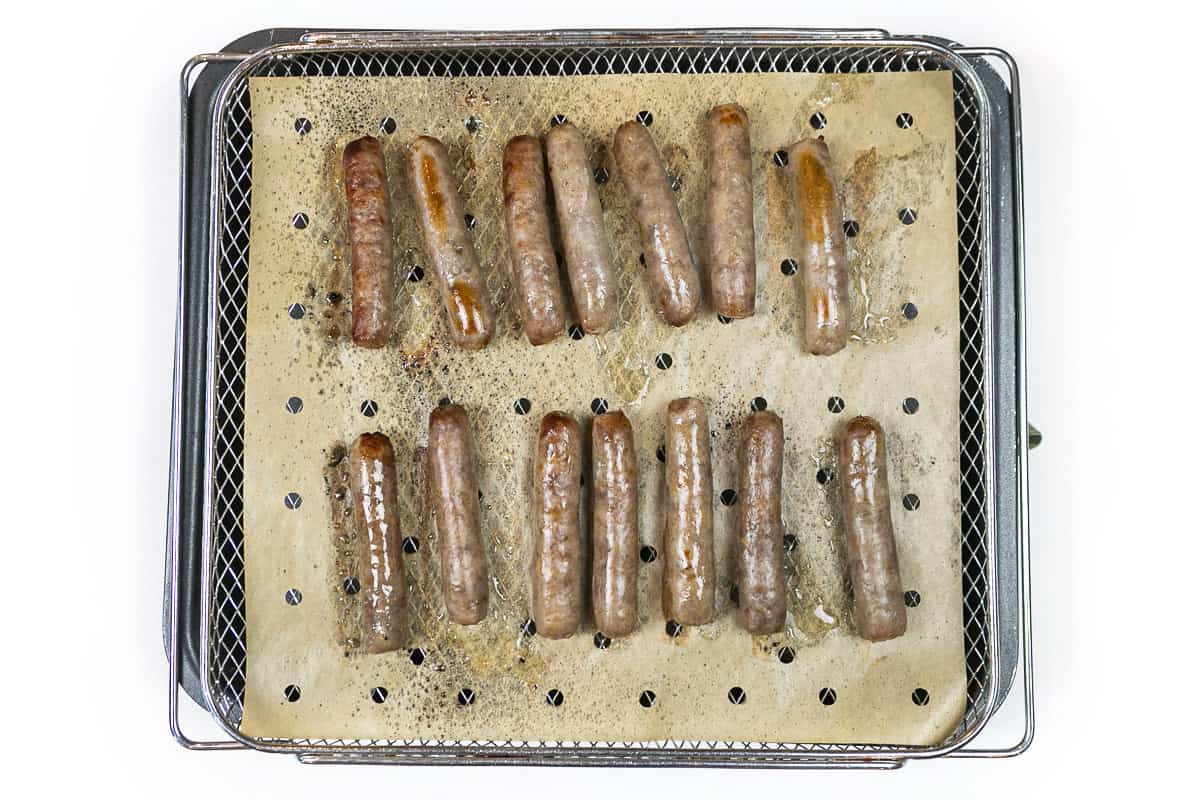 Step 4. Remove the Sausage Links from the Air Fryer
When the sausage links are done, remove them from the air fryer basket with a pair of heat-resistant tongs. Then put them on a plate to serve. Be careful not to burn your hands or arms from the hot air fryer.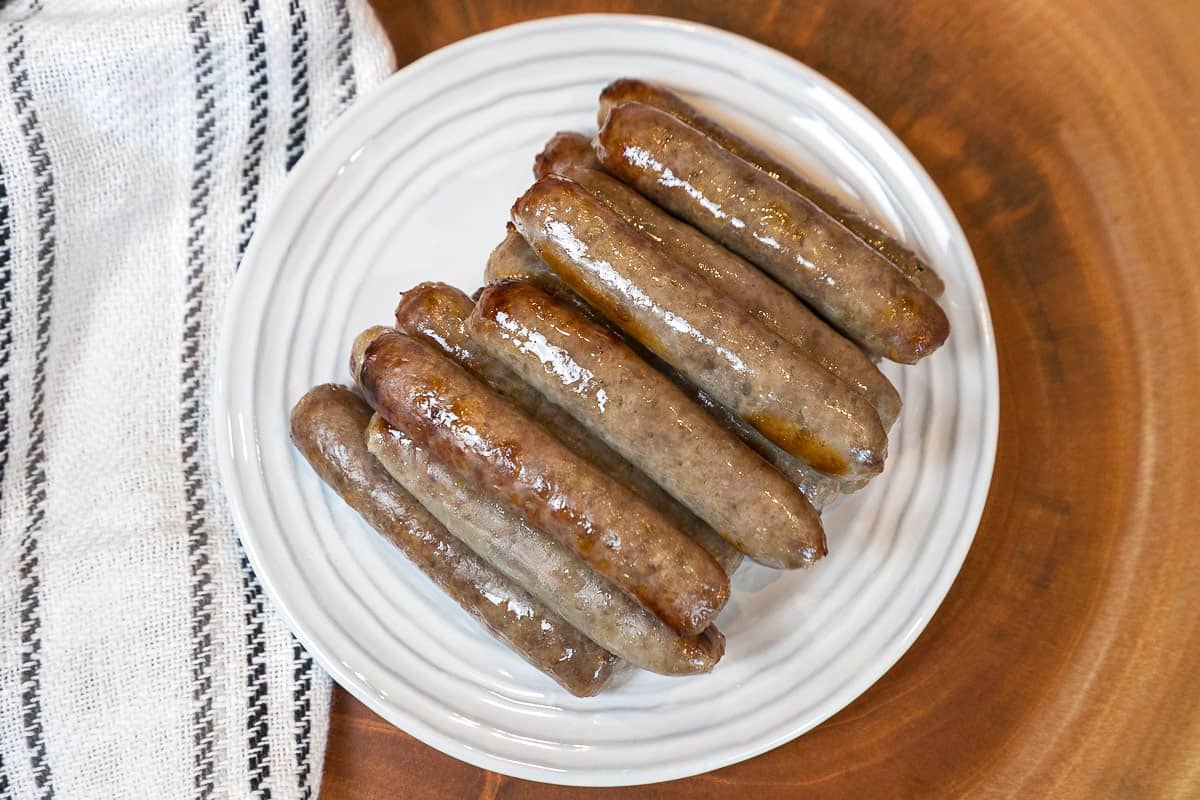 🌟 Recipe Variations
For a healthier option, you can use different kinds of sausages for this recipe. You can also add some tasty seasonings too.
Try some Turkey sausage instead of pork.
Or you can try some chicken sausage.
Hot Italian sausage or mild Italian sausage sounds pretty good.
Sprinkle a bit of ground black pepper, cayenne pepper, or red pepper flakes on the sausage links after cooking.
Pour some maple syrup on top of the cooked sausage links right before serving.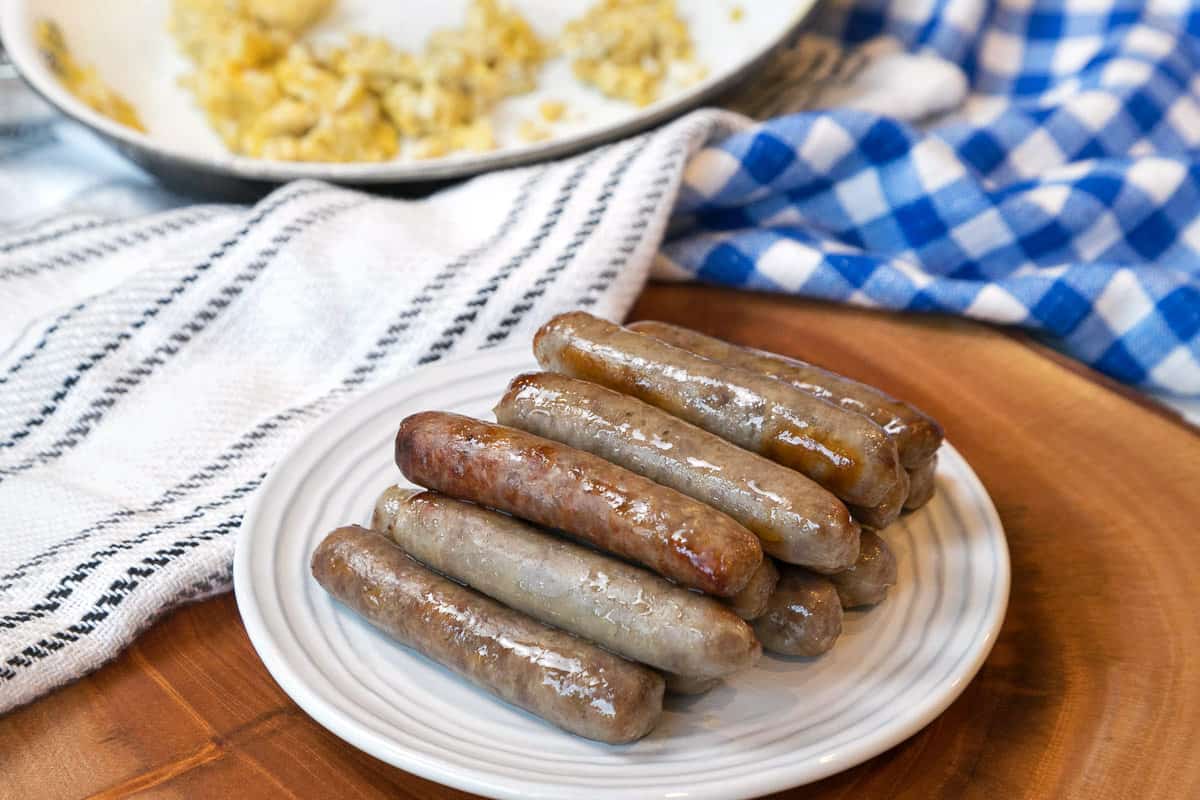 🙋 FAQs
What Do You Do With Leftover Link Sausages?
You can put any leftover cooked sausages in the refrigerator wrapped in aluminum foil or put them in an airtight container for about three days. Same with uncooked sausage, either cook the raw sausage within three days or freeze it. The back of our package of uncooked link sausages says to prepare within three days of purchase or freeze up to 30 days.
Can You Freeze Sausage Links?
Yes, you can freeze sausage links. If you bought a package of sausage links from your local grocery store for later use, you can freeze them for up to 30 days before you should cook them. When you are ready to cook some sausages for breakfast, take the frozen sausage package out of the freezer the night before, then let them thaw in the refrigerator overnight.

If you have leftover link sausages after you have cooked them, you can store them in the refrigerator for about 3 days, then freeze them for up to 3 or 4 months.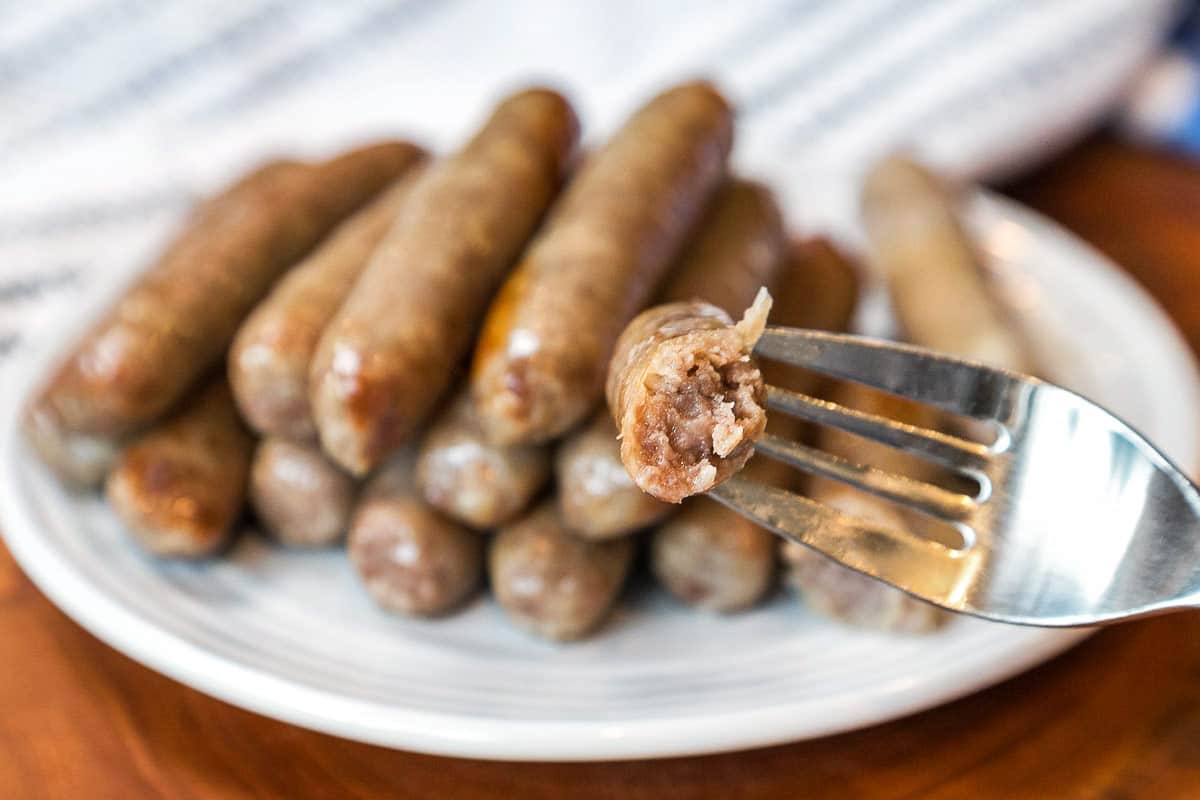 💡 Final Thoughts
The best part about this air fryer sausage links recipe is it not only makes delicious sausage, but it is super quick to make. But that's not all, air frying takes less time to clean up making it the best way to get breakfast on the table when the morning has you running late. Using the air fryer method gives you juicy sausages with crispy skin, a delicious taste, and a great way to make tummies happy.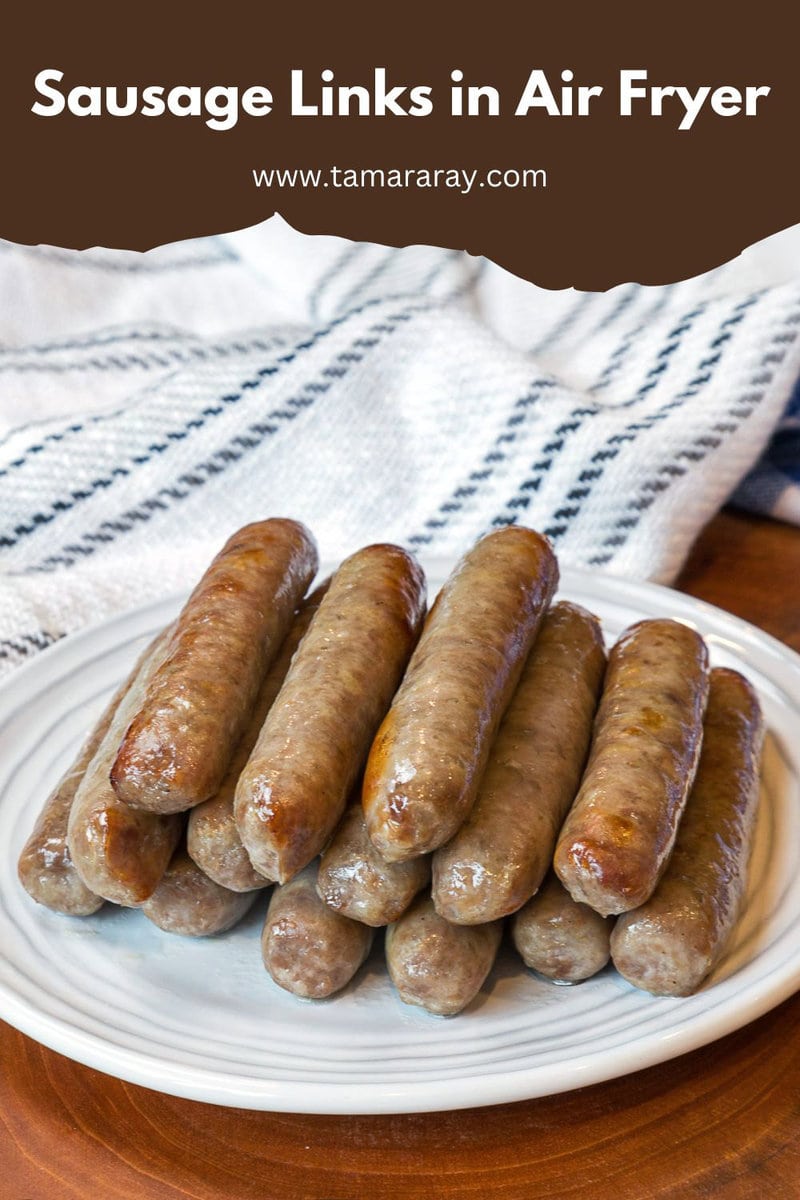 🥰 More Air Fryer Recipes You Will Love
📄 Recipe Card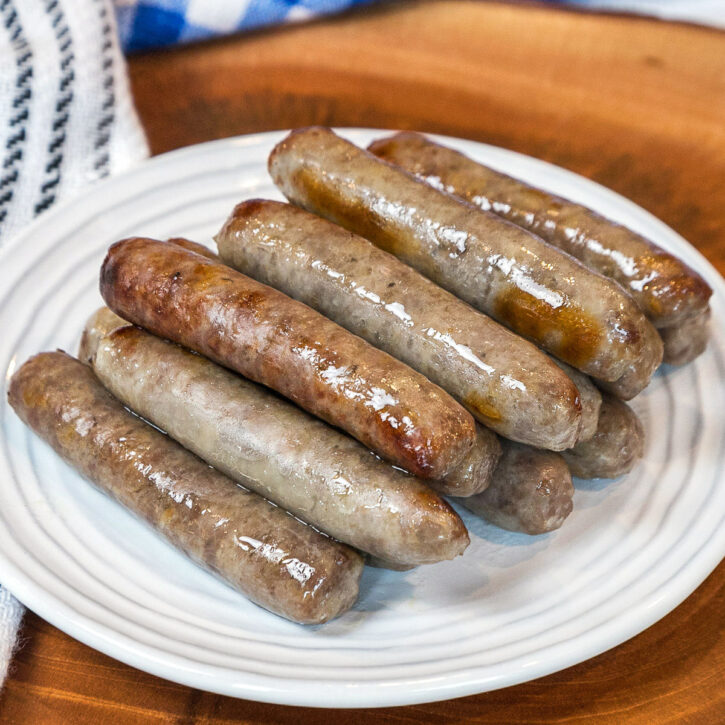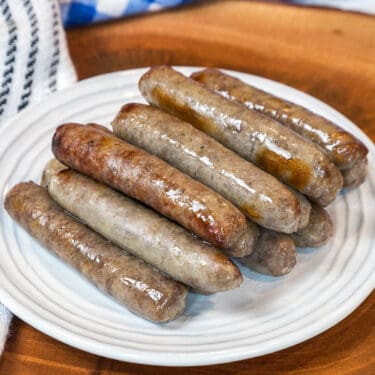 Sausage Links in Air Fryer
A quick and easy way to cook sausage links is in the air fryer. They only take about 8 to 10 minutes of cooking time and are flavorful and delicious.
🧂 Ingredients
Sausage links

Seasonings

(optional)

Dipping sauces

(optional)
👩‍🍳 Instructions
Preheat the air fryer to 400 degrees Fahrenheit.

Put parchment paper with holes in it on the air fryer basket. If you are not going to use parchment paper, apply any cooking spray or vegetable oil to the air fryer basket.

Place the sausage links in a single layer in the basket.

Cook for 8 to 10 minutes, flipping them over halfway through the cooking time. The internal temperature should reach 160 degrees Fahrenheit.
*️⃣ Recipe Notes
The cook time given can vary depending on what kind of air fryer you have and the size of the sausage links.
You may need to cook the sausage links a couple of minutes longer if you want them crispier.

You can use turkey sausage, chicken sausage, or Italian sausage instead of pork.
A wife, a mother to a son and a daughter, and a grandmother to three granddaughters. Flo loves sharing recipes passed down from her own mother, her mother-in-law, and her grandmother as well as new recipes created with her daughter, Tamara Ray.
More by Flo ➜