(Last Updated On: September 16, 2022)
Cooking fish sticks in the air fryer is so easy! And when the fish sticks, or fish fingers as some people call them, are ready, they are crispy, crunchy, and so delicious. It only takes these air fryer fish sticks about 10 minutes of cooking time until dinner is ready!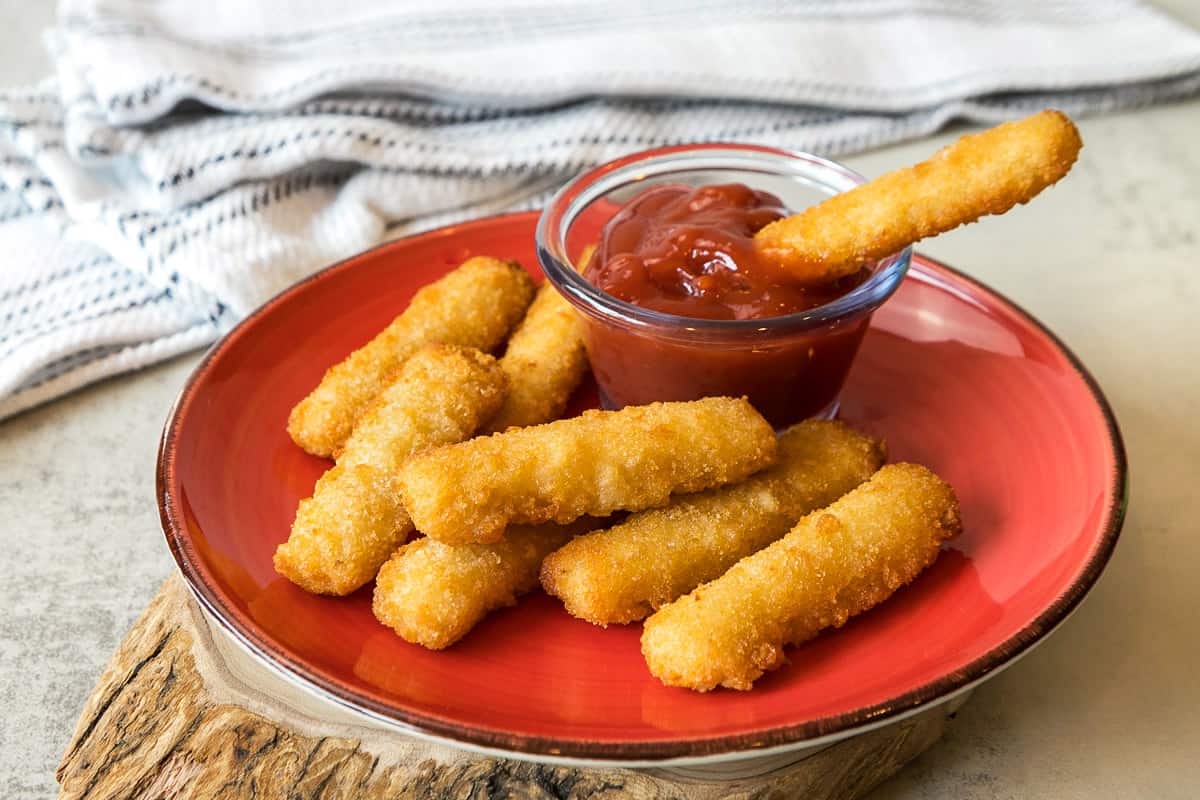 🐟 Key Ingredients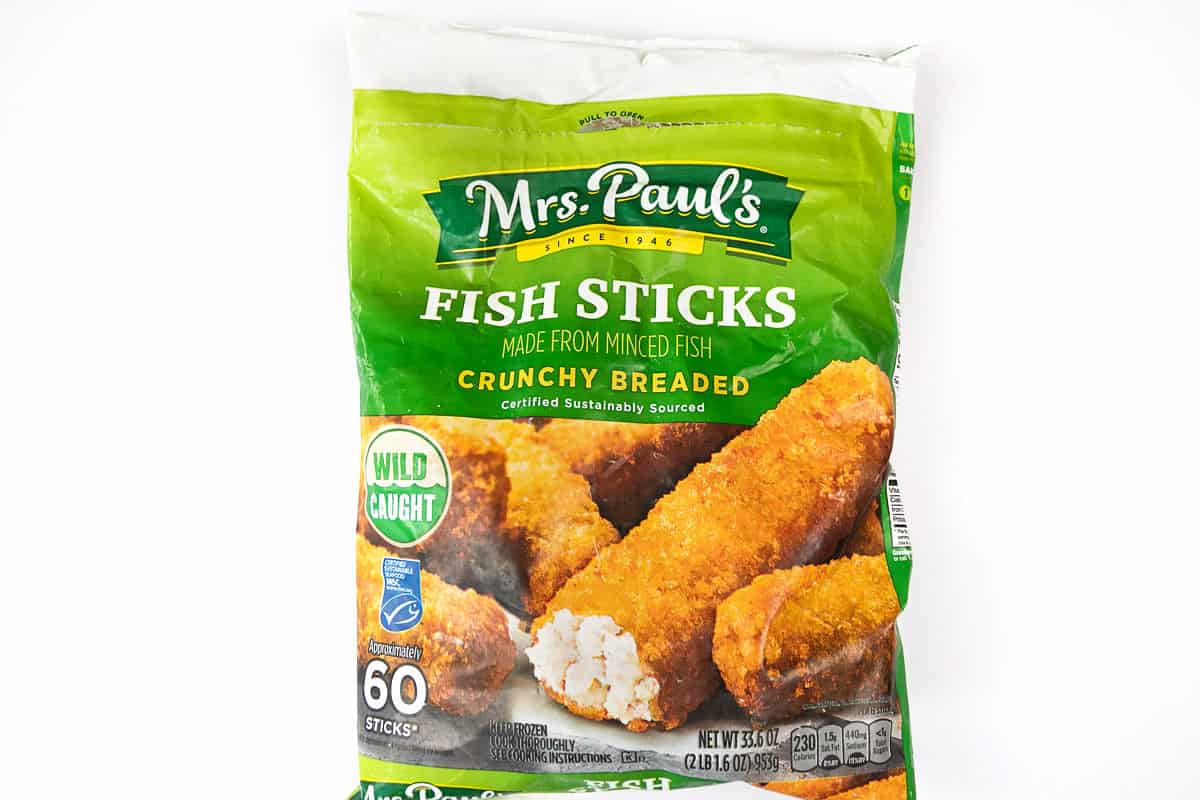 👩‍🍳 How to Make Air Fryer Frozen Fish Sticks (Step-by-Step Instructions with Detailed Photos)
Step 1. Preheat the Air Fryer
If your air fryer needs to be preheated, set it at 400 degrees Fahrenheit.
Step 2. Put the Fish Sticks in the Air Fryer Basket
Place 8 frozen fish sticks in a single layer on the air fryer basket or tray. You can cook more or fewer fish sticks depending on the size of your air fryer basket, but do not overlap. Instead, you will need to do a second or third batch. We used Mrs. Paul's Crunchy Breaded Fish Sticks sold in the frozen foods section of the grocery store, and they have a great-tasting fish flavor, but you can use any of your favorite fish stick brands.
We put parchment paper down first over the basket. The parchment paper has holes in it and is so nice to work with. The holes not only let the air flow through to the fish sticks, but the holes are very important as this is needed for the air fryer to cook properly. So please do not use parchment paper without holes. They make pre-made parchment paper sheets for all different shapes and sizes of air fryers… so you need to find the best one to fit yours.
This parchment paper is also nonstick so there is no need to spray or brush the basket with cooking spray or oil. When done, just throw the pre-cut parchment paper away. If you don't have parchment paper, brush some oil or cooking spray on the air basket first, then lay the fish sticks over the top of the parchment paper.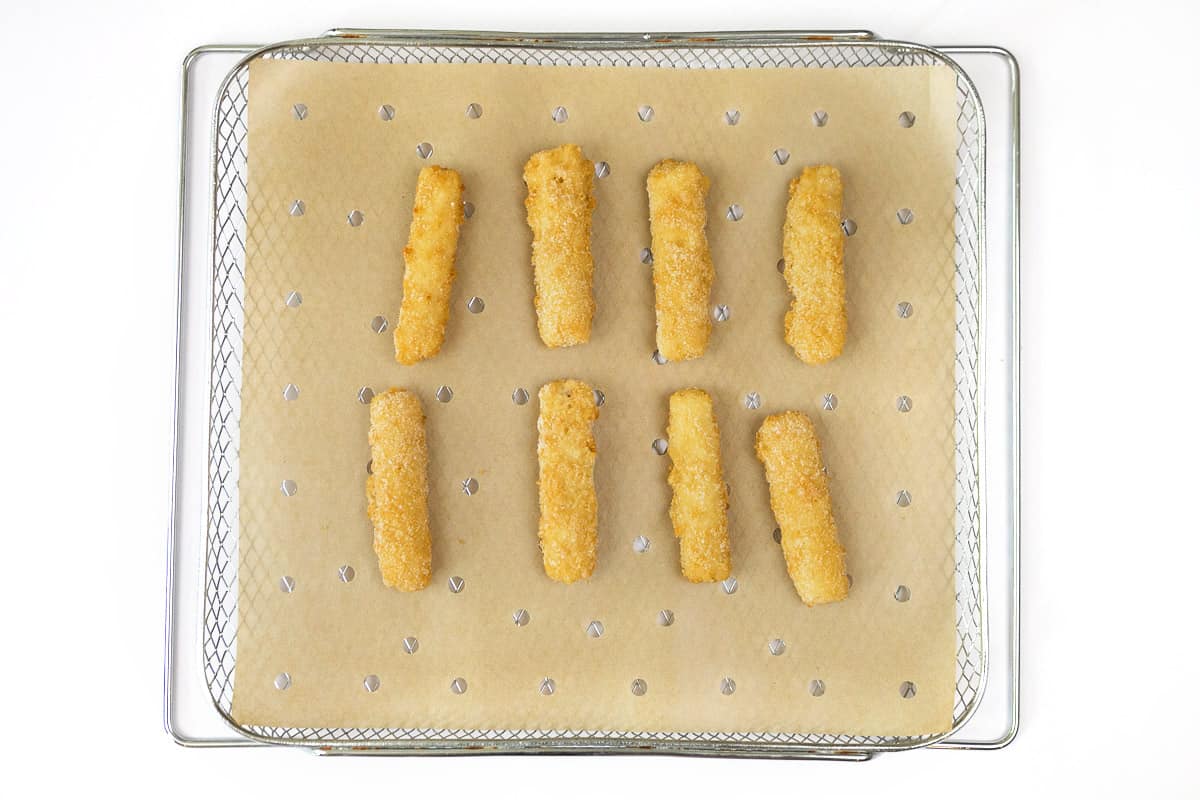 Step 3. Cook for10 Minutes
Put the basket into the air fryer and cook at 400 degrees Fahrenheit for 5 minutes, then flip them over and cook for another 5 minutes. Total – 10 minutes. You can add a couple more minutes if you like your fish sticks crispier or if your air fryer has fewer watts than ours.
Note: Not all air fryers are the same. Time and temperature may have to be adjusted. It is best to read your manual.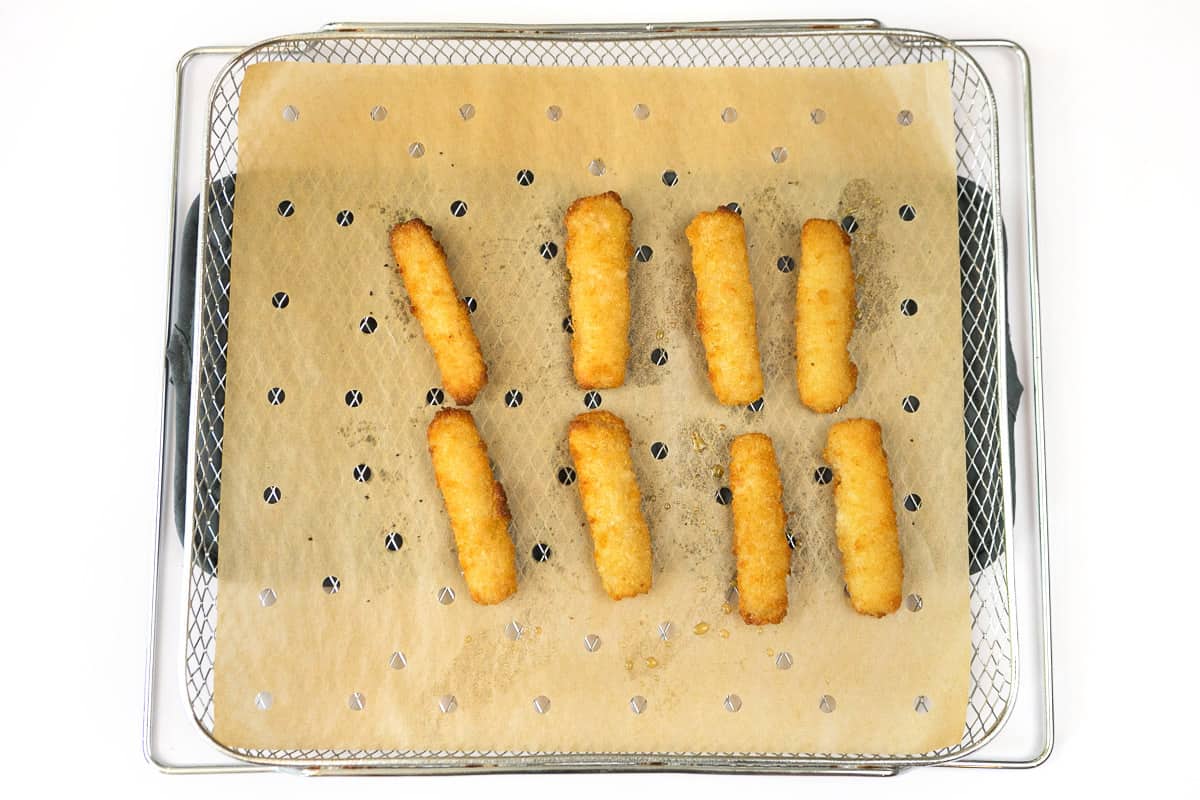 Cook frozen? Yes, the fish sticks are put into the air fryer right out of the freezer while they are still frozen, and within 10 to 12 minutes, they are done and ready to eat. Serve with your favorite dipping sauce. We love tartar sauce and or ketchup with ours. Enjoy!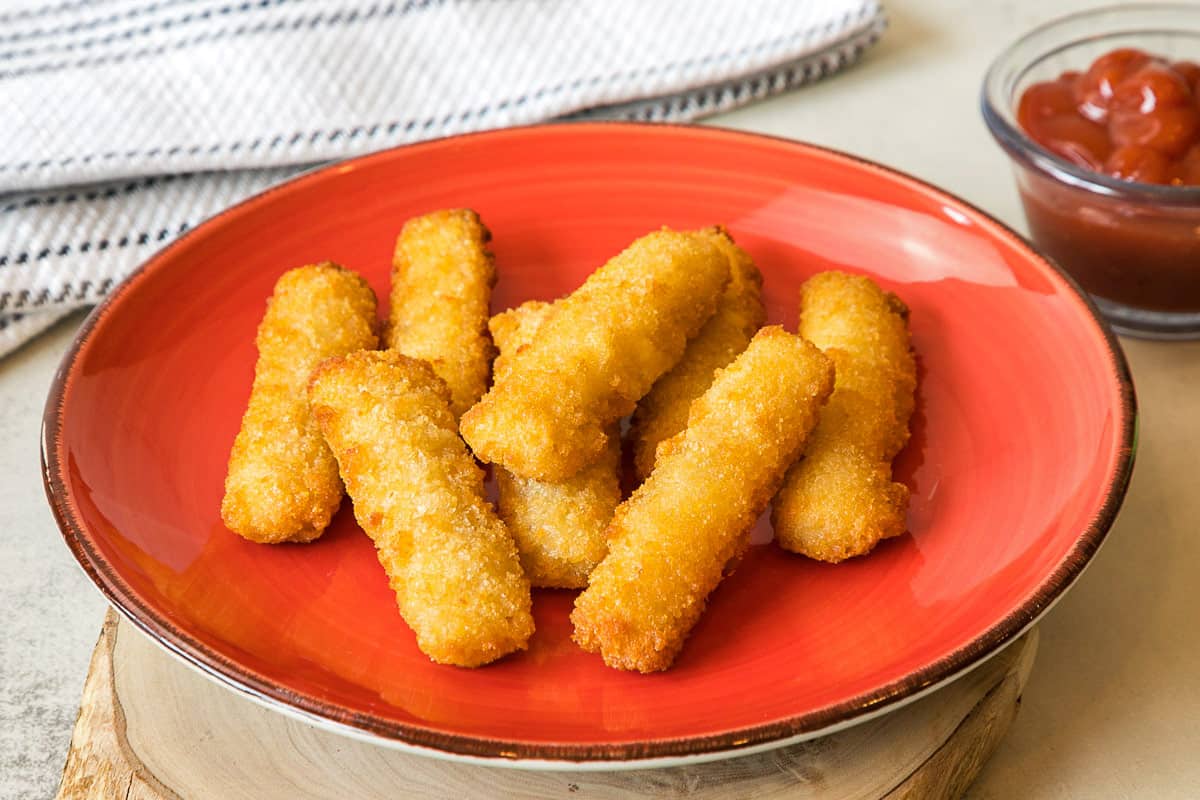 🙋 FAQs
How Do I Make Crispy Fish Sticks?
You can make crispy fish sticks in the air fryer by cooking them for 10 minutes at 400 degrees Fahrenheit. However, if you want them even crispier, you can test one at 11 or 12 minutes. Keep a close watch so they don't burn up!
What Are Some Air Fryer Tips?
🔷 Placing parchment paper in the air fryer basket before adding whatever food you are going to cook is a Godsend. Parchment paper is nonstick so there is no need for cooking spray or oil. It's also easy to clean up, just pick the parchment paper out of the air fryer basket and toss it in the trash can. Just make sure to buy the parchment paper with holes in it so the air can flow through to still be able to cook the food and let the air fryer unit work properly.

🔶 Air fryers are great for reheating leftover foods. The food comes out crispy, not soggy.

🔷 Keep your air fryer in a space of its own giving it plenty of room for adequate airflow in and around it. They say about 5 inches all around it.

🔶 Always clean up the basket and surrounding area inside of the air fryer after cooking each batch of food.

🔷 Don't cram food or overlap, put food in a single layer.

🔶 Use heat-resistant tongs when flipping food items over in the basket. The food is HOT, you don't want to burn yourself.

🔷 The fan inside the air fryer can blow lightweight foods around such as the top slice of bread on a sandwich. To solve that problem, you can use a wooden toothpick inserted into the bread to hold it down.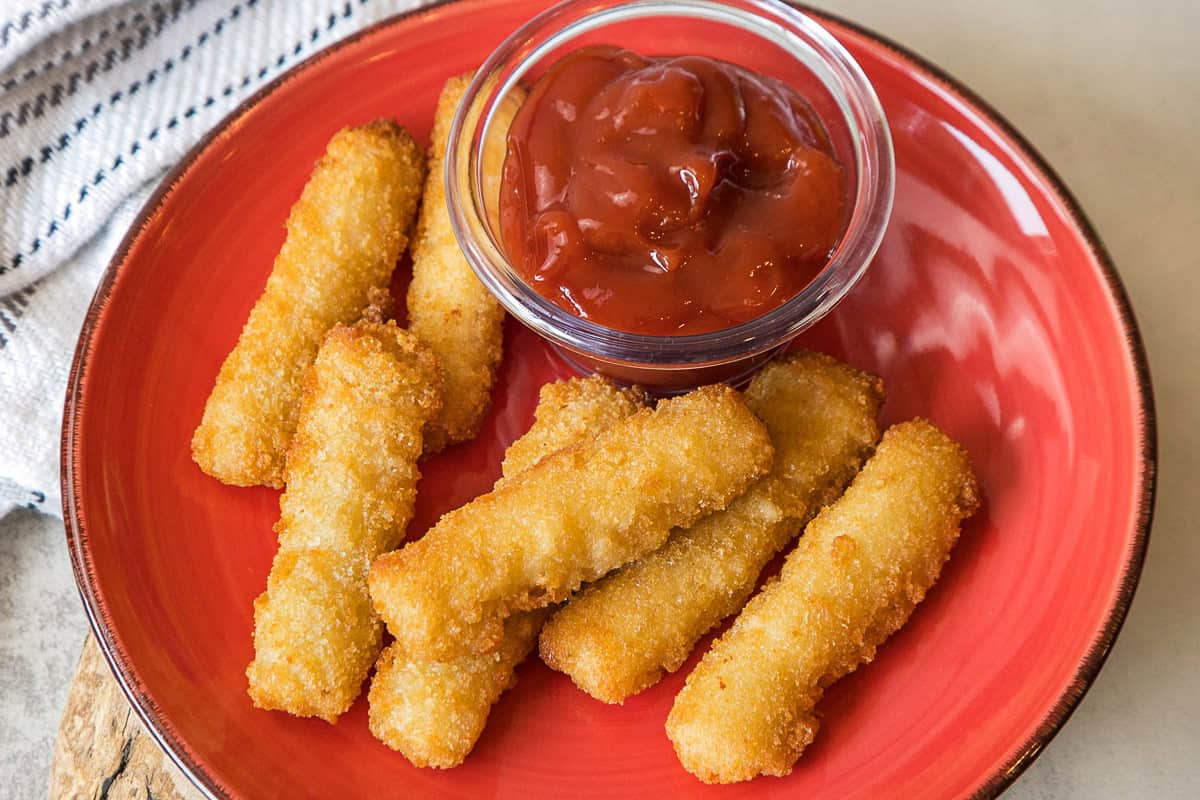 💡 Final Thoughts
If you don't have a lot of time on your hands to make dinner, this fish sticks recipe is simple, quick to fix, and tastes fantastic. You can make mac and cheese or tuna salad as a side dish, then serve a lettuce salad and some veggies to make a wonderful meal for your family.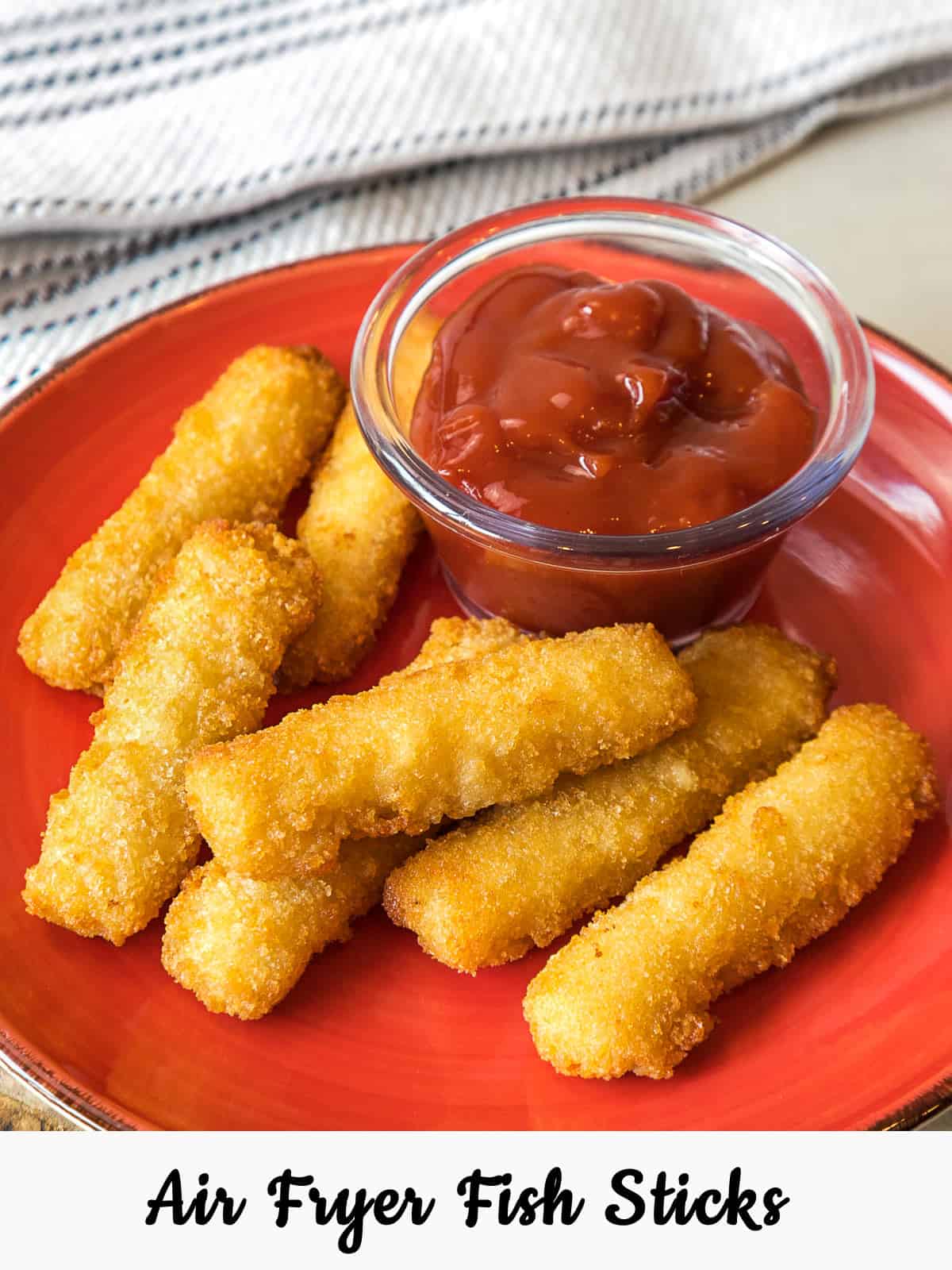 🥰 More Quick and Easy Air Fryer Recipes You Will Love
Make air frying easy with these simple and delicious recipes: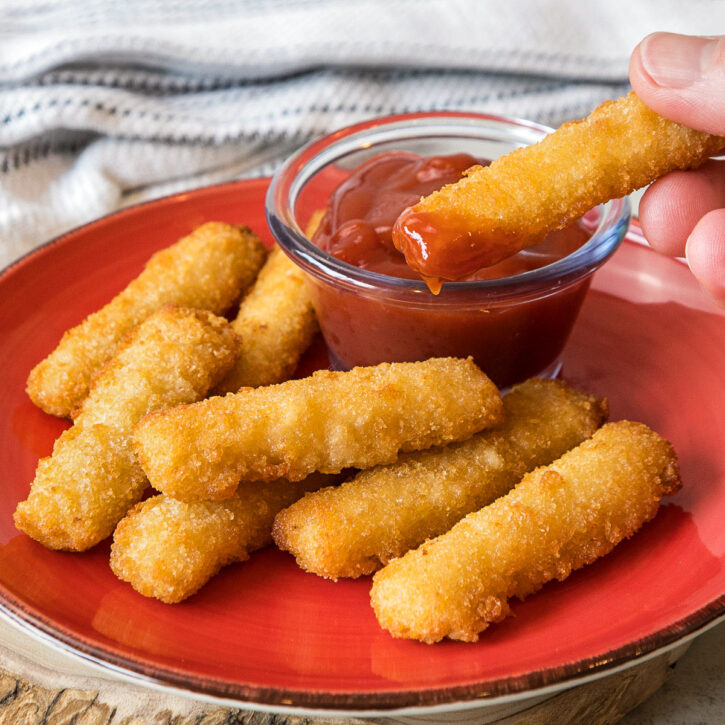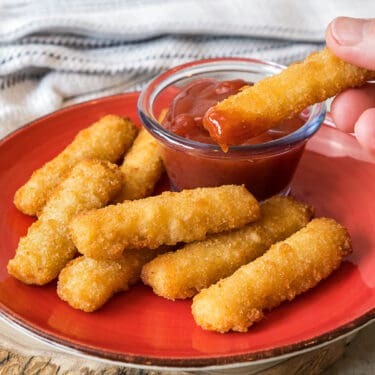 Air Fryer Fish Sticks (Frozen)
Frozen fish sticks cooked in the air fryer is the best way to cook them fast and make them crispy without the grease. In this recipe, the frozen fish sticks crisp up beautifully in the air fryer at 400 degrees for 10 minutes. Because they are so quick to make and so delicious, you'll never go back to cooking them any other way!
Instructions
Preheat the air fryer to 400 degrees Fahrenheit.

Place the parchment paper (with holes in it) or brush or spray oil on the air fryer basket.

Put the fish sticks in the air fryer basket in a single layer.

Cook for 5 minutes at 400 degrees Fahrenheit, then flip the fish sticks over and cook for another 5 minutes for a total of 10 minutes of cooking time.

When nice and crispy brown, remove the fish sticks from the air fryer basket and serve.
Recipe Notes
You can add more fish sticks if your air fryer can hold more than 8, or you can add fewer fish sticks if your air fryer has a smaller basket.
You can add a couple of minutes to the cooking time if you want extra crispy fish sticks.
Crispy fish sticks are great when dipped in ketchup, tartar sauce, or any of your favorite dipping sauces.