(Last Updated On: June 22, 2023)
This is a delightful and refreshing easy strawberry lemonade recipe with fresh strawberries and freshly squeezed lemon juice. The strawberries are slightly blended into small chunks which makes the drink more than just a pink lemonade drink. It is by far so much better than the store-bought lemonade.
On a hot summer day, take advantage of the strawberry season and whip up a perfect summer drink with this homemade lemonade, while also exploring more refreshing beverages like Orange Julius and this Jamba Juice copycat smoothie.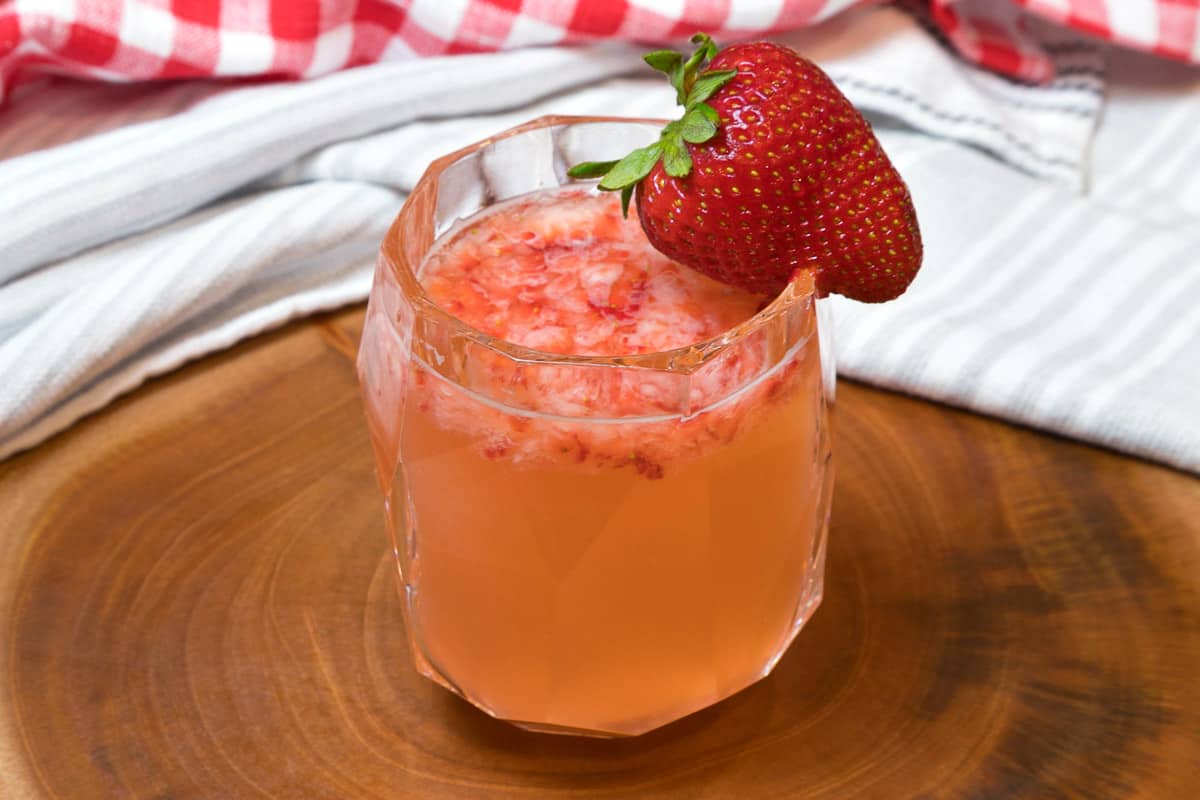 🍓 Simple Ingredients
5 fresh lemons to make 2 cups of fresh-squeezed lemon juice
2 cups of granulated sugar
2 cups fresh strawberries
12 cups water – for the best results use very cold water
🍋 How to Make Strawberry Lemonade (Step-by-Step Instructions with Detailed Photos)
Step 1. Prepare the Strawberries
While you are at the grocery store, make sure to buy some ripe strawberries. Or even better yet, during the summer months, buy them at a fruit stand where they sell fresh fruit that's in season.
Wash the strawberries under cold running water. Remove the stems. On a cutting board or work area, use a sharp knife to cut the strawberries in halves or fourths including the strawberry seeds. Set aside for now.
Tip: Insert a clean unused straw in the middle of the strawberry to remove the entire stem. Start in the middle of the bottom pointy end of the strawberry and push the straw upwards.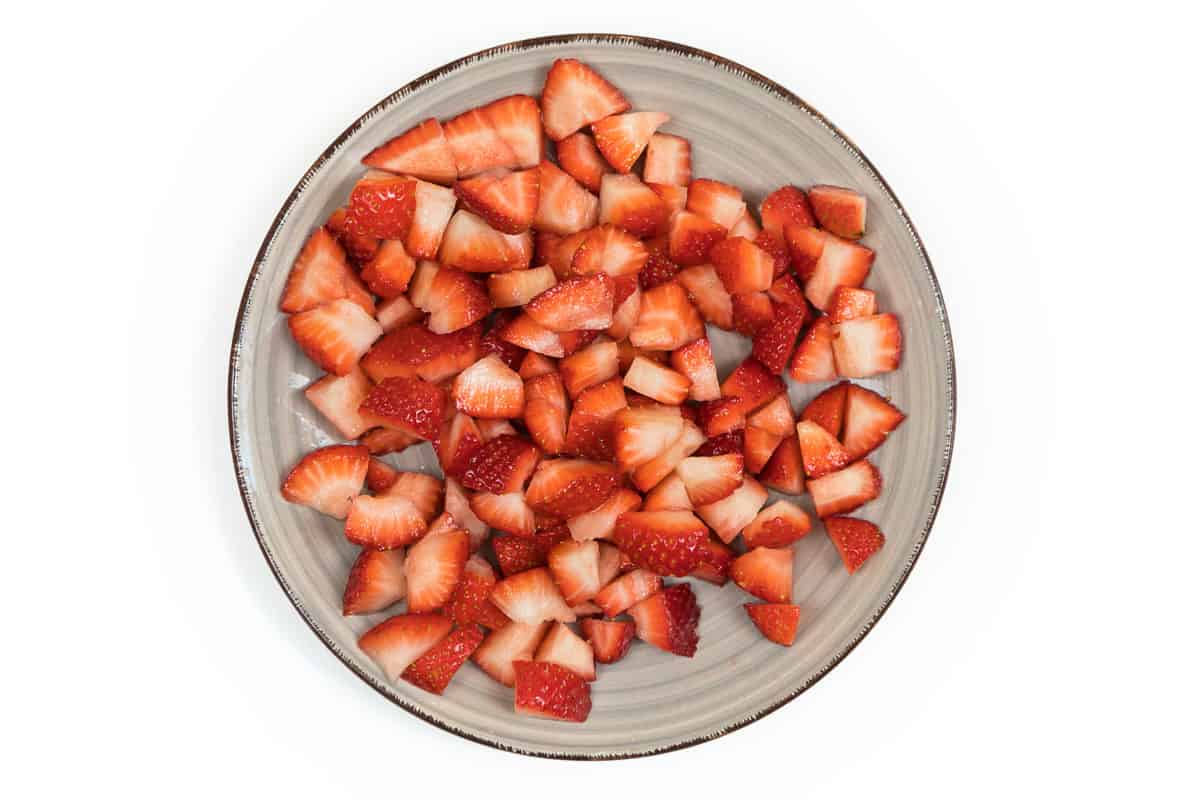 Step 2. Squeeze the Lemons
Wash the outer part of 5 lemons under cold running water, then cut the lemons in half. Place each lemon on a citrus hand squeezer and apply light pressure while turning the lemon clockwise and counterclockwise on the lemon squeezer. Keep squeezing the lemons until you have 2 cups of lemon juice. Set the fresh lemon juice aside for now.
Note: If you don't have any lemons, you can use bottled lemon juice which is 100% real lemon juice.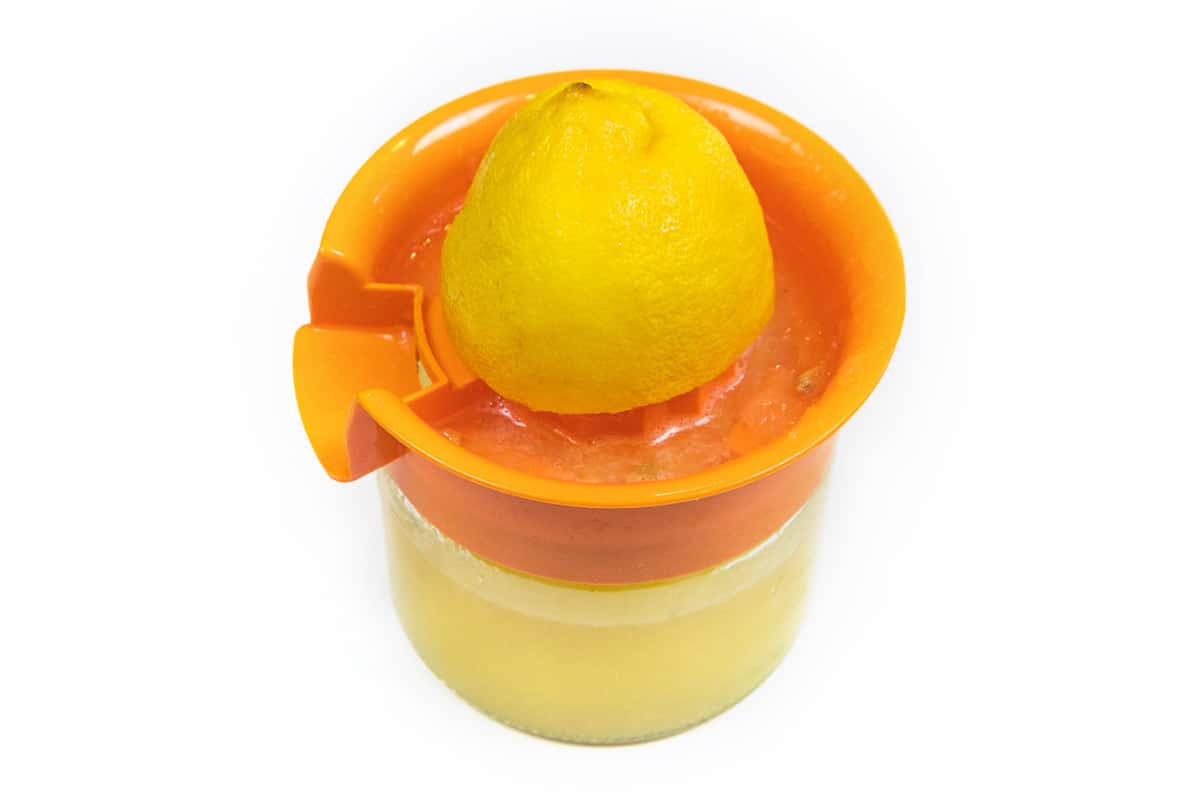 Step 3. Add the Lemon Juice to the Strawberries
Put the cut strawberries into a medium bowl and then add the freshly squeezed lemon juice together with the strawberries. Give it a good stir.
Step 4. Blend the Strawberry Mixture
Pour the strawberry mixture into a food processor or blender. Blend the strawberries together with the lemon juice for about 15 seconds, just enough to get the strawberries into small pieces.
Note: If you prefer, you can blend the strawberries to your liking or make a strawberry puree (a smooth, creamy substance) instead of strawberry lemonade with small chunks. We didn't run the blender very long because we wanted some chunks in our lemonade but if you run the blender longer, you will have fewer chunks. Run the blender even longer and you will have a puree. You can also remove the seeds from the strawberry puree by using a spoon and pushing the puree through a fine mesh strainer.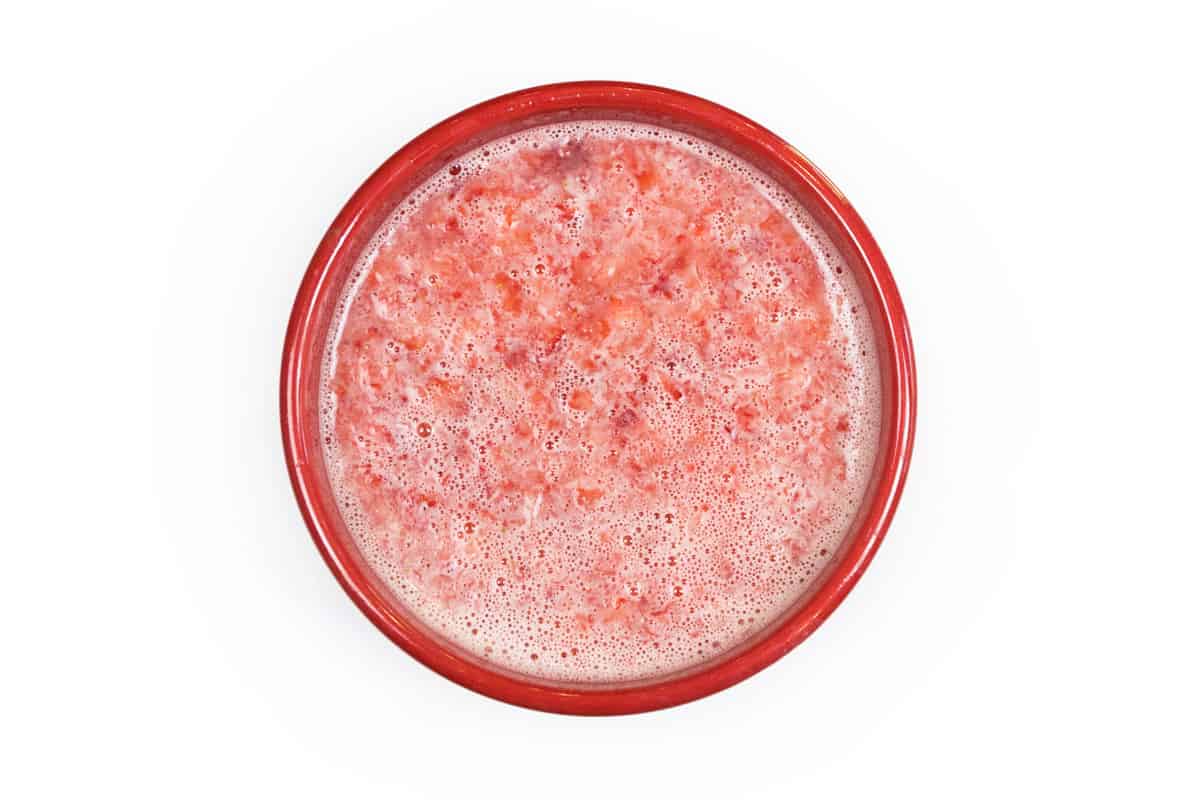 Step 5. Add the Sugar
While the strawberry and lemon mixture is still in the blender, add 2 cups of granulated sugar together with the strawberry-lemon mixture. Stir until the sugar dissolves.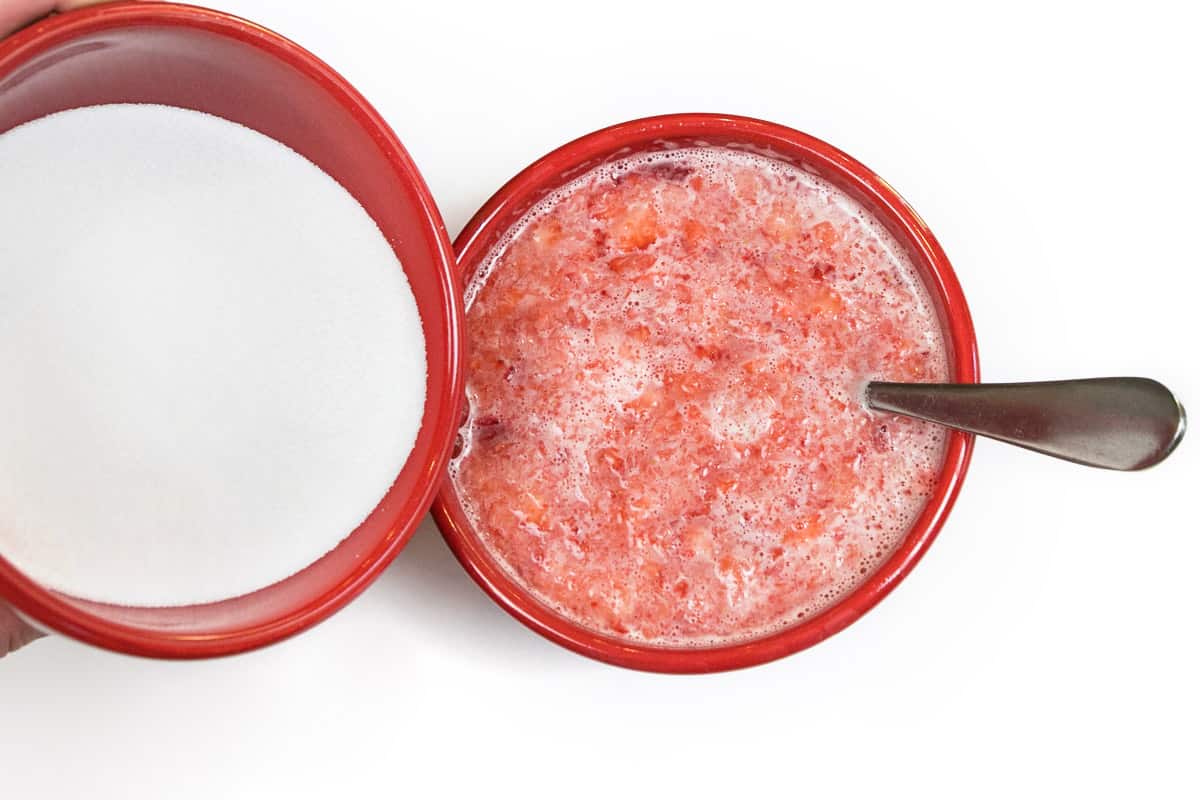 Step 6. Add Cold Water to a Pitcher
Pour 12 cups of water into a large pitcher. After that, pour the strawberry and lemon mixture into the pitcher together with the water.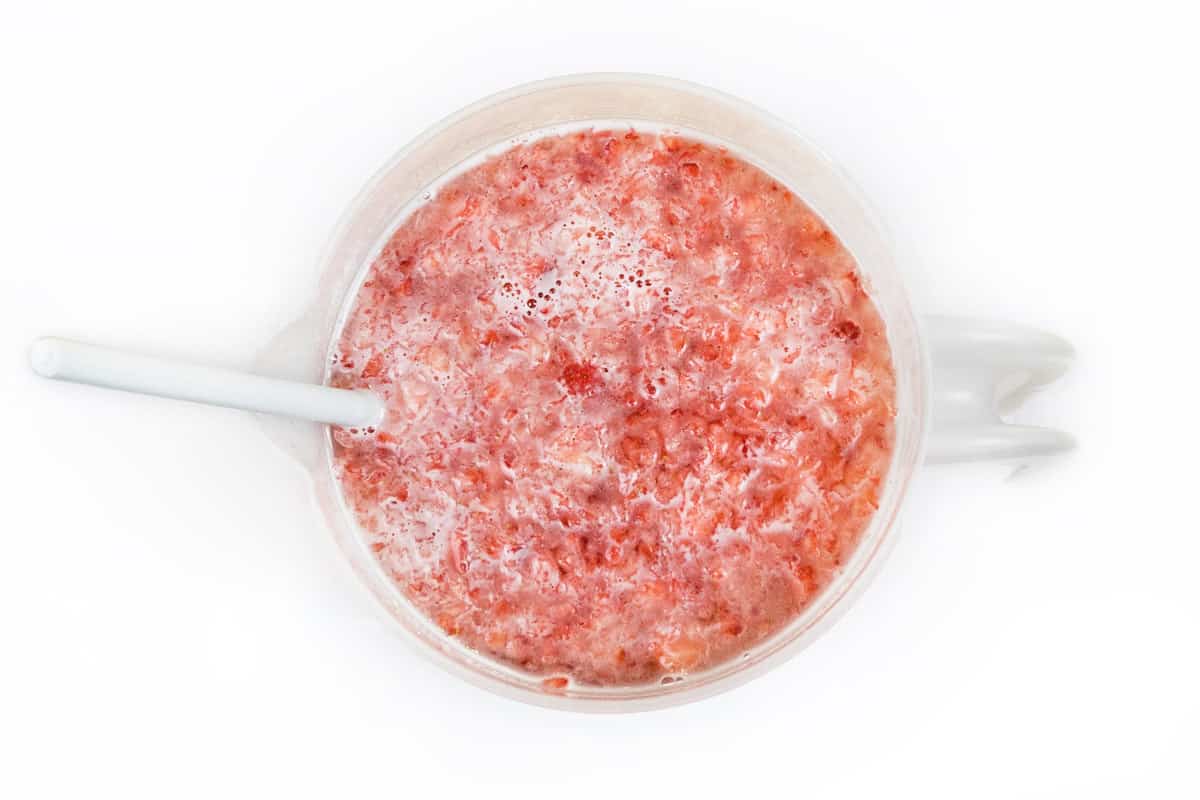 Step 7. Mix the Strawberry Lemonade Thoroughly
Mix the strawberry, lemon, and water mixture until thoroughly blended together. Place the pitcher in the refrigerator for a couple of hours until chilled to your liking.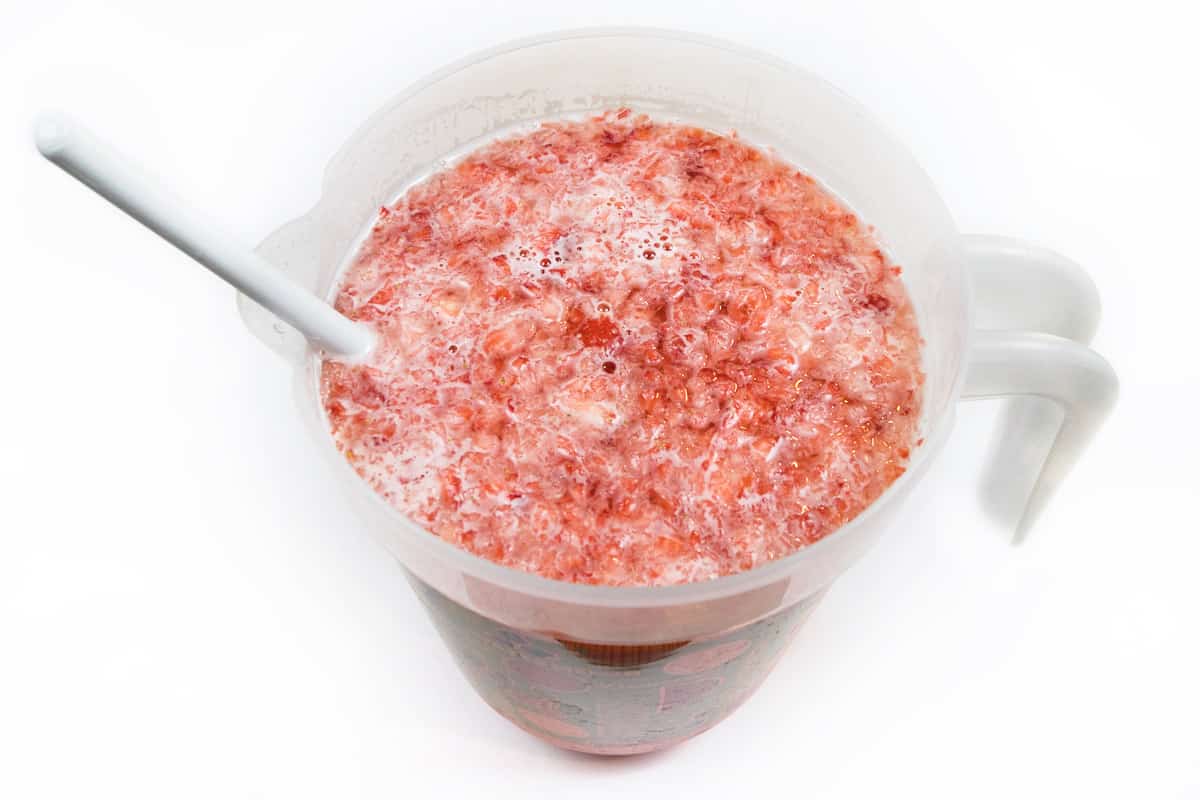 🌟 Recipe Variations
Add ice cubes to your glass of fresh lemonade but be aware that the ice cubes will start to melt and dilute the lemonade.
When serving this refreshing drink to your family or guests, get fancy by putting a strawberry or a couple of lemon slices on the side of the rim of each glass. You can also add a couple of lemon wedges or strawberry slices to the inside of each glass of strawberry lemonade. A perfect way to cut strawberry slices is to use an egg slicer. Or you can buy a strawberry huller stem remover and strawberry slicer set.
Add a squirt or two of club soda or lime juice to your glass of strawberry lemonade.
Put this lemonade in the freezer until it just starts to freeze, not all the way through. After that, give it a good stir, and then serve. It will taste just like a strawberry lemonade slushy.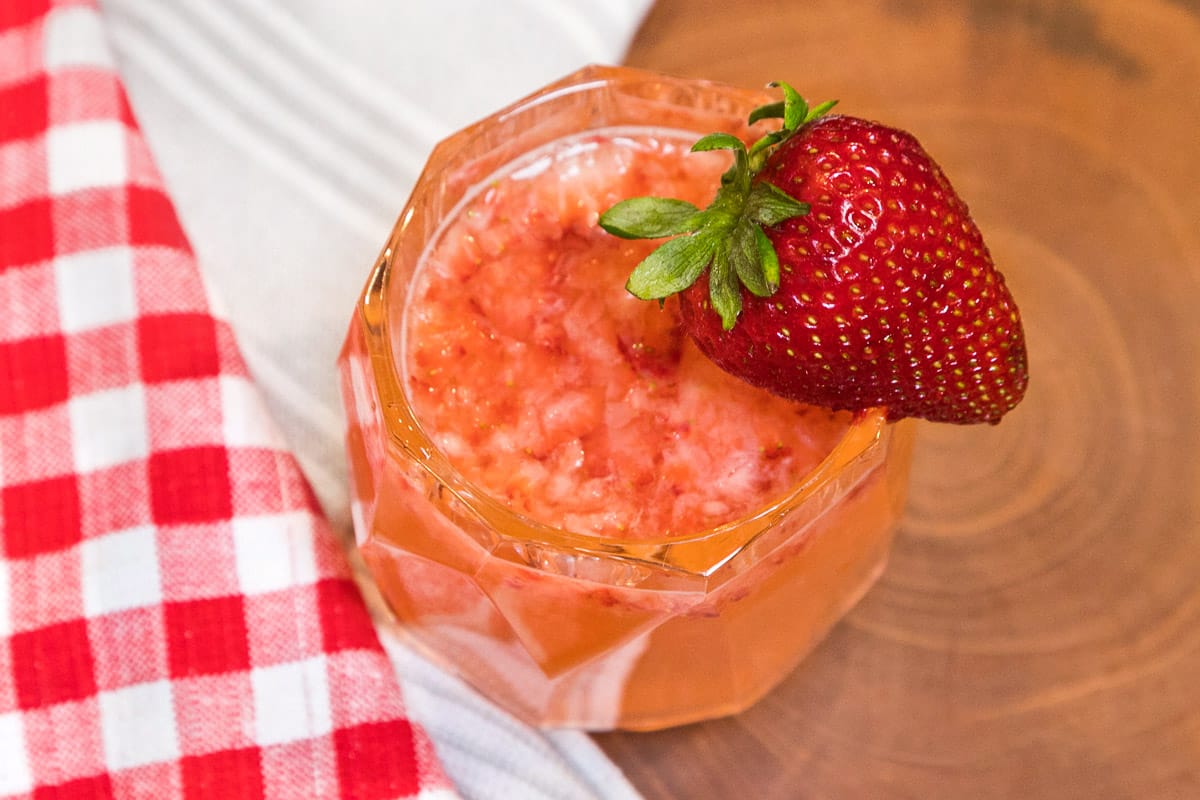 🙋 FAQs
Can I Freeze Strawberry Lemonade?
Yes, you can freeze strawberry lemonade. A fun idea is to put the lemonade in popsicle molds and then freeze them. When the kiddos are playing outside on a hot day, give them a strawberry lemonade popsicle. Or just freeze the lemonade in individual plastic cups and hand them out to the kids.

Fill an ice cube tray with this strawberry lemonade and at your next social party, add the strawberry ice cubes to mix drinks instead of using regular ice cubes.
What else can I add to Strawberry Lemonade?
There are many additional food items you can add to lemonade. A few suggestions are club soda or sparkling water, frozen strawberries, a lemon wedge, mint leaves, a few blueberries or raspberries, ice cubes, or lemon zest. For adults only, gin or vodka.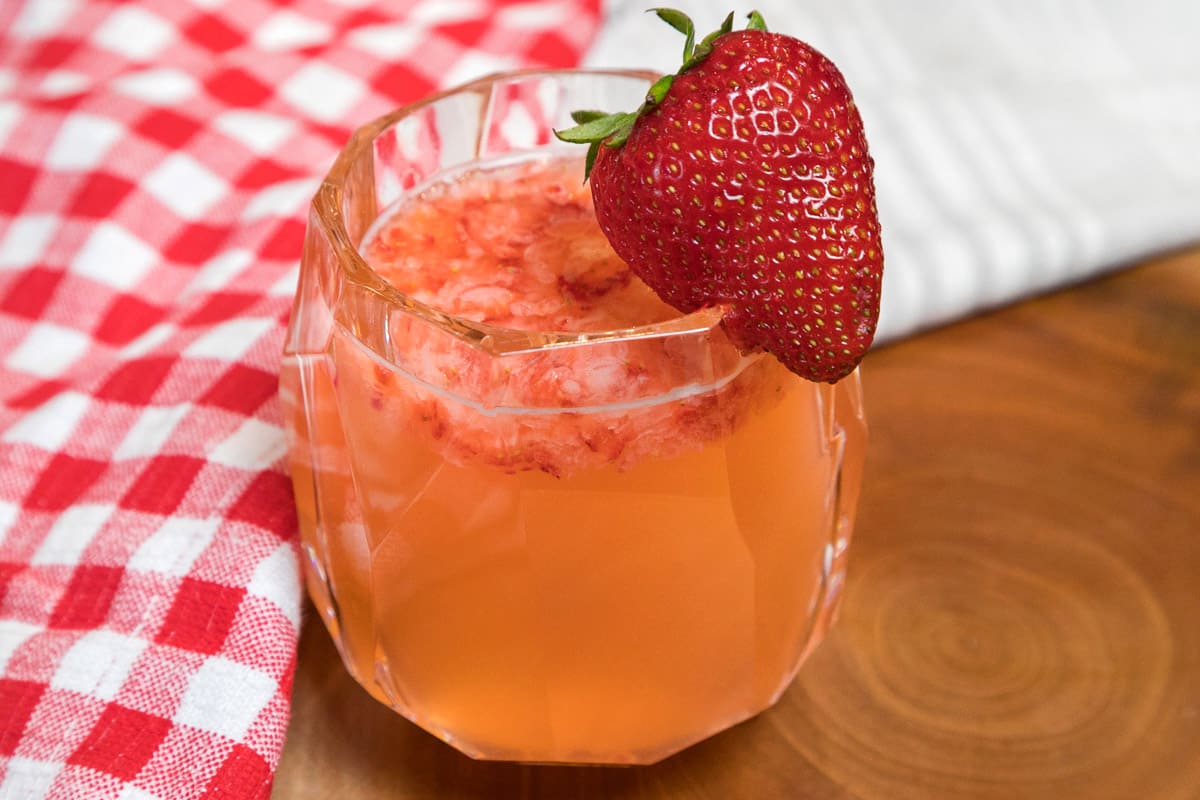 💭 Final Thoughts
This delicious strawberry lemonade uses fresh ingredients and will surely please the whole family. The blend of strawberry and lemon flavors is a perfect balance of sweet strawberry juice plus tart lemon juice in this summery drink.
On the next warm day, or for that matter any time of year, grab a bunch of lemons and make the best strawberry lemonade you can imagine. This classic lemonade recipe makes a fantastic drink for all your guests at a birthday party. And for adults, it can also make a refreshing summer cocktail by simply adding a bit of hard alcohol to it.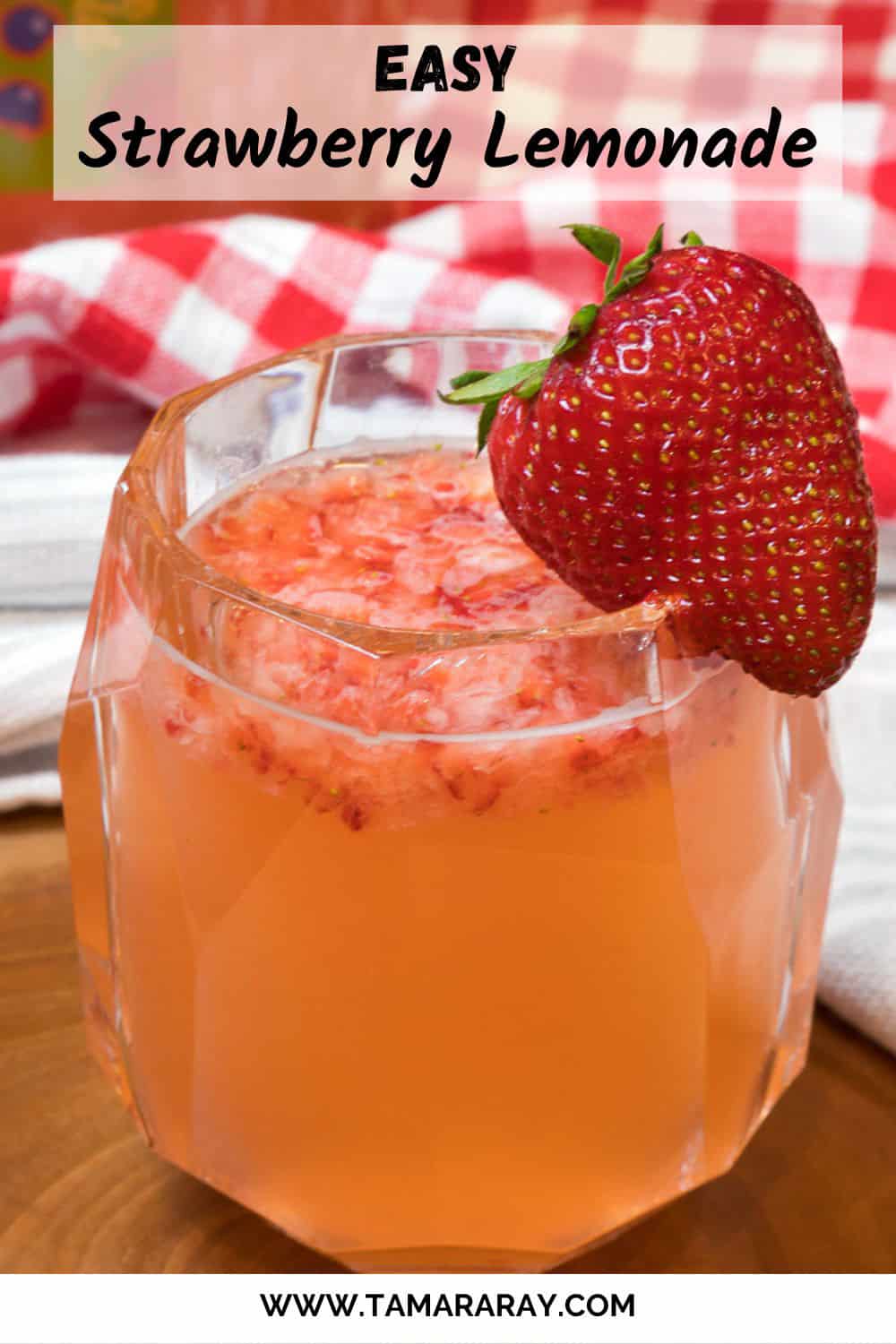 💖 More Drink Recipes You Will Love
My grandkids love this Oreo milkshake with cookies and cream. Made with double-stuffed Oreo cookies, vanilla bean ice cream, milk, vanilla extract, and a squirt of whipped topping on top.
This is an easy banana chocolate milkshake your kids can help you make. It has simple ingredients such as milk, vanilla bean ice cream, frozen bananas, cocoa powder, and warm water. Topped with sprinkles and whipped cream.
This hot chocolate made with unsweetened cocoa powder, sweetened condensed milk, vanilla extract, salt, and hot water is so easy to make and so good. Topped with mini marshmallows and whipped cream.
🗂️ Recipe Card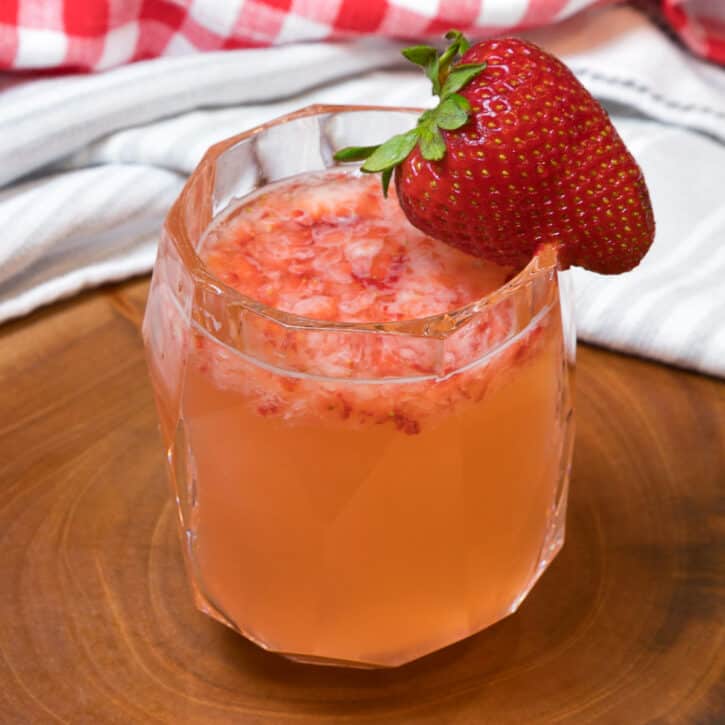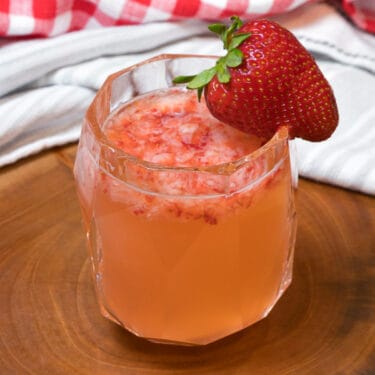 Strawberry Lemonade Recipe
Strawberry lemonade is a delightful drink with a perfect balance of sweet strawberries and the tartness of lemons. This is a refreshing thirst quencher that is a popular choice to beat the heat on scorching summer days.
🧂 Ingredients
5

fresh lemons

2

cups

granulated sugar

2

cups

fresh strawberries

(sliced)

12

cups

very cold water
👩‍🍳 Instructions
Wash the strawberries under cold running water. Remove the stems. Cut them in halves or fourths. Set aside.

Squeeze the juice out of the lemons.

Combine the cut-up strawberries and the lemon juice.

Put the strawberry and lemon mixture into a blender and mix for about 15 seconds until the strawberries are small pieces.

Add the sugar to the strawberry mixture in the blender.

Stir until the sugar is dissolved.

Add the cold water to a large pitcher.

Pour the strawberry mixture into the pitcher with the cold water. Mix thoroughly.

Chill for a couple of hours or to your liking.
*️⃣ Recipe Notes
If you don't have any lemons, you can use store-bought lemon juice.
You can mix the strawberries into a puree instead of chunks if you prefer.
A wife, a mother to a son and a daughter, and a grandmother to three granddaughters. Flo loves sharing recipes passed down from her own mother, her mother-in-law, and her grandmother as well as new recipes created with her daughter, Tamara Ray.
More by Flo ➜