(Last Updated On: November 18, 2022)
There are only six ingredients in this classic Orange Julius recipe, and it only takes a couple of minutes, at most, to make it. Before you know it, you'll be drinking a delicious orange creamy drink smoothie. It tastes especially refreshing on a hot summer day!
All there is to do is throw in some ice cubes in the blender, then add frozen orange juice concentrate, milk, vanilla extract, sugar, and cold water. Then blend it all up. What a treat it is! Also, orange juice is high in Vitamin C too so there is a fun fact!
🍹 What's an Orange Julius Taste Like?
As for me, I think this Orange Julius recipe tastes in comparison to an orange creamsicle or similar to orange Sherbert ice cream. Creamy like a smoothie with lots of orangey taste, and with crushed-up ice in the mix, it's super cold and oh so delicious!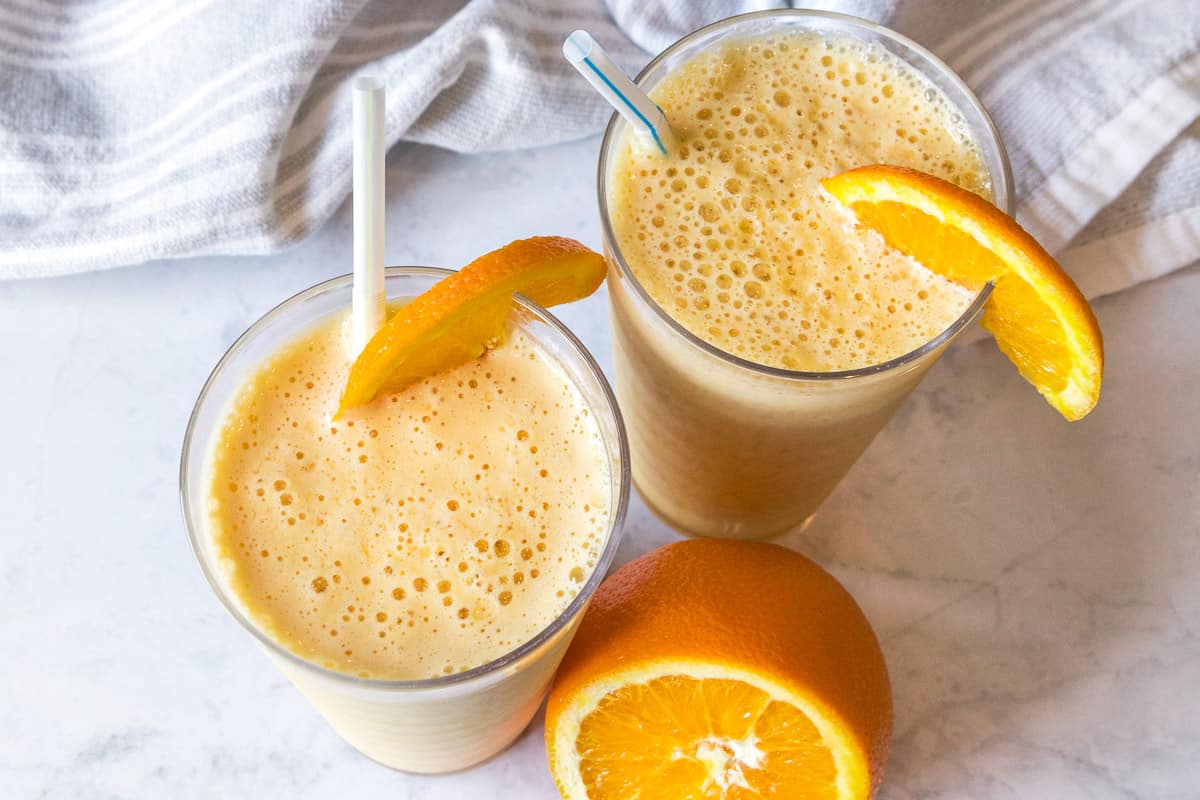 Note: This recipe isn't the original recipe from the original Orange Julius store, but it is rather a copycat Orange Julius recipe that tastes really similar and it's just as good for a sweet treat.
🍊 Key Ingredients for this Orange Julius Recipe
This copycat Orange Julius recipe is made with very simple ingredients usually already found in your kitchen and requires very little prep time.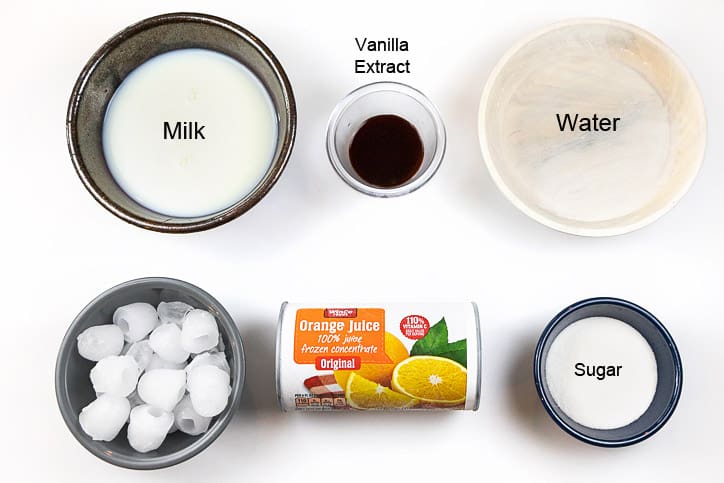 🥄How to Make this Orange Julius Recipe (Step-By-Step Instructions with Detailed Photos)
Step 1. Add Ice Cubes
Get your blender out and put 2 cups of ice cubes in it. Most refrigerators have a function to make ice cubes, but if yours does not you will need to make ice the old-fashioned way with an ice cube tray. Don't hit the blend button just yet because we still have some more yummy ingredients to add to it.
Step 2. Add in the Frozen Orange Concentrate
Add one 12 oz. can of frozen concentrated orange juice together with the ice cubes that are already in the blender. This will give the Orange Julius the orange flavor. And again, don't hit the blend button yet, there are still more yummies to add.
Step 3. Add in the Milk, Cold Water, Sugar, and Vanilla Extract
Put 2 cups of milk, 2 cups of cold water (very cold water is best), 1/2 cup of sugar, and 2 teaspoons of vanilla extract all together with the frozen orange juice and ice cubes.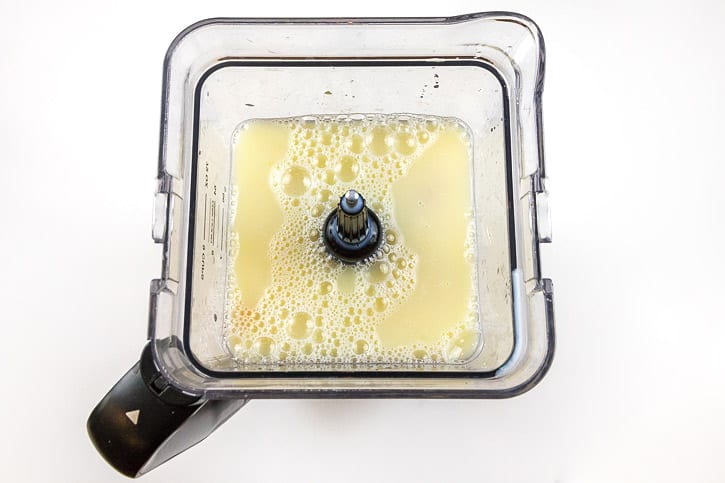 Step 4. Blend All Together
Now you can hit the blend button. Blend the frozen orange juice mixture for about 30 seconds to 1 minute or until the ice cubes are crushed. That's it! Your refreshing treat is now ready to be served!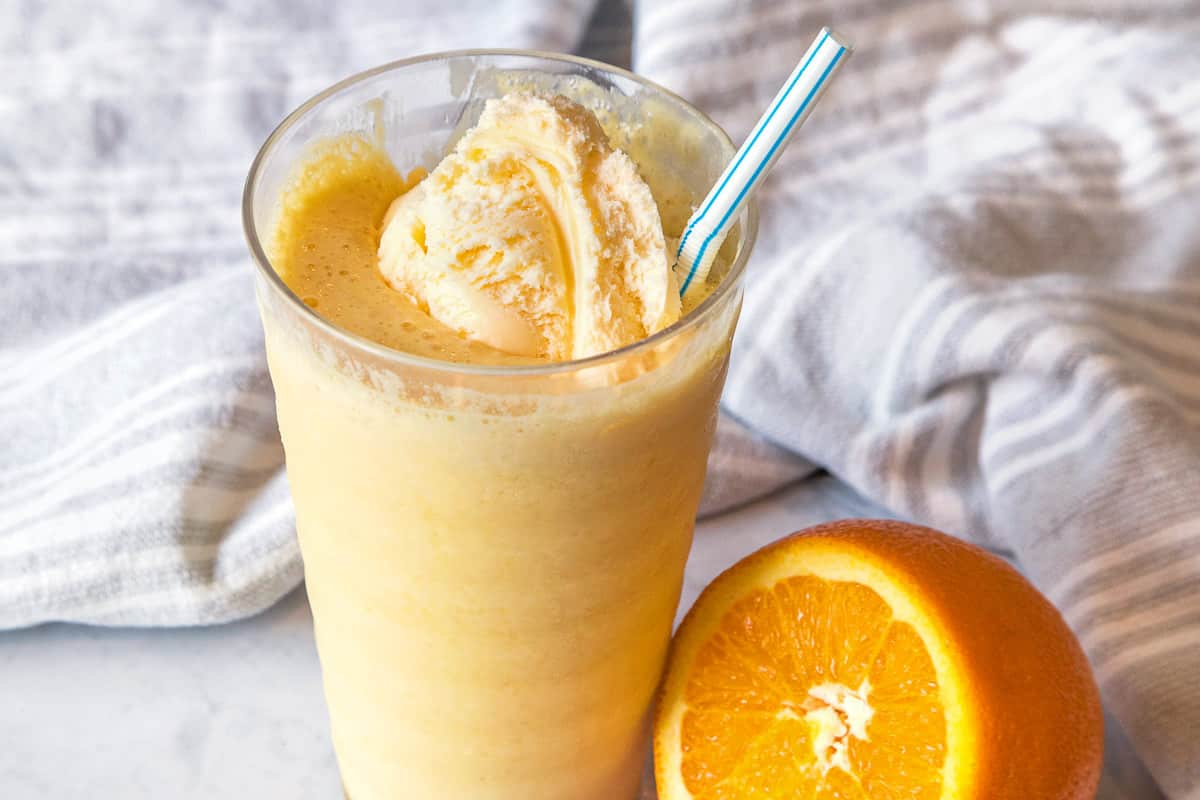 🔒 Secret Ingredient
This popular drink has a secret ingredient in the original Orange Julius recipe. Long, long ago during my teenage years, I used to work at the Orange Julius store in the local mall, so I know a thing or two about the secret ingredient. Well, actually I don't! They wouldn't tell us what was in the secret powder. All I know is we were told to add one scoop of the secret white powder to the drink which was about the size of a tablespoon. From researching the internet I've found the most common answer to what the secret ingredient actually is: egg white powder. I'm not sure if this is the right answer or not, so please don't quote me on it.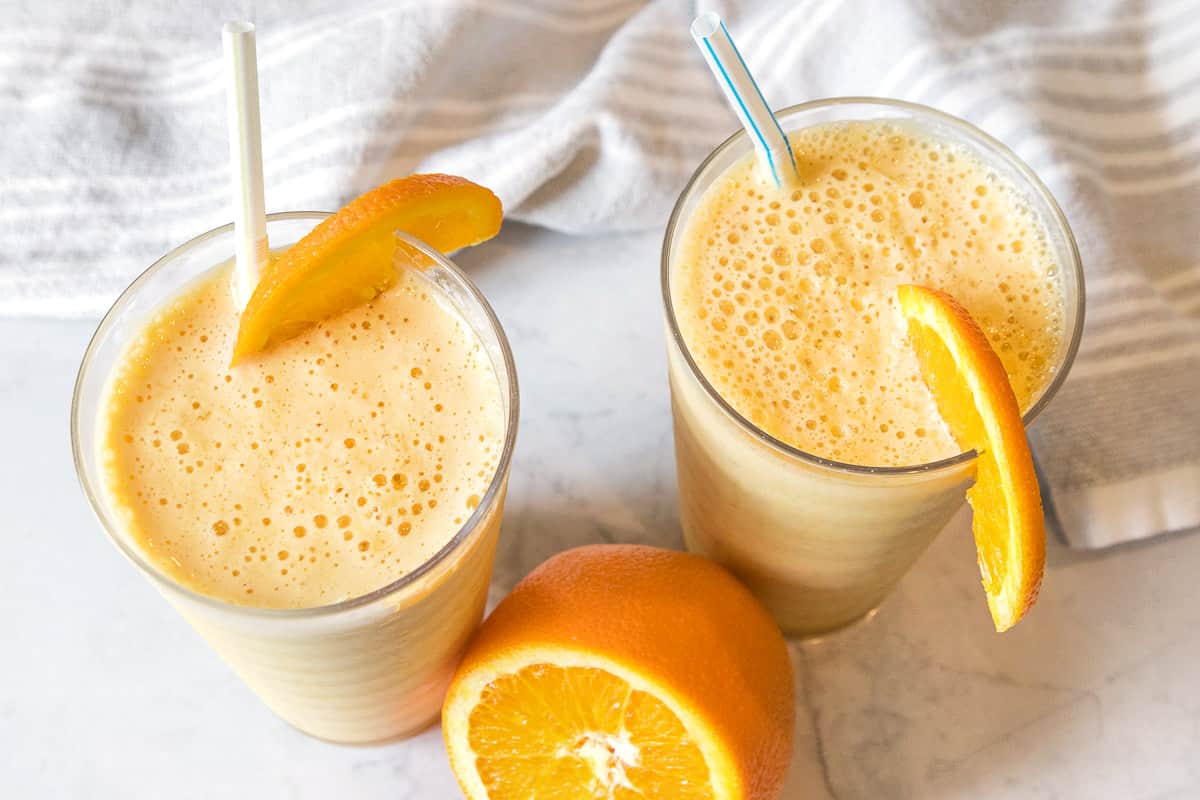 🥣 Recipe Variations
This Orange Julius smoothie can be easily customized to your personal preferences. If you want to mix up the drink recipe, try adding a frozen banana to the blender. This will make the fruit smoothie have a little more of a creamy texture. You could also try using coconut milk or almond milk instead if you have a dairy allergy. I've seen other recipes use powdered sugar instead of granulated sugar, so that is an option to try too. We have not tried any of these variations (yet) so please let us know in the comments any of your favorite variations.
❓ FAQs for Orange Julius Recipe
Do They Still Have Orange Julius?
Malls and some free-standing stores still offer Original Orange Julius drinks. Use this location finder to find a store near you. Currently, Dairy Queen owns the Orange Julius chain and has owned it since 1987. Usually, in malls, you can find a combo Orange Julius / Dairy Queen store in food courts.
💭 Final Thoughts for this Homemade Orange Julius Recipe
You can make an easy homemade Orange Julius drink practically any time you want to with all of the ingredients already in your kitchen. However, the only exception is if you don't have any frozen orange juice concentrate. So, to avoid that dilemma, always keep some frozen concentrate orange juice in your freezer, and then you are good to go! This easy orange Julius recipe is so good on a hot day and your whole family is going to love you if you make this for them!
For an extra treat, top off your already delicious Orange Julius with a scoop of vanilla ice cream. I love Orange Julius with a scoop of vanilla ice cream on top!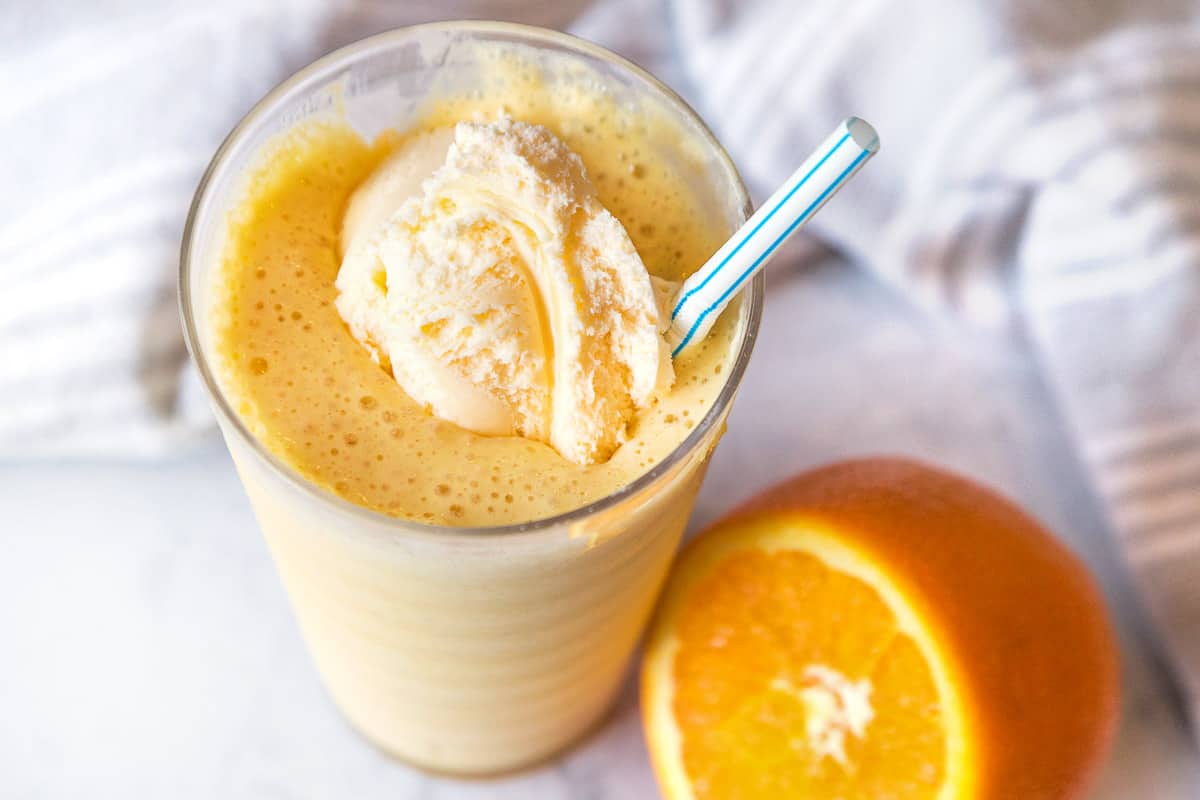 💖 Other Drink Recipes You Will Love
Jamba Juice Citrus Squeeze Smoothie – delicious healthy smoothie that tastes similar to Jamba Juice's Citrus Squeeze.
Hot Chocolate with Cocoa Powder – A sweet and creamy hot chocolate recipe with cocoa powder, sweetened condensed milk, and vanilla extract
Oreo Milkshake – This Oreo milkshake recipe is made with vanilla bean ice cream and lots of crushed-up double-stuffed Oreo cookies! It is creamy, quick, and easy to make, and tastes amazing!
📄 Recipe Card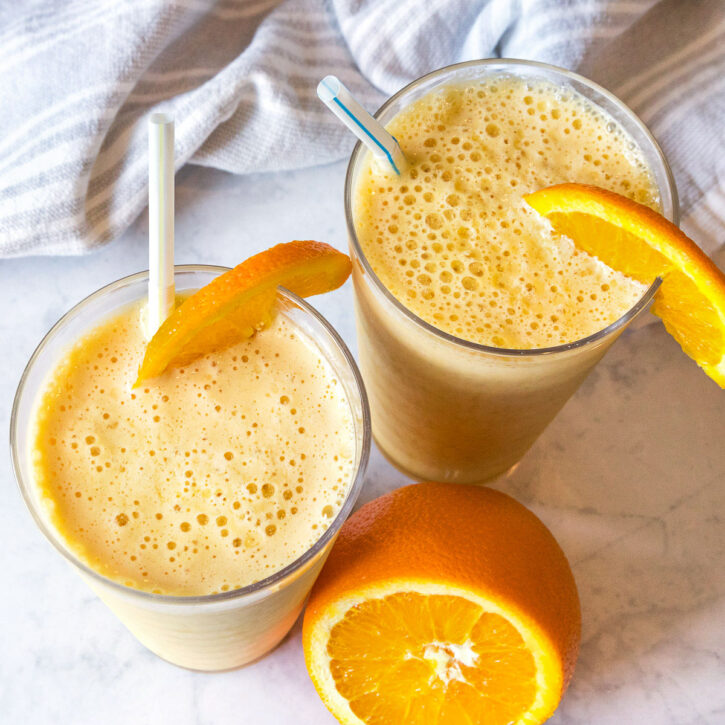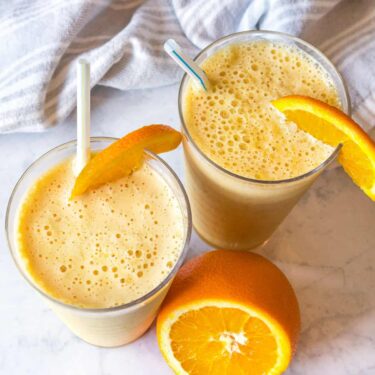 Orange Julius Recipe (Copycat)
This Orange Julius recipe is an easy copycat drink to make at home. It is a healthy and refreshing drink that's so simple to make using ingredients already found in your kitchen!
👩‍🍳 Instructions
Put ice cubes in the blender.

Put the frozen orange juice in the blender.

Add the milk, water, sugar, and vanilla extract to the blender.

Push the blend button and blend for 30 seconds to 1 minute or until ice cubes are crushed.
*️⃣ Recipe Notes
Add a scoop of vanilla ice cream to the top of your Orange Julius.
To make a strawberry Julius, use the same ingredients, but change out the frozen orange juice concentrate for strawberry breeze frozen juice.
A wife, a mother to a son and a daughter, and a grandmother to three granddaughters. Flo loves sharing recipes passed down from her own mother, her mother-in-law, and her grandmother as well as new recipes created with her daughter, Tamara Ray.
More by Flo ➜