(Last Updated On: April 19, 2023)
A soft and chewy snickerdoodle bars recipe you must make for your family and friends! And with the cinnamon and sugar that is sprinkled on top, these bars are oh-so fantastic! You will not be able to eat just one! They are that good! What's also good is our pumpkin snickerdoodle cookie recipe, regular sugar cookies, and ranger cookies. And our favorite cookie is s'mores cookies with chocolate chips. Yum!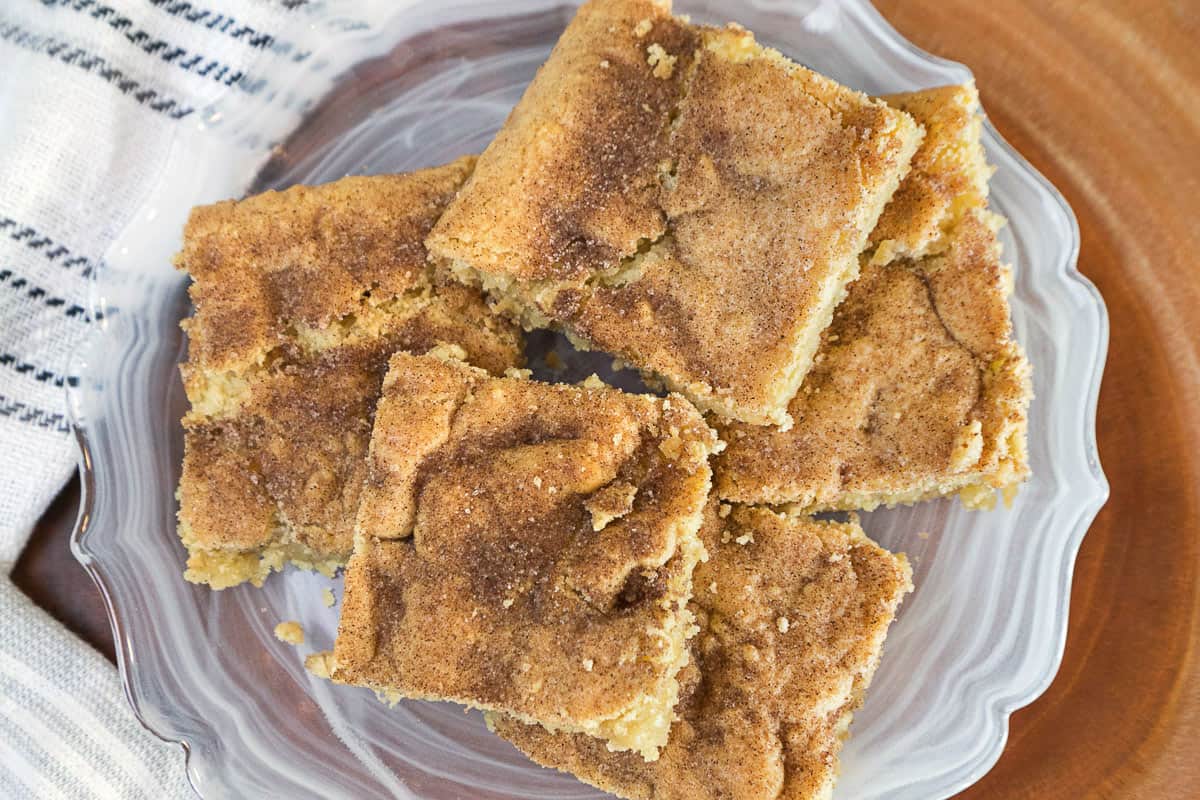 🍴 Key Ingredients
Cinnamon Sugar Topping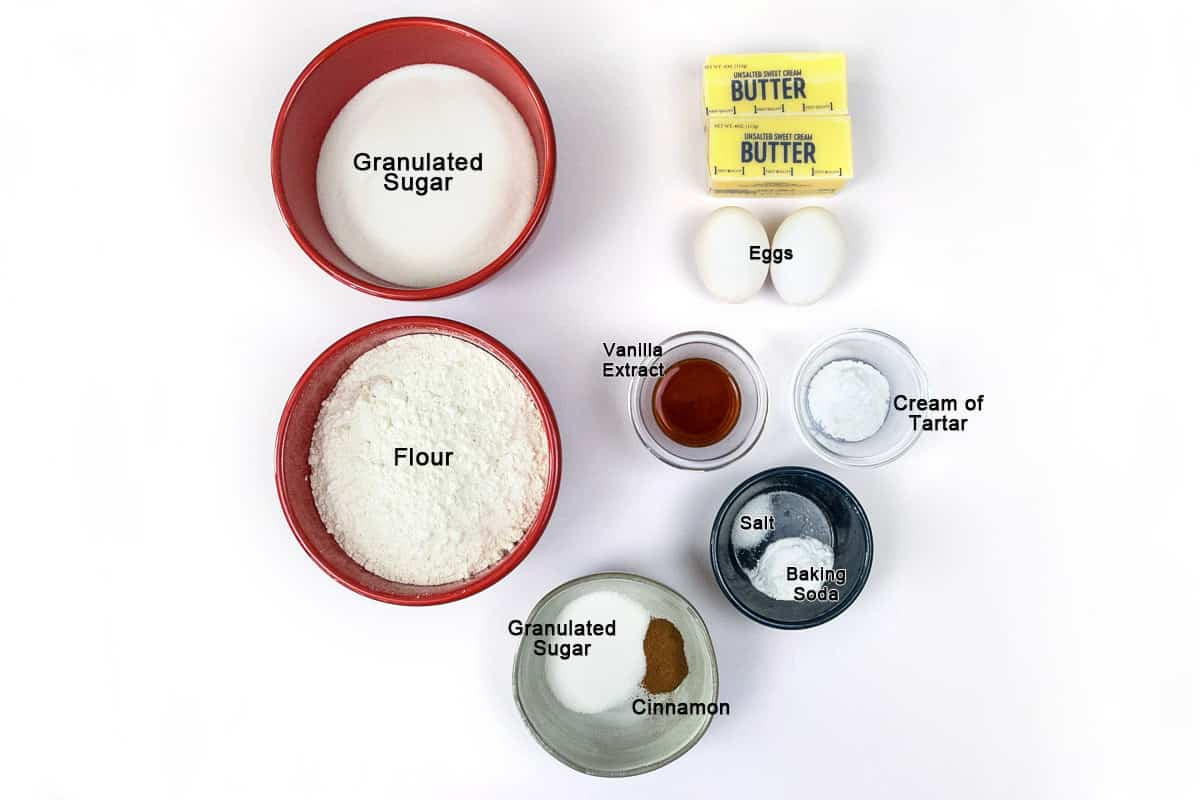 👩‍🍳 How to Make Snickerdoodle Bars (Step-by-Step Instructions with Detailed Photos)
Step 1. Preheat Oven
Heat oven to 350 degrees Fahrenheit.
Step 2. Soften the Butter
Take 1 cup of unsalted butter (that's two sticks) out of the refrigerator and let it set a room temperature until it is soft. That should take about 15 minutes or so. If you don't have time to do that, you can put the butter into a small microwave-safe bowl, then melt the butter for 30 seconds in the microwave just until soft. After that, set it aside for now.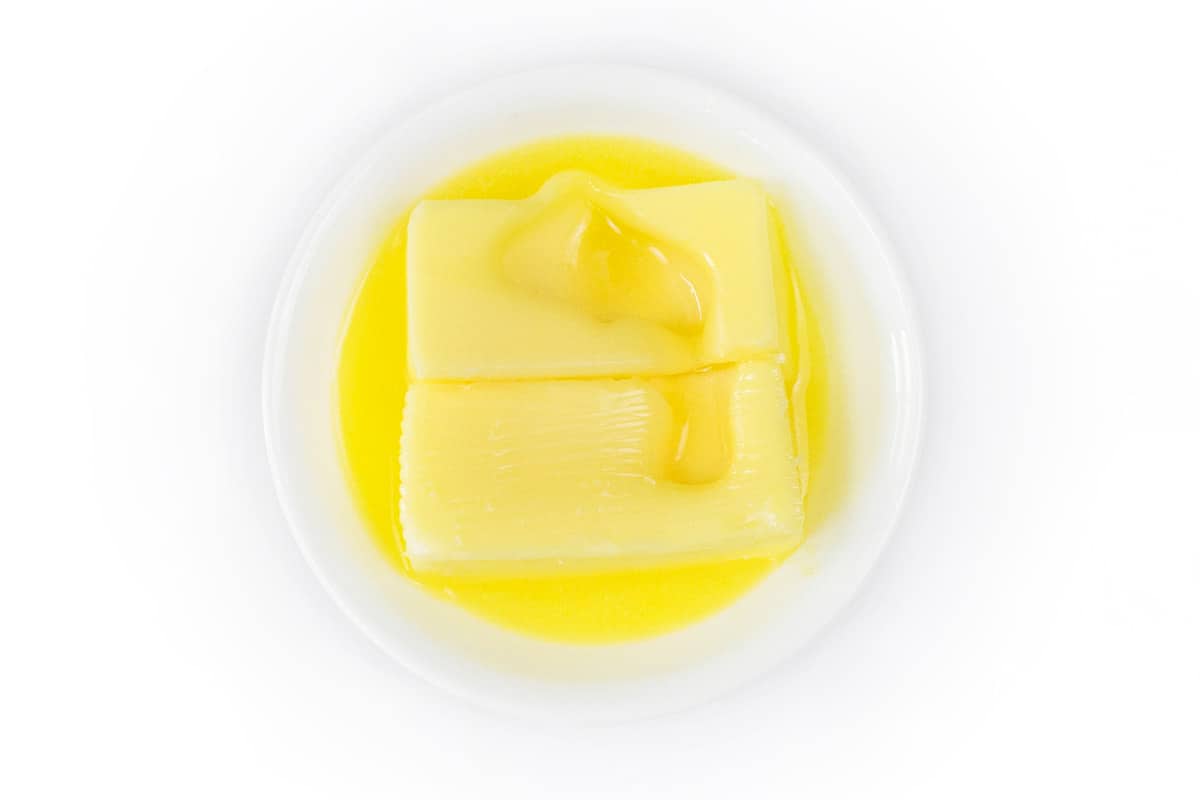 Step 3. Add the Sugar and Butter to a Bowl
In a medium bowl or large bowl, add 1 and 1/2 cups of granulated sugar together with the melted butter.
Tip: You can use a bowl of an electric mixer or bowl of a stand mixer, then use the mixer to blend the ingredients. Start out on low speed and gradually work up to medium speed. The ingredients should be combined after that, usually only taking a minute or two when using a hand mixer.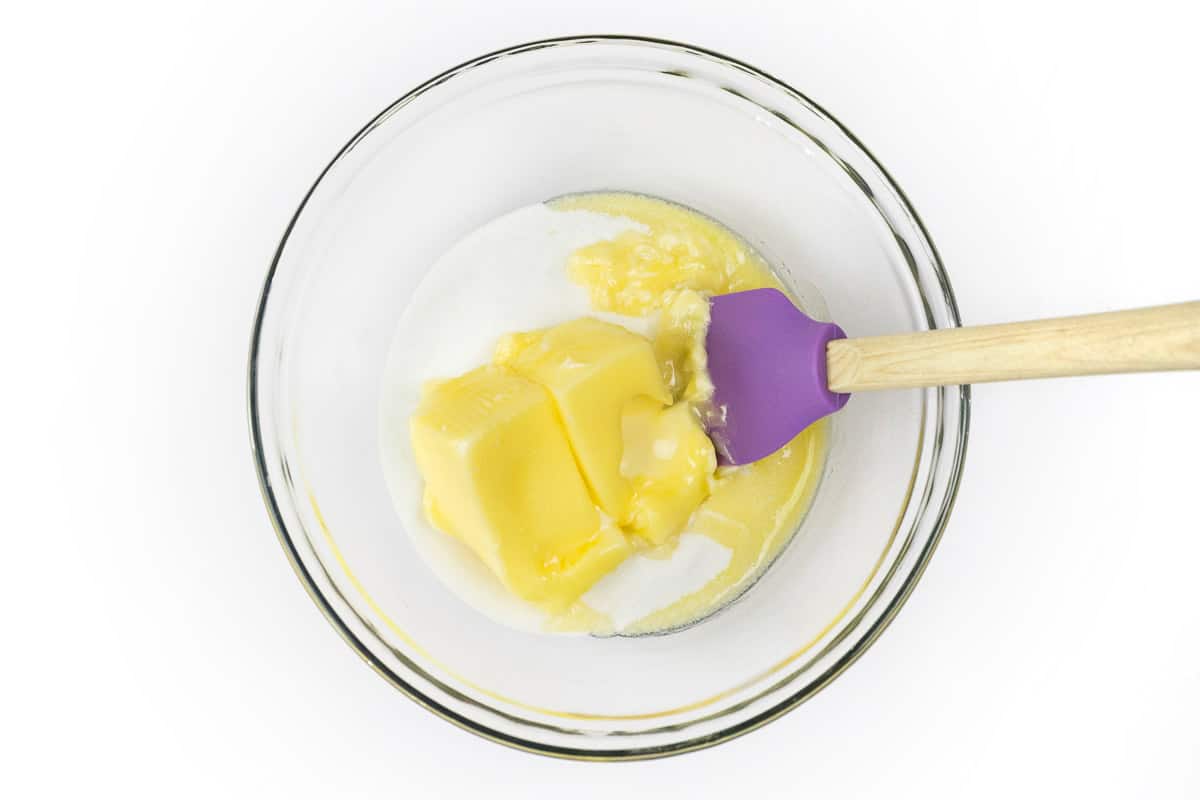 Step 4. Mix the Sugar and Butter
With a spoon, wooden spoon, or rubber spatula, stir the sugar and butter together thoroughly until it is nice and creamy. You can use the electric mixer if you prefer to do so.
Step 5. Add the Eggs and Vanilla Extract
In the same bowl with the sugar and butter ingredients, add 2 large eggs and 2 teaspoons of vanilla extract. Mix it thoroughly until combined.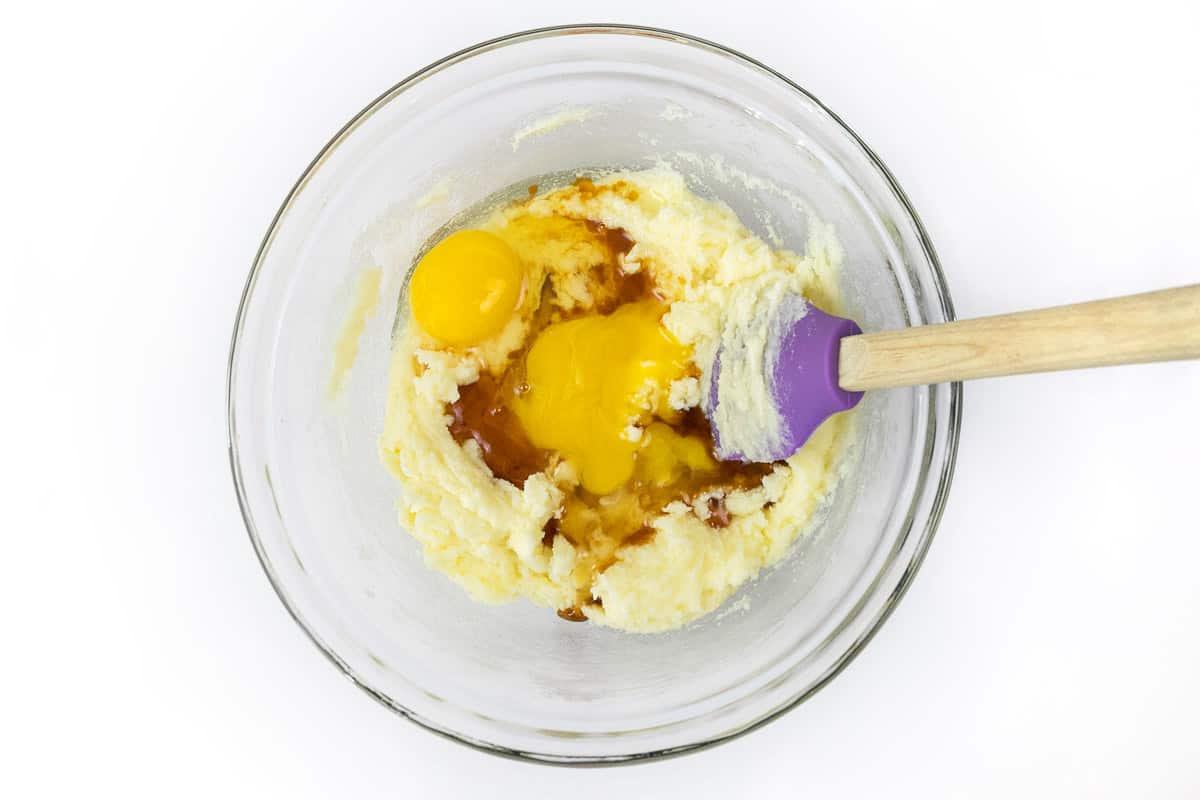 Step 6. Prepare the Flour Mixture
In a small bowl combine flour (2 and 3/4 cups of all-purpose flour) together with 1 and 1/2 teaspoons of cream of tartar, 1 teaspoon of baking soda, and 1/4 teaspoon of table salt. Stir until well blended.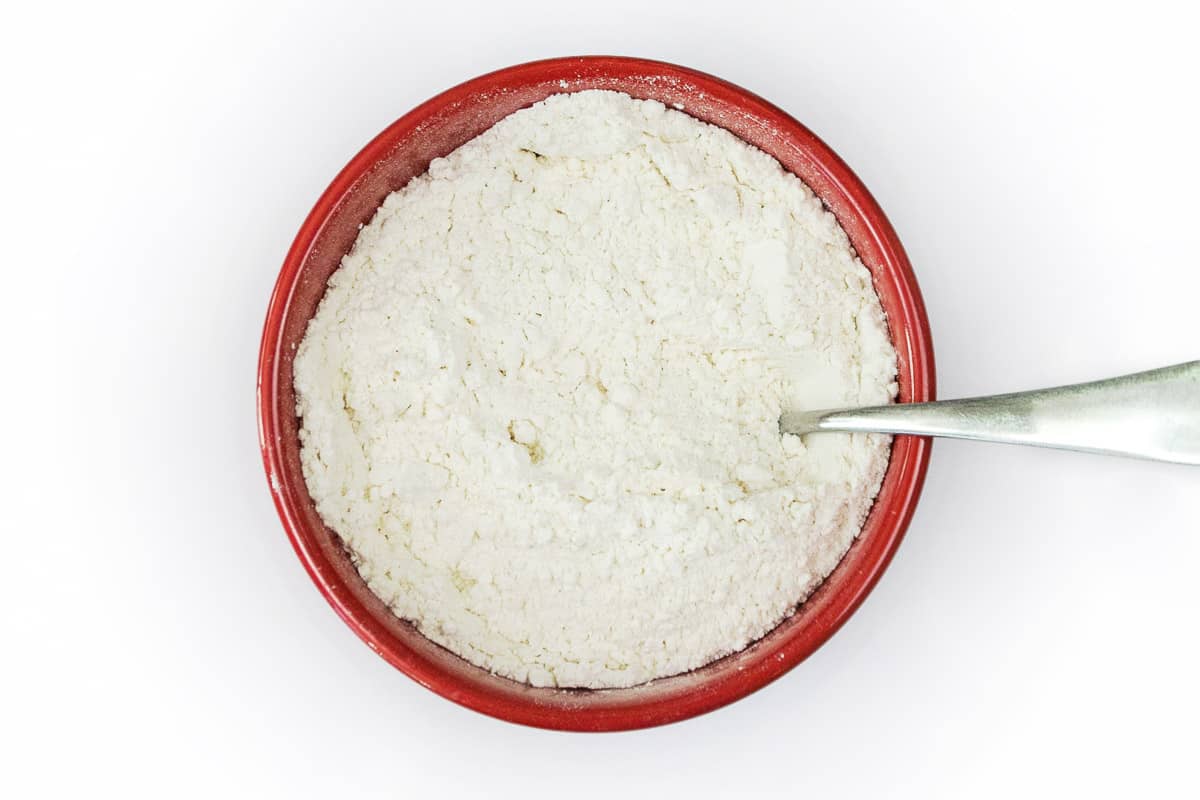 Step 7. Add the Dry Ingredients to the Wet Ingredients
Slowly add the dry ingredients (flour mixture) to the wet ingredients (butter and sugar mixture) while stirring.
Tip: Do not add too much flour all at once to the wet ingredients. It is harder to stir the lumps and clumps that will form. A little flour at a time is much easier to mix.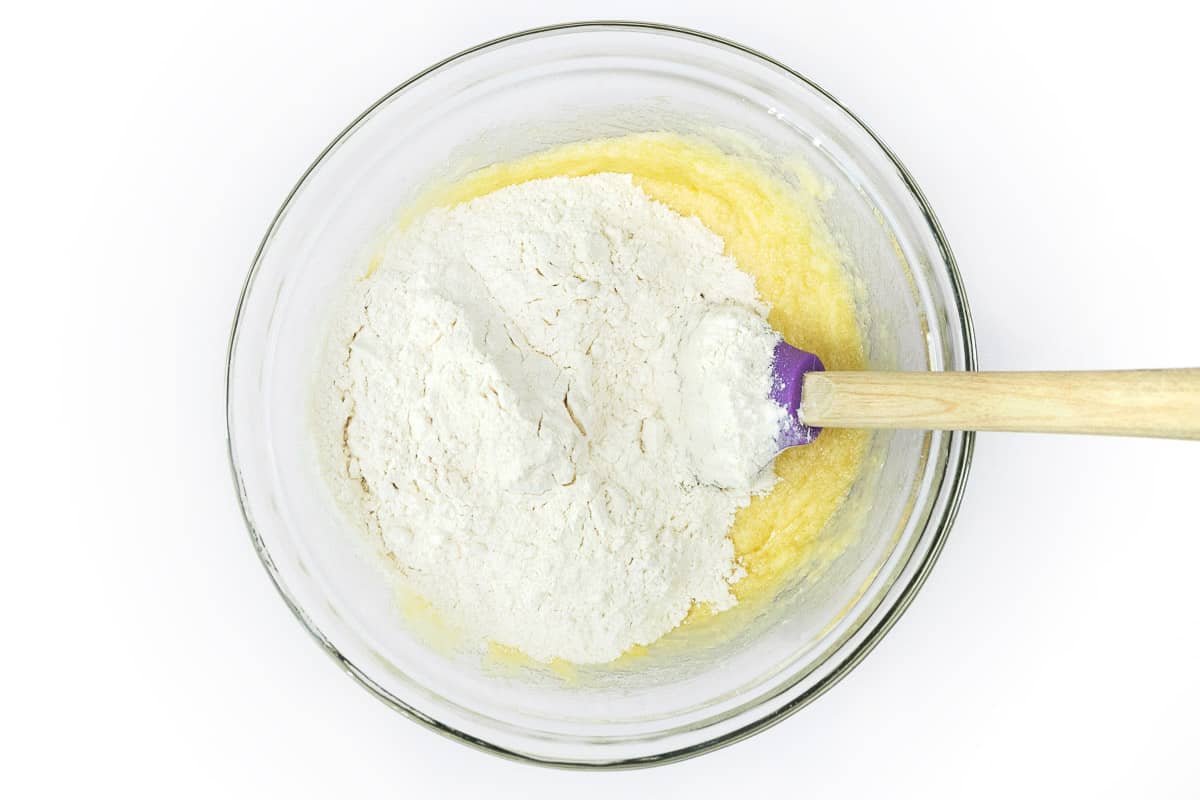 Step 8. Mix Dough Until Well Blended
Continue to stir, including the sides of the bowl, until all of the dry ingredients and wet ingredients are blended into a snickerdoodle cookie dough.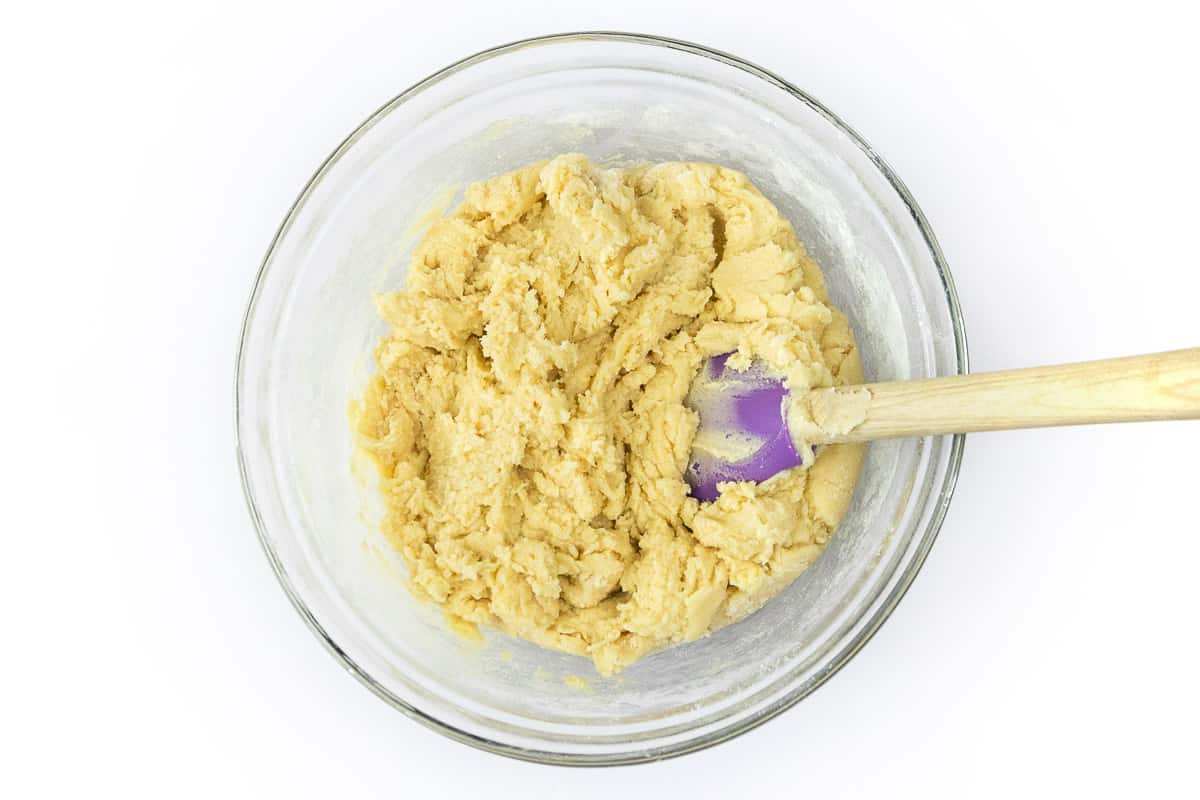 Step 9. Prepare the Baking Pan
Spray a 9×13-inch baking pan with cooking spray. You can use any type of nonstick spray. Examples are olive oil spray, vegetable oil spray, or canola. You can place a sheet of parchment paper in the baking dish if you prefer to do so. No cooking spray would be needed then. Also, if you don't have a 9×13-inch baking dish, you can use a couple of smaller pans.
Note: This recipe doesn't require chill time, but if you are super busy and need to take a break, you can chill the dough at this time in the refrigerator for about an hour or so. If you do chill the dough, make sure to cover it tightly with plastic wrap so it won't dry out.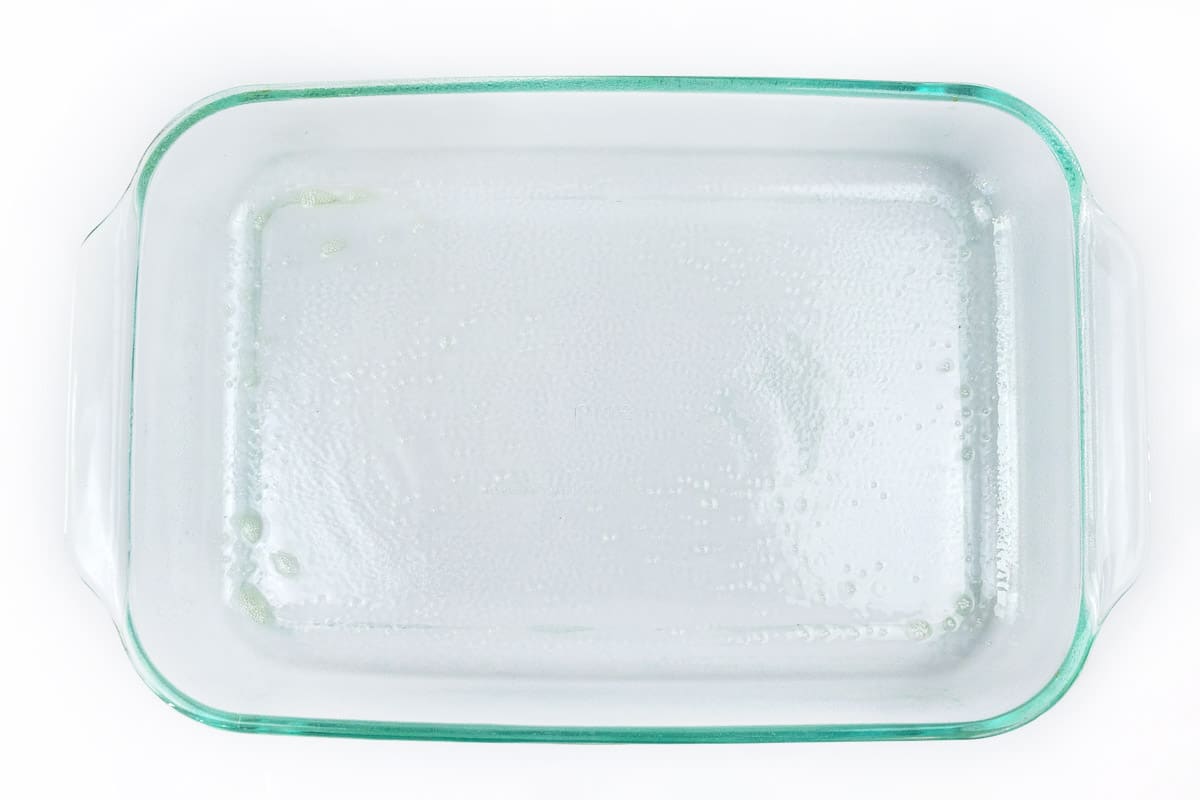 Step 10. Put the Cookie Dough in the Baking Pan
Spread the snickerdoodle cookie dough in an even layer in the prepared pan. Spread it around as best as you can, but it doesn't have to be perfect.
Tip: Having a few higher spots and lower spots like crevices in the dough makes the snickerdoodle bars have a nice cracked surface effect after they are done baking. The best way to do that is to use your hands and press the dough down in the pan.
Step 11. Make the Cinnamon-Sugar Mixture
In a different bowl, add 1 and 1/2 tablespoons of granulated sugar together with 1 teaspoon of ground cinnamon. Mix until the cinnamon sugar mixture is blended thoroughly.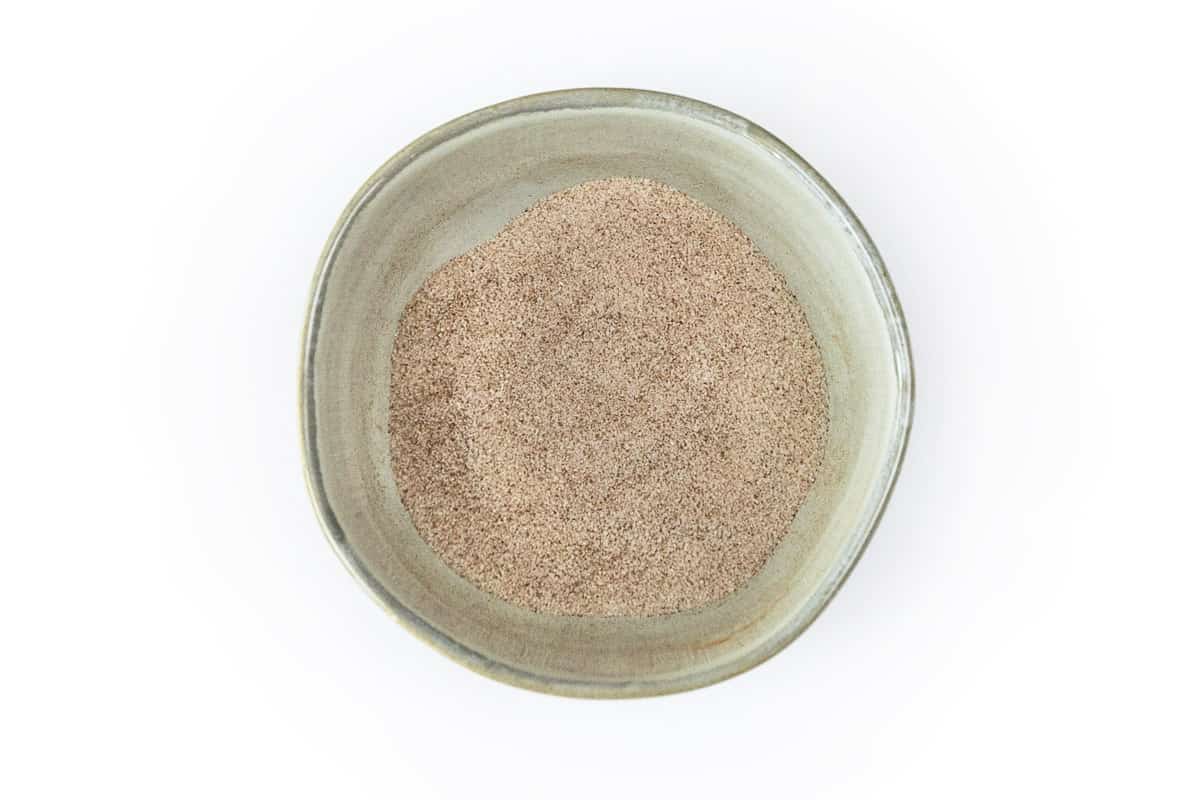 Step 12. Make a Cinnamon Sugar Layer
Take the bowl of cinnamon and sugar mixture and sprinkle it evenly over the top of the unbaked cookie dough. Remember, we haven't baked the cookie dough yet.
Step 13. Bake at 350 Degrees Fahrenheit
The next step then is to bake the snickerdoodle bars. Put the baking pan into the preheated oven at 350 degrees Fahrenheit for 22 to 26 minutes. Do not overbake. We baked ours for 24 minutes, so just keep an eye on your snickerdoodle bars while they are baking in the oven. After baking, take the snickerdoodle bars out of the oven and set the pan on a wire rack until cooled.
After that, cut the snickerdoodles into squares. We cut ours to make 24 bars, but you can cut the bars into any size you prefer.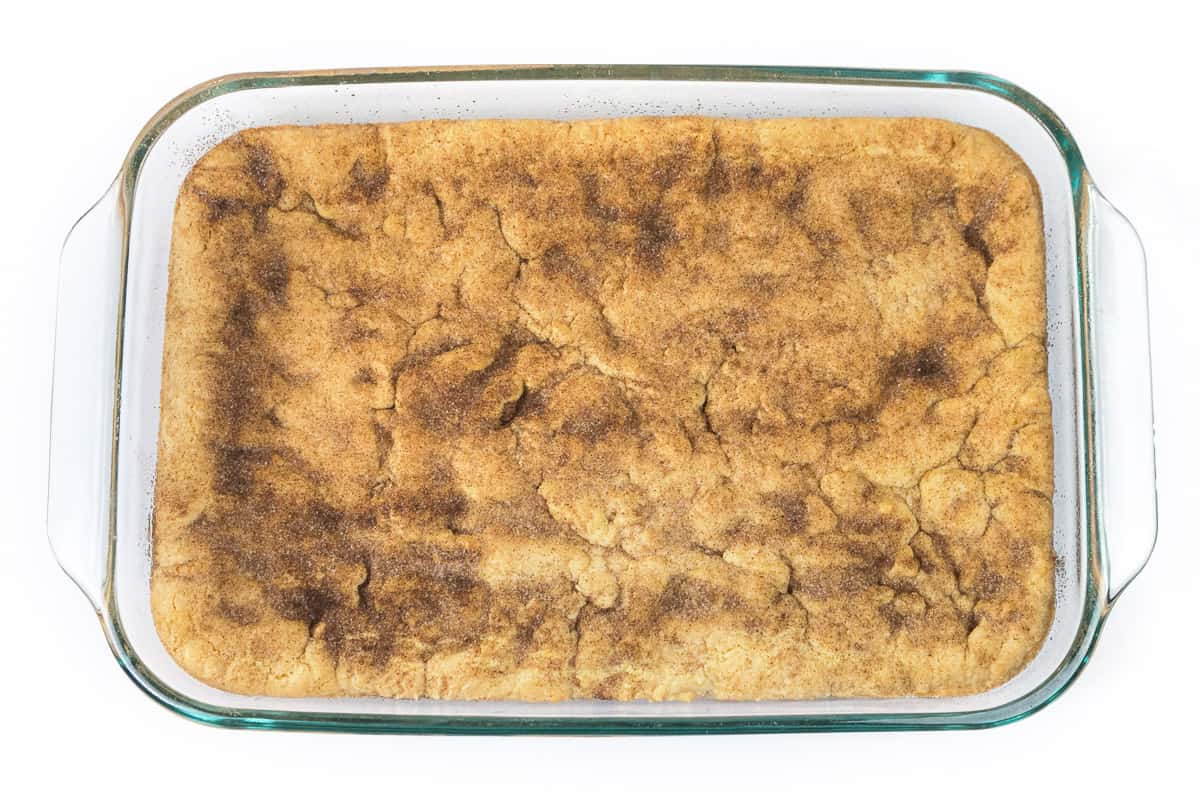 ⭐️ Recipe Variations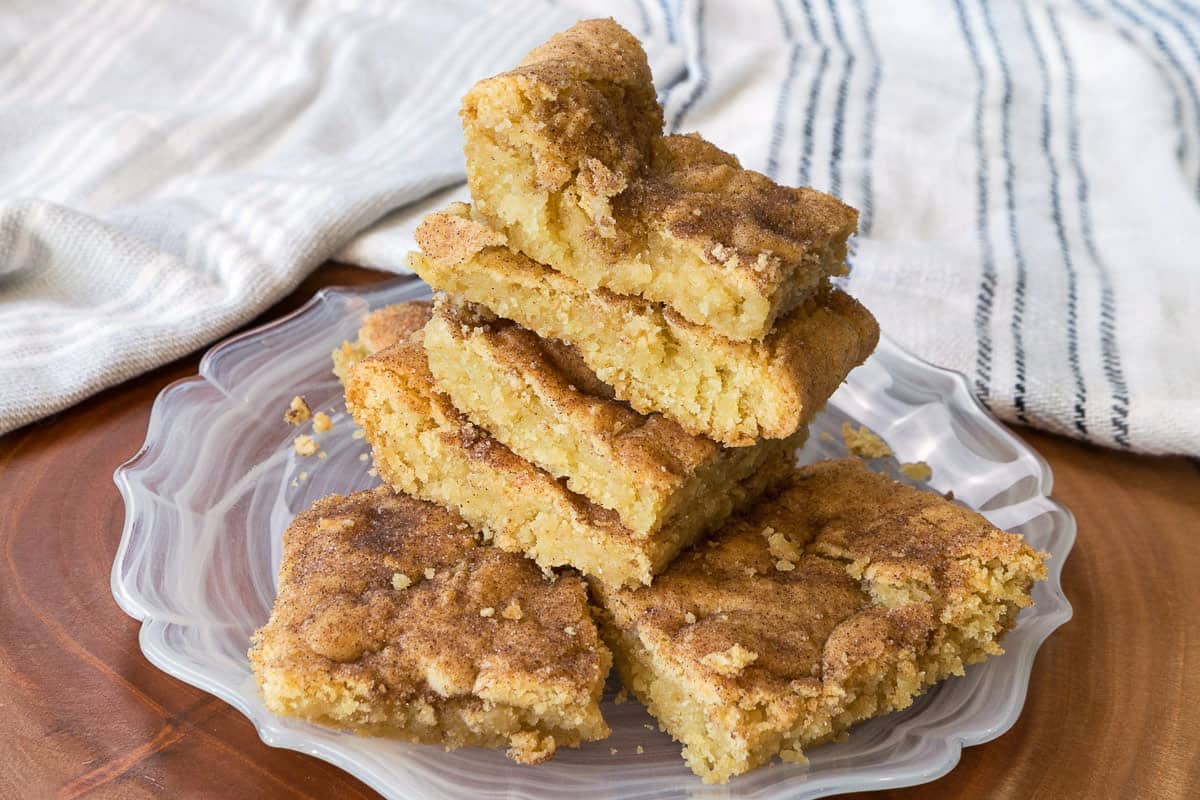 🙋 FAQs
How do I Store Snickerdoodle Bars?
You can cut the bars in the baking dish and leave them in there, or you can transfer them to a plate. Cover the baking dish or plate with plastic wrap or aluminum foil. If your baking dish has a lid, cover it with that. You can leave the bars covered on the countertop for a couple of days. After that, put them in the refrigerator for a couple more days or freeze them.
Can I Freeze Snickerdoodle Bars?
Yes, you can freeze snickerdoodle bars in the freezer. Use an airtight container that is safe for the freezer. These snickerdoodle bars should last about 3 or 4 months in the freezer. You can wrap two or three bars individually in freezer bags and only take out the amount you need when the craving hits.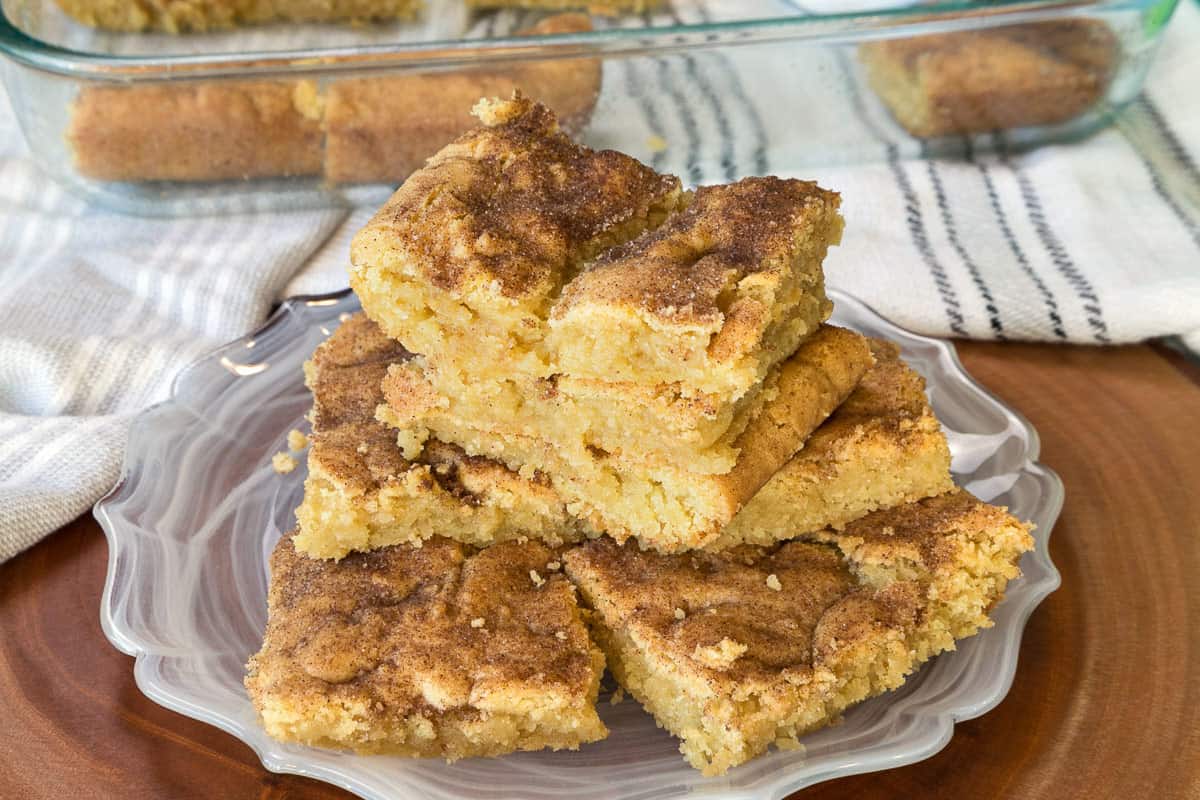 💡 Final Thoughts
With chewy centers and cinnamon and sugar on top, these snickerdoodle bars are a delight to eat! They are super easy to make in a matter of minutes. So, the next time you are wondering what to make for dessert or just a treat for the kiddos, this snickerdoodle bar recipe should be your #1 choice! When you see these snickerdoodle cookie bars disappear before your eyes, you will be amazed.
These easy snickerdoodle bars can be made for bake sales and potlucks, or special occasions such as birthday parties and bridal showers too. They are especially popular during the holiday season.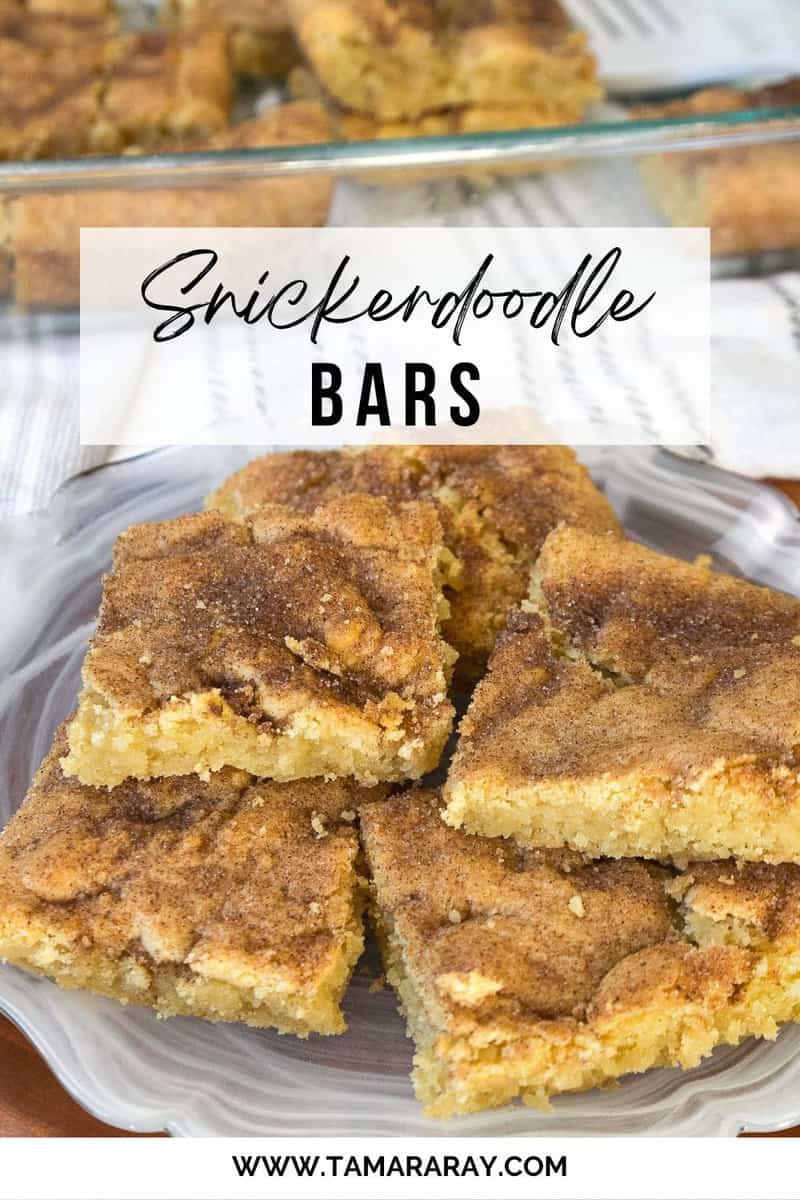 🥰 More Bars & Cookie Recipes You Will Love
📄 Recipe Card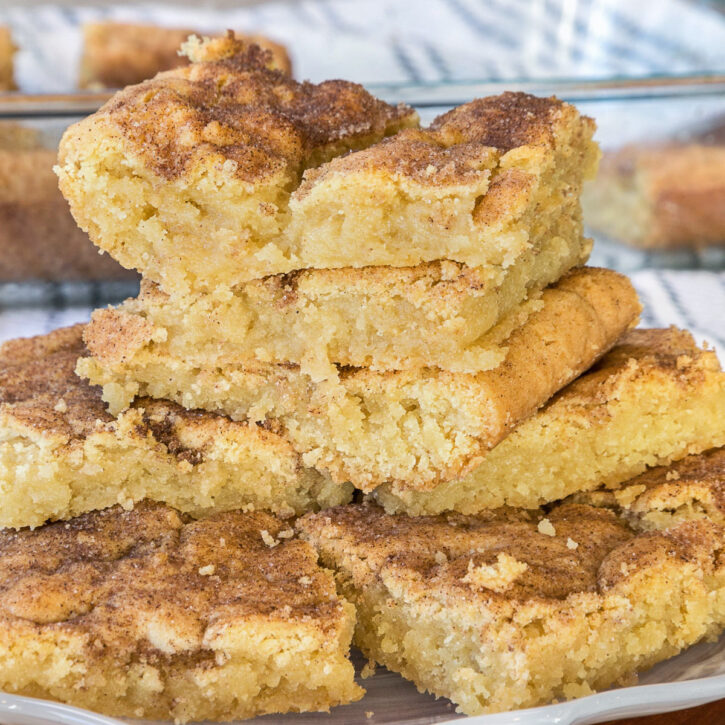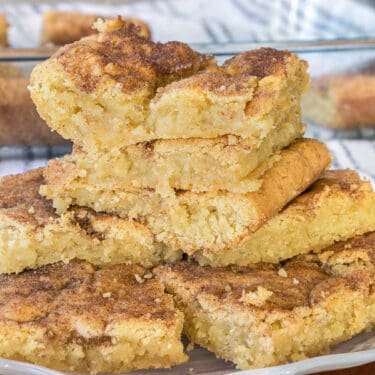 Snickerdoodle Bars
These easy-to-make snickerdoodle bars have a soft chewy center with a little bit of crunch on the outside. A cinnamon and sugar mixture is baked on top of the bar. Your family will gobble them up!
👩‍🍳 Instructions
Preheat the oven to 350 degrees Fahrenheit.

Soften the butter at room temperature or in the microwave for 30 seconds.

Add the softened butter to the sugar. Mix thoroughly.

Add the eggs and the vanilla extract. Mix thoroughly.

In a separate bowl, mix the flour, baking soda, cream of tartar, and salt.

Add the flour mixture a little at a time to the sugar, butter, eggs, and vanilla extract mixture. Mix thoroughly.

Grease a 9×13-inch baking pan.

Spread the cookie dough evenly in the baking pan.

Mix the sugar and cinnamon together.

Sprinkle the sugar-cinnamon mixture over the top of the cookie dough.

Bake at 350 degrees Fahrenheit for 22 to 26 minutes. Do not overbake.

Place on a wire rack to cool. Cut into squares.
*️⃣ Recipe Notes
We baked these snickerdoodle bars for 24 minutes.
After baking, try sprinkling some powdered sugar on top of the bars while they are still in the pan.
Or for something extra, drizzle some icing on top of the bars after baking.
Make cookie shapes instead and bake on a cookie sheet. The baking time would have to be adjusted.
A wife, a mother to a son and a daughter, and a grandmother to three granddaughters. Flo loves sharing recipes passed down from her own mother, her mother-in-law, and her grandmother as well as new recipes created with her daughter, Tamara Ray.
More by Flo ➜