(Last Updated On: August 30, 2023)
This easy ranger cookies recipe creates a delicious little cookie filled with basic ingredients plus Rice Krispies, old-fashioned oats, raisins, and brown sugar. I can't make up my mind whether it's the Rice Krispies, oats, or the raisins that make this ranger cookie so delightful to the taste buds!
Also, these cookies have plenty of texture and are so soft yet crispy and crunchy. These old-fashioned ranger cookies will definitely put a sensation in your mouth that is beyond heavenly! And so will these s'mores cookies, cream cheese sprinkle cookies, and chocolate chip M&M cookies.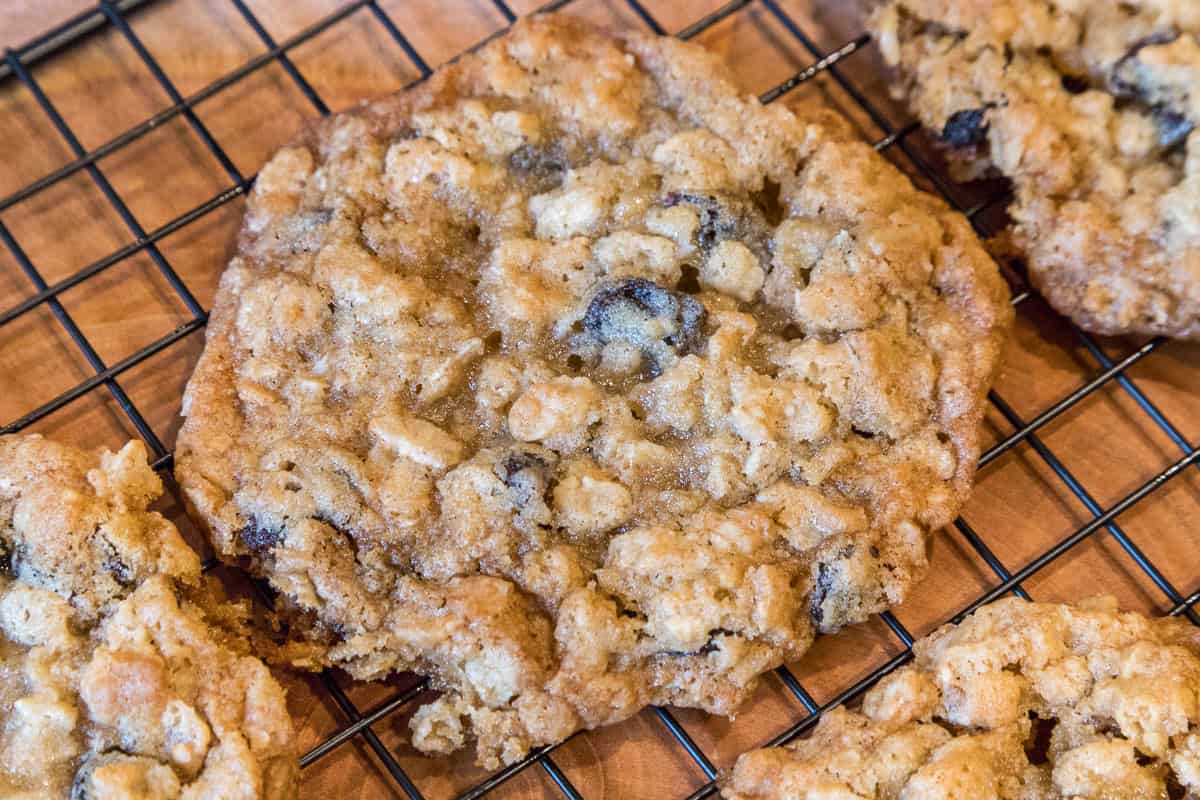 A quick little story… not only have I had this recipe from a friend for about 29 years now, my daughter and I finally decided to make them. We sure won't go that long before we make them again. They really are "out of this world" good!
🍪 Key Ingredients
Wet Ingredients
Dry Ingredients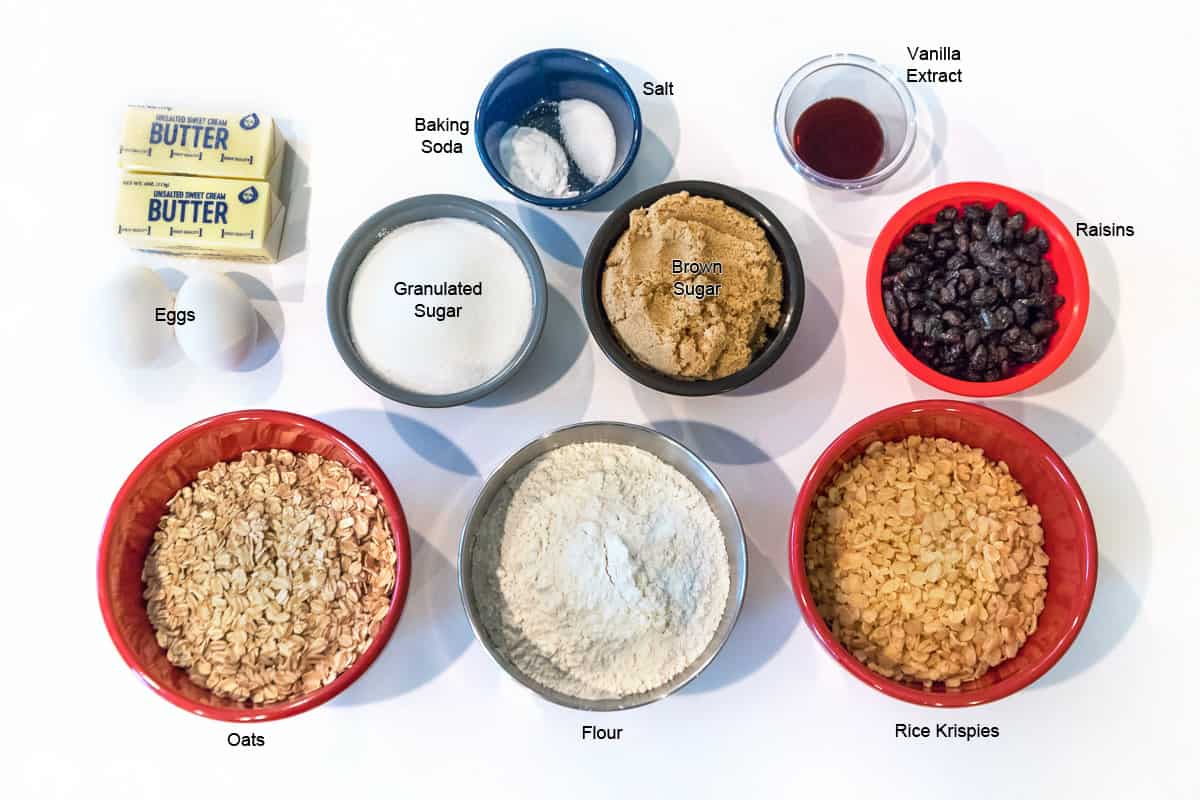 👩‍🍳 How to Make Ranger Cookies with Oats & Krispies (Step-by-Step Instructions with Detailed Photos)
Step 1. Preheat the Oven
Set the oven temperature to 340 degrees Fahrenheit.
Step 2. Soften the Butter
Take the butter out of the refrigerator and let it set on the countertop at room temperature for about 10 to 15 minutes so it can soften. Or you can put it in a microwave-safe bowl and microwave it for about 20 to 30 seconds. Keep an eye on the butter while it is in the microwave in case your microwave produces hotter heat than ours does.
Step 3. Prepare Wet Ingredients
In a large bowl add 1 cup sugar together with 1 cup brown sugar, 2 eggs, 1 cup of softened butter, and 1 teaspoon of vanilla extract. Mix thoroughly with a spoon or spatula. The photo below shows what the cookie dough looks like so far.
Note: You can use an electric hand mixer or stand mixer with a paddle attachment on medium speed if you prefer. But in the later steps below, that isn't advisable since we will be adding raisins, oats, and Rice Krispie cereal. We don't want to mush up those ingredients.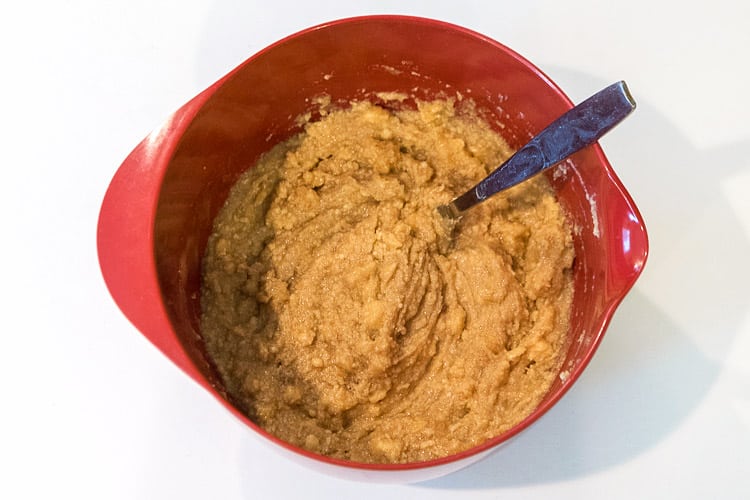 Step 4. Add the Dry Ingredients
In a small mixing bowl, use a measuring cup to measure 2 cups of all purpose flour. Then combine flour with 1 teaspoon of baking soda and 1/2 teaspoon of salt. Mix well. Gradually add the flour mixture to the cookie dough. Mix together.
Note: It's going to get a little harder to stir the cookie dough as we keep adding ingredients, but that's normal.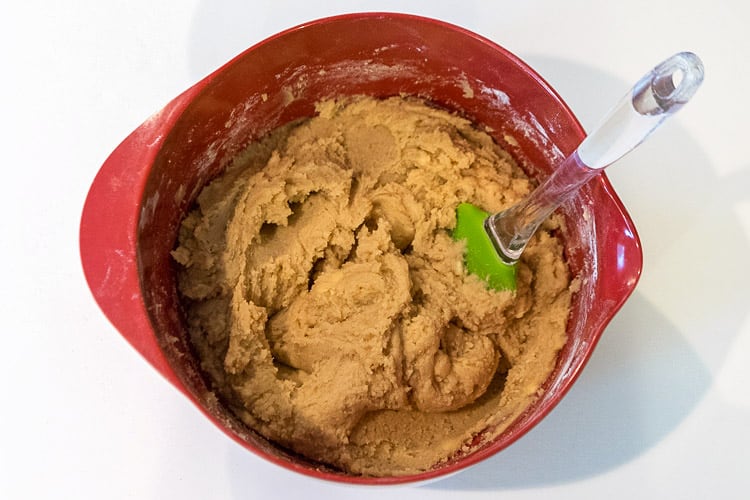 Step 5. Add the Oats
The next step is to add 2 cups of old-fashioned oats. Keep stirring until the old-fashioned oats are blended in with the other ingredients. That was certainly a workout on the arms, right?
Note: You can use whatever brand of rolled oats (we call it oatmeal) you prefer, such as instant or quick oats, oatmeal, old-fashioned oats, or even organic rolled oats.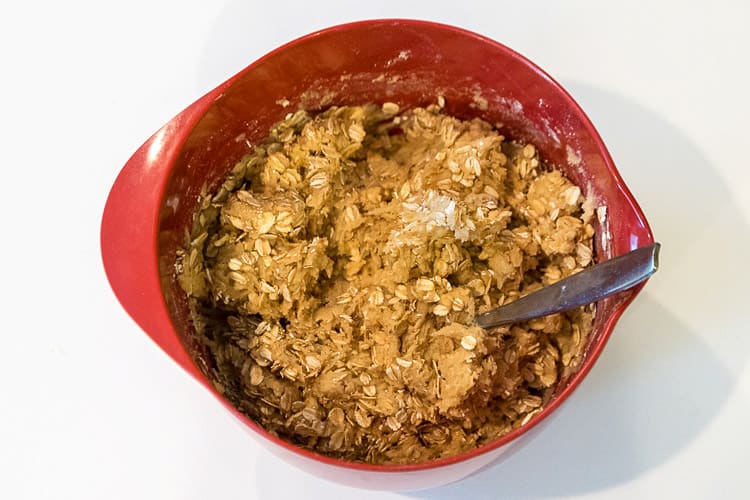 Step 6. Add the Raisins
After you have mixed the old-fashioned oats into the cookie dough, then add 1 cup of raisins. Mix together. At this point, you are probably thinking that we can't add any more ingredients to the cookie dough because it is getting thicker and harder to stir. But we can, trust me. Fortunately, we only have one more ingredient to add, and that is the Rice Krispies, mentioned below.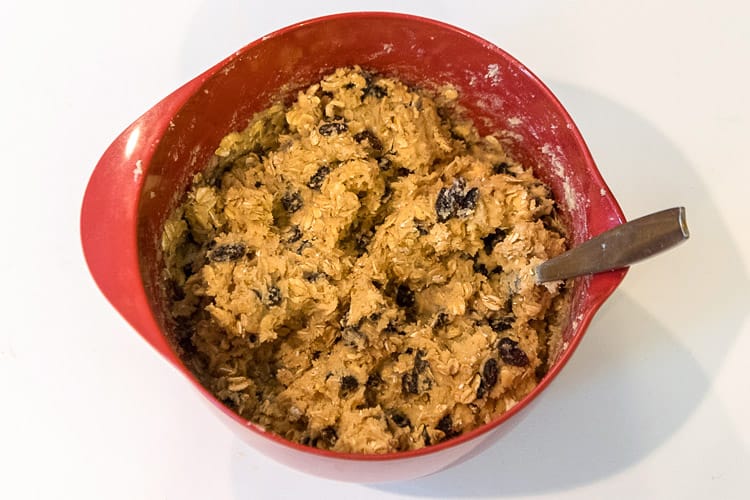 Step 7. Add the Rice Krispies
The last ingredient to add is 2 cups of Rice Krispies. The cookie dough is pretty thick now, and much harder to stir, but you can do it. Be careful not to mush up the Rice Krispies. We are now finished mixing all the ingredients for the ranger cookie dough.
The original ranger cookie recipe calls for 1 cup of sweetened coconut flakes and 1 cup of chopped walnuts. Due to family members not liking either one of these two ingredients, we didn't include them in this recipe today. But when I make these ranger cookies at my house for my husband and me, I include them. Then, when the kids come over, they gobble them up. If you like both coconut flakes and chopped walnuts, you can add them to the cookie batter now.
Tip: Instead of Rice Krispies, you can use a generic brand instead, such as any crisp rice cereal brand, it tastes the same and costs less.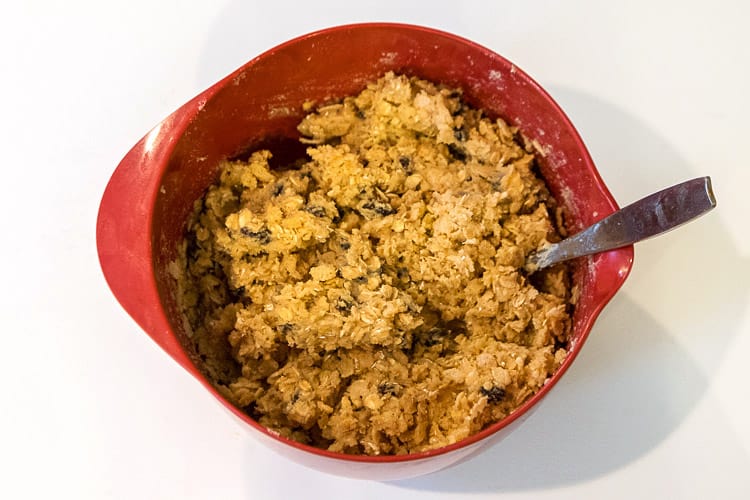 Step 8. Drop Scoops of Cookie Dough on the Cookie Sheet
This cookie dough is a bit sticky, but that is normal. You can put the cookie dough in the refrigerate for a bit if you prefer, but we don't do that. Spray a cookie sheet with non-stick cooking spray, then, drop the cookie dough by the spoonful onto a cookie sheet. Do not smash the cookie dough down. Leave the cookie dough in the shape that it falls off the spoon. You can tidy up any small pieces or loose edges that break away from the balls of cookie dough, though.
If you are familiar with parchment paper, you can use that instead of spraying the cookie sheet with non-stick cooking spray.
The nice thing about these cookies is you can make them big or small. Your preference. We made our cookies a bit bigger. We put nine cookie scoops on the cookie sheet about two inches apart.
Tip: I took a spoon, scooped up some cookie dough, and took another spoon and pushed the cookie dough off the first spoon onto the cookie sheet. Of course, you can use your finger if you prefer, but that method gets a sticky finger fast.
You can use a cookie scoop if you prefer and drop the cookie dough balls onto the cookie sheet. But if you do use a cookie scoop, fill the scoop to the max, like heaping over, if you want bigger sized cookies.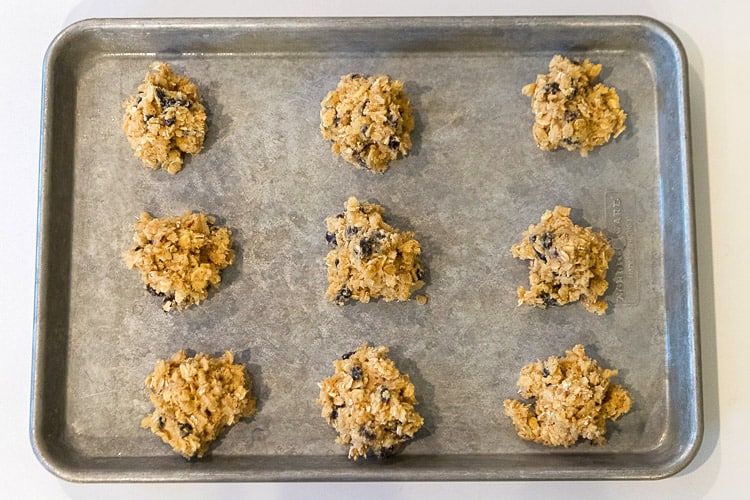 Step 9. Bake the Cookies
Place the cookies in the oven and bake them at 340 degrees Fahrenheit for 13 minutes until lightly golden brown. After 13 minutes of baking time, remove the baked cookies from the oven using heat-resistant oven mitts and let them sit on the cookie sheet for about three minutes. Then, with a cookie spatula, transfer the cookies to a cooling rack (also known as a wire rack), or wax paper to cool completely for two to three minutes. After that, place the cookies in an airtight container or cookie jar.
Note: Do not over bake or bake the cookies at a higher temperature, because if you do, the cookies will be harder, not soft and chewy. You may think that the cookies aren't done, but the cookies continue to bake after you remove them from the oven while they sit on the hot cookie sheet for a few minutes as they cool and set. For the best results, always keep an eye on the cookies while they bake in the oven.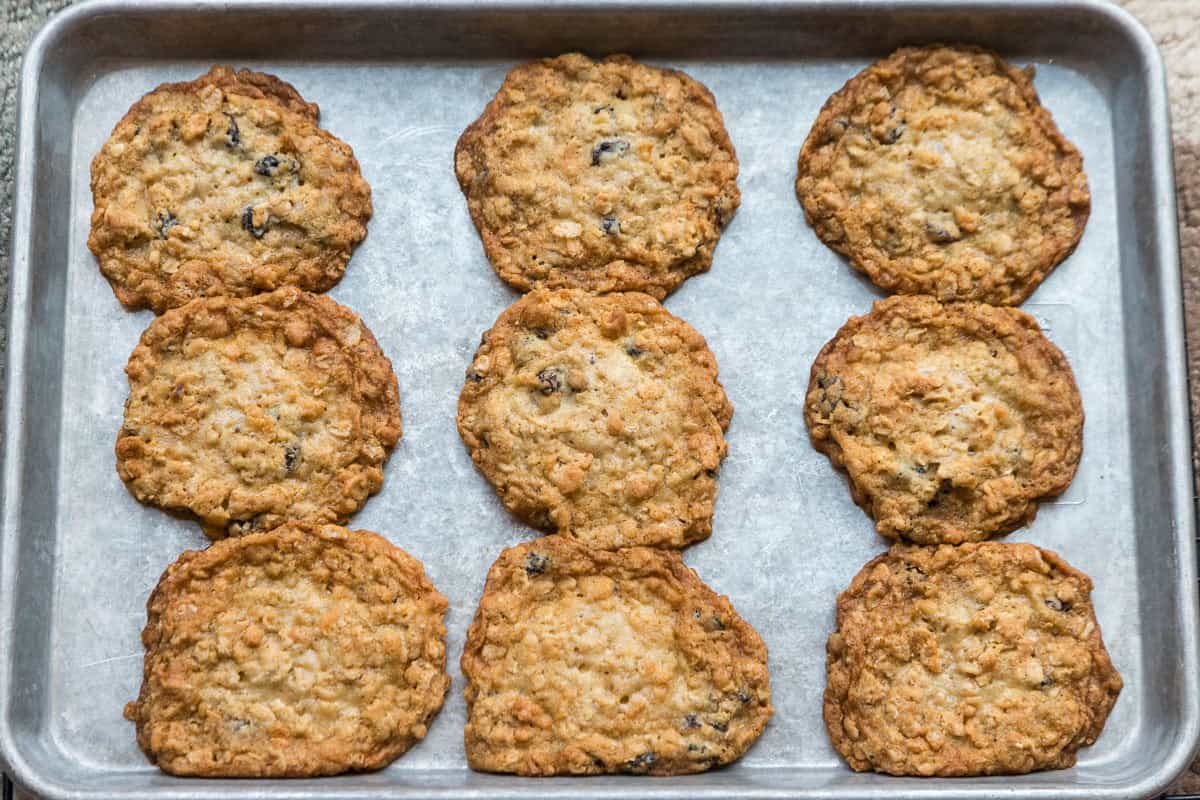 Step 10. Repeat the Steps for More Batches
The first batch of ranger cookies are done. Look at those beautiful crispy edges!
For each additional batch of cookies you make, repeat step 8 and step 9. If you have more than one cookie sheet, you can prepare the second cookie sheet while the first batch of cookies are baking in the oven. That way, when the first batch is done, you can pop the second batch in right away.
Note: Ranger cookies taste fantastic right out of the oven, but be careful not to burn your mouth. They are yummy after they have cooled, too, and especially yummy with a super tall glass of ice-cold milk. Enjoy!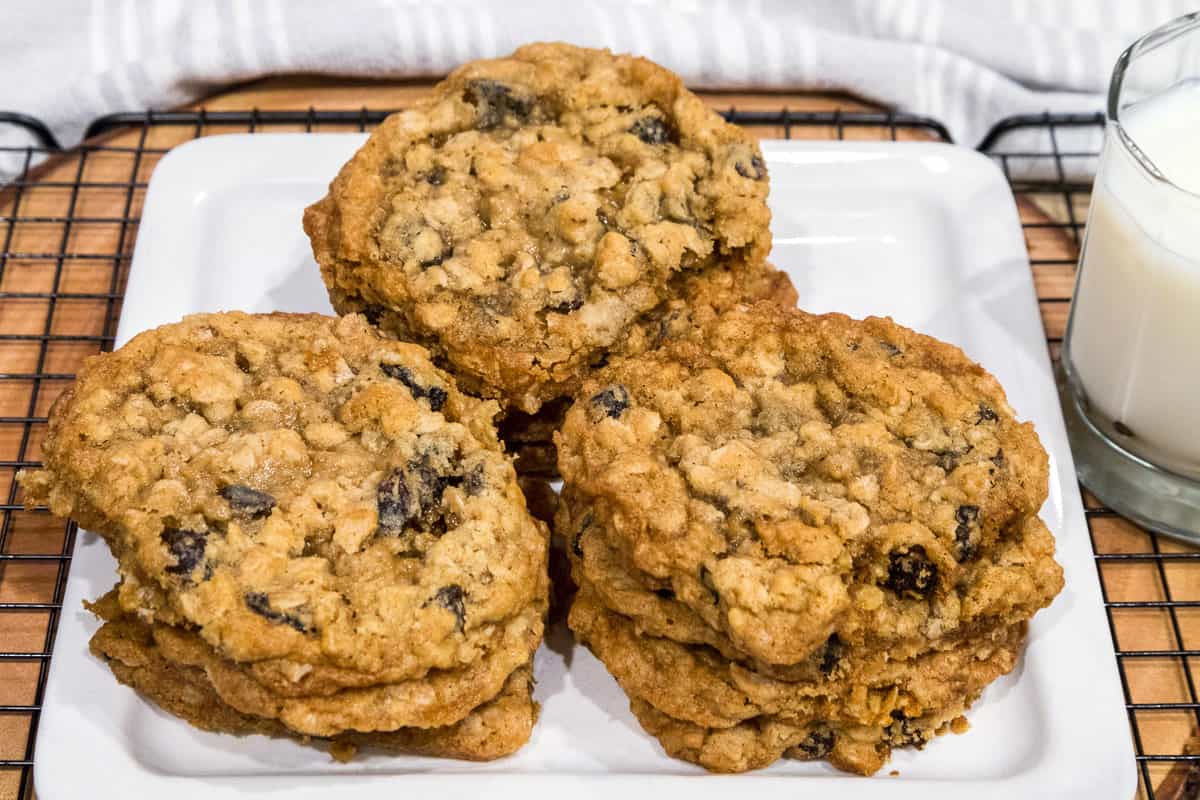 🍪 Cookie Baking Tips
Never put cookie dough on a warm or hot cookie sheet. Make sure the cookie sheet is completely cool first.
Lining a cookie sheet with parchment paper eliminates the need for non-stick cooking spray. Parchment paper helps to distribute the heat more evenly to the cookies. It also reduces cookies from spreading out too much while they bake. And last but not least, easier clean up of the cookie sheet.
Most cookie recipes are true to what they say, but as far as the oven goes, only you know your oven like no one else does, for example, how hot or not your oven gets. So with that said, keep an eye on the cookies while they are baking in the oven and check towards the end of the baking time to make sure they don't burn.
When a cookie recipe you are making says to put the cookie dough into the refrigerator to chill for a couple of hours, do it. Chilling certain cookie dough makes it easier to handle, for example, it won't be so sticky. Chilling cookie dough also allows the ingredients to incorporate into each other. For this ranger cookie recipe, we did not put the cookie dough in the refrigerator.
To keep cookies super soft, place a piece of bread in the container together with the cookies. Usually, the heel of the bread is a good choice, since nobody likes to eat that piece anyway.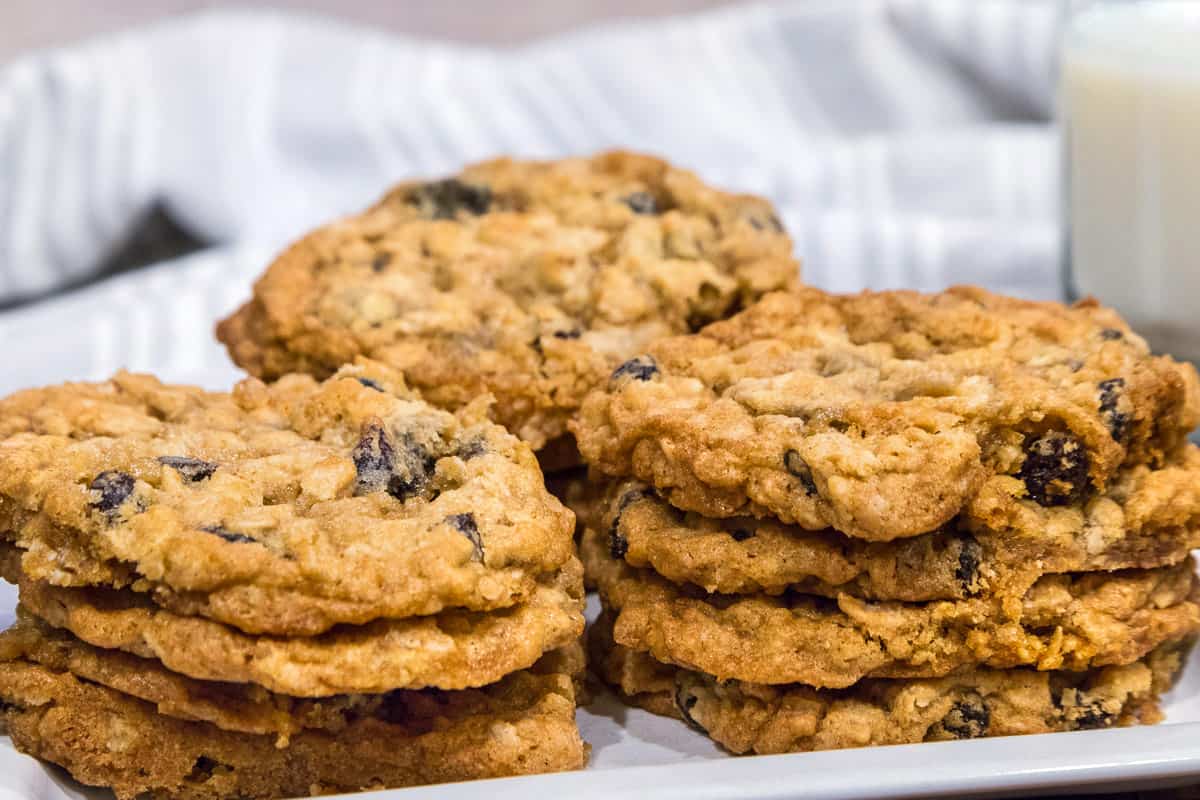 ⭐️ Recipe Variations
Additional Mix-Ins
Add a cup of chocolate chips or white chocolate chips to the ranger cookie batter.
If you like M&Ms, add a cup of them to the batter.
Drizzle a little homemade powdered sugar icing on each cookie.
Make chewy oatmeal cookies by adding 1 teaspoon of cinnamon, 3/4 cup of pecans, and omit the Rice Krispies.
Add one cup of coconut flakes and one cup of chopped walnuts to this ranger cookie recipe.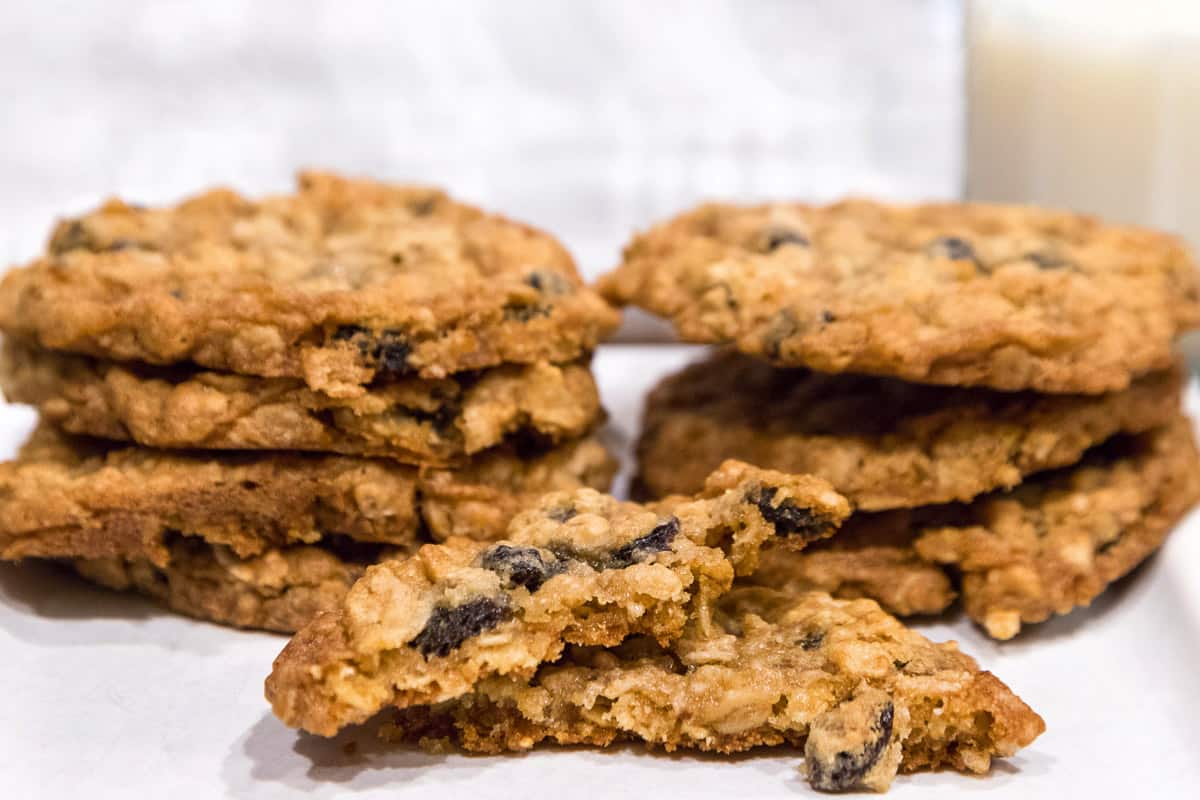 ❓ FAQs
What do I do with Leftover Ranger Cookies?
Put leftover ranger cookies in an airtight container or a cookie jar on the countertop. After about four or five days, put the cookies in the refrigerator for just a few more days, then think about freezing them if you still have any left.
Can I Freeze Leftover Ranger Cookies?
Yes, ranger cookies can be put into the freezer. Put them in a freezer-safe bag or an airtight container so they won't get freezer burned. The cookies can be left in the freezer for about four or five months.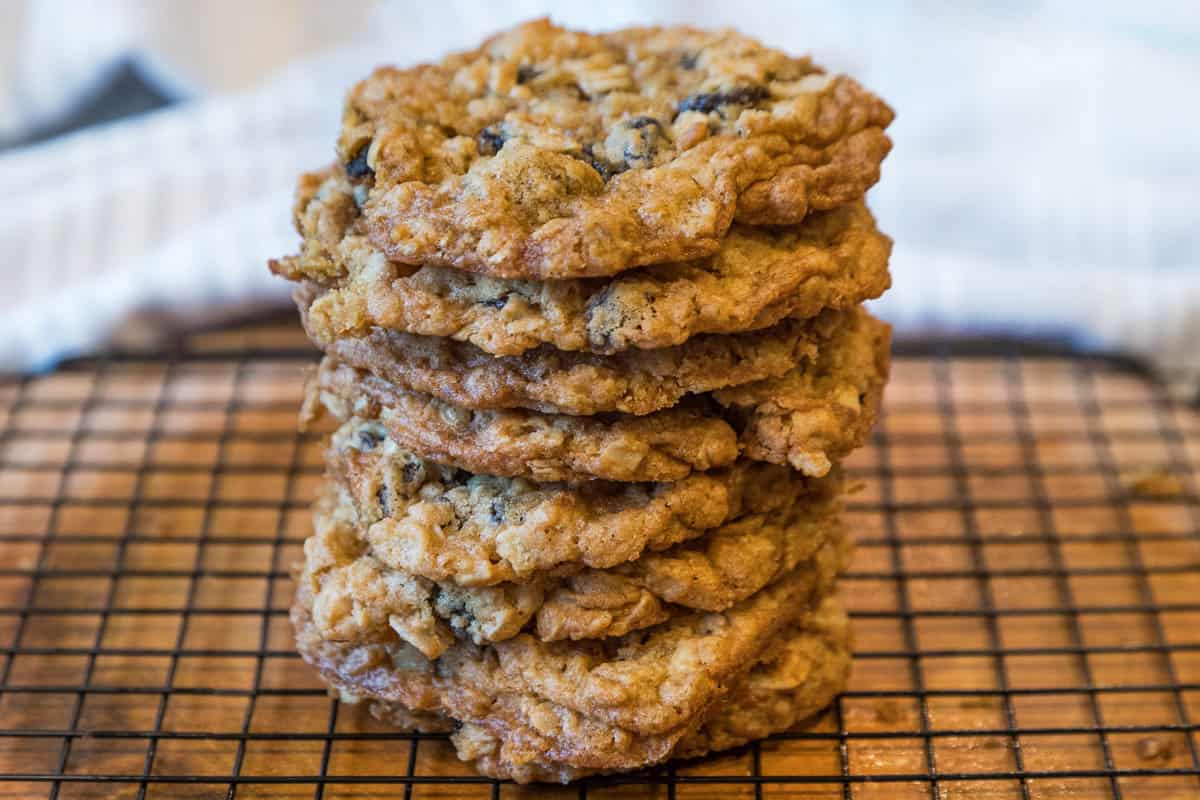 💡 Final Thoughts
These chewy cookies are loaded with healthy old-fashioned oats and raisins, and they are the perfect cookie to have in the cookie jar to snack on. These are the best ranger cookies I have ever eaten!
Ranger cookies also taste great at breakfast time too! They are not only delicious for desserts, but also for breakfast since they contain oats, raisins, Rice Krispies, and nuts if you add them!
You can take these ranger cookies with you on a hike or a picnic for a snack, or when you are asked to bring something to a potluck lunch or dinner, or special occasions such as baby showers, cookie exchanges, or even to a backyard BBQ gathering.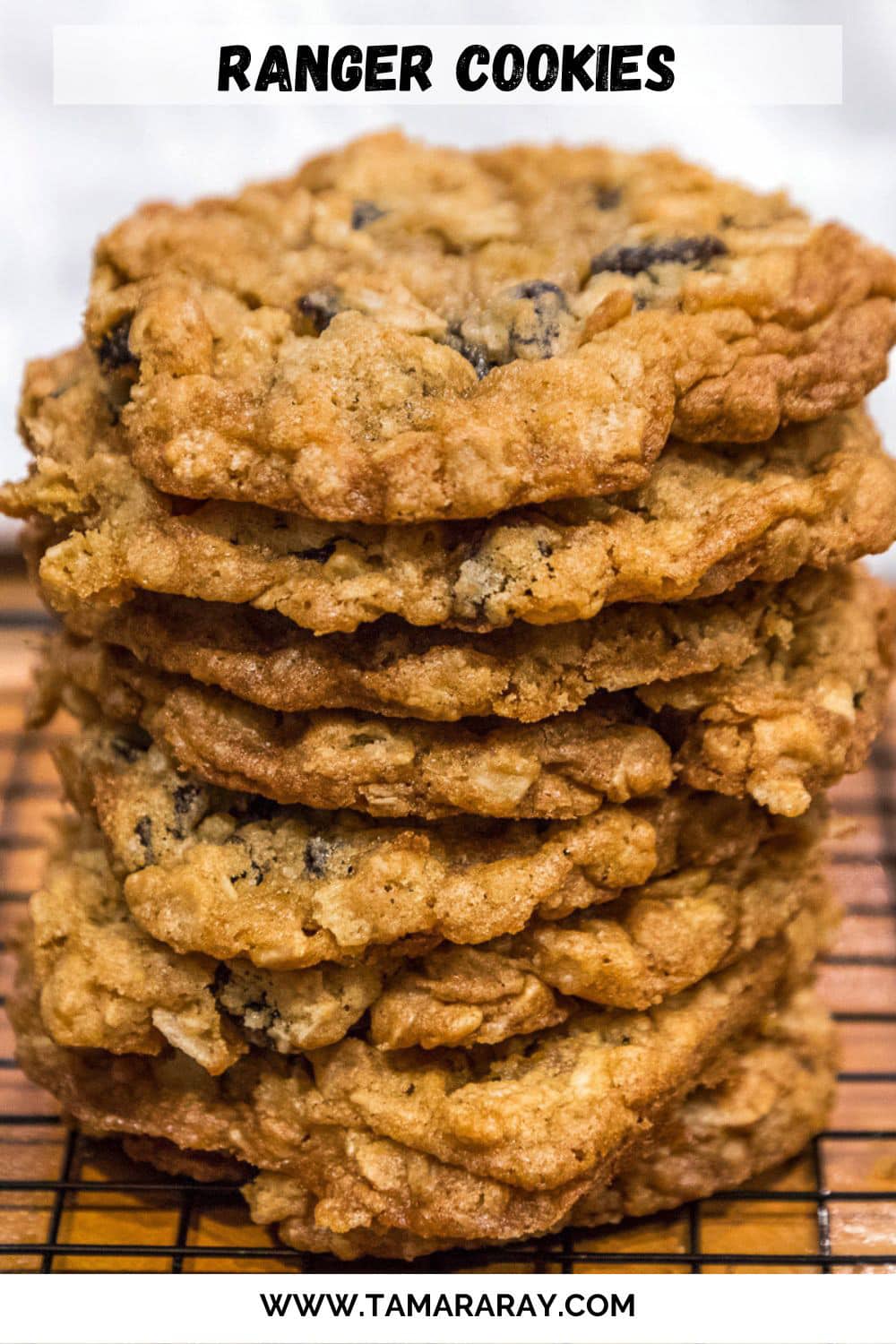 🥰 More Delicious Cookies You Will Love
This chocolate chip cookie pizza recipe is loaded with lots of chocolate. The recipe includes melted chocolate chips, M&M candies, mini marshmallows, melted white chocolate chips, pieces of Kit Kat candy, and mini marshmallows are all piled high on top of a pizza size chocolate chip cookie.
These dark chocolate cookies are loaded with dark chocolate chips, dark cocoa powder, and unsweetened cocoa powder. They are so good!
Pumpkin snickerdoodle cookies are made with basic ingredients plus pure pumpkin purée, pumpkin pie spice, nutmeg, ginger, and vanilla extract, then coated in a cinnamon sugar mixture before baking.
📋 Recipe Card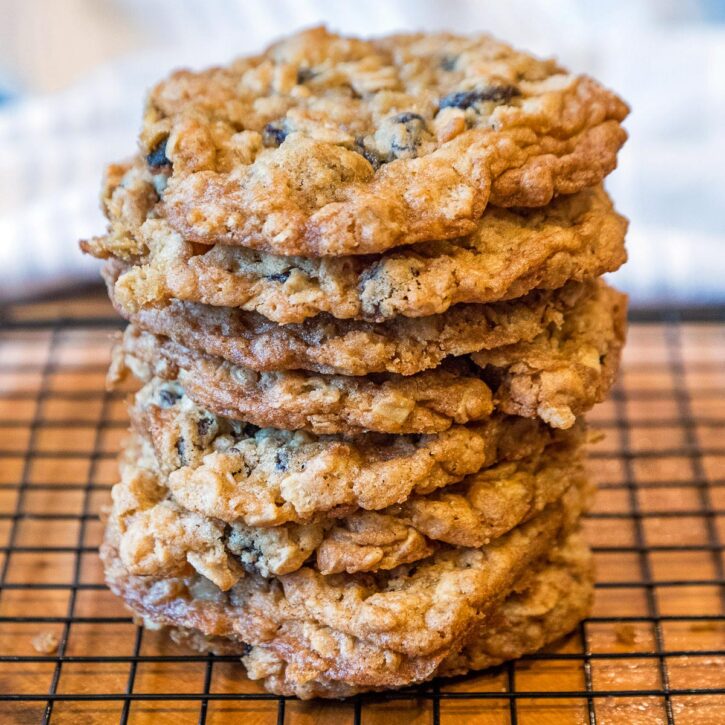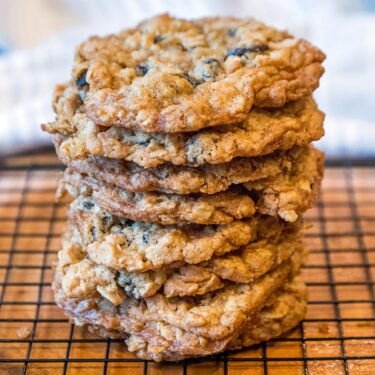 Ranger Cookies Recipe (Oats & Krispies)
This Ranger Cookie recipe makes a very soft, crispy, and delicious cookie made with old-fashioned oats, raisins, brown sugar, and Rice Krispies.
👩‍🍳 Instructions
Preheat over to 340 degrees.

Mix together in a large bowl the sugar, brown sugar, eggs, softened butter, and vanilla extract.

Next, gradually add the baking soda, flour, salt. Mix together.

Add the old-fashioned oats. Mix together.

Add the raisins. Mix together.

Add the Rice Krispies. Mix together. Be careful not to smash up the Rice Krispies.

Drop by spoonful onto a cookie sheet sprayed with non-stick cooking spray. Do not smash the cookies down.

Place the cookie sheet in the oven and bake at 340 degrees for 13 minutes.

Do not overbake, or bake at a higher temperature. The cookies will be harder, not soft and chewy.

After baking, remove the cookies from the oven with the heat-resistant oven mitts. Let the cookies sit on the cookie sheet for a couple of minutes. Then, use the cookie spatula to transfer the cookies to a cooling rack or wax paper to completely cool.

Repeat steps 7 and 8 for additional batches.
*️⃣ Recipe Notes
Other ingredients you can add to this ranger cookie recipe are:

1/2 cup to 1 cup of sweetened coconut flakes
1 cup of chopped walnuts
1 cup of chocolate chips

Instead of Rice Krispies, you can use a generic brand of any crispy rice cereal. They taste exactly the same in these ranger cookies, and they cost less.
A wife, a mother to a son and a daughter, and a grandmother to three granddaughters. Flo loves sharing recipes passed down from her own mother, her mother-in-law, and her grandmother as well as new recipes created with her daughter, Tamara Ray.
More by Flo ➜