(Last Updated On: May 26, 2023)
We have the best recipe for roasted corn salsa with simple ingredients right here for you. This is a short and super quick recipe to make.
This homemade salsa with fresh flavors tastes great and it's full of healthy fruits and veggies, and one fruit that is hot too, a chopped-up jalapeño pepper!
This yummy salsa can go on just about any of your favorite foods that your imagination can muster up, such as chicken fajitas, salads, beef enchiladas, chicken enchiladas, and scrambled eggs. Or try it on our fantastic hot and spicy-flavored ground beef tacos or for a super healthy meal try broiled flank steak with corn salsa and nine different seasonings.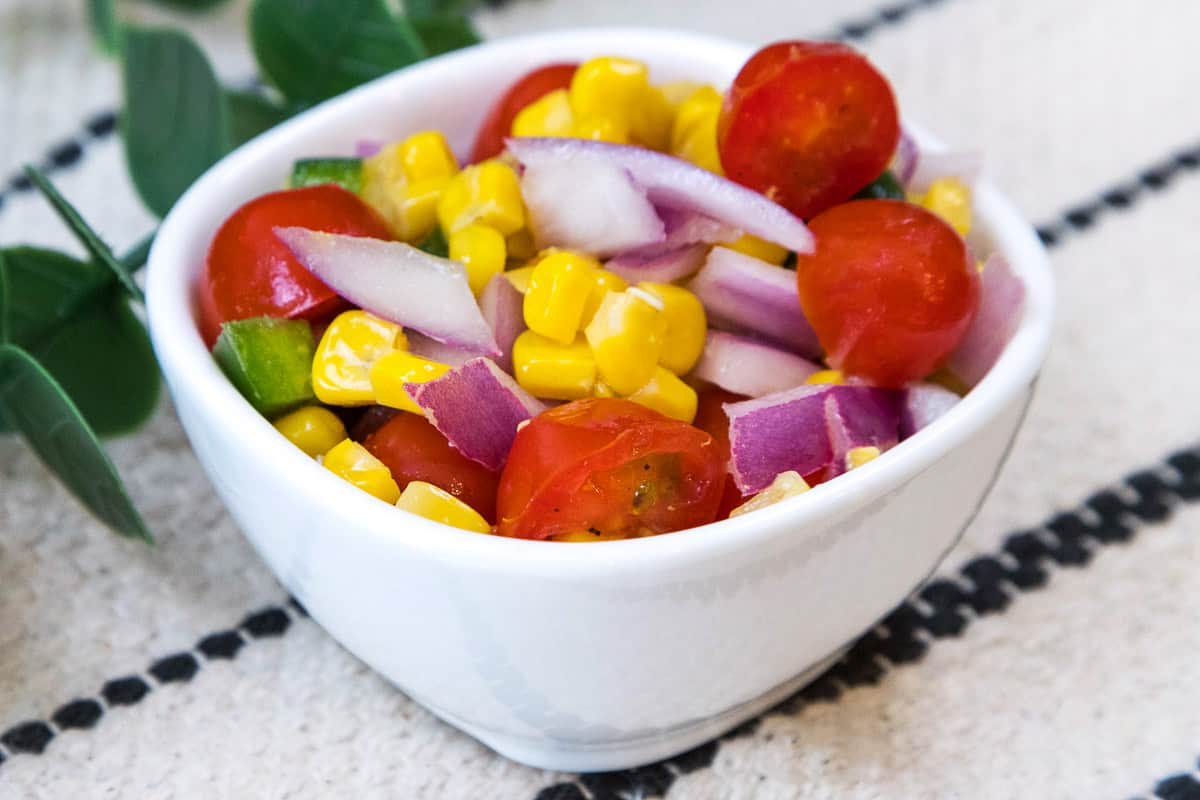 This easy corn salsa recipe tastes amazing as a dipping sauce for tortilla chips or poured on burrito bowls, Mexican food, fish tacos, or a taco salad. It is also a healthy side dish choice to eat just as it is right out of the bowl.
🍴 Key Ingredients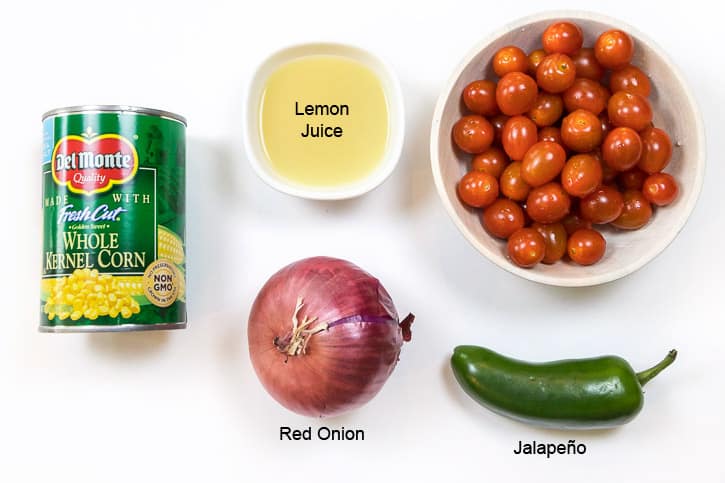 👩‍🍳 How to Make Roasted Corn Salsa (Step-by-Step Instructions with Detailed Photos)
Step 1. Place Corn in a Skillet
Place one can of sweet corn (15.25 ounces) into a large skillet together with 2 tablespoons of olive oil. We used Del Monte, but you can use any kind of canned corn you have in your kitchen.
Note: You can also use fresh corn right off the cob. Prepare about 3 ears of corn on the grill, then cut off the corn kernels from each ear of corn. That does involve a little bit more work though.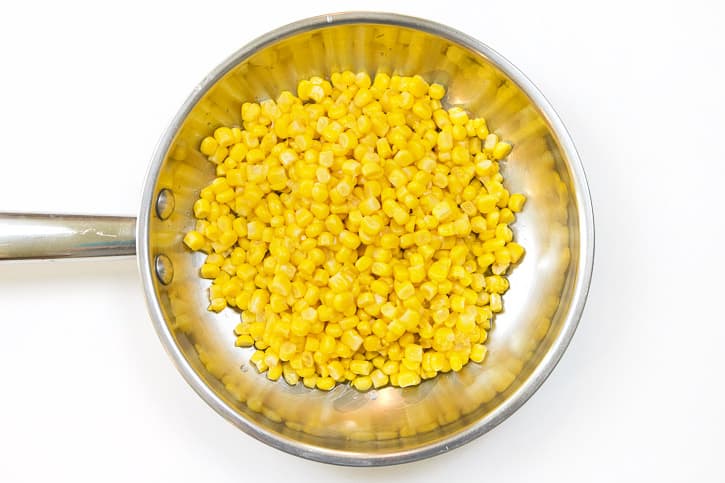 Step 2. Roast the Corn
Put the frying pan with the corn in it on the stove and turn the burner to medium-high heat. Pan-fry the corn, while stirring, until you can see some brown forming on the kernels, about 10 to 15 minutes depending on how hot your stove cooks.
After the corn has been roasted for a bit, you will need to turn the burner down to medium heat because if you don't, the kernels will start flying out of the pan. Keep roasting and stirring the corn in the frying pan until you get the desired brownness you prefer.
After the corn is done roasting, turn the burner off, transfer the corn to a large bowl, then set the corn aside for now so it can cool.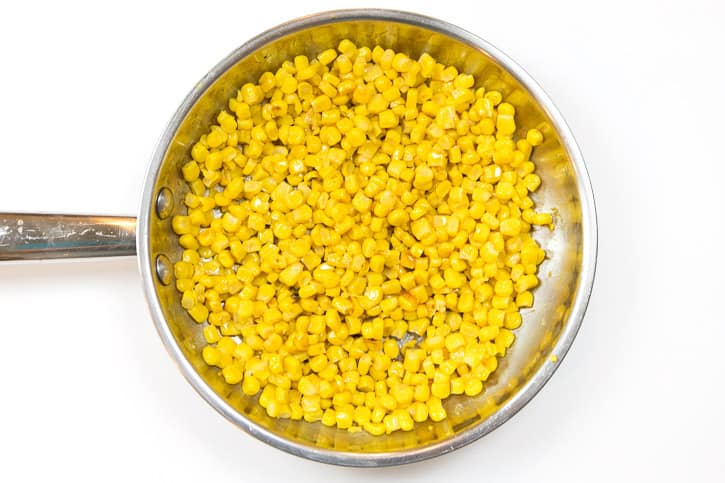 Step 3. Prepare the Tomatoes, Jalapeño Pepper, and Red Onion
In the meantime, while the corn is cooling down, use a cutting board and a sharp knife to cut the pint of cherry tomatoes in half.
Remove most of the seeds from the jalapeño pepper but not all, and then chop up the jalapeño pepper into small pieces. You can add more, less, or none of the seeds from the jalapeño pepper depending on how hot and spicy you like your salsa.
Chop up the red onion to make 3/4 of a cup. You will probably have a little bit of red onion leftover, but if you love onions as I do, throw them in the mix too instead of throwing them away, or you can freeze the leftover onions and use them for something else.
Step 4. Add the Tomatoes, Jalapeño Peppers, and Onions to the Corn
Add the sliced cherry tomato halves, chopped jalapeño pepper, and chopped onions together with the roasted corn we set aside earlier.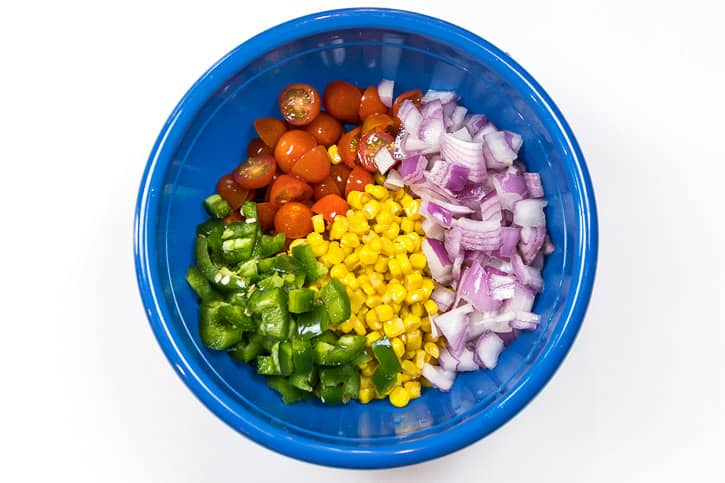 Step 5. Add Salt, Black Pepper, and Lemon Juice
Add 1/8 teaspoon of salt, 1/8 teaspoon of black pepper, and 1/3 cup of lemon juice together with the salsa in the bowl and stir thoroughly. Refrigerate the homemade corn salsa until dinner is ready to be served.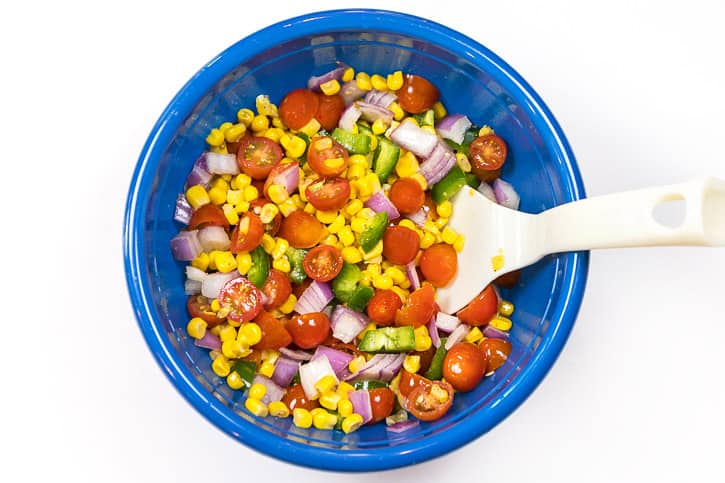 ⭐️ Recipe Variations
You can add extra ingredients to this recipe. A few suggestions are mentioned below.
Toss in some white corn or black beans to the mix.
Add a little bit of fresh cilantro or chopped garlic cloves to the salsa.
Add a few chopped bell peppers. Add one green bell pepper, yellow bell pepper, or red bell pepper, or add a little bit of each one.
Squirt some fresh lime juice on the salsa.
Instead of roasting the corn on the stove in a skillet or in the outdoor grill, roast it in the oven on a baking sheet lined with aluminum foil.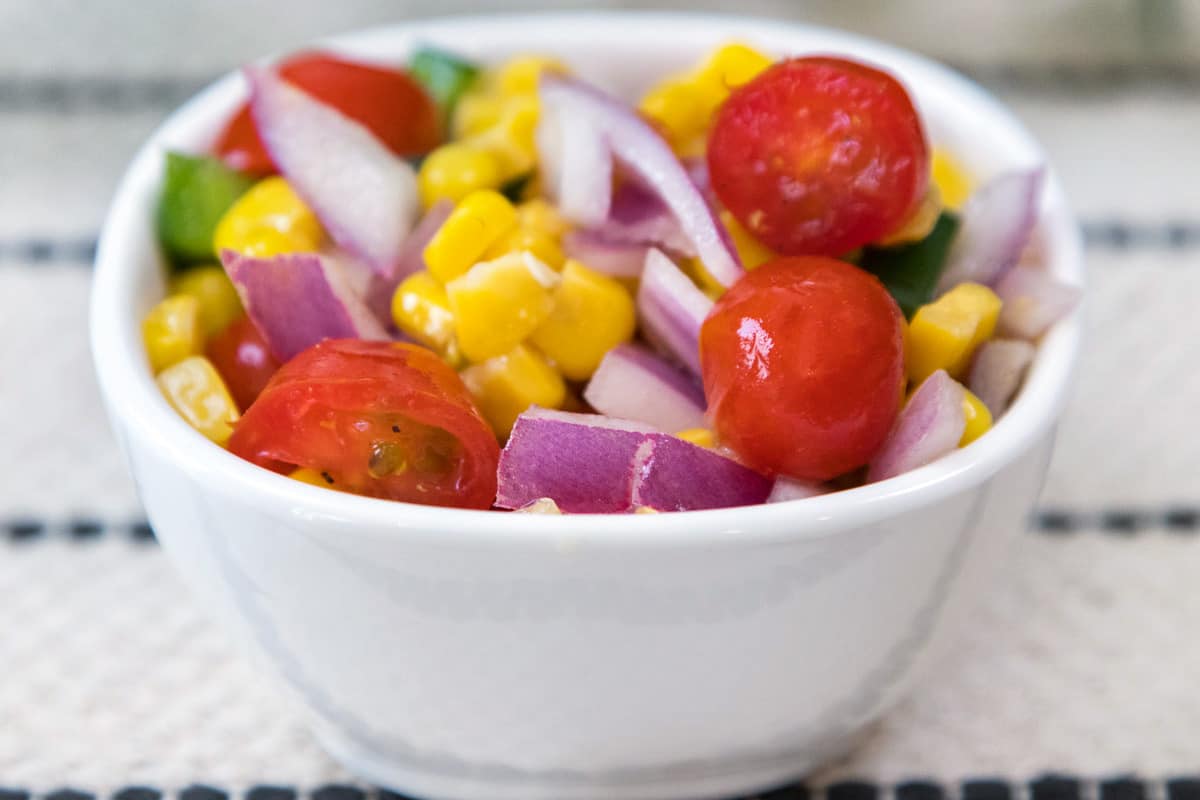 ☝️ FAQs
What do I do with Leftover Salsa?
Put any leftover salsa in an airtight container in the refrigerator for a couple of days. After that, eat it up or toss it out. The vegetables will lose their quality, texture, and appeal and start to become mushy, soft, and then wilt. Especially the sliced tomatoes.
Can I Freeze Roasted Corn Salsa?
No, it is not a good idea to freeze this fresh salsa, unless you are going to add it to a recipe that will be cooked. Frozen corn salsa will not taste good all by itself after thawing. The fresh vegetables you started out with won't be fresh, crisp, and crunchy anymore. Unfortunately, the vegetables and any fruits you added will be mushy, limp, and with no crispy crunch to them. But as mentioned before, it can be used in different ways such as adding it to hamburger soup with cabbage or tossing it over pot roast the last 10 minutes of cooking time.
💡 Final Thoughts
Yes, I have to admit, I didn't know that jalapeño peppers are fruit, but did you also know that jalapeño peppers are rich in capsaicin and that capsaicin is a metabolism booster?
This fresh salsa with its delicious flavors is a great metabolism booster with the jalapeño peppers in it, but don't overdo it with jalapeño peppers, too much of a good thing isn't necessarily good. However, if you are looking to add a burst of flavor to dishes like tacos, grilled meats, or salads, this roasted corn salsa is a perfect choice for you.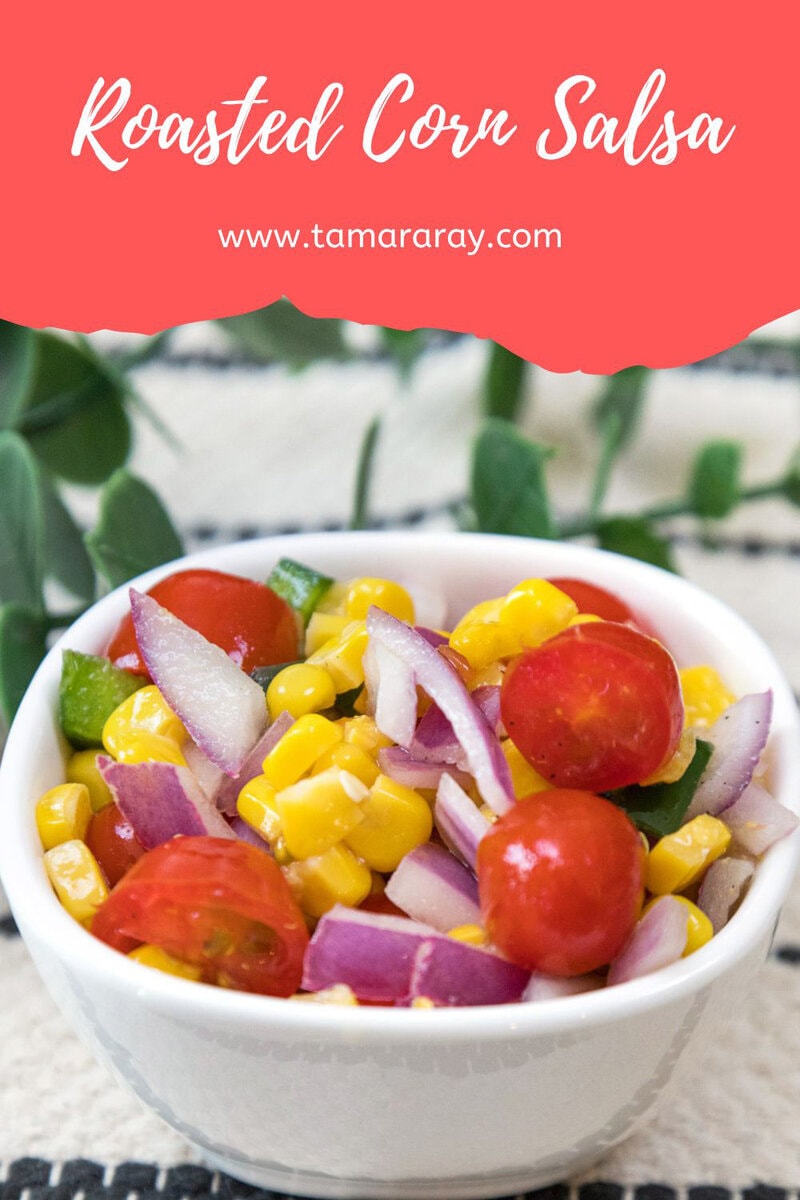 💖 Try Roasted Corn Salsa with These Easy Recipes
Baked Potato (No Foil) – An easy way to bake potatoes in the oven using no aluminum foil and they taste great with roasted corn salsa on top.
Salmon in the Oven – Spread roasted corn salsa on this easy and delicious salmon that is baked in the oven.
🗂️ Recipe Card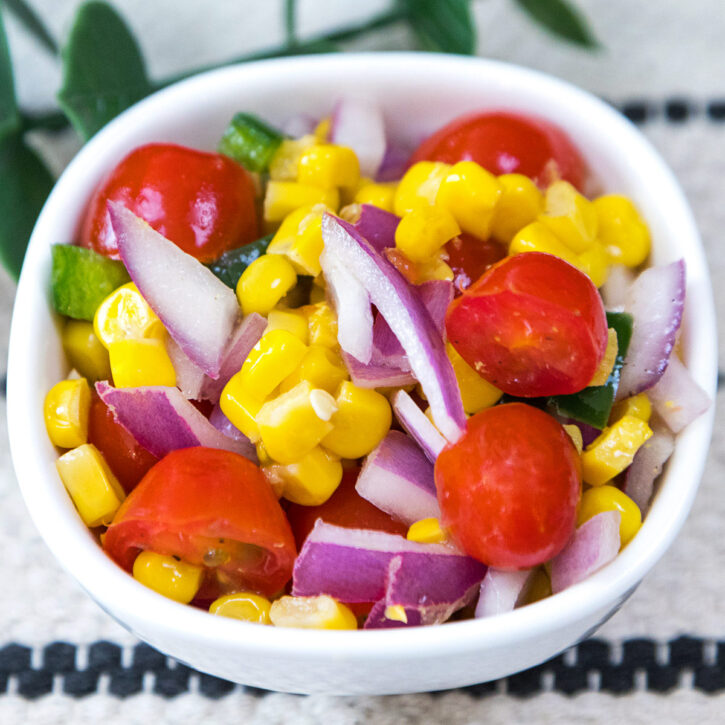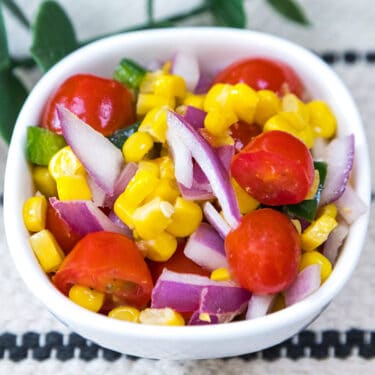 Roasted Corn Salsa
This is a fresh and delicious salsa recipe that you can make in a matter of minutes with whole-kernel corn, cherry tomatoes, red onion, lemon juice, and chopped jalapeño peppers.
👩‍🍳 Instructions
Put the olive oil in a frying pan.

Add the whole kernel corn to the frying pan.

Put the frying pan on the stove and roast the corn on medium-high heat while stirring, then reduce the heat to medium.

Continue to roast the corn until the corn is lightly browned or to your liking, about 10 to 15 minutes, then set it aside to cool.

After corn has cooled, transfer corn to a medium-sized bowl.

Cut the cherry tomatoes into halves.

Remove some of the seeds from the jalapeño pepper, but not all, and then chop up.

Add the cherry tomatoes, jalapeño peppers, onions, salt, pepper, and lemon juice to the roasted corn in the bowl.

Refrigerate until ready to use.
A wife, a mother to a son and a daughter, and a grandmother to three granddaughters. Flo loves sharing recipes passed down from her own mother, her mother-in-law, and her grandmother as well as new recipes created with her daughter, Tamara Ray.
More by Flo ➜