(Last Updated On: October 17, 2023)
This baked potato no foil recipe will explain an easy way to bake potatoes in the oven without aluminum foil. The secret is poking a few holes in each potato with a fork, rubbing olive oil or canola oil on them, and then putting them in the oven on a baking sheet for one hour, that's it. The olden days of foil-wrapped potatoes are over!
Sometimes you just don't feel like going through all of the work making mashed potatoes, even though I love mashed potatoes, so once in a while, an alternative is to make a perfect baked potato in the oven. For an even quicker method of cooking a baked potato without foil, try these air fryer baked potatoes. They are cooked basically the same way but with less time.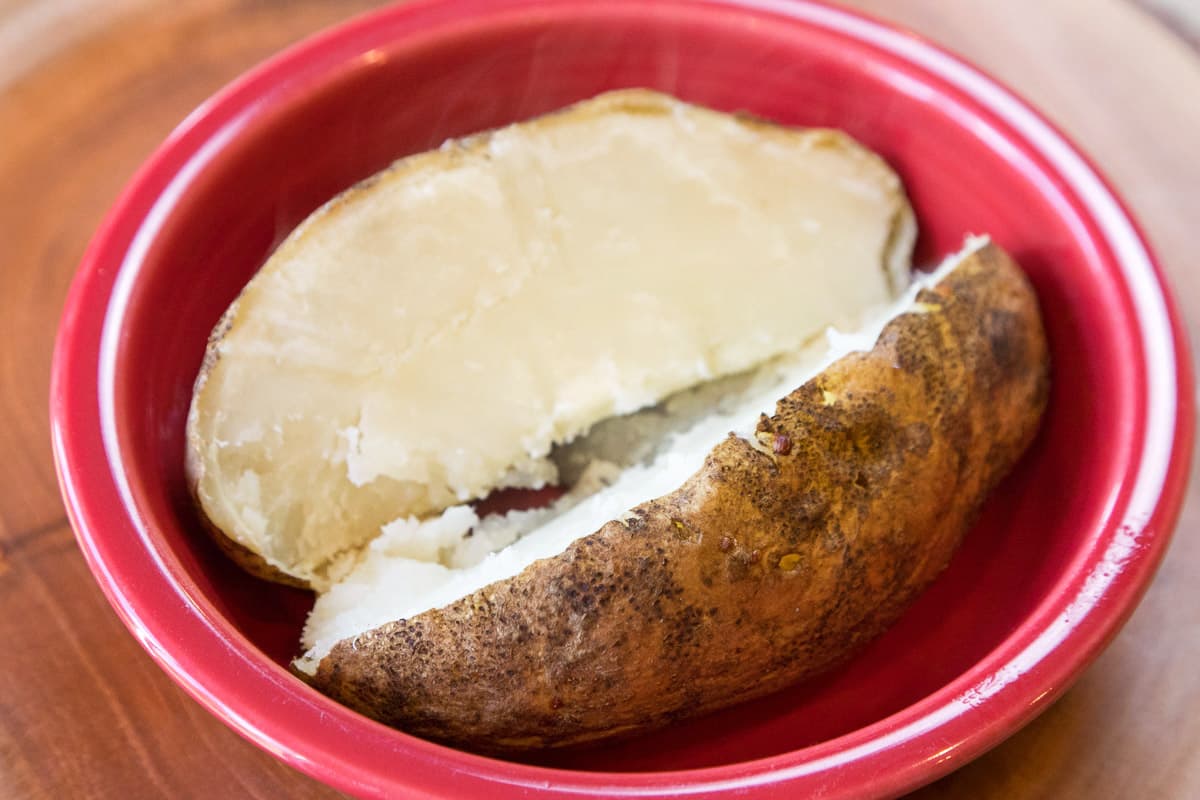 Baked potatoes can be eaten alone as a snack or as a side dish with just about any main course dinner. They are perfect for BBQs, brunches, luncheons, potlucks, and picnics. They are quick to make, easy to serve, and inexpensive, and they fill up a hungry tummy nicely.
🥔 Key Ingredients
👩‍🍳 How to Bake a Potato with No Foil (Step-By-Step Instructions with Detailed Photos)
Step 1. Preheat the Oven
Set a regular oven to 400 degrees Fahrenheit. Make sure the oven rack is in the middle.
Step 2. Wash the Potatoes
Scrub up the number of potatoes you want to make for yourself and your family for dinner by washing them under running tap water. If your potatoes have any eyes (or sprouts) on them, remove them also. Even if you aren't going to eat the skins on the potatoes, it is very important to scrub the potatoes before preparing them for this recipe. Germs on the peel or skin can get inside the potato when we poke them with the fork later in the instructions.
We used 7 potatoes because of the size of our family. You can make 2, 4, or 6 potatoes, however many you prefer.
Note: The CDC (Centers for Disease Control and Prevention) information I read online said to not use soap, detergent, commercial produce wash, bleach solutions, or other disinfecting products when washing fruits and vegetables.
Step 3. Put the Potatoes on a Baking Sheet
After the potatoes are washed, pat them dry with a paper towel, then place potatoes on the baking sheet (or sheet pan).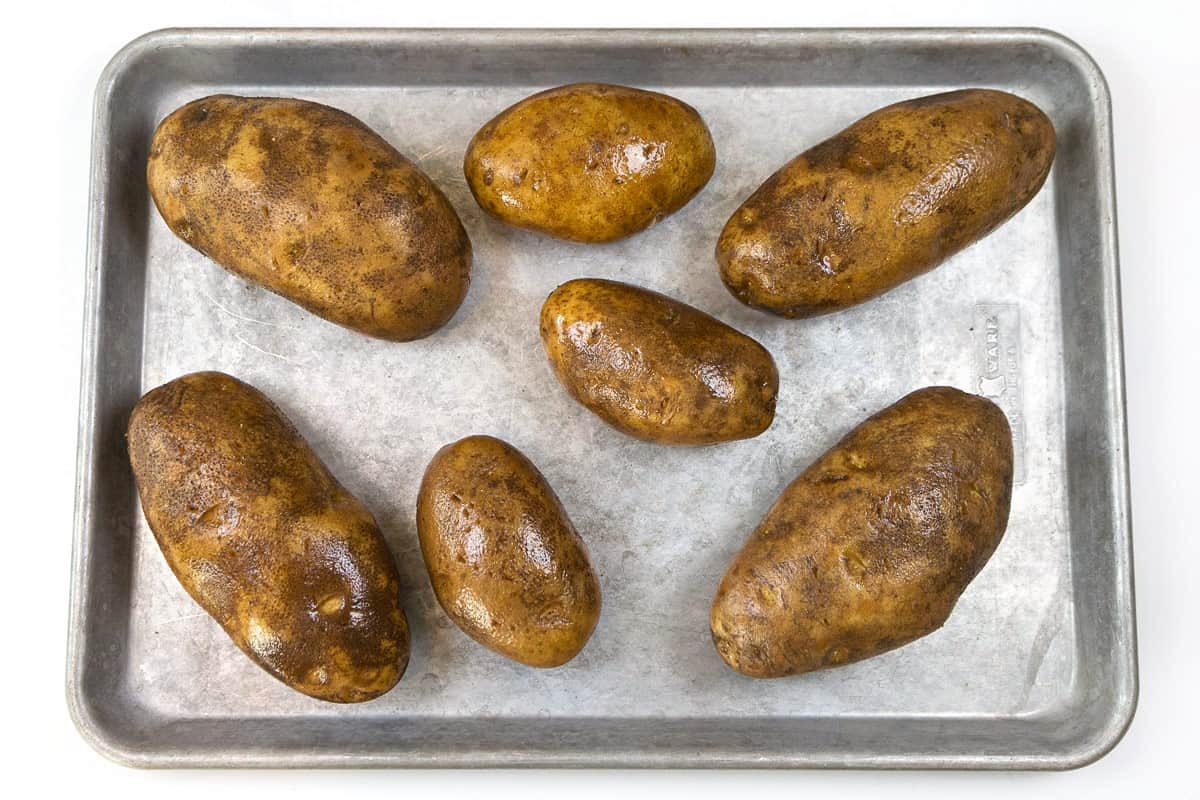 Step 4. Poke Holes into the Potatoes
Next, get a fork and poke holes into the potatoes. The best way to do that is to grab ahold of one potato and push the fork about halfway into it while you have a good grip on the potato. Then push the fork into another area of the potato.
Be very careful not to poke your hand with the fork. Do both sides, front and back, about 3 times on each side should do it. You can also use a sharp knife or paring knife, but be very careful if you do.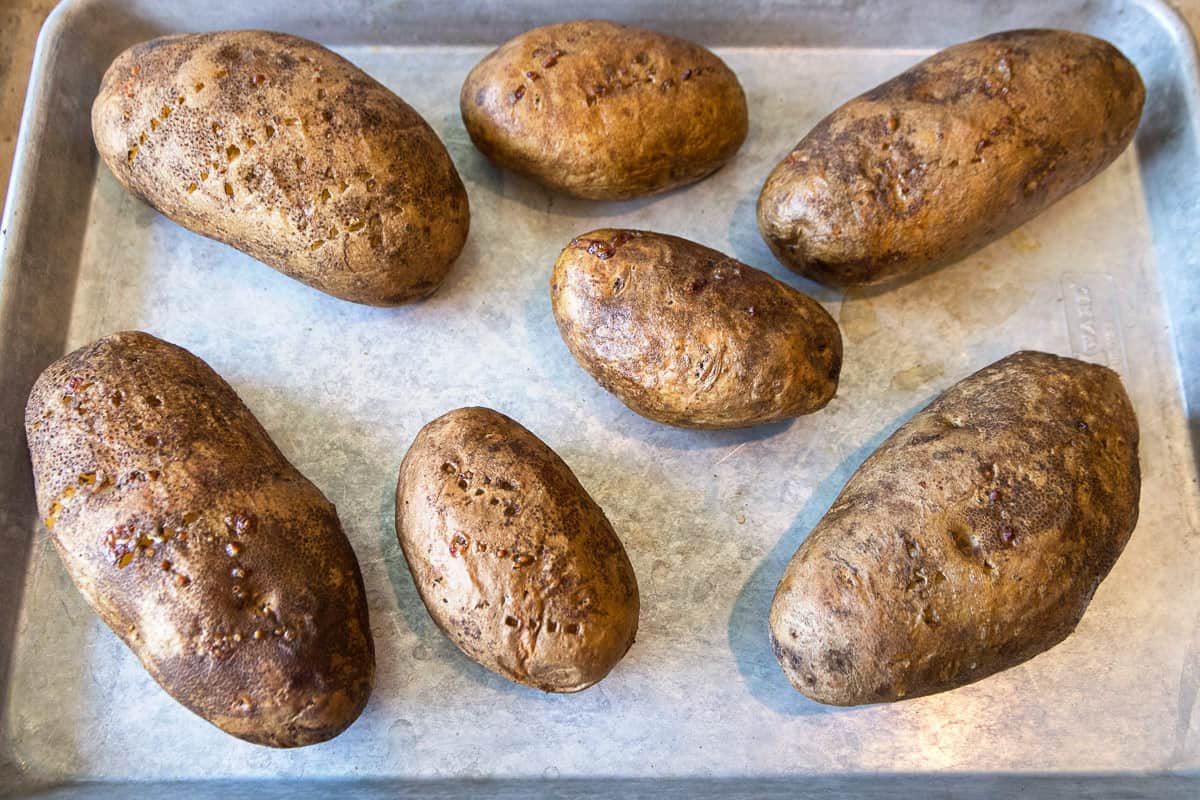 Step 5. Rub Olive Oil and Season the Potatoes
After all of the potatoes are poked with a fork, rub olive oil or canola oil, or your favorite vegetable oil, over all of them. Do the front side and the back side, using your clean hands.
At this time, for those of you who love to eat the potato skin as I do, you can sprinkle some sea salt, table salt, or Kosher salt all over the potatoes while they are laying on the sheet pan. The salt will adhere nicely to the olive oil and give the potato skins a delicious salty taste.
Step 6. Bake the Potatoes in the Oven
Place the baking pan with the potatoes on it in the 400-degree preheated oven and then bake for 1 hour. After that, remove the oven-baked potatoes using a heat-resistant oven mitt so you won't burn your hands.
Tip: The baking time can vary by a few minutes because ovens can bake differently. Also, it depends on the size of your potatoes compared to ours. You may have large potatoes or small potatoes, so make sure to check on the potatoes during the cooking time mentioned.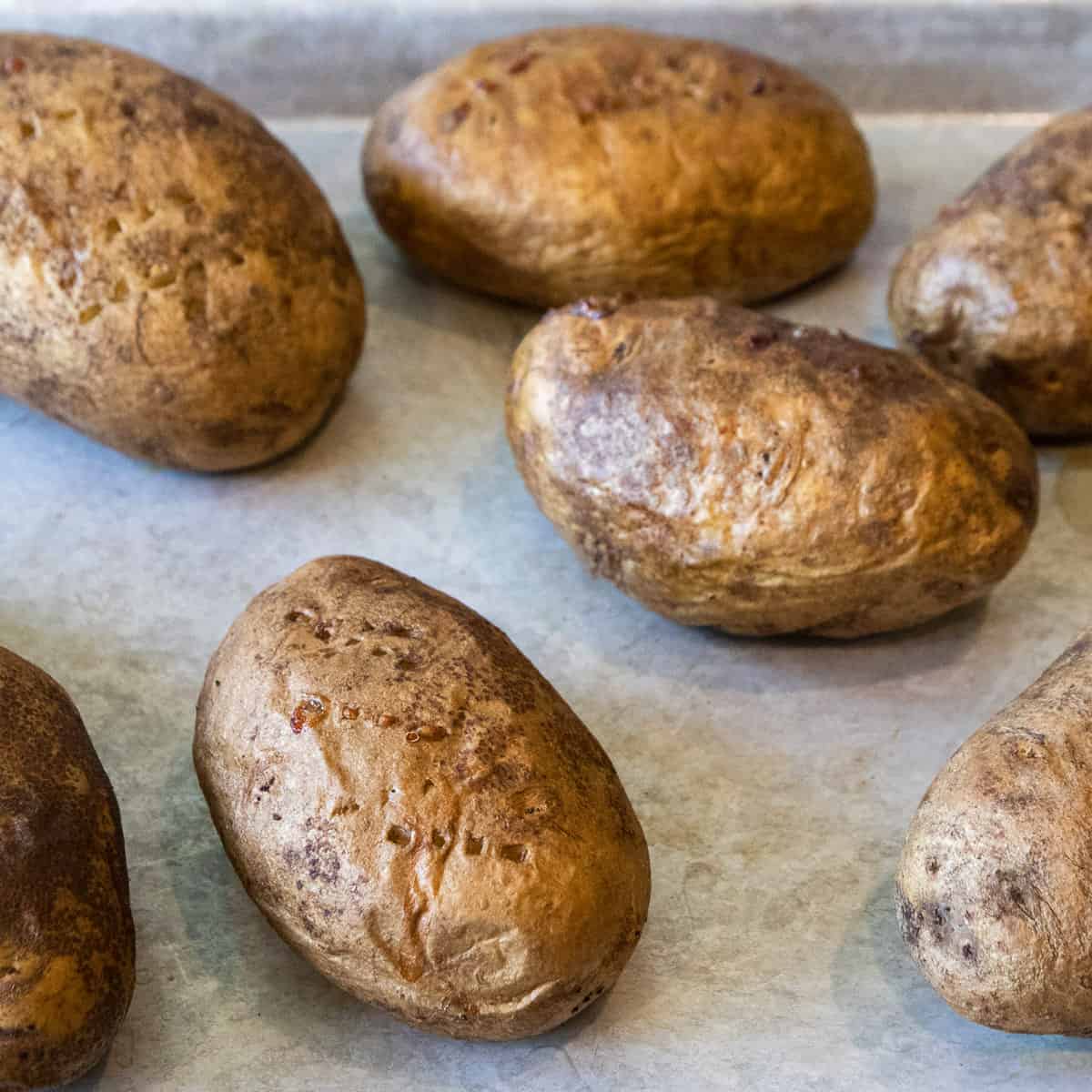 Potato Toppings You Can Enjoy
I can eat a baked potato with nothing on it, they are that good, or with just butter and salt! But whatever your personal preference may be, here are some other suggestions for delicious toppings that go great on top of baked potatoes. You can also add any of your favorite toppings that are not mentioned below. A fun idea is to make a baked potato bar for your family and guests. Put these toppings in small bowls and they can pick and choose whatever tickles their fancy on their baked potato.
Butter
Table salt, Kosher salt, sea salt, or garlic salt
Cheddar cheese
Sour cream
Bacon bits
Guacamole
Cilantro
Chives
Chili (it's a Southern thing my son-in-law does)
Diced tomatoes or diced green onions
Mushrooms
Black beans
❓ FAQs
Why do I have to Wash the Potatoes First?
Here is some important information that I read on the CDC (Centers for Disease Control and Prevention) website about why it is important to wash the potatoes first. You can go to the CDC website to read all about it.

You can get sick, for example, from the germs that are on raw fruits and vegetables such as Salmonella, E. coli, and Listeria.

We all know to wash our hands, utensils, and our working areas such as countertops and cutting boards before and after preparing the fruits and vegetables we will be eating unless they have already been washed by the manufacturer. I still rinse them off anyway.

Use clear running tap water to wash the potatoes. Do not use fruit and vegetable cleaners, disinfectants, soap, detergents, and the like.
How Long Should Raw Potatoes Bake?
For the best potatoes without foil, bake them in the oven at an ideal temperature of 400 degrees Fahrenheit with a cooking time of 1 hour. Make sure you poke holes in the potatoes first and then coat them with a layer of olive oil.

However, adjust the baking time if larger potatoes or smaller potatoes are used. The size of the potatoes does matter. You can check a potato close to the end of the baking time by poking it with a fork. The fork should slide into the potato with ease. Or if you use small potatoes, you can check for doneness 5 to 10 minutes before the baking time is up.
💡 Final Thoughts
Why bake a potato without aluminum foil? Because potatoes cook better in the oven without aluminum foil. Aluminum foil traps moisture in the potato, making the potato soggy. Also, look at all of the aluminum foil we will save, not to mention the amount of money spent on it.
I love a good baked potato, especially with the crispy skin on the outside produced by the higher temperature of 400 degrees Fahrenheit. It's a great side dish with your main course and so quick to prepare. These baked potatoes have a fluffy texture with a delicious flavor. Enjoy!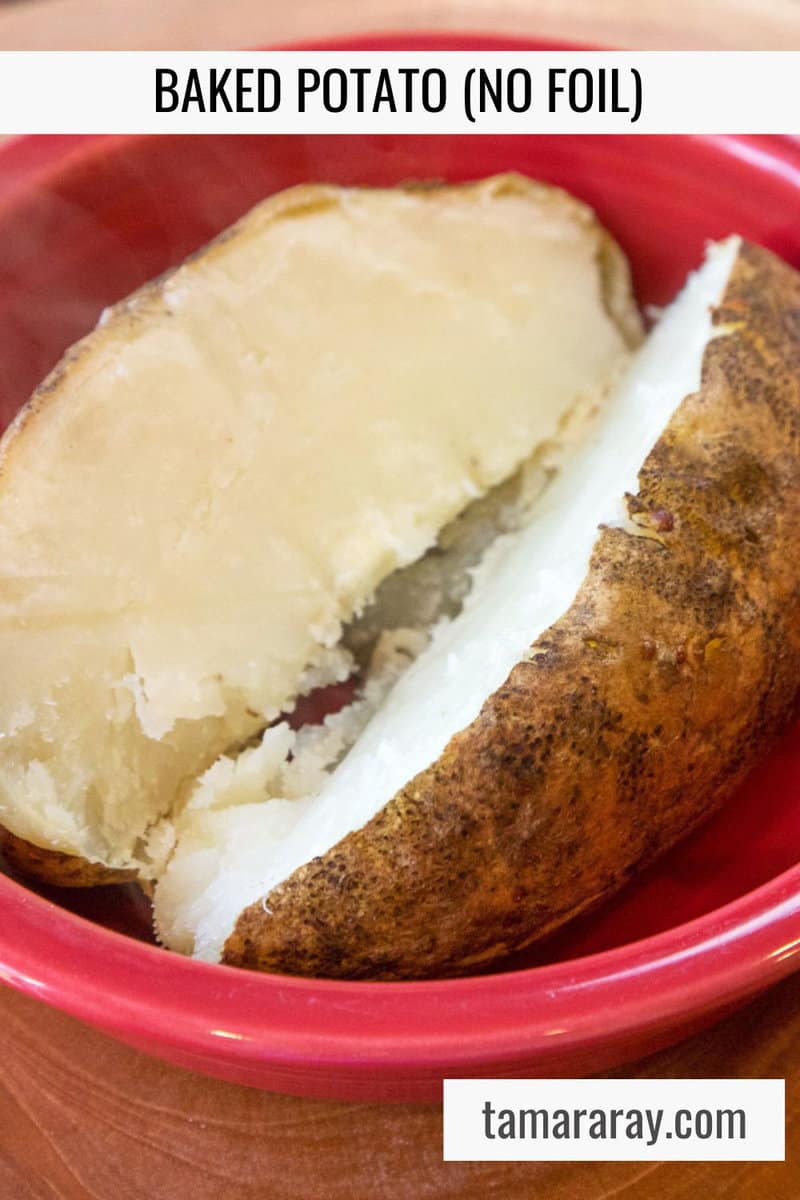 👩‍🍳 More Potato Recipes You Will Love
Try this quick and easy-to-make potato salad with hard-boiled eggs. The recipe includes celery, chopped onion, sweet pickle relish, table salt, ground black pepper, mayonnaise, and yellow mustard. This potato salad is full of delicious flavors.
If you love potatoes as we do, try these boiled baby potatoes. They are quick to make and so good! They are boiled for about 15 minutes, then the water is drained, and butter and Kosher salt are added. That's it.
These potato wedges are cooked in the air fryer and they are fantastic! The spices used for seasoning the potato wedges are olive oil, paprika, garlic powder, cayenne pepper, salt, and ground black pepper.
🗂️ Recipe Card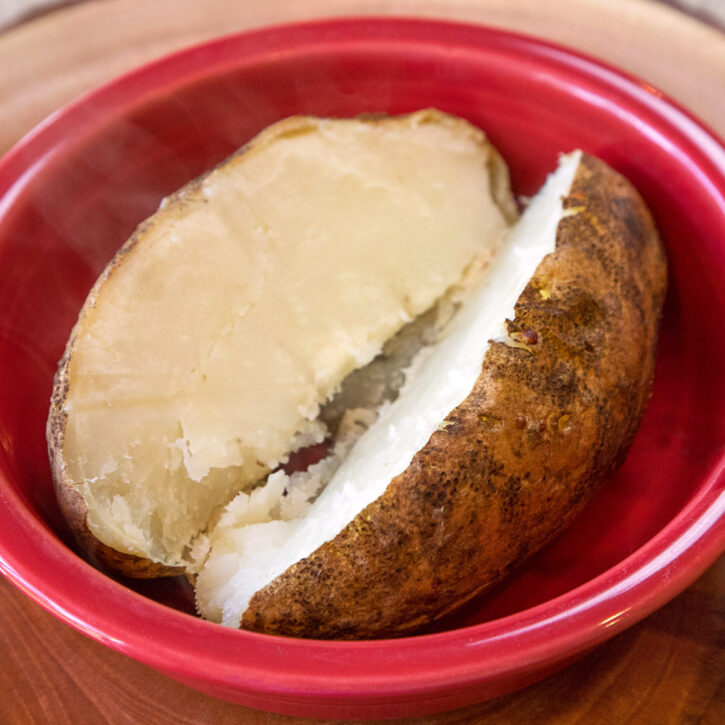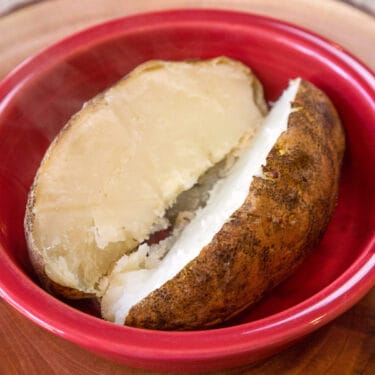 Baked Potato (No Foil)
This is an easy way to bake potatoes in the oven with no foil. When the potatoes are done, they are soft on the inside, and the potato skin tastes delicious too!
👩‍🍳 Instructions
Preheat the oven to 400 degrees Fahrenheit.

Wash the potatoes and pat them dry with a paper towel.

Lay potatoes on a sheet pan.

Poke holes on the front and back sides of the potatoes with a fork or sharp knife.

Rub olive oil, canola oil, or your favorite oil on the potatoes. At this time, if you prefer, you can sprinkle a little Kosher salt, table salt, or sea salt over the potatoes.

Place potatoes in the oven on the middle rack at 400 degrees Fahrenheit for 1 hour.
*️⃣ Recipe Notes
Some toppings for baked potatoes are chives, cheddar cheese, butter, ground black pepper, gravy, Greek yogurt, sour cream, guacamole, mushrooms, cilantro, or garlic powder.
A wife, a mother to a son and a daughter, and a grandmother to three granddaughters. Flo loves sharing recipes passed down from her own mother, her mother-in-law, and her grandmother as well as new recipes created with her daughter, Tamara Ray.
More by Flo ➜