(Last Updated On: August 16, 2022)
I love a good baked potato! This recipe will explain how easy it is to bake potatoes in the oven with no aluminum foil. The secret is poking a few holes in each potato with a fork, then rubbing vegetable oil on them, and then putting them in the oven for one hour, that's it. The old days of wrapping each potato in aluminum foil are over!
Potatoes cook better in the oven without aluminum foil. Aluminum foil traps moisture in the potato making the potato soggy. Also, look at all of the aluminum foil we could have saved, not to mention the amount of money spent on it.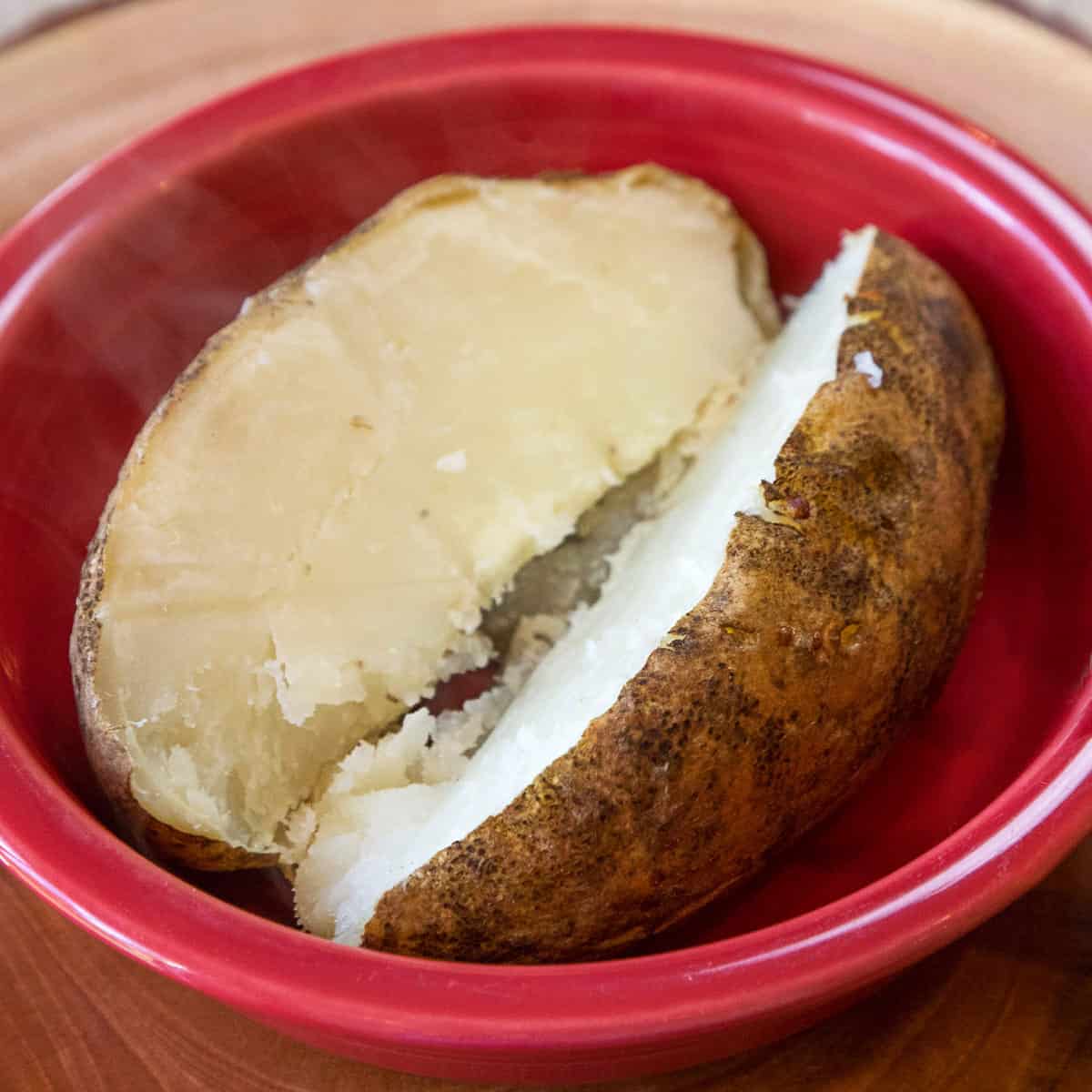 🥔 Key Ingredients for Baked Potato Recipe (No Foil)
7 Russet potatoes
Canola oil
👩‍🍳 How to Bake a Potato with No Foil (Step-By-Step Instructions with Detailed Photos)
Step 1. Preheat Oven
Preheat the oven to 400 degrees. Make sure your oven rack is in the middle.
Step 2. Wash the Potatoes
Scrub up the number of potatoes you want to make for your dinner. We used 7 potatoes because of the size of our family. You can make 2, or 4, or 6 potatoes, however many you prefer.
Step 3. Put the Potatoes on a Sheet Pan
After the potatoes are squeaky clean, pat them dry with a paper towel, then place all of the potatoes on a baking sheet pan.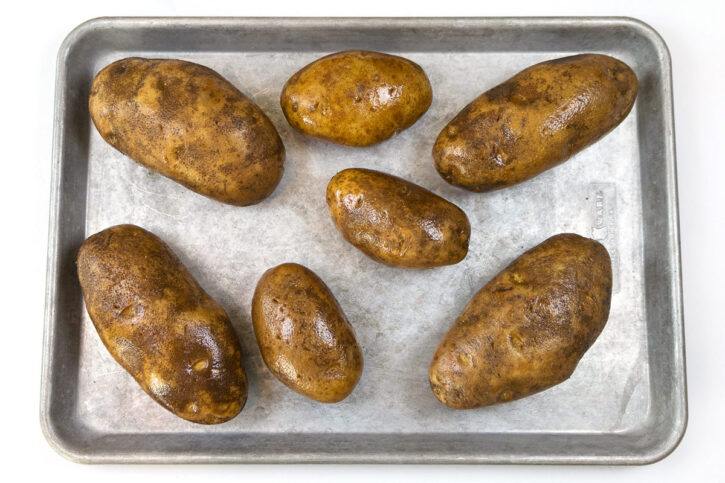 Step 4. Poke Holes into the Potatoes
Next, get a fork and poke holes into the potatoes. To do that, grab ahold of one potato and push the fork about halfway into it. Then push the fork into another area of the potato.
Do both sides, front and back, about 3 times on each side should do it.
Note: Be very careful not to poke your hand with the fork.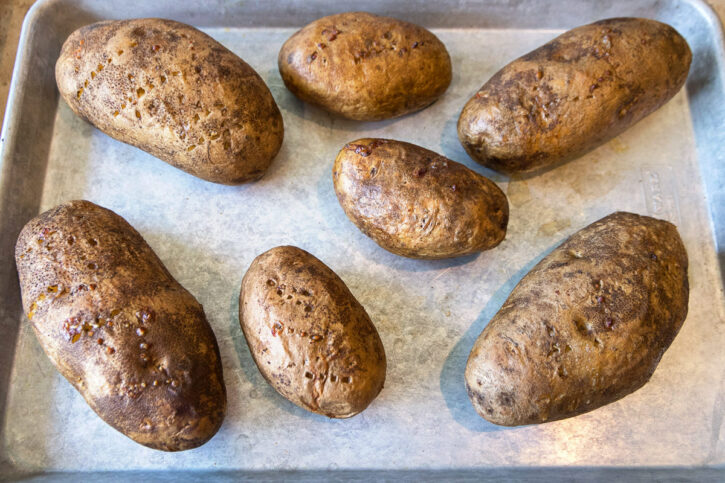 Step 5. Rub Oil and Season Potatoes
After all of the potatoes are poked with a fork, rub canola oil, olive oil, or your favorite vegetable oil, over all of them. Do the front side and the backside, using your hands.
At this time, for those of you who love to eat the potato skin as I do, you can sprinkle some salt all over the potatoes while they are laying on the sheet pan. The salt will adhere to the canola oil nicely.
Step 6. Bake the Potatoes in the Oven
Place the sheet pan with the potatoes on it in the oven and then bake at 400 degrees for 1 hour.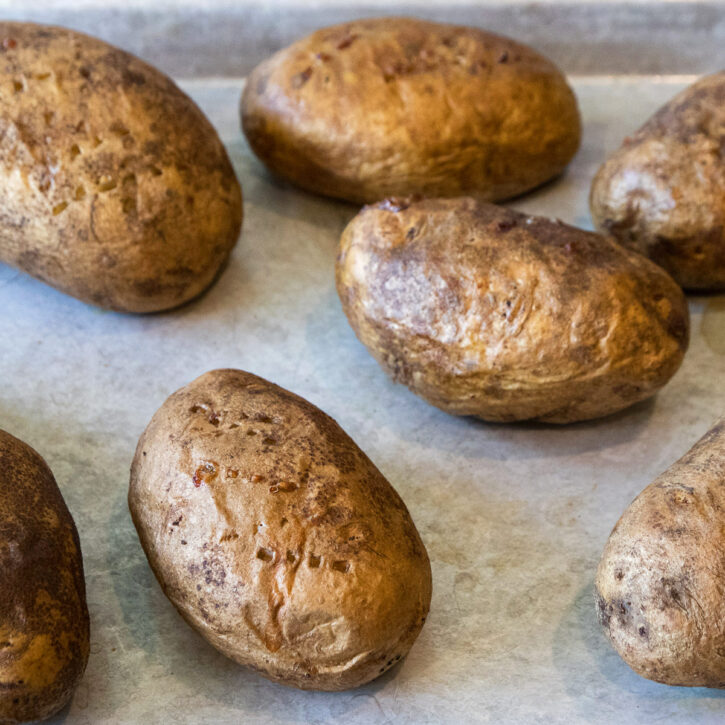 ❓ FAQs for Baked Potato (No Foil)
How Long Should Potatoes be Baked For?
For the most perfect baked potatoes without foil, bake in the oven at 400 degrees with a cooking time of 1 hour. Make sure you poke holes in the potatoes first, and coat with a layer of oil.
Why Are Baked Potatoes Good for You?
There are many health benefits of baked potatoes. However, this assumes you lay off on the butter, bacon, sour cream, and fatty cheeses. Adding unhealthy toppings can make the actual health benefits of baked potatoes become irrelevant. Some of my favorite benefits are:
High in potassium – the average medium potato has about double the amount of potassium as a banana!
Can reduce inflammation – baked potatoes have a chemical compound in them called choline. This chemical can help to reduce inflammation in the human body.
High in fiber – baked potatoes are high in fiber and this can help with digestion.
💡 Final Thoughts
Sometimes you just don't feel like going through all of the work making mashed potatoes, even though I love mashed potatoes, so once in a while, the easier alternative is to make a perfect baked potato. It's a great side dish to many meals, quick to prepare, and the taste is heavenly!
Some extra toppings to lather on a baked potato are cheddar cheese, salt, pepper, garlic powder, butter, sour cream, bacon bits, roasted corn salsa, guacamole, cilantro, and or chives.
👩‍🍳 More Recipes You Will Love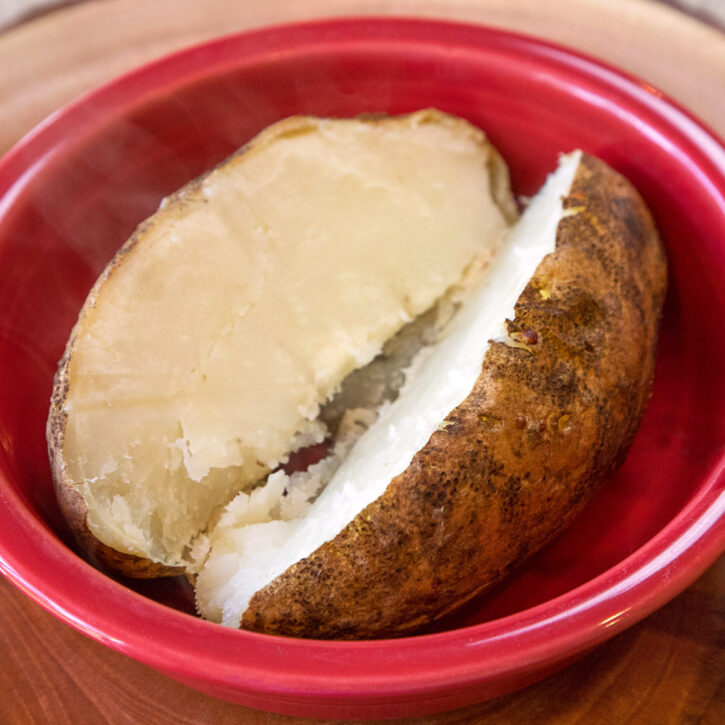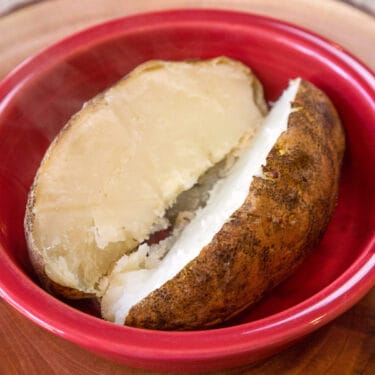 Baked Potato Recipe (No Foil)
This is an easy way to bake potatoes in the oven with no foil. When the potatoes are done, they are soft on the inside, and the potato skin tastes delicious too!
Ingredients
7

Russet potatoes

Canola oil – or your choice of vegetable oil

(enough to rub on potatoes)
Instructions
Wash the potatoes and pat them dry with a paper towel.

Lay potatoes on a sheet pan.

Poke holes on the front and back sides of the potatoes with a fork.

Rub canola oil on the potatoes. At this time, if you prefer, you can sprinkle a little salt over the potatoes.

Place in the oven at 400 degrees for 1 hour.
Recipe Notes
You can sprinkle some salt on the potatoes after you put the canola oil on them.
Some toppings for baked potatoes are chives, cheddar cheese, butter, salt, pepper, gravy, or greek yogurt.
A wife, a mother to a son and a daughter, and a grandmother to three granddaughters. Flo loves sharing recipes passed down from her own mother, her mother-in-law, and her grandmother as well as new recipes created with her daughter, Tamara Ray.
More by Flo ➜