(Last Updated On: April 19, 2023)
When you get that irresistible chocolate craving, you need these chewy dark chocolate cookies in your cookie jar! This cookie recipe is rich in chocolate flavor throughout the cookie with chunks of dark chocolate chips on top of each cookie.
Just like our triple chocolate brownies, s'mores cookies with chocolate chips, and chewy chocolate chip cookies with M&M's, these dark chocolate cookies melt in your mouth and are so delicious.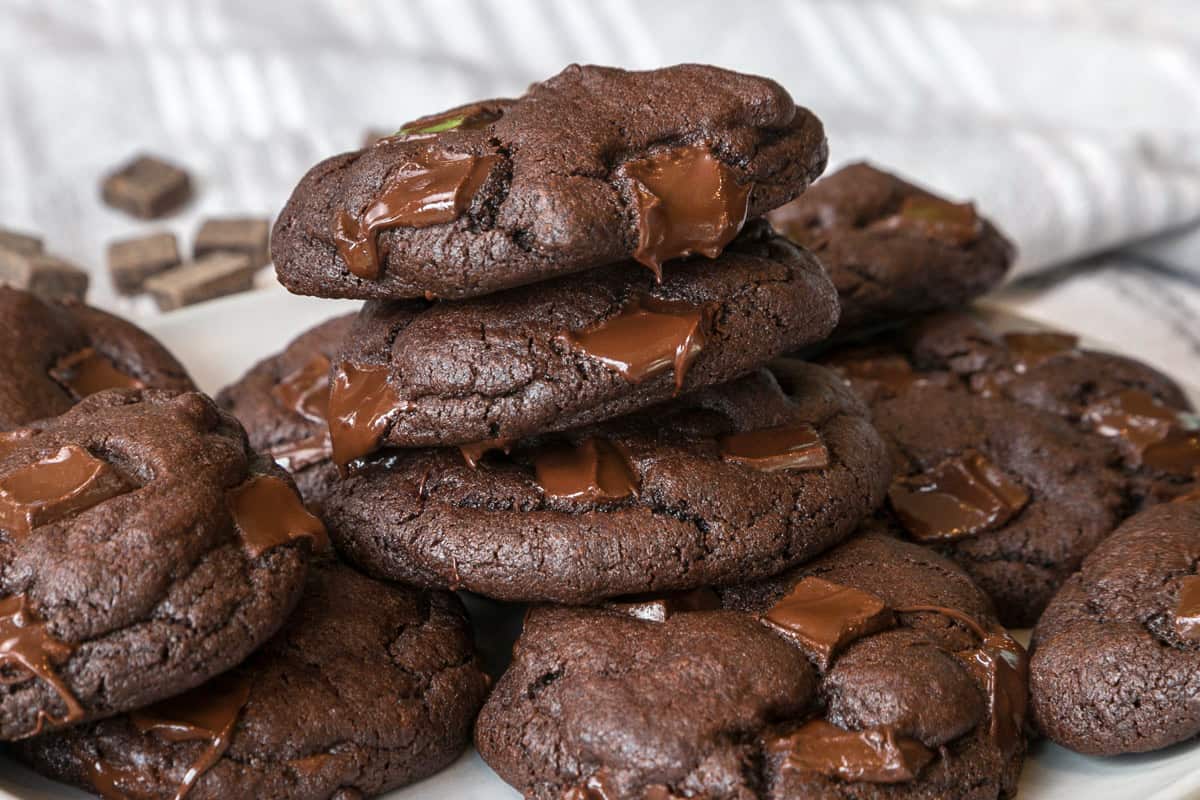 🍪 Key Ingredients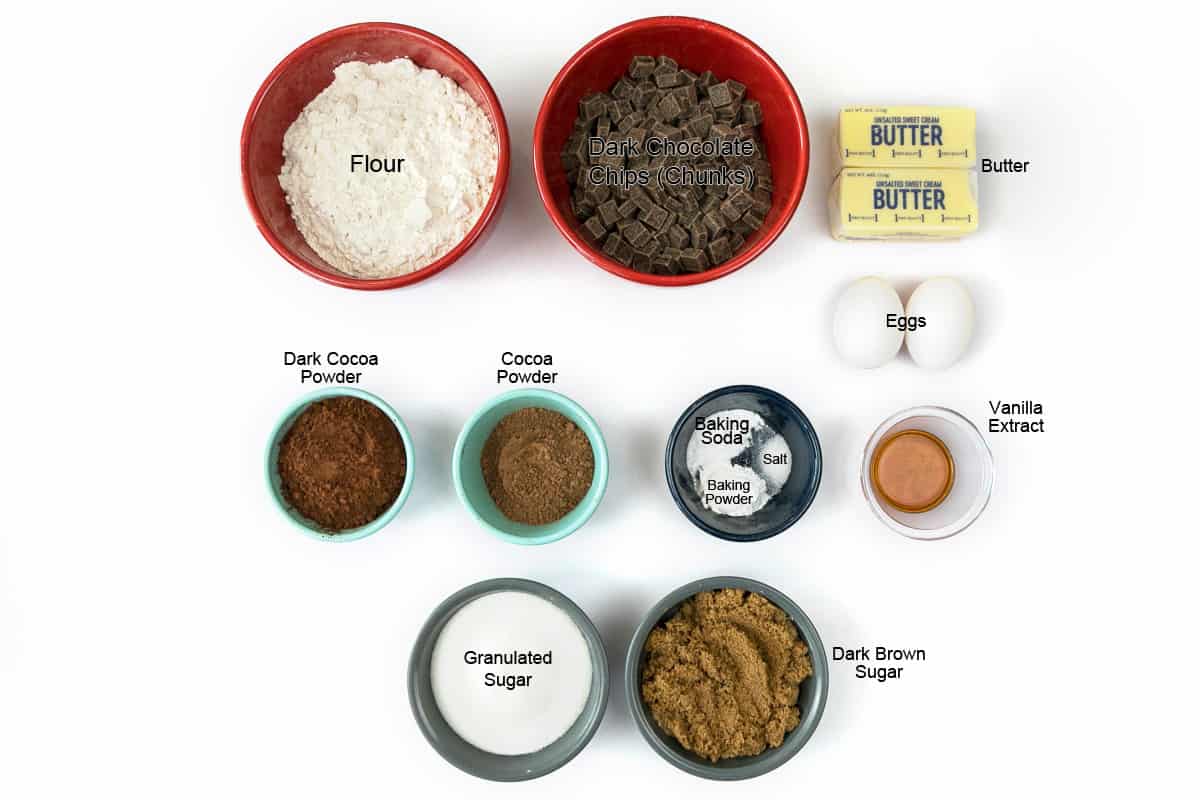 👩‍🍳 How to Make Dark Chocolate Cookies (Step-by-Step Instructions with Detailed Photos)
Step 1. Preheat the Oven
Set the oven to 350 degrees Fahrenheit.
Step 2. Soften the Butter
Take one cup of unsalted cold butter out of the refrigerator and let it set on the countertop at room temperature to soften. This should take about 15 minutes or so. If you don't have any extra minutes to spare, you can always put the butter in a microwave-safe bowl and microwave it for about 20 seconds.
Tip: One cup of butter equals two sticks of butter.
Step 3. Prepare the Dry Ingredients in a Bowl
In the meantime, while the butter is softening, let's prepare the dry ingredients. Get a large bowl and a one-cup measuring cup. Use the one-cup measuring cup and add 2 cups of all purpose flour together with 1/2 cup of dark cocoa powder.
Then add 1/4 cup of unsweetened cocoa powder, 1 teaspoon baking soda, 1 teaspoon baking powder, and 1/4 teaspoon table salt to the flour and dark cocoa powder. This is our flour mixture, aka (also known as) the dry ingredients.
Note: We used Hershey's special dark cocoa powder.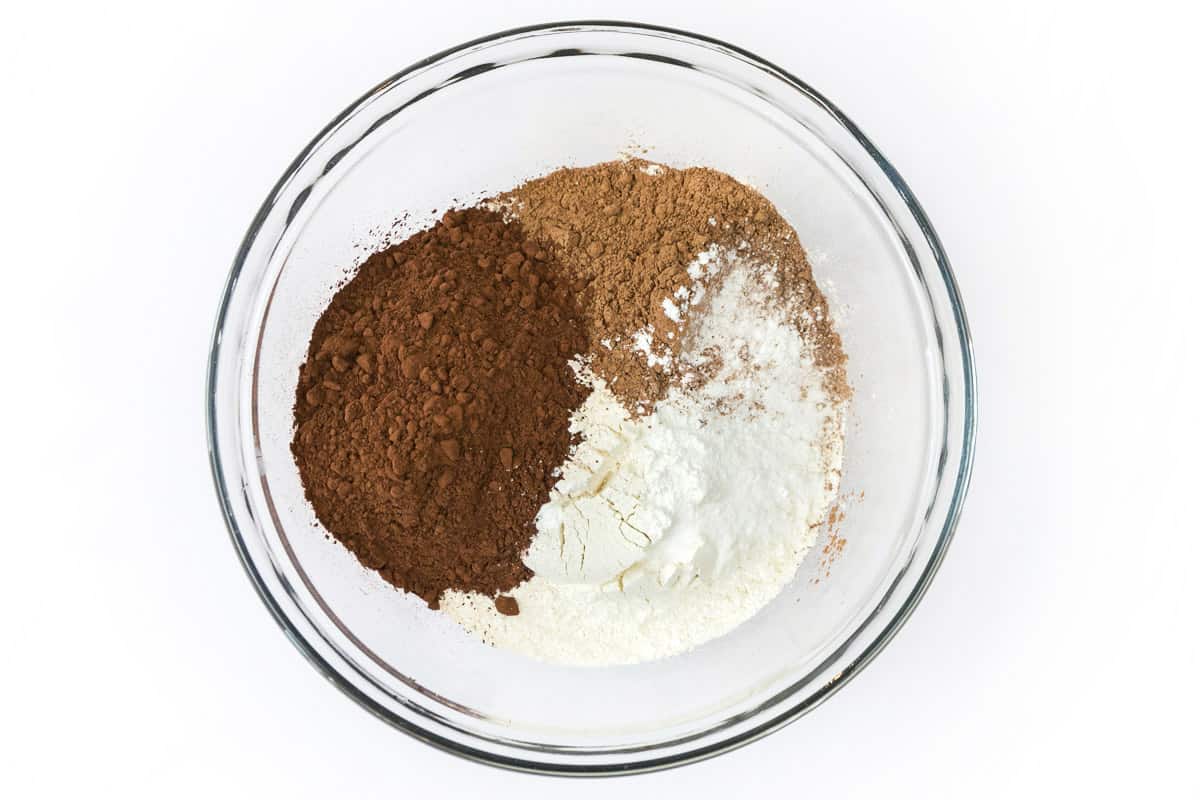 Step 4. Mix the Dry Ingredients
Then, with a spatula or spoon, stir the flour mixture ingredients until it is thoroughly blended. After that, set the flour mixture aside for the time being.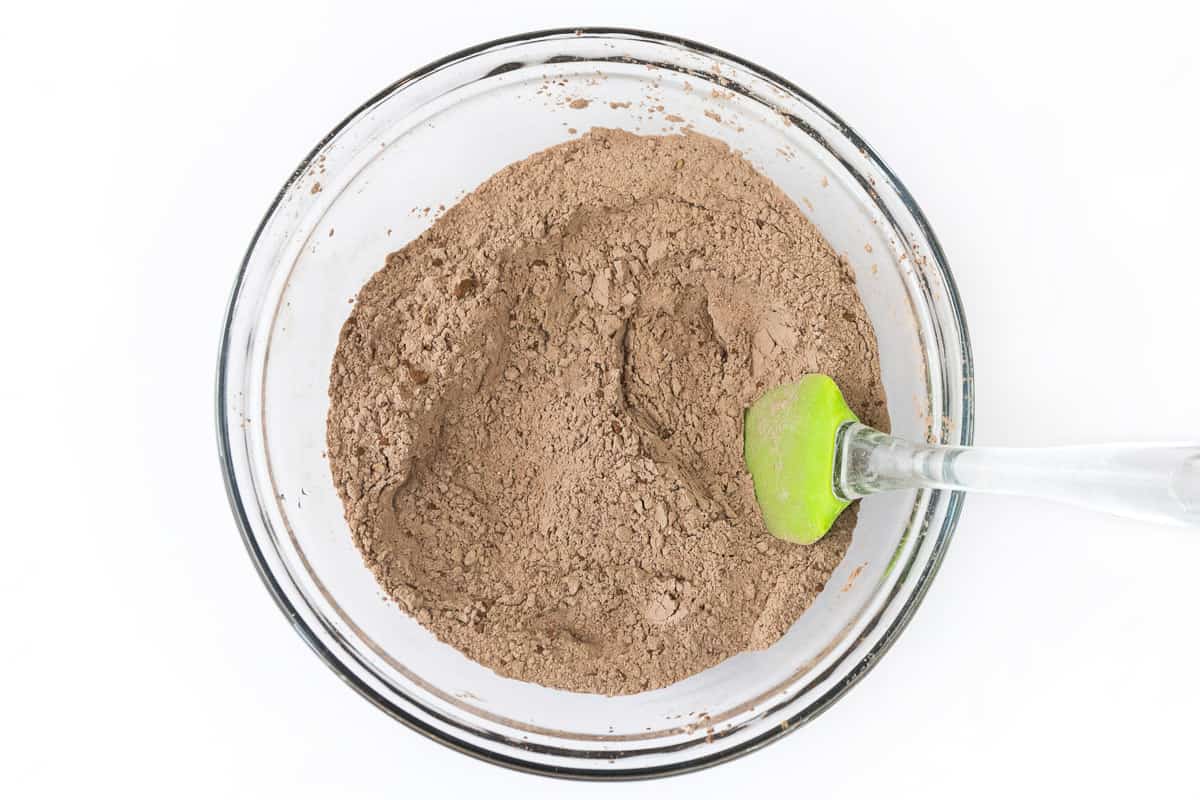 Step 5. Prepare the Butter and Sugar
After the butter has softened, get a medium bowl and add 3/4 cup of granulated sugar together with 3/4 cup of dark brown sugar. Then, take the softened butter and put it into the bowl together with the granulated sugar and dark brown sugar.
Step 6. Mix the Butter and Sugar Together
Using an electric mixer (handheld) or stand mixer start on low speed, then increase to medium speed and blend the granulated sugar, brown sugar, and softened butter until the mixture looks like thick creamy dough. If you don't have a hand mixer, you can use a spoon or spatula.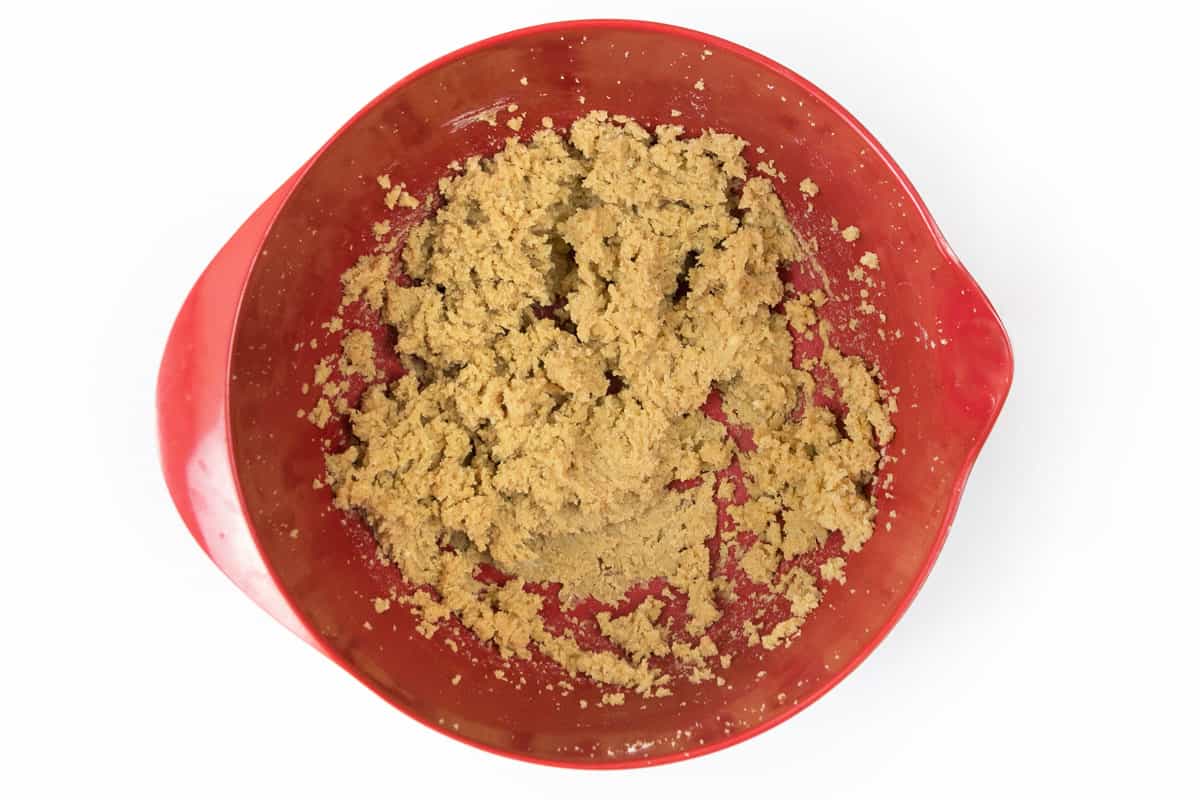 Step 7. Add the Eggs and the Vanilla
Add 2 large eggs and 1 teaspoon of vanilla extract together with the butter and sugar mixture.
Step 8. Combine Eggs, Vanilla, & Butter Sugar Mixture
Mix the eggs and the vanilla extract together with the butter and sugar mixture using the hand mixer until thoroughly combined.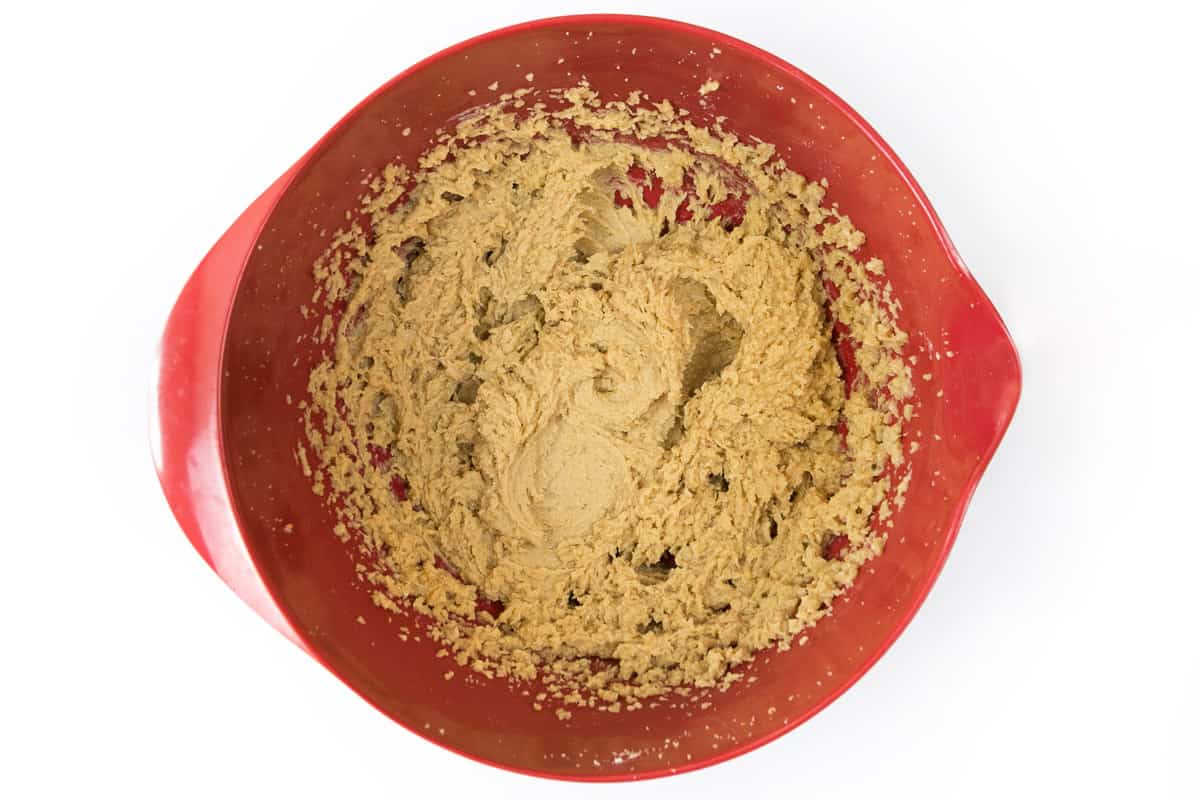 Step 9. Add the Dry Ingredients to the Wet Ingredients
Use an electric mixer, spoon, or spatula and slowly add a little at a time the flour mixture (dry ingredients) we set aside earlier to the butter-sugar mixture (wet ingredients). Combine the dry mixture with the wet mixture until a thick cookie dough forms.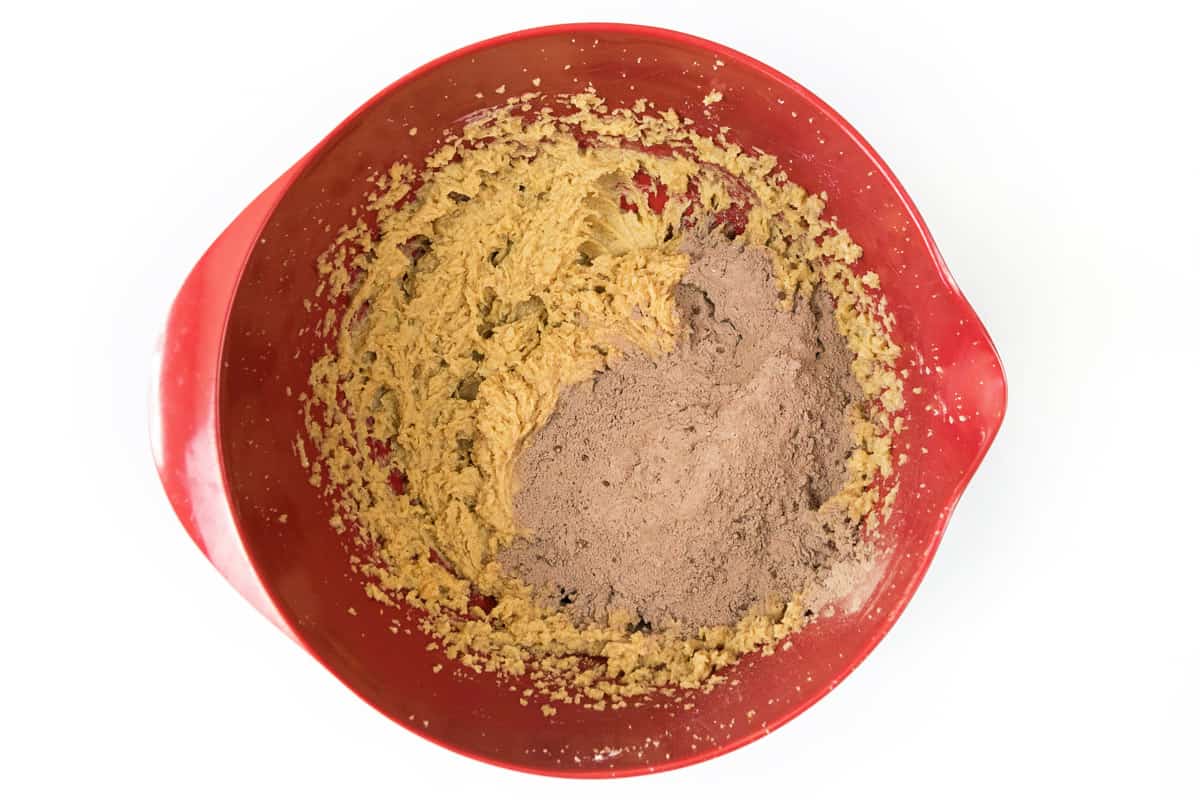 Step 10. Keep Mixing to Form Cookie Dough
Continue to mix until you have a very dark chocolate cookie dough. This chocolate cookie dough will be very thick too.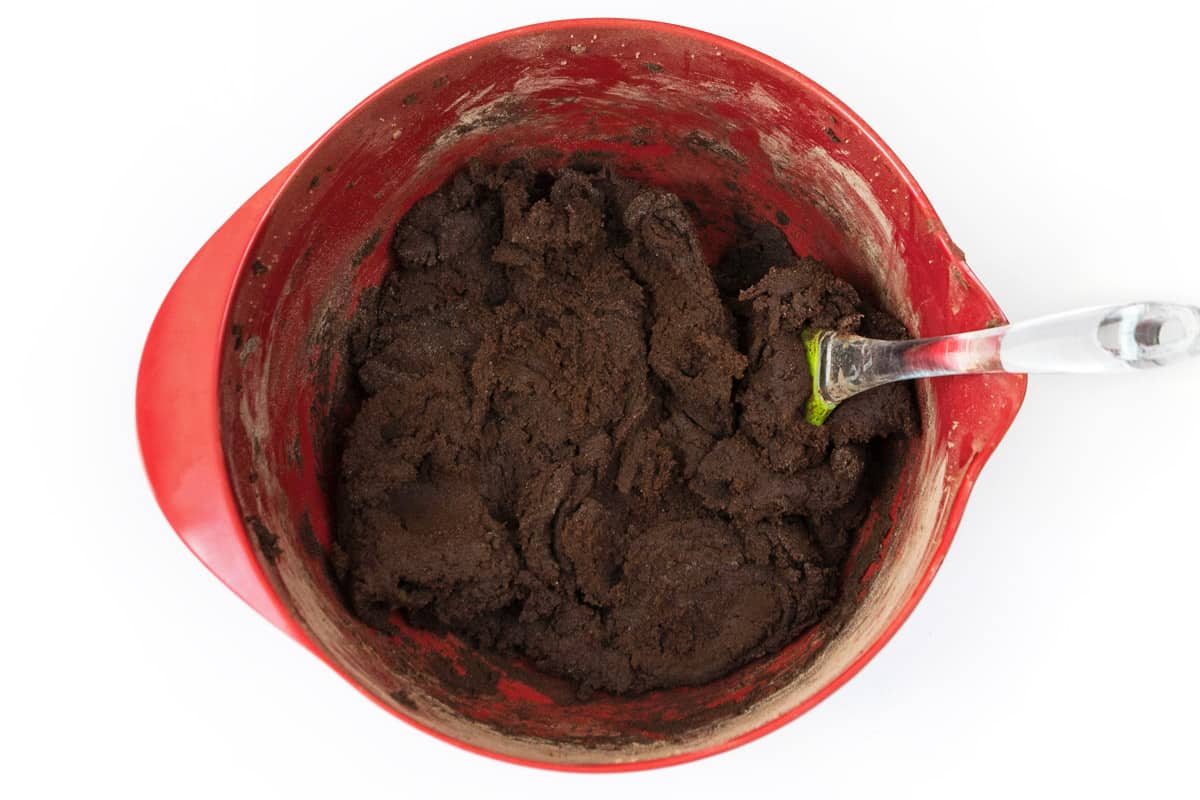 Step 11. Add the Dark Chocolate Chip Chunks
Add 2 cups of dark chocolate chip chunks together with the cookie dough batter. Stir the dark chocolate chunks into the cookie dough batter until thoroughly combined.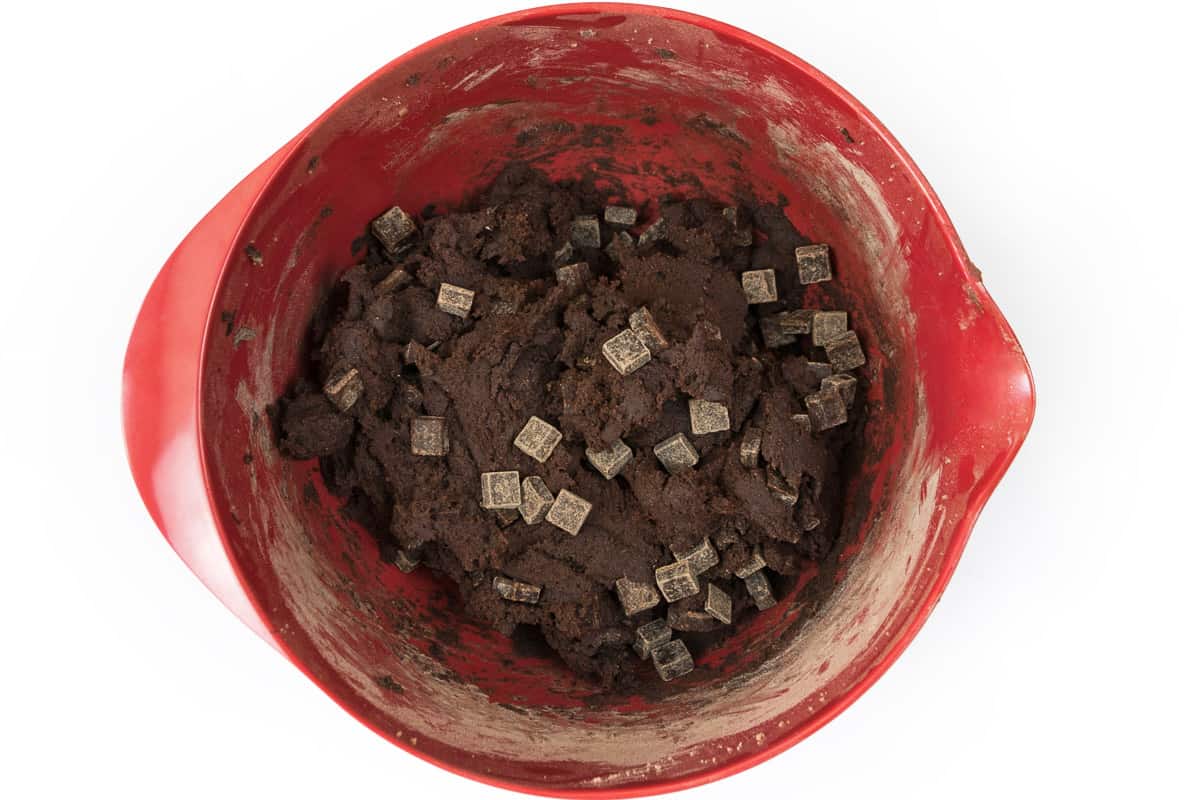 Step 12. Cover Dough with Plastic Wrap and Chill
Take the chocolate cookie dough out of the bowl and shape it into a big ball or disk. Then wrap the cookie dough in a piece of plastic wrap. Put the cookie dough into the refrigerator for at least an hour to chill.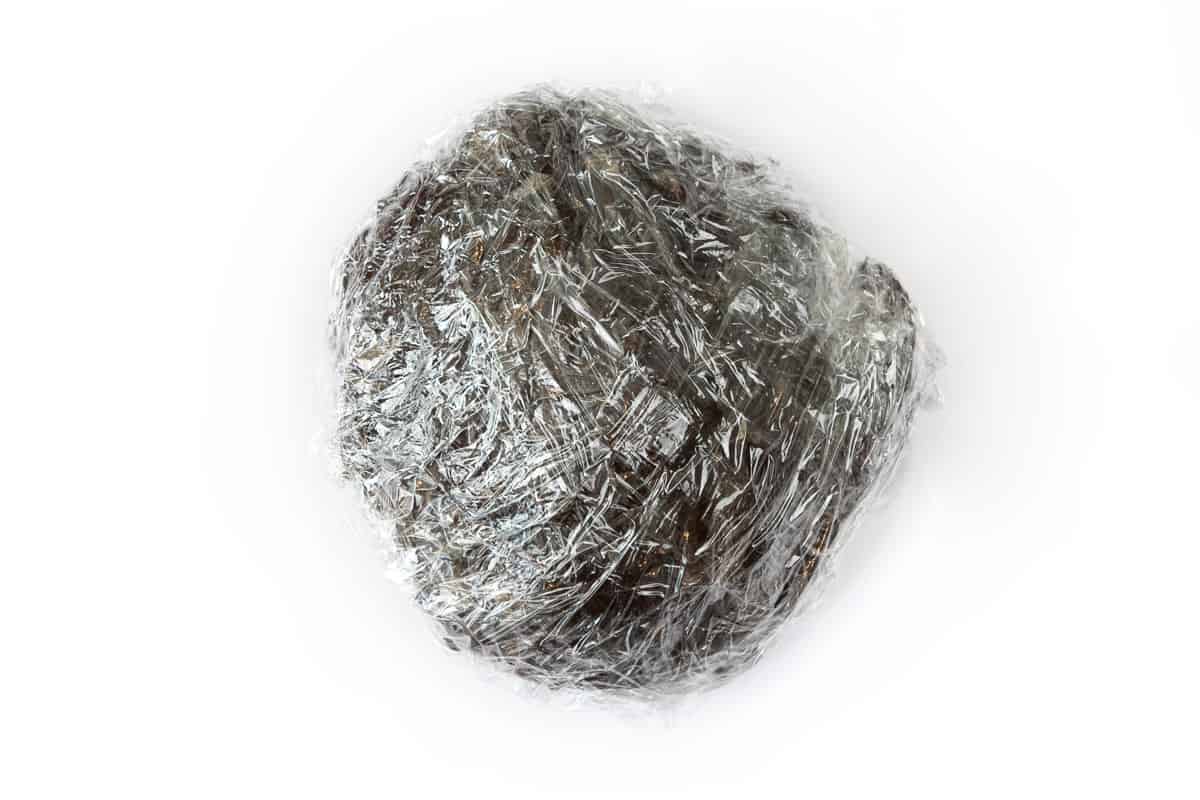 Step 13. Place Parchment Paper on a Baking Sheet
While the cookie dough is chilling in the refrigerator, you can prepare the baking sheet, or cookie sheet, by putting a piece of parchment paper on top of it.
Tip: Parchment paper works as a barrier between the baking sheet and the cookies so the cookies won't stick to the baking sheet. There is no need to use cooking spray on the baking sheet when you place a sheet of parchment paper down first. But if you don't have parchment paper, go ahead and spray the baking sheet with your favorite cooking spray.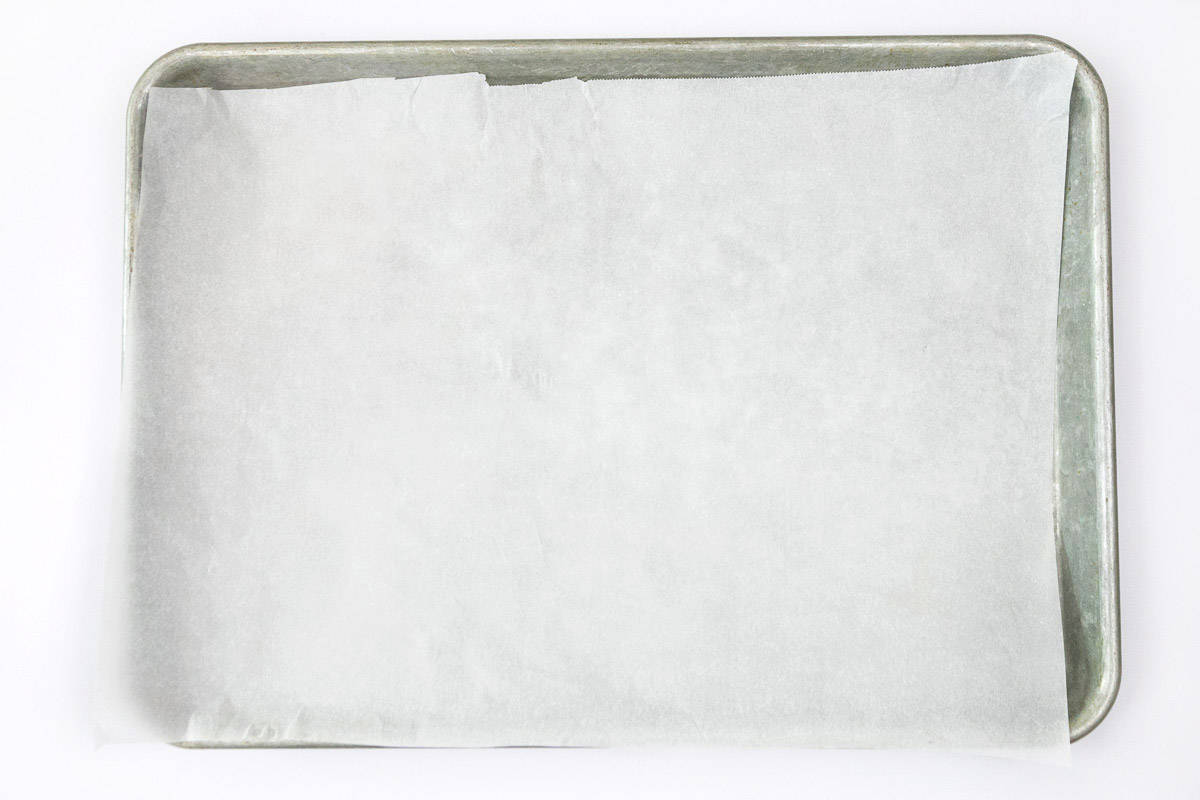 Step 14. Roll Cookie Dough into Balls
After the cookie dough has chilled for an hour, take it out of the refrigerator and then remove the plastic wrap. Roll the raw cookie dough into 1-inch balls using a 1-inch cookie scoop, although a spoon will work just fine too.
Place the cookie dough balls on the parchment paper that is on the baking sheet about 2 inches apart to allow them to spread. We were able to get nine cookie dough balls on the baking sheet.
Step 15. Bake the Cookies in the Oven
Put the first batch of cookies in the oven at 350 degrees Fahrenheit. The bake time for these dark chocolate cookies is for 8-10 minutes. We baked our cookies for 10 minutes. Do not overbake.
Note: Most ovens cook differently so be sure to keep an eye on the cookies while they are in the oven baking.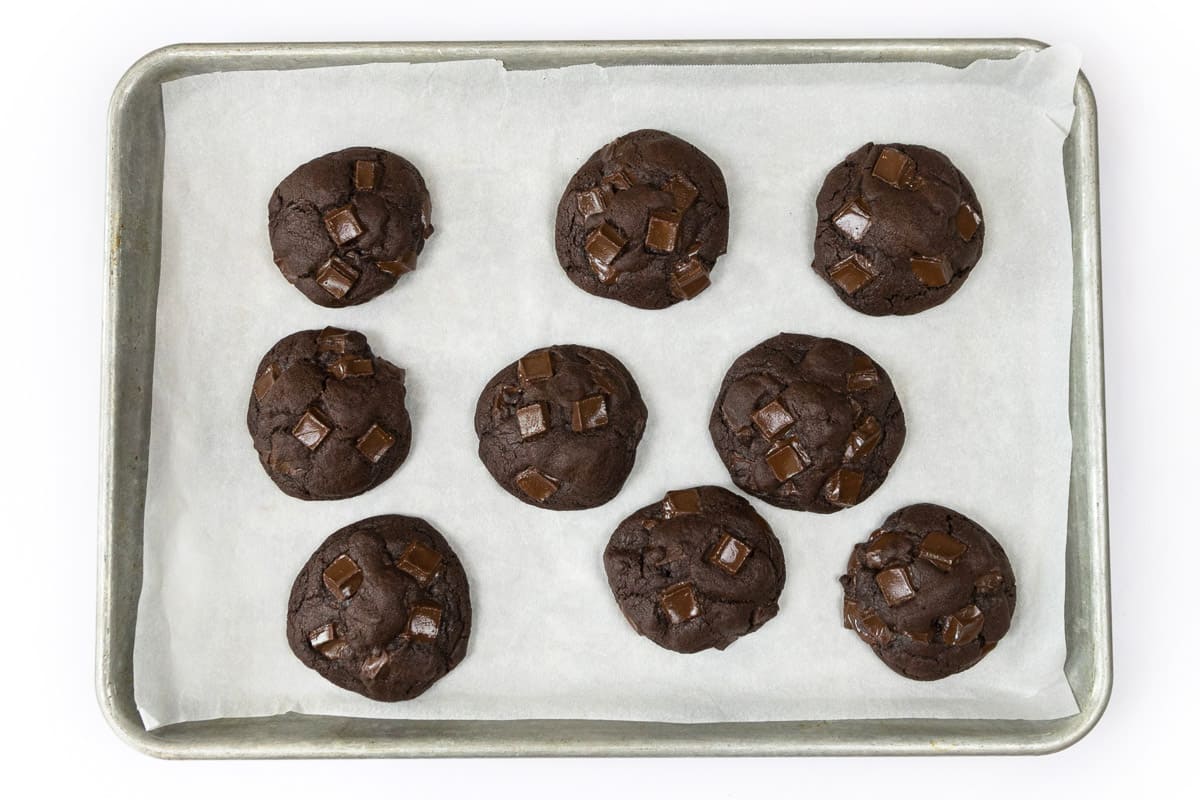 Step 16. Transfer Cookies to a Cooling Rack
Take the baked cookies out of the oven and let them sit on the cookie sheet for about five minutes or so to cool down. Any less time than five minutes, the cookies will still be gooey and will fall apart while trying to transfer them. After they have cooled, then transfer the cookies to a cooling rack so they can cool completely.
Store the cooled cookies in a cookie jar or a container with a lid on it. You can also put the cookies on a plate and cover them with plastic wrap. You can leave the cookies on the countertop for about three or four days if they last that long.
Tip: For the best results, to prevent the cookies from becoming hard, place a piece of bread in with them.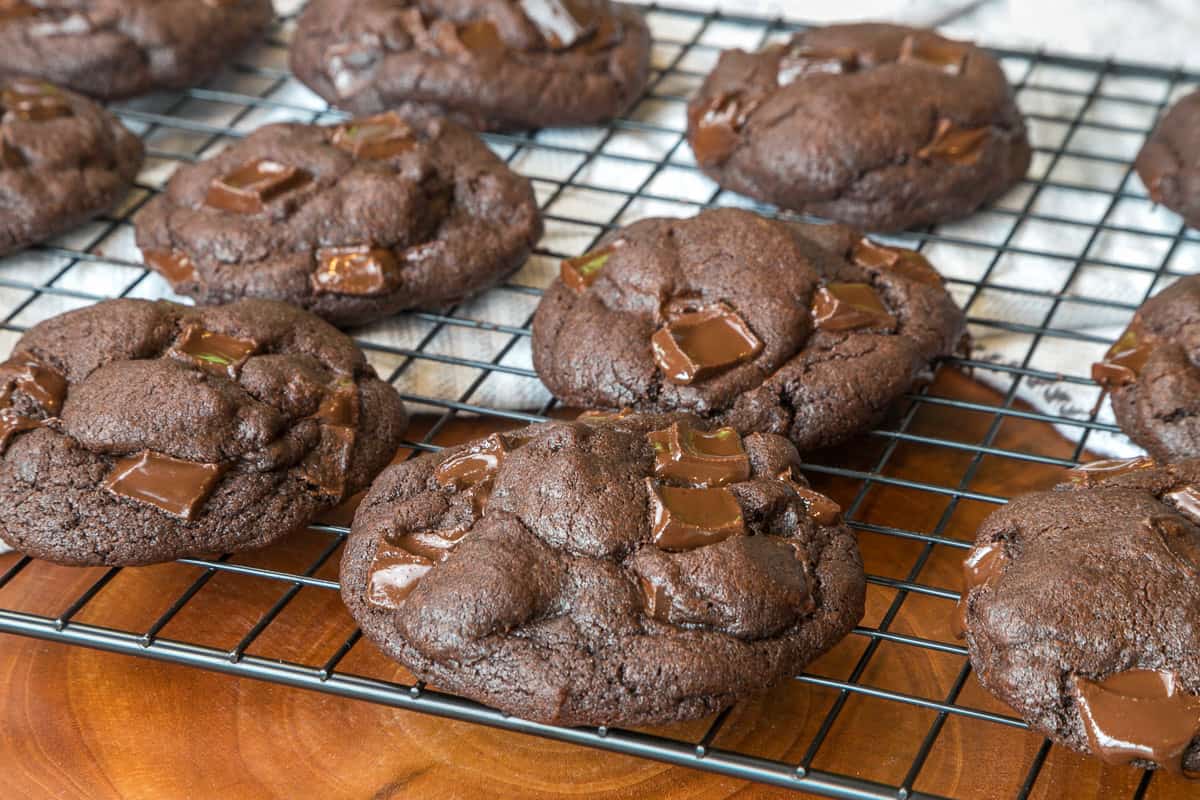 🌟 Recipe Variations for Dark Chocolate Cookies
To add even more delicious chocolate to these already double dark chocolate cookies, spread some dark chocolate fudge frosting on top of each cookie for triple the chocolate. After all, there is no such thing as too much chocolate, right?
Sprinkle a little bit of flaky sea salt on top of the chocolate cookies after you have taken them out of the oven.
Add some white chocolate chips together with the dark chocolate chips. Yum!
Add in some of your favorite nuts, for example, chopped walnuts or pecans.
For the ultimate chocolate cookie, add milk chocolate chips, semi-sweet chocolate chips, or peanut butter chips if you prefer to do so.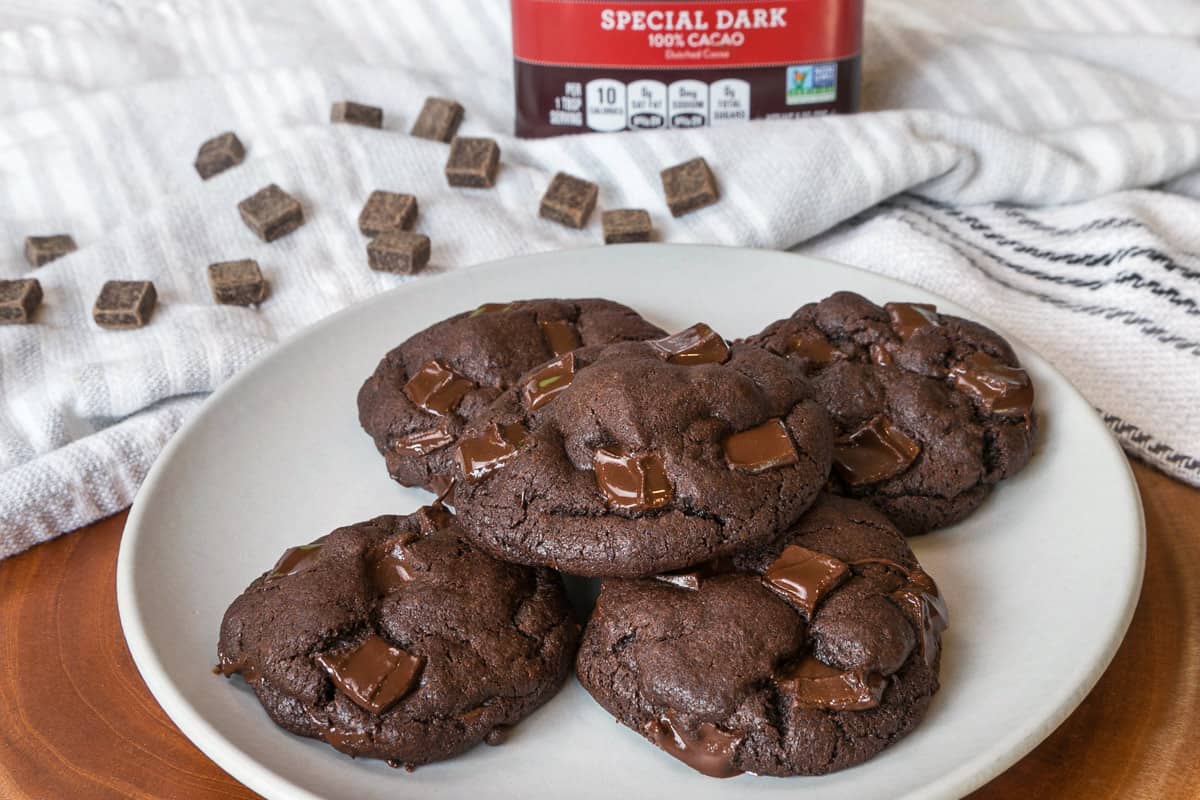 🙋 FAQs
Can I Freeze Dark Chocolate Cookies?
Yes, you can freeze dark chocolate cookies in the freezer for about 3 to 4 months. Make sure to put them in an airtight container or freezer bag that is safe for the freezer.
What do I do with Leftover Dark Chocolate Cookies?
You can put leftover dark chocolate cookies in a cookie jar, or set them on the countertop on a plate covered with plastic wrap. After about 3 or 4 days, if you still have any left, you can freeze them.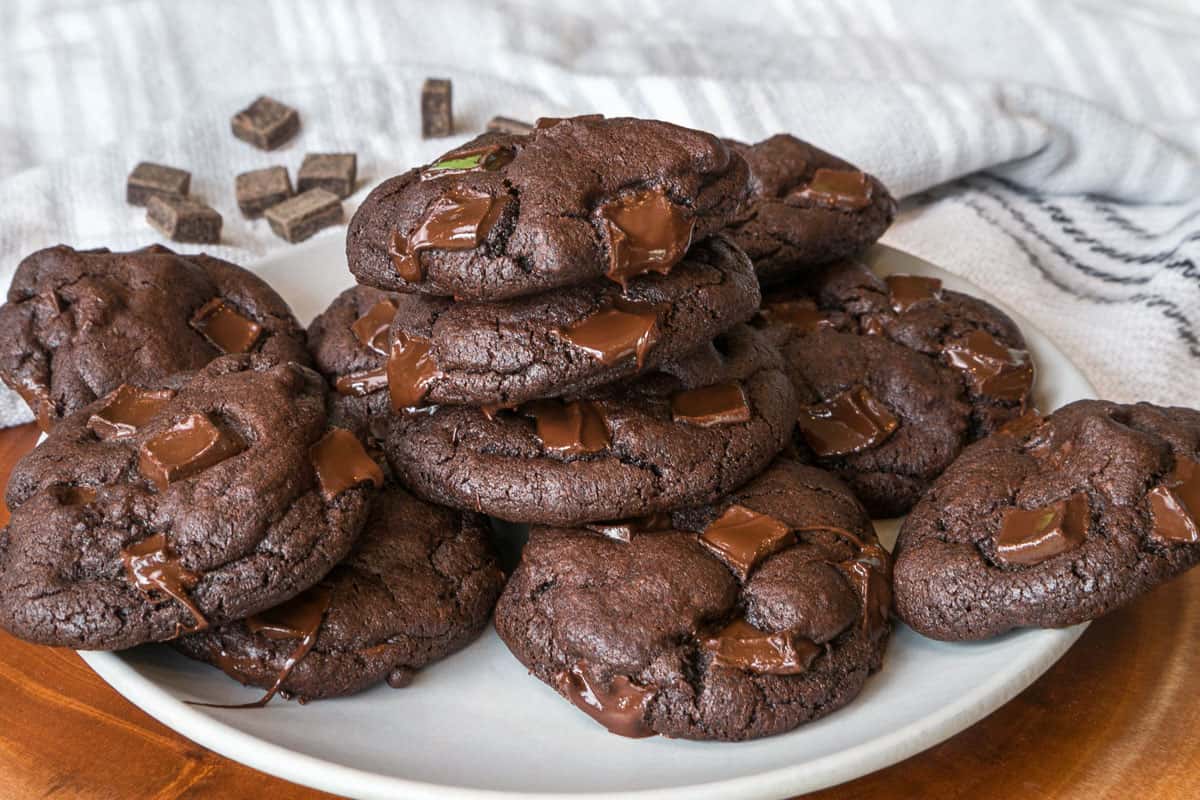 💡 Final Thoughts
The next time you want some super soft cookies with chewy centers that are filled with lots of melted chocolate chips and loaded with rich chocolate flavor, go to the kitchen and start making these amazing dark chocolate cookies.
They are a dark chocolate lovers delight for sure! If you and your family love brownies, you are all sure to love these cookies! They are almost like a brownie rolled right into a cookie. Your family will be very happy! Enjoy!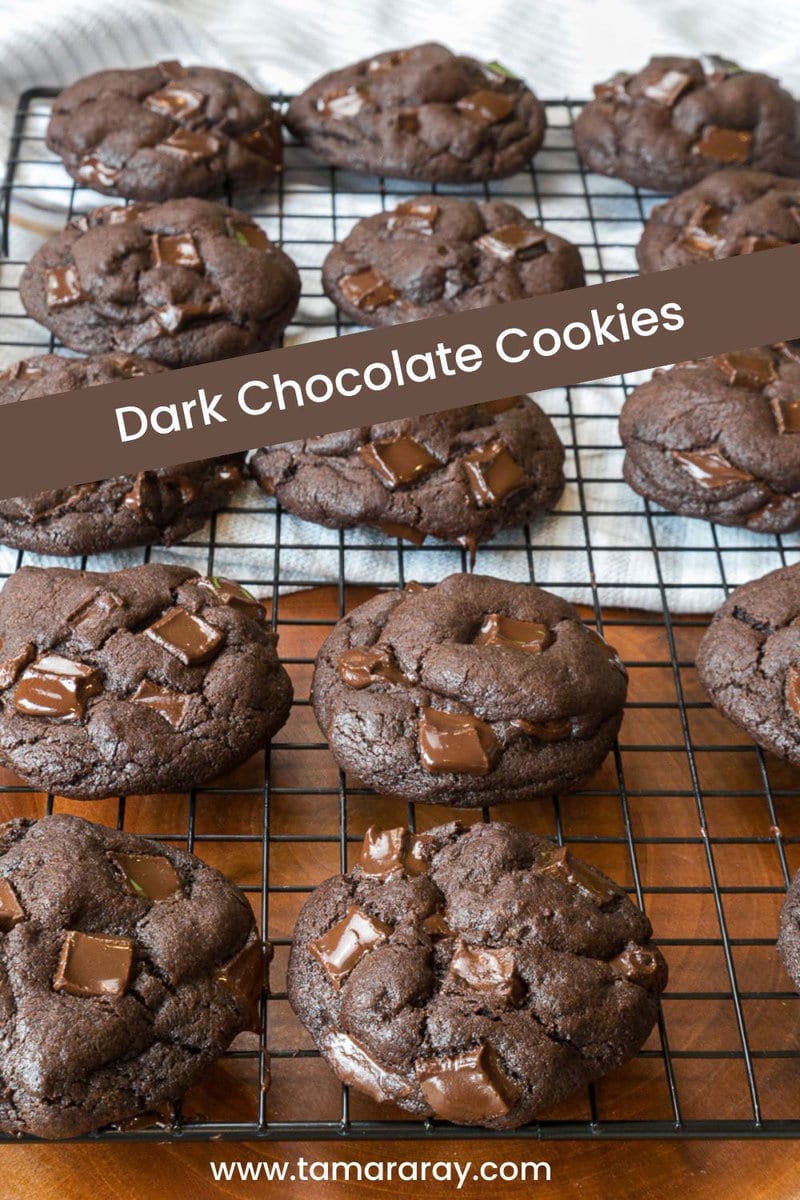 💖 More Favorite Recipe Ideas You Will Love
Christmas Cookies with M&Ms – These cookies are fantastic. They have crispy edges, are super soft inside, and are loaded with lots of red and green M&M candies. But, these Christmas cookies are not just for Christmas. You can swap out the color of the M&Ms with multi-colored M&Ms and enjoy this cookie all year long.
Sea Salt Chocolate Chip Cookies – A delicious chocolate cookie with a pinch of sea salt on top and they are so good!
Cream Cheese Cookies with Sprinkles – These cream cheese cookies are to die for! They melt in your mouth so well! They are covered in sprinkles and have a chocolate chip surprise inside.
📄 Recipe Card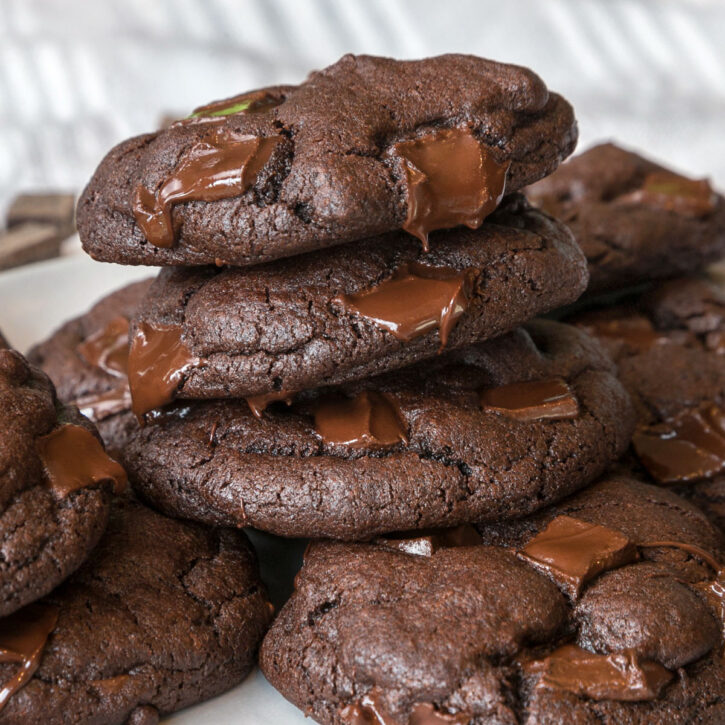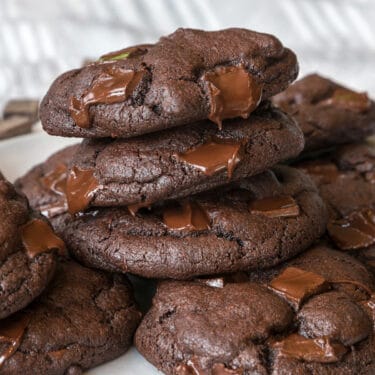 Dark Chocolate Cookies
These dark chocolate cookies are simply amazing. They are super soft with lots of rich chocolate flavor and chocolate chips nestled inside and on top for a surprise delight in every bite.
👩‍🍳 Instructions
Preheat the oven to 350 degrees Fahrenheit.

Set out the butter at room temperature to soften.

In a large bowl, mix the dry ingredients – flour, dark cocoa powder, unsweetened cocoa powder, baking soda, baking powder, and salt.

In a different bowl, mix the wet ingredients – butter, granulated sugar, and dark brown sugar.

Mix in the eggs and vanilla extract with the butter and sugar mixture.

Gradually mix the dry ingredients with the wet ingredients.

Add the dark chocolate chip chunks.

Cover the cookie dough with plastic wrap and put it in the refrigerator to chill for one hour.

Place a sheet of parchment paper on the cookie sheet or use cooking spray..

Roll the cookie dough into 1-inch balls and place them on the cookie sheet about 2 inches apart.

Bake at 350 degrees Fahrenheit for 8 to 10 minutes.

Let the cookies cool on the cookie sheet for about 5 minutes then transfer them to a cooling rack until completely cool.
*️⃣ Recipe Notes
To prevent the cookies from becoming hard, place a piece of bread into the container with them.
For even more chocolate flavor, spread some dark chocolate fudge frosting on top of each cookie.
A wife, a mother to a son and a daughter, and a grandmother to three granddaughters. Flo loves sharing recipes passed down from her own mother, her mother-in-law, and her grandmother as well as new recipes created with her daughter, Tamara Ray.
More by Flo ➜