(Last Updated On: May 2, 2023)
This chocolate chip cookie pizza recipe is loaded with melted chocolate chips, M&M candies, pieces of Kit Kat candy, mini marshmallows, and melted white chocolate chips all piled high on top of a pizza size chocolate chip cookie. It really lives up to the name ooey gooey! This recipe is customizable, so feel free to mix and match your preferred toppings in any way you like!
This cookie pizza recipe is full of rich chocolatey flavor, just like these gooey triple chocolate brownies, s'more cookies with chocolate chips, and dark chocolate cookies.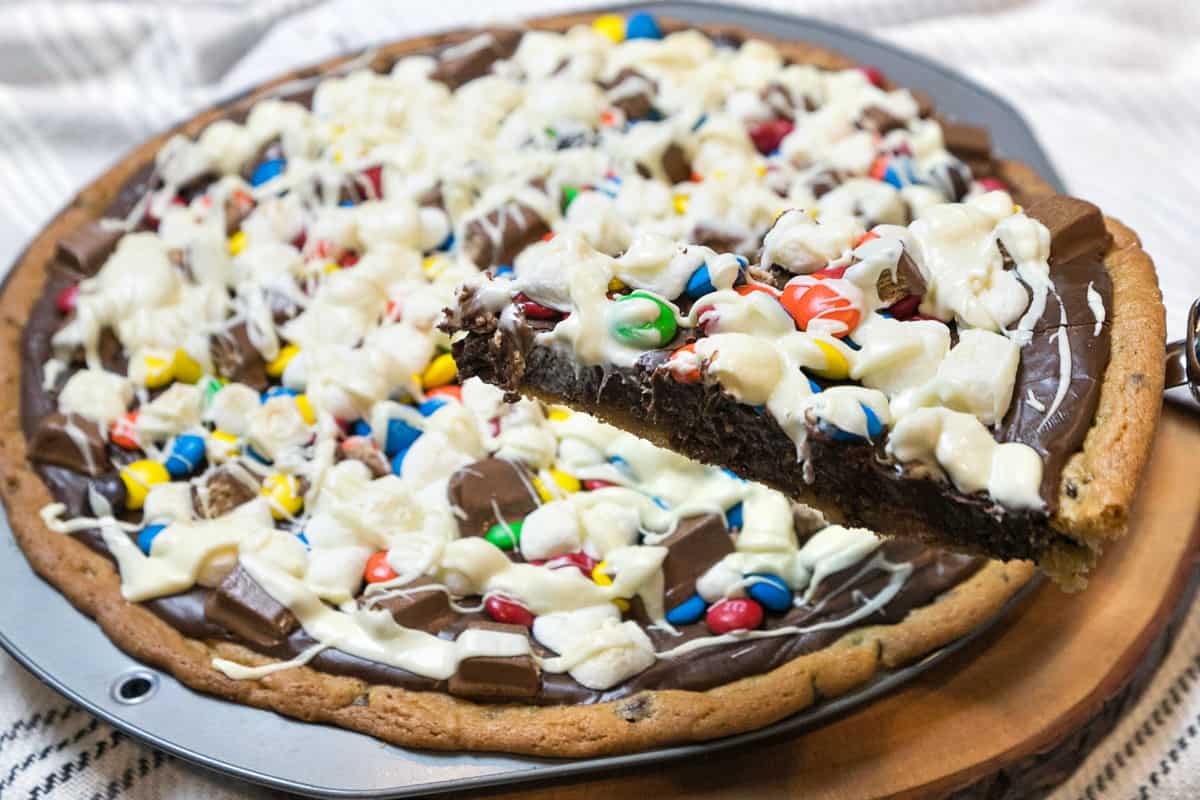 🍪 Key Ingredients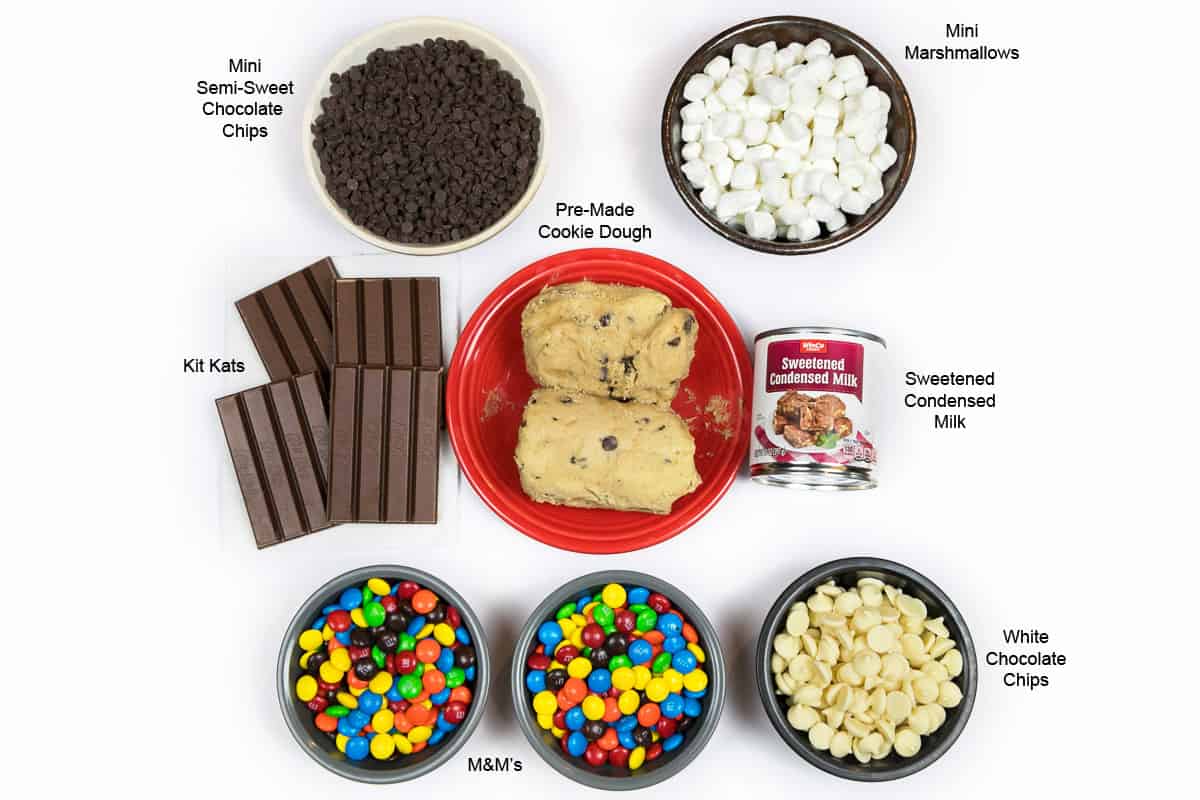 👩‍🍳 How to Make Cookie Pizza (Step-by-Step Instructions with Detailed Photos)
Step 1. Preheat Oven
Preheat the oven to 375 degrees Fahrenheit.
Step 2. Press the Cookie Dough into the Pizza Pan
Get your 12-inch pizza pan out of the cupboard. Take the store-bought cookie dough out of the refrigerator and remove the packaging around it. There is no need for a greased pizza pan, just press the dough in the pan, but if you prefer to do so, you can spray the pan with non-stick cooking spray.
Tip: There are many different sizes of pizza pans on the market. If your pan is larger than a 12-inch pizza pan, just spread the cookie dough out as best as you can until it is about a 12-inch circle. It doesn't matter if the dough doesn't fill up the whole pan. Then again, if your pizza pan is smaller, you can divide the cookie dough in half and make two cookie pizzas.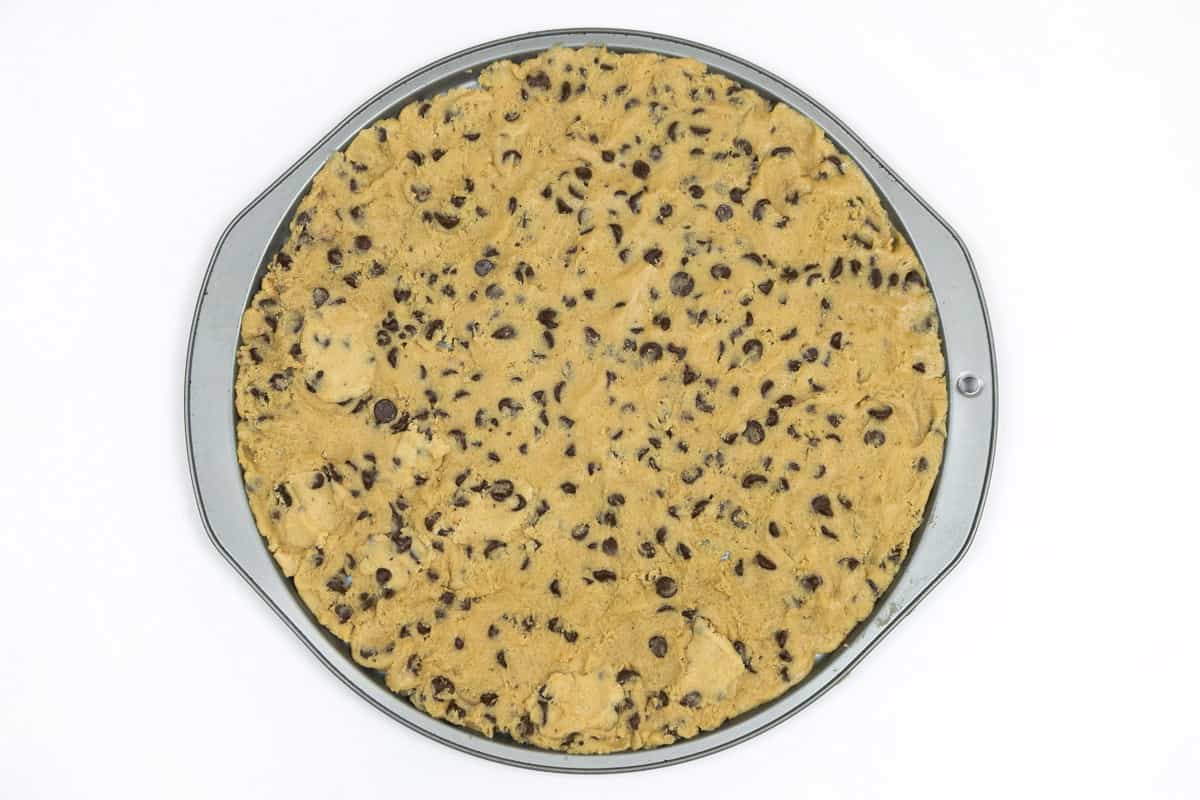 Step 3. Bake the Cookie Dough
Put the pan with the cookie dough on it in the oven and bake at 375 degrees Fahrenheit for 10 minutes or until golden brown. Remove the cookie pizza from the oven and set it aside until later.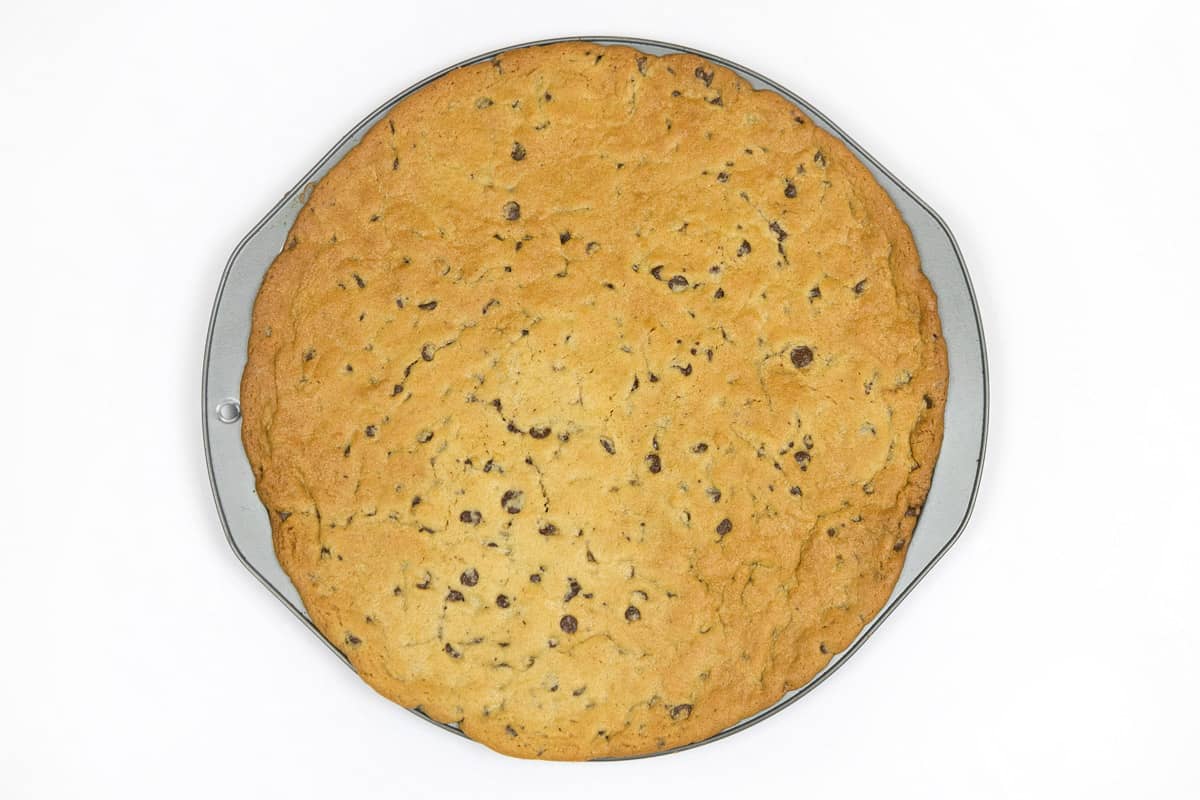 Step 4. Prepare the Cookie Topping
In a medium saucepan add 2 cups of mini semi-sweet chocolate chips together with 1 can (14 ounces) of sweetened condensed milk. Make sure you don't accidentally use evaporated milk. The label on the can should read sweetened condensed milk.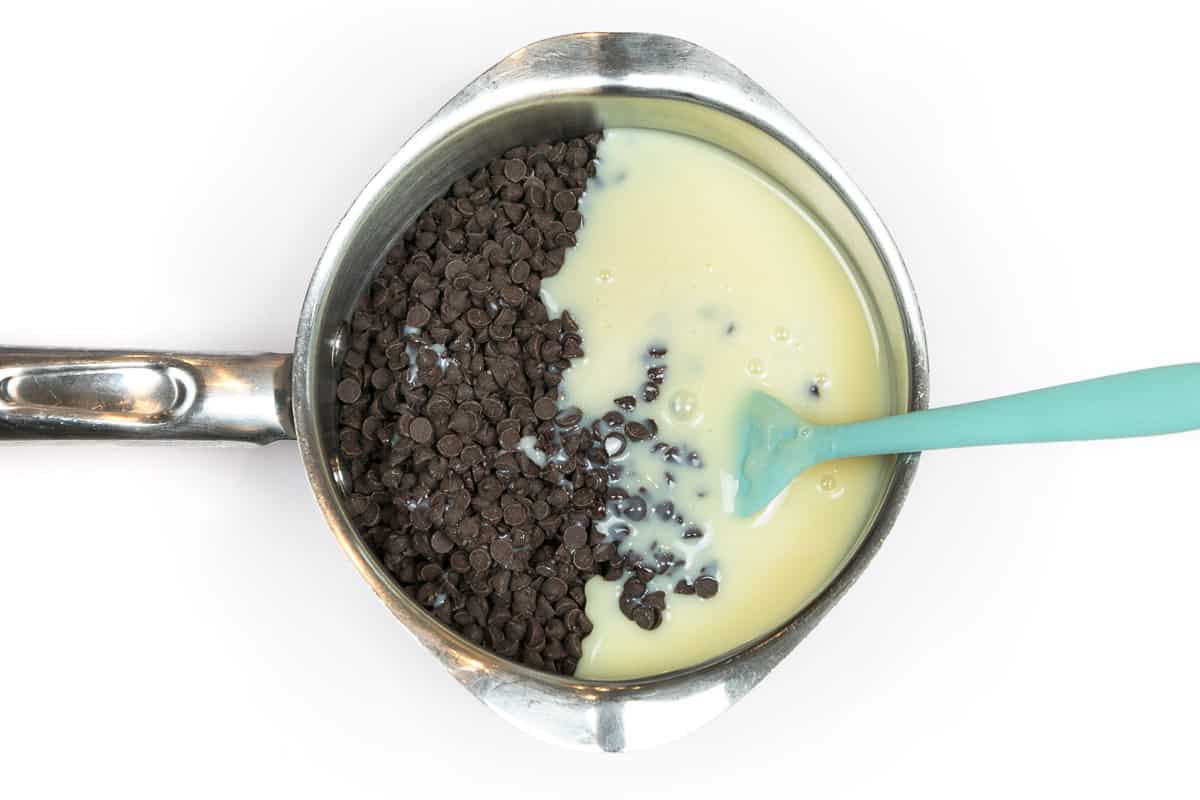 Step 5. Melt the Chocolate Chips with the Condensed Milk
Turn the burner to medium heat and stir with a spoon or spatula the chocolate chips and condensed milk until the chocolate chips melt. Stir the melted chocolate and condensed milk constantly while the chips melt so the mixture doesn't stick to the bottom of the saucepan. This won't take very long at all so stay by the stove and keep stirring.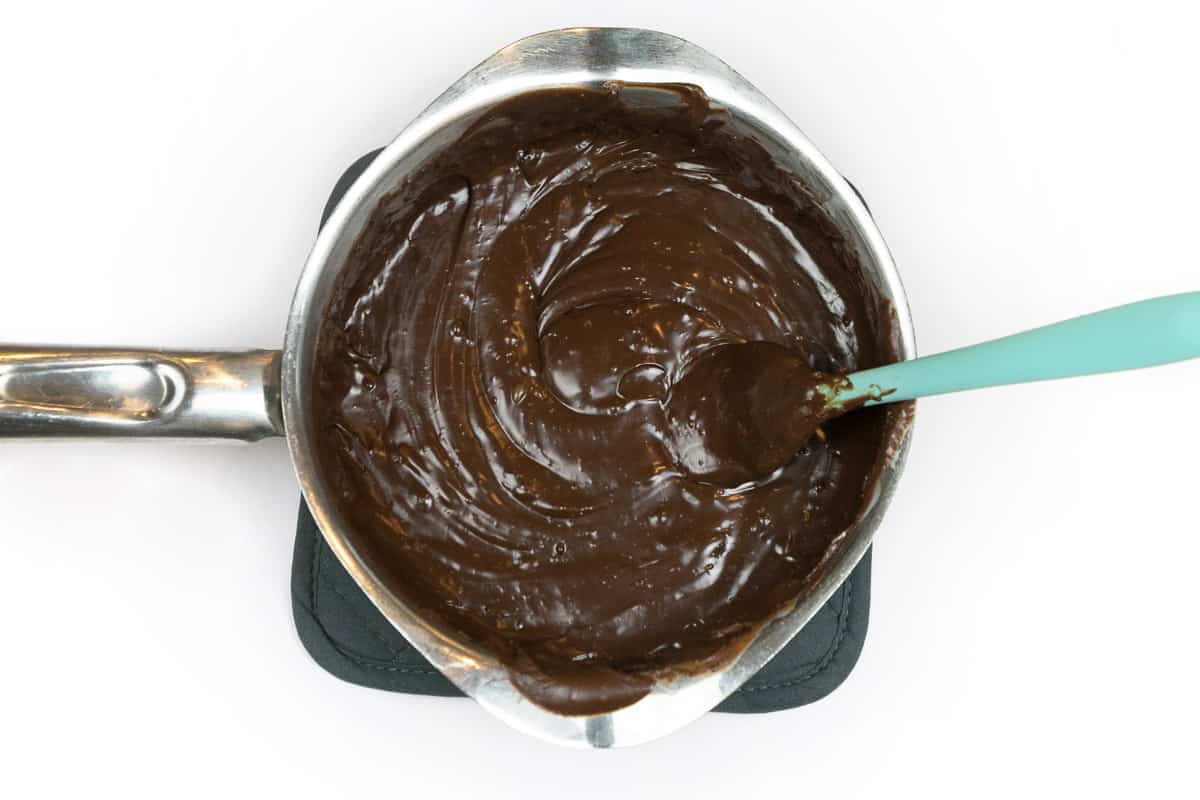 Step 6. Spread the Chocolate Mixture on the Cookie
With a knife or spatula, spread the chocolate mixture on top of the cookie as evenly as possible just before the rim of the cookie edge.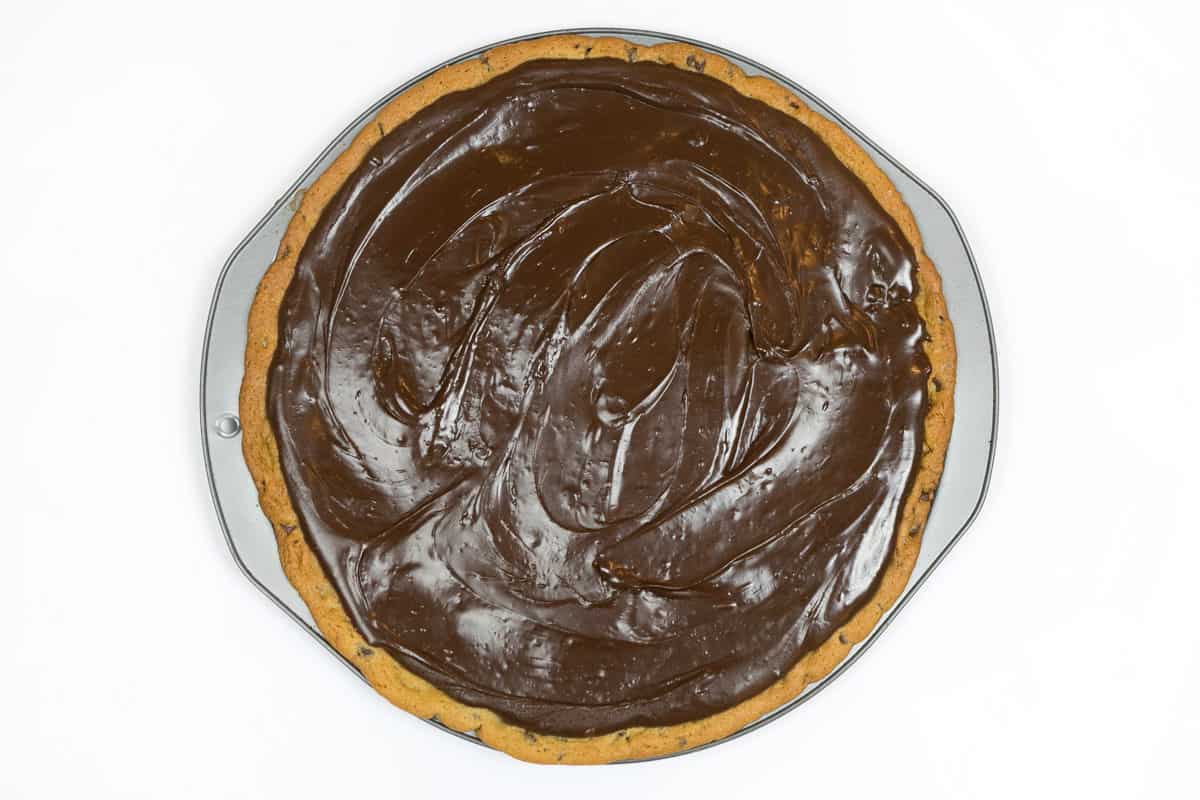 Step 7. Add the Candies and Marshmallows
In a medium bowl, cut 2 packages of Kit Kat candy until they are bite-size pieces. Layer a row of M&M's milk chocolate candy, then the Kit Kat pieces, followed by 1 cup of mini marshmallows on top of the chocolate mixture.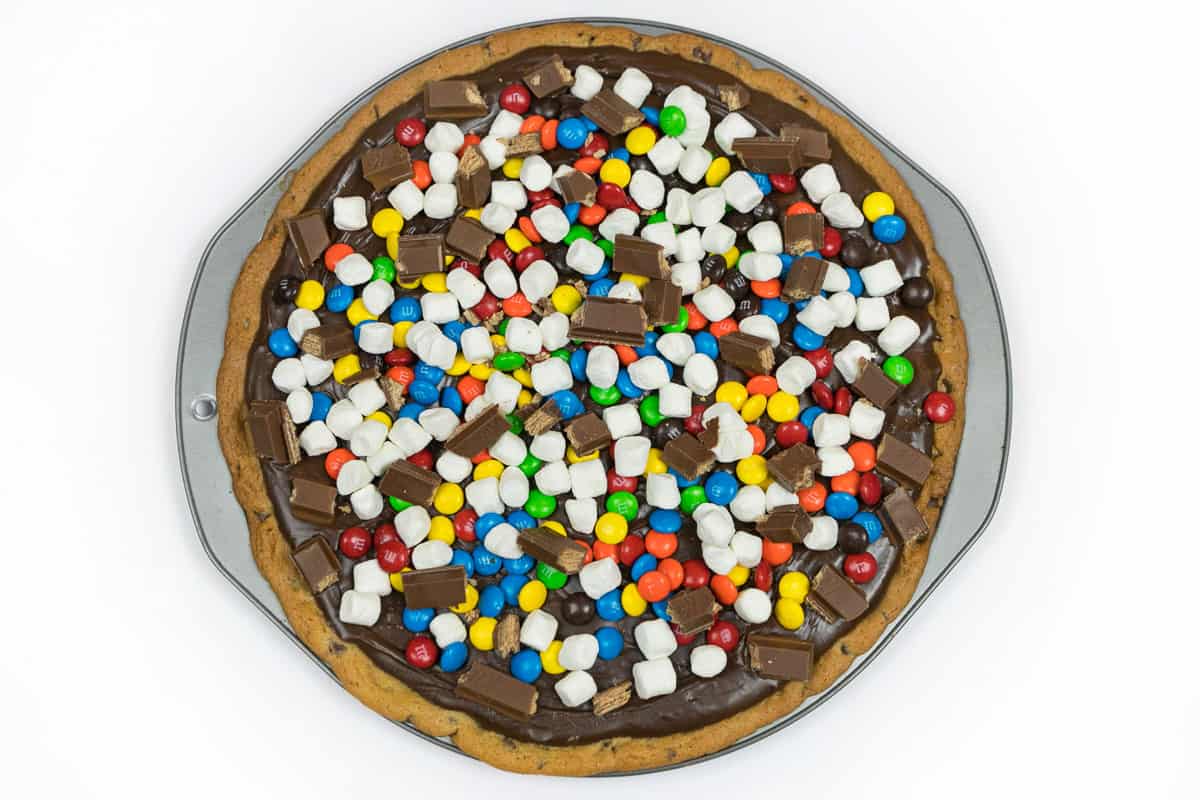 Step 8. Bake Again
After you have the candy and mini marshmallows on the cookie, put it back into the oven and bake for another 4 minutes or just until the marshmallows are lightly toasted. Set the cookie pizza aside to cool for a few minutes while we melt the white chocolate chips in the next step.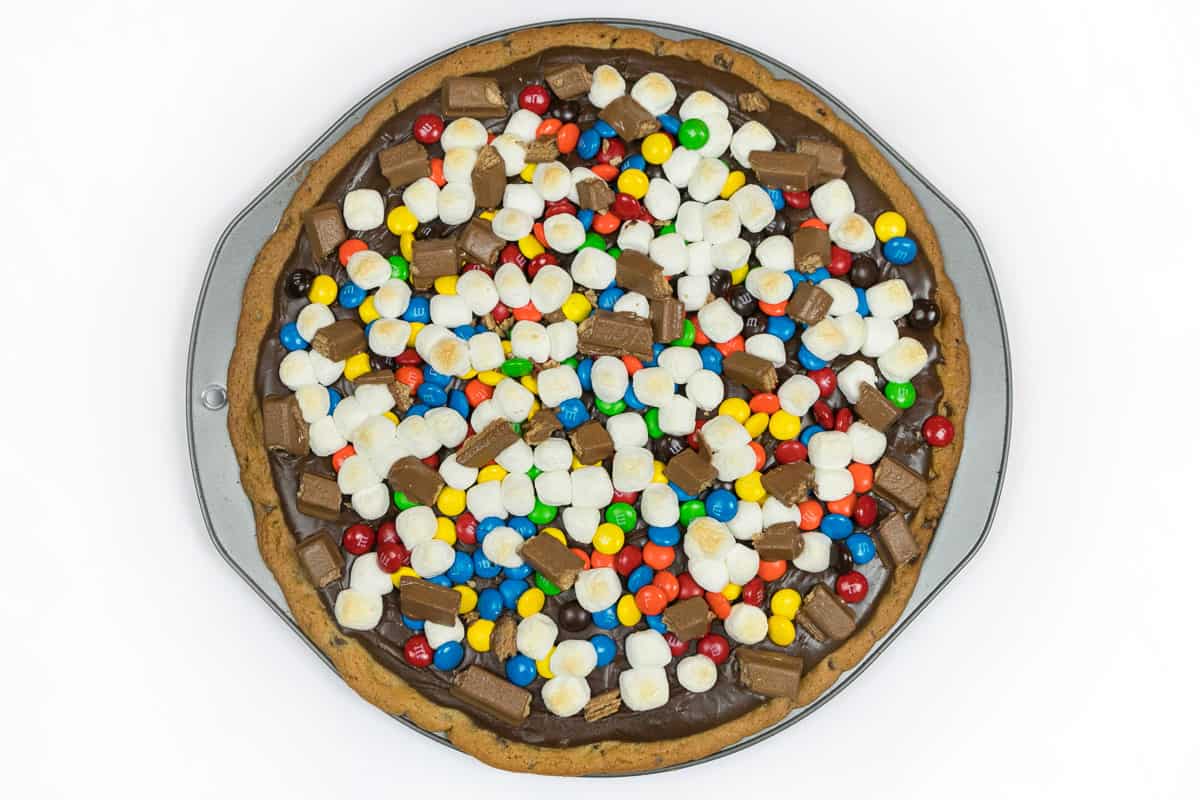 Step 9. Melt the White Chocolate Chips
In a small bowl that is safe for the microwave, melt the white chocolate chips for 1 minute in the microwave on power level 6, then for 30 seconds more on power level 6.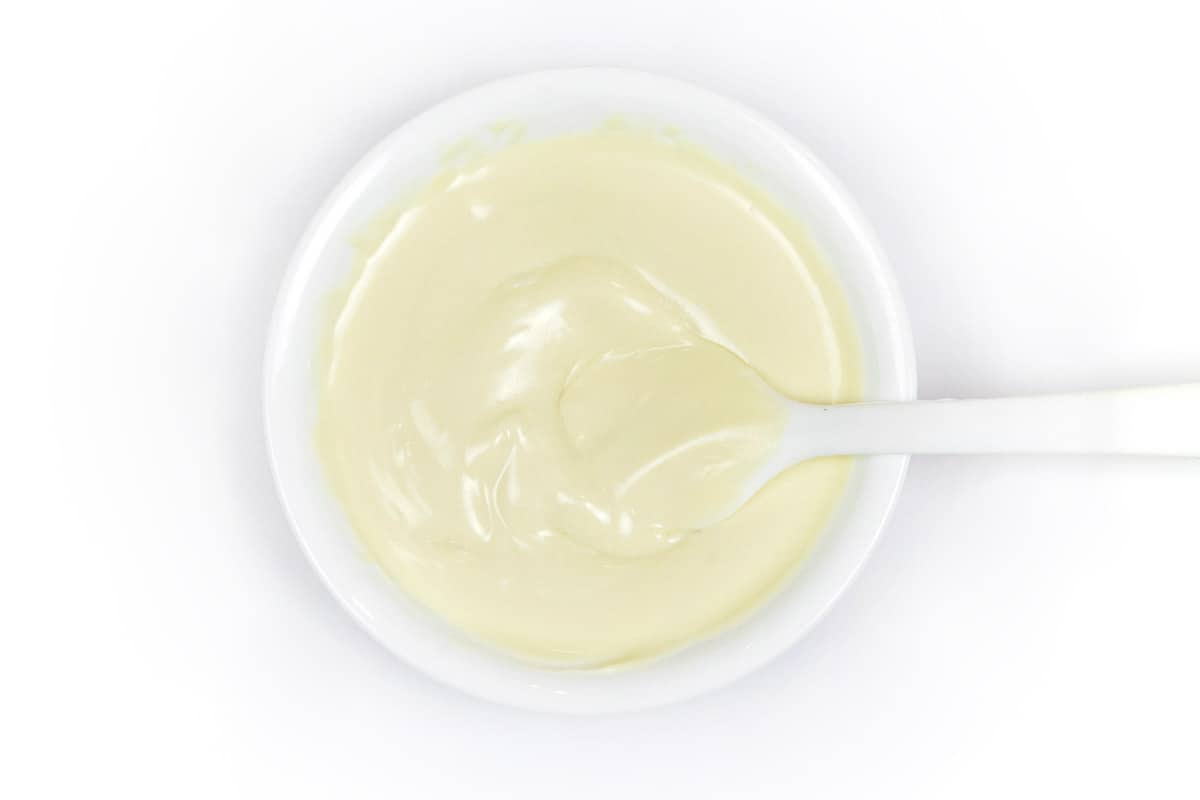 Step 10. Drizzle the Melted White Chocolate
After melting the white chocolate chips, drizzle it across the top of the whole cookie pizza while it is still warm.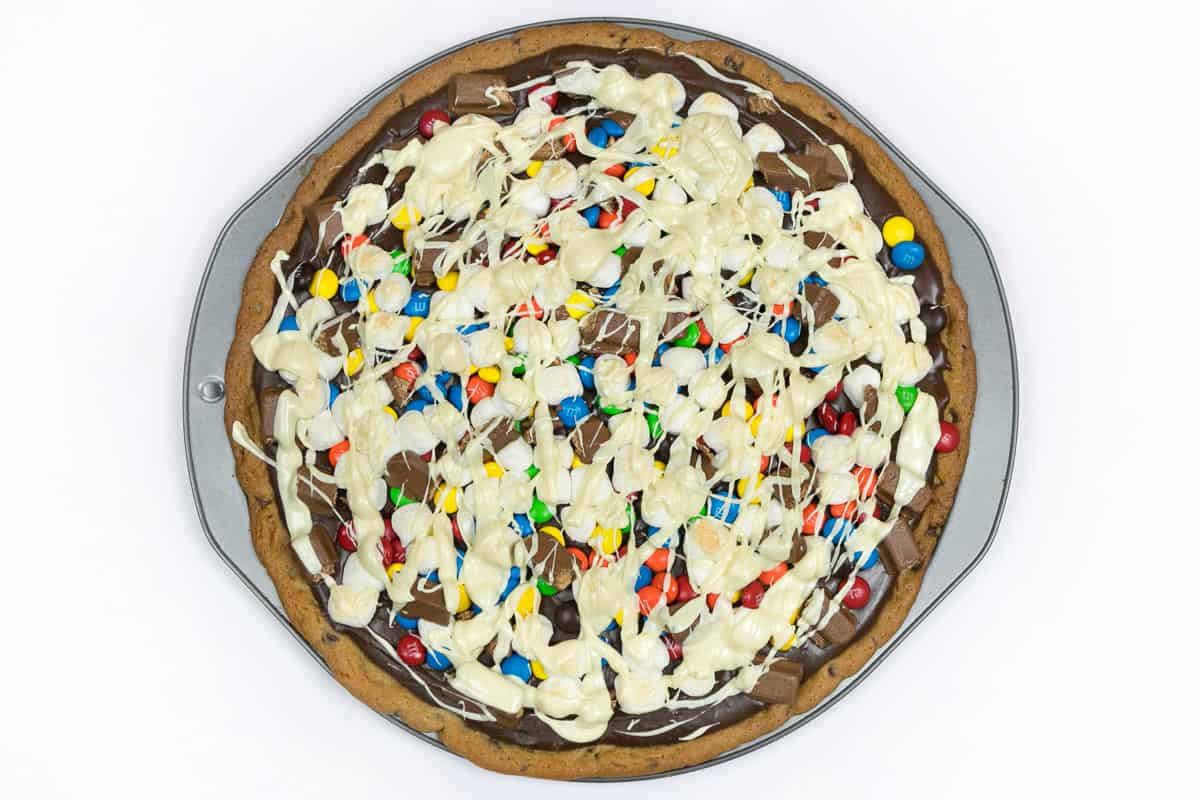 Step 11. Slice the Cookie Pizza
Use a pizza cutter to cut the cookie pizza into slices however big or small you prefer. But a suggestion would be 16 slices or more. The reason for that is this is a very rich, sweet, and filling dessert so not much is needed to fix the sweet tooth carving.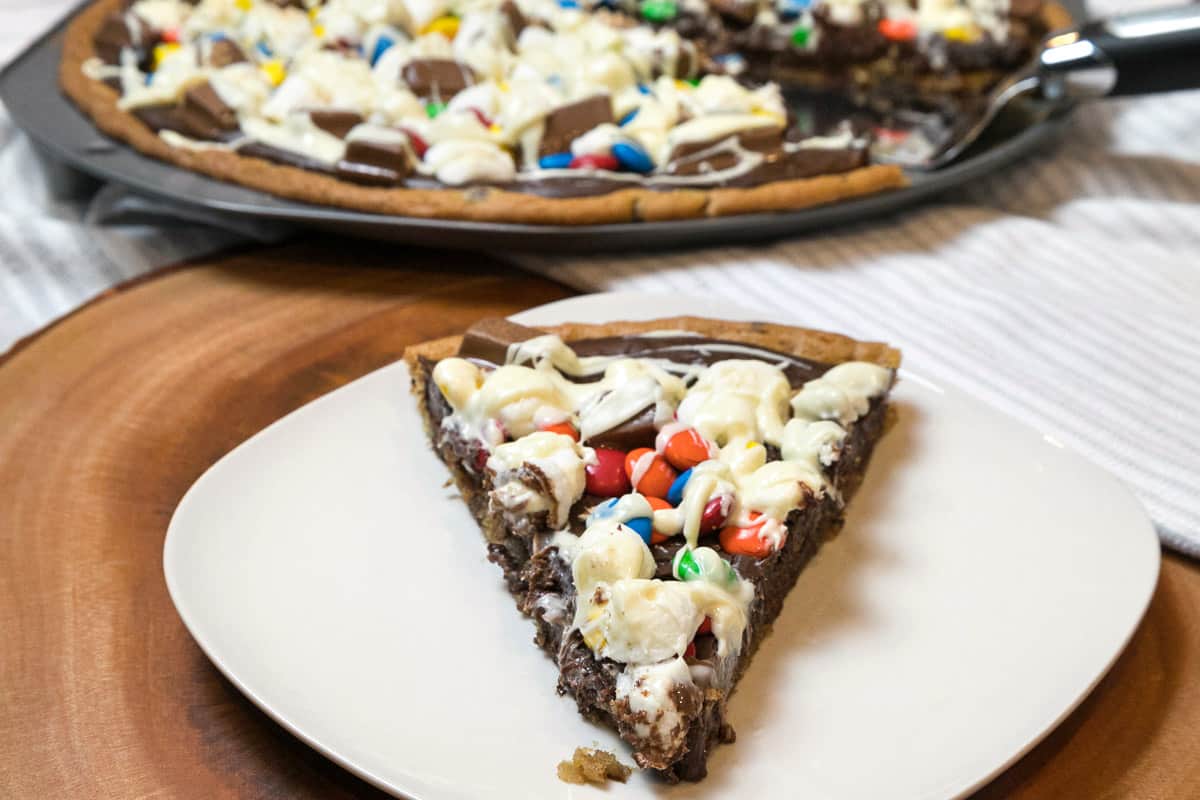 ⭐️ Recipe Variations
Sprinkle some peanuts or any of your favorite nuts on top of the cookie pizza after adding the candies.
Try adding some peanut butter chips.
Try your favorite chocolate candies instead of the candies we used.
Customize this cookie pizza however you want using all of your favorite toppings.
You can make a cookie pizza using a sugar cookie base instead. To do so, buy premade sugar cookie dough instead of chocolate chip cookie dough.
Drizzle some caramel sauce over the top.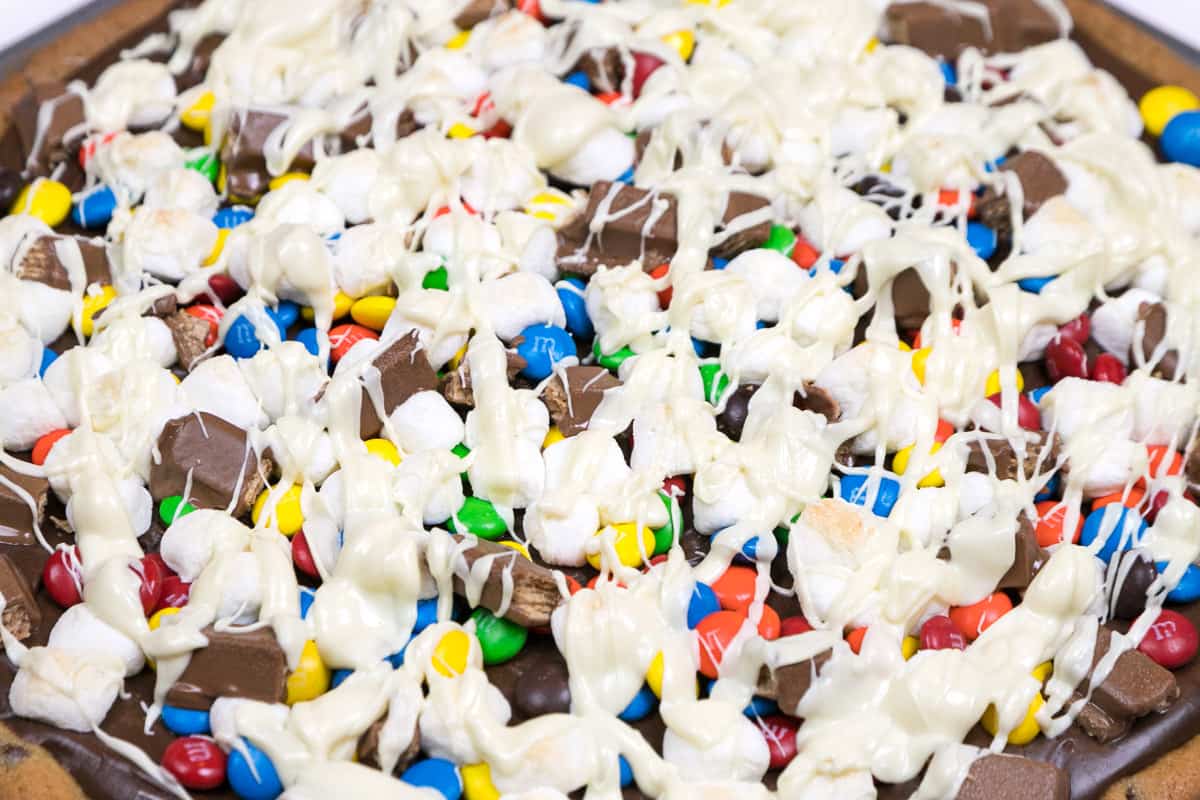 ☝️ FAQs
What do I do with Leftover Cookie Pizza?
Store any leftovers in an airtight container or plastic wrap on the countertop at room temperature for about 4 or 5 days. If you want it to be a bit on the chilled side, you can put it in the refrigerator.
Can I Heat up this Cookie Pizza?
Yes. Put a slice in the microwave in a microwave-safe bowl for just a few seconds until warmed to your liking. Then what's really good after it is warmed is adding a scoop of ice cream right in the center of the bowl.
Can I Freeze Cookie Pizza?
Yes, you can. Put it in a freezer-safe container in the freezer for about 3 or 4 months. I cut it into bite-size pieces and when I get the sweet treat craving, I go to the freezer and take out a piece. It thaws quickly and is so good!
What if I Don't Have a Pizza Pan?
No problem, just use a rectangular baking sheet or sheet pan. You don't even have to spread the cookie dough in the entire pan, for example, just make a medium size square with the dough.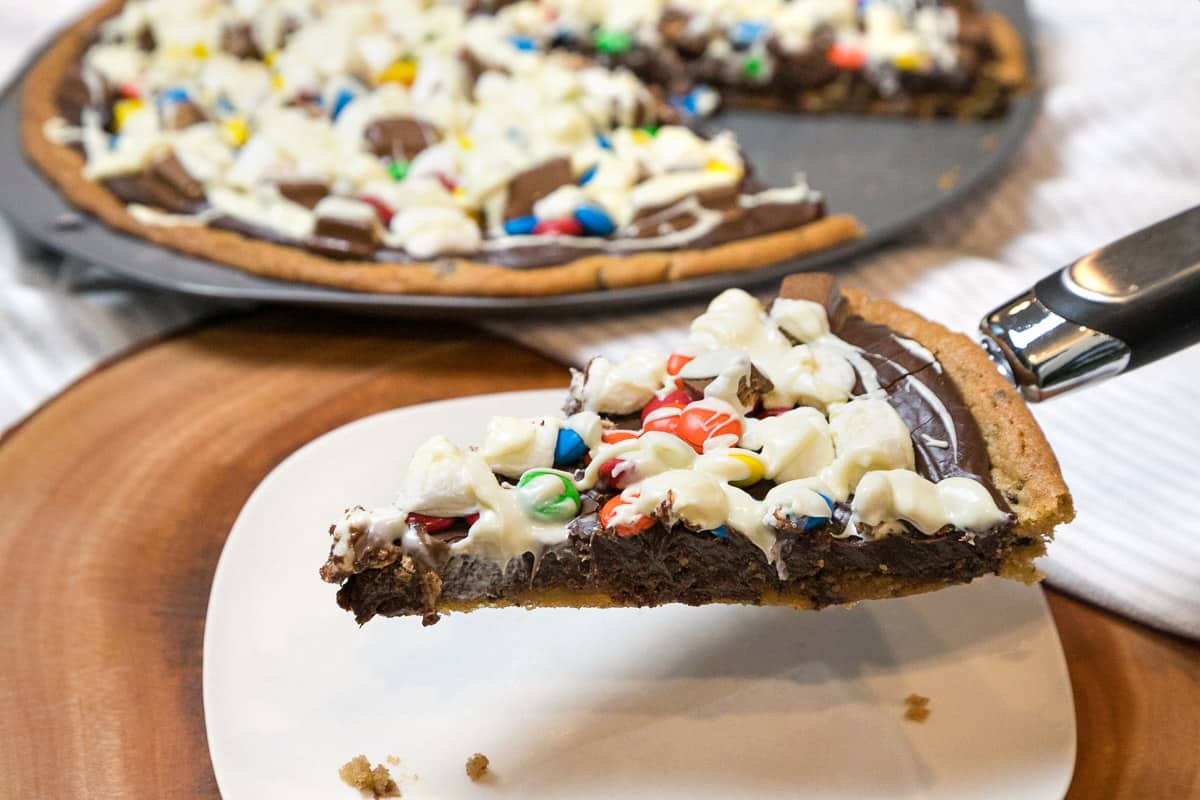 💡 Final Thoughts
This chocolate cookie pizza is the best dessert pizza you can make when you are wanting to make an impression. It not only looks terrific, but it also tastes amazing. It's an easy recipe to follow and it's a great dessert for any occasion such as potlucks, Mother's Day, family gatherings, weddings, bridal showers, or baby showers.
So the next time you want to impress your friends and family with a perfect dessert that is bound to tantalize their taste buds, make them this cookie pizza! With its impeccable blend of flavors and textures, this dessert is sure to be a big hit, and you'll be the talk of the town for making such a delectable treat.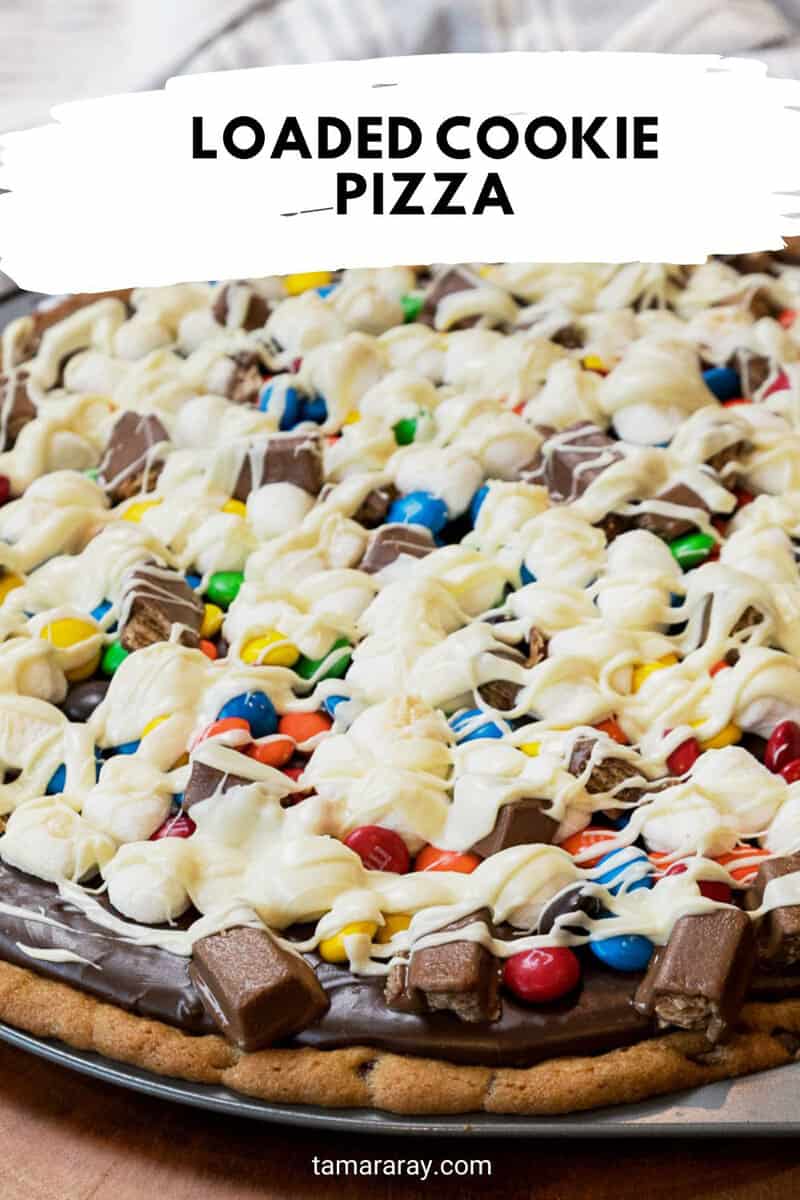 💖 More Yummy Cookie Recipes You Will Love
Cream Cheese Cookies with Sprinkles – Sometimes you need a cookie that melts in your mouth. This is that cookie. You won't be sorry you made these cookies, they are so incredible! The simple ingredients include the basics as well as cream cheese, vanilla extract, ground cinnamon, and sprinkles for the top. A super delicious cookie.
Easy Recipe for Sugar Cookies – A very simple cookie recipe made with ingredients you have in your kitchen right now. You can make these tasty cookies with butter, sugar, two eggs, milk, vanilla extract, all-purpose flour, baking soda, baking powder, and table salt. The frosting is made with powdered sugar, vanilla extract, milk (or water), and butter (optional).
Ranger Cookies Recipe – A cookie loaded with rolled oat, raisins, and rice crispies. Coconut and walnuts are optional. These cookies are so good!
🗂️ Recipe Card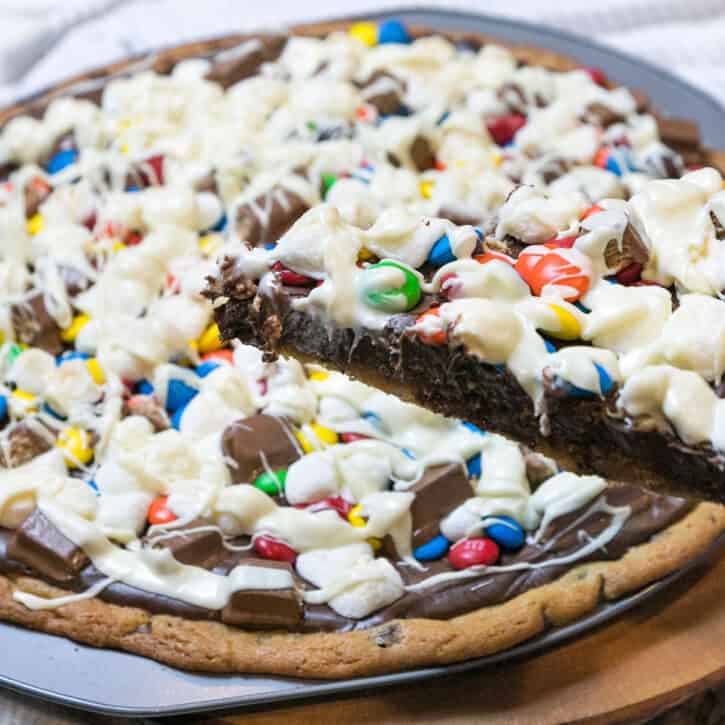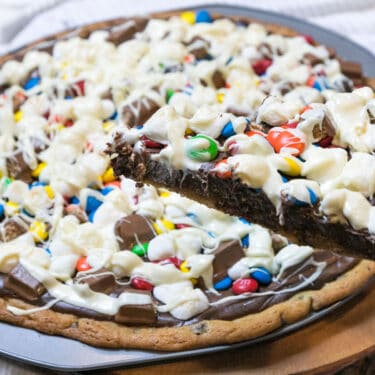 Cookie Pizza (Loaded Chocolate Chip)
This cookie pizza recipe involves making a giant cookie crust, which is then topped with a variety of sweet treats such as melted chocolate, candies, and marshmallows. It results in a dessert that is as delicious as it is visually stunning!
👩‍🍳 Instructions
Preheat the oven to 375 degrees Fahrenheit.

Press cookie dough into the pizza pan.

Bake the cookie dough for 10 minutes at 375 degrees Fahrenheit or until golden brown. Remove from the oven and set aside for now.

In a medium saucepan, add the semi-sweet mini chocolate chips and the sweetened condensed milk.

Cook on medium heat until the chocolate chips are melted. Stir constantly so the mixture doesn't burn on the bottom of the saucepan.

Spread the melted chocolate mixture on top of the baked cookie pizza.

Cut the Kit Kat into pieces.

Evenly spread the M&M's, Kit Kat pieces, and mini marshmallows on top of the chocolate mixture on the cookie pizza.

Bake again for 4 minutes or until the marshmallows are lightly toasted. Set aside to cool.

In a microwave-safe bowl, melt the white chocolate chips for 1 minute in the microwave on power level 6. Then for 30 seconds more on power level 6.

Drizzle the melted white chocolate on top of the cookie pizza.

Cut into 16 pizza slices or more.
*️⃣ Recipe Notes
You can add any of your favorite candies to the cookie pizza.
Try adding some peanuts or peanut butter chips.
Slice the cookie pizza into thin slices because it is sweet, rich, and filling.
A wife, a mother to a son and a daughter, and a grandmother to three granddaughters. Flo loves sharing recipes passed down from her own mother, her mother-in-law, and her grandmother as well as new recipes created with her daughter, Tamara Ray.
More by Flo ➜