(Last Updated On: December 8, 2022)
These little crispy pizza rolls cooked in the air fryer are an easy snack or quick lunch to make for your family when you don't have much time on your hands. They are just as easy as some of our other air fryer recipes such as dino nuggets, fish sticks, corn dogs, and tater tots.
Try dipping them in extra pizza sauce or your favorite dipping sauce for an amazing treat. They are super easy to make and only about eight to ten minutes of cooking time in the air fryer.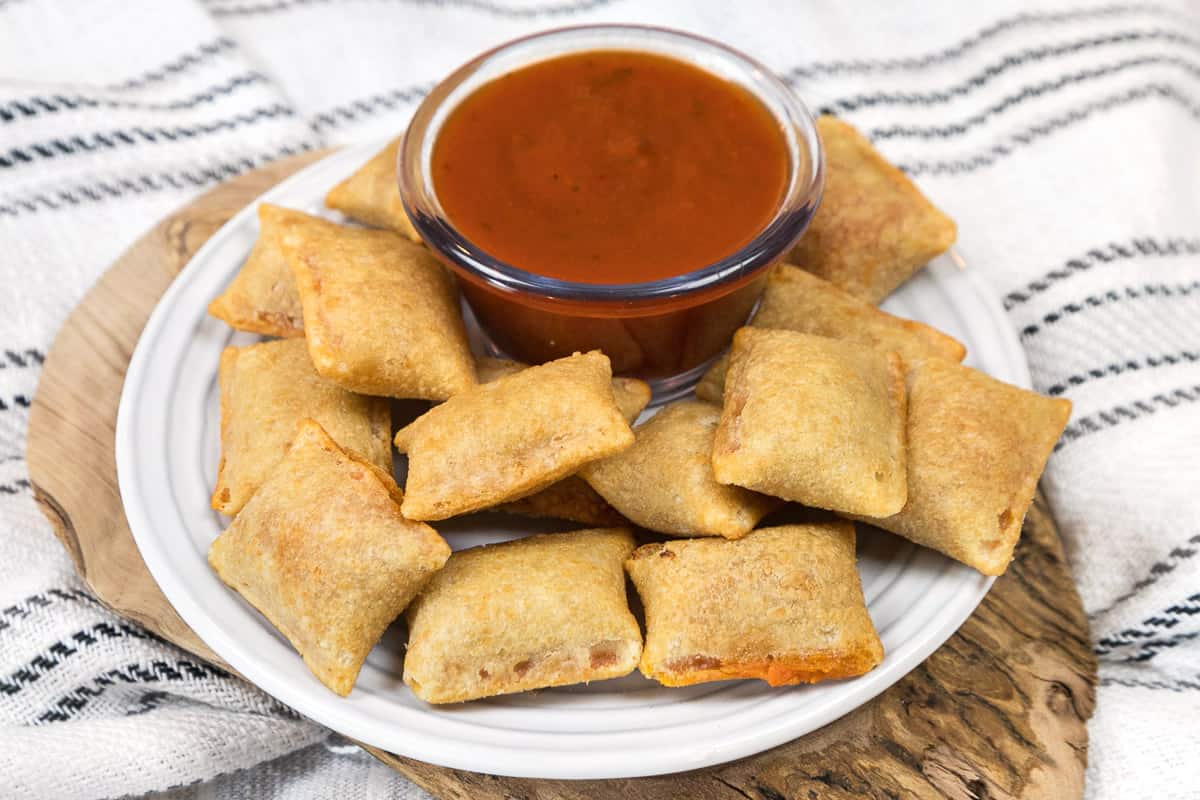 🍕 Key Ingredients
Totino's pizza rolls – pepperoni (about 37) ( or a brand of pizza rolls of your choice)
Dipping sauce (optional)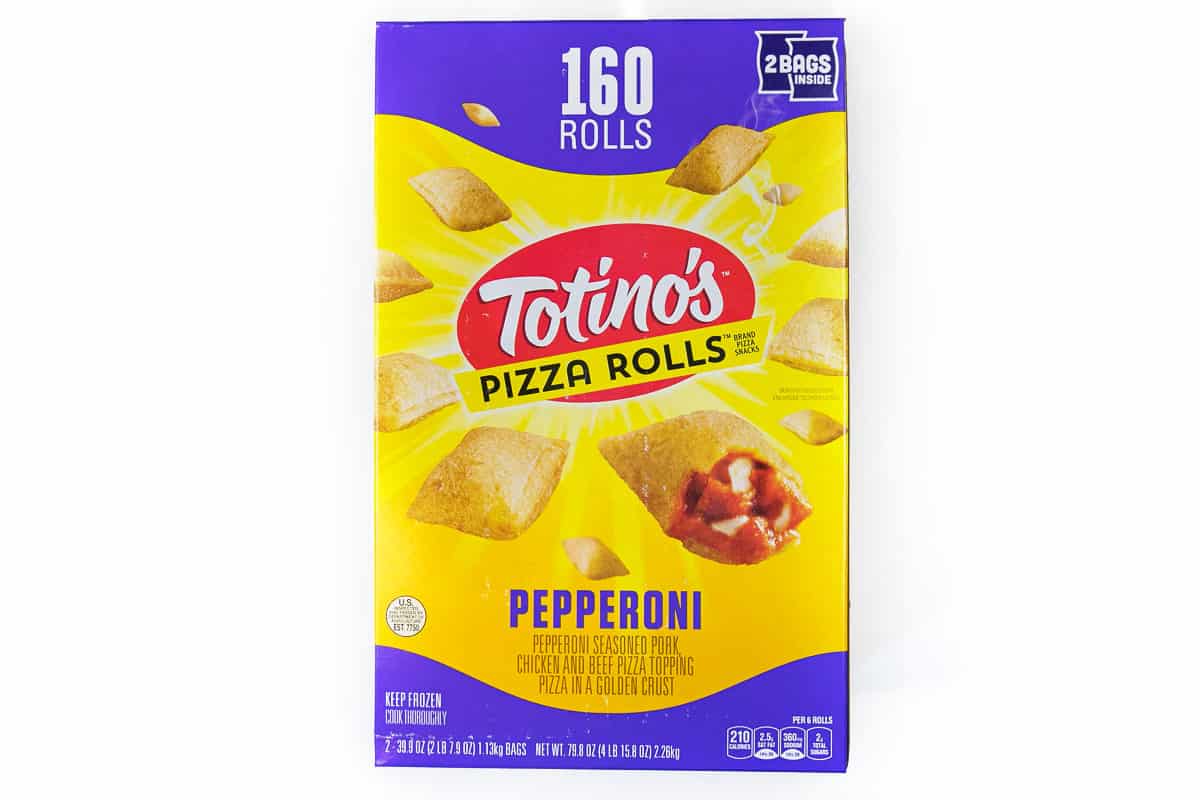 👩‍🍳 How to Make Air Fryer Pizza Rolls (Step-by-Step Instructions with Detailed Photos)
Step 1. Preheat Air Fryer
If your air fryer needs to be preheated as ours does, set it at 390 degrees Fahrenheit.
We will be using a Cosori air fryer with a toaster oven for this recipe today. With that said, our cook time may be slightly different than your cook time. It all depends on what kind of air fryer you have. In other words, our air fryer may produce hotter heat, or vice versa, hence taking less time to cook or more time to cook. But that's probably only by a couple of minutes, give or take a few.
Step 2. Lay Parchment Paper and Pizza Rolls on the Basket
First of all, take the frozen pizza rolls out of the freezer. Then if you have a piece of parchment paper with holes in it, lay that on top of the air fryer basket. If you don't have parchment paper with holes in it, then spray the basket with cooking spray, or use a pastry brush to apply olive oil, vegetable oil, or whatever you have to the basket.
After that, lay 37 pizza rolls in the air fryer basket (or however many your air fryer can hold) in a single layer. Do not overlap them.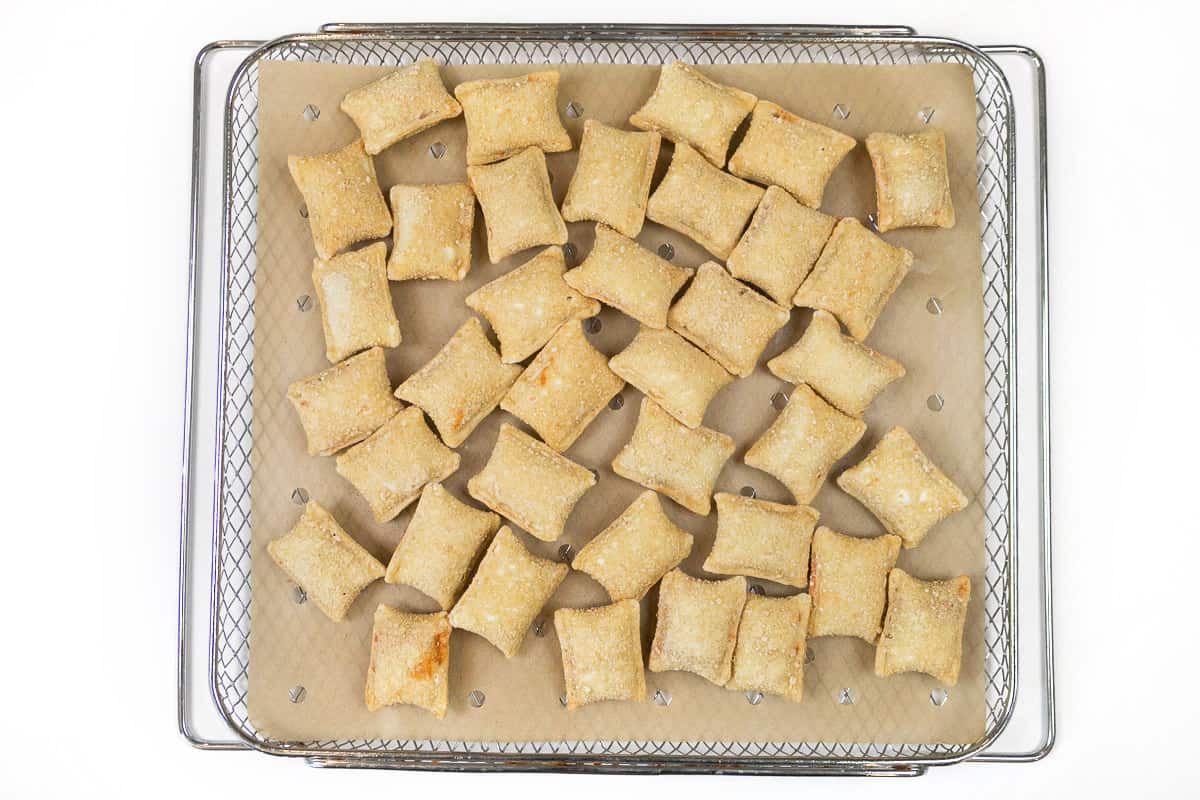 Step 3. Put the Basket in the Air Fryer
Put the basket in the air fryer at 390 degrees Fahrenheit for eight to 10 minutes. We did 10 minutes. Flip them over halfway through the cooking process. If you like crunchy pizza rolls cook them an extra minute or two. Keep checking them until they are golden brown to your liking.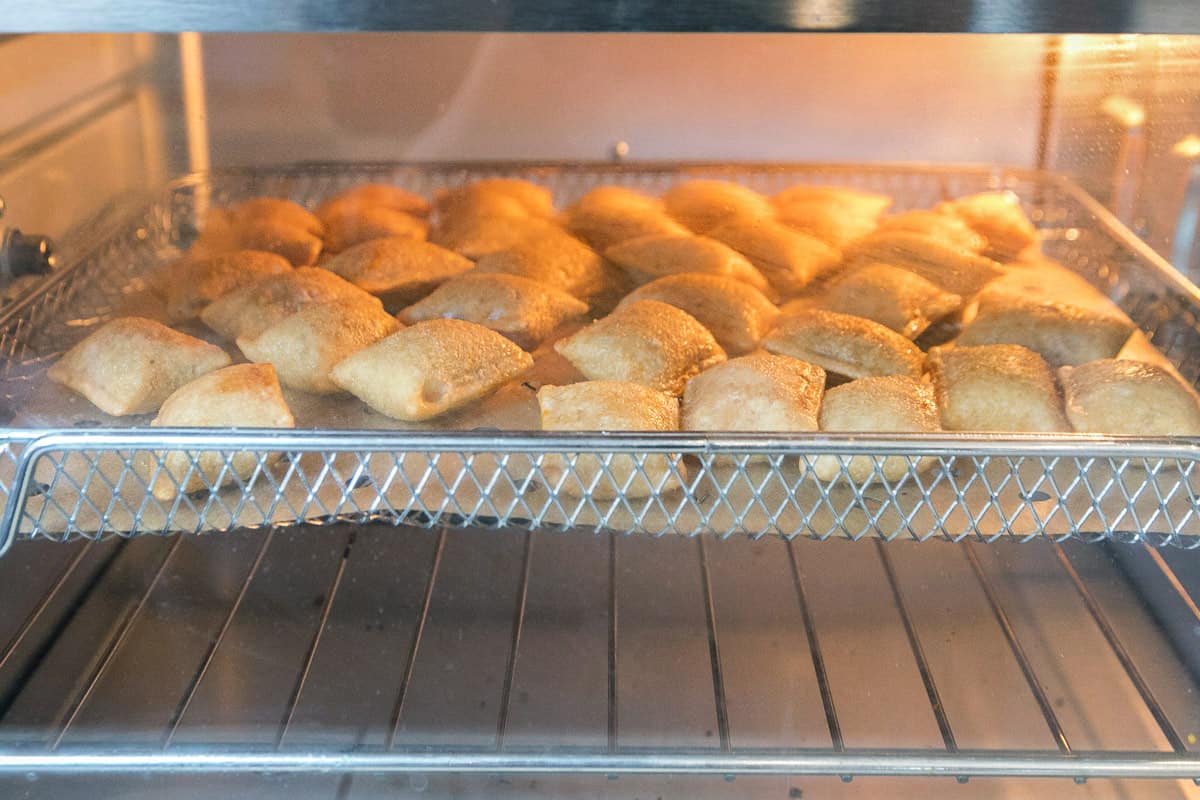 Step 4. Take the Basket Out of the Air Fryer
After eight to ten minutes, take the basket out of the air fryer. Be careful not to burn yourself on the hot air fryer heat. For the best results while cooking pizza rolls, be sure to keep checking them while they are in the air fryer.
Tip: Be careful when you bite into one of them as they are hot coming straight out of the air fryer. Take a little bite out of the top corner so the pizza sauce doesn't run out and also it will help release some of the hot steam. You can pop the whole thing in your mouth, but let them cool down a bit before doing that.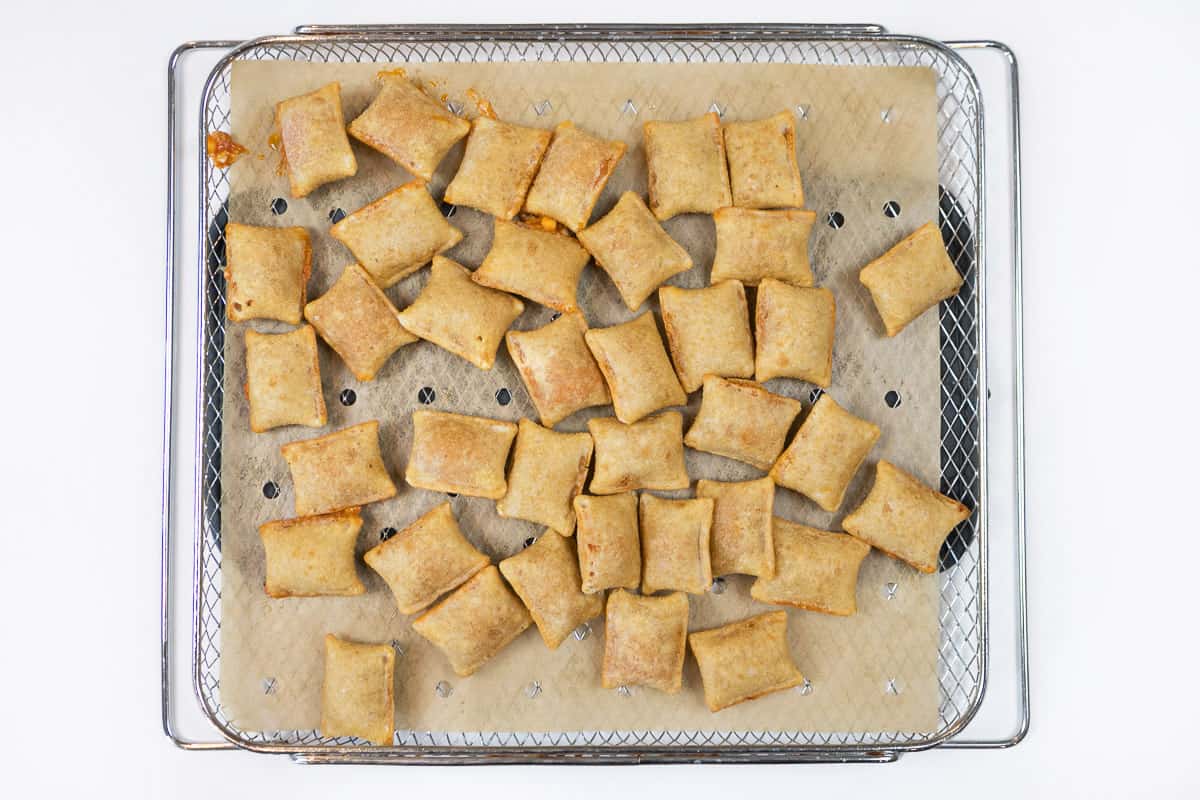 🍴 Recipe Variations
You can use any of the different brands of pizza rolls sold in the frozen food section of most local grocery stores. Some brands may call them pizza bites, mini pizza rolls, or mini pizza pockets. We bought Totinos pizza rolls and found out that they are a tasty snack. but if you have a favorite you can use them instead.
After cooking and removing them from the air fryer, try sprinkling some shredded mozzarella cheese, cheddar cheese, or parmesan cheese over the top of the hot pizza rolls for added flavor.
While eating the pizza rolls, try dipping them in some garlic butter, bbq sauce, sour cream, ranch dressing, or marinara sauce (a tomato sauce with herbs, onions, spices, and the like).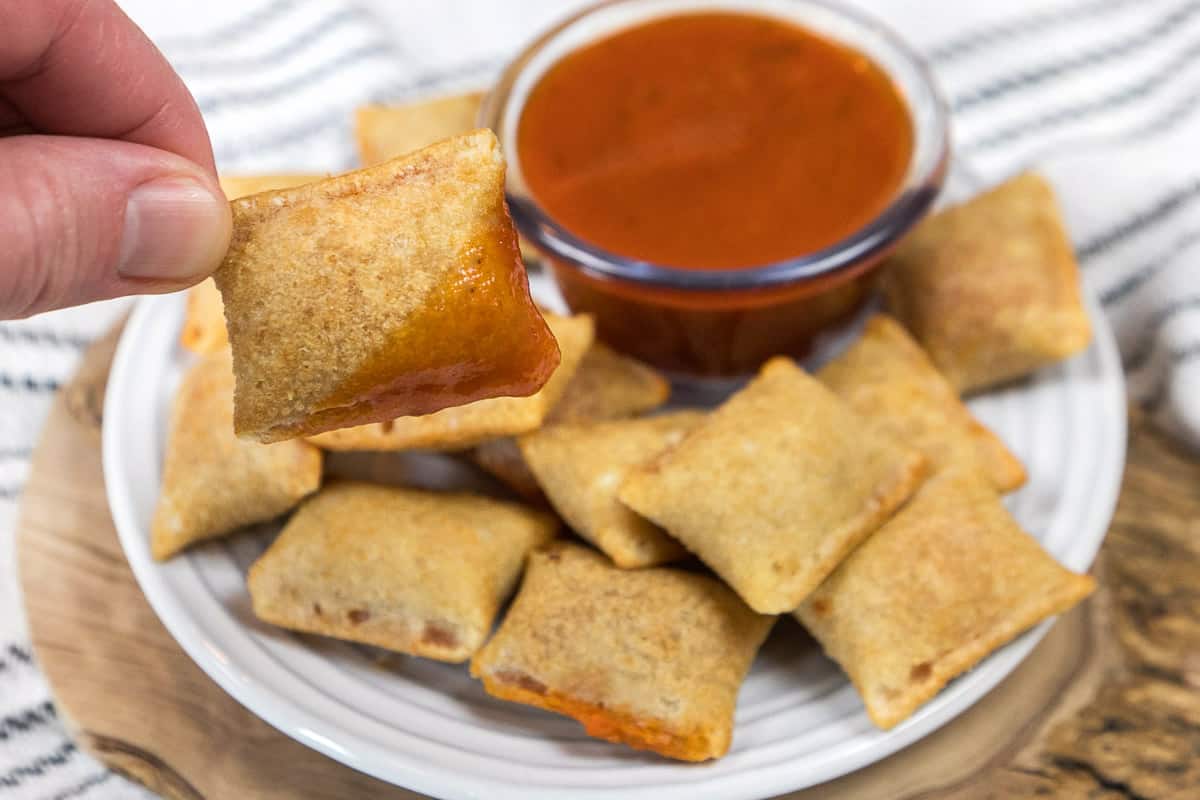 🙋 FAQs
What do I do With Leftover Pizza Rolls?
Keep them in the refrigerator for a couple of days in an airtight container until you are ready to finish eating them. Just reheat them in the air fryer for a few minutes. If you have a lot of leftover pizza rolls, you can refreeze them in a freezer-safe container even though they were frozen in the first place.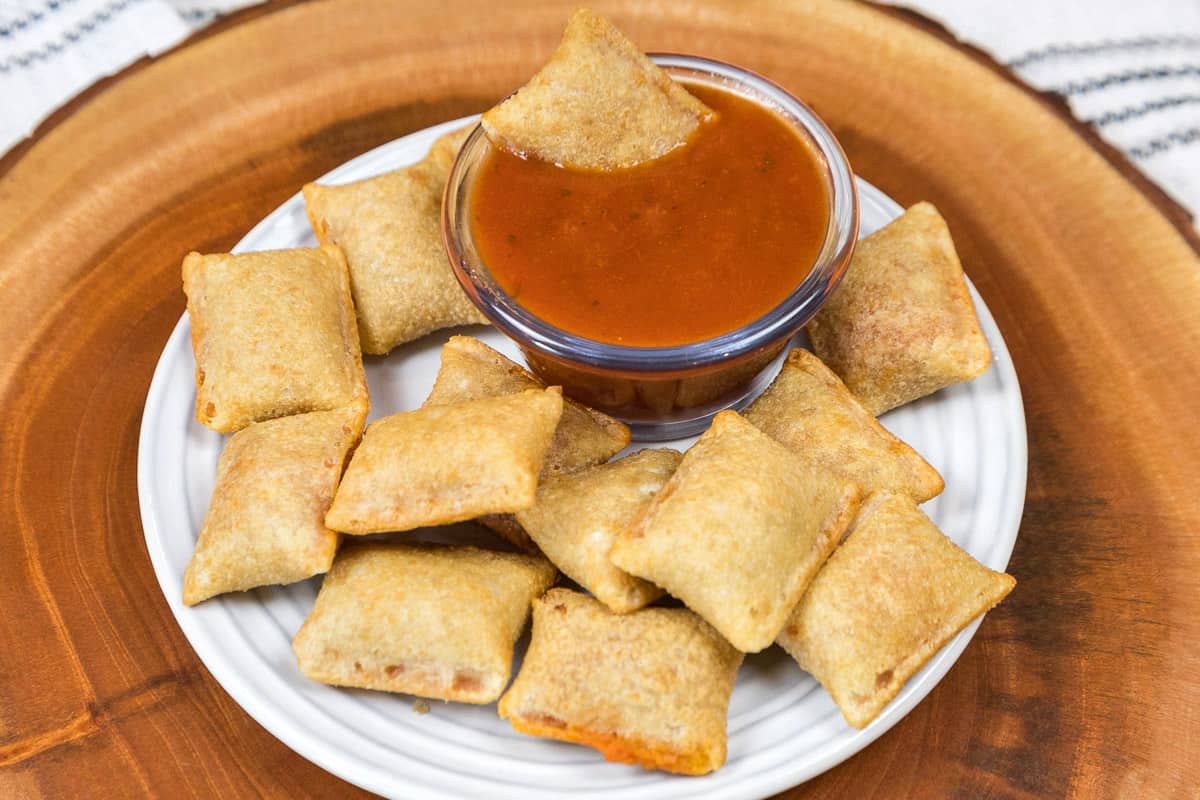 📄 Final Thoughts
These pizza rolls are a popular snack amongst the kiddos. They are great for lunch but can even be served at dinnertime with a fresh salad and lots of veggies as a side dish.
The first time I tried these, I was a little skeptical. But they are delicious, just like eating tasty little bite-size mini pizzas. So the next time you are wanting a quick snack, or a tasty lunch, grab a bag of pizza rolls and enjoy!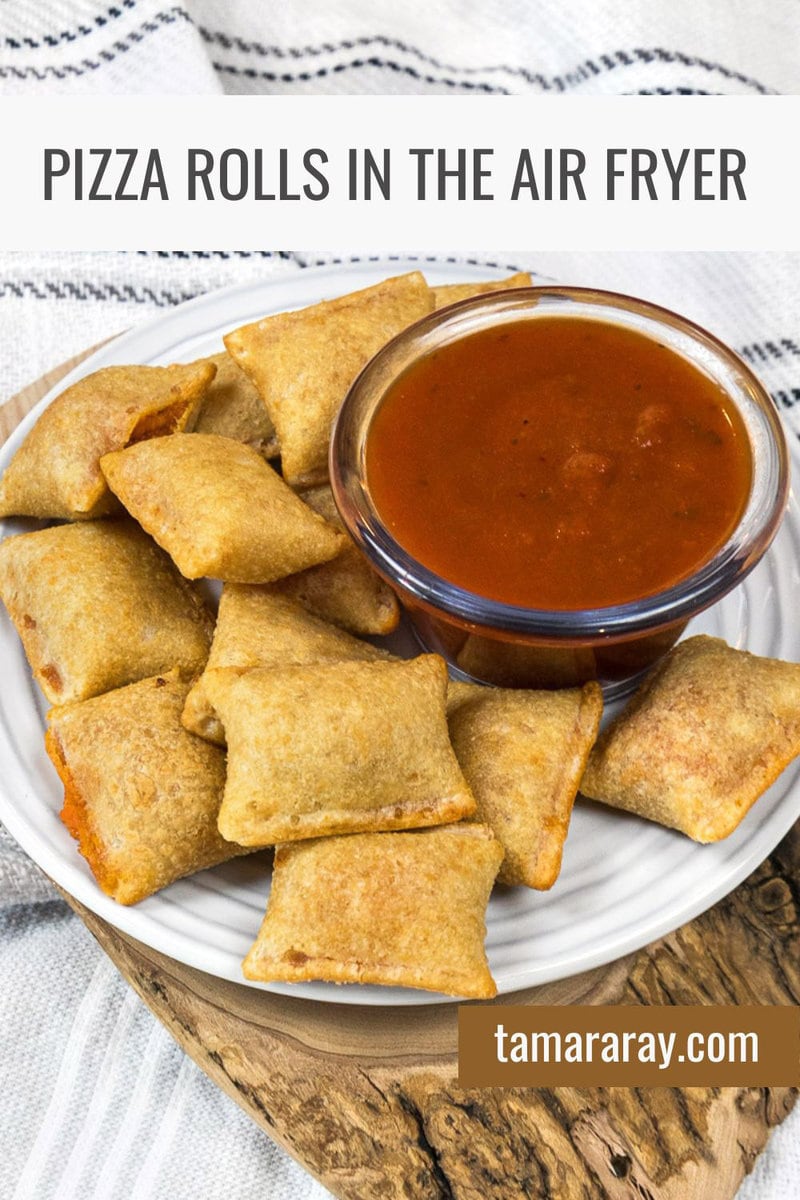 🥰 More Air Fryer Recipes You Will Love
Hash Browns in the Air Fryer (Frozen) – These hash browns cooked in the air fryer taste fantastic. They are a real treat for a quick breakfast, tasty lunch, or as a side dish for dinner.
Air Fryer Potato Wedges – These potato wedges are so much better than french fries, especially with these delicious seasonings added. Olive oil, paprika, garlic powder, cayenne pepper, table salt (or sea salt), and black pepper.
Air Fryer Fish Sticks (Frozen) – Put some fish sticks in the air fryer for about 10 minutes. They come out crispy and delicious.
⭐️ Recipe Card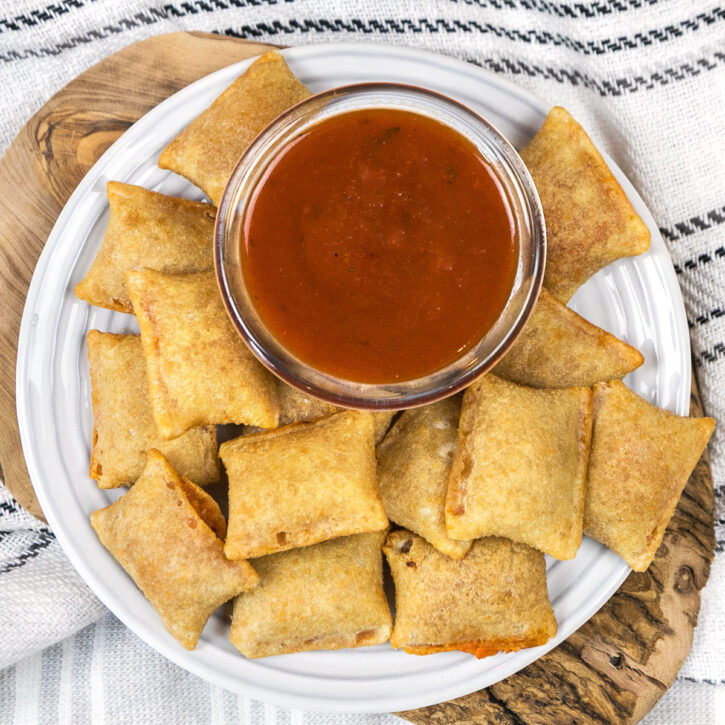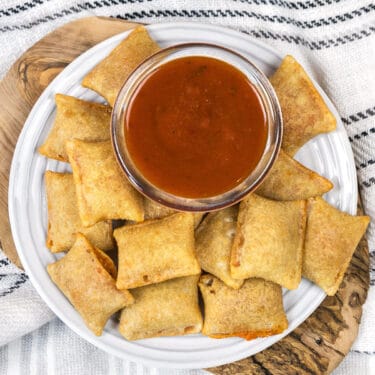 Pizza Rolls in the Air Fryer
Pizza rolls cooked in the air fryer make a quick snack or lunch in a matter of minutes. The air fryer cooks them crispy on the outside and so delicious on the inside.
🧂 Ingredients
37

Totino's pizza rolls (frozen)

(or your favorite brand)

Dipping sauce

(optional)
👩‍🍳 Instructions
Preheat the air fryer to 390 degrees Fahrenheit.

Lay a sheet of parchment paper with holes in it on the air fryer basket. If you don't have any, spray the basket with cooking spray.

Put the frozen pizza rolls in the air fryer basket in a single layer not overlapping each other.

Cook for 8 to 10 minutes flipping them over halfway through.

When done, remove the pizza rolls from the air fryer and enjoy.
*️⃣ Recipe Notes
Store any leftover pizza rolls in a covered container in the refrigerator for up to two days. After that, they will start to lose their quality.
You can sprinkle the pizza rolls with cheddar cheese or mozzarella cheese right before you serve them.
These pizza rolls will taste great dipped in your favorite sauces.
A wife, a mother to a son and a daughter, and a grandmother to three granddaughters. Flo loves sharing recipes passed down from her own mother, her mother-in-law, and her grandmother as well as new recipes created with her daughter, Tamara Ray.
More by Flo ➜