(Last Updated On: March 15, 2023)
We love to try new recipes and we also love to try premade food that you can buy in the grocery store, so this last week we decided to cook frozen lasagna, and I must say, it was delicious.
The one we decided to make was Kirkland Signature Italian sausage and beef lasagna from Costco. I couldn't believe it tasted that good. I felt like I was eating homemade lasagna. All you do is pop the frozen lasagna in the oven and in less than an hour dinner is ready. Serve with a delicious salad and garlic bread, and you have a complete meal that tastes fantastic.
Other premade foods we have tried and tested with excellent results include pizza rolls, fish sticks, potato and cheese pierogies, and corn dogs, all of which we cooked in the air fryer.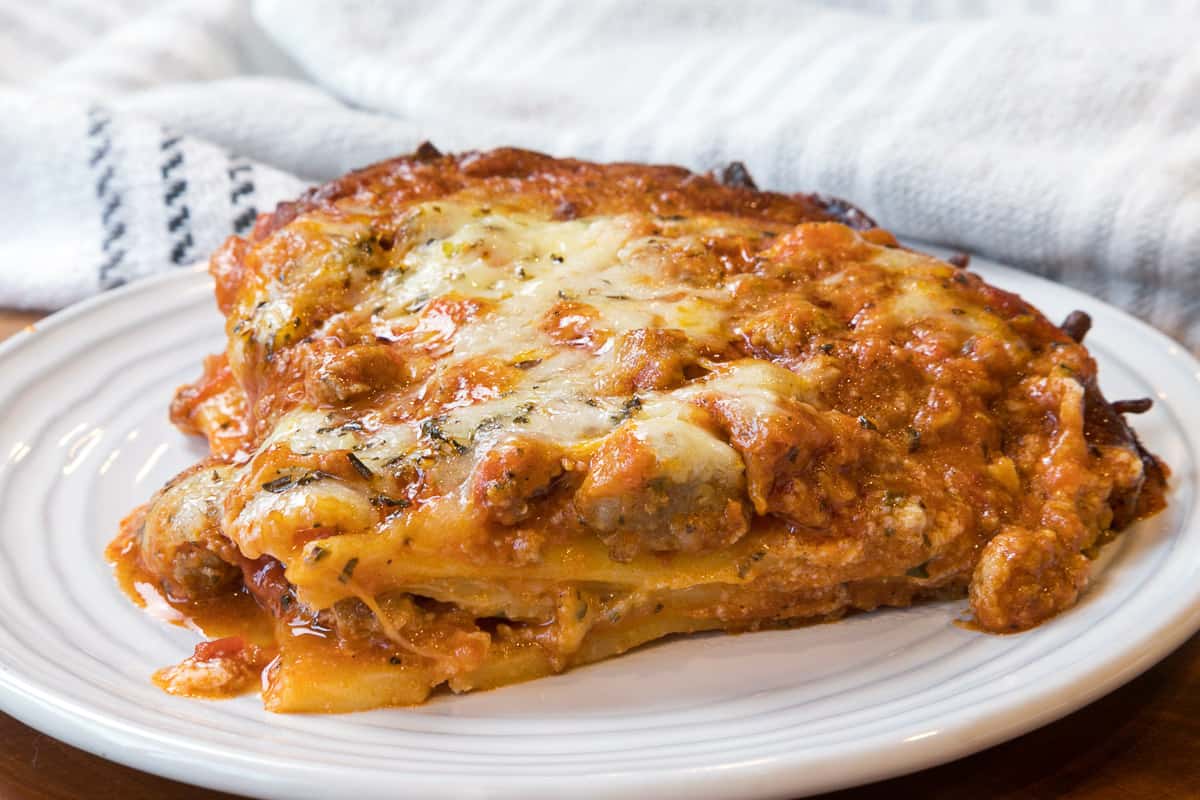 This all-natural ready-to-bake package of Italian sausage and beef lasagna is made with 100% USDA choice-grade ground beef chuck, vine-ripened tomatoes, whole milk mozzarella cheese, and whole milk ricotta cheese, with no preservatives added.
🍴 Key Ingredients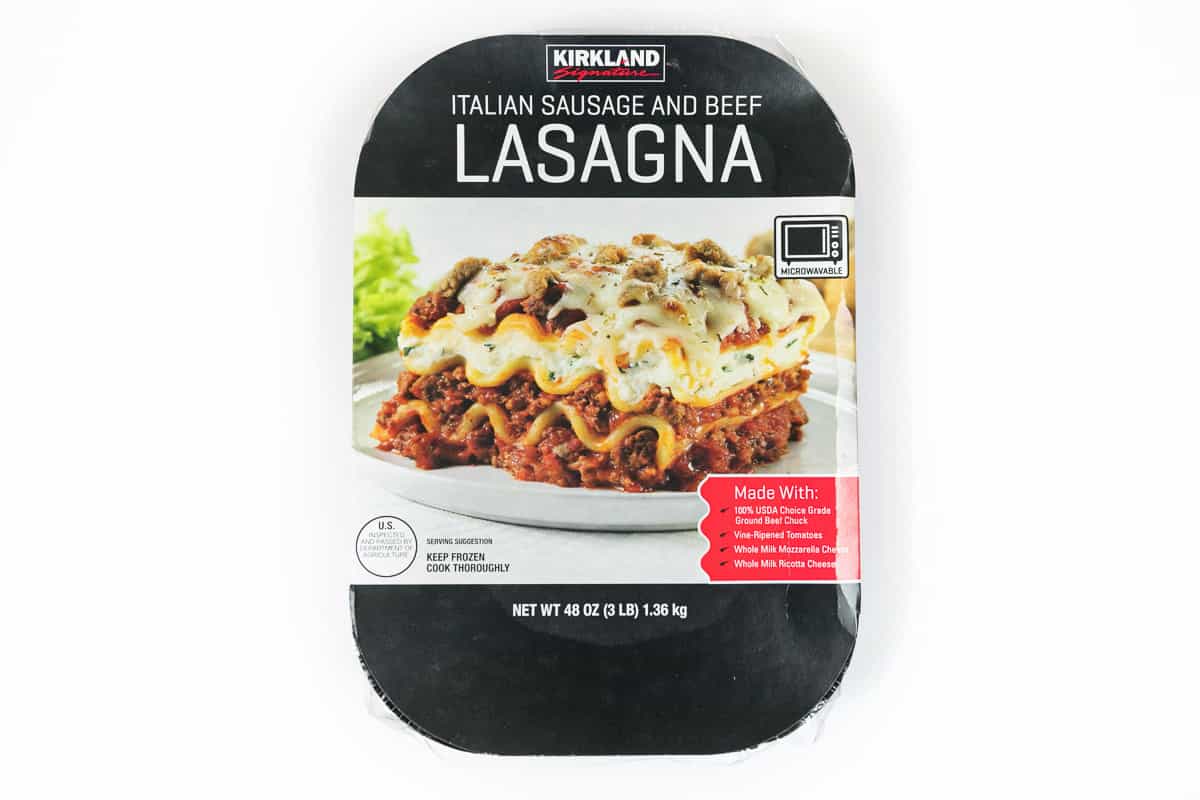 👩‍🍳 How to Cook Frozen Lasagna (Step-by-Step Instructions with Detailed Photos)
Step 1. Preheat Oven
Set your oven to 375 degrees Fahrenheit. You can use a conventional oven or a convection oven, whichever you choose. Most ovens are not created equal, so keep in mind that many ovens can bake foods differently making the cook time vary slightly. You know your oven the best, so you will know if you need to adjust the heat to a lower temperature. Also, the minutes of cooking time may need to be adjusted.
Note: If you don't have an oven handy, this frozen sausage and beef lasagna can be cooked in the microwave. This is so perfect for college students. Or when you are on vacation and you are staying in a hotel room but you don't want to go out to eat. And of course, when you are traveling in your RV. This lasagna can be cooked in the microwave while you are on the road. Full microwaveable detailed instructions are on the back of the package.
Step 2. Remove the Packaging
Remove the original packaging from the lasagna. There will be a film cover that looks like a piece of plastic wrap attached to the lasagna pan, so leave that outer plastic covering on the lasagna. With a sharp knife, cut a two-inch slit in the middle of the plastic covering.
Note: This frozen lasagna sells as a twin pack. Each lasagna tray is 48 ounces. We will be making only one of the trays today.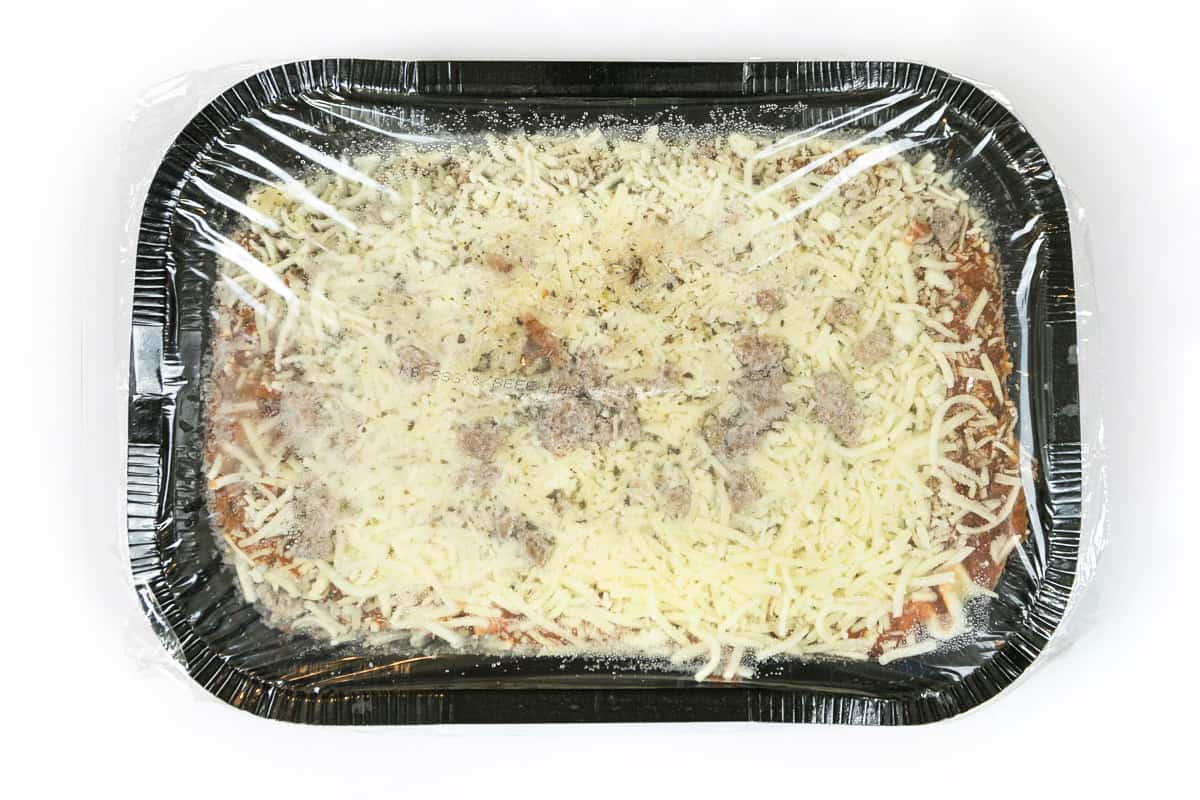 Step 3. Cook Frozen Lasagna with the Film Covering On
Set the lasagna tray on a baking sheet, then place it in the preheated oven on the middle rack. Cook for a baking time of 55 minutes. On the back of the package, the cooking instructions say to cook the product until it reaches an internal temperature of 165 degrees Fahrenheit. The best way to check the temperature is by using an instant-read food thermometer.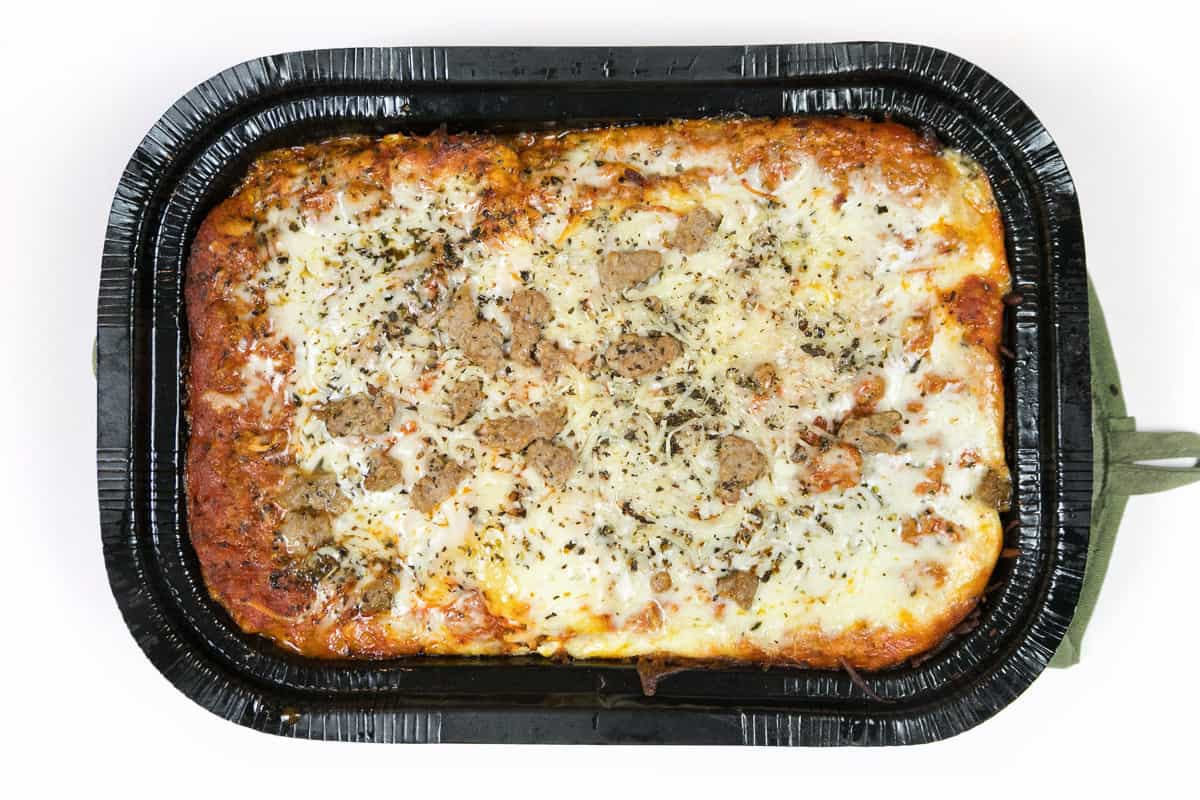 Step 4. Remove the Film Cover & Bake Again
After the 55 minutes of cooking time is up, take the lasagna tray out of the hot oven and remove the film cover. Then, put the lasagna tray back into the oven and bake it for another 10 minutes so the cheese can turn a golden brown color.
Step 5. Let Lasagna Cool at Room Temperature
After that, remove the lasagna from the oven and let the lasagna rest at room temperature for five minutes. In other words, let the lasagna cool so it can set. Then it's time to eat.
Cut the lasagna into individual servings and serve it with garlic bread and a delicious lettuce salad with all of your favorite veggies.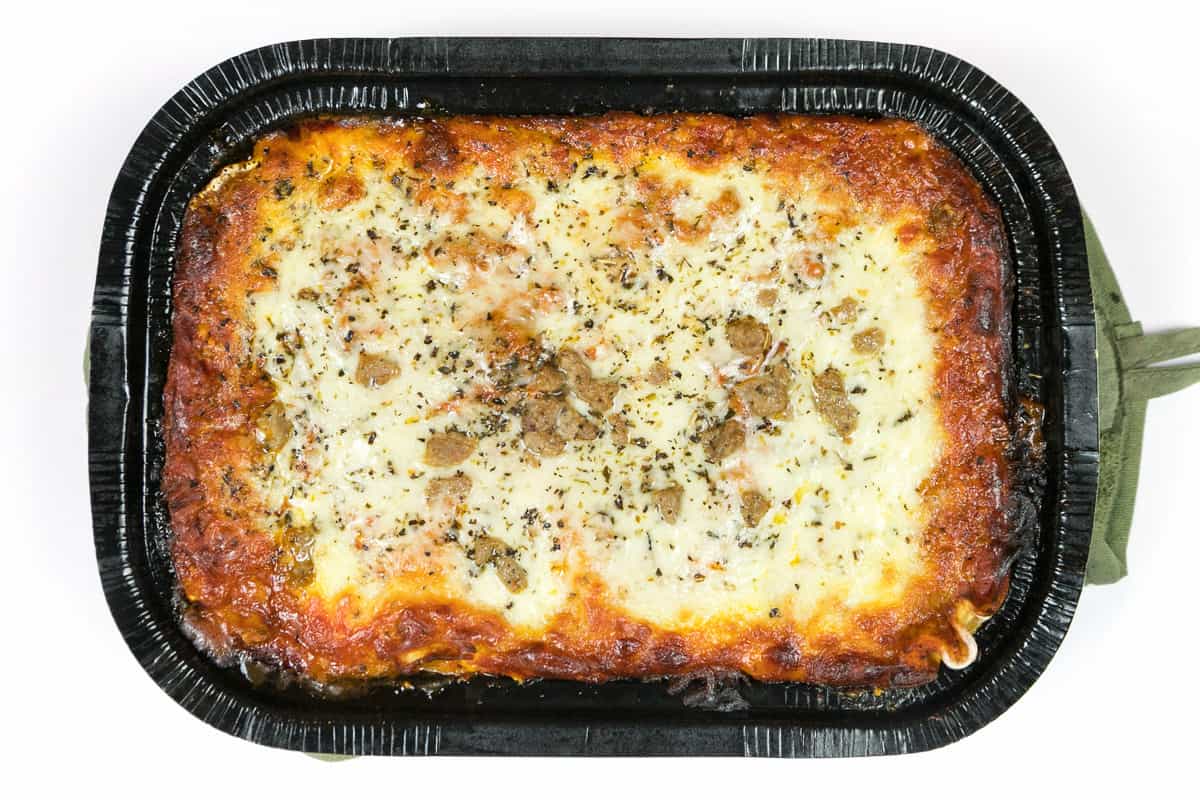 ✨ Recipe Variations
This prepared lasagna from Costco is a delight to eat just the way it is, but you can certainly jazz it up with any of your favorite toppings for some extra flavor.
❔ FAQs for How to Cook Frozen Lasagna
What do I do with Leftover Lasagna?
Leave any lasagna leftovers in the same container you baked it in, then cover it with aluminum foil or plastic wrap and put it in the refrigerator for up to 3 days. You can also transfer the lasagna to an airtight container if you prefer to do so. After that, either eat it or throw it out.

Can I Refreeze Cooked Frozen Lasagna?
Yes, after you have baked the lasagna and end up with leftovers but don't feel like having them the next night for dinner, make some freezer meals with them. You can freeze lasagna by putting the lasagna in single freezer bags. A great way to do that is to cut individual portions and place each portion in a freezer bag. Then, when you are ready, you can take out only the individual pieces you need for a quick delicious meal. Thaw the night before in the refrigerator, then reheat to your personal preference the next day.
How do I Reheat Leftover Lasagna?
Reheat the lasagna in the same container it came in, or you can transfer it to an oven-safe dish such as a glass dish, glass pan, or baking dish that is safe for the oven. To reheat the lasagna, put it in the oven or the microwave just until it is hot.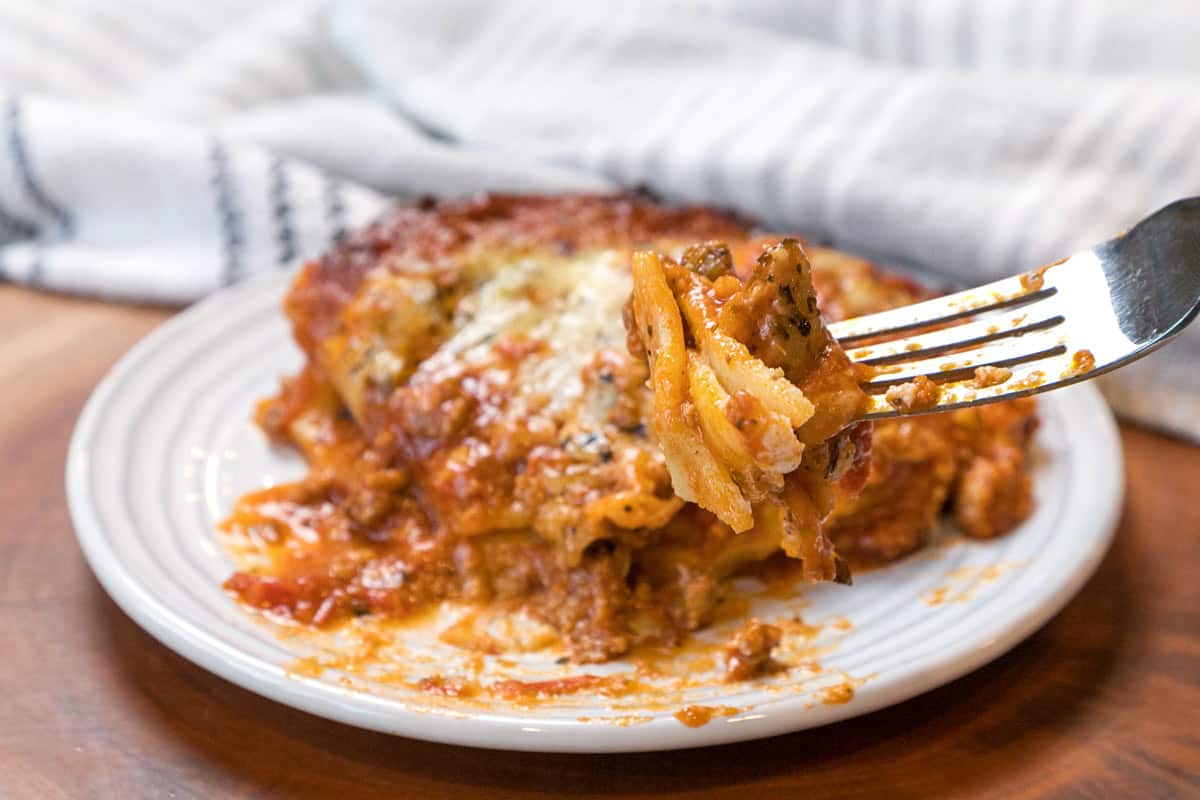 💭 Final Thoughts About How to Cook Frozen Lasagna
When you are in a hurry and you don't have time to make lasagna from scratch, this Italian sausage and beef lasagna is the next best thing. The amount of time it takes to make homemade lasagna can be overwhelming on a busy day. Cooking frozen lasagna can't get any simpler than this and you will be totally surprised by the delicious taste.
What's nice about this frozen lasagna is you can keep your freezer stocked with it until you are ready to make it for dinner.
So the next time you are too busy to cook from scratch, don't let dinner stress you out! Enjoy the convenience and a stress-free evening by opening your freezer door and pulling out a quick and easy-to-make pop-in-the-oven lasagna your whole family will love. It is the best frozen lasagna from the freezer section of the grocery store that I have ever eaten. If you love lasagna, you won't be disappointed either after taking the first bite of this delicious lasagna that is already premade for you and full of superb flavor. Enjoy!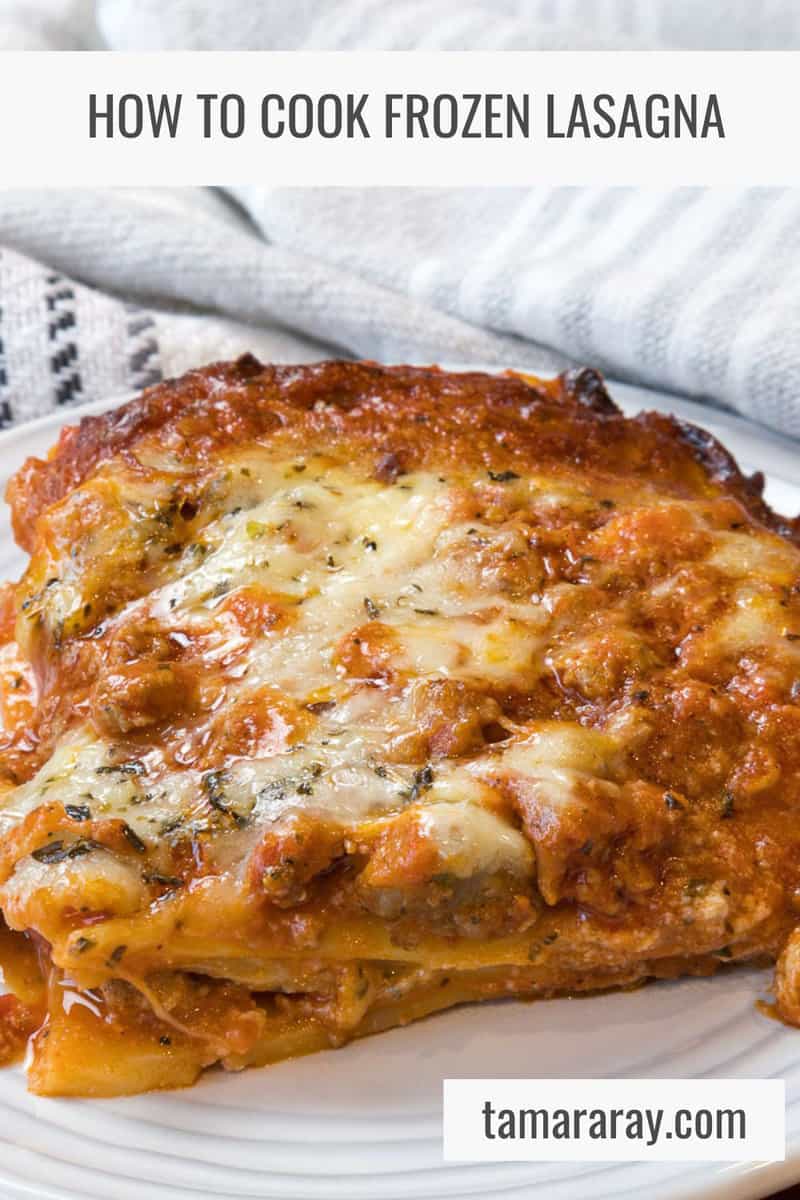 💑 More Lasagna Recipes You Will Love
💖 After Dinner Desserts
📄 Recipe Card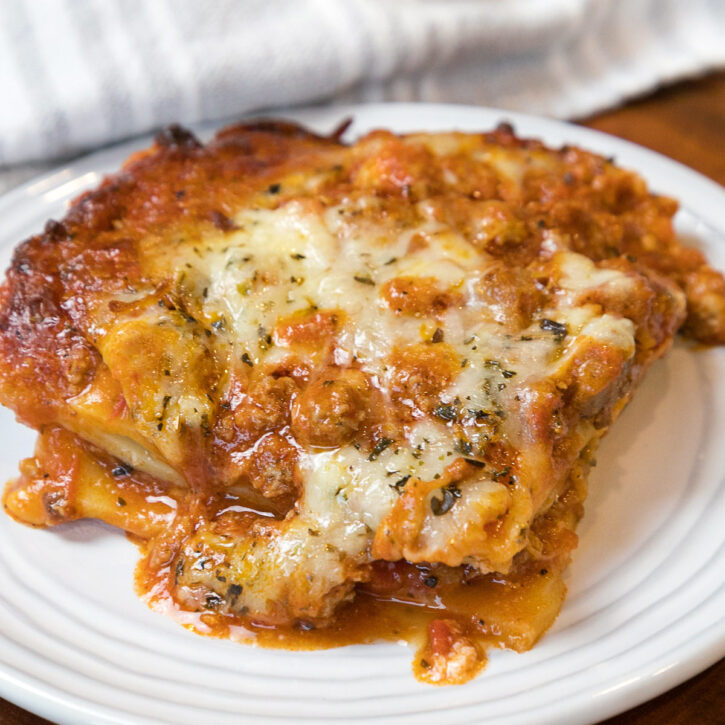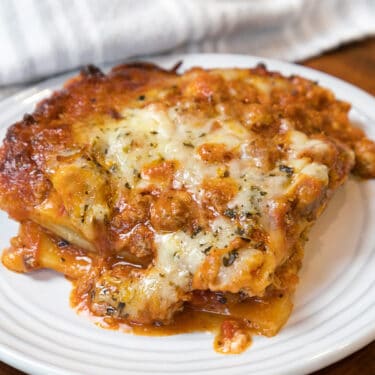 How to Cook Frozen Lasagna
Cooking premade frozen lasagna is quick and efficient for those busy weeknights. Frozen lasagna from the grocery store is a great alternative to spending hours in the kitchen making a homemade version. With these simple instructions your frozen lasagna can be cooked and prepared with minimal effort.
🧂 Ingredients
1

frozen Kirkland Italian sausage and beef lasagna

(48 ounces)

1

loaf

garlic bread

(optional)
👩‍🍳 Instructions
Preheat the oven to 375 degrees Fahrenheit

Cut a 2-inch slit in the middle of the plastic wrap covering the tray the lasagna is in.

Put the tray of lasagna on a baking sheet and place it in the oven on the middle rack.

Then take the lasagna tray out of the oven and remove the plastic wrap.

Put the lasagna back into the oven and bake for another 10 minutes to brown the cheese.

After that, remove the baked lasagna from the oven and let it set for 5 minutes.
*️⃣ Recipe Notes
Oven temperatures vary from one oven to another, so keep an eye on the lasagna while it is cooking in the oven.
You can sprinkle parmesan cheese on top of the lasagna for added flavor.
Sprinkle some parsley flakes on top of the baked lasagna as a garnish.
A wife, a mother to a son and a daughter, and a grandmother to three granddaughters. Flo loves sharing recipes passed down from her own mother, her mother-in-law, and her grandmother as well as new recipes created with her daughter, Tamara Ray.
More by Flo ➜