(Last Updated On: May 23, 2023)
This easy copycat Chick-fil-A sandwich recipe made in the air fryer tastes almost like the fast-food restaurants but for way less money. Well actually, I think it tastes better. There are only four ingredients in this recipe, and that's counting the bun.
Instead of using the viral Aldi red bag chicken, we are using the Just Bare lightly breaded chicken breasts with no added hormones from Costco, and these work great, especially if they are air fried.
Dinner is served with a combination of breaded chicken breast fillets, accompanied by Chick-fil-A sauce and topped with cheddar cheese and optional dill pickle chips. Simply cook the frozen chicken breasts in the air fryer basket for 20 minutes, prepare your bun, and enjoy!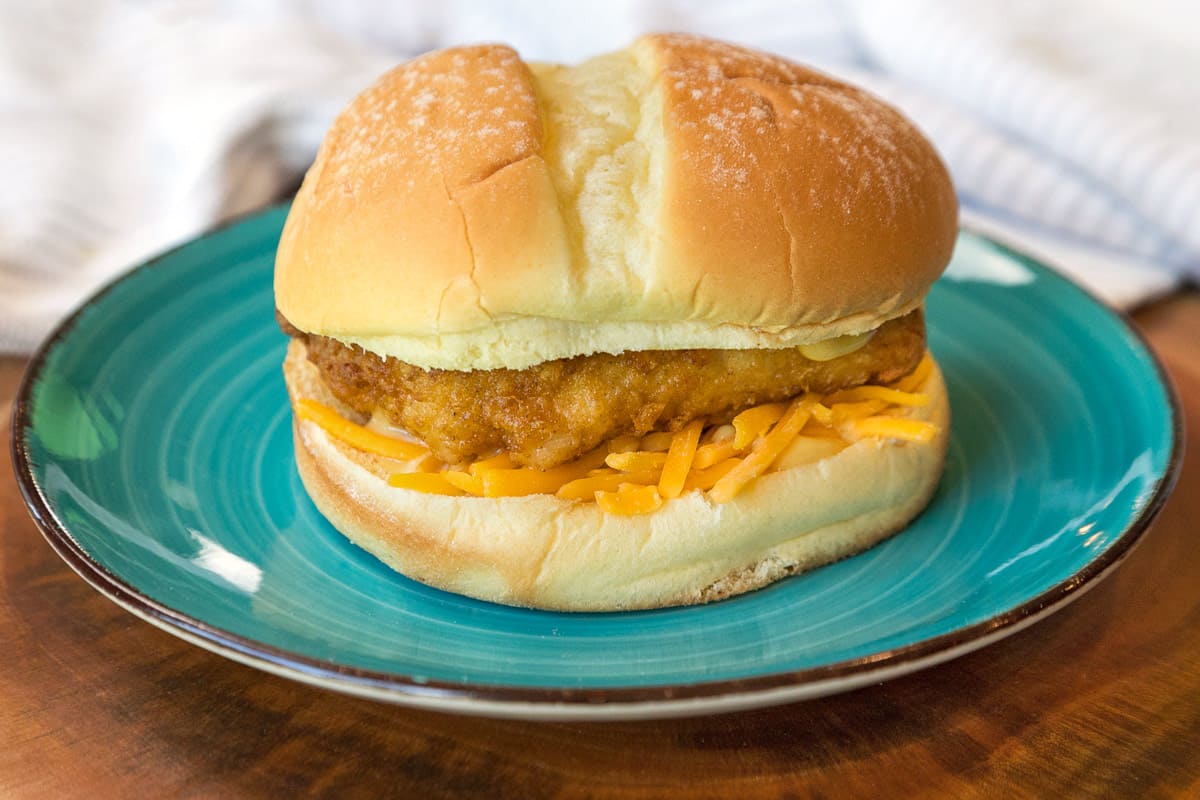 Put some french fries, waffle fries, or potato wedges in the air fryer too, and you have a complete meal. Boiled baby potatoes or potato salad would also be a great side dish.
🍴 Key Ingredients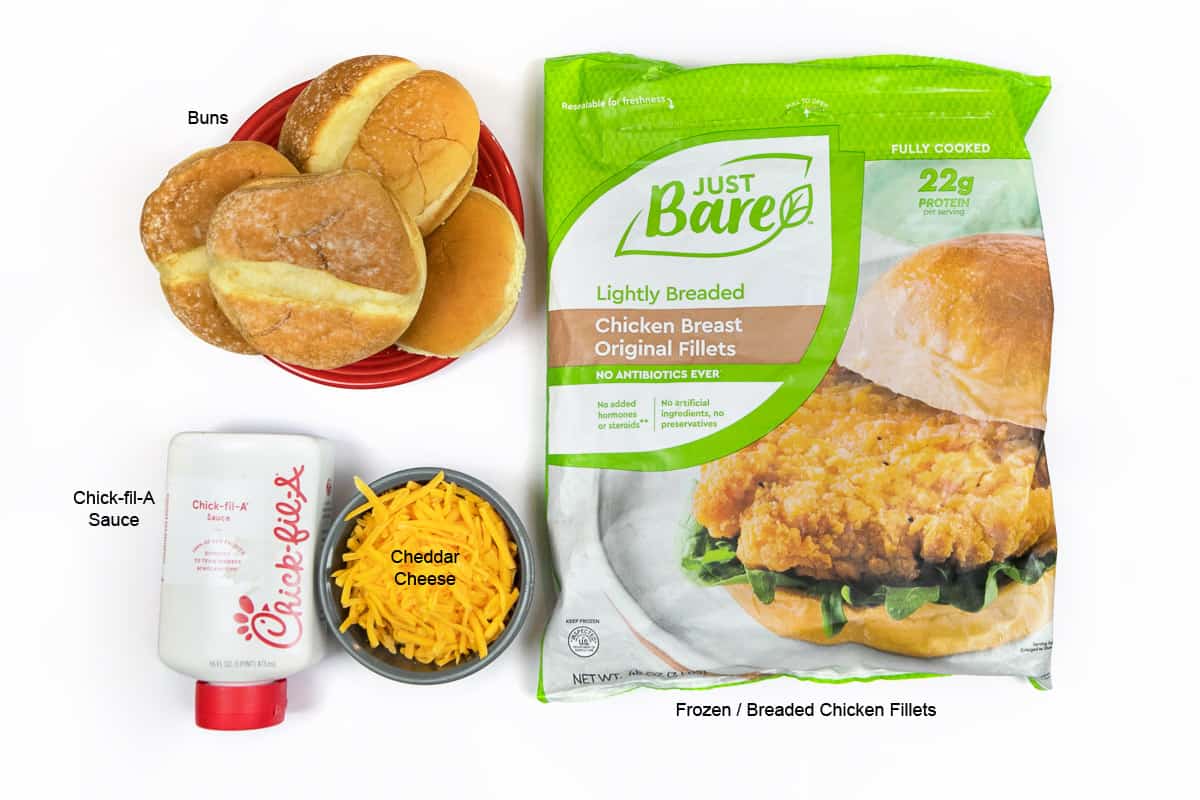 👩‍🍳 How to Make a Copycat Chick-fil-A Sandwich (Step-by-Step Instructions with Detailed Photos)
Step 1. Preheat the Air Fryer
Preheat the air fryer to 385 degrees Fahrenheit if it needs to be preheated. We use a Cosori air fryer and it needs preheating.
Note: For those of you who don't have an air fryer, you can use your oven or microwave for this recipe. Just follow the cooking instructions on the back of the chicken fillet package.
Step 2. Put the Chicken Fillets in the Basket
We didn't need to use non-stick cooking spray to coat the air fryer basket, but if you need to, you can do that now. After that, arrange the chicken fillets in a single layer in the basket. We were able to get 6 fillets in our basket, but if you can't get 6 fillets in your basket, you can always do a second batch.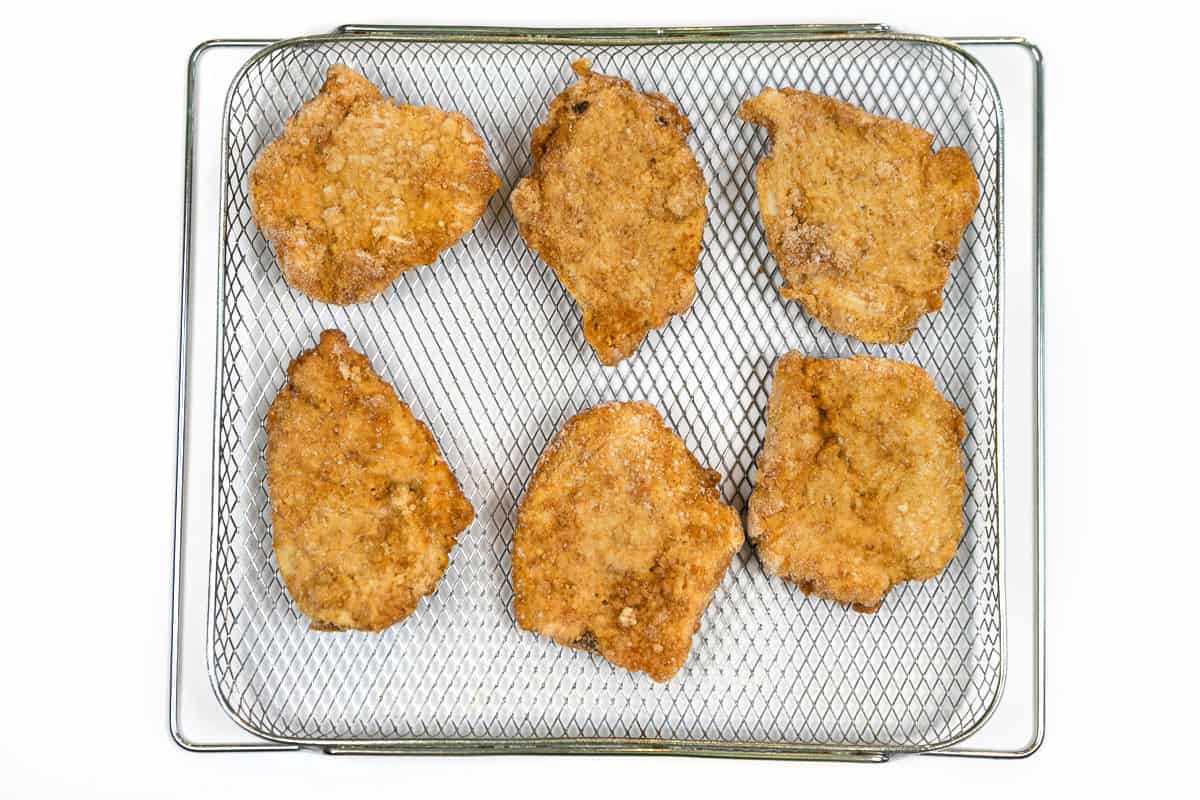 Step 3. Cook the Breaded Chicken Breasts
The ideal cooking time to cook these breaded chicken breasts is for 15-20 minutes depending on your air fryer. Our cook time was for 20 minutes. You must also flip the chicken patties halfway through the cooking time to make sure they are cooked evenly on both sides. For the best results, keep an eye on your chicken while it is in the air fryer to make sure it doesn't get overcooked.
Insert an instant-read food thermometer in the thickest part of the chicken to check the internal temperature until it reaches 165 degrees Fahrenheit.
Note: Some air fryers are more powerful than others, so yours may require less cooking time than 20 minutes. On the other hand, if after the 20 minutes are up and the chicken doesn't look crispy enough, go ahead and add another minute or two to the overall cooking time.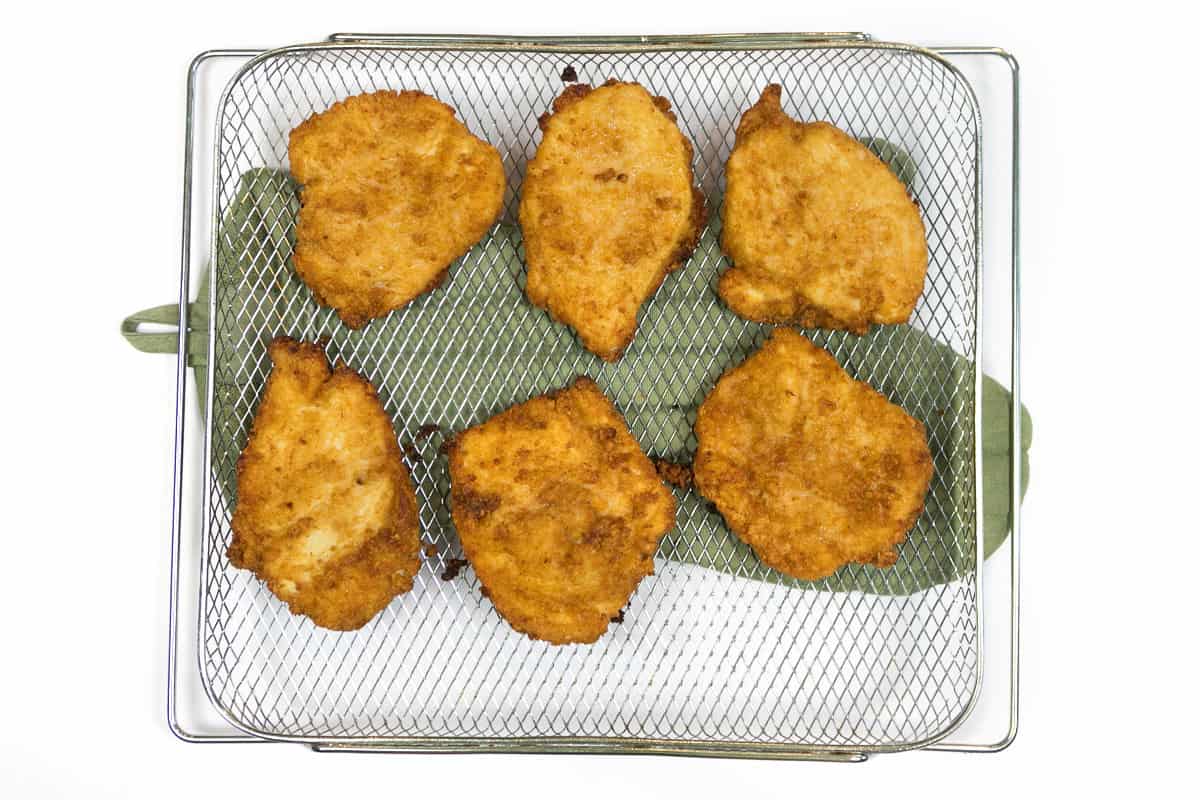 Step 4. Get Your Bun Ready
While the chicken is cooking in the air fryer, let's get our buns ready.
There are so many tasty choices of buns to choose from such as Brioche buns, whole wheat hamburger buns, fresh bakery buns, BBQ potato hamburger buns, keto hamburger buns, and gluten-free buns. We used regular potato buns, but whatever your favorite buns are will work just fine.
If you want a toasted and buttered bun, go ahead and do that now.
Step 5. Spread on the Chick-fil-A Sauce
The first step to preparing your bun is to generously spread some Chick-fil-A sauce on both halves of the bun. At this point, if you prefer to do so, you can add any other condiments that enhance the flavor of this already delicious crispy sandwich.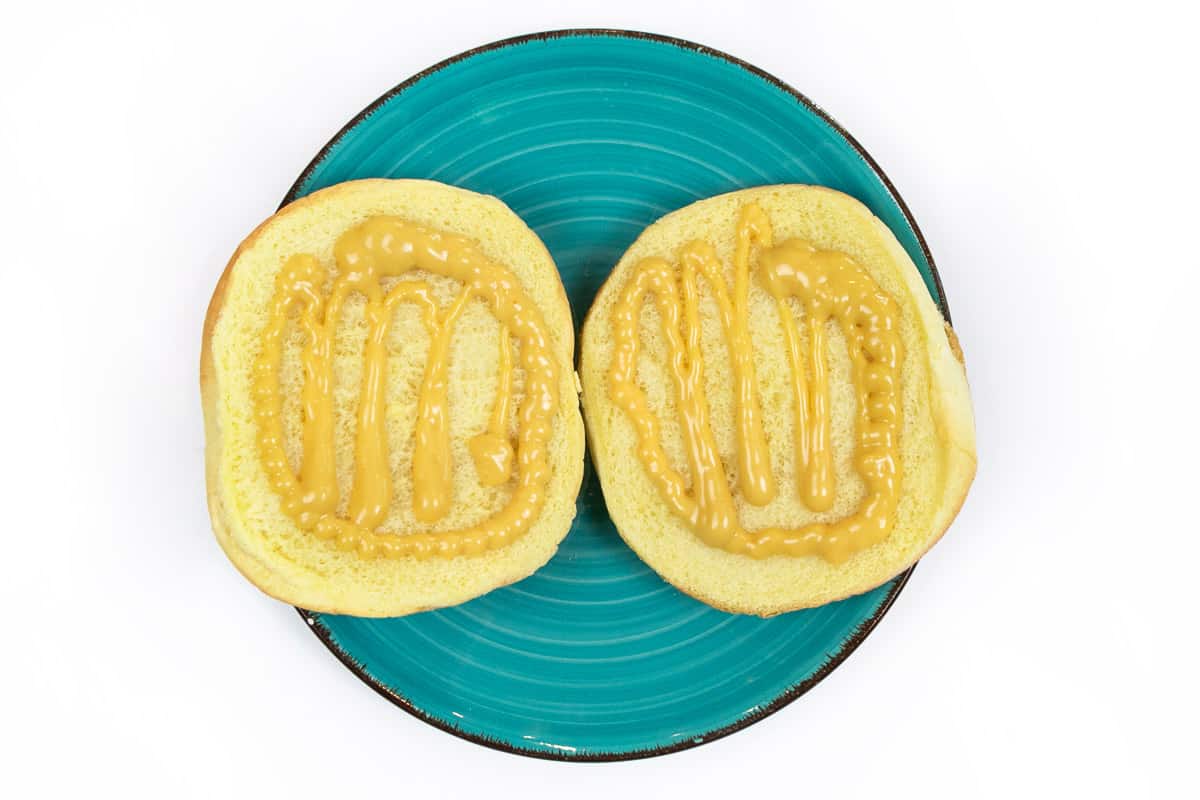 Step 6. Sprinkle on the Cheddar Cheese
Then, the next step is to put a generous amount of shredded cheddar cheese on one side of the bun. The cheese is so good on this sandwich.
Step 7. Assemble the Chick-fil-A Sandwich
After the chicken is done in the air fryer, remove the cooked chicken fillets from the air fryer with heat-resistant tongs and heat-resistant oven mitts so you won't burn your hands or wrists.
Put the chicken sandwich together in the way you like it best. We did the basic way with just sauce, chicken filet, and cheese. I know a lot of people love the pickle that Chick-fil-A puts on it, so if that is your thing, don't forget to add that too.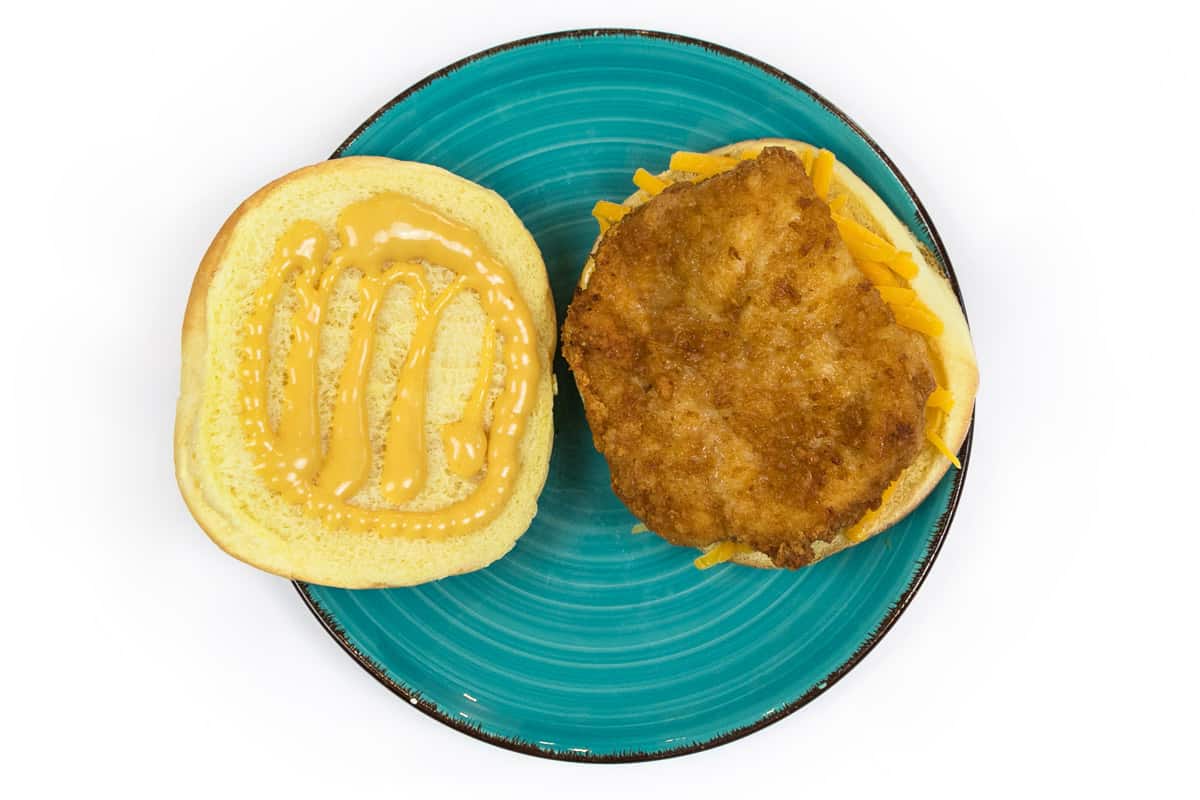 🌟 Recipe Variations
Add some extra BBQ sauce to the chicken sandwiches.
Sprinkle some garlic powder or ground black pepper on each breaded chicken breast fillet before putting them in the air fryer.
If you want a hot and spicy chicken sandwich, sprinkle some hot red pepper flakes or spread some hot sauce on the chicken fillet after it is on your bun.
You can even make your own Chick-fil-A sauce at home instead of using the store-bought version. There are many copycat recipes for the sauce on the internet which vary slightly, but most include some of these ingredients: lemon juice, BBQ sauce, yellow mustard, mayonnaise, Dijon mustard, and honey.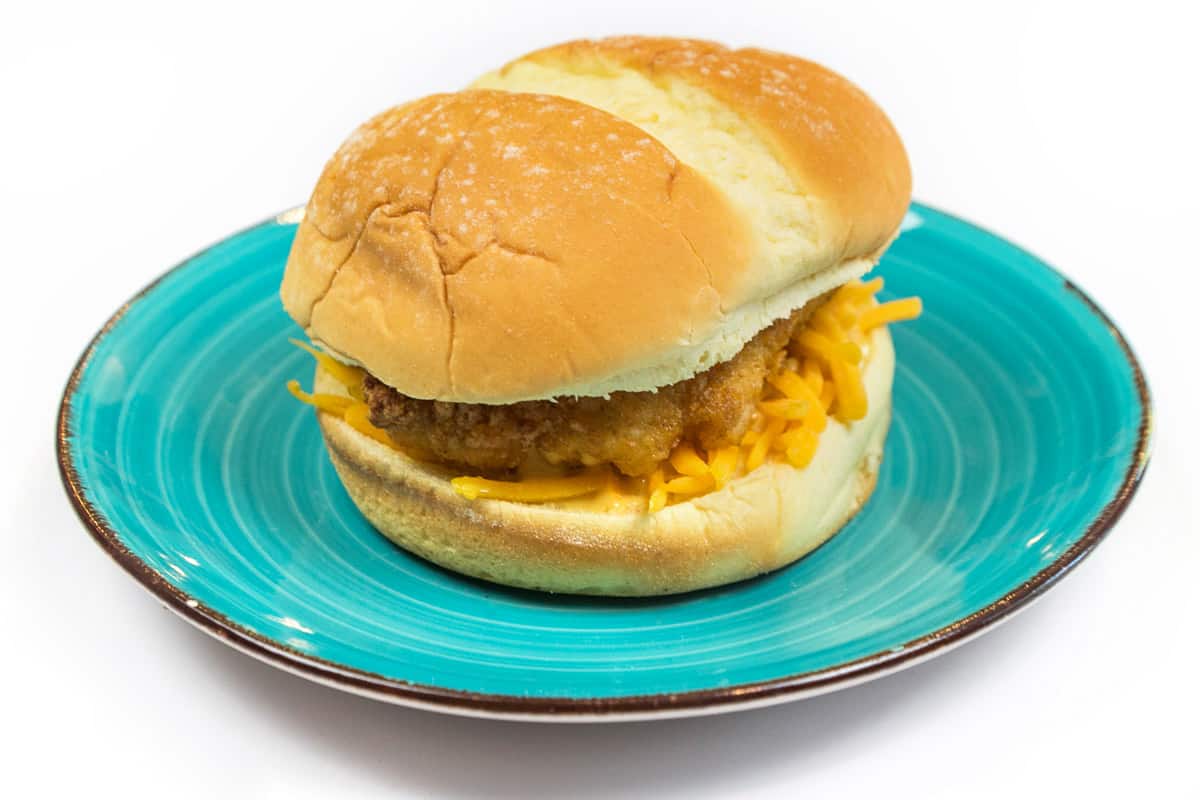 🙋 FAQs
Can I Freeze Chick-fil-A Sandwiches?
You can freeze the chicken filet part of it. Let's say you made too many chicken filets in the air fryer and you don't want to have them for dinner the next night, so go ahead and put them in an airtight container and put them in the freezer. They will be good for a couple of months in the freezer. Just reheat them in the microwave or the air fryer when you are ready to have them for dinner again.
What do I do with Leftover Chicken Patties?
You can put any leftover chicken patties in the refrigerator in an airtight container for a couple of days, but make sure to keep them refrigerated and eat them within 2 to 3 days.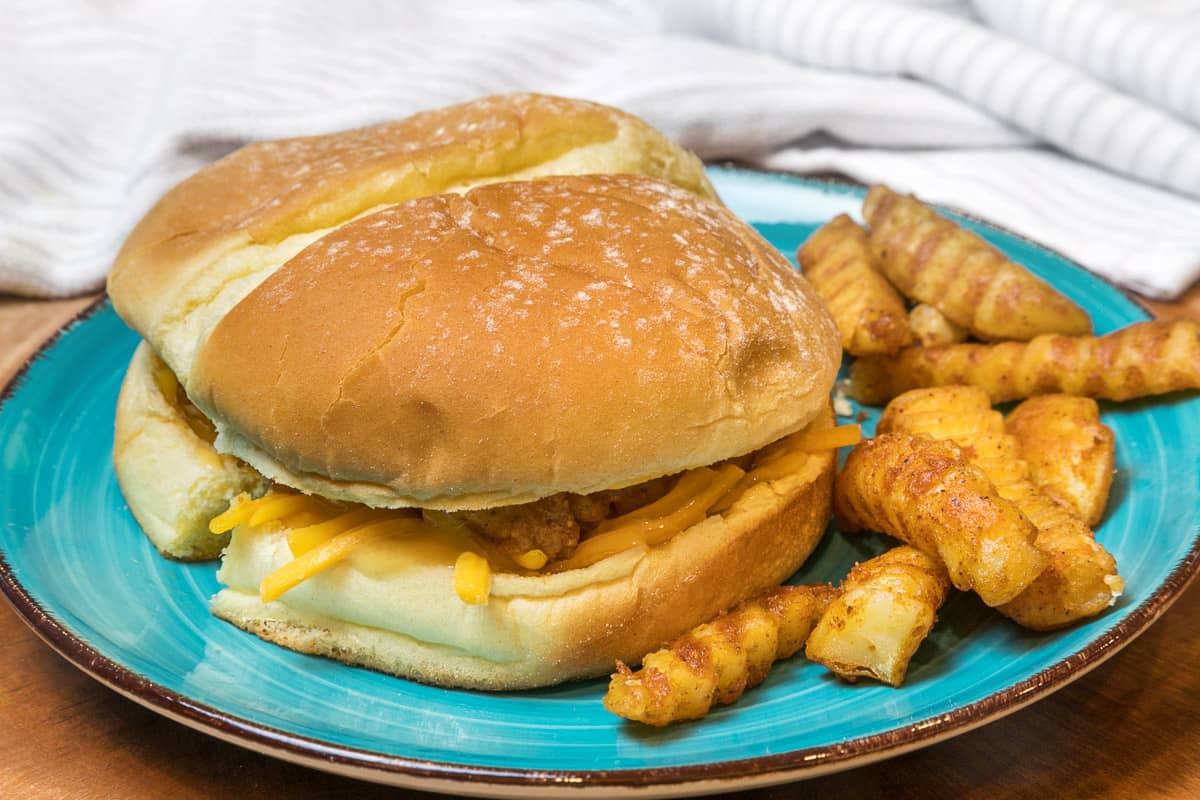 💡 Final Thoughts
This crispy chicken sandwich is one of our family's favorite meals. It has become the go-to meal when we get home late and need something quick and easy to make. As long as you keep some frozen breaded chicken breast filets stocked in your freezer and some classic Chick-fil-A sauce in your fridge, you will be able to make this juicy chicken sandwich whenever you want!
So the next time you don't know what to make for dinner, and you are craving a Chick-fil-A chicken sandwich, go ahead and make your own homemade Chick-fil-A meal that will save you time and money.
We have made this copycat sandwich for a few different guests now and we have gotten positive reviews every single time. Every person that has tried this version of the sandwich says it tastes almost like the real thing!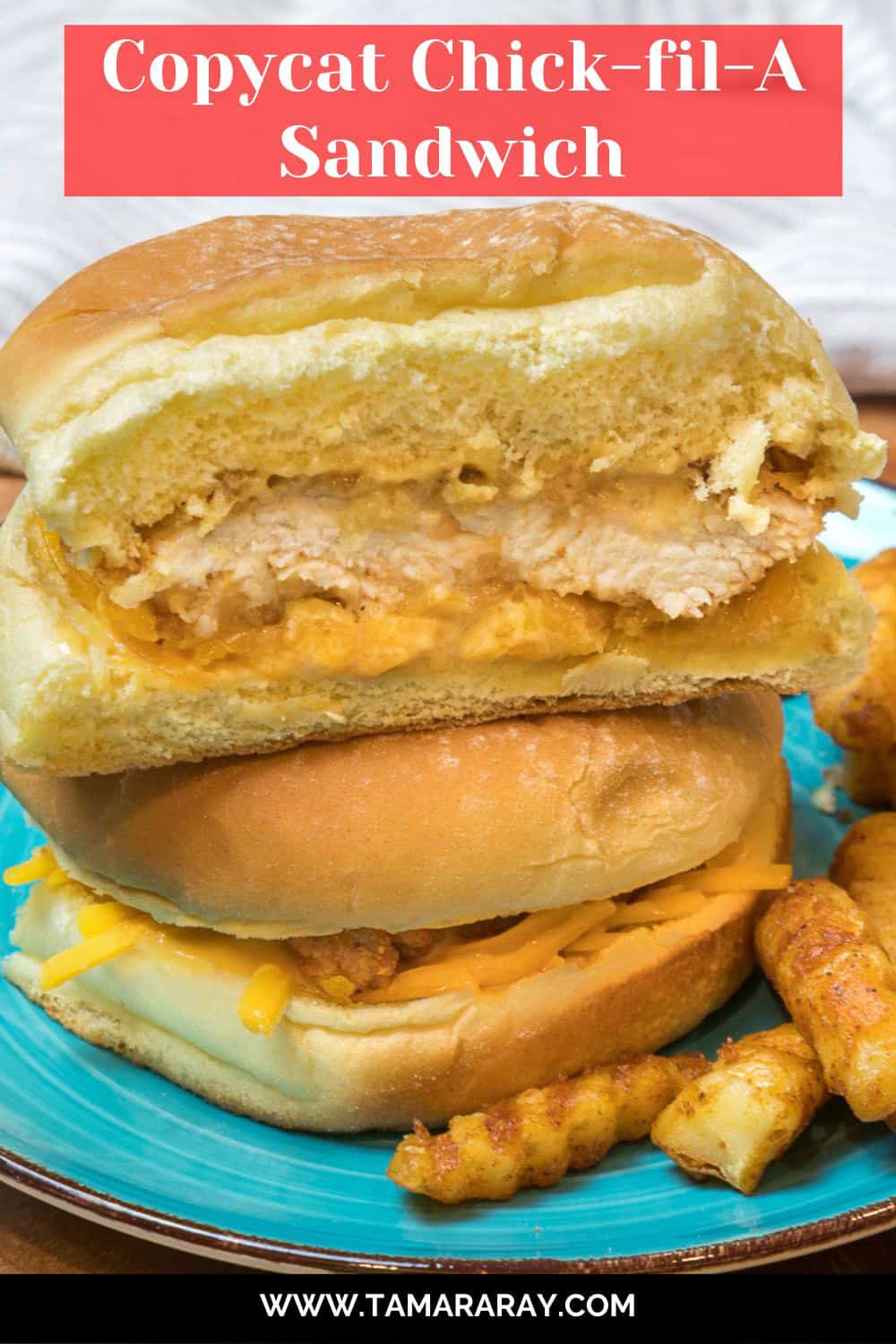 💖 More Copycat Recipes You Will Love
Jamba Juice Citrus Squeeze Smoothie, Healthy Copycat – This jamba juice citrus squeeze smoothie is so yummy. It's also super easy to make with strawberries, a banana, orange juice, vanilla flavor Greek yogurt, and ice cubes. Some optional ingredients to add can be kale, frozen blackberries, frozen blueberries, or frozen pineapple.
Orange Julius Recipe (Copycat) – You can make this drink any time with ingredients you already have in your kitchen. It's a creamy smoothie with lots of orangey taste and crushed-up ice cubes make it super cold and so delicious!
🗂️ Recipe Card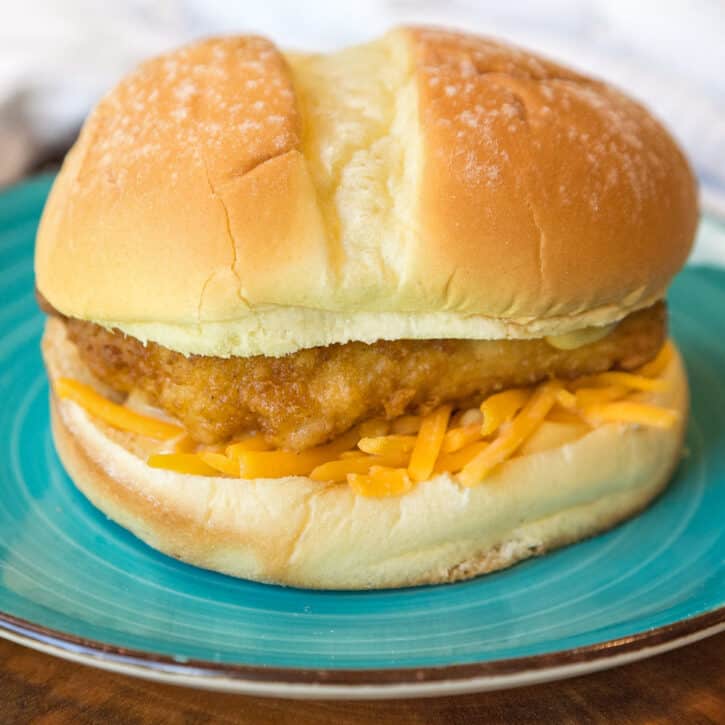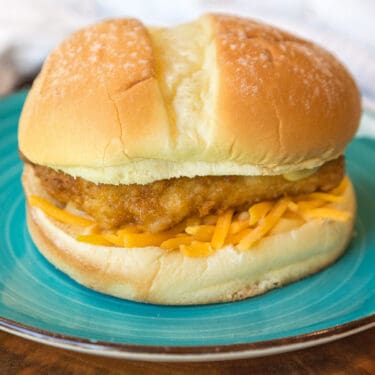 Easy Copycat Chick-fil-A Sandwich in Air Fryer
Savor the essence of Chick-fil-A's famous chicken sandwich with this super simple copycat recipe to make at home. It uses frozen, breaded chicken fillets that are air-fried and store-bought Chick-fil-A sauce with optional added cheese and pickles.
🧂 Ingredients
6

Just Bare lightly breaded chicken fillets

(or your choice)

6

Buns

(your choice)

Chick-fil-A sauce

(at local stores)

Dill pickle chips

(or sliced dill pickles – optional)
👩‍🍳 Instructions
Preheat the air fryer to 385 degrees Fahrenheit.

You can spray the basket with non-cooking spray if you prefer. We didn't.

Place the chicken fillets in the basket in a single layer.

Put the basket into the air fryer.

Cook the chicken fillets for 15 to 20 minutes, but flip them halfway through the cooking time. Our cooking time was 20 minutes so we flipped them over at 10 minutes.

Air fryers can cook differently so keep an eye on the chicken fillets while they are in the air fryer. Your cooking time may be a little less or a little more than ours.

Heat the chicken until an instant-read food thermometer inserted into the thickest part of the chicken fillet reads 165 degrees Fahrenheit.

While the chicken is cooking, prepare the buns. You can toast and butter the buns now if you prefer.

After that, put Chick-fil-A sauce and cheddar cheese on the buns.

Then lay dill pickle chips on the buns (optional).

Place the cooked chicken fillets on each bun, then serve.
*️⃣ Recipe Notes
If you who don't have an air fryer, you can use an oven or microwave for this recipe. Follow the cooking instructions on the back of the chicken fillet package.
If you prefer you can add any extra spices or sauces to the chicken fillets or the bun.
A wife, a mother to a son and a daughter, and a grandmother to three granddaughters. Flo loves sharing recipes passed down from her own mother, her mother-in-law, and her grandmother as well as new recipes created with her daughter, Tamara Ray.
More by Flo ➜