(Last Updated On: March 2, 2023)
Do you have stinky shoes? Are bad odors escaping from them? Well, we have a terrific solution for shoe odor! You can spray each shoe with this easy-to-make DIY shoe deodorizer spray. This sneaker odor eliminator has a combination of ingredients that are all-natural, and when used, that unpleasant odor that lives inside your shoes will no longer exist.
If you hate cleaning the shower stall, you should try this shower cleaning solution for the hard-to-clean areas in the shower. And if you love DIY cleaning hacks, you should definitely try out all of these amazing uses of baking soda.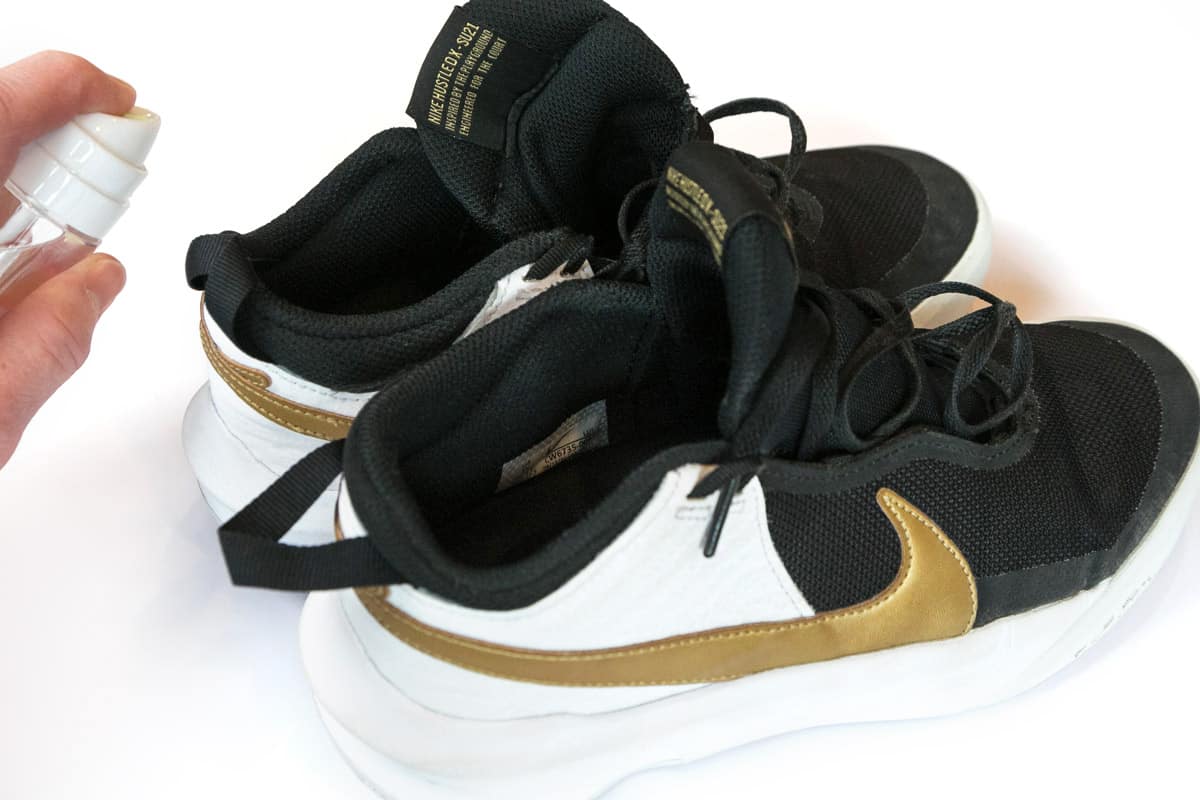 👟 Key Ingredients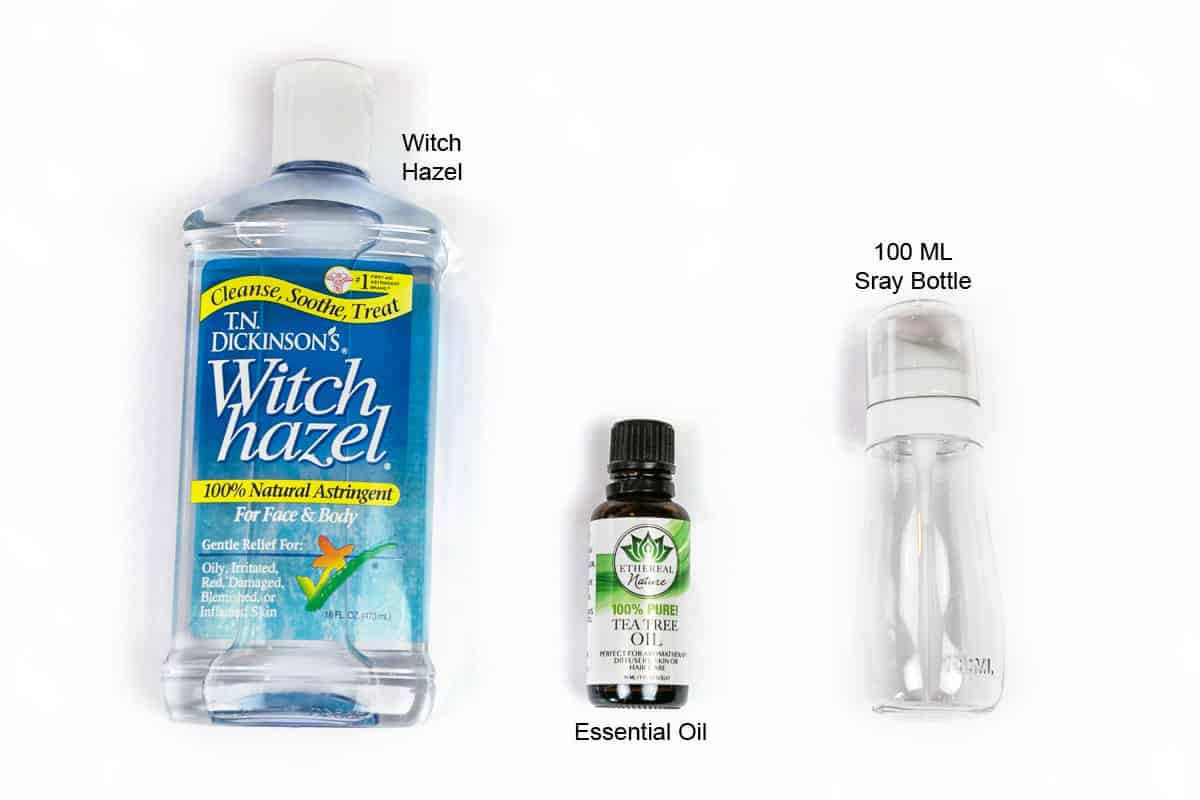 🥾 How to Make Shoe Deodorizer Spray (Step-by-Step Instructions with Detailed Photos)
Step 1. Add the Witch Hazel
In a 100-milliliter (ml) spray bottle, add 50 ml (milliliter) of witch hazel. 50 milliliter equals 3.3814022702 tablespoons (US). You can use a small funnel to make the job much easier.
Note: If you don't have a 100-milliliter spray bottle, you can use any glass spray bottle or any safe essential oils spray bottle you may have on hand. If you have a different-sized spray bottle, the ratio of witch hazel to water is 1:1 equal parts. Adjust the essential oil accordingly.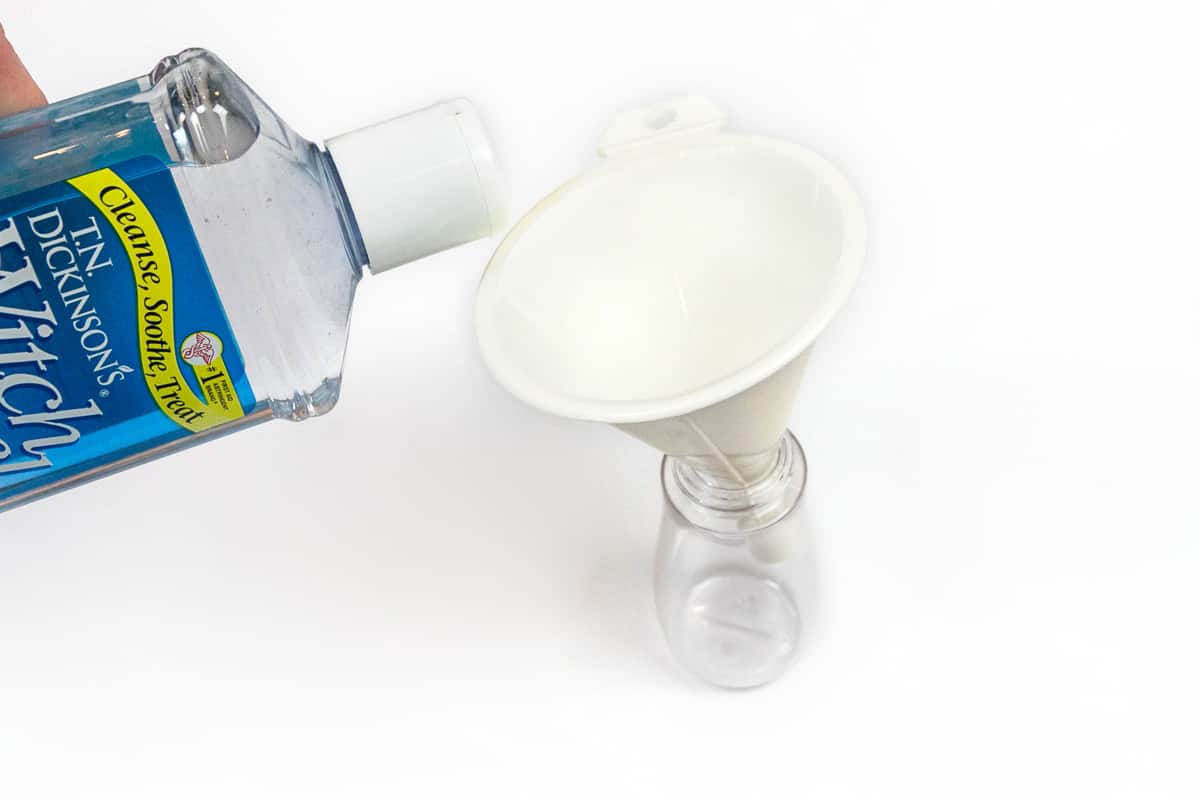 Adding the 50 milliliters of witch hazel should fill the 100 ml spray bottle half full or to the 50 ml line on the bottle.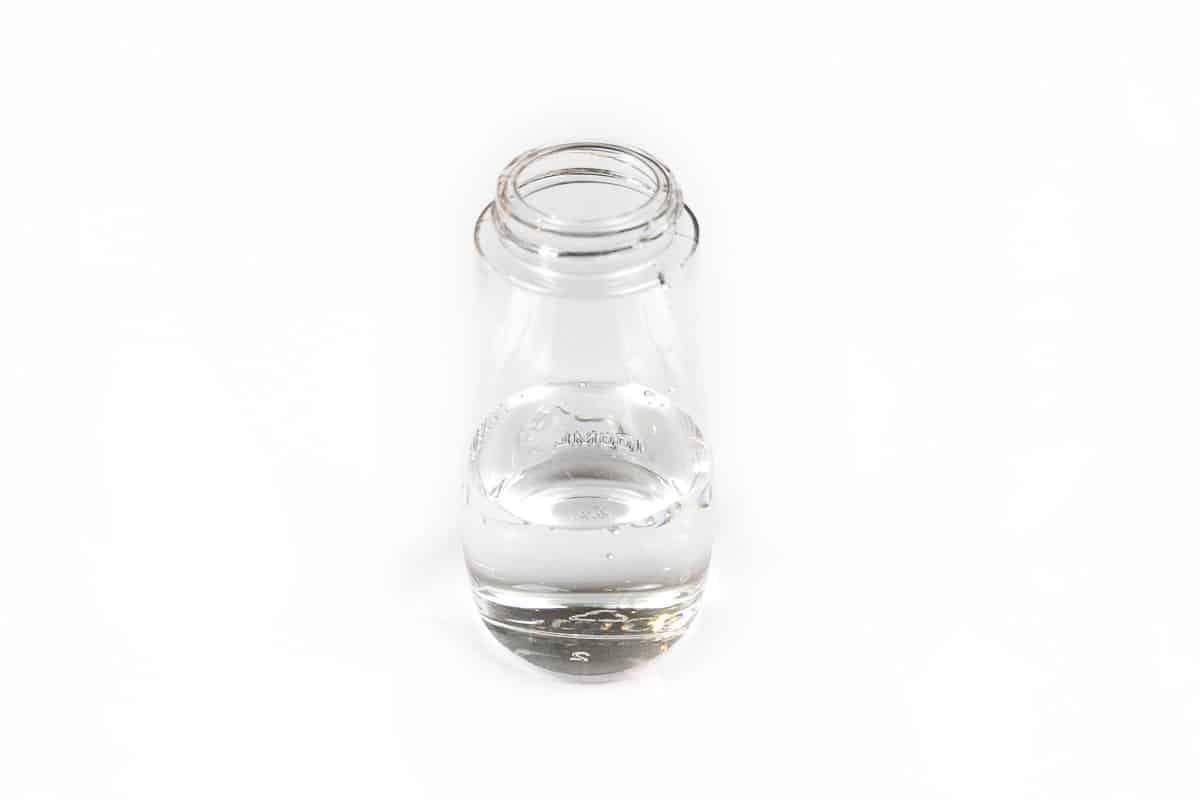 Step 2. Add the Water
Next, use tap water from the faucet to fill the other half of the 100 ml bottle with 50 ml of water. This should fill the 100 ml spray bottle just about to the top. You can use distilled water if you prefer.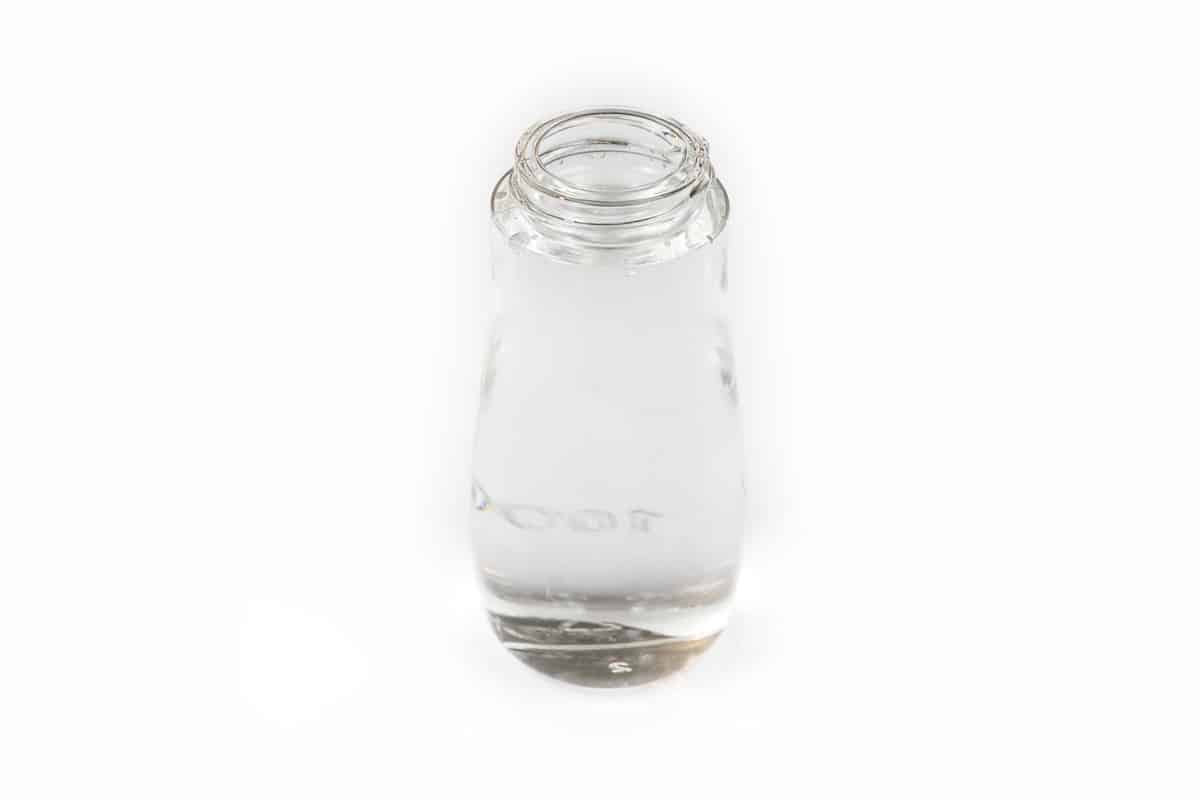 Step 3. Add the Essential Oil
Add 5 drops of your favorite essential oils together with the water and witch hazel. We used 100% pure tea tree essential oil.
Note: You can use different essential oils instead of, or along with, tea tree oil for this shoe spray. Just pick one, or even a couple of your favorites that you love the smell of. Some examples are:
Clove bud essential oil
Siberian fir essential oil
Peppermint essential oil
Rosemary essential oil
Cinnamon bark essential oil
Lavender essential oil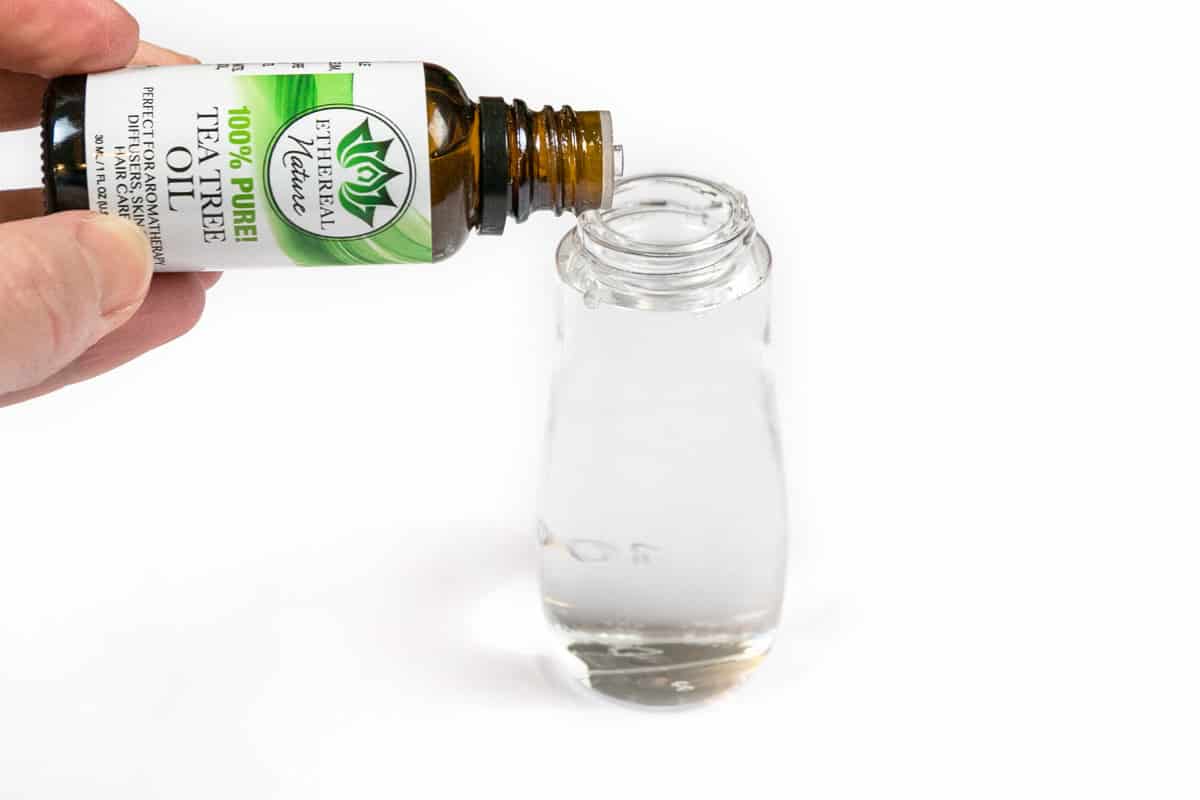 Step 4. Shake it Up
After that, give the spray bottle a good shake.
Important: This spray deodorizer is for external use only. Please make sure to keep it out of the reach of children. It is also to be used for stinky shoes, not stinky feet or sweaty feet. In other words, it is not a foot spray or body odor spray. If a person has foot odor or body odor, they should get to the root of the problem by consulting with a doctor.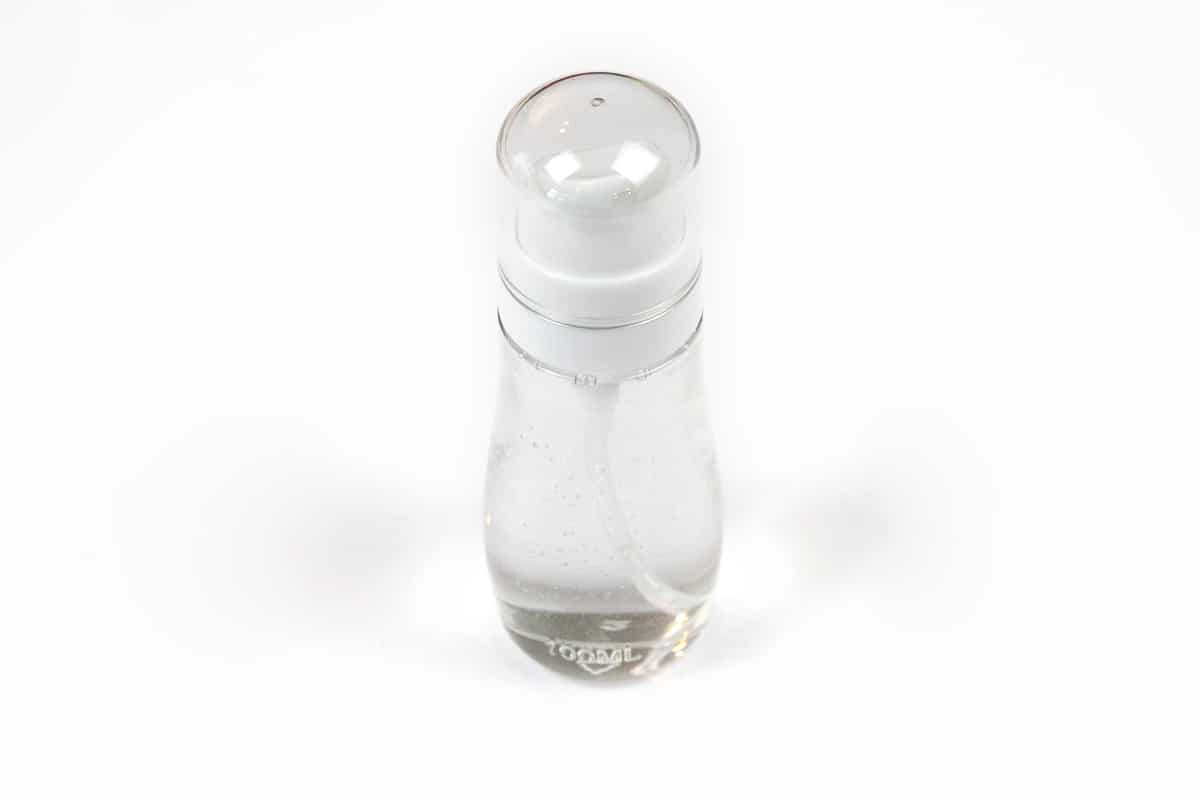 Step 5. Spray the Inside of Your Shoes
First and foremost, do a spot test on a small inconspicuous area inside of the shoe before using. After that, if all is good, take the spray bottle and squirt some shoe deodorizer in all of the smelly shoes you want to deodorize, but don't saturate them too much with the spray. Also, every time you use it, shake it up well. After spraying the inside of the shoes, set the shoes aside until they are dry.
Note: For the best results, spray your shoes at night after you wear them to get rid of unwanted smells. Then, by the next morning, your shoes will be dry and ready to go.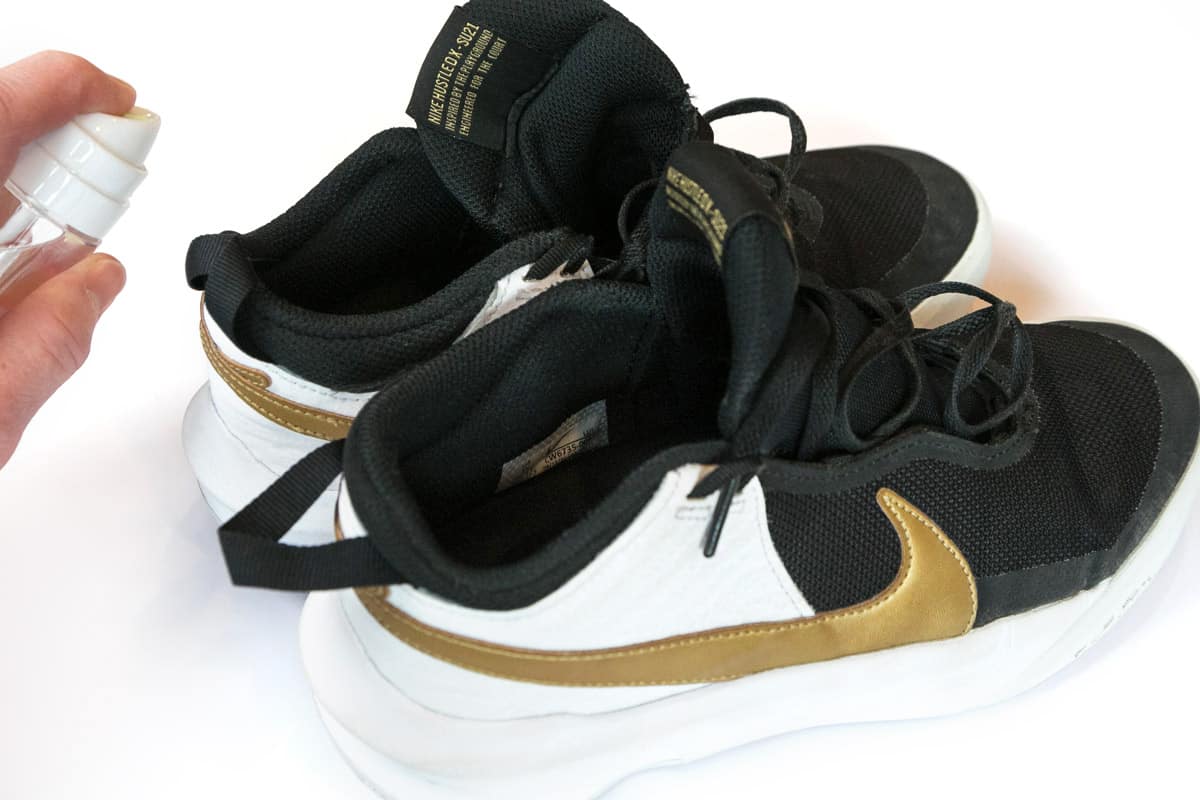 👠 FAQs
Why are My Shoes so Stinky?
Stinky shoes come from sweaty feet. Sweaty feet produce smelly feet and stinky shoes. Feet are pretty much confined in a pair of shoes, so when there is any kind of sweat taking place, moisture occurs. Bacteria love moisture and warmth. This moisture and warmth inside of the shoes is the perfect place for bacteria to grow. Bacteria stink, hence, stinky shoes.
What Else can I use this Shoe Spray On?
You can use this homemade stinky shoe odor eliminator spray on anything that has bad smells to it and not worry about harmful chemicals destroying your belongings. Some examples are a gym bag, men's work boots, dress shoes, flip flops, women's boots, women's sandals, running shoes, hiking shoes, skis, sports shoes, yoga mats, workout gear, sports gear, athletic shoes, athletic equipment, ballet shoes, or a couple of squirts in the gym locker. But remember, this spray is for external use only and always do a spot test first.
🩰 Final Thoughts
What is nice about this homemade shoe deodorizer spray is it is 100% natural ingredients. There is no need to fool around with shoe deodorizer balls or harsh chemicals. It's an easy, quick, and convenient spray with a powerful punch when you don't have time to throw your sneakers in the washing machine.
My granddaughters are into basketball and after a long game or practice their shoes sure are stinky! We have made each one of them a spray bottle to keep in their basketball bags to use on their shoes after sweating in them. This spray sure does make a difference on those long drives home from tournaments!
So grab all of your pairs of shoes that are in desperate need of a good shoe refresher spray and feel good about slipping your shoes on, or for that matter, whenever you need to take off your shoes, especially when visiting friends.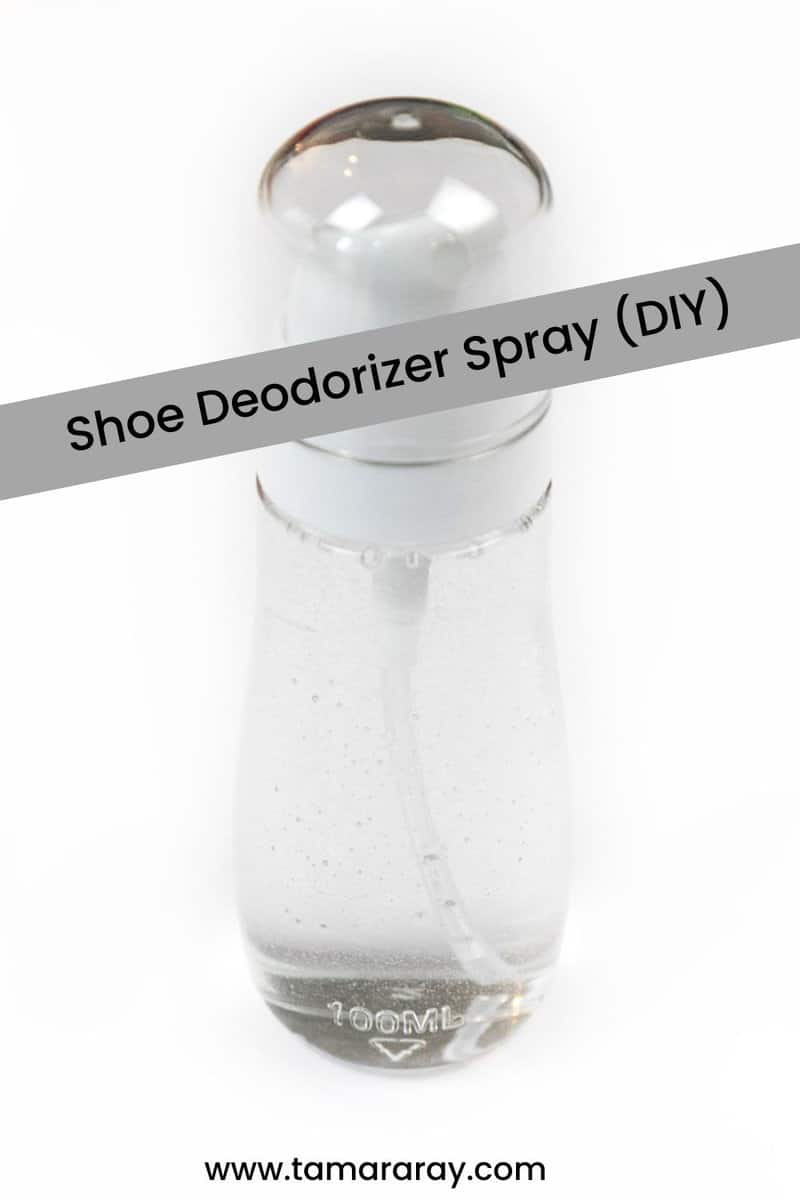 👢 Notes
This shoe spray deodorizer is to be used for the inside of your shoes, not on the outside of your shoes. Also, this spray is not a cure-all, but it will help to cut down on that pungent smell coming out of your shoes. So don't forget that every now and then, you can still wash your shoes in the washing machine if they are washable.
🍃 FYI
I did some research on the internet about tea tree oil. Tea tree oil is pretty good stuff, however, there can be side effects. So always be careful when handling tea tree oil.
WebMD said that tea tree oil is likely unsafe when taken by mouth. They also say taking tree tea oil by mouth has caused serious side effects, including confusion, inability to walk, unsteadiness, rash, and coma. So do not put tea tree oil inside of your body.
Also, WebMD says tea tree oil is possibly safe for most people when applied to the skin. However, it may cause skin irritation and swelling in some people. They also say that for people with acne, it can sometimes cause dry skin, itching, stinging, burning, and redness. This information was taken from WebMD.
Shoe Deodorizer Spray (DIY)
A shoe deodorizer spray that will make your stinky shoes smell good again! With equal parts water and witch hazel, and five drops of essential oil, your shoes will thank you and so will your family and friends!
Materials
50

ml

water

(50 Milliliters = 3.3814 Tablespoons)

50

ml

witch hazel

(50 Milliliters = 3.3814 Tablespoons)

5

drops

tea tree oil

(or your favorite essential oil)
Instructions
Fill the spray bottle with equal parts of water and witch hazel.

Add the essential oil to the bottle with the water and witch hazel.

Shake the bottle before using it.

Spray the inside of your stinky shoes without saturating them.

Let the shoes dry before wearing them. This works best when you are done wearing your shoes for the night. They can dry all night while you sleep.

Shoes will be ready to wear the next morning.
Notes
This shoe spray deodorizer is to be used for the inside of your shoes, not on the outside of your shoes. This spray is not a cure-all solution, but if you have stinky shoes, it will help to cut down on the stinky smells that come out of your shoes.
A wife, a mother to a son and a daughter, and a grandmother to three granddaughters. Flo loves sharing recipes passed down from her own mother, her mother-in-law, and her grandmother as well as new recipes created with her daughter, Tamara Ray.
More by Flo ➜