(Last Updated On: April 18, 2022)
Homemade Cleaning Solution for Shower: Dish Liquid + Vinegar Solution
When I was researching the internet about how to clean the hard water stains off of my glass shower door, I came across many homemade solutions of white vinegar + blue Dawn. Everything I found online said it has to be Dawn dish detergent and the blue kind at that. I am going to introduce a new way to make a homemade cleaner with vinegar not using blue Dawn detergent.
I wanted to get my shower clean, but I didn't have any Dawn detergent at my house. So, I thought I'd give a different dish detergent a try to see if it could still get the job done. In my cupboard under the kitchen sink, I had some green Palmolive dish liquid handy and so I gave that a go! In this post, I will explain the process I took using this alternative dish cleaning liquid + white vinegar solution, the recipe for it, and lots of photos to show the before and after. Fair warning, my shower was pretty dirty so the before photos are not pretty.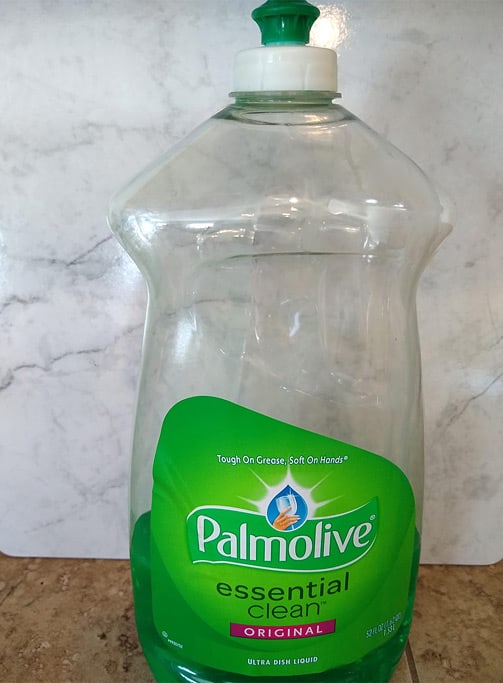 Steps to Make the Homemade Cleaner with Vinegar
The first step is to find a spray bottle that will hold at least 2 cups of liquid. The ratio for dish liquid and vinegar is 1:1 and I used 1 cup of each.
Before transferring the dish cleaning liquid and vinegar into a spray bottle, I first combined them into a glass dish, heated the two ingredients in the microwave for about 2 minutes, and then stirred it up like the photo below.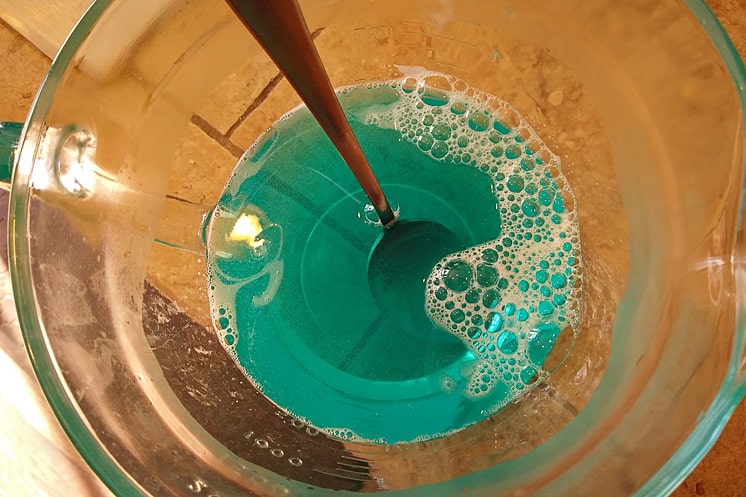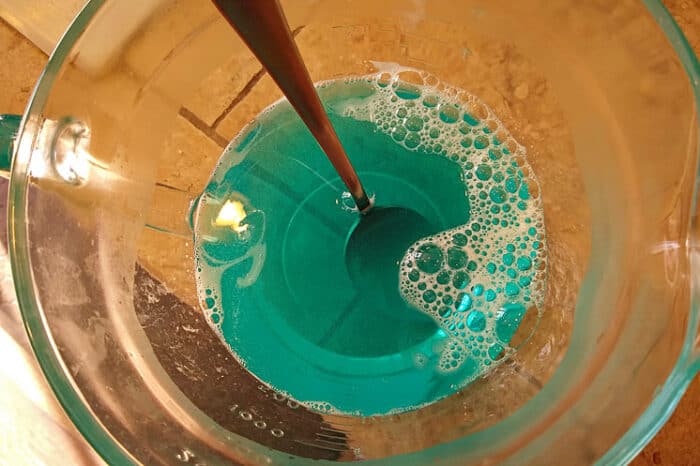 Next, poor the solution into a spray bottle.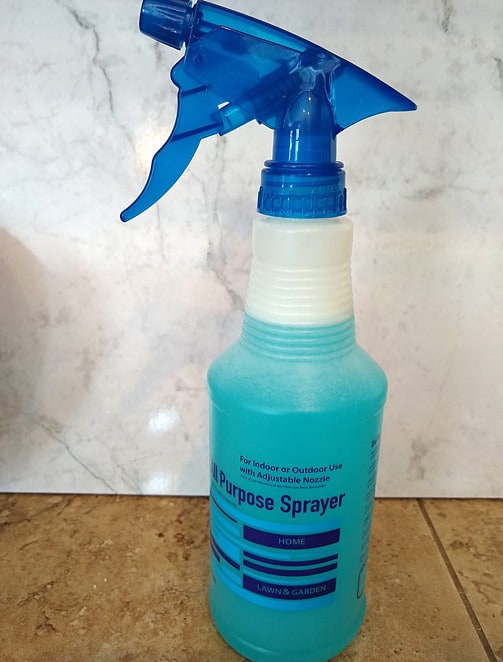 Using the Cleaner on Your Shower
While the homemade cleaner with vinegar solution is still warm, you are going to want to head over to your shower and spray it down really good. I like to get the shower walls a little bit wet first with regular water, then spray with the warm homemade cleaning solution. Let the cleaning solution sit in your shower for a least 10 minutes.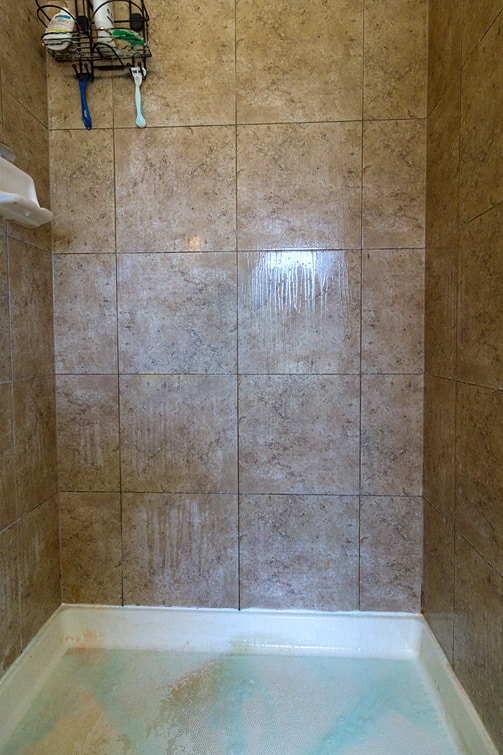 If you have a glass shower door, spray it down real good with the solution too, and let that sit for 10 minutes as well. This cleaning solution is really good at cleaning those hard water stains off of glass doors.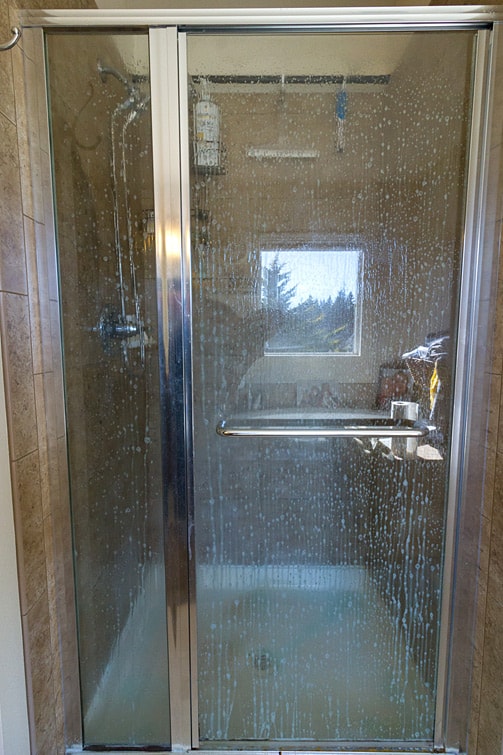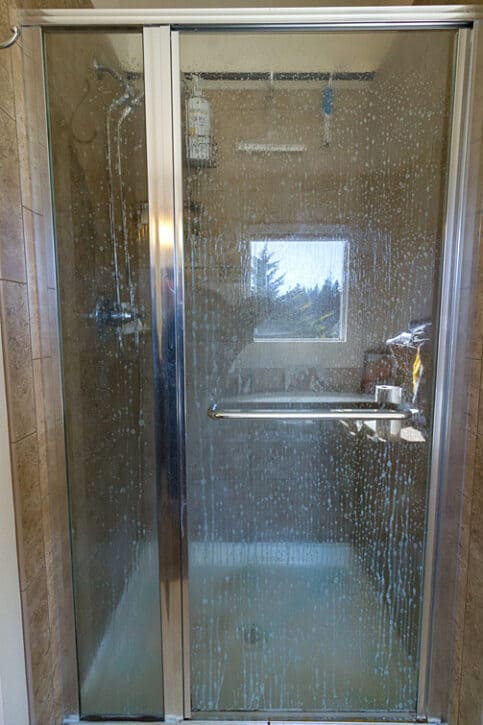 My shower floor pan is white and as you can see from the photo below, the dirt has really stained it pretty well. Regular scrubbing with an over-the-counter cleaning solution does not remove the dirt stains. So what I did was spray down the shower pan with the same dish liquid + vinegar solution and then sprinkled baking soda on top of that. This part will require a bit of scrubbing muscles, but it does remove the dirt that has caked its' way into the pan crevices.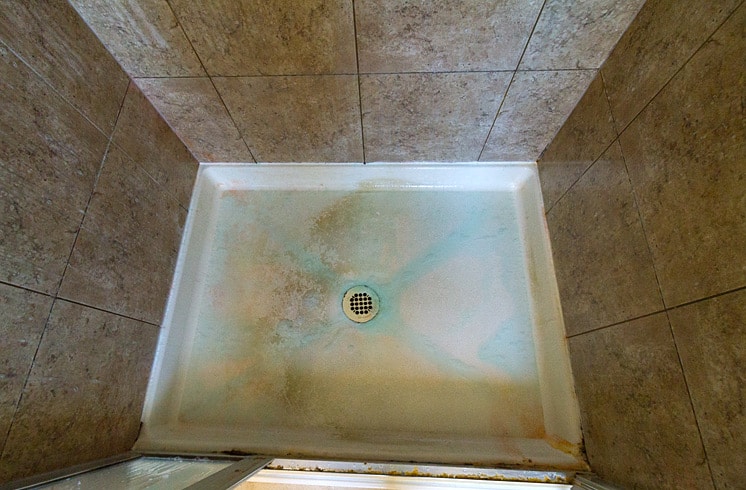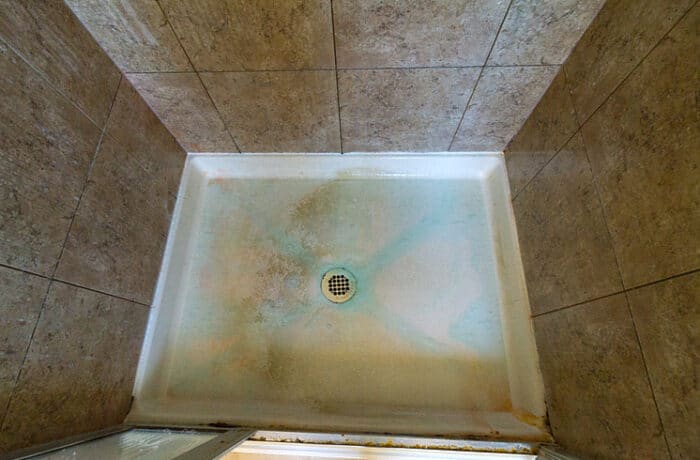 I used the brush seen in the photo below to scrub the shower pan with. It is just a generic brush with black soft bristles.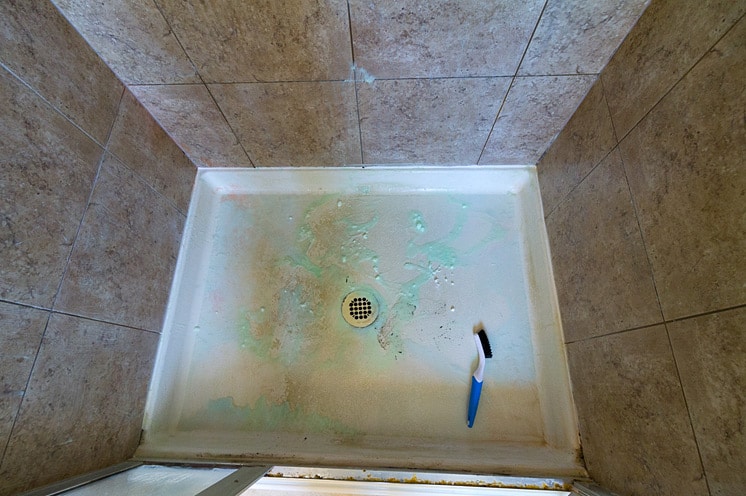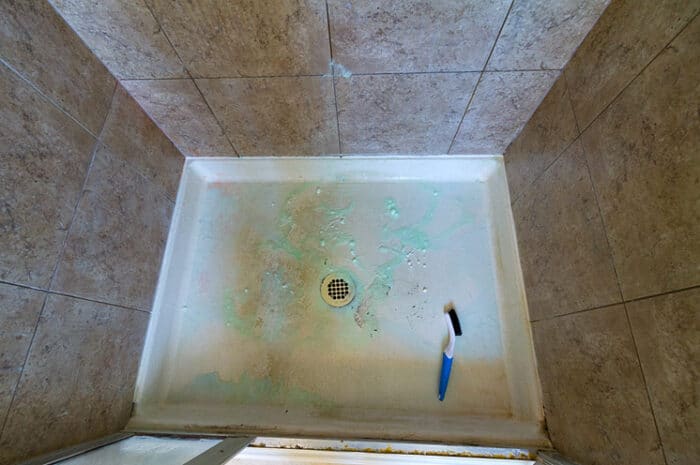 After the cleaning solution has soaked in for at least 10 minutes, it's time to gently scrub the glass shower doors and shower walls. The dirt and grime will start to melt away. I like to use the brush in the photo above and scrub in circles on the glass shower door. As I do this, I can feel the glass get super smooth and that's when I know the hard-water stains are now gone. I also scrub down the shower walls a bit just to remove the pink stains and other visible stains. Finally, I then rinse the entire shower with hot water.
Final Thoughts Using the Homemade Cleaner
For me, the shower pan took the longest to clean. I let it go too long before cleanings and the dirt really got stuck in there. I had to scrub pretty good and kept adding more baking soda to really get that dirt gone. Below I will share some before and after photos.
FYI, my shower was pretty gross and dirty. Maybe yours is not this bad. I let it go a while longer before I should have. My goal is to use this dish liquid + vinegar cleaning solution much more regularly. This way the dirt and stains don't build up this bad anymore.
Overall, I am very happy with the results! Using a dish liquid detergent for this cleaning solution that is not the blue Dawn brand worked great! I am here to say that cleaning my shower still worked while using a different brand of dish liquid detergent than what the rest of the internet said to do.
Before Using the Cleaner Photos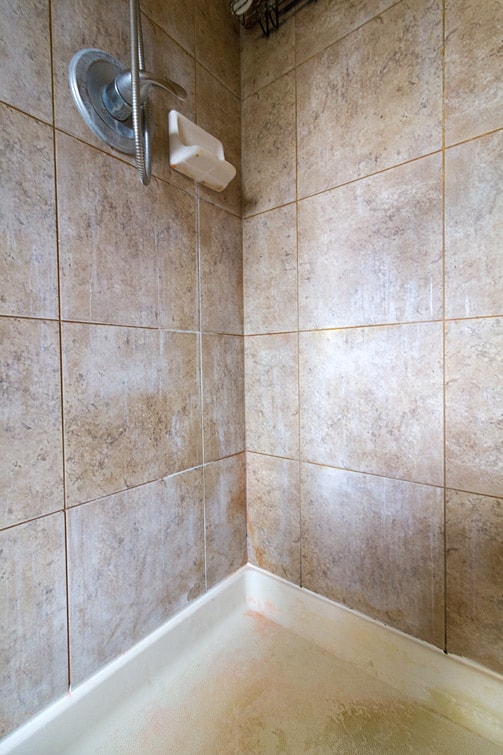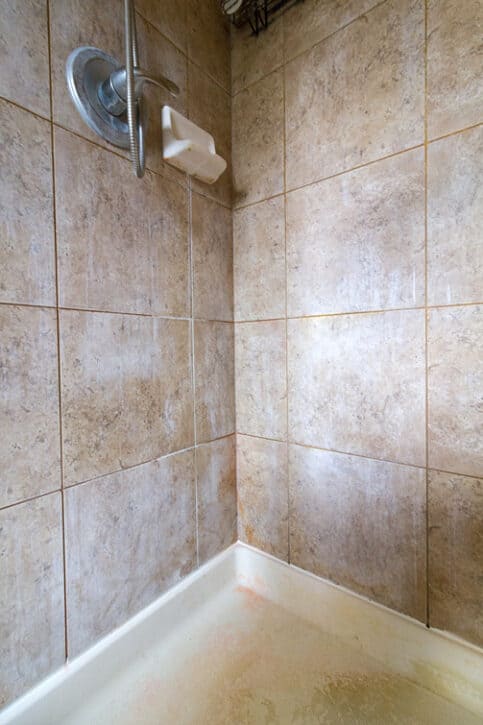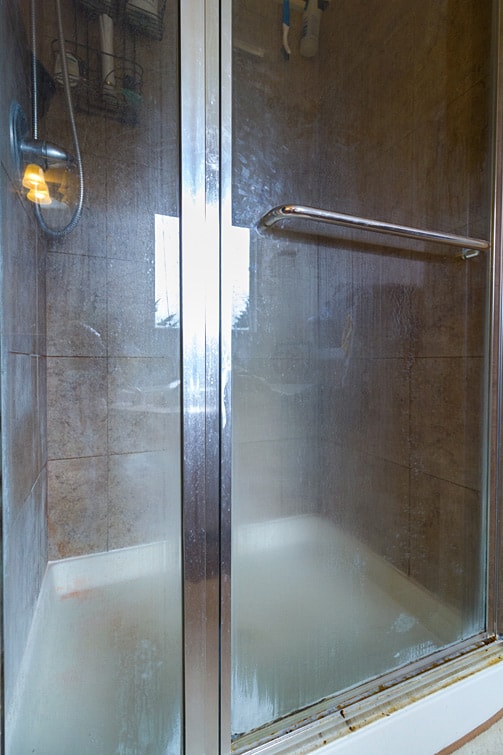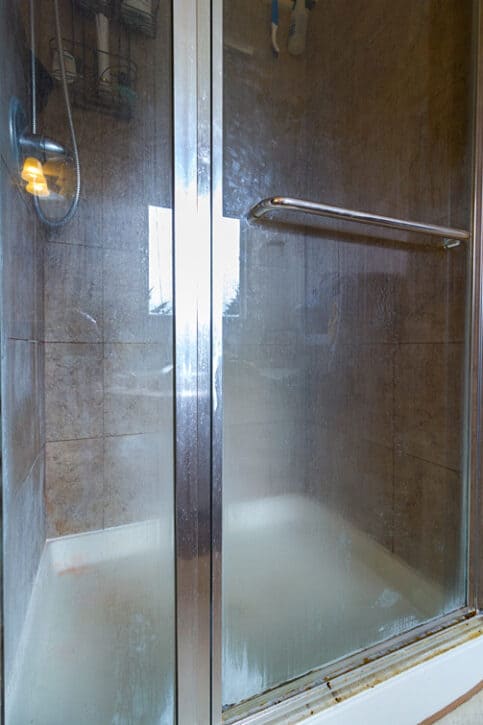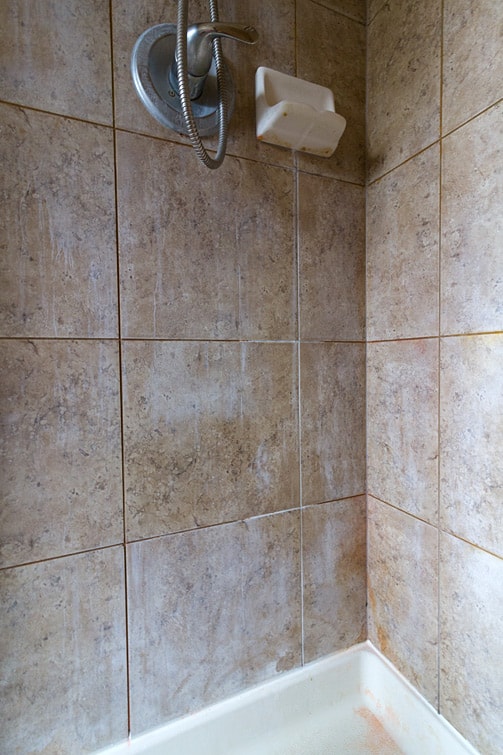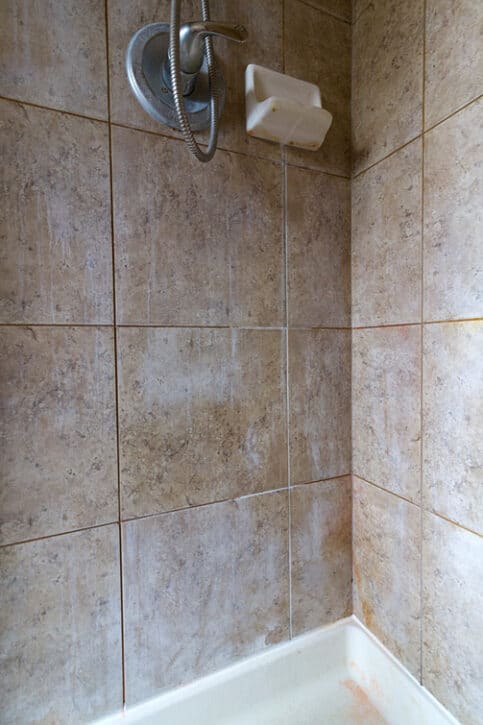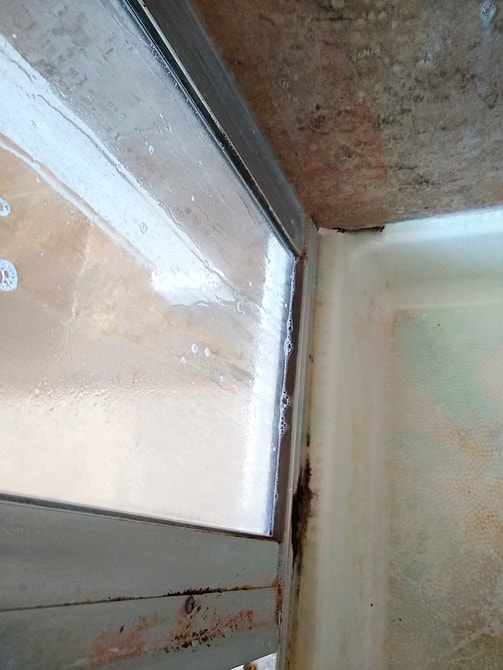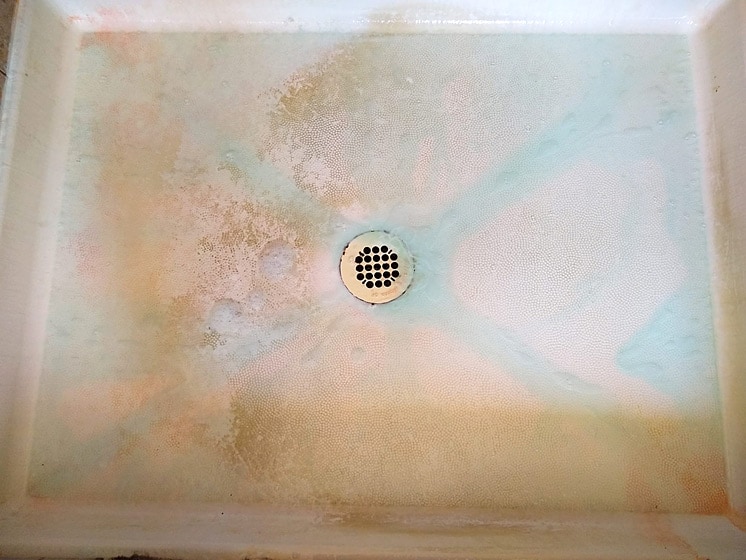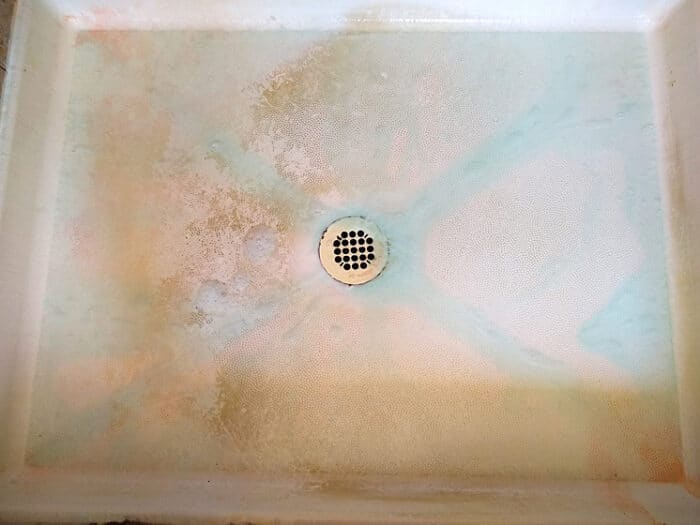 After Using the Cleaner Photos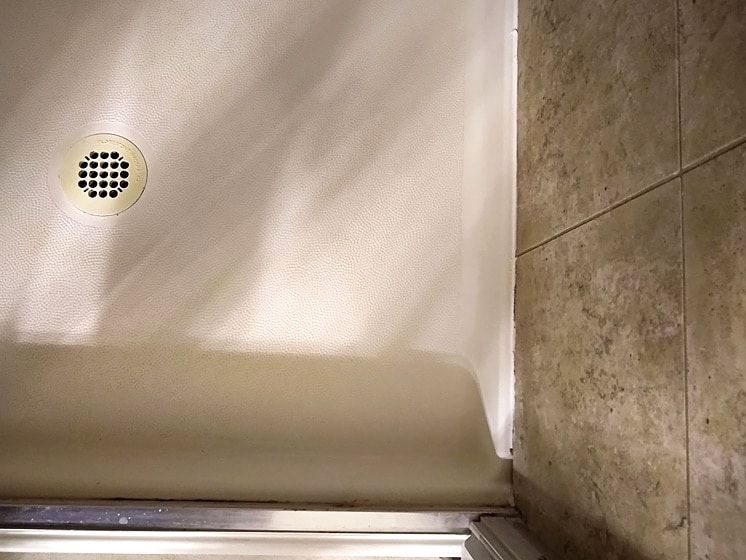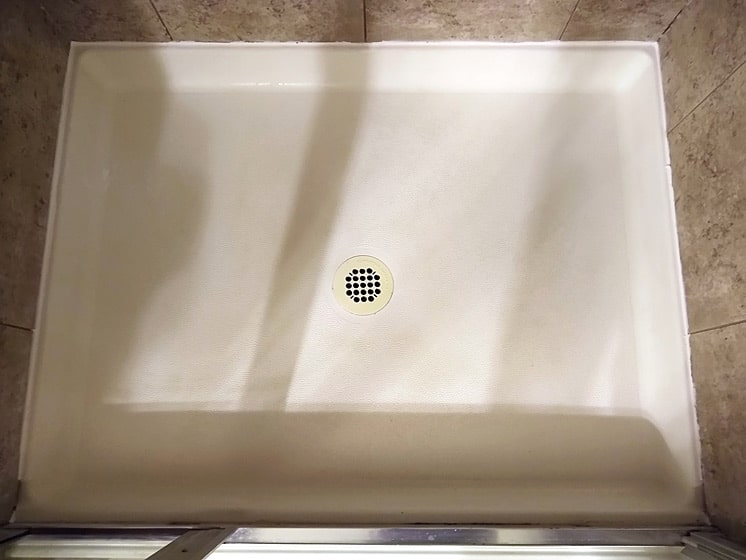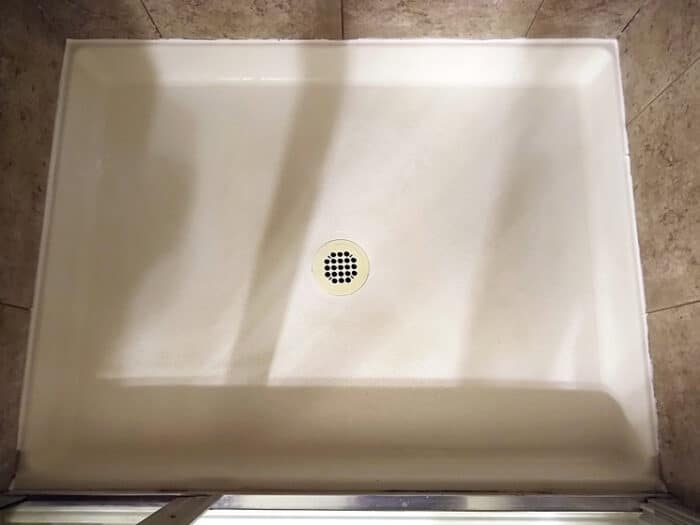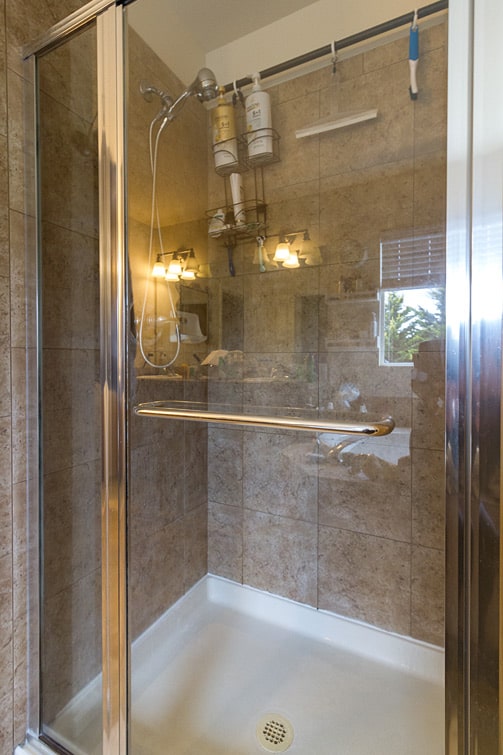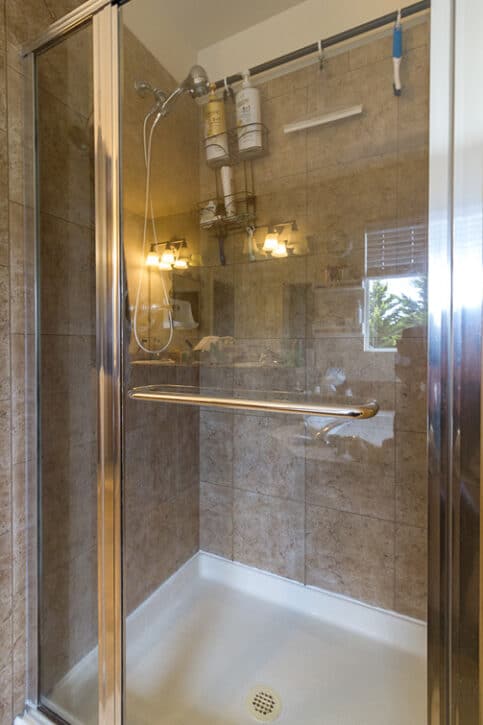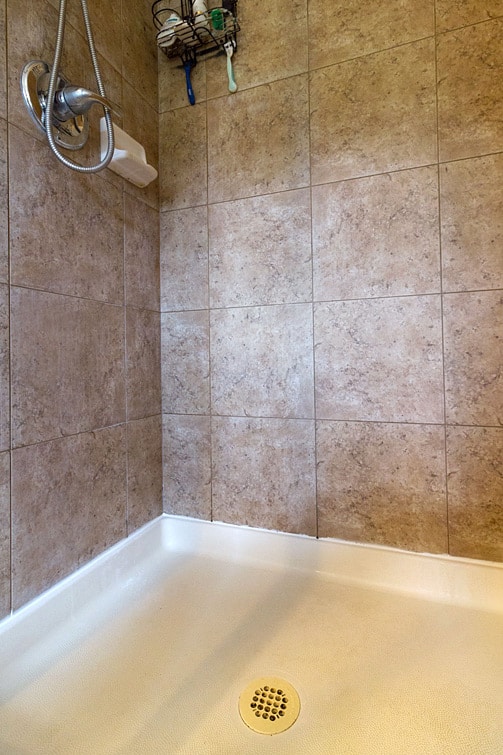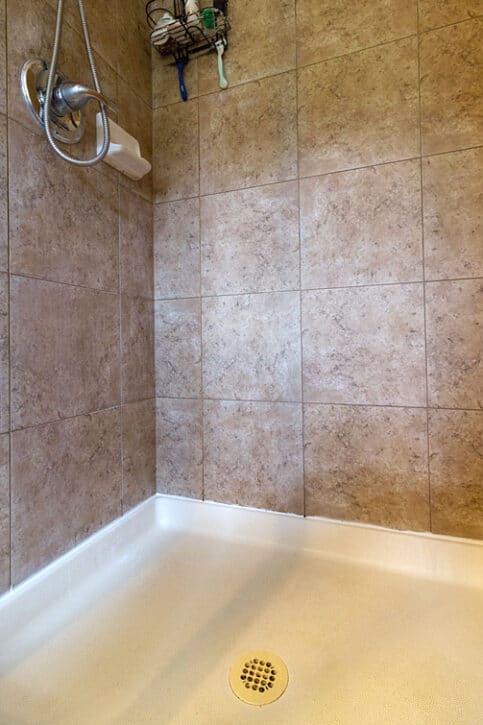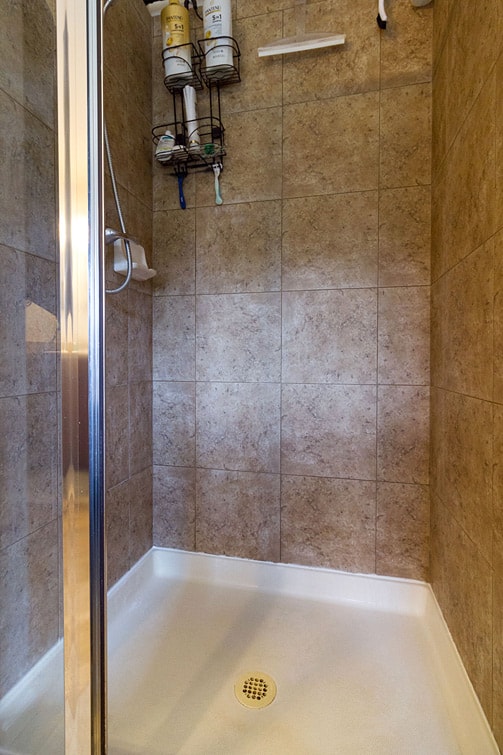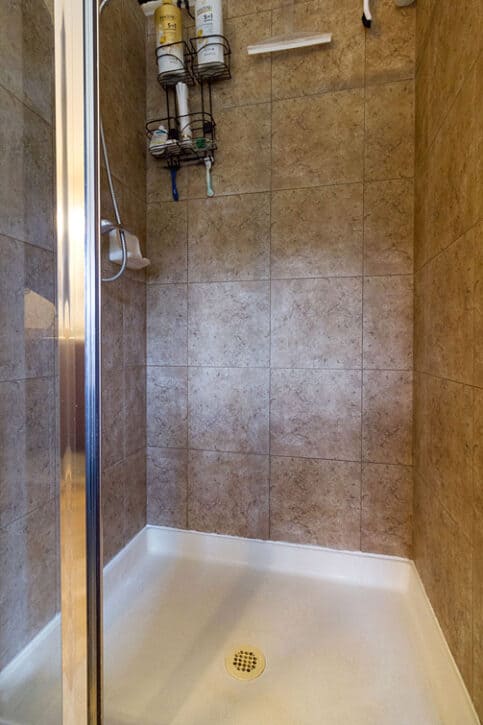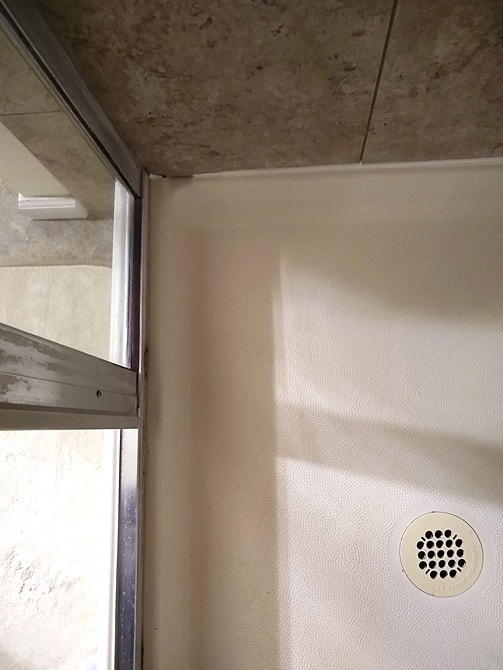 Homemade Cleaner with Vinegar
Easy, affordable, and effective homemade cleaner for your shower and hard water stains. This recipe uses dish liquid and vinegar.
Equipment
Spray Bottle

Scrubbing brush
Materials
1

cup

Dish liquid detergent

It can be any kind you already have in your house

1

cup

White Vinegar

baking soda

optional for shower pan
Instructions
Dump the dish liquid and vinegar inside a microwavable bowl

Microwave on high for 2 minutes

Stir the warm soultion with a spoon

Transfer to a spray bottle

Wet down your shower walls and shower door

While the solution is still warm, spray down your entire shower liberally

Let sit for at least 10 minutes

If your shower pan is really dirty, this is where you can add some baking soda to that and scrub really good

Scrub down the shower door with a circular motion and the shower walls

Spray down your entire shower with hot water
Ex-Division I basketball player who has always loved eating food, but has not always loved cooking it. After the birth of her daughters, she now loves cooking new meals and recipes for her family to try and enjoy. She loves to stay active, work on DIY projects, spend time with family, and all things photography. 📷 More by Tammy ➡️