(Last Updated On: March 16, 2023)
The Mount Peak hiking trail, also known as Pinnacle Peak, is a perfect option if you are looking for a quick hike that offers an excellent workout opportunity. Mt Peak, which is located in Enumclaw, Washington is a local favorite. I grew up in Enumclaw, so this is a hike that I have done hundreds (thousands) of times. It wasn't until recently that I took advantage of the different trailheads that this mountain offers.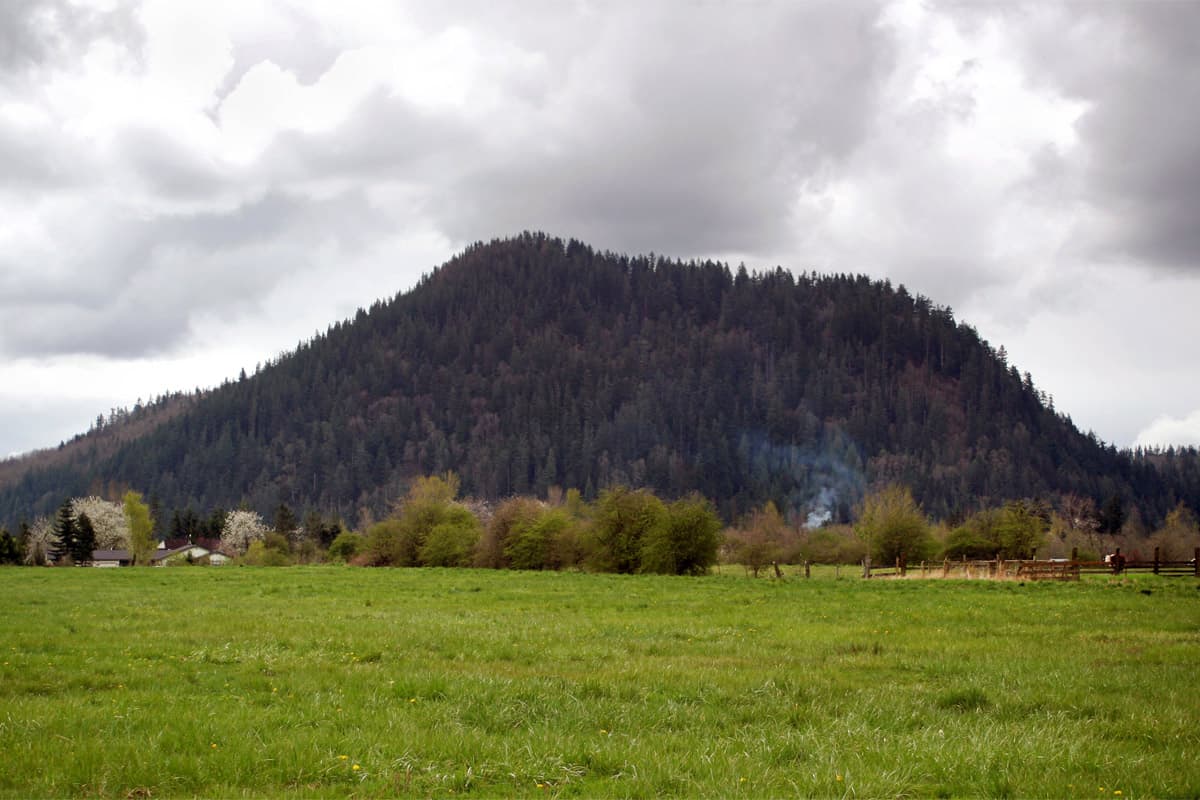 Hiking is also a great activity to do with kids. They will love the thrill of being outside and walking up steep slopes. Mt Peak is a very kid-friendly local hike. My 8 and 10-year-old love hiking this trail and can make it all the way to the top of this short trail without stopping.
Recently, a new lookout tower was built at the top of Mount Peak. With this tower, it is much easier to see the views of the surrounding area. It definitely makes it a rewarding experience to get to the Pinnacle Peak lookout tower and take a break with some snacks and water before heading back down. An old fire lookout used to perch atop the mountain, but due to vandalism and accidents it was removed in 1966. Let's hope this new lookout tower built by King County Parks will remain free from destruction.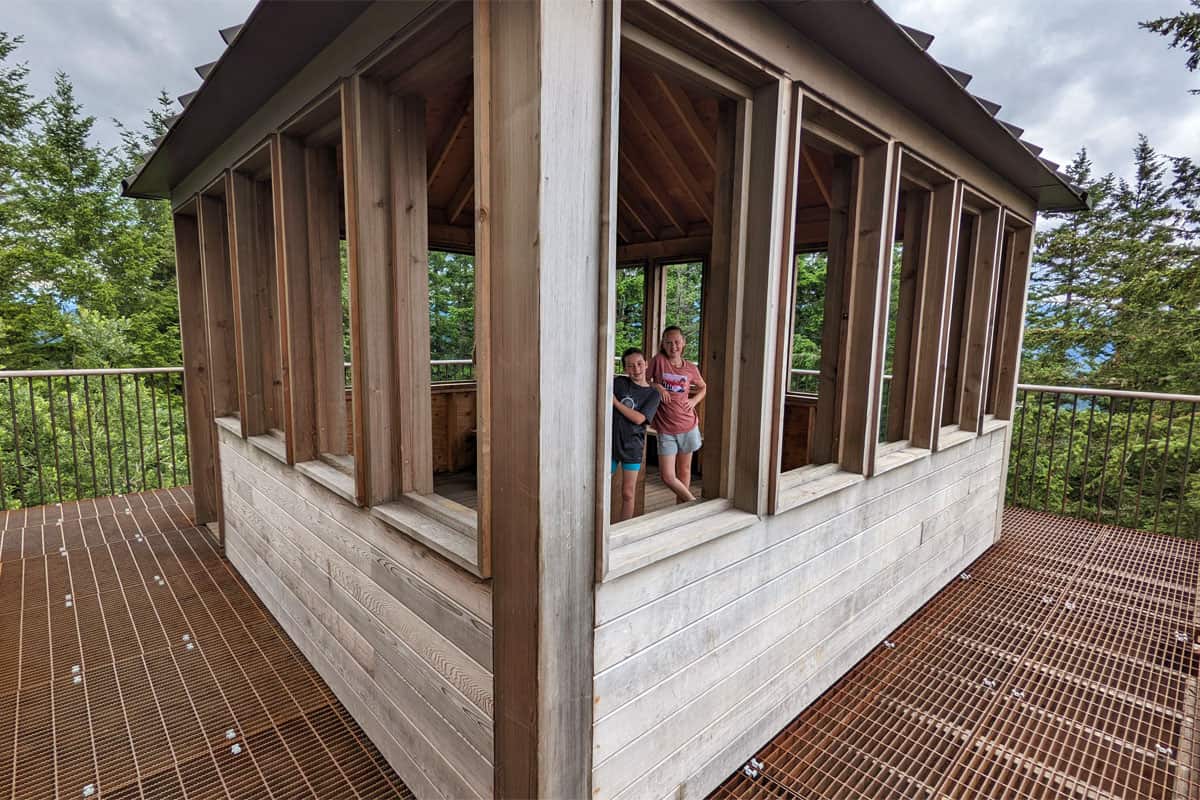 📌 Pinnacle Peak Park Hiking Trail Details (Mt Peak)
Pinnacle peak park is a 335-acre mountain area with hiking trails. It is located one mile south of Enumclaw, Washington. This trail has many different names because depending on who you talk to, they all have a history attached to it. All of the different names you may hear this trail called are Mount Pete (Mt. Pete), Mt Peak (Mount Peak), Pinnacle Peak, or the Cal Magnusson Trail.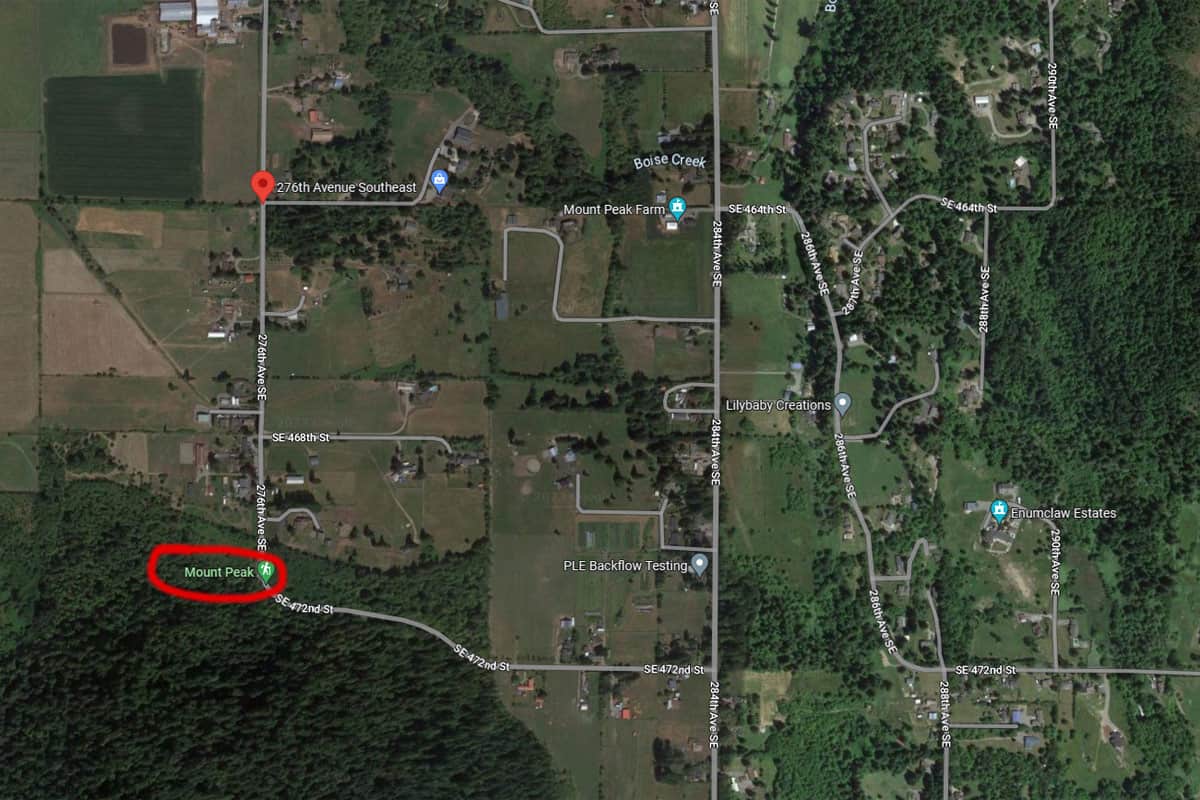 Main Trail length: 1.8 miles (roundtrip)
Ascent: 1000 feet
Trailheads: There are 4 miles of trails in the park. Cal Magnusson trailhead is the main trailhead located on the north side of the mountain down 276th Avenue SE.
Peak Busy Times: Mt Peak trailheads are busiest on the weekends between the hours of 9 am and 3 pm. On weekdays it is busiest during the hours of 12 pm and 3 pm, but it is significantly less crowded on the weekdays versus the weekends.
Bathroom: There is a couple of porta-potties at the bottom of the north trailhead. There is also a fairly new bathroom facility on the south entrance to the trailhead.
Pet Friendly: Yes, dogs on leashes can join in on the fun.
Parking: On the north side of the trailhead there is limited parking. Most people park along the street. On the south side entrance, there is a new large parking lot that will fit quite a few cars.
Mountain Bikes Allowed: Mountain bikers are allowed to ride on the south trail because of the old gravel road and the grade is more forgiving.
🚶‍♀️ Mt. Peak Trails
The main Mount Peak hiking trail is located down 276th Avenue SE in Enumclaw, Washington. When you drive down that road you will come to the front of the mountain where there will be lots of cars parked. This trailhead is the north entrance and will be on the right side of the road. It is the main trail up the mountain. Follow that trail for an excellent hike.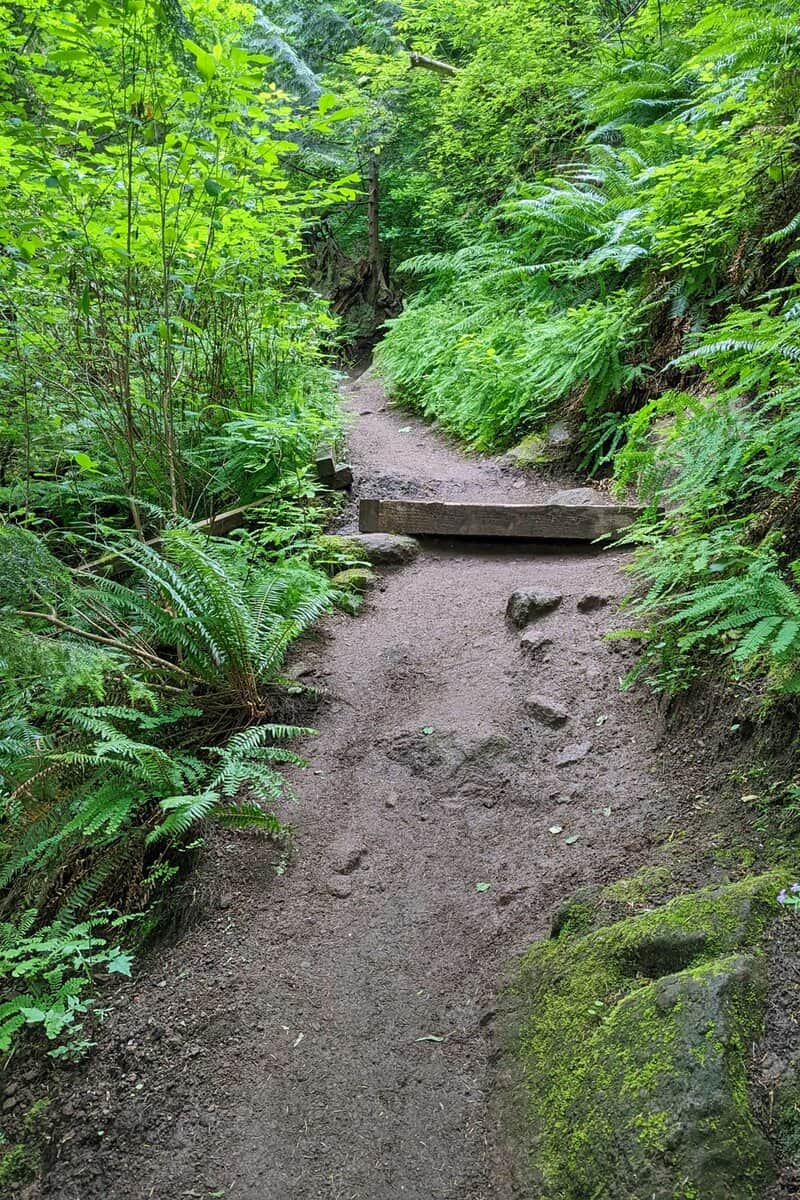 If you are looking for a more challenging hike, there is a trail directly to the right of the main trail that offers much steeper inclines. I've done both of these trails and definitely find the trail to the right to be a much better workout.
There is one more main trail going up the mountain, but it is located on the backside of the mountain. It is located off of SE Mud Mountain Road. This trail is considered the easiest of them all. This is a good trail to take if you have children that might get tired easily.
⛰️ Views on the Trail
This photo shows a view from the main Mount Peak trailhead of some local farmland. Sometimes there can be some pretty wonderful views looking out at the countryside of Enumclaw. The photo below shows exactly what I mean.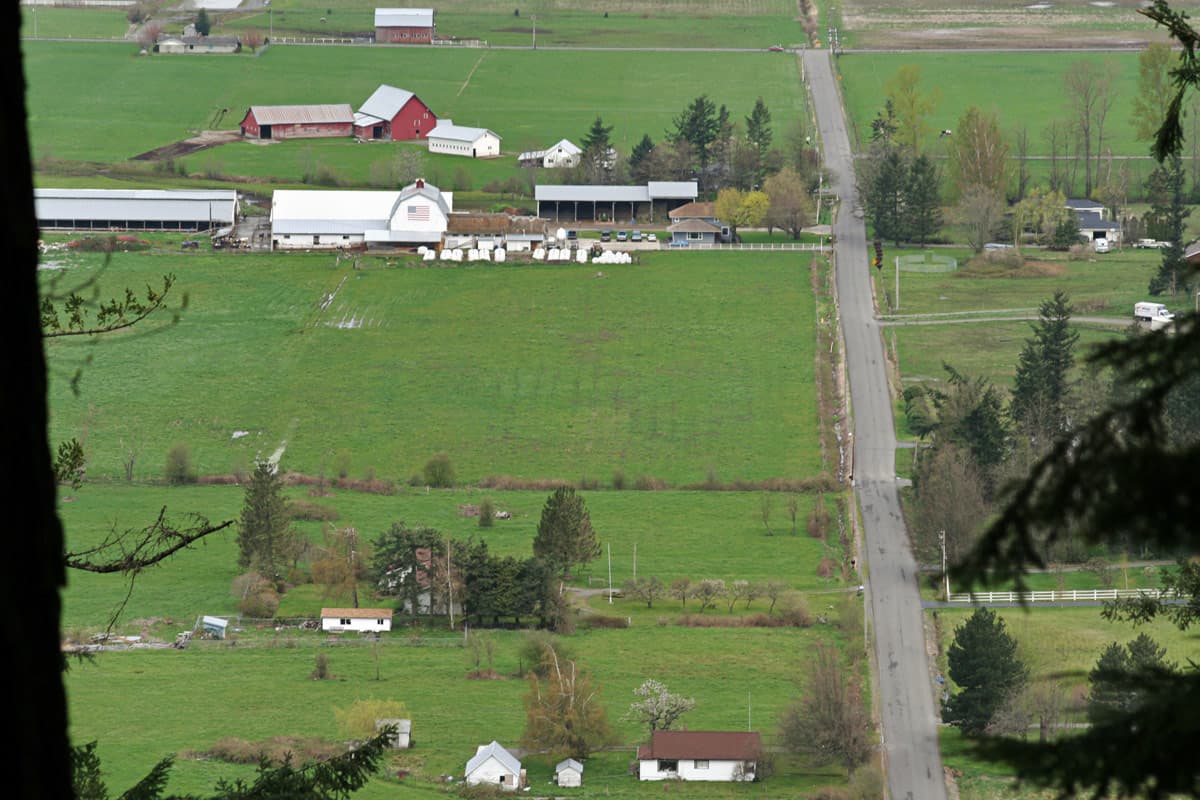 More views you can expect to see on this hike are views of Mount Rainier, White River (the south side of the mountain), and the town of Enumclaw. Unfortunately, in the photo below, the clouds were hiding Mt Rainier on this day.
In the photo below the view seen here is the south side of the mountain looking towards the town of Buckley.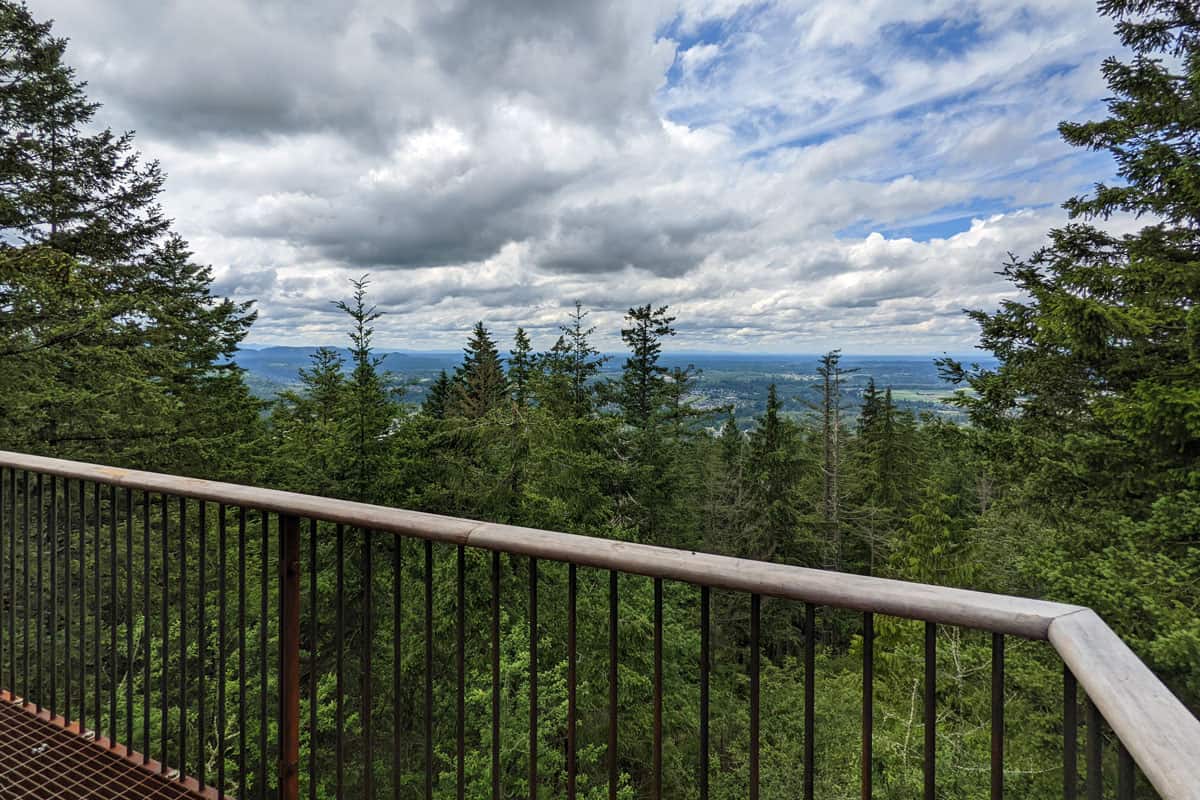 📷 Pictures of the Main Trailhead
Mt Peak doesn't always have snow on the trails, but sometimes it can get snowy and icy in the winter. Even though it's still accessible, you have to be careful!
In contrast, the photo below is a picture of the main trailhead about halfway up on the north side without snow.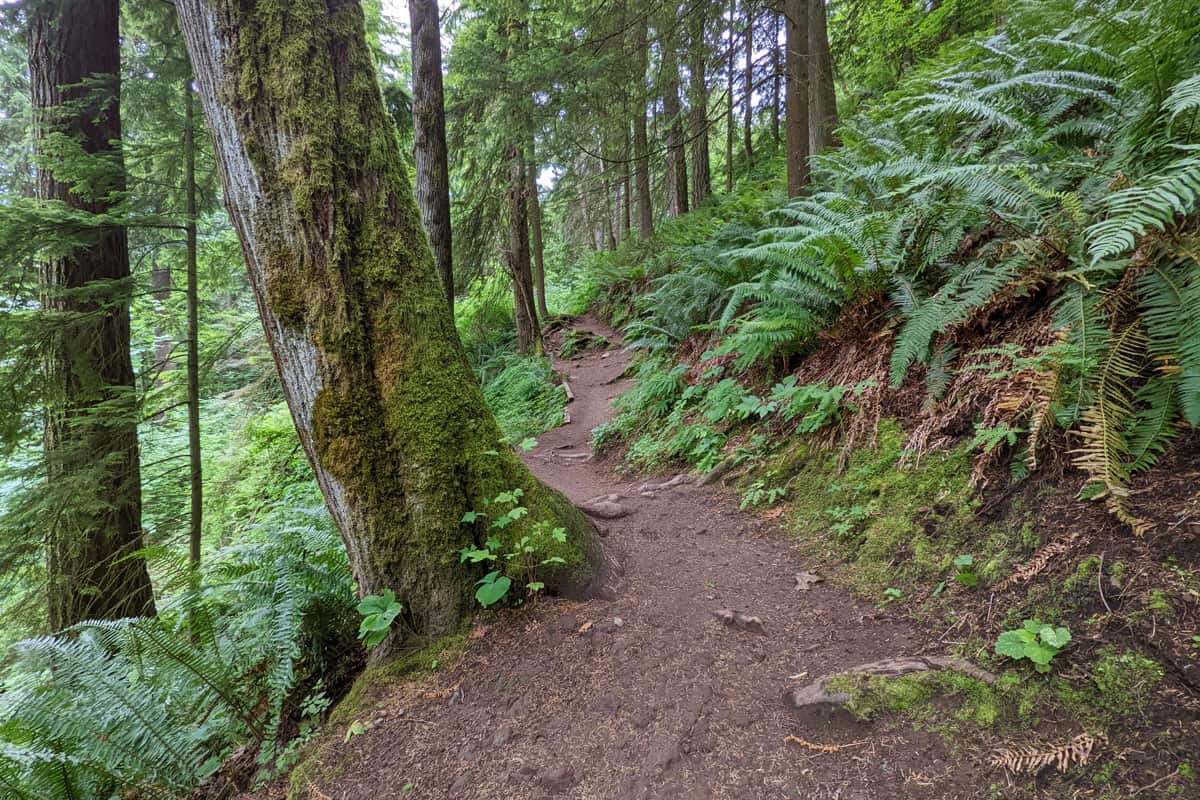 The below picture shows how kid-friendly this trail is. This is a picture of my daughter, Kaycie, when she was only about 4.5 years old. She was walking up the trail all on her own and so proud of herself!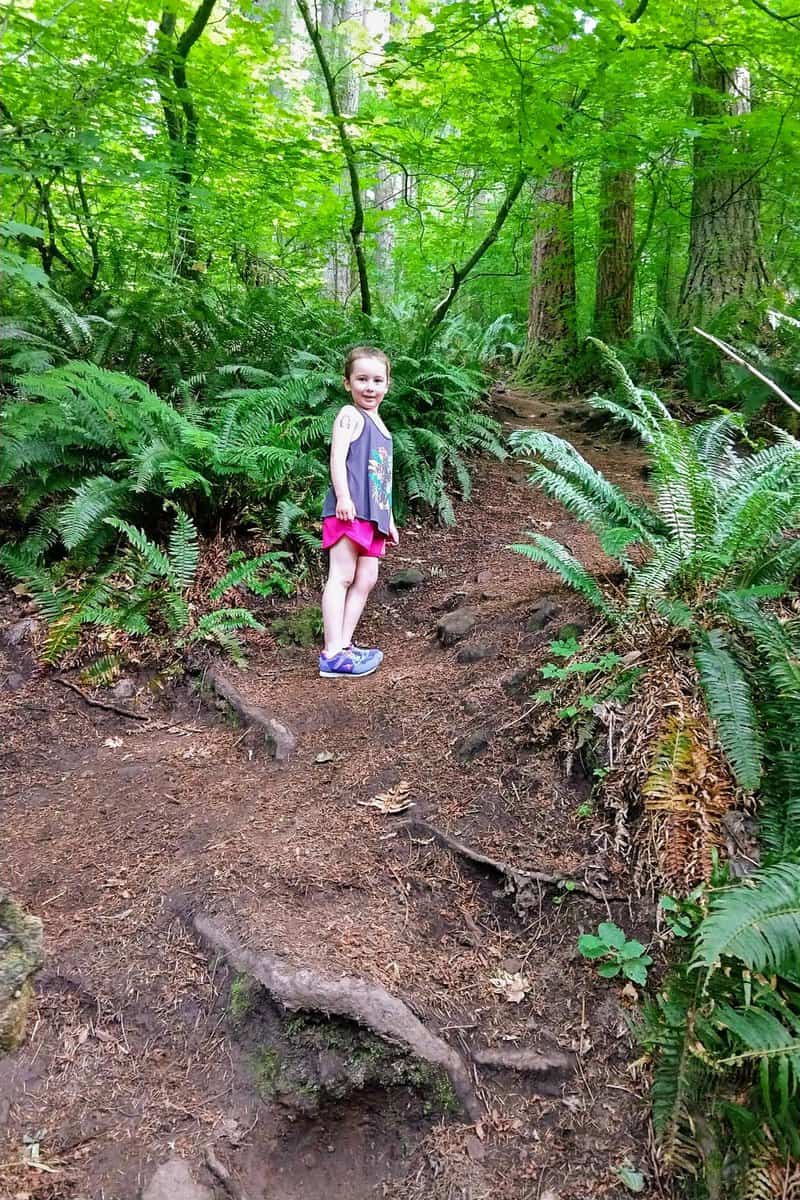 🥾 Final Thoughts on Mt Peak Hiking Trail
Growing up I used to hike this trail all of the time to get a workout in. Now that I have children of my own, they come with me and they absolutely love it! My husband and kids (and dog) all love hiking Mount Peak! It is a pretty short hike and only about a 25-minute drive away from where we live. We have tried most of the different trailheads. The trail just to the right of the main trail I think is the hardest of them all. It gets pretty steep in spots. In general, we tend to stick to the main trail and the trail on the back side (south side) when taking our children.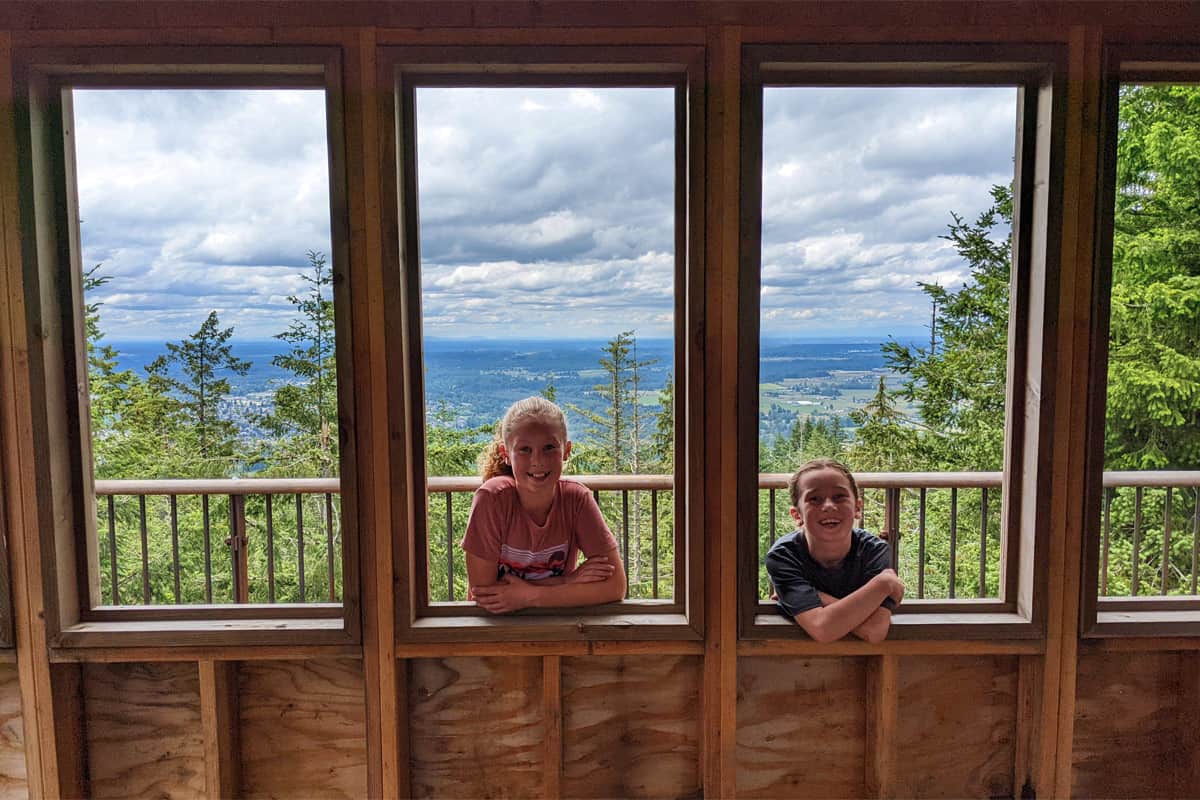 Trail runners will love this trail. It has the perfect hiking trails to run up and down through. When I was younger I used to run up a lot of it and run all the way down. Now that I am older, I stick to walking to try and avoid injuries. You definitely have to be careful running down as there are a lot of sticks and rocks on the trail that can easily trip you.
In conclusion, if you are ever in the Western Washington area and are looking for a quick, but excellent workout hike, go check out Mt Peak! When you are done, be sure to use some deodorizer spray on your shoes as they will probably become smelly!
Ex-Division I basketball player who has always loved eating food, but has not always loved cooking it. After the birth of her daughters, she now loves cooking new meals and recipes for her family to try and enjoy. She loves to stay active, work on DIY projects, spend time with family, and all things photography. More by Tammy ➜