(Last Updated On: April 18, 2022)
The Mount Peak hiking trail, also known as Pinnacle Peak, is a perfect option if you are looking for a quick hike that offers an excellent workout opportunity. Mt. Peak, which is located in Enumclaw, Washington is a local favorite. I grew up in Enumclaw, so this is a hike that I have done hundreds (thousands) of times. It wasn't until recently that I took advantage of the different trailheads that this mountain offers.
Mount Peak Hiking Trail Details
Trail length: 1.8 miles (roundtrip)
Ascent: 1000 feet
Mount Peak Trails
The main Mount Peak hiking trail is located down 276th Avenue SE in Enumclaw, Washington. When you drive down that road you will come to the front of the mountain where there will be lots of cars parked. The trail on the left side is the main trail up the mountain. Follow that trail for an excellent hike.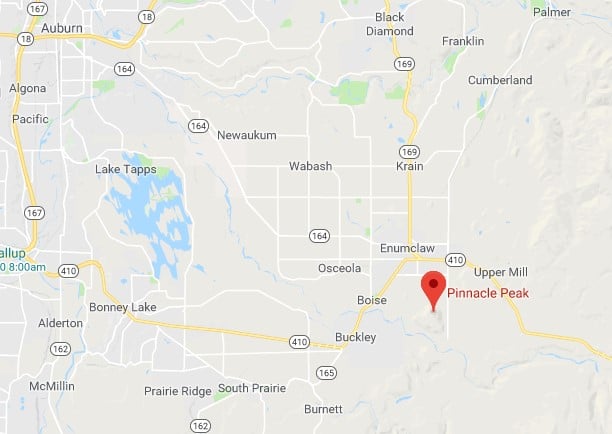 If you are looking for a more challenging hike, there is a trail directly to the right of the main trail that offers much steeper inclines. I've done both of these trails and definitely find the trail to the right to be a much better workout.
There is one more main trail going up the mountain, but it is located on the backside of the mountain. It is located off of SE Mud Mountain Road. This trail is considered the easiest of them all. This is a good trail to take if you have children that might get tired easily.
Views on the Trail
This photo shows a view from the main Mount Peak trailhead of some local farmland. Sometimes there can be some pretty wonderful views looking out at the countryside of Enumclaw. The photo below shows exactly what I mean.
Picture of the Main Trailhead
Mount Peak doesn't always have snow on the trails, but sometimes it can get snowy and icy in the winter. Even though it's still accessible, you have to be careful!
Final Thoughts on Mount Peak Hiking Trail
Now that I have children of my own, I have taken them to hike this trail as well. My husband and kids (and dog) all love hiking Mount Peak! We have tried most of the different trail heads. There is a trail just to the right of the main trail and I think that one is the hardest of them all. It gets pretty steep in spots. We tend to stick to the main trail and the trail on the back side when taking our children.
Ex-Division I basketball player who has always loved eating food, but has not always loved cooking it. After the birth of her daughters, she now loves cooking new meals and recipes for her family to try and enjoy. She loves to stay active, work on DIY projects, spend time with family, and all things photography. More by Tammy ➜