(Last Updated On: December 17, 2021)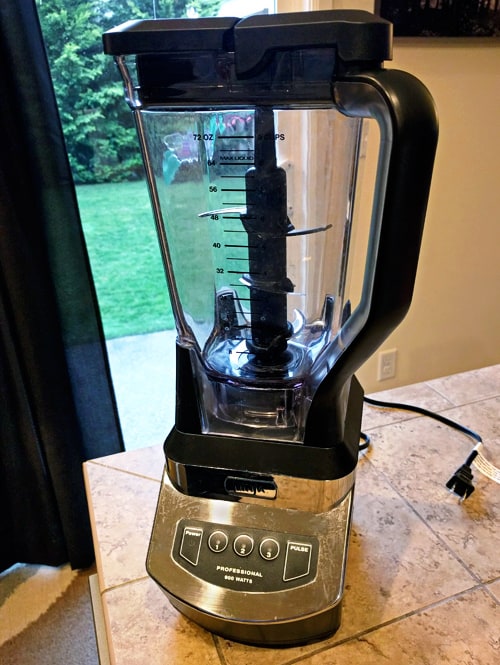 I've had a GE blender for some time now. I rarely use it. So when my husband saw a Ninja Professional Blender
(affiliate) on sale during the Black Friday sales this year and wanted to get one, I was hesitant. I didn't think it could be that much different than the blender I currently had. I didn't think I'd ever use it. With hesitation, I gave in and agreed to get one.
So, we got home and it sat in the box for a few days before I decided to give it a try. My husband had been into making smoothies with the old blender, and I hated it. Not because I didn't like the taste of the smoothies, but because I hated the cleanup. There were so many parts of the blender that made cleaning it a pain. I think my favorite part of the Ninja Professional Blender
(affiliate) is how easy it is to clean! There are only 3 pieces to it: the lid, the blades, and the pitcher. Immediately after using it, all I have to do is rinse each part under hot running water and it's super clean. Every now and then I'll place it in the dishwasher just to get a thorough cleaning in.
It took me years before finally giving in and buying one of these, but I'm glad I did it later rather than never!
Ninja Smoothies
The smoothies this machine makes are amazing! The way the blades chop up and blend frozen fruit and ice made consuming a smoothie so rewarding. My last blender didn't chop up ice cubes as well as this one does and it started to smell funny when it had to use too much energy. Not the case at all with the Ninja. We've now been having smoothies daily with this incredible machine since I don't mind cleaning it after use.
I made another blog post about a smoothie I've been making with this blender: Jamba Juice Citrus Squeeze Smoothie. We are pretty addicted to this smoothie at the moment. It's healthy and tastes delicious!
Pros
Easy to clean. Only 3 pieces need cleaning.
Smoothies are very smooth due to super sharp blades and blending power
Easy to use.
Dishwasher safe
Cons
Hard to find a place to store. Large appliance.